Introduction
We've recently seen the PCI-E 5.0 standard get stepped up a notch with the release of AMD's Ryzen 7000, RTX 4000 graphics cards, and Intel's 13th Gen CPUs on the horizon. This goes to show that manufacturers are readying themselves for the release of high wattage components that the current market can't currently deal with.
One of the newest entrants from Thermaltake is their Toughpower GF3 1350W Gold design. These new PSUs are capable of piping up to 600W of power with the new PCI-E 5.0 connector, giving us an inkling that the new generation of graphics cards are to be powerhouses when it comes to wattage.
Buy the Thermaltake Toughpower GF3 1350W Gold on:
Is 1350W Necessary?
With the rise in component capability in the last few years become exponentially better, the power required to offset the performance of these components has followed suit. In the heyday of Nvidia's 1000 series cards, a GPU like the 1070 had a relatively small 150W TDP requirement, which meant that you could realistically power a build featuring this GPU with 650W. This is a stark contrast to today's standard, where a top-end GPU like the RTX 4090 has a 450W power requirement.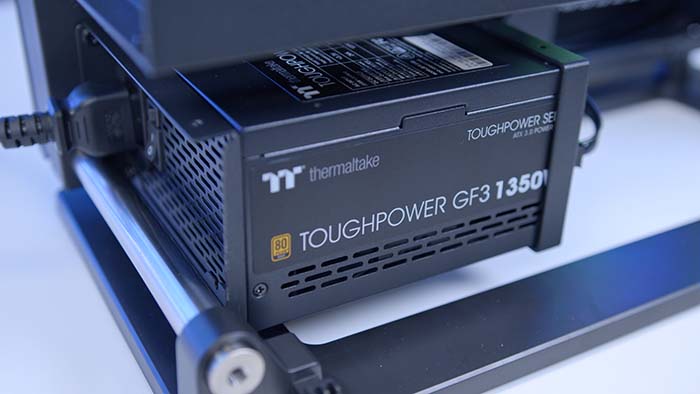 However, I don't believe we've fully reached the necessity for anything over 1000W just yet. Granted, if you're building a top-end PC with components like the Ryzen 9 7950X, and a 3090Ti, you'll definitely want to pick up a 1000W rated PSU, and a unit like this will give you extra headroom for overclocking. But if one thing is for sure, the direction of travel for required PSU wattage is certainly rising, and a unit like this will only become more relevant and necessary as time goes on.
Toughpower GF3 1350W Efficiency Rating
A major standout feature of any power supply that you should take into account before buying is the efficiency rating. For higher wattage PSUs you'll want an 80+ Gold rating as a minimum, to ensure that the least amount of power is lost as heat or noise. Even a 10% power loss can result in more than 100W of lost power on a 1000W unit, making this a crucial statistic. Plus, in the current climate of energy costs, efficiency is certainly king.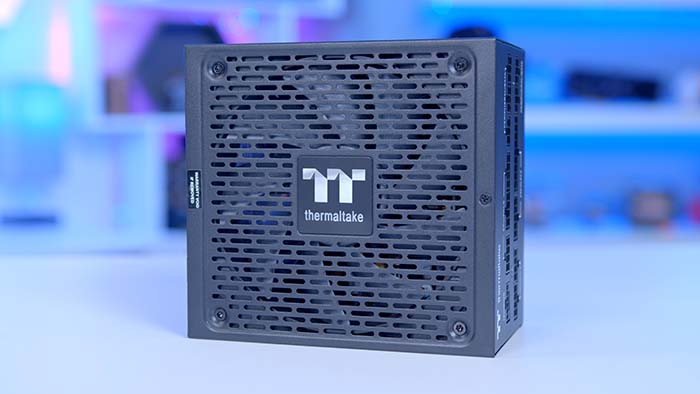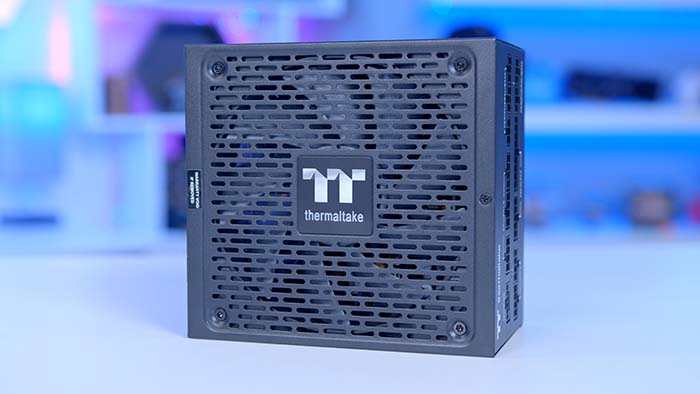 The Thermaltake Toughpower GF3 1350W has a rating of 80+ Gold, meeting our criteria around power loss for a PSU at this level. While we would have preferred to see a Platinum or Titanium rating, we do note that there aren't many PSUs around which presently serve this wattage, and that official ratings will get higher as these high-power units mature in terms of power delivery.
80+ Rating
Efficiency Level
80+ Gold
20% Load: 87%
50% Load: 90%
100% Load: 87%
80+ Platinum
20% Load: 90%
50% Load: 92%
100% Load: 89%
80+ Titanium
20% Load: 90%
50% Load: 92%
100% Load: 94%
PCI-E 5.0 Connector
The main standout features of the Toughpower GF3 are its 14+2 PCI-E 5.0 connector and ATX 3.0 design. This new cable connection (which first featured on RTX 3000 Founders Edition cards) can provide up to 600W of unhindered power. This removes the needs for ugly, bulky and unreliable adapters, and allows for just one cable straight from your PSU to your graphics card, thus streamlining your cable management for your PC.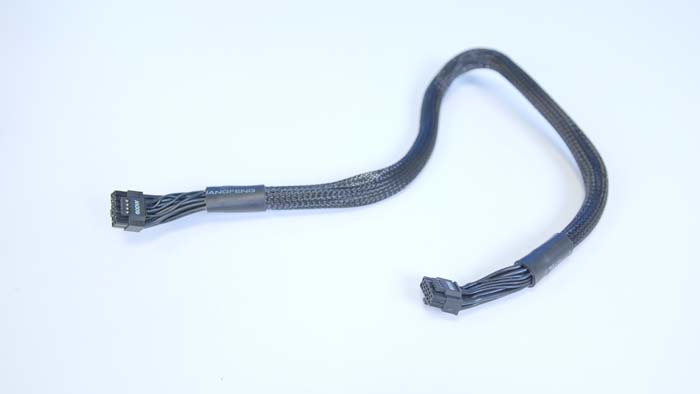 Power Connectors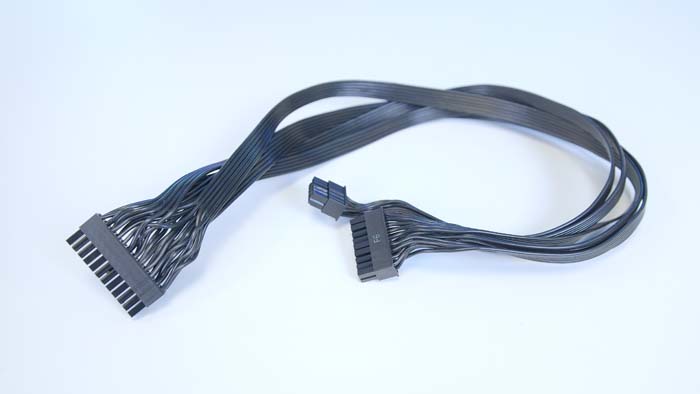 24-Pin Motherboard Power
The main cable you'll see that comes with any power supply is the connector for your motherboard power. This long and rectangular connector features 24 pins and plugs directly into your motherboard (one way). You will need to plug in this cable to power your board.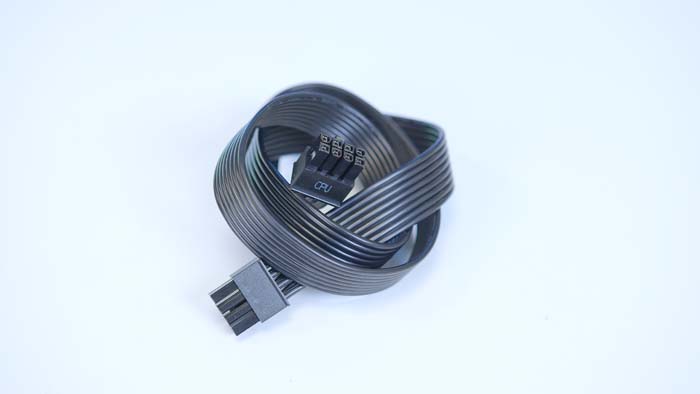 8-Pin ATX 12V CPU Power Cable
Another required cable is the 12V CPU power cables to power your CPU. The GF3 1350W features five areas where you can plug these cables in, but you've only got two ATX 12V cables that you can plug in. Whether you install one or two of these cables will be dependent on your motherboard, some motherboards require one connector, and some two. Make sure that the clips are fully engaged on these connectors to ensure they're plugged in properly.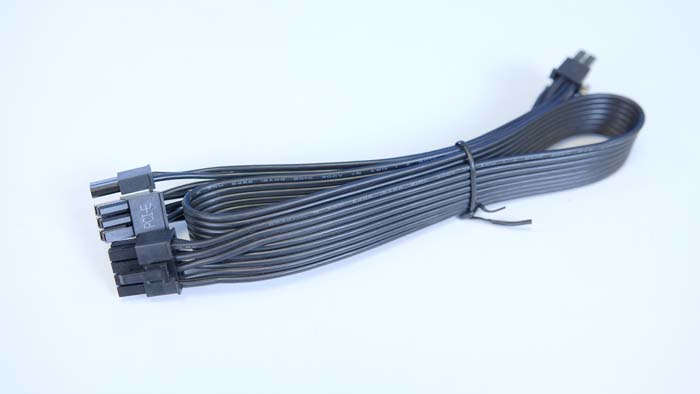 PCI-E 6+2-Pin Cable
These cables are required for other graphics cards that don't utilise the new PCI-E 5.0 standard connector. As the PCI-E 5.0 standard becomes more common, we'll start to see less of the older 6+2 pin designs. But if you're rocking a 3000 series GPU or below, you'll still need to make use of these connectors.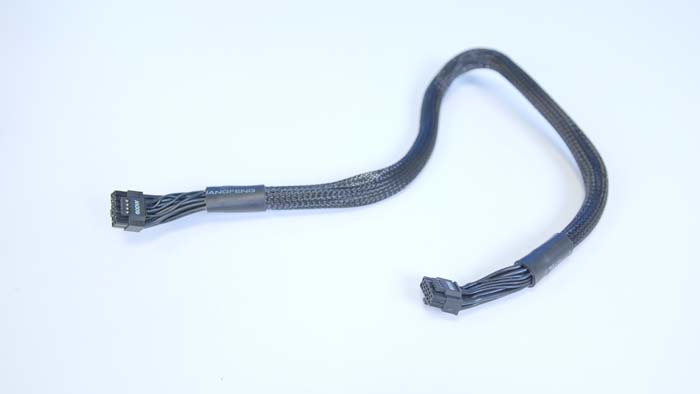 PCI-E 5.0 Power Cable
The 16-Pin PCI-E cable is a more flat and compact design than we're used to compared to the standard 6+2-Pin designs. These new cables can handle an insane amount of power, up to 600W in total. If you're planning on upgrading to a next-gen graphics card, like the RTX 4090 & 4080 which support this connector, this PSU could be a great bet.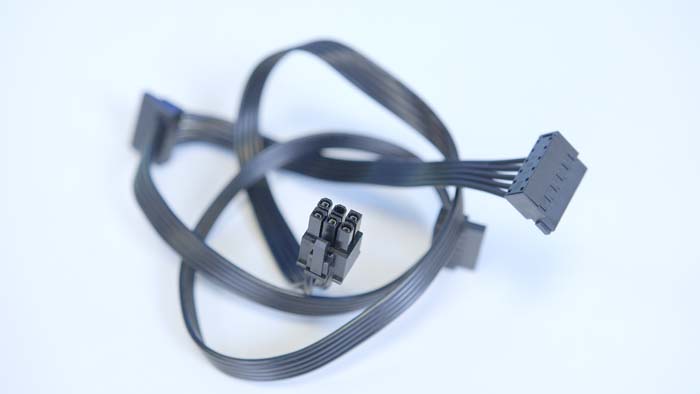 SATA Power Cable
For those using older SATA-based drives you'll need to use the included SATA power cables. You've got access to five ports that can deal with SATA power, and 4 included cables with the power supply. SATA power cables are also commonly used for fan hubs, so if you've got loads of fans, these SATA power cables become more useful.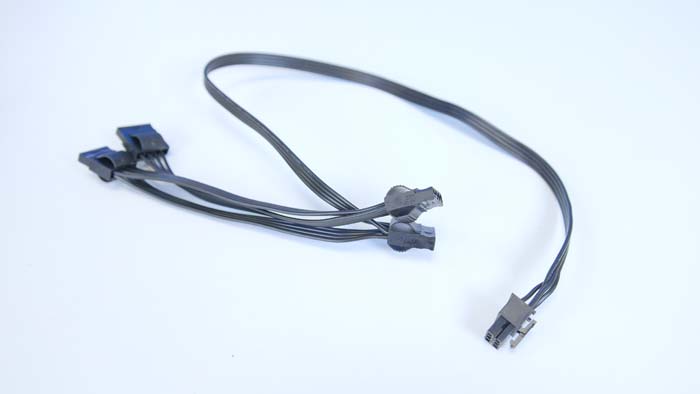 Molex Power Cable
Another included set of cables for peripherals are the Molex connectors. These cables are slightly older and you might see them on case designs from a few years ago, or perhaps if you have a CD/DVD drive. If you're holding onto some older peripherals or accessories, then these Molex cables will be useful.
Conclusion
Thermaltake Toughpower GF3 1350W Gold
Product Name: Toughpower GF3 1350W Gold
Brand: Thermaltake
Features

Design

Efficiency

Value For Money
Summary
Thermaltake's Toughpower GF3 1350W Gold is a great power supply ideal for new builds that intend on picking up a next generation graphics card utilising the new standard for PCI-E connectors. Ultimately it would have been nice for this power supply to sport a higher efficiency rating (especially because its 1350W), but 80+ Gold is still suitable to reduce power consumption lost as heat or noise. The GF3 comes with a plethora of cables giving you plenty of options to install a variety of different accessories and cables, while offering not as commonly used cables for those upgrading with older components. Although the GF3 doesn't offer much in terms of its design, you're buying a PSU to power other components, so the design isn't that much of an issue when considering its purpose. Overall we're happy with Thermaltakes "take" on the new PCI-E 5.0 PSUs, and this ATX 3.0 design will be perfect for top-end builds with next-gen graphics cards.
Pros
✅ Supports the new 600W PCI-E 5.0 connector
✅ Has a multitude of different power cables
✅ Ideal for next-gen graphics cards.
Cons
❌ Quite expensive
❌ Only 80+ Gold rated efficiency