Introduction
AMD Ryzen 7000 is finally here, and all of the new CPUs, motherboards, and RAM kits have been released into the market. This gives an opportunity for PC builders to experience a new generation and technology, and provides more choice than ever for build configs. We've been slowly receiving more and more of the latest boards to review, and in this piece we'll be exploring the ASUS TUF Gaming X670E.
This board utilises many of the next gen features that come with the new AM5 platform, but it is also vastly different to all of the other motherboards within this chipset range when it comes to price point. Could the ASUS TUF Gaming X670E be the best value Ryzen 7000 motherboard? Let's take a look!
Buy the ASUS TUF Gaming X670E-Plus WiFi on:
Suggested Article: AMD X670E VS X670 Motherboards – Key Differences & What To Expect
The X670E Chipset
X670E motherboards sit at the top-end in terms of available boards for the Ryzen 7000 processor lineup. The X670E chipset brings inclusions such as PCI-E 5.0 (for both SSDs and GPUs), USB4, and strong overclocking support.
The X670E chipset is unique in that it is the first time AMD have ever designated a chipset specifically geared towards overclocking. That isn't to say non-'E' version boards on the standard X670 chipset are weak for overclocking, but they certainly aren't as strong, nor as well optimised. The X670E chipset exists to provide the best of the best for high end builders, which makes ASUS' relatively budget take a particularly interesting one. You can learn what sets apart the X670E chipset from X670 and other chipset designs across geekawhat.com.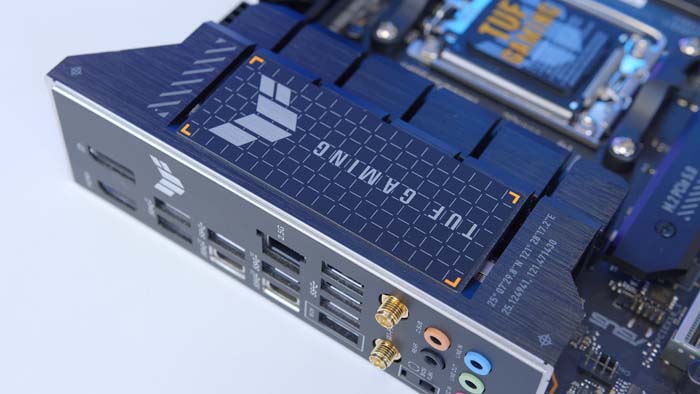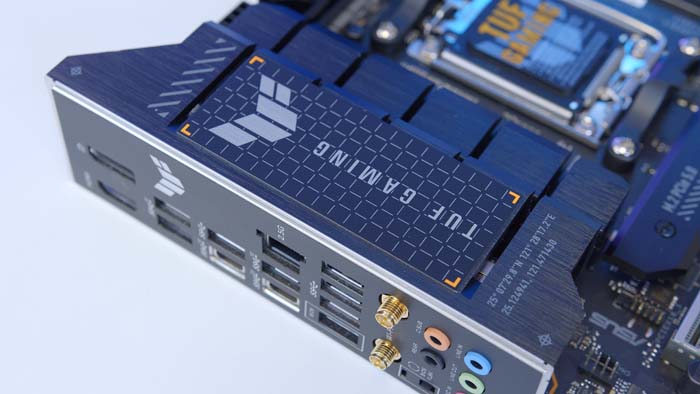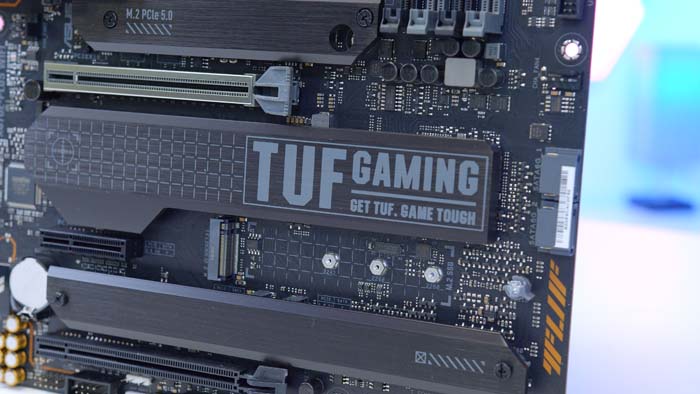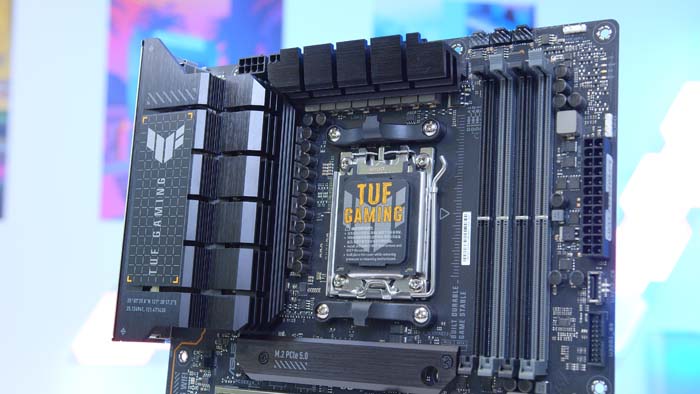 Table of Differences
To give you an idea about the kind of features that are available between chipsets we've put together a table that compares the motherboard in today's review against another design on the standard X670 chipset. We'll compare the differences and take a look at the sacrifices you may have to make when choosing one chipset over another.
Features
ASUS TUF Gaming X670E-Plus WiFi
MSI Pro X670-P WiFi
CPU Overclocking Support
Yes
Yes
VRM Power Phases
14+2
14+2+1
PCI-E 5.0 Slots
1 x16 PCI-E 5.0 Slot
1 x4 PCI-E 5.0 Slots
1 x4 PCI-E 5.0 Slot
PCI-E 4.0 Slots
1 x16 PCI-E 4.0 Slot
3 x4 PCI-E 4.0 Slot
2x x16 PCI-E 4.0 Slots
3x x4 PCI-E 4.0 Slots
USB Connections (Rear)
1x USB 3.2 Gen2 Type-C
3x USB 3.2 Gen2
5x USB 3.2 Gen1
1x USB 3.2 Gen2x2 Type-C
4x USB 3.2 Gen1
2x USB 3.2 Gen2
1x USB 3.2 Gen2 Type-C
1x USB 3.2 Gen2x2 Type-C
USB Connections (Front)
1x USB 3.2 Gen2 Type-C
2x USB 3.2 Gen1
1x USB 3.2 Gen2 Type-C
4x USB 3.2 Gen1
LAN Type
2.5 Gigabit LAN
2.5 Gigabit LAN
WiFi Module
WiFi 6E
WiFi 6E
Pricing & Availability
Check on Amazon
Check on Amazon
Comparison of Features
Looking at features, its immediately clear that the ASUS TUF Gaming motherboard comes out on top when compared to MSI's comparatively budget X670 (non-'E') design. Due to the X670E chipset, there's just more of everything when it comes to features. PCI-E 5.0 is available in the form of an x16 slot and x4 slot, and there's also four PCI-E 4.0 slots too. X670 boards only have four PCI-E 5.0 lanes so your only choice is an M.2 drive, which will come in use when the Gen5 SSDs finally release. With all this in mind, the ASUS TUF Gaming board is better positioned when it comes to upgrade paths when new components release.
For rear and front IO, both of these motherboards are relatively similar. The ASUS TUF comes out on top when it comes to the number of ports, but both motherboards share the same type of ports, with USB 3.2 Gen2x2 ports in a Type-C format. Overall it appears that this cheaper X670E board is rather similar to the X670 chipset boards, but X670E is ideal for upgrading later on down the line.
ASUS TUF Gaming X670E-Plus WiFi Design & Aesthetics
Looking at the design and finish of the board, ASUS have taken a simple approach to the overall look of the board. This is undoubtedly to cut down costs on this more expensive chipset. For RGB there doesn't seem to be much, which is more common for the cheaper TUF Gaming options. But there is a small RGB strip located towards the bottom left of the board which can bring some additional lighting options.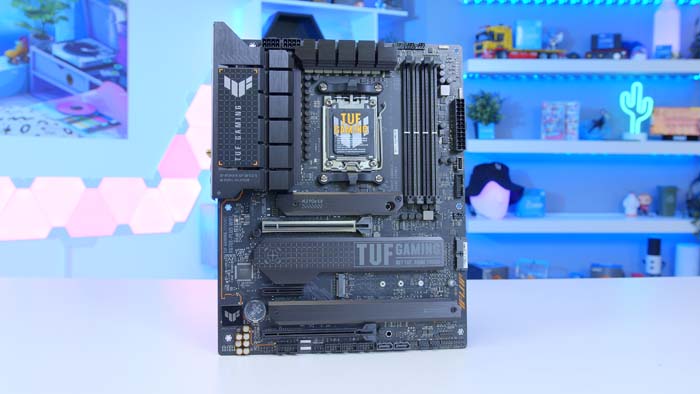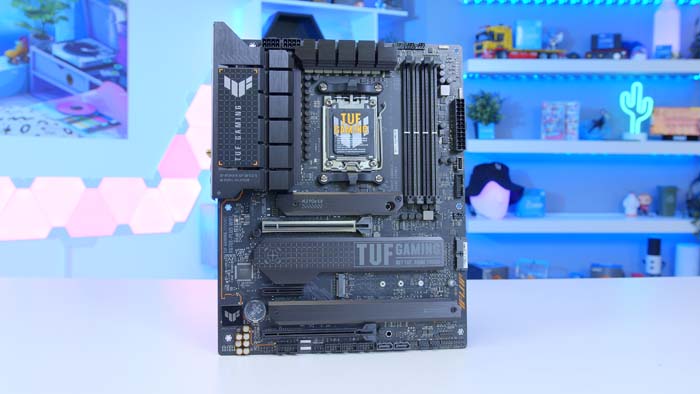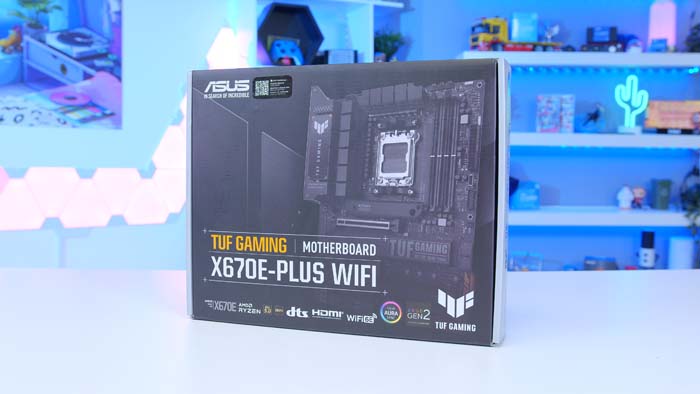 The rest of the board retains a relatively simplistic and minimalist design, with some heatsinks here and there covering the M.2 SSD slots, and of course the VRMs for improved cooling. There is generally more exposed PCB on this motherboard, but I feel it suits the general aesthetic of TUF Gaming motherboards based on their more industrial style.
Features
Now for the main section of this review – the features. X670E motherboards support all of the latest features and despite the less expensive price tag, the TUF Gaming X670E follows suit. We've broken down all of the standout features of this board below!
PCI-E 5.0 Compatibility
On the TUF Gaming X670E-Plus, you've got access to two PCI-E 5.0 compatible slots, one for your GPU and SSD. So if you're deciding to upgrade to an RTX 4000 card, this motherboard is perfect for this. And although we don't have any Gen5 SSDs yet, this slot will support the latest blazing fast speeds form the new drives.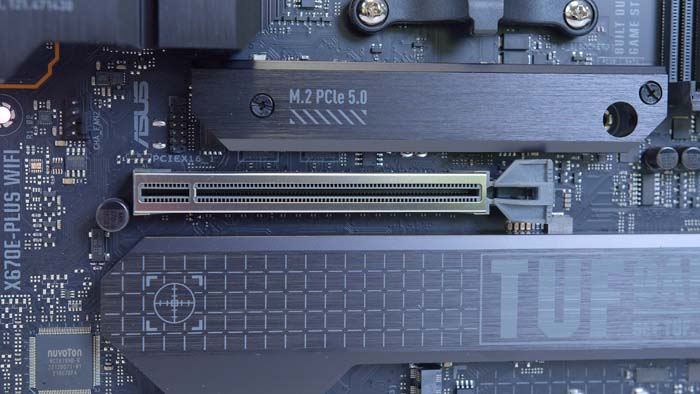 VRM Cooling & Overclocking
The X670E chipset is best designed for overclocking the brand new Ryzen 7000 CPUs, and we're hoping overclockers will push the new CPUs past their respective boost clock. This motherboard is a little bit weaker on the VRMs, but a light overclock should be very possibly. The ASUS TUF Gaming has a 14+2 digital power phase design with plenty of cooling on the VRMs and an enlarged heatsink to improve heat dissipation.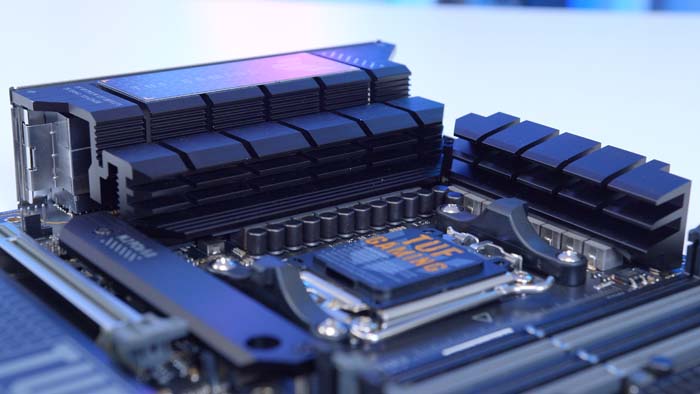 Rear and Front IO
The rear IO is absolutely crammed with high speed USB ports, sporting 10 ports on the rear including a USB 3.2 Gen2x2 in the Type-C format. And on the front, the ASUS TUF can support up to nine ports at once including USB 3.2 ports and numerous USB 2.0 ports too. Networking is great as well with a WiFi 6E module, and 2.5 Gigabit LAN for those that want a more stable connection.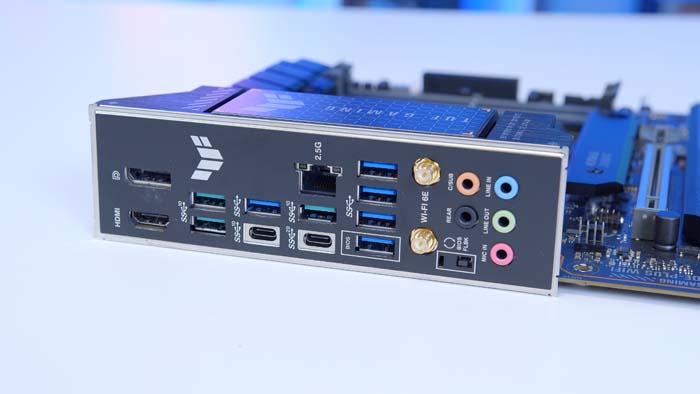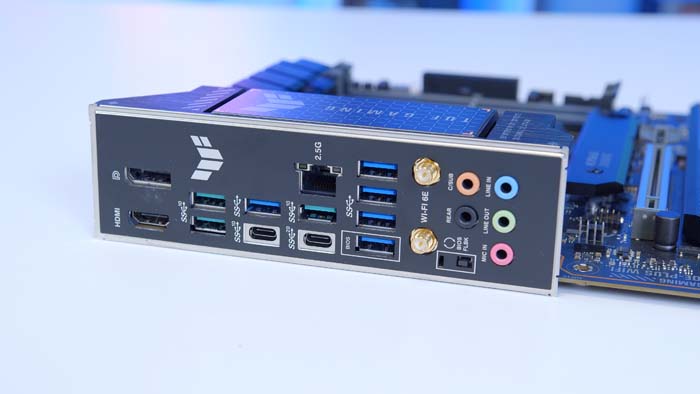 Realtek 7.1 Surround Sound
The S1220A Codec on this board in collaboration with Realtek provides the experience of pristine audio quality along with support for 7.1 surround sound giving you a competitive edge in games that have smaller less audible noises.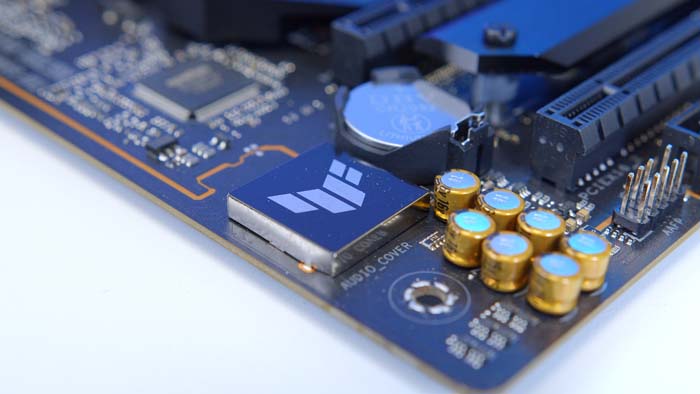 What's In The Box?
Although the ASUS TUF Gaming X670E motherboard is much cheaper compared to other options, there's a few extras that come in the box that can make building much easier. We've broken down all of the individual items that come with this motherboard below:
ASUS WiFi Antenna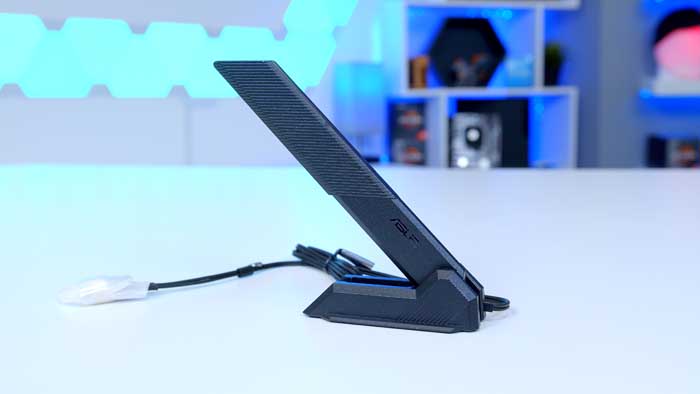 M.2 Screws & Standoffs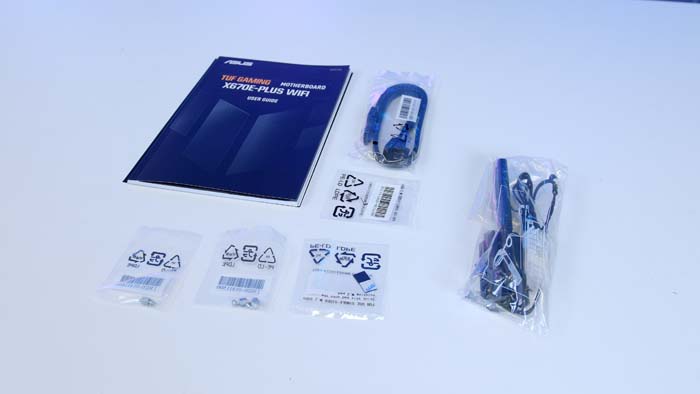 SATA Cables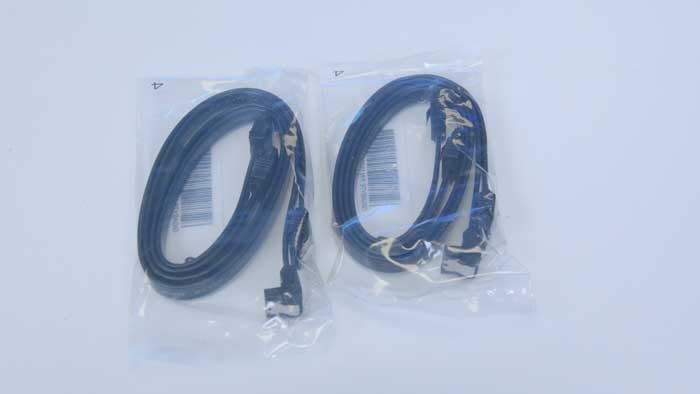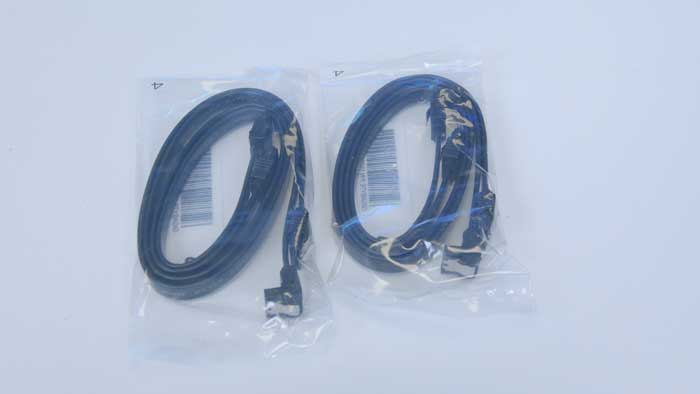 Compatible Processors
Fortunately, AMD have not decided to lock CPU compatibility behind a particular chipset. This means that all of the available Ryzen 7000 CPUs are supported on every single motherboard that releases on this brand new platform. However, ensuring you get the best value for money and performance with your build can be done by picking out the right components that pair well together. For this reason, we would recommend pairing some of the lower-end options with this ASUS TUF board.
Although the ASUS TUF Gaming X670E supports a range of the new features, its cheaper design provides accessibility to those who are being more price conscious in their building process. Not only this, less VRMs and cooling means you won't be able to get the best overclocking performance than you would with another board. So we'd recommend sticking to the Ryzen 7 range and below with this motherboard.
| | | |
| --- | --- | --- |
| CPU Name | Compatibility | Do We Recommend? |
| Ryzen 9 7950X | ✅ | ❌ |
| Ryzen 9 7900X | ✅ | ❌ |
| Ryzen 7 7800X? | ✅ | ✅ |
| Ryzen 7 7700X | ✅ | ✅ |
| Ryzen 5 7600X | ✅ | ✅ |
| Ryzen 5 7500? | ✅ | ❌ |
BIOS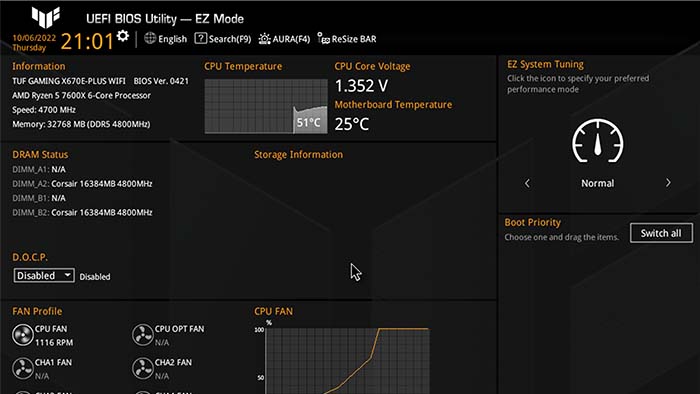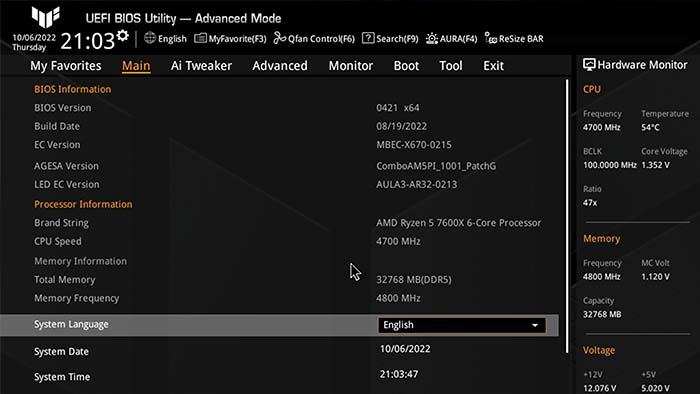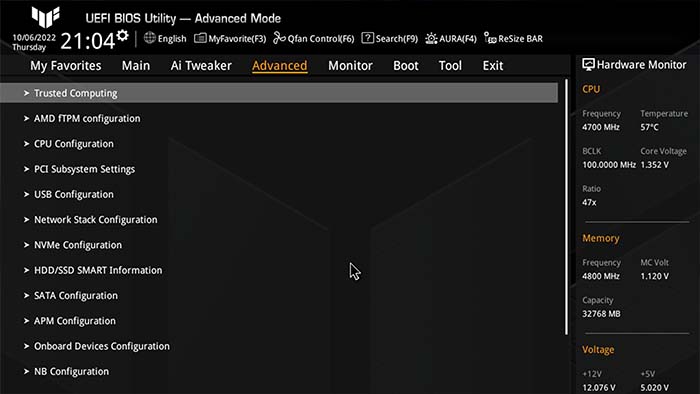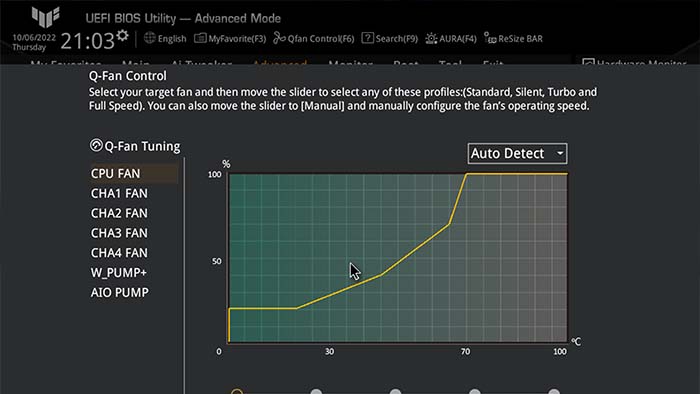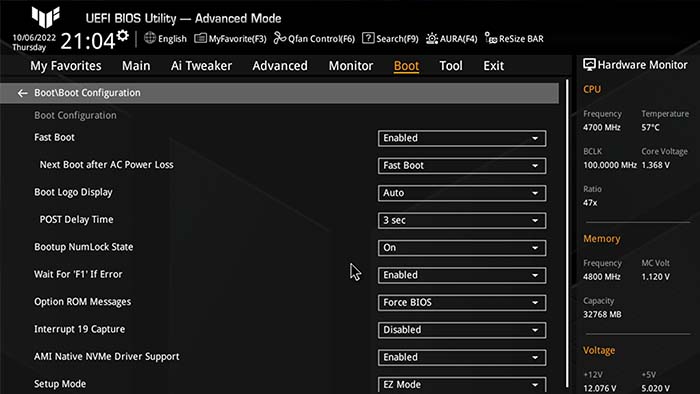 Conclusion
ASUS TUF Gaming X670E-Plus WiFi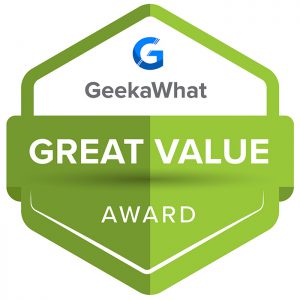 Product Name: TUF Gaming X670E-Plus WiFi
Brand: ASUS
Features

Design

Performance

Value For Money
Summary
While much of ASUS' X670E range is expensive when compared to other options on the market, the ASUS TUF Gaming X670E-Plus encapsulates what is means to be budget friendly, by offering numerous of the next-gen features but without making the pocket burn. You've got access to PCI-E 5 support giving you plenty of upgrading capability, along with a very bountiful amount of rear IO, which includes support for WiFi 6E and 2.5 Gigabit LAN. Despite the board looking cheaper in terms of its design, I'd argue that you don't buy a motherboard entirely for its look, so I'm satisfied that this board has some great features while keeping costs down. I will note that although this board definitely opens up options for consumers looking to upgrade to the new platform, do your research beforehand on Ryzen 7000, because the general consensus is that you may face diminishing returns with some of the new CPUs. However, if you're looking to upgrade to a brand new Ryzen 7000 build, I would wholeheartedly recommend this board as one of the best options in terms of value for money!
Pros
✅ Great value!
✅ Support PCI-E 5.0 slots.
✅ Rear and Front IO is exceptional.
Cons
❌ Overclocking support isn't great.
❌ Only one x16 PCI-E 5.0 slot.
❌ No USB4 ports.