Introduction
ASUS TUF boards provide a solid middle ground for consumers looking to build a PC that provides a nice balance of features, whilst maintaining a decent price point. With the new Raptor Lake refresh (14th-Gen), ASUS have revitalised a range of their motherboards that offer newer modern features that cater to a myriad of different build styles and budgets.
The motherboards that we're looking at today is the TUF Gaming Z790-Pro, which takes the traditional 'TUF' look that we all know and love, and steps it up a notch with the features. We'll be delving into the design and features of the TUF Z790-Pro, we'll also be taking a look at the box accessories to see what extra goodies ASUS offers with these new motherboards.
Buy the ASUS TUF Gaming Z790-Pro WiFi on:
Suggested Article: Intel Core i5-14600K Review – A Disappointing Upgrade
Intel 14th-Gen vs 13th-Gen – What's Changed?
Intel has decided to release a refreshed version of 13th-Gen CPUs, known as the Raptor Lake refresh. Raptor Lake by far, has been one of Intel's most popular CPU ranges, offering excellent metrics across games and workstation programs. It has also been one of the best priced CPU ranges, with 13th-Gen processors offering excellent value-propositions even at the lower-end. So what's really changed with the new 14th-Gen options?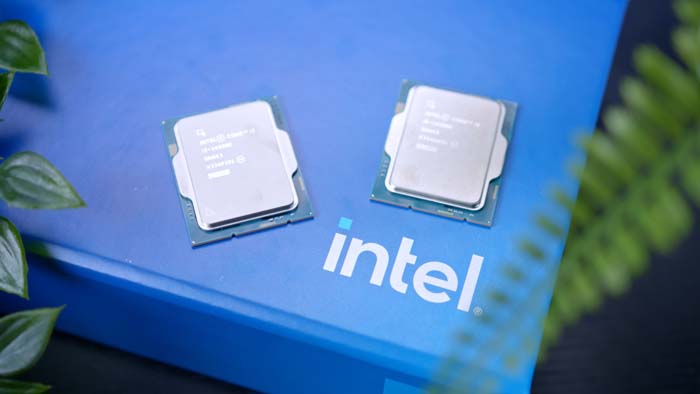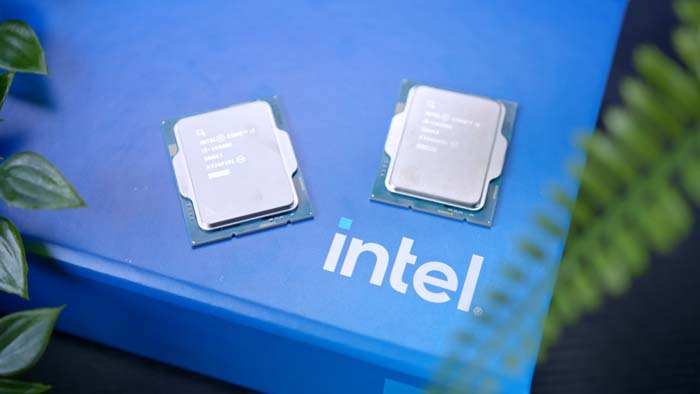 The main focus here is clock speed. Consumers can expect some slightly higher clock speeds on the Core i5, and Core i9, with the Core i7 getting the biggest upgrade.. PCI-E lane count, DMI lanes, and most of the other specs that we've seen with 13th-Gen has primarily remained the same, because the architecture hasn't really changed. 14th-Gen still uses the exact same LGA1700 socket, which is why the changes to a degree, are limited.
While the CPU's haven't changed much, the new motherboards have received a larger upgrade. PCI-E 5.0 is a larger focus, with even mid-range boards supporting Gen5 SSD slots. WiFi 7 is a new inclusion, but we have mixed feelings about it based on the fact that WiFi 7 routers aren't really a thing yet. Consumers can also leverage widespread high speed USB ports, with the rear IO on pretty much all of the new boards sporting predominantly USB 3.2 options.
TUF Gaming Z790-Pro Design & Aesthetic
The Z790-Pro is a familiar design, sporting the TUF aesthetic that we're all used to, but there's been some slight upgrades to the actual board. You'll immediately be able to notice the TUF branding, which appears all over the motherboard. I think the TUF livery appearing everywhere is a bit of a double-edged sword. Whilst I think it will appeal to some, to others it isn't likely to. I'm personally not a massive fan, I like that the older boards were a bit more minimalist on all of the TUF branding, which resulted in a well-rounded black board. But, I digress, the design is what I would consider fine.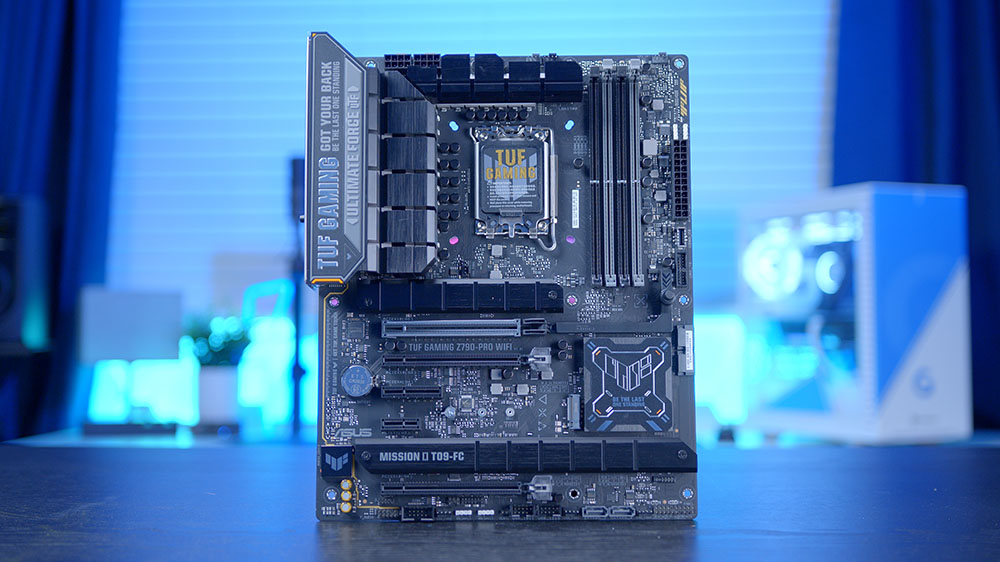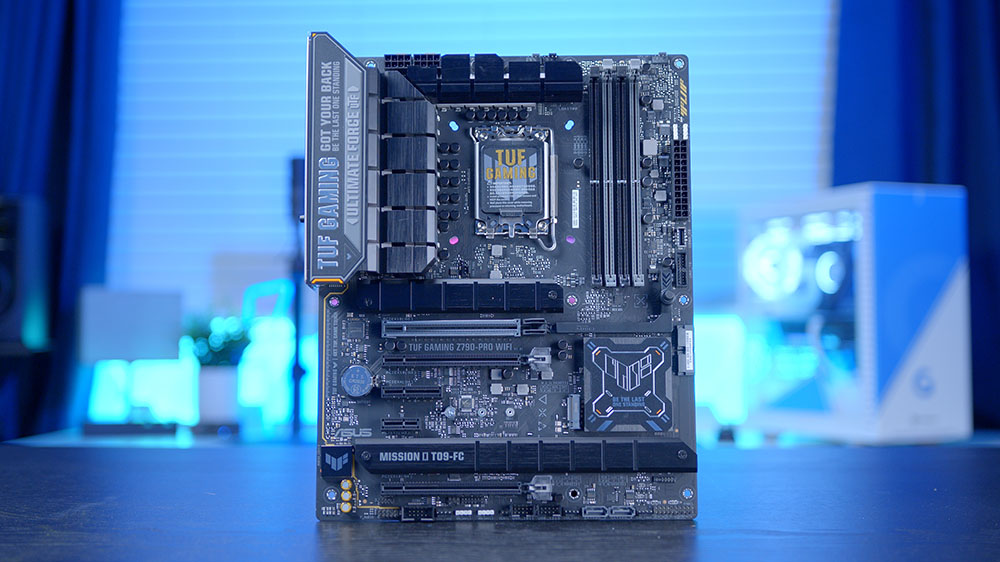 ASUS have included more heatsinks on this motherboard, with the VRM power delivery getting the biggest focus here. This means the power delivery for your CPU should be nice and cool, but there's also a nice bonus when it comes to design. I do like the black and brushed metal heatsinks here, it just adds a new element of depth to the overall look of the board, whilst also aiding thermals. Towards the bottom the board there is less coverage, but I think the raw PCB versus some heatsinks provides some nicer contrast.
To briefly summarise, I do think the TUF Gaming Z790-Pro is a relatively decent looking motherboard, but I feel ASUS have gone a little bit crazy on the livery here which takes away from the minimalist aesthetic that other TUF boards have offered in the past. It is worth noting that the TUF Gaming Z790 is an ATX board too, which should help when picking out a case for your system.
Features We Like
In this section we'll be doing a deep dive of the main features of the TUF Z790-Pro. We've highlighted the features that we think are solid, whilst also discussing some of the things that we're not a fan of.
High Speed XMP Profiles
The TUF Z790-Pro offers 7800MT/s on the XMP speeds, which will provide some more performance bonuses in certain applications and games. Enabling XMP on this board is vital, which will ensure performance is high across all facets of your system.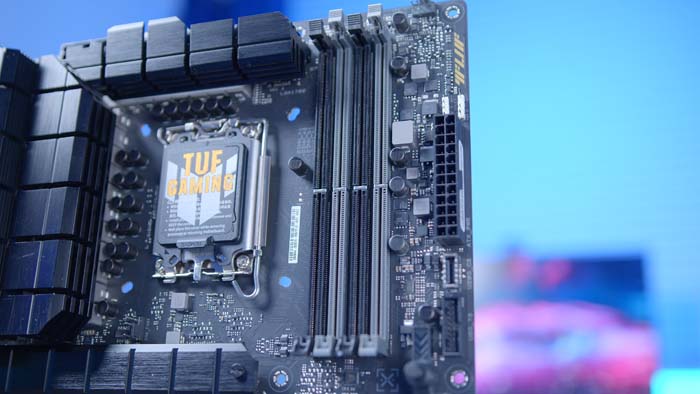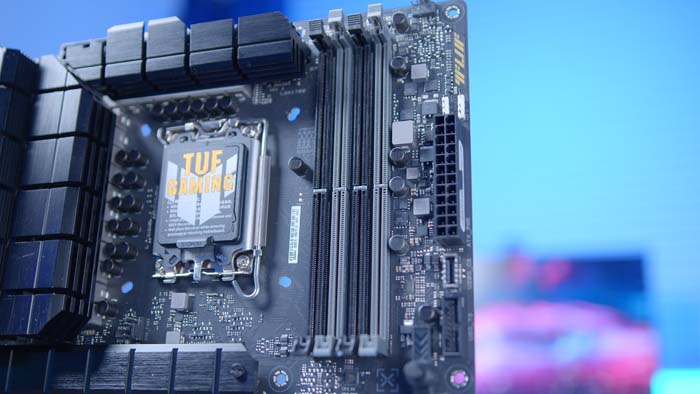 PCI-E 5.0 for Graphics Cards
PCI-E 5.0 has become a mainstay on the vast majority of motherboards within the past couple of years. This new PCI Express generation provides consumers with the bandwidth they'll need when the next generation of GPUs arrives. Although we haven't yet seen any PCI-E 5.0 graphics cards, opening upgrade paths for consumers is always a win.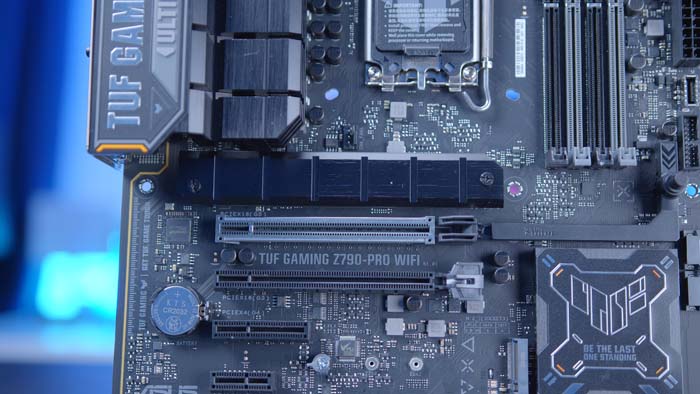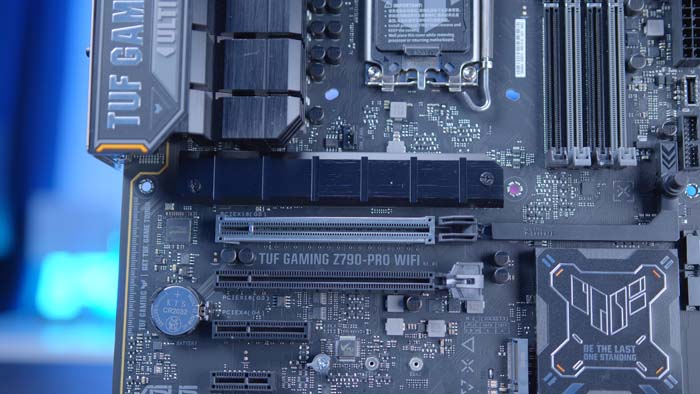 Decent VRM Power Delivery
The TUF-Z790 sports a 16+1+1 VRM power stage design, which should be more than enough to handle some overclocking. Ultimately this isn't as strong as some of the other motherboards that we've reviewed, but consumers can expect reasonable performance across all of the new Intel SKUs.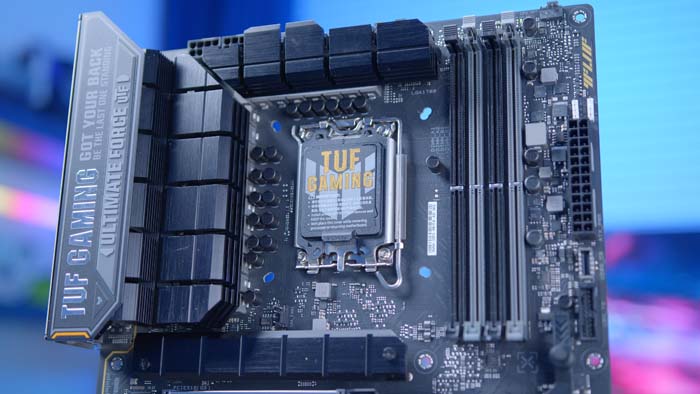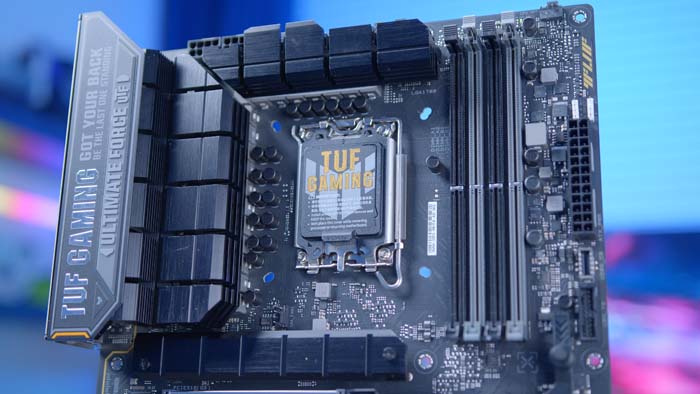 Strong Rear IO
As I've alluded to above, one of the nicer upgrades that's come with the new motherboards is better rear IO. This means more USB ports, with the majority of them being high speed. On the TUF Z790, consumers have access to a USB 3.2 Gen2x2 Type-C port, with three USB 3.2 Gen2 ports as well, rated up to 10Gbps. There's also four extra USB 3.2 Gen1 ports as well, providing consumers with plenty of options for peripherals and accessories.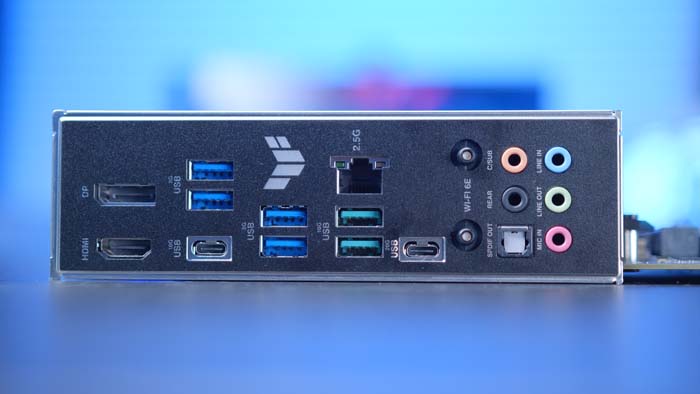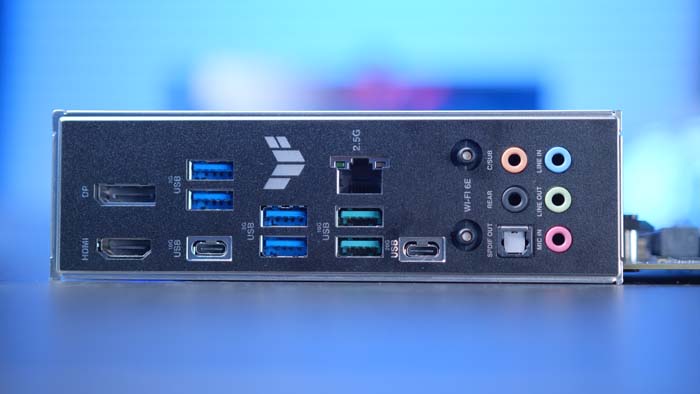 Its also great to see that there's no USB 2.0 in sight here. We saw a massive range of more expensive Z790 boards that fleshed out the IO with USB 2.0, which in this day and age, feels cheap. It is also worth mentioning that this motherboard offers a 2.5 Gigabit LAN port, along with WiFi 6E instead of WiFi 7, which I imagine will help with the overall cost.
What's In The Box?
In this section we'll be taking a brief look at all of the extra accessories that come in the box. ASUS tend to be pretty generous with the extras that they provide, even on their mid-range boards, so we'll be highlighting each of the additional components that this board comes with.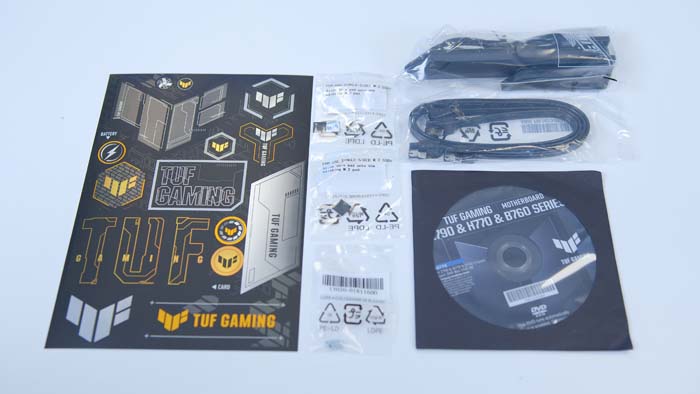 The TUF Gaming Z790-Pro WiFi comes with some stickers, and a BIOS disc. Admittedly we thought the disc was strange, but as we've seen with our Z790-Creator review, ASUS are weirdly stuck in the past when it comes to BIOS updating. Alongside the disc, there's some extra M.2 latches, a SATA data cables, and a WiFi adapter too.
Conclusion
ASUS TUF Gaming Z790-Pro WiFi
Product Name: TUF Gaming Z790-Pro WiFi
Brand: ASUS
Features

Design

Performance

Value For Money
Summary
The TUF Gaming Z790-Pro WiFi is a new motherboard that comes in towards the end of the LGA1700 socket's life for Intel's 14th-Gen CPU line-up. This board is a solid mid-range option that looks to offer a strong set of features, whilst maintaining a relatively competitive price point. While I do feel that this board will appeal to many, I don't think there's anything particularly special about the TUF Z790-Pro that makes it standout versus the competition. It is lacking support for Gen5 SSDs, doesn't have the strongest VRM power delivery, and doesn't really differ that much from previous generation TUF boards.
If ASUS were to be a bit more competitive when it comes to price, but also offer some outstanding features that make this board worth picking up versus others, the TUF Gaming Z790-Pro would be a more tantalising choice. But I think considering the existing features and quite frankly garish design, the TUF Z790-Pro just feels very average. If you are looking to pick up a new motherboard for your 14th-Gen system, then the TUF is worth considering, but some older Z790 motherboards might be a superior option.
Pros
✅ Bountiful set of high speed rear IO.
✅ Solid connectivity and expansion options.
✅ VRM power delivery should be ample for a reasonable overclock.
Cons
❌ Lacking Gen5 SSD support.
❌ Not many quality of life/usability features.
❌ Way too much TUF branding on the board.