Introduction
Over the past few months we've been waiting in anticipation of new products to launch. At Computex 2022 we received lots of exciting news by way of new announcements, with the most anticipated being Ryzen 7000. AMD showed us their new AM5 socket, along with their flagship motherboards and some tantalising benchmarks that gave us just a taste of how powerful Ryzen 7000 CPUs are going to be.
Today, the anticipation has reached an all-time high with an official release date from AMD along with some Ryzen CPU specifications. We're going to be breaking down the specs of each CPU along with pricing and some final thoughts later on this new generation!
Suggested Article: ASRock Releases First X670E Motherboard Specs & Photos
AMD Ryzen 7000 Release Date
After plenty of waiting and many leaks, the official release date of Ryzen 7000 CPUs begins on September 27th. AMD has only announced four processors, but these new CPUs are looking very promising in terms of specs and benchmarks.
September 27th is more or less what we were expecting in terms of a release date, as AMD teased that these CPUs would drop in Fall (or Autumn) of 2022. After an alleged leak from a Chinese supplier, we were expecting to see Ryzen 7000 release around September 15th.
Regardless of this new release date, we're excited to get our hands on all of the new processors to benchmark them and see how they perform in a real-life setting.
New Chipset Announcement
As a smaller segue, AMD also announced a brand new B650 chipset, adding a fourth chipset into the mix for Ryzen 7000. Previously, it was understood that Ryzen 7000 would feature three main chipsets: X670E, X670, B650. This new announcement has shown that AMD is looking to compete more aggressively than ever in the mid-range, bringing 'Extreme' feature support (notably more PCI-E 5.0 support) to their cheaper B650 chipset.
AMD Ryzen 7000 CPU Specs & Pricing
The four new chips are not likely to make up the entirety of the Ryzen 7000-series range, instead they act as a solid starting point with a range of processors for the budget, mid-range and high end markets. Expect to see further additions to the range over time, with a wider variety of Ryzen 5 and Ryzen 7 7000 SKUs expected.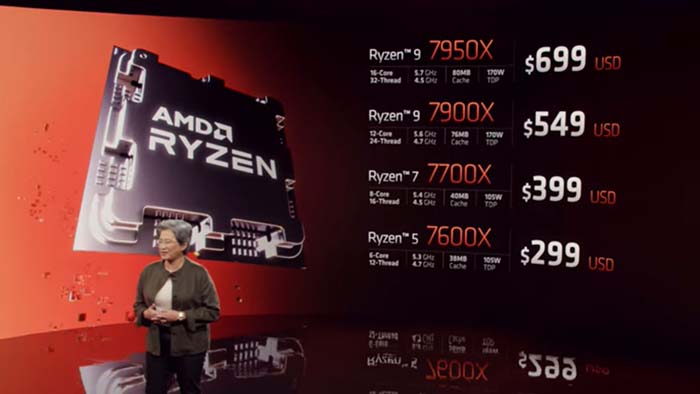 The press conference also gave us more detail on specs of these CPUs, detailing clock speeds, TDP and core counts – basically all of the key specs that make up a CPU!
The Ryzen 5 7600X retains the $299 MSRP of its Ryzen 5 5600X predecessor, fantastic to see in a world of high-inflation and surging prices. It does so with 6 cores and 12 threads, the optimal minimum for gaming and with faster clock speeds than we have ever seen on this tier of CPU. Boost clocks of 5.3GHz on a single-core are set to provide stellar gaming experience, while the base clock is a staggering 1GHz higher than its direct predecessor.
This great pattern continues up through to the Ryzen 7 7700X, with strong clock speeds once again, a pretty streamlined TDP and an 8-core, 16-thread design. The $399 MSRP also retains competitive with the rest of the market, while leaving room for a beefed-up Ryzen 7 7800X at a later date.
The Ryzen 9 chips are where things get really exciting, while the top-end the Ryzen 9 7950X comes in at a whopping $699, it boasts an huge 5.7GHz boost clock speed, with a 16 core, 32 thread CPU makeup. These are core counts that you'd expect to see from an EPYC or Threadripper CPU, not a mainstream desktop CPU. This will undoubtedly be a great processor if you can stomach the cost!
CPU
Key Facts
Pricing
Ryzen 5 7600X
Cores: 6
Threads: 12
Base Clock: 4.7GHz
Max Boost Clock: 5.3GHz
TDP: 105W
$299
Ryzen 7 7700X
Cores: 8
Threads: 16
Base Clock: 4.5GHz
Max Boost Clock: 5.4GHz
TDP: 105W
$399
Ryzen 9 7900X
Cores: 12
Threads: 24
Base Clock: 4.7GHz
Max Boost Clock: 5.6GHz
TDP: 170W
$549
Ryzen 9 7950X
Cores: 16
Threads: 32
Base Clock: 4.5GHz
Max Boost Clock: 5.7GHz
TDP: 170W
$699
Closing Thoughts
This new release date is indeed an exciting time for PC gamers, and enthusiasts across the world. We've slowly seen the market grow to a point where extremely powerful performance is available at an affordable level for consumers. Although these new Ryzen 7000 CPUs are forcing an upgrade to DDR5, we'll slowly see the performance of DDR5 memory improve, making this new generation of RAM worth using, too.
Although AMD is still teasing us when it comes to their new B650E chipset, along with the other CPUs expected to be announced within this range, we are very excited about Ryzen 7000. These new processors are going to be powerful, and we're pretty happy about the price too. Bring on September 27th (and let's just hope they are in stock!)