Introduction
Be Quiet! has been a mainstay in the CPU cooler for as long as we can remember. Consumers looking to pick up a high quality air cooler can always look to Be Quiet! to provide, and won't be disappointed. However, for those not quite familiar with the PC components space might be unaware that they actually manufacture a number of other parts such as power supplies, and more recently – cases.
Cases are quite a difficult beast to tame, so Be Quiet! are taking a pretty big risk delving into the world of cases. But despite the elevated risk here, we're pretty excited to delve into the ins and outs of new Be Quiet! products in this space.
The case that we'll be taking a look at today is the Shadow Base 800 FX. This mid-tower design allegedly offers optimised airflow, which is a trope of Be Quiet's! products, so we'll be curious to see how this case holds up against the rest of the market.
Buy the Be Quiet! Shadow Base 800 FX on:
Clearance – Is It Important?
Clearance is a pretty big topic of discussion in the case and graphics card space. The reason why this topic has become more prudent is because of the inherent size increase that we've seen with new graphics cards within the past year. NVIDIA's RTX 3000 range, and AMD's Radeon 6000 series of cards were pretty big, but both of these manufacturers have taken things to an entirely new level with all of the new cards that have released recently.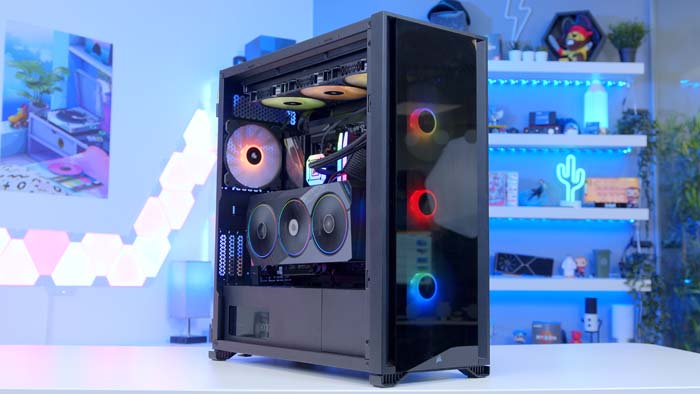 So this begs the question, is clearance important? In short, yes it is. Clearance is starting to become more and more vital, because new builders are likely to run into issues without the right research. The best way to avoid any problems is ensure that you've got enough clearance to begin with. These new cases that are cropping up on the market that offer 360mm of GPU clearance are a no-go for those with big GPUs, because as soon as you start to install fans or radiators, you're minimising how much space you have left for airflow, and just general space for cables and other components.
A good rule of thumb is to look at the length of your GPU on the manufacturer's website, and then add about 50-100mm of space on top of this. This is what your max supported GPU length of your case should be. The reason why we advise this, is because you'll avoid any installation problems, and you won't impact the airflow of your case. 50-100mm of extra space is plenty, to minimise the risk of your GPU not fitting in your case with radiators, fans, or just cable mess. And because you've got all of this extra space, airflow should be pretty solid throughout.
Suggested Article: Best Graphics Cards to Buy for Starfield
Shadow Base 800 FX Design & Aesthetic
After we got this case out on the studio table, we were immediately greeted with a quite refined looking chassis. The Shadow Base 800 FX comes in a matte black or white coating that appears all around the chassis. The most exciting part of the design is the RGB flair that turns on when you fire up your build. You'll be able to take note of two RGB strips spanning the entirety of the front panel and curving with the mesh ventilation that wraps around the side. All of the pre-installed fans in this case (of which there are four) are also RGB too, and they shimmer brightly through the mesh front of the Shadow Base 800 FX.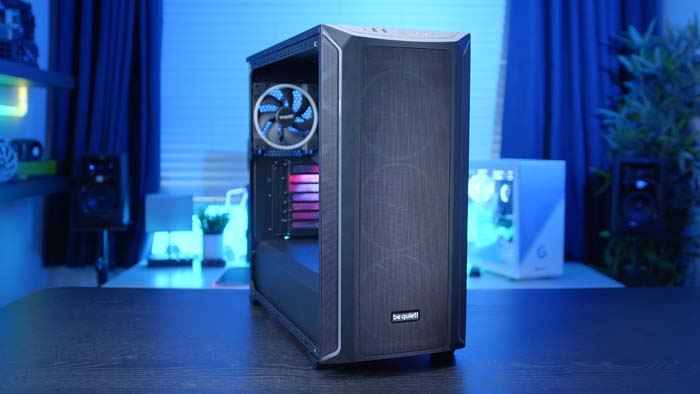 I was actually quite surprised about the RGB on this case, purely because Be Quiet! isn't particularly well known for insane amounts of flair, as the majority of their coolers tend to stick to a minimalist aesthetic. Moving around to the side, you'll find a tempered glass panel that covers the entirety of the PC case, providing a full unhindered window into your build. The rest of the case does stick to a more simplistic design, with the rest of the chassis offering a matte black colour, including the dust filter that you'll find on the top of the case.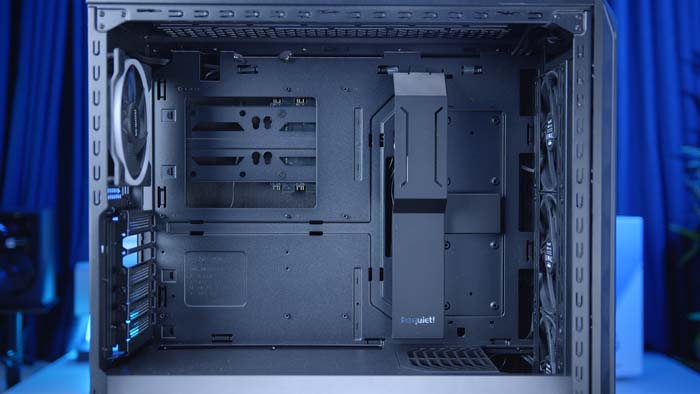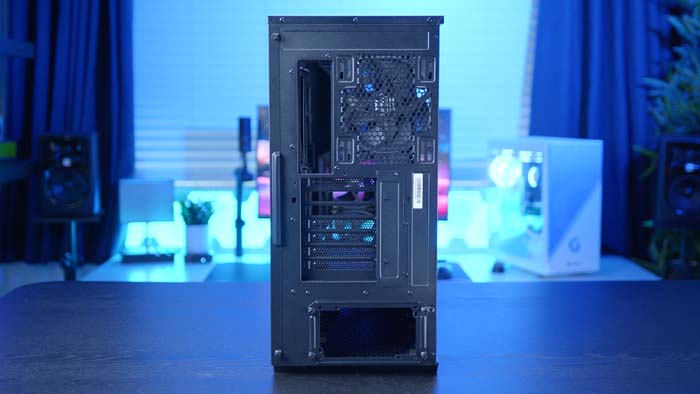 On the rear side panel, consumers can leverage the fan and ARGB hub, which is another cool extra that I'm a fan of. This just saves the hassle of having to buy one yourself, or pick up some rubbish adapters that look gross, and are a pain to cable manage. There isn't much to say about the rest of the Shadow Base 800 FX aesthetically, the case does look pretty nice, it feels robust and doesn't look cheap either. All of the additional RGB is a nice touch too, allowing you to spice up your system with some fancy lighting effects.
Features
In this section we'll taking a look at the main features of the Shadow Base 800 FX. We've highlighted the areas that we like, and we'll be following up afterwards with some features that we don't like too.
Included Fan & ARGB Hub
One thing I love to see in cases, is an included fan and RGB hub. If you're like me and you've jammed your case with RGB fans, you immediately start to run into problems if you don't have some sort of RGB controller. By having an included hub built into your case, this saves both money and hassle. All of your RGB components can plug into your case and be controlled by the lighting button that you'll find on the front IO.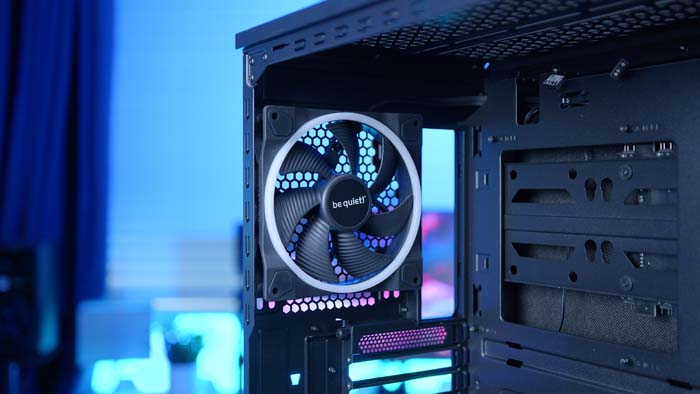 Four RGB Pre-Installed Fans
The Shadow Base 800 FX comes with four pre-installed fans, three of which are located at the front, and one which is at the rear. In short, this will save you some money and hassle. Be Quiet! fans are awesome and perform pretty well, even under stress. And generally speaking four fans should be enough for solid airflow, with a standard push and pull configuration. Having them-preinstalled also saves you having to screw them in and cable manage them.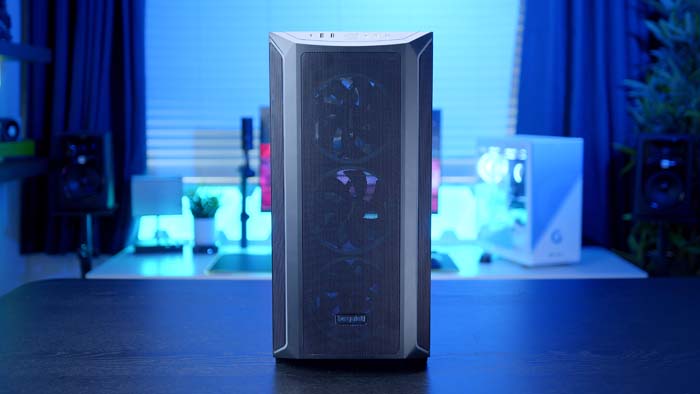 Modern IO options
On the front IO, consumers have access to three USB ports allowing you to plug in a variety of different peripherals and accessories. There are two USB 3.2 Type-A ports, along with a USB 3.2 Gen2 Type-C option as well. There's also a Mic and Audio 3.5mm combo jack too, for those with non-USB headsets and microphones.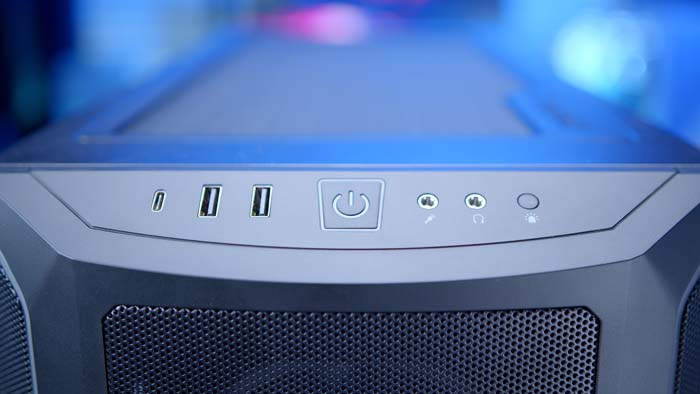 Features We Don't Like
This Case Isn't Anything Special
This isn't so much a feature as it is my overall throughs on the Shadow Base 800 FX. I can't really fault the features too much because I don't think Be Quiet! have gotten anything wrong per se. But at the same time, there's nothing here that blows my mind. Cases seem to be getting pretty stale, and while I can commend Be Quiet's overall effort, I'm just bored of the standard mid-tower ATX design that every manufacturer seems to be sinking their teeth into.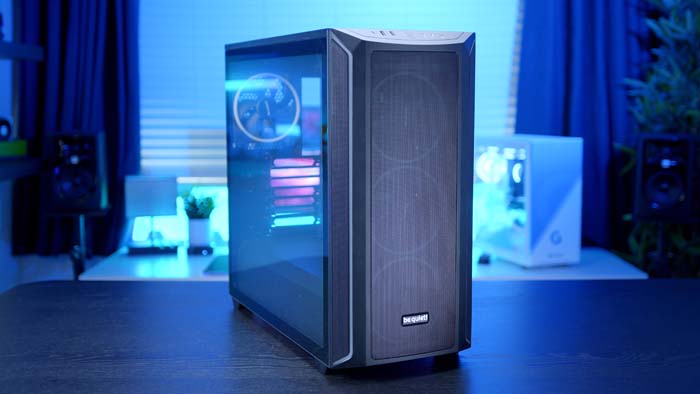 The Shadow Base 800 FX does perform well, but the biggest caveat is that you've got to spend nearly $170 to secure it, which seems outright ridiculous considering that this case isn't anything special. I think Be Quiet! have got the airflow right, there's plenty of space, and you've got some nice RGB fans, but you can get all that in other cases that are much cheaper. I think if Be Quiet! were offering something a bit more proprietary that is specific to this case, and this case alone, I would be more excited. But I'm just not overly impressed by it, especially considering how expensive this case is.
Alternatives
While the Shadow Base 800 FX is a decent case, there are also a number of excellent options on the market that come in at a similar price and offer an equally great set of features.
MSI MPG Gungnir 110R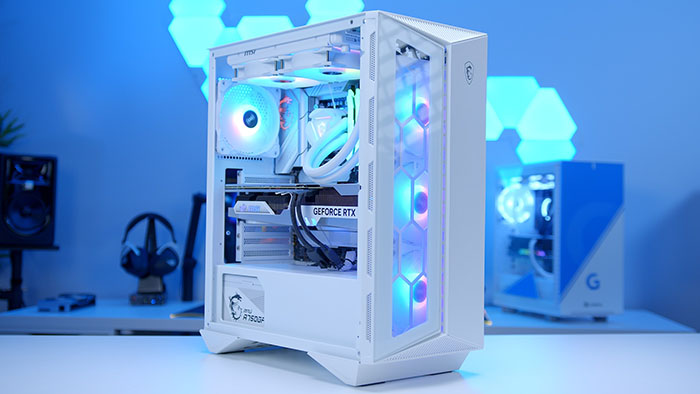 MSI's Gungnir 110R is a case that we've recommended a number of times in different buyers guides and used in PC builds. The 110R comes in at an awesome price point, geared more towards the budget side of the market. It comes with four pre-installed RGB 120mm fans, an awesome tempered glass aesthetic, and it also supports full-sized ATX motherboards. It is slightly weaker on the clearance front, but if you research how much space you've got with your GPU, you shouldn't run into any issues.
Buy the MSI MPG Gungnir 110R on:
Fractal Design Pop Air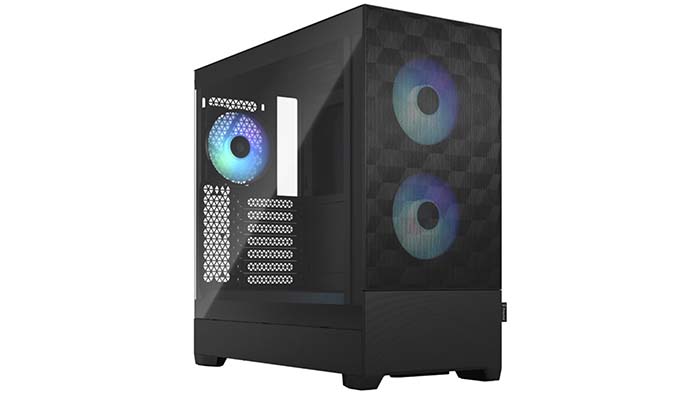 Next up is the Fractal Design Pop Air, a personal favourite of mine that brings back colour way cases. Fractal Design have been the kings of case design for quite some time, offering well ventilated systems that provide a unique aesthetic that contrasts quite nicely against the rest of the market. The Pop Air in particular comes in a number of different colours, or black and white if you prefer something more traditional, and its available for a pretty reasonable price point too.
Buy the Fractal Design Pop Air on:
Corsair iCUE 4000D RGB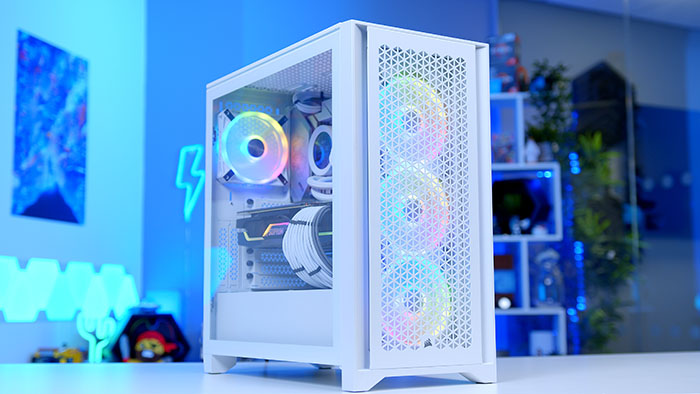 The final alternative case that we've picked out is the iCUE 4000D RGB from Corsair. We've recommended this chassis a countless number of times, because somehow despite being an older option is still one of the go-to options for the vast majority of consumers. This case offers some vibrant iCUE fans, plenty of airflow and ventilation keeping your components nice and cool. Not only that, but the 4000D is still one of the best looking options on the market, offering a modern and simplistic aesthetic.
Buy the Corsair iCUE 4000D RGB on:
Conclusion
Be Quiet! Shadow Base 800 FX
Product Name: Shadow Base 800 FX
Brand: Be Quiet!
Features

Design

Versatility

Value For Money
Summary
The Shadow Base 800 FX from Be Quiet! looks to be a solid case option. Consumers can leverage a robust mid-tower chassis that offers a minimalist aesthetic that contrasts nicely with the massive amount of RGB on offer. This case is also pretty inclusive when it comes to internal space, accommodating modern GPU sizes, and large liquid cooling solutions. But despite all of this, I feel this chassis falls short of anything impressive. While I do like the overall design and thermal capability, there's just not a lot on offer despite the high price tag.
There are a number of other cases on the market right now that come in at a similar or lower price point and can offer more. A chassis like the O11D Mini from Lian Li, or the Fractal Design Pop Air seems like a better bet in comparison to the Shadow Base 800 FX, because you're able to leverage more features at a lower price point. I really want to love this case, but I'm struggling to find a reason to, purely based on the weak value-proposition versus the rest of the market. If you've got a little bit of extra cash to shell out, I think the Shadow Base chassis is a solid choice, but it is worth keeping in mind that there are a vast number of alternatives that are likely to offer more when it comes to features, at a lower price point.
Pros
✅ Comes with four pre-installed fans.
✅ RGB on the case looks awesome.
✅ Huge amount of space for large components, such as GPUs and 420mm radiators.
Cons
❌ The case isn't anything special features wise.
❌ Comes in at a pretty high price point versus the rest of the market. 
❌ Doesn't offer much in terms of versatility.