Introduction
We're currently in Computex checking out all of the new components and products from a variety of different manufacturers across the PC gaming and building space. It is day two, and we've wandered over to the Thermaltake booth to see what they've got on offer.
Their big focus at Computex seems to be the brand new CTE cases, which prioritises thermal efficiency and airflow. Thermaltake have announced a massive range of new cases designed to keep your system nice and cool with improved airflow. We've also seen an entire new range of liquid coolers, alongside fittings, water blocks, reservoirs, and more.
As always, we'll be delving into each component with some minor detail on each one, with our thoughts and insights too.
CTE 500 Air
First up in this Computex hardware round up is the brand new CTE 500 Air. CTE stands for Centralised Thermal Efficiency and is the new approach that Thermaltake are taking to cooling. Essentially the way this works is, fans are placed on the left and right side of the case drawing air in, and using the principal of heat rising, air is exhausted out of the top of the case. This effectively means that heat should build from the bottom and rise to the top.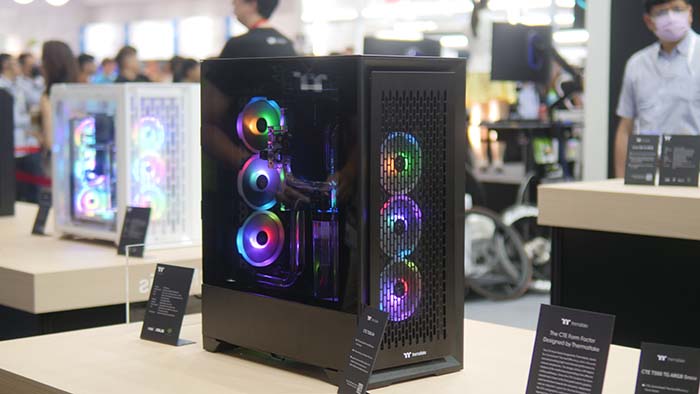 This case is a full-tower design that supports 360mm and 420mm radiators. It also features a dual-chamber approach, so your main components are separated from all of the cabling and wires which will be located in the back of the case. This will help with aesthetic, but can complicate building to a degree, so we would definitely recommend first-time builders purchasing with caution.
Overall the CTE designs look to be pretty strong, Thermaltake have definitely gone all out when it comes to the aesthetic of these cases. Whether the CTE thermal design will be strong competition versus some other manufacturers, we don't know. I do have sleight concerns, but we'll wait until these cases release. Thermaltake is looking to drop these cases towards the end of Q2, possibly the start of Q3, so keep your eyes out for a review!
Ceres 300
Next up is the Ceres 300, the younger sibling of the Ceres 500. We gave the 500 a pretty strong rating in our review, we were impressed with the design and some of the usability features that Thermaltake have 'taken' into account, which contributed to a very well-rounded case design. I do think the LCD is a bit pointless, and quite expensive, but you don't have to purchase this as it is an optional extra.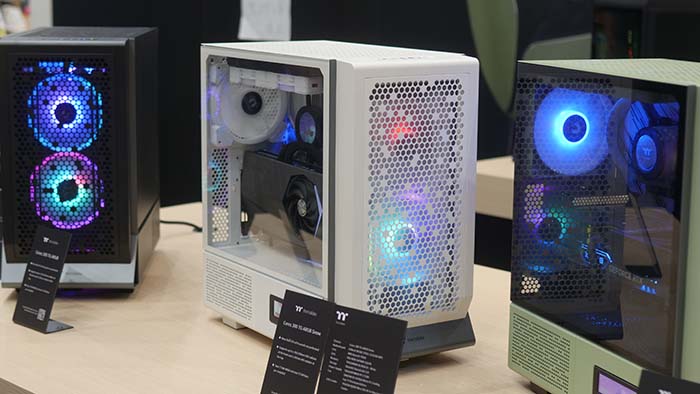 The Ceres 300 looks to be a smaller version of the aforementioned 500 case. This case comes with two 140mm RGB fans mounted at the front, which features the signature mesh design we saw with the 500 version. This case obviously has less support for fans and radiators due to the size, but there's still ample support for 140mm fans, alongside a 360mm radiator at the front. This case will also support some RTX 4000 series graphics cards, but we wouldn't advise it, as the clearance will definitely be a problem once a radiator is installed.
Overall we're pretty happy with the design. Thermaltake are clearly catering to a demographic of people that want a smaller case, and based on the fact that the Ceres 500 is a pretty decent option, I can't imagine the Ceres 300 will be vastly different or worse off.
The Tower 200
We've also seen the freshening up of an old favourite, which is known as The Tower 200. The Tower 100 is a popular Mini-ITX design with verticality as the focus, whilst still retaining the ITX size ideal for smaller builds. Admittedly, the Tower 100 was a bit weaker on airflow, so we're hoping that the revival is an improved design and will be able to handle builds with stronger workloads.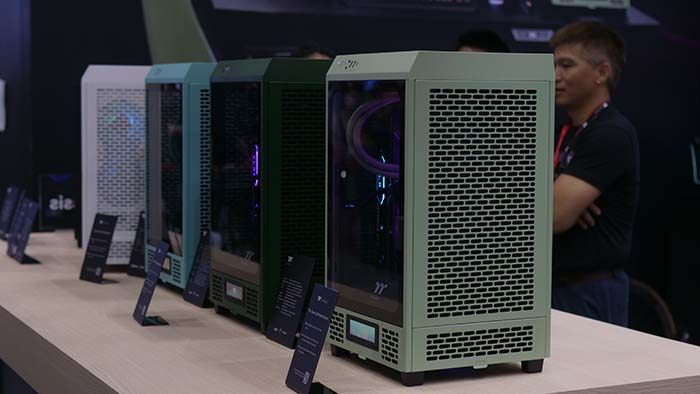 The Tower 200 looks to have increased in size slightly, which will be more accommodating for larger graphics cards. This means RTX 4000 users should be able to install their shiny new graphics card without any major problems. Thermaltake has also opted to provide a new colour option in the form of 'Matcha Green'. This lighter and more beige green colouring offers a nice aesthetic, and I honestly prefer it to the darker 'Racing Green' colour that Thermaltake offer. I'm pretty excited to see the revival of the Tower 200, and hopefully this case offers some stronger usability options for those that need some assistance with their build.
Custom Liquid Cooling Options
Thermaltake are also releasing some new water blocks, fittings, and more, to either spice up your custom loop, or to make things easier to install. The new fittings are designed to make tubing installation a much simpler process. These fittings come in a range of three different colours, black, white, or black and silver.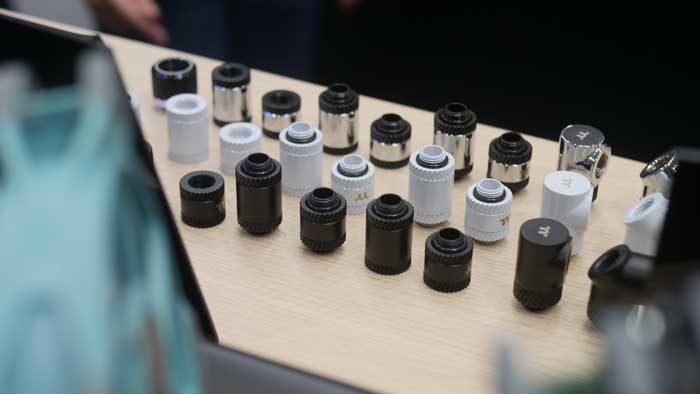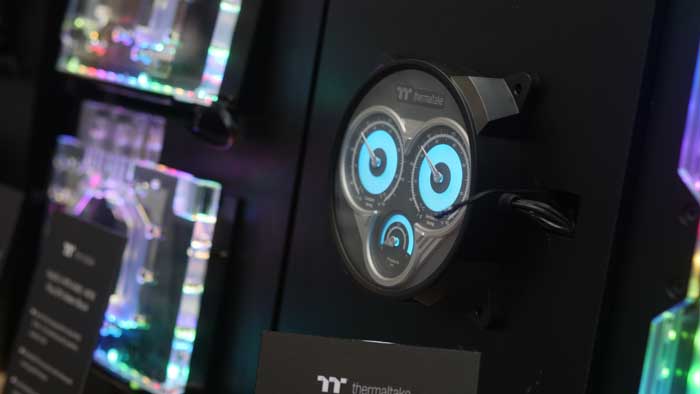 In terms of pump/reservoir combos, Thermaltake are offering three different sizes ranging from 250ml capacity, all the way up to 400ml. These aren't particularly fancy or refreshing by any means, but each of them is equipped with some RGB lighting adding some flair to your system.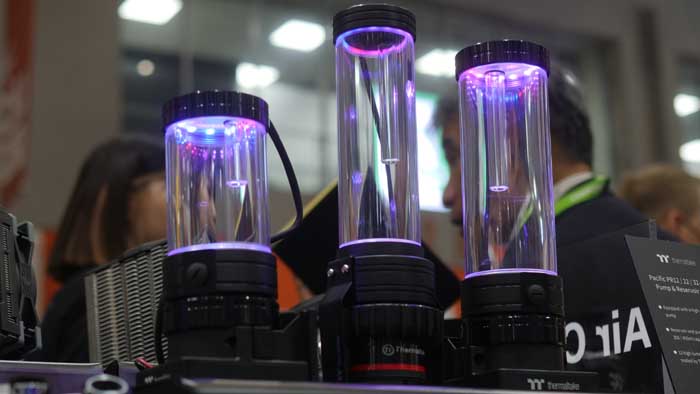 There are also some new water blocks and radiators that should provide some more spice to your build. The radiators are likely to offer similar colour options to some of the cases. The new water blocks also provide some nice aesthetic options with some RGB SKUs, especially for those looking to install a custom block on their RTX 4090 GPUs.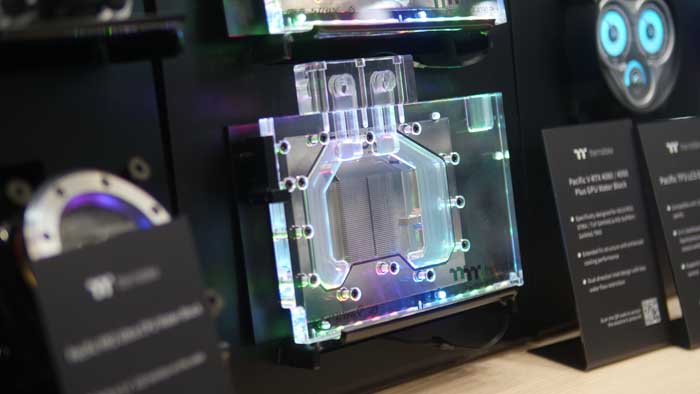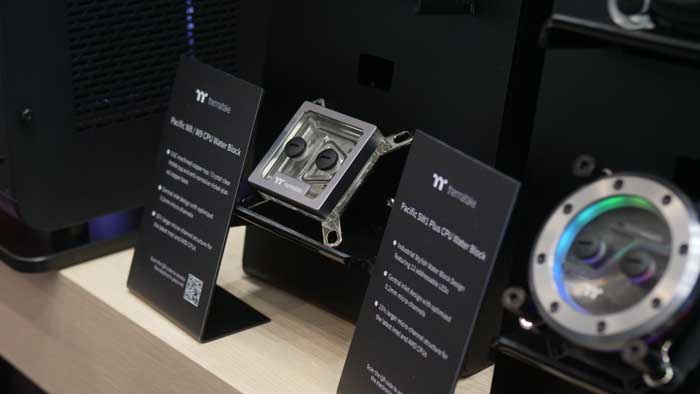 Overall it doesn't seem like Thermaltake are bringing out anything crazy when it comes to custom liquid cooling, but there are some clear pushes for components that make your life easier when it comes to loop assembly.
ToughLiquid AIOs
Thermaltake seems to be going a bit colour crazy as of recent, diverging from the typical black and white aesthetic, and I've got to admit – I'm all for it! Their new range of ToughLiquid AIOs come in a massive range of colours (similar to the cases). We're getting all of the sizes for these, all the way up to 420mm. The standard ToughLiquid coolers will come with an infinity mirror and plenty of RGB. And for some extra money you can get a cooler with a fully customisable screen. Again this isn't game changing, but it is nice to see some extra colour options here.