Introduction
Nvidia's brand new GeForce RTX 4080 is finally here, and we're ready to show off the performance and hardware of this awesome GPU! After a successful launch of the RTX 4090, one can only assume that the RTX 4080 is going to do even better coming in at a lower price with excellent specs.
The RTX 4080 is geared towards enthusiasts and high-end PC builders that are looking for the best performance money can buy. But with any new component launch comes a slew of questions. Is the RTX 4080 any better than the previous generation? Can it outperform one of the best RTX 3000 GPUs, the RTX 3090?
In this article, we'll be answering both of these questions with a GeekaWhat GPU Versus Battle. We'll be comparing both of these GPUs against each other in terms of hardware and pricing, then seeing how they fare performance-wise.
Suggested Article: Nvidia GeForce RTX 4080 Review (Founders Edition Benchmarks)
Versus Battle
Nvidia GeForce RTX 4080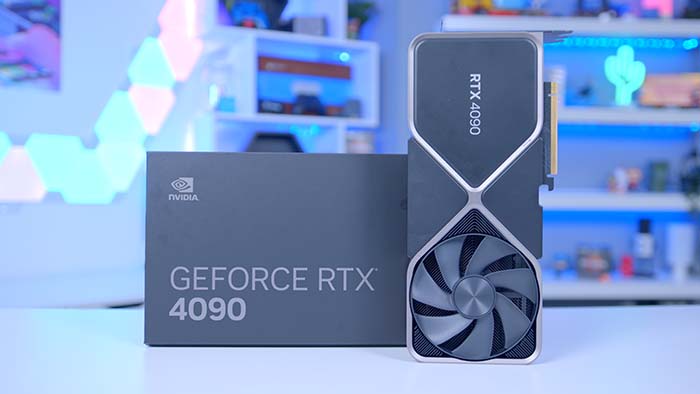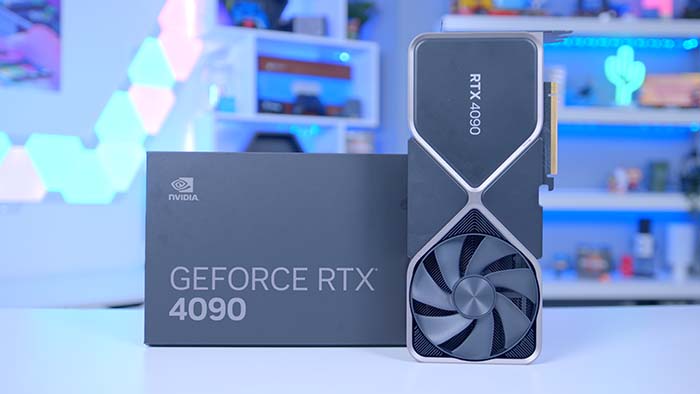 | | |
| --- | --- |
| Memory Capacity | 16GB GDDR6X |
| Boost Clock Speed | 2.51GHz |
| RT Cores | 76 |
| CUDA Cores | 9728 |
| TDP | 320W |
| Release Date | November 2022 |
| Price | Check Price on Amazon |
Nvidia RTX 4080 Specs
Nvidia's RTX 4080 is the second GPU from the RTX 4000 range that we've got our hands on in the GeekaWhat office. With a very successful launch from the 4090, it seems Nvidia are on a bit of a high, and the 4080 is following suit. With an excellent set of specs, the 4080 seems almost on par in terms of hardware to the 3090Ti. And if the performance is anything to go by, Nvidia have yet again impressed the masses.
With the new Ada Lovelace architecture, and the various new technologies that came the new SKUs, consumers have the tools to create an exceptionally powerful 4K gaming machine. The 4080 has no problems dealing with 4K natively, and with Ray-Tracing and DLSS 3 enabled, you can reduce performance overhead while maintaining high visual fidelity. Also, the 4080 is excellent for workstation applications. Encoding and exporting times are significantly reduced due to the AV1 encoder within the GPU.
In terms of price, the RTX 4080 is priced closer to the MSRP of the 3090, as opposed to the original price of the 3080. The new cards are definitely expensive, but you're arguably getting what you pay for here. The 4080 is marketed for high-end PCs and enthusiasts that want to build either top-end workstations or 4K gaming systems. Unfortunately for mid-range and budget builders, you may need to hold out for a potential 4070 or 4060 for the time being. But for those looking to get started with a powerful PC build, the RTX 4080 is an excellent choice!
Buy the Nvidia GeForce RTX 4080 on:
Nvidia GeForce RTX 3090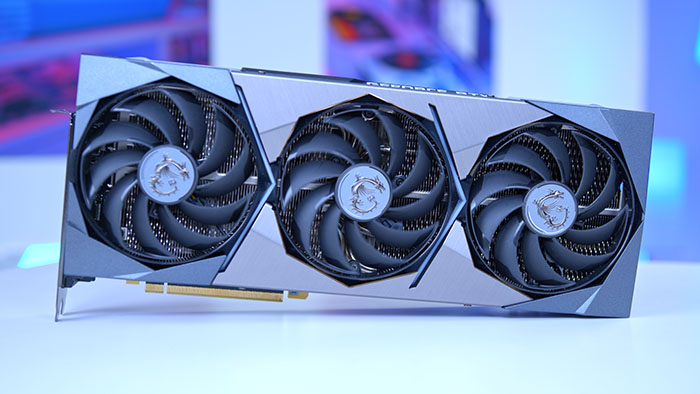 | | |
| --- | --- |
| Memory Capacity | 24GB GDDR6X |
| Boost Clock Speed | 1.70GHz |
| RT Cores | 82 |
| CUDA Cores | 10496 |
| TDP | 350W |
| Release Date | September 2020 |
| Price | Check Price on Amazon |
Nvidia RTX 3090 Specs
The GeForce RTX 3090 was the second card to release within the RTX 3000 range. This massive GPU was the first '90' SKU for Nvidia, boasting even better performance than their top-end 80 and 80Ti cards. The 3090 offers impressive hardware with a massive 24GB of GDDR6X memory, alongside 82 RT cores, and over 10000 CUDA cores. Unfortunately, the increase in performance comes along with an increase in wattage, forcing a PSU upgrade for some consumers.
Despite the higher power consumption, the 3090 was top of the line when it came to performance. 4K and lower resolutions posed no issue to this card, and alongside the new DLSS technology, consumers could enjoy a higher resolution with better framerates with less performance overhead. Nvidia's real-time Ray-Tracing technology paired with their AI-backed super sampling gives consumers the opportunity to enjoy incredible visual quality with minimal lag and maximum frames.
Pricing is where things start to get complicated. The RTX 3090 arrived as one of the most powerful GPUs on the market, but at the time, it was also one of the most expensive. Launching with a $1499 price tag, this card was not marketed for your average PC builder. The price tag associated with this card is what most people would feel comfortable spending on a mid-range build, let alone a graphics card, making it somewhat unobtainable for the masses. However, if you're looking for an incredibly powerful graphics card, the RTX 3090 won't disappoint.
Buy the Nvidia GeForce RTX 3090 on:
Our Testing Methodology
The approach we take to testing involves a rigorous standard where we provide real-life context, and ensure that components are tested fairly. This involves benchmarking all of our components within a game on a repeatable run that uses similarly matched components, i.e. high-end parts are paired with other high-end parts, and not anything budget or less powerful.
We do this so you know exactly how our GPUs perform in your favourite titles whilst being transparent and showing that you can achieve similar results using the same components. The second part of our methodology is sticking to our editorial promise, in which we commit to remain impartial and honest in our opinions. All articles and reviews are edited entirely by our in-house team and are not subject to external review or amendments by brands and manufacturers.
Benchmarking Performance
All of the graphs that we've provided below are from data that we've compiled together from a number of gaming benchmarks. You can find all of the full runs on our YouTube channel 'Benched', where you'll find a massive range of tests using triple A and popular Esports titles so you can see how each GPU really performs!
COD Warzone
For our first title we decided to benchmark COD Warzone at 4K to see how both of these GPUs can perform under significant load. The RTX 4080 soared towards the top of the graph giving us an average framerate of 155. By contrast, the RTX 3090 was able to surpass the 100FPS mark with relative ease, providing 108 frames on average.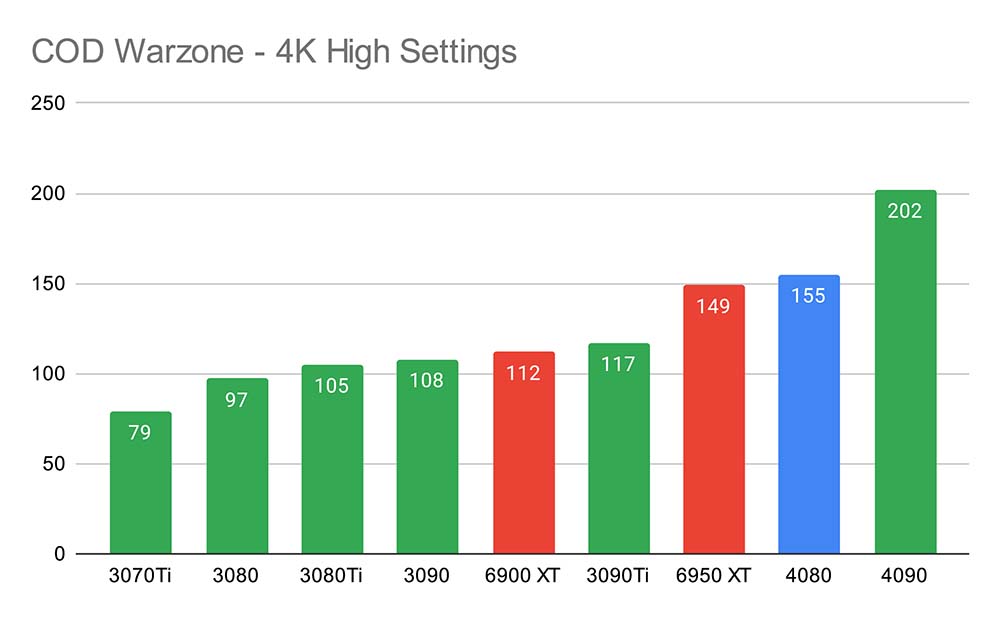 The 4080 seems to be the preferred option here at 4K giving us a high enough framerate to reach a buttery smooth refresh rate. Although the 3090 wasn't quite able to hit the 144FPS point, we were still quite happy with the performance. The 4080 clearly demonstrated how capable this GPU is under heavier workloads.
Fortnite
For our second game, we decided to fire up the hit title Fortnite, but with the settings dialled back down to 1080P Competitive. Both the RTX 4080 and 3090 performed incredibly well here, with the 4080 surpassing 300 frames on average, and the 3090 sitting just below that. 1080P Competitive settings are commonly used in this game to give players the most amount of frames possible to secure a Victory Royale. Both of these GPUs have clearly demonstrated their capability at 1080P and will be ideal for those looking to max their frames in a number of game titles.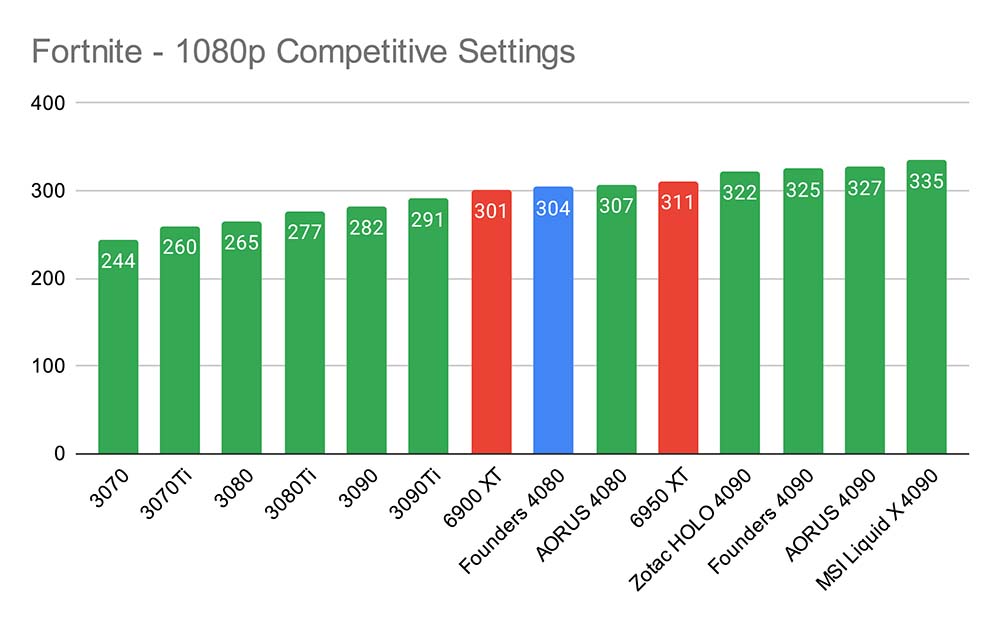 Apex Legends
In Apex Legends we were happy with the overall performance from both of these graphics cards. The 4080 came out on top again giving us 159 frames which was more than enough for a high refresh rate. The 3090 wasn't capable of reaching the 144FPS sweet spot, but still provided a very playable experience with the 132 frames we had at our disposal.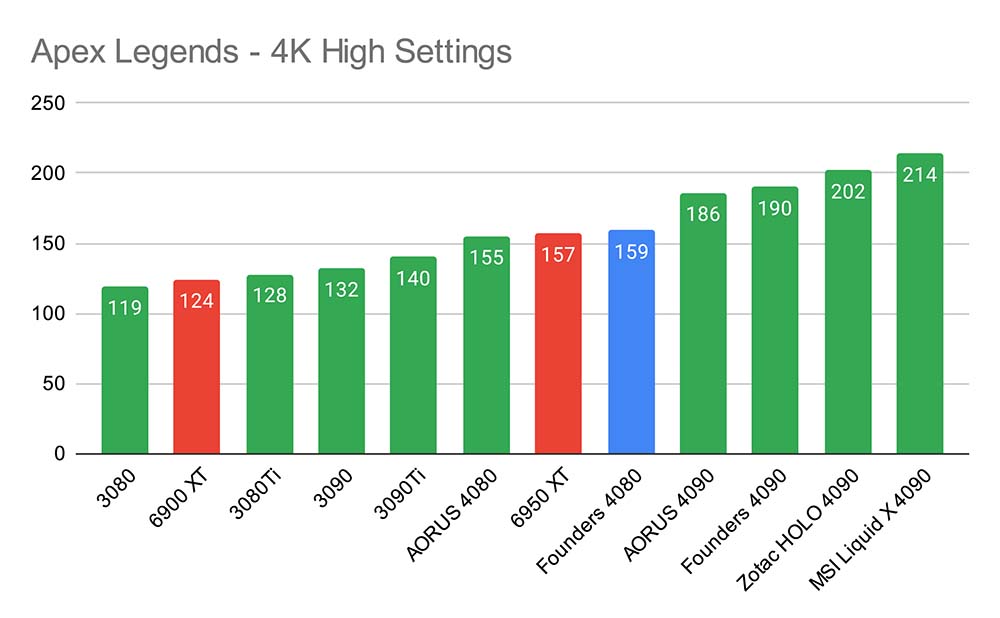 Battlefield 2042
In Battlefield 2042, the situation has changed slightly. Neither the RTX 4080 nor the 3090 were able to output particularly impressive performance. This is likely down to the fact that Battlefield 2042 isn't very well optimised resulting in less frames at higher settings. But regardless of the poor optimisations, both the 3090 and 4080 performed well enough to give us a playable experience at 4K!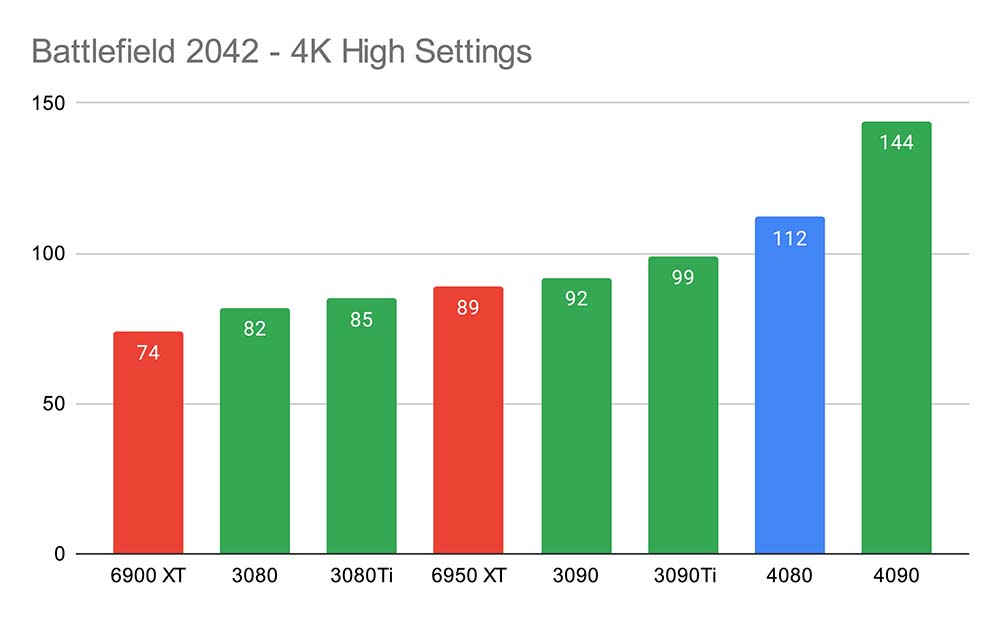 Conclusions
So which of these GPUs is better? Have Nvidia made enough leaps in graphical performance to make the 4080 a worthwhile purchase compared to the 3090? Well, the answer is somewhat complicated. Despite the definitive increase in performance when it comes to games, the 4080 is actually weaker on the hardware front in contrast to the 3090. This means that you're getting better performance overall (especially in productivity applications) with the 3090. That being said, there are clear benefits to picking up a 4080.
The inclusion of DLSS 3 and improved Ray-Tracing is a big selling point, but as this is mainly applicable to games, it is difficult to recommend an upgrade to the 4080 entirely for this reason. If you've already got a 3090, or you're thinking about picking up a GPU for a blazing-fast workstation PC build, then I'd stick with the 3090. However, if you're looking for superior gaming performance at higher resolutions with minimal overhead, the 4080 is a winner here!