Introduction
A PC case is one of the most critical components for any PC build, because ultimately, you need somewhere to house all of your parts. However, I feel the case market over the past year has gotten a little stagnant at times. We've seen the odd anomaly, such as Cooler Master's HAF 700 EVO, or Corsair's iCUE 5000T, but for the most part cases have followed a very traditional, and standardised design.
For consumers wanting a PC case that offers a strong balance of form and function, what are your options? Should you grit your teeth and sacrifice airflow to get a great looking case? Or should ventilation be the priority at the cost of a unique aesthetic? Well, I believe we may have found the ultimate case that can provide consumers both of these options.
Meet the HYTE Y60, a case that we've been wanting to get our hands on for quite some time, due to its sophisticated and modern aesthetic, combined with a mass of usability features. In this long overdue review we're taking a look at this extremely unique case. We'll be delving into the design, and looking at all of the awesome features HYTE have crammed into this case.
Buy the HYTE Y60 on:
Suggested Article: The Best PC Cases to Buy for the Nvidia RTX 4070Ti
Wrap-Around Glass – A Shift in Case Design
Although cases have primarily remained the same in terms of the 'metal box' design, there have been some outliers that have entered the market offering a slight spin on the standardised look. Manufacturers such as Lian Li developed the O11 Dynamic case which offers exceptional modularity in a dual-chamber format with a front and side tempered glass panel.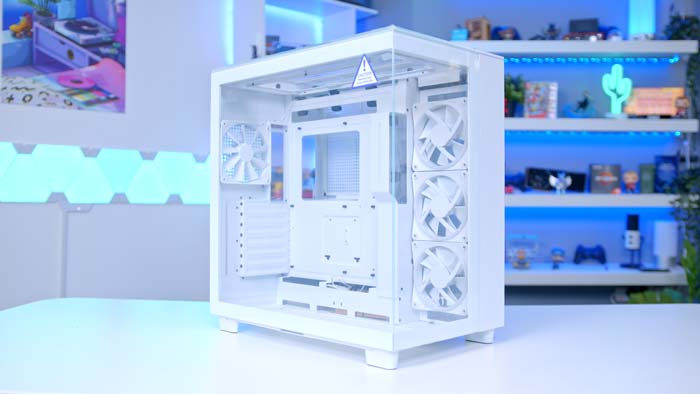 We've even seen Deepcool take things a step further with their wacky but interesting QuadStellar Infinity case. My entire point here is that there are few manufacturers that dare to step out of the traditional box approach, and HYTE may be one of the very few to take the design that we all know, and turn it upside down. This is where the wrap-around glass comes into play. Without giving too much away about this case, the Y60 uses tempered glass that wraps around the front and side of the chassis, offering an unhindered window, showing off all of your components in their glory.
This unique spin on a case design sets up an entirely new way for case manufacturers to provide form and functionality. We've seen similar designs from other manufacturers in the past, but HYTE are the ones pioneering this awesome aesthetic. I get the 'if it ain't broke, don't fix it' approach that most manufacturers take when developing a case, but I'm really hoping the HYTE has inspired a shift in case design. The unrestrained view you have into this case is magnificent, and I believe that manufacturers releasing a case this year should take a leaf out of HYTE's book.
HYTE Y60 Design and Aesthetics
Moving onto the aesthetic, as I've briefly mentioned above, the Y60 is one of the most unique cases that we've had in the office to date. Yes I know that this case released back in 2022, and that this review is long overdue. However, I need to stress how incredible this chassis looks, and this is even without components. Immediately you'll be able to notice the tempered glass window that spans the entire front and side of the case offering up a mass of viewing angles for you to gawk at the various pieces of RGB and spinning fans.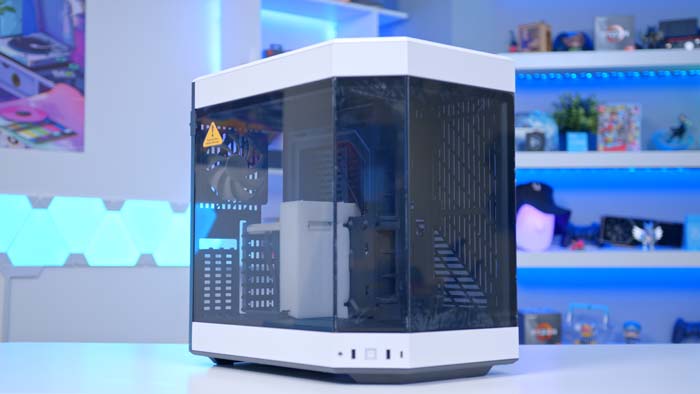 The Y60 also keeps in line with a very modern and minimalist theme that continues throughout the entire case. There aren't loads of angular accents, or LCD displays everywhere to make the case edge or wacky. This case offers a minimalist block colour, with ventilation all over the case, which provides significant amounts of airflow for all of your components.
The HYTE Y60 also features a unique 'antechamber' design which allows you to segment any cables off into the back of your case. This means for those that truly want to turn their case into a work of art – HYTE have provided an option to do so. The entire aesthetic of the HYTE Y60 is a truly unique offering, and there are no sacrifices made when it comes to functionality, so that form can be the king.
As a final point, the Y60 also comes in a few colour options to choose from. Consumers have access to the traditional white and black designs, but the kicker here is that HYTE have brought back the red chassis! I remember the days of the red NZXT H510, and I genuinely miss the old NZXT cases (minus the airflow problems), but it seems that HYTE have made a case for it's return.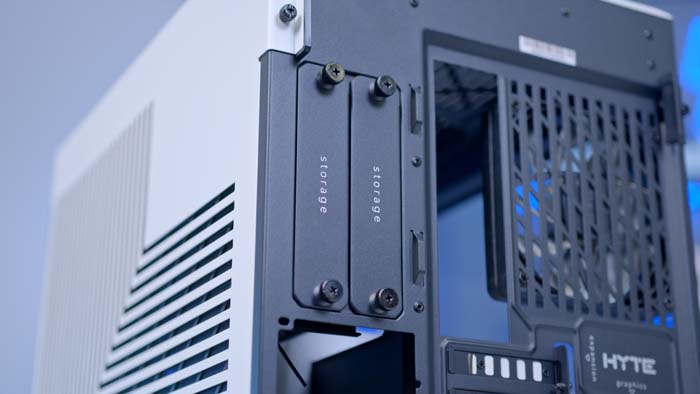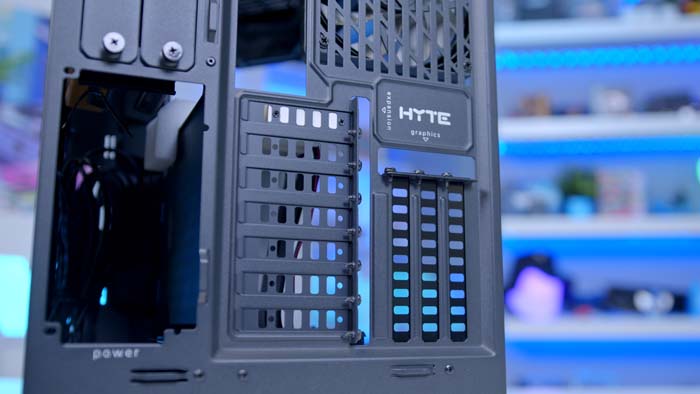 Features
As I've alluded to above, the HYTE Y60 is an incredible looking case. And despite this, Y60 makes no sacrifices when it comes to features. We've broken down all of the standout features below:
Included PCI-E 4.0 Riser Cable
One of the most frustrating parts of building an awesome PC is having to buy extra accessories like PCI-E riser cables, or coloured cable extensions to suite the overall theme. However, when it comes to mounting your GPU vertically, HYTE has you covered. The Y60 exclusively offers vertical GPU mounting, and because of this, they've included a Gen4 riser cable.
I'll quote directly from the product page here: "We know how much you just spent on that GPU, so we threw in the riser cable". If that isn't being consumer friendly, I don't know what is!
Antechamber Design
As we've seen with NZXT's most recent H9 Elite case, the usage of a dual-chamber internal opens up a vast amount of design options. Cases that would have only had the option of front, and top-mounting a radiator can get access to side-mounted cooling, which is ideal for those that want excellent thermals.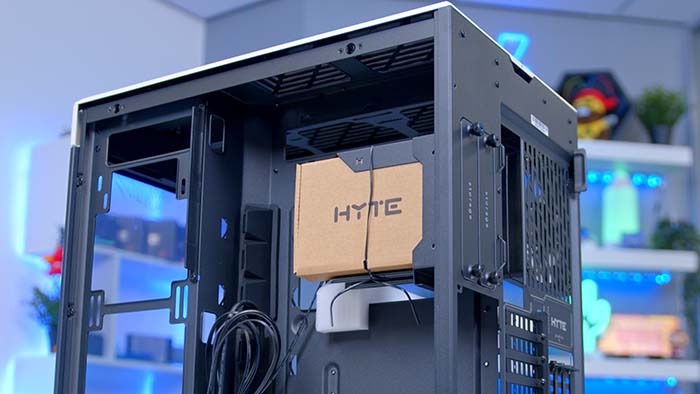 To further this, the antechamber design that the Y60 offers is perfect for those that despise seeing cable clutter at the forefront of their build. This feature allows consumers to filter their cables through various channels located near the motherboard tray, and in the floor. This case is ideal for those that want to hide away those pesky cables!
Floor Ventilation
One of the common issues that we see with the majority of cases, is ventilation. Your case might look cool, but oftentimes the lack of vents or even some small perforations can turn your PC build into an oven, which will in turn affect performance. The Y60 features a fully ventilated floor which looks awesome, but also allows consumers to install some fans into the lower portion of their build.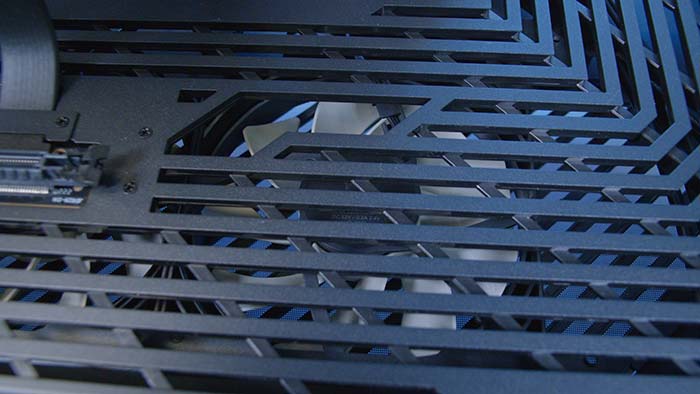 This provides a way to keep your GPU nice and cool, whilst offering an alternate way to provide some extra airflow for your system. HYTE have definitely been 'thinking out of the box' with this case.
Pre-installed Fans
One of my big pet peeves about cases that focus on ventilation and airflow, is when the manufacturer doesn't actually provide any fans. It's all well and good saying advertising your case as being perfect for low thermals, but not providing a reasonable amount of fans isn't particularly consumer friendly.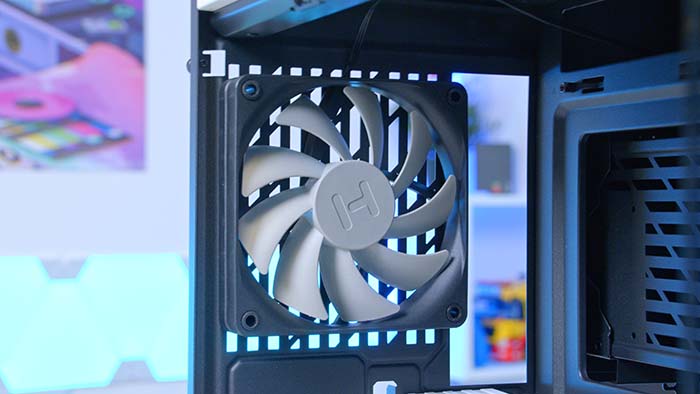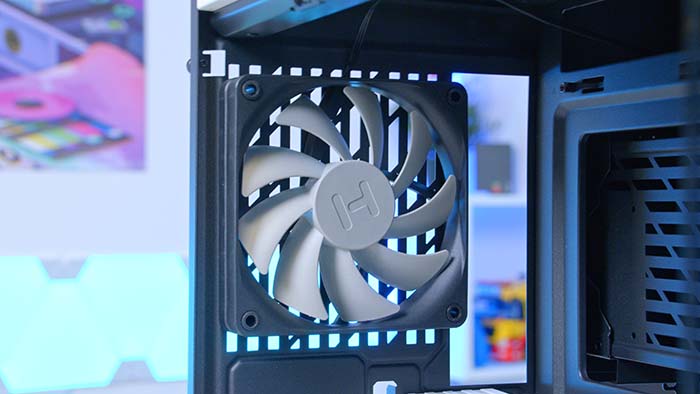 However, with the Y60, HYTE have kindly provided three pre-installed fans, with two located at the bottom of the case, and one on the rear. Although you may need to add some extra fans for intake, its great to see that HYTE have provided three out of the box, which is more than most manufacturers will offer. However, if I'm being picky, I would prefer if there was an option for RGB fans. Although not everyone is a fan of maxed out RGB, it would be nice for the case to come with some straight out of the box, but this isn't a deal-breaker for me.
Case IO
In terms of front panel IO, the HYTE Y60 offers two USB 3.0 ports, alongside a USB 3.2 Gen2 Type-C and an audio/mic jack. Ultimately, with a case at this price I'd prefer there to be more when it comes to IO. However, I'd argue three ports on the front is going to be more than enough for the majority of consumers.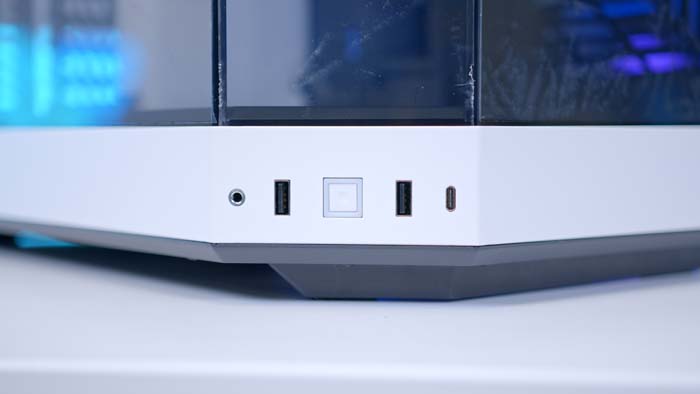 Alternatives
Although there aren't a huge amount of alternatives compared to the HYTE Y60, we've noted down a couple that offer similar feature-sets without making any sacrifices when it comes to airflow and aesthetic.
NZXT H9 (Elite & Flow)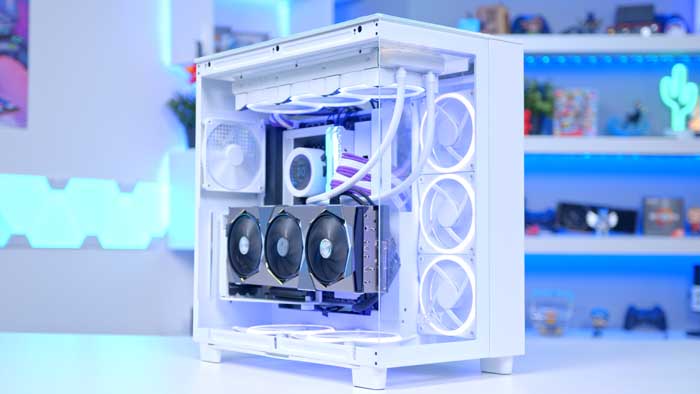 NZXT's H9 series of cases is a very recent release sporting a similar design to HYTE's very own Y60. The H9 comes in two different versions with the Elite sporting an 'all-glass' design, including the radiator mounting at the top of the case. The Flow model offers an alternative mesh design with the top mounting replaced with some ventilation. I'm a big fan of the H9, as this case is entirely different to NZXT's normal offerings, and this case offers a huge amount of ventilation and extra features whilst coming in at a very reasonable price point. Either the H9 Elite, or Flow models are definitely worth picking up, if you're looking for the sophisticated NZXT aesthetic.
Buy the NZXT H9 Elite on:
Lian Li O11 Dynamic Mini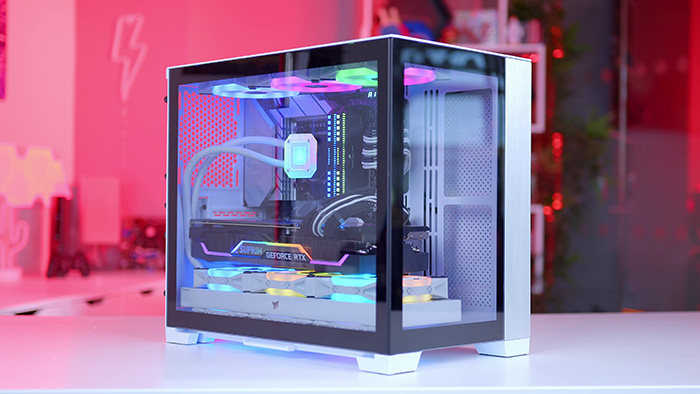 Lian Li's O11 Dynamic Mini is one of my favourite cases, and currently the chassis I use at home for my person system. Although the O11D Mini doesn't quite sport the same 'wraparound' glass design that the HYTE Y60 offers, I'd say the O11D is what the Y60 is based off of. This case is a 'feat of engineering', sporting a hugely modular design with support for a vast amount of radiators, fans and motherboards. The O11D Mini comes in three main colours and can be customised to your heart's content. If you're the kind of consumer that prioritises creating a bespoke system with incredible flair, the O11D Mini is a perfect chassis to build an incredible gaming or workstation PC!
Buy the Lian Li O11D Mini on:
Conclusion
HYTE Y60
Features

Design

Versatility

Value For Money
Summary
The HYTE Y60 is an excellent case featuring a unique wrap-around glass design that offers an unhindered view into your system, whilst providing a huge amount of ventilation and airflow options, alongside an included riser cable, three pre-installed fans, and plenty of usability features. Needless to say, this case makes no sacrifices when it comes to aesthetic or functionality. The only criticisms that I have of this case, are the cost, and the lack of RGB fan options. The HYTE Y60 is quite an expensive case, more-so than the average chassis on the market, but arguably – you get what you pay for. HYTE have manufactured a case that provides consumers with a plethora of approaches to a PC build, all whilst keeping features and design at the forefront of their mind. I'm hoping that manufacturers take some tips from HYTE this year in relation to case design, because the bar has been set very high!
Pros
✅ One of the best looking cases I've ever seen.
✅ Included PCI-E Gen4 riser cable.
✅ Excellent airflow and cooling options.
Cons
❌ Quite expensive for a case.
❌ 360mm top mounted radiators can be difficult to install.
❌ Doesn't support larger E-ATX motherboards.