Introduction
If there's one area of technology that only seems to get better, it has to be memory and storage. Gone are the days of external storage drives being slow, clunky and capacity constrained, with newer drives faster than ever. So much so, speeds are now no longer the primary concern for the vast majority of buyers, the 1000MB/s read and write speeds on the Crucial X9 Pro, the focus of today's review, are more than sufficient for most. The more important factor: value for money. Something the Crucial X9 Pro seems to deliver in bucket-loads – that, the more important focus of today's review.
Buy the Crucial X9 Pro on:
Crucial X9 Pro Specs
When it comes to specs, the Crucial X9 Pro presents an impressive showing that aligns it fairly well when compared to other options on the market. Advertised read speeds of 1050 MB/s are plenty fast enough for most users, plenty quick enough for opening 4K video files or swathes of family photo archives, while equally fast 1050 MB/s write speeds make backing up files a speedy affair.
With a 5 year warranty, USB-C connectivity and small form factor, Crucial's X9 Pro presents a well-rounded package. Various capacity options are available, with a more budget-oriented 1TB drive, mid-range 2TB option and high-end 4K drive giving plenty of options for those with varying needs and budgets.
| Crucial X9 Pro | Specification |
| --- | --- |
| Capacity | 1TB, 2TB, 4TB |
| Sequential Read Speed | 1050 MB/s |
| Sequential Write Speed | 1050 MB/s |
| Warranty | 5 years |
| Dimensions | 6.5cm x 5cm x 1cm |
| Connection Type | USB-C (10Gbit/s) |
| Colour | Metallic Grey |
Crucial X9 Pro Spec Table
Crucial X9 Pro Design
As far as design goes, the Crucial X9 Pro is a sleek-looking design that sits within a super small form factor. When comparing it to the Samsung T5 and Samsung T7 drives in our office, the size difference was pretty striking to me. While Samsung's options are by no means large, the Crucial X9 Pro, and it's bigger brother, the X10 Pro, takes the compact metrics up a notch. At just 6.5cm by 5cm in height and width, this drive is about as small a things get. A depth of just 1cm also makes this super slim, easy to slip into a bag or pocket without too much intrusion.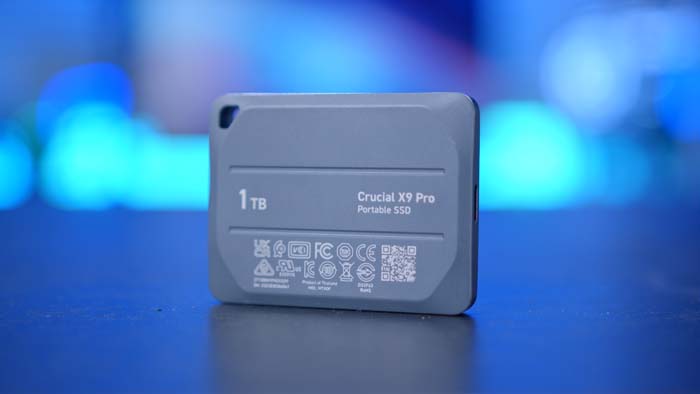 Crucial X9 Pro Performance
When looking at the rated 1050 MB/s read and write speeds, it is clear that this drive should provide solid performance for the vast majority of users. But, rated speeds are only useful if they are accurate, something we tested in our own benchmarking. The way we test SSDs is unified across our range of storage reviews, via the use of industry-standard software Crystal DiskMark.
We run a 1 GiB test that evaluates a range of sequential read and write speeds. Our testing uncovered read speeds within the advertised range, and write speeds that sat a little lower at 940 MB/s. The noticeable difference between the rated 1050 MB/s rated write speed, and our figure of 940 MB/s is going to be minimal in real world use-cases, and still shows this drive to be a very speedy option for those looking at affordable, external SSD storage.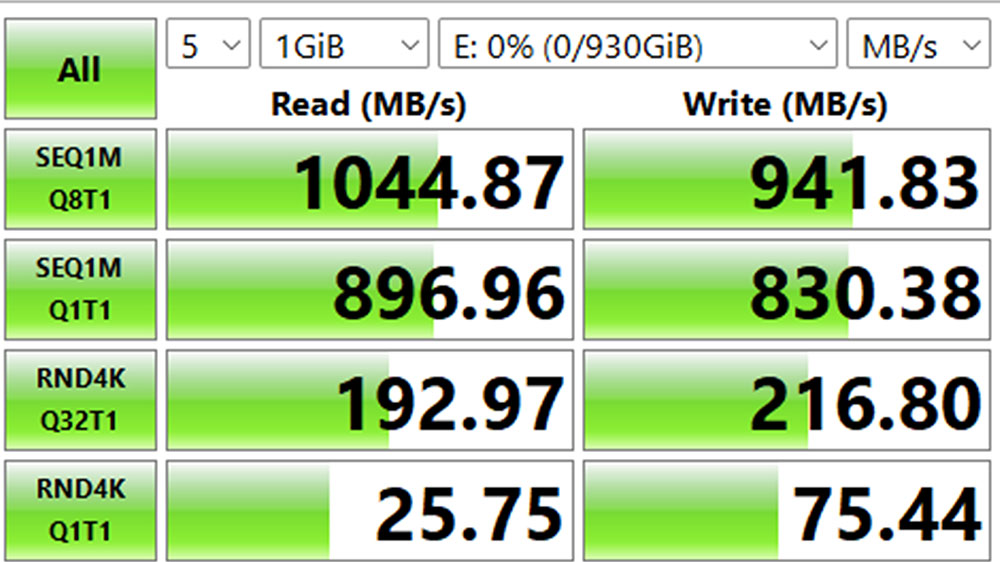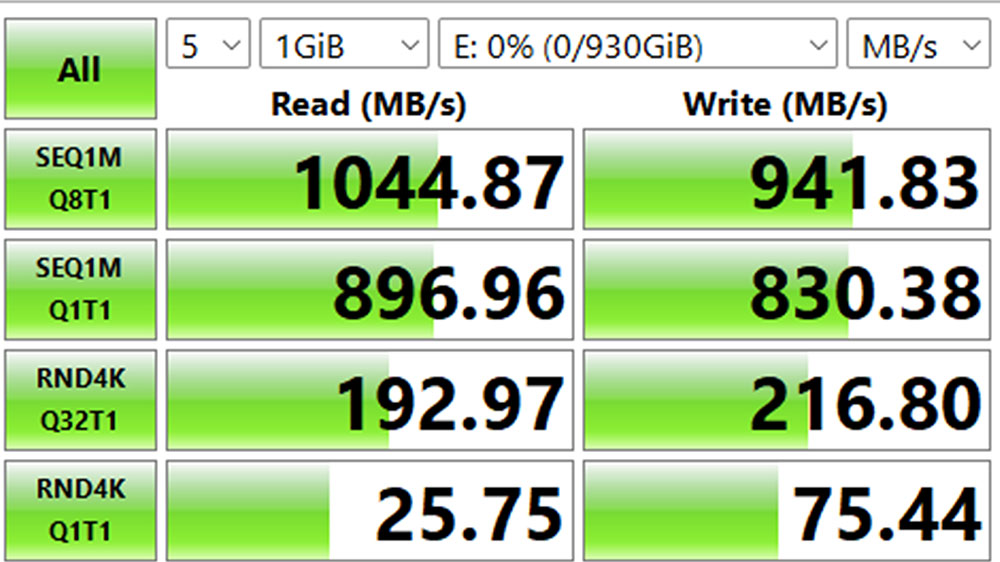 Why External SSDs are So Much Better
I alluded at the start of this review to how external SSDs have pushed forward external storage so much in the last 5 years. Not only are external SSDs much quicker than their hard drive predecessors, but the nature of 'solid state' storage means there are no moving parts in external SSDs, unlike HDDs which contained a platter of moving disks. This makes external SSDs far more durable, as well as being far quicker, something which vastly minimises the risk of data loss or damage over a drive's lifetime.
The use of a USB-C connection interface, something which is gladly standard across all external SSDs, further helps with durability, and more importantly compatibility. With USB-C now commonplace on all laptops, tablets and even the latest iPhones, transferring and access data across a huge range of devices have never been easier! This makes the case for external SSDs better than ever, and with costs only continuing to fall, also more affordable than ever.
Conclusion
Crucial X9 Pro
Product Name: X9 Pro
Brand: Crucial
Features

Design

Performance

Value For Money
Summary
Crucial's X9 Pro SSD is an excellent option for consumers that need high speed storage that they can easily access while on the go. The X9 Pro is a very solid option for working professionals, and one we can recommend wholeheartedly to content creators or those with a portable workstation system. It is worth noting that this drive is noticeably pricier than other options on the market, but for this price you're able to leverage unhindered access to nearly 1Gbps speeds, allowing you to easily move any files from or to your computer. The X9 Pro is definitely worth considering for those that prioritise portability.
Pros
✅ Can easily reach advertised read and writes.
✅ Small enough to fit in your pocket.
✅ Perfect for workstation users.
Cons
❌ Not the fastest external SSD on the marketplace.
❌ Considerably more expensive than hard drives.
❌ Somewhat nice of a use case.