Introduction
Gaming chairs have always been a contentious topic among consumers, with gamers either loving or hating what they bring to the table. Whilst some see them as a distinct way to enhance the overall look of your gaming setup, others question their value and ergonomics.
Because of this, a lot of gaming chair manufacturers have began to switch up their strategy to create premium designs that feel comfortable enough to play games all day without having to get up. This allows these chairs to compete with the ergonomics of premium office chairs, whilst also boasting an appearance that looks great alongside a gaming PC.
Suggested Article: noblechairs LEGEND Review
One brand that has taken up this mentality for their latest set of gaming chairs is THUNDERX3, as their new series is focussed on comfort and adjustability for an ergonomic gaming experience. This time around, we'll be looking at the THUNDERX3 CORE Loft, which is one of the more premium offerings, to see whether it is a worthy throne for your gaming setup.
Buy the ThunderX3 Core Loft on:
How Much Should You Spend on a Gaming Chair?
When searching for a gaming chair, there are plenty of options at various price points to consider. However, perhaps more than any other gaming peripheral or accessory, the gaming chair market is flooded with plenty of clutter. This means it's important to pinpoint which designs are worth considering, especially when you consider how much of an investment some gaming chairs can be.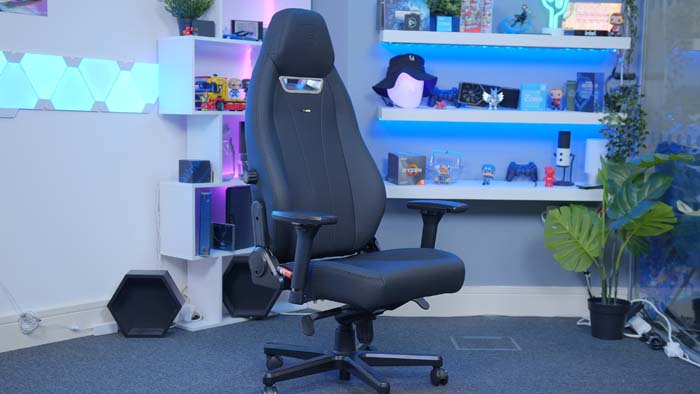 As a general rule of thumb, we'd recommend avoiding gaming chairs under $100, as these designs typically wear away a lot quicker than expected. In addition, these designs lack the additional features needed to improve ergonomics, making them a waste of money. On the other end of the scale, any designs priced over $500 tend to be slightly overkill, making them less valuable for the average consumer.
Ultimately, we'd recommend spending around $200 – $500 on a gaming chair, as there are plenty of designs within this price range that will be comfortable enough to enjoy extended gaming sessions. Plus, these designs normally come with a plethora of adjustability options, leading to an ergonomic design that can support your posture.
ThunderX3 Core Loft Design & Aesthetic
Time to turn the attention back towards the THUNDERX3 CORE Loft, which fortunately sits within our recommended price point. To start off, we'll take a look at the appearance of this chair to see if it's worthy of being placed within your ultimate gaming setup.
When opening up the huge box this chair was shipped in, the first thing that stood out was the size, as this chair is a behemoth! Not only does it tower over most of the office and gaming chairs within the GeekaWhat office, but it is also very thick, which suggests it is filled with lots of padding. After opening up the box, the next step was to put the chair together.
Assembling any sort of furniture can be quite a daunting task, but the assembly process for the THUNDERX3 CORE Loft was pretty straightforward. A lot of the parts only required a few steps to attach to the main body and all the necessary tools were included, meaning we didn't have to mess around trying to find a way to put all the parts into place. As a result, it only took around 15-20 minutes in total for two of our team members to put this chair together, and most people would be able to put it together on their own.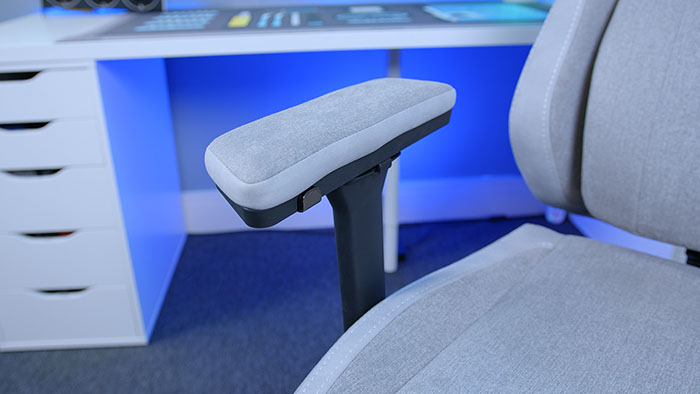 As for the aesthetics, the model we were sent possesses a predominantly grey look, but the CORE Loft is also available in black. Despite the uniform colour-scheme, the variety of materials on display gives this chair plenty of detailing and accents for a more distinguished look. The innovative features packed into this design gives it a rather distinct outline compared to other gaming chairs, one that is bound to appeal to a lot of gamers.
After sitting on the THUNDERX3 CORE Loft for a number of hours, I can confirm that it feels quite comfortable. The soft-touch fabric on the design makes me want to just lay back and relax, which is supported by padding that feels firm enough to do so without having to worry about feeling unstable. Because of this, the THUNDERX3 CORE Loft is already placing itself as a great option for gamers wanting to lounge back whilst they enjoy a long gaming session.
THUNDERX3 CORE Loft Features
The initial thoughts of this gaming chair are good so far, as the THUNDERX3 CORE Loft has impressed with it's design. However, a strong gaming chair can't just look the part, it also has to provide plenty of maneuverability to allow gamers to get in the most comfortable position for their gaming needs. Luckily, the CORE Loft is packed with interesting features, including their innovative lumbar support system.
4D Armrests
One of the more traditional features included in premium gaming chairs like this one is the 4D Armrests. These armrests are quickly becoming the standard for gaming chairs, as they allow gamers to adjust the chair to fit around their setup. With the armrests on the CORE Loft, having the padding on top is a nice touch that makes me want to use these armrests while relaxing. However, the levers are quite firm, making adjustments more difficult than they need to be.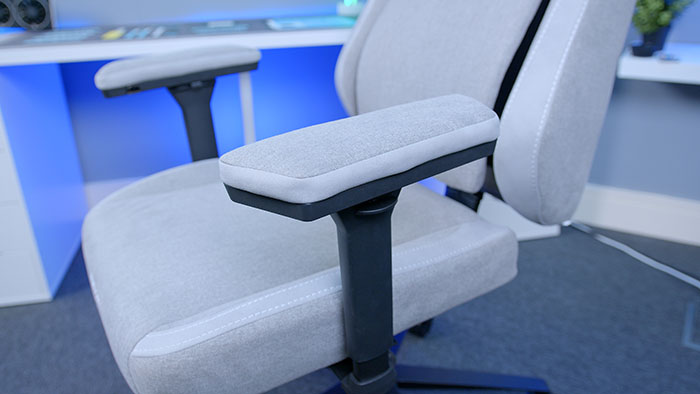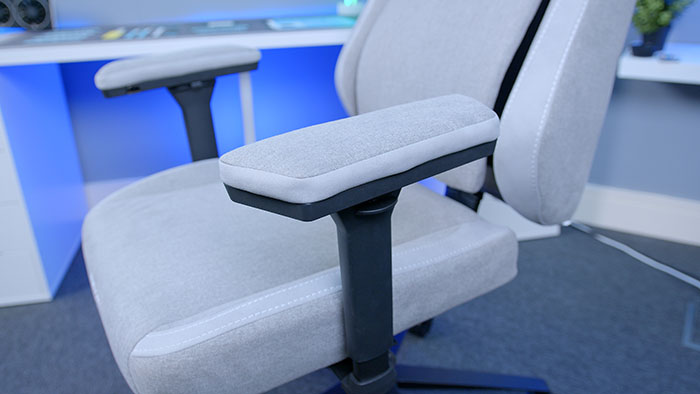 Headrest & Footrest
A rather unexpected feature packed in with this design was the inclusion of a dedicated footrest. Whilst a headrest is often included with more premium gaming chairs, a footrest is more of novelty, but one that is welcomed here. Both include plenty of padding and go a long way in improving the overall comfort of this chair. The footrest can also be used as a lap cushion, which feels great when playing games with a controller or on a handheld device.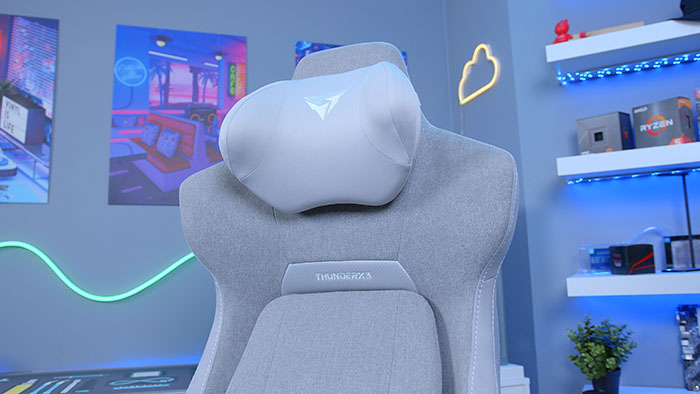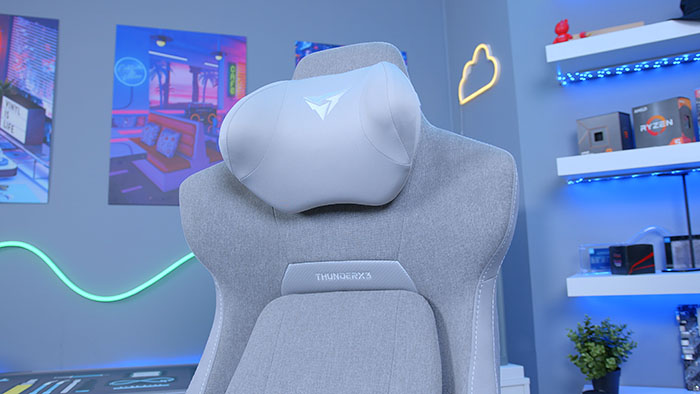 Synchronous Tilt
During my time with this chair, the CORE Loft has felt very comfortable when lounging back, especially when compared to other gaming chairs. This may be due to the synchronous tilt mechanic used in this design. Instead pushing the whole chair back and causing the legs to go up, this chair keeps the base fairly flat when reclining, which allows your feet to stay in a natural position. THUNDERX3 also claim this will reduce issues with blood flow and muscle tension.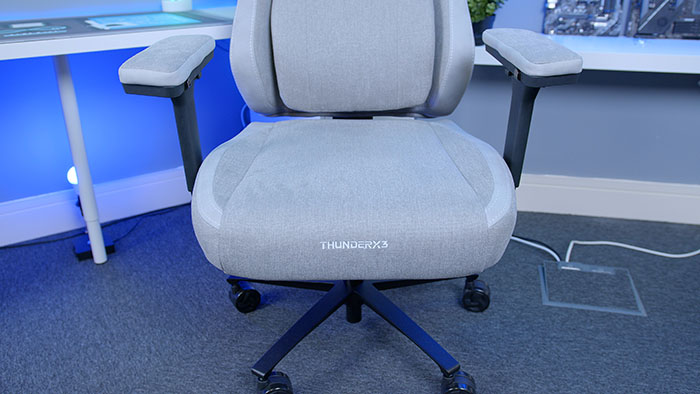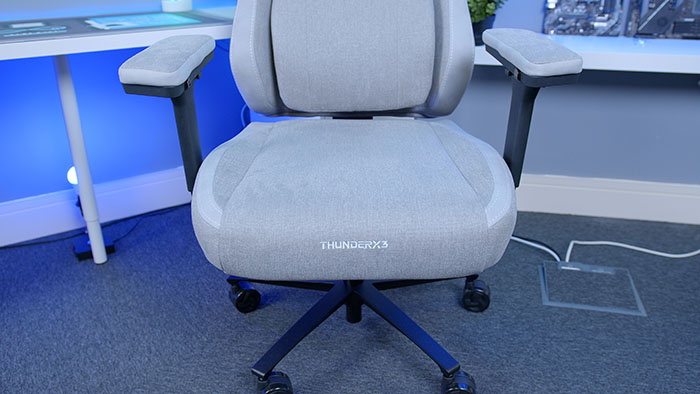 CORE.RDY 360 Lumbar Support
Arguably, the most enticing feature included with this chair is the trailblazing CORE.RDY 360 TECH lumbar support, which looks to greatly enhance the ergonomics of a traditional gaming chair. Instead of the normal lumbar pillows, the CORE Loft includes padded support that is integrated into the spine of the chair. This padding is placed on a swivel, allowing it to follow your position and offer full support in a range of different directions.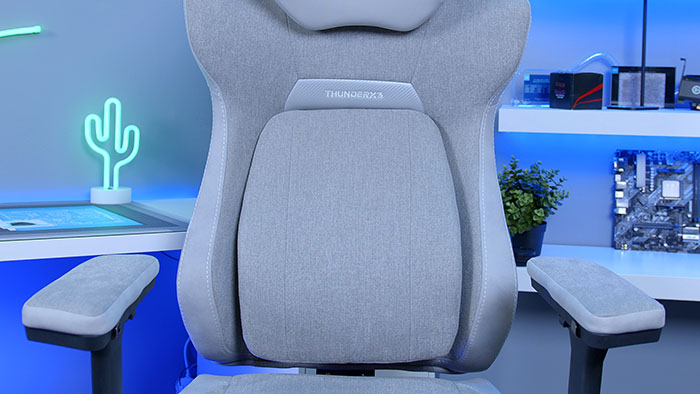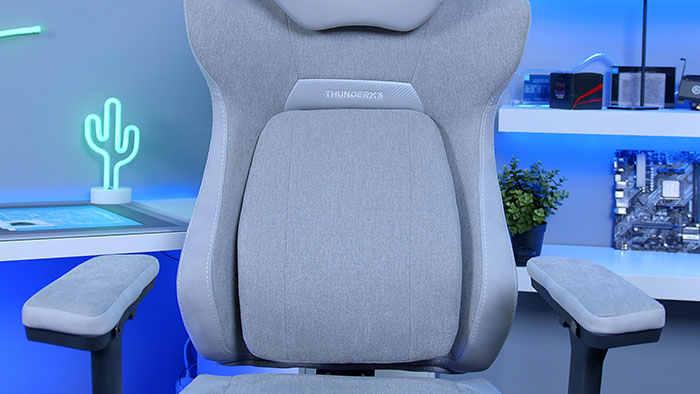 Adjustable Seat
It may already be apparent from the other features included with this gaming chair, but the CORE Loft includes plenty of ways to adjust your position for a more comfortable gaming orientation. The seat is no different, as it allows you to alter the tilt, height, and depth. Whilst this leaves the CORE Loft primed to offer support for various tasks, I found it to be better suited to lounging than upright positions. Therefore, this may not be the best choice for those looking for an office chair replacement.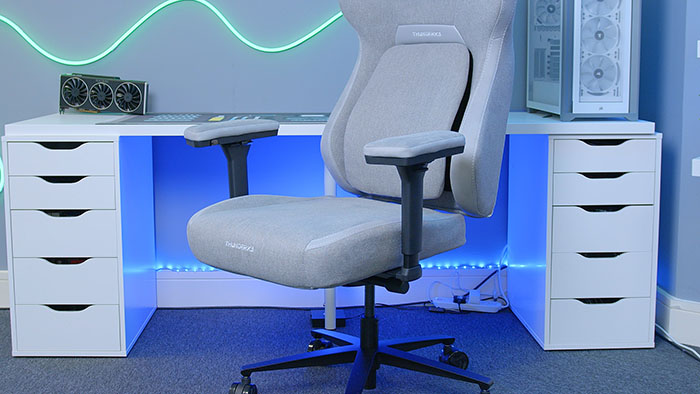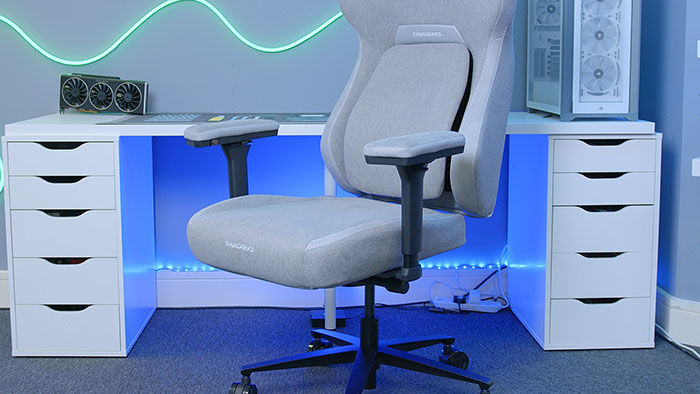 Alternative Choice
noblechairs LEGEND
If you're interested in the idea of a gaming chair for your setup, but are not fully convinced by THUNDERX3's offerings, then the noblechairs LEGEND is another excellent gaming chair worth considering. With a leather exterior and rounded shape, this chair boasts a luxurious design that conforms more with the traditional form factor of a gaming chair. However, the LEGEND also puts a focus on lumbar support thanks to an integrated system that allows users to increase or decrease the tension to help improve posture. It is priced slightly higher than the THUNDERX3 CORE Loft, but it does offer a premium design that includes plenty of adjustability for great ergonomics when gaming or working over extended periods of time.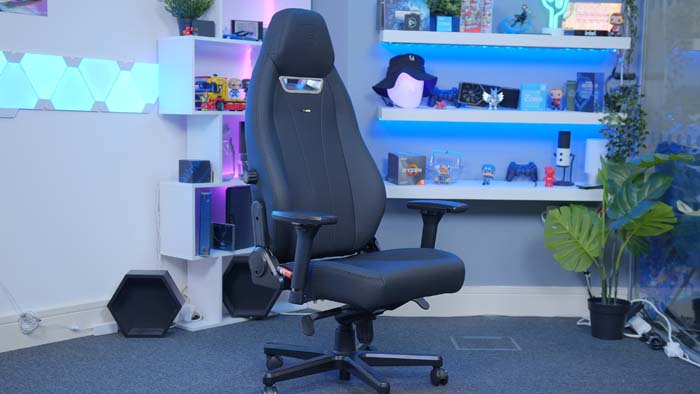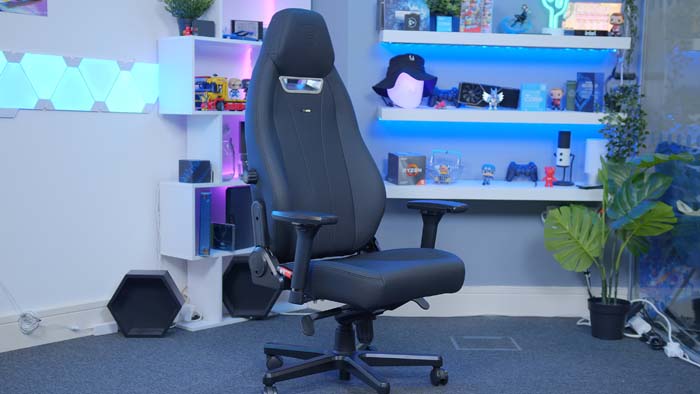 Buy the noblechairs LEGEND on:
Conclusion
ThunderX3 Core Loft
Product Name: Core Loft
Brand: ThunderX3
Features

Design

Comfort

Value For Money
Summary
Overall, the ThunderX3 Core Loft is an incredible innovation within the gaming chair space, offering premium comfort and ergonomics at a competitive price point. Featuring a combination of traditional and unique design features, this gaming chair seems like a natural progression from the form factor that we've come to expect from these products. The integration of synchronous tilt and CORE.RDY 360 TECH are the key standouts here, with the additional footrest acting as a nice touch. These features, along with more traditional inclusions like an adjustable seat and 4D armrests, creates a versatile and comfortable design that feels great, especially when lounging back and relaxing.
Personally, it's nice to see a product that goes to such great lengths to make their consumers feel more comfortable and healthy while pushing the boundaries of the current market. There are certainly a lot of appealing factors to this chair. The soft fabric feels great to fall back into after a long day of work, and the effortless adjustments made it very easy to move around to stay comfortable.
However, I do think the concept of this chair is more impressive than the practical implications. During extended periods of working in an upright position, I felt a lack of support and felt quite uncomfortable, which makes me feel as if this chair is better equipped for lounging and casual gaming. I can't knock this chair too much for this due to the design being targeted towards gaming, but it is certainly worth mentioning for those looking to use this chair in an work-from-home office or with their PC.
After using the ThunderX3 Core Loft, I'd consider it to be a great chair for gaming and lounging around in the evening. With lots of innovative design choices based on comfort, as well as a premium look and feel, this gaming chair is excellent value for money at $399 MSRP. And even though I personally had problems with the ergonomics of this chair when upright, it has all the tools and adjustments needed to optimise ergonomics in a range of positions.
Pros
✅ Comfortable ergonomic design
✅ Comes with footrest
✅ Good value for money
Cons
❌ Not the best support when sitting upright
❌ Lots of adjustments can be overwhelming
❌ Heaviness limits mobility