Introduction
1080p has long been the visual standard for gaming. For those looking to achieve the most competitive frame rates for fast-paced gaming titles, the 1080p resolution has certainly stood the test of time. 1080p gaming monitors are also often the best choice for those gaming on a budget. The lower cost of the panels, and the less powerful hardware required to run then, makes gaming at 1080p a much more accessible choice.
With this in mind, it's no wonder that brands like Cooler Master are continually releasing new 1080p panels to the market. In this article, we'll be reviewing Cooler Master's latest 1080p monitors, the GM27-FFS, to see what perks it has for budget and competitive gamers.
Suggested Article: Best 1080p Gaming Monitors to Buy in 2022
What are the Benefits of Gaming at 1080p?
The main advantage that 1080p monitors have is the lower price point. The emergence of higher resolutions has caused the price of 1080p panels to drop to a very affordable range, with some gaming monitors often available for £100 or less. This makes 1080p a great option for budget gamers, as the funds saved from choosing a lower resolution display can go towards more important upgrades or plainly keep a lid on costs.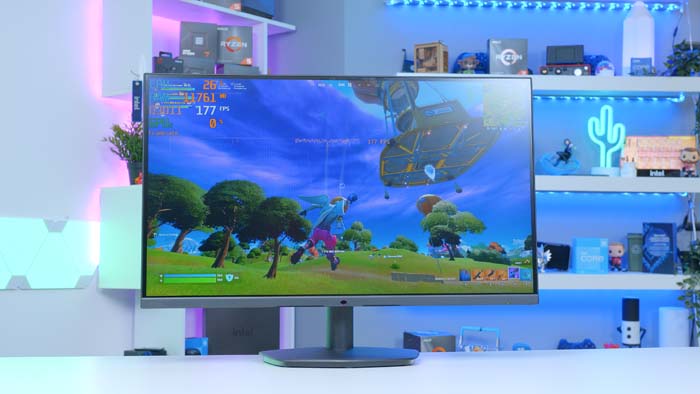 From a manufacturer's perspective, the cheaper resolution allows for a greater focus on other aspects, such as refresh rates and response times – both more important for competitive gaming than resolution. Premium 1080p displays usually provide high frame rates and low response times, as well as plenty of other additional features that will boost gaming performance. Because of this, 1080p is considered the best option for competitive games like Call of Duty or Fortnite, as the faster reaction times and smoother gameplay will be more beneficial than a bump in visual fidelity.
Do I Need a High Refresh Rate Monitor for Gaming?
The short answer is yes. If you are looking to play fast-paced titles which require speedy reaction times, then the higher refresh rate the monitor, the better it performs.
The higher fresh rate allows for more frames to be displayed, and as such a shorter time interval between frames. This brings the action to you earlier than you'd have on a lower refresh rate display.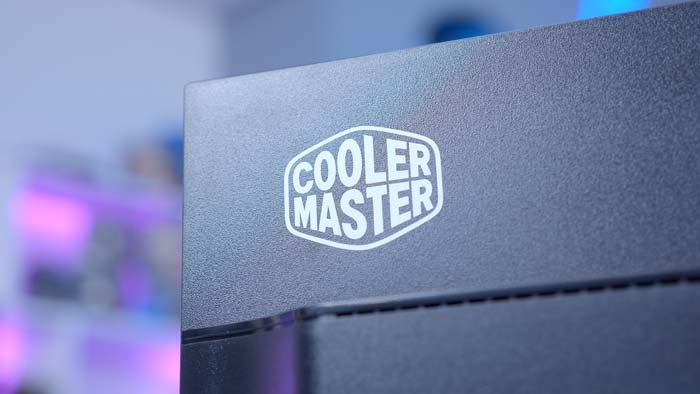 Unfortunately, a higher refresh rate normally comes at the cost of either price or resolution. Whilst most premium 4K monitors now surpass 120Hz, this hikes the price up to a point that the average gamer simply can't afford, forcing those that need higher refresh rates to stick with lower resolutions. That's an area that this 165Hz panel excels, at a much less eye-watering price point than it's higher resolution counterparts.
If you are struggling to decide between frame rate or resolution, the easiest way to come to a conclusion is on the types of games that you play. Competitive gamers will want higher refresh rates for improved gaming performance, but those playing play story-led titles or strategy games would benefit more from the improved visuals of a higher resolution display, or better panel type.
Cooler Master GM27-FFS Design & Aesthetics
Having established whether 1080p monitors are still a solid choice, it's time to look at Cooler Master's GM27-FFS in more detail. It is quickly evident where Cooler Master have spent on this panel. The design is very simplistic, leaving little to talk about than the panel itself. The included stand is basic, with no adjustment other than tilt, and you only get a power cable in the box – no HDMI or DisplayPort cable in sight.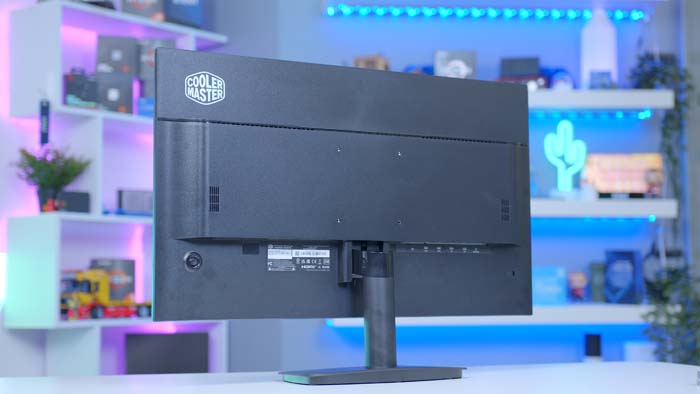 Whilst it is expected that the tight budget will come with sacrifices, some of Cooler Master's design choices for this monitor are sure to raise concerns with consumers. The screen itself isn't an issue, as the no-nonsense look will easily blend into any gaming setup. The thin bezels are a welcome addition, and the slim form factor provides nothing to complain about.
However, the build quality of this display feels a little poor, causing it to feel flimsy and unstable. The stand is the main culprit, with the dull plastic cheapening the look and feel of the GM27-FFS. In addition, the thick base covers a lot of space but still struggles to add stability, which is bound to cause problems for those looking to use a smaller display like this one. The whole thing feels like what you might find in a college classroom, rather than a premium gaming setup – even if it is a budget design. The difference in quality of the GM27-FFS stand is night and day when compared to other Cooler Master stands included with more expensive monitors like the GM32-FQ.
Although the lower price point adds some justification to the reduced build quality, the overall design feels unstable and the stand does very little to help. If you decide to pick up this monitor, we would highly recommend replacing the included stand with a monitor arm, especially if you want to move it around or plan on altering your display settings a lot. A VESA desk mount for this panel would help it to feel endlessly more premium, meaning those who already have this in their plans should not really be put off from the design.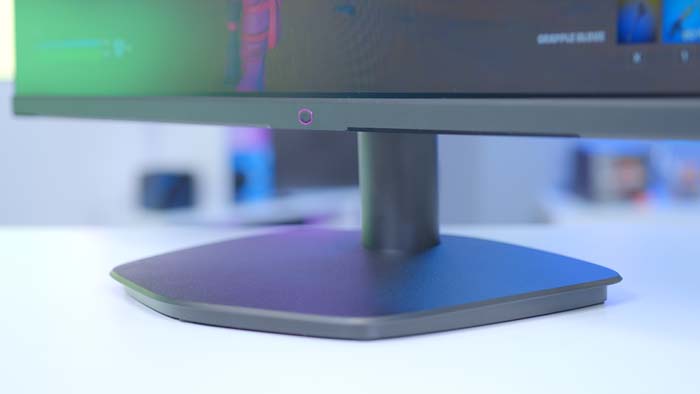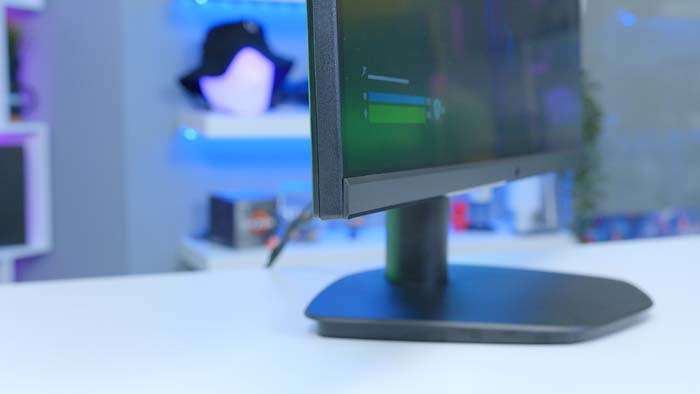 Features
Though the stand and build quality leaves a lot to be desired, there are plenty of other opportunities for the GM27-FFS to impress. Here are a list of the key features on Cooler Master's latest budget monitor.
1080p Resolution
Starting off with the display, the 27-inch panel on the GM27-FFS is by no means going to blow you away, but it does provide a colourful image that will be substantial for most games and productivity tasks. If the standard image is not to your liking, then the GM27-FFS can be controlled with the integrated DCI-P3 and 6-axis colour adjustment technology. With a bit of tweaking, this monitor offers impressive 1080p visuals that can handle the most chaotic of scenes.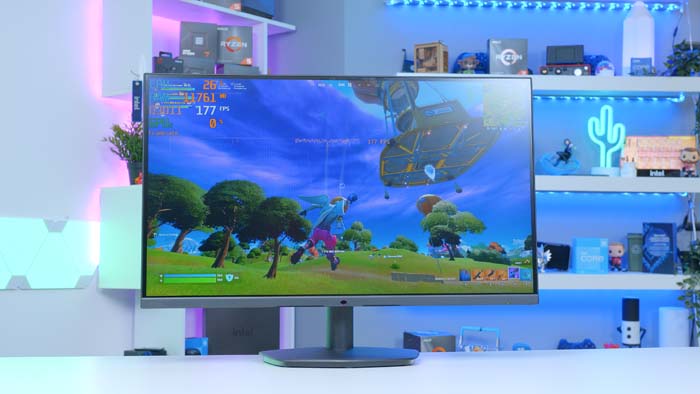 165Hz Refresh Rate
Onto the main selling point of this monitor, the refresh rate. By opting for a lower resolution, this display needs to provide high-quality performance to justify the purchase. Luckily, the 165Hz packed into the GM27-FFS feels incredibly fast and smooth, making issues with screen tearing and motion blur a thing of the past. Combined with the included Dynamic Override and Adaptive Sync software, the GM27-FFS will provide optimal performance in all your favourite competitive titles.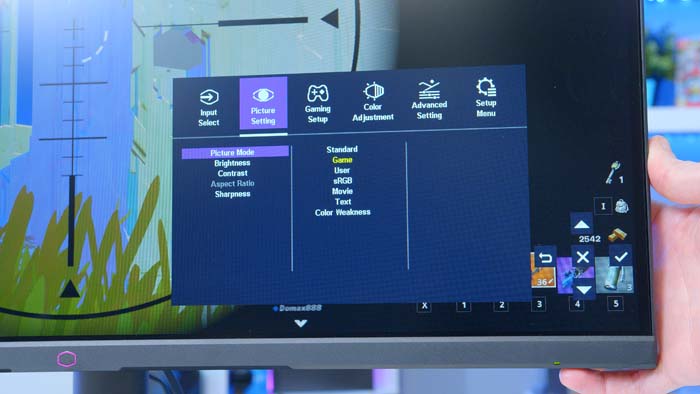 0.5ms Response Time
Refresh rate is often the priority in performance-based displays, but the improved frames per second would have less of an impact without a low response time to match. This is another area where this monitor excels, as it boasts an lightning quick 0.5ms response time. These quick reactions will be extremely useful in competitive titles, as the reduced input delay will give you a crucial edge over the opposition. Pair this up with the smooth 165Hz frame rate, and you're onto the start of a winning formula.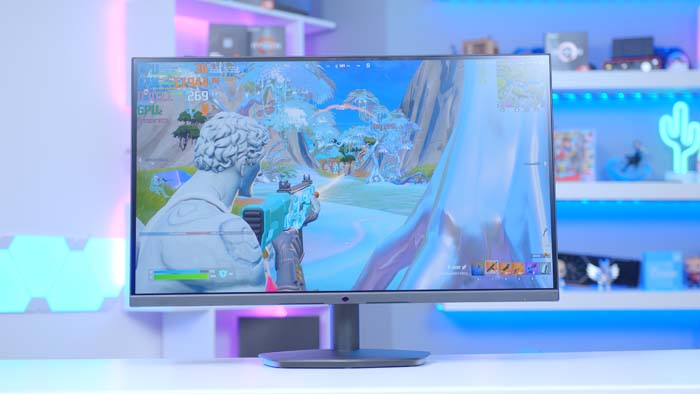 Ultra-Speed IPS Panel
One of the features that we were surprised to see on a budget monitor with a smaller display like this one was an Ultra-Speed IPS panel. Due to the smaller size of this monitor, most users are less likely to be viewing it from an angle, and IPS is known for providing slower response times, which makes it inclusion in a performance-based monitor seem strange. However, the GM27-FFS is equipped with an ultra-speed panel that claims to be 4x faster than traditional IPS. And after using the display, it's hard to argue against the decision. Despite choosing IPS, the display is very responsive and the boosted colour accuracy from this panel type helps improve image quality.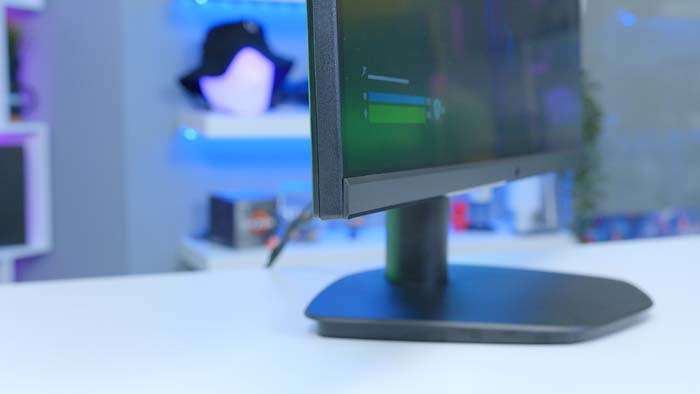 One thing about this display that can't be disputed – for the price point the visuals, colours and viewing angles are spot on.
Custom Modes & Settings
Whilst the main focus of the GM27-FFS is directed towards gaming performance, it is also very versatile for a budget display. The display includes a wide range of settings that can be adjusted on the fly with the OSD on the back of the monitor, including the ability to switch between 5 different game modes. The interface is also easy to understand, meaning that you won't be overwhelmed by a long list of confusing terminology. After a few minutes messing around with the settings, you will be able to find an option that suits your play style.
Connectivity
Another way this monitor offers versatility is with the connectivity and included ports. The I/O includes two HDMI 2.0 and two DP 1.4 ports, allowing you to connect up to four devices into the display and choose between two types of connectivity. There is also an audio jack to connect headphones or speakers directly into the display. This connectivity makes the GM27-FFS ideal for a single monitor setup, as you can plug all your devices in without having to worry about switching them out or buying a HDMI splitter.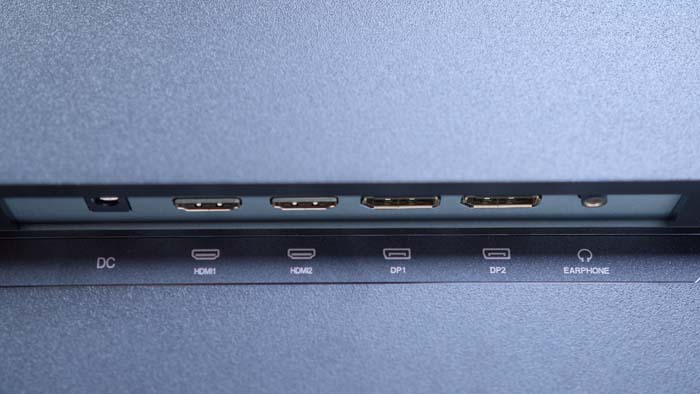 Conclusion
Features

Design

Versatility

Value For Money
Summary
The Cooler Master's GM27-FFS is a budget display that provides a lot of performance, at a budget price point. The 165Hz refresh rate and 0.5ms response time is a winning combination, and provides the core ingredients needed to be considered a great budget monitor. However, the focus on performance has led to some design issues that are difficult to overlook. Whilst decisions such as the OSD location and inclusion of HDMI and DP connectivity are great, the overall build quality feels extremely cheap in comparison to other monitors available at a similar price point. The stand in particular leads to a lot of wobbly moments, with even the slightest of nudges causing the display to move around and creak in the process. It may seem like a minor discretion to have with a monitor, but every penny counts within the budget category and the money required to replace the stand could easily sway consumers towards an alternative.   
Pros
✅ 165Hz for smooth gameplay
✅ 0.5ms response time
✅ Easy to adjust display settings
Cons
❌ Poorly designed stand
❌ No additional features 
❌ Lack of included DisplayPort or HDMI cables