Introduction
Nvidia's launch of the RTX 4090 was an overwhelming success, with the Founders Edition cards selling out almost immediately and AIBs being scooped up by consumers too. Despite some of our concerns on price, it is clear (at least for now) that an appetite exists for these GPUs. We've been lucky enough to test a vast array of RTX 4090 GPUs, making us very familiar with the best power supplies, CPUs and cases for the RTX 4090. Nvidia has yet again set the bar even higher for other GPU makers, namely AMD, putting Team Green the performance king yet again.
However, there is one (rather large) elephant in the room that needs to be addressed. This new GPU, although powerful, is quite literally massive. Users with smaller and more compact cases will need to rethink their options if they've decided to pick up this new entrant from Nvidia. This leads me to my next question, what are the best PC cases that you can buy, that can actually handle the massive size and cooling requirements of the RTX 4090?
We'll be answering this exact question with a GeekaWhat case roundup, covering the best chassis' that can fit Nvidia's gargantuan GPU, the RTX 4090.
Suggested Article: Nvidia GeForce RTX 4090 Review (Founders Edition Benchmarks)
How to Tell if a GPU Fits into a Case.
One of the biggest factors to consider when picking out your case is whether the GPU actually fits. Now yes, if on the manufacturers website it tell you that your case has about 10-20mm more than the max GPU length, it will technically fit. But the biggest issue is that your GPU could effectively suffocate your case, drastically increasing the thermals of your build, and worst case scenario – causing damage to other components.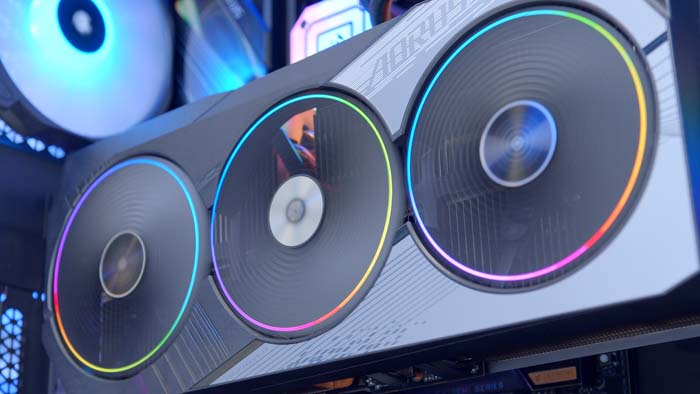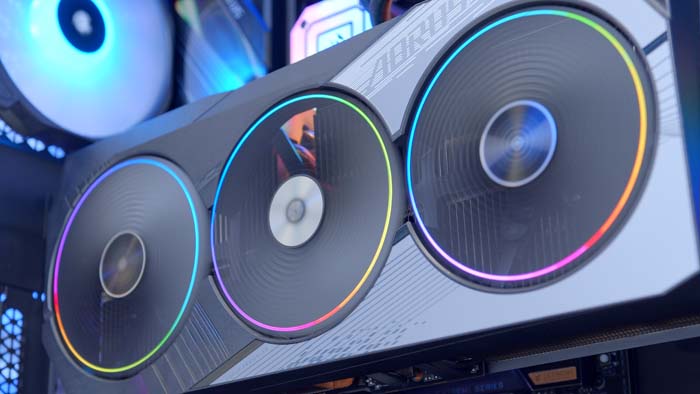 Finding the right balance between compatibility and ample space is pivotal in ensuring that your graphics card doesn't hurt the thermal efficiency of your build. The RTX 4090 is huge, and will technically fit in many cases. NZXT's latest H5 cases are a prime example of this. You can fit an RTX 4090 in this case, but should you? Probably not! The thermals are weak, and the smaller size means that there's less room for other components to breathe, worsening performance and overall temperatures.
I'd argue the balance is finding a case that offers 50-100mm extra on top of the length of the GPU. This means there will be plenty of space between your front panel and the far right side of your GPU. It will also leave room for a front water-cooling radiator, something many 4090 buyers will likely need for their high-end CPUs. The point we are making here, is that the RTX 4090 needs to fit when you take into account all of the other components you are likely to need for a top-tier PC build.
How Big is the RTX 4090?
If you're still in the buying process and you're figuring out which RTX 4090 you want, it is worth nothing that some are bigger than others. Many of the AIBs (brands like MSI, ASUS & Gigabyte) have created new shrouded designs that end up being chunkier and bigger than that of the Founders Edition. Below we've created a table that shows the dimensions of a variety of RTX 4090 cards, so you've got an idea of how big they are.
The AIB designs are often larger to facilitate better cooling and higher clock speeds, better facilitating overclocking.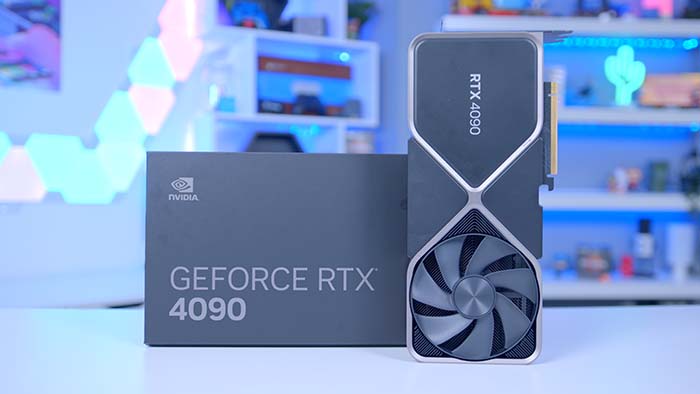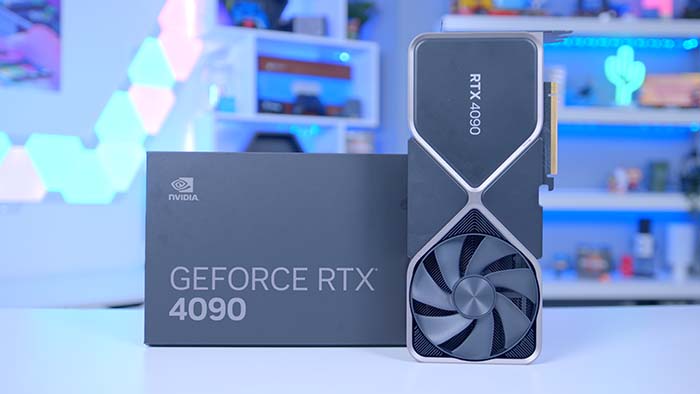 As you can see from the above table, all of these GPUs vary in size both in width and length. The most interest thing to note here is that the Suprim X Liquid and Founders Edition are actually the smallest cards out of the bunch. However, the Liquid Cooled MSI card comes with the added 240mm radiator that you'll need to install somewhere inside your case.
The biggest card here is the RTX 4090 Master from Gigabyte, which has a very hefty heatsink. You'll need to accommodate for this when picking out a case, but the advantage is you get access to larger fans and heatsinks with these bigger cards, which will help with thermals and overclocking.
Top 3 Case Picks
We've picked out three of the cases from this list and given them a GeekaWhat award based on pricing, aesthetics, and features. Check out the top 3 options with a pros and cons list below!
Best Cheap Case – Lian Li O11D Mini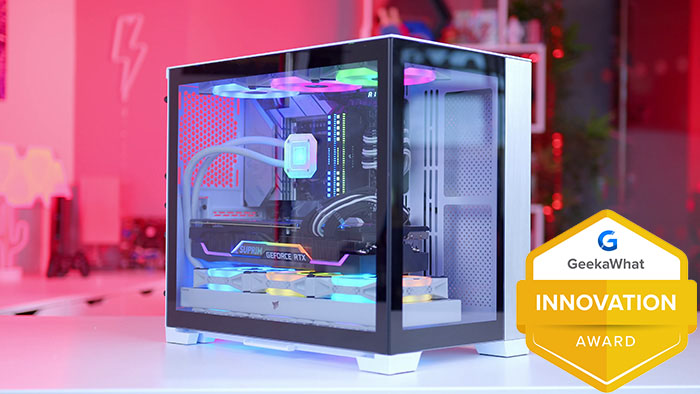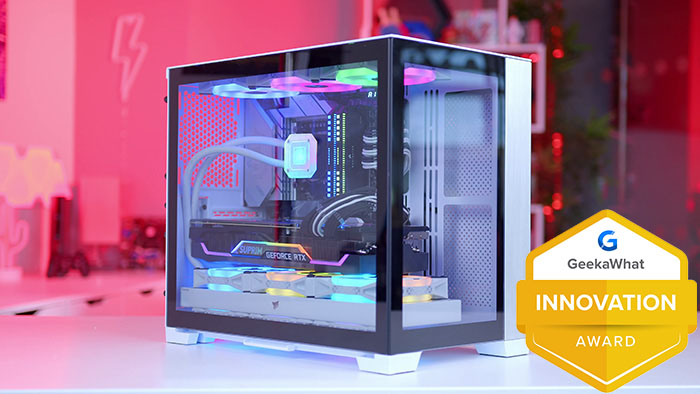 Pros:
✅ Extremely innovative design.
✅ Very reasonable priced.
✅ Supports numerous custom cooling configs.
Cons:
❌ Limited drive spaces.
❌ SFX PSUs are more expensive than standard ATX.
Check the price on:
Best RGB Case – Corsair iCUE 5000T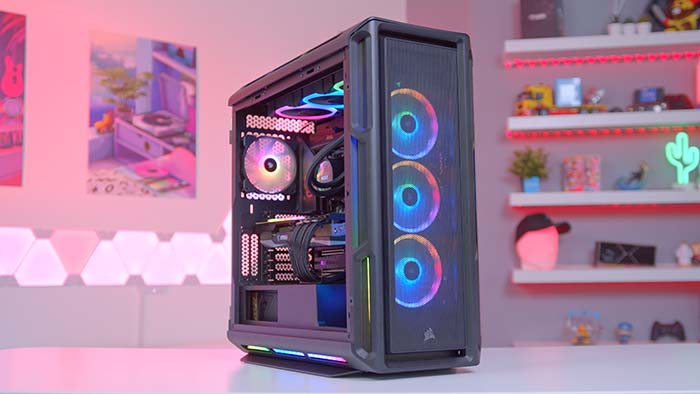 Pros:
✅ Has an insane amount of RGB.
✅ Supports numerous fans and radiators.
✅ Angular metal accents look very cool.
Cons:
❌ Quite expensive.
❌ A very heavy case.
Check the price on:
Best Enthusiast Case – Cooler Master HAF700 EVO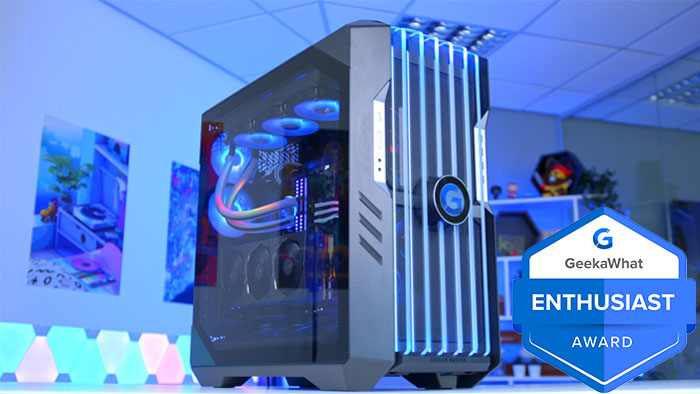 Pros:
✅ LCD display and infinity mirror very unique.
✅ Support for a huge number of fans.
✅ Supports two motherboards at once.
Cons:
❌ Full-tower design is massive.
❌ Overkill for most consumers.
Check the price on:
The Best Cases for an RTX 4090 PC Build
Without further ado, here are the best cases to pair with an RTX 4090 PC build. We've covered a variety of options from cheaper, but versatile case options, up to expensive and more insane chassis types.
1. Lian Li O11D Mini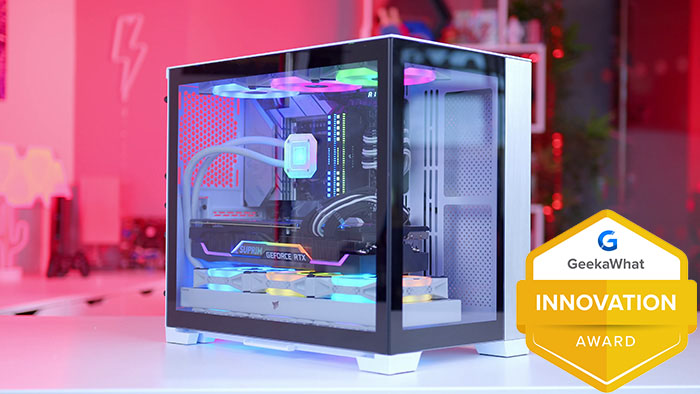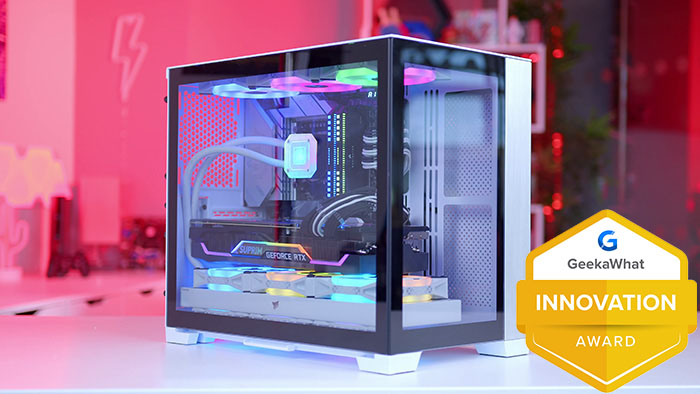 Lian Li's O11D Mini is one of the best cases we've had in the GeekaWhat office, and is one of my personal favourites. We've given it a GeekAward based on how versatile and robust the chassis is, while offering an excellent view into your case with a tempered glass front and side panel. You can configure this case in a number of ways to support a massive range of motherboards, custom cooling solutions, and of course – graphics cards. If you're looking for a smaller, but surprisingly versatile case, the O11D Mini is an excellent option!
Key Facts:
Max GPU Length: 370mm
Motherboard Support: Mini-ITX, Micro-ATX, ATX, E-ATX
CPU Cooler Height Clearance: 170mm
PSU Support: SFX/SFX-L
Buy the Lian Li O11D Mini on:
2. Corsair 5000D Airflow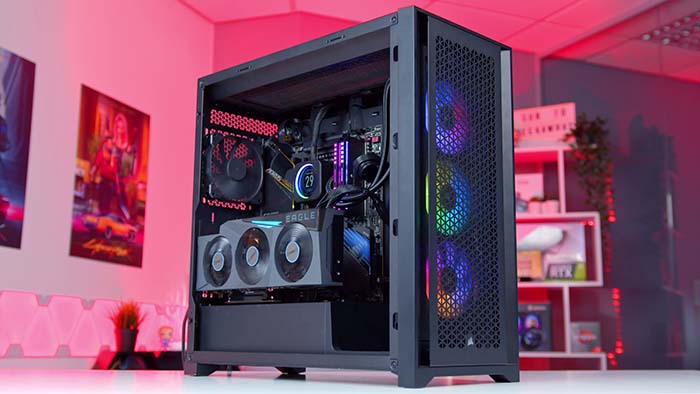 The 5000D Airflow from Corsair is an upgraded and larger version of its little brother, the 4000D. The 5000D has much more space, with support for the biggest GPUs and a variety of coolers. The mesh design aids in thermal efficiency, and the advanced rapidroute cable management system allows you to easily install a number of fans and hide the cables away to create a clean build. You've also got a massive number of different fan and radiator configurations that you can make use of, making the 5000D excellent for a cooler build.
Key Facts:
Max GPU Length: 400mm
Motherboard Support: Mini-ITX, Micro-ATX, ATX, E-ATX (some)
CPU Cooler Height Clearance: 170mm
PSU Support: ATX
Buy the Corsair 5000D Airflow on:
3. NZXT H7 Flow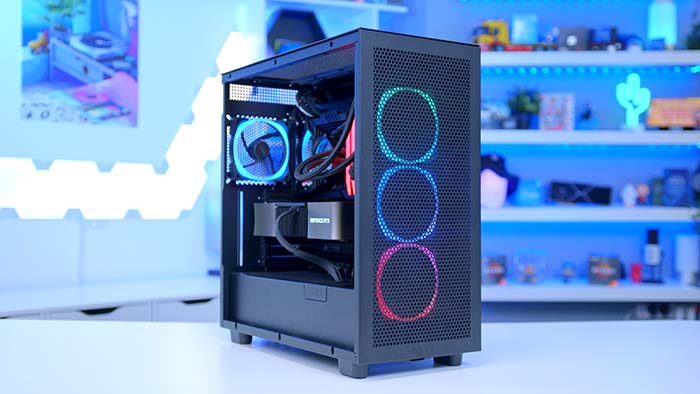 Check out the full H7 Flow x RTX 4090 PC build guide:
The NZXT H7 Flow is a case we've looked at before in a full review, and NZXT did a good job with this case. The more open mesh design aids with airflow which has been a previous issue with NZXT products. This case has a sleek and sophisticated design showing off the signature NZXT perforations. On the inside of the case is a compact yet spacious design capable of housing numerous 4090 GPUs with plenty of extra space. Cable management is also a breeze, you can use the wide channels and NZXT's signature cable management bar to aid you in this process.
Key Facts:
Max GPU Length: 400mm
Motherboard Support: Mini-ITX, Micro-ATX, ATX, E-ATX (up to 272mm)
CPU Cooler Height Clearance: 185mm
PSU Support: ATX
Buy the NZXT H7 Flow on:
4. Thermaltake Core P3 TG Pro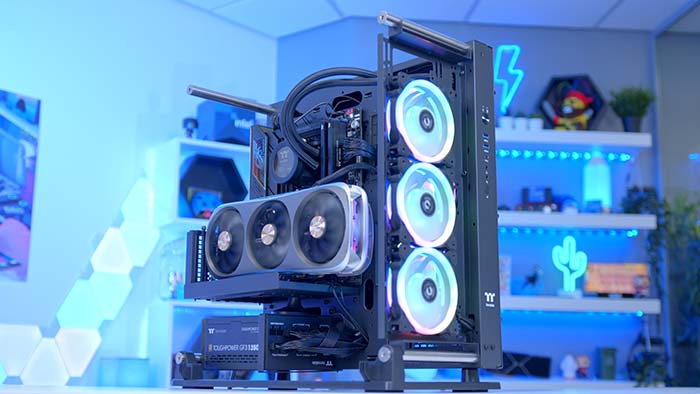 We recently built a gaming PC, featuring Zotac's RTX 4090:
Thermaltake's Core P3 TG Pro is one of the coolest cases we've had in the office. The open test-bench style design offers plenty of airflow whilst keeping the aesthetic fresh. The open design provides plenty of space with a mass of different configurations for fans, radiators and even custom cooling. This case is also designed to be mounted on a wall giving you an alternative way to hide your PC away, or put it on display. And with a max GPU length of 450mm you'll have no issues installing any of the 4090 SKUs vertically or horizontally.
Key Facts:
Max GPU Length: 450mm
Motherboard Support: Mini-ITX, Micro-ATX, ATX
CPU Cooler Height Clearance: 180mm
PSU Support: ATX
Buy the Thermaltake Core P3 TG Pro on:
5. Corsair iCUE 5000T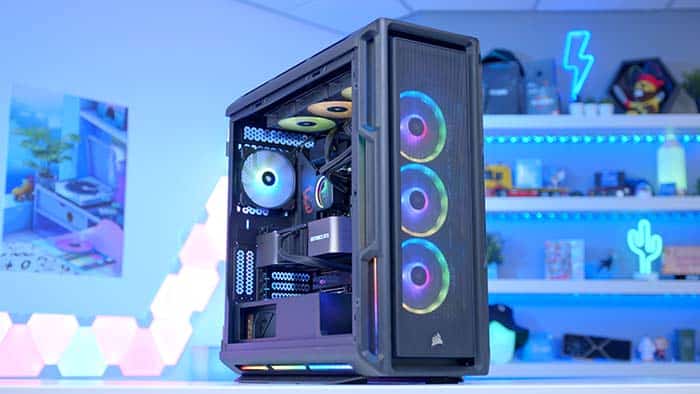 We recently used the iCUE 5000T to build a 4090 Founders Edition PC:
We've taken a look at Corsair's iCUE 5000T in a full review, and needless to say, this is an incredible case. With more RGB that you can shake a stick at, and plenty of room for a variety of different components, you won't be disappointed. You've got plenty of room for big coolers and GPUs, and the biggest bonus is that all of this can be customised within Corsair's industry leading iCUE software. Using the iCUE software is incredible easy and makes syncing up lighting and patterns for your peripherals and accessories an absolute breeze.
Key Facts:
Max GPU Length: 400mm
Motherboard Support: Mini-ITX, Micro-ATX, ATX, E-ATX
CPU Cooler Height Clearance: 170mm
PSU Support: ATX
Buy the Corsair iCUE 5000T on:
6. Cooler Master HAF700 EVO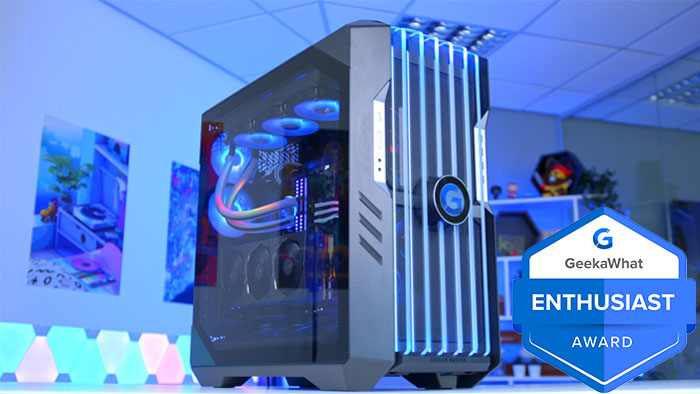 The HAF700 EVO from Cooler Master is another case we've looked at in a full review, and spoiler alert – it is insane. Fit with an LCD display, a ridiculous amount of RGB, more fan and cooler space than you could ever need, and an infinity mirror to show off all of your components in style. And as you can see from the image we've provided, you'll have no issues installing any of the RTX 4090 GPUs, with the 490mm of space. This case was able to house various RTX 3090Ti builds that we've done over the course of the RTX 3000 lifespan.
Key Facts:
Max GPU Length: 490mm
Motherboard Support: Mini-ITX, Micro-ATX, ATX, E-ATX, SSI CEB, SSI EEB
CPU Cooler Height Clearance: 166mm
PSU Support: ATX
Buy the Cooler Master HAF700 EVO on: