Introduction
Laptops have become a popular choice for gaming on the go, offering performance that matches up well with their desktop equivalents. However, these portable powerhouses are quite the investment, which means users need to find an option that ticks all of the boxes.
If you're in the market for a gaming laptop that can play the latest games at 1440p, then HP's OMEN 16 could be an ideal choice for you. But how does this 13th Gen gaming laptop stack up against other options on the market? In this review, we'll be delving into the specs, performance, and features of the Omen 16 in great detail.
Buy the HP Omen 16 on:
Suggested Article: Best 144Hz Gaming Laptops to Buy
Should You Buy A Gaming Laptop?
Whilst gaming laptops are quite impressive in what they provide, these portable devices are catered to a specific audience. Because of this, it's important to know what to expect from a gaming laptop, as well as the alternatives, so that you can pick up the best gaming device for your needs.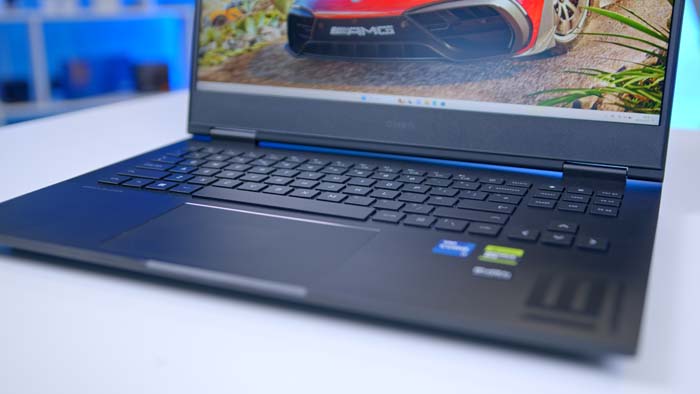 Starting with the obvious, if you don't plan on playing lots of games on the go, then a laptop isn't the way to go. Instead, building your own gaming desktop or getting a prebuilt gaming PC will be more beneficial and usually better value for money.
But if you are interested in a portable PC gaming solution, then you'll need to decide between whether to prioritise performance or portability. If you want access to the best performance possible at all times, then a gaming laptop is the closest you can get to replicating the power of a traditional desktop. However, these devices aren't always the easiest to carry around, which will make the idea of a PC gaming handheld more appealing to those less concerned about performance.
HP OMEN 16 Design & Aesthetic
Now that we've cleared the air on whether a gaming laptop is the right device to suit your gaming demands, lets turn towards the HP OMEN 16. This 16-inch gaming laptop is designed with premium performance in mind, offering consumers a sleek and subtle laptop that packs a punch.
Compared to some of the other gaming laptops we've had in the GeekaWhat office, the design of the OMEN seems fairly tame. Whilst it has all of the standard features you'd expect on a modern gaming laptop, such as RGB lighting, some branded decals, and an all-black colour scheme, the OMEN 16 lacks any standout design choices, with the overall shape and appearance being rather conventional. However, this does mean the design is stealthy enough to use within a working environment without raising any eyebrows, making it a solid choice for professionals wanting to game between working hours.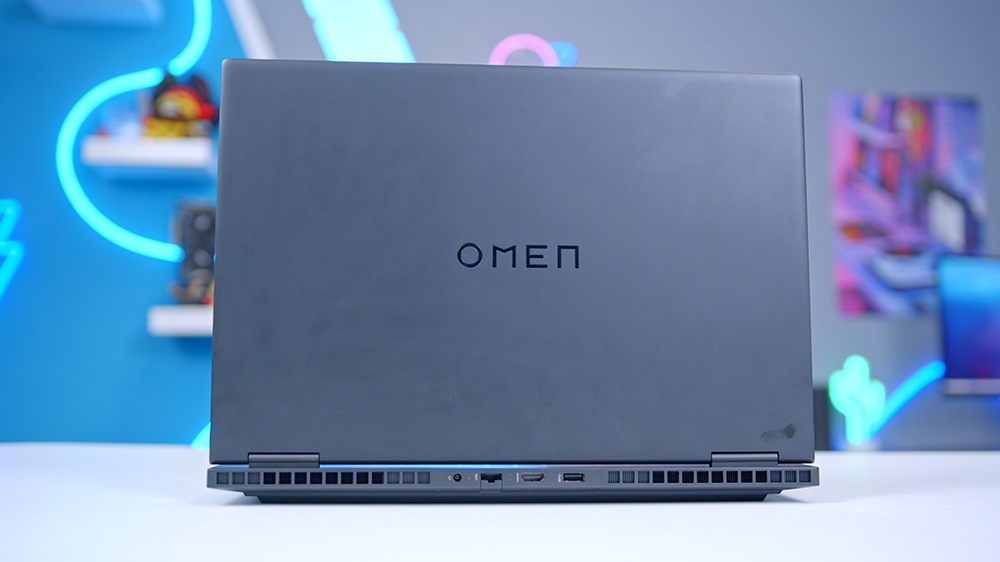 In terms of form factor, the 16inch display causes this laptop to be unavoidably large. Surprisingly, this design isn't too heavy, which can't be said for most laptops of a similar size. On top of this, the OMEN 16 is rather bulky compared to more productivity-based laptops, but isn't too big compared to other laptops of a similar spec. Whilst HP do a good job of hiding the depth of this laptop when placed on a flat surface, the OMEN 16's simplistic shape makes this design look wider than it truly is.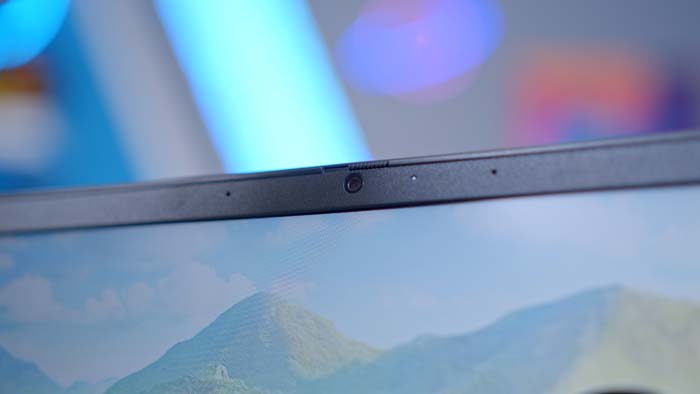 HP Omen 16 Specs & Performance
Performance-wise, the HP OMEN is quite the powerhouse, utilising a lot of high-quality components that are just shy of offering optimal gaming performance. The particular model we received has the best configuration possible for this laptop, which featured an Intel Core i7 13700HX processor, a NVIDIA RTX 4080 laptop graphics card, and 32GB of DDR5 memory. In theory, this combination should lead to strong performance when gaming at 1440p, offering framerates that can compete with most desktop gaming PCs.
Along with the solid performance on offer, the HP OMEN 16 includes 1TB of SSD storage as standard. This means that gamers will be able to hold a collection of around 5-10 games with ease, even if your catalogue is filled with nothing but triple-A blockbusters. As for the display, the 240Hz IPS panel ensure that gamers can take advantage of the performance produced by this laptop at all times, resulting in incredibly responsive gameplay that is great for Esports titles.
| Specifications | HP Omen 16 Gaming Laptop |
| --- | --- |
| CPU | Intel Core i7 13700HX |
| Graphics Card | NVIDIA GeForce RTX 4080 (Laptop GPU) |
| RAM | 32GB DDR5 4800MHz |
| Storage | 1TB Gen4 NVMe SSD |
| IO Ports | 2x Thunderbolt 4, 2x USB 3.2, 1x DisplayPort 1.4, 1 HDMI 2.1, 1x 3.5 Combo Audio Jack, 1x RJ-45 |
| Display | 16.1″ QHD 2560 x 1440 240Hz |
| Networking | WiFi 6E, 1Gb LAN |
| Operating System | Windows 11 |
| Battery | 83Wh (4.5 hours) |
Looking at connectivity, the OMEN 16 is very versatile. Including two Thunderbolt 4 ports, a DisplayPort, and HDMI 2.1, this laptop will have no issues connecting to external displays, which means gamers can easily enhance their viewing experience with a high-end gaming monitor when they get the chance. Also, the integrated WiFi 6E and 1Gb LAN allows users to connect to the internet with either a wired or wireless connection, for greater flexibility and stability on the road.
Features We Like
240Hz IPS Panel
On gaming laptops, the display is just as important as the overall performance of the system, as it will stop a powerful configuration from being restricted to certain performance parameters. Luckily, the 240Hz refresh rate available on this laptop should be more than enough to maximise the output of this device at 1440p and 1080p settings. Additionally, the IPS panel provides a high-quality image, thanks to its improved colour accuracy and wider viewing angles.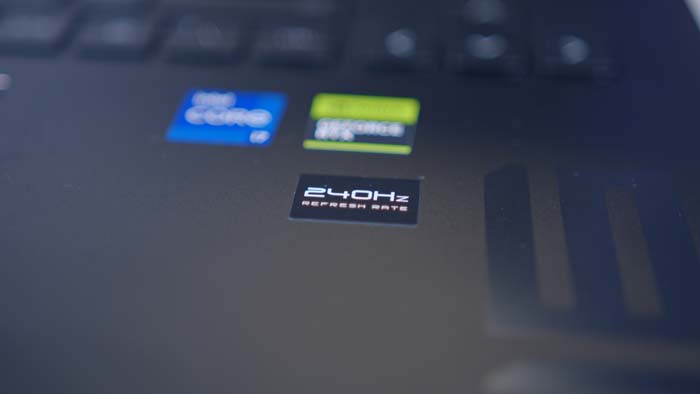 Efficient Cooling
The most surprising aspect of this gaming laptop during our testing had to be its ability to remain cool under intense workloads. Thermals are notoriously difficult to control on gaming laptops, with most devices running very loud and hot in most games. This is something we've had to deal with plenty of times when benchmarking other gaming laptops, but we didn't stumble across any of those issues here.
Instead, the OMEN's Tempest cooling technology allowed this device to stay on top of it's temperatures, even when pushed it to the limit in graphically demanding titles. Personally, I'd go as far to say that this is the best gaming laptop I've tested when it comes to thermal regulation.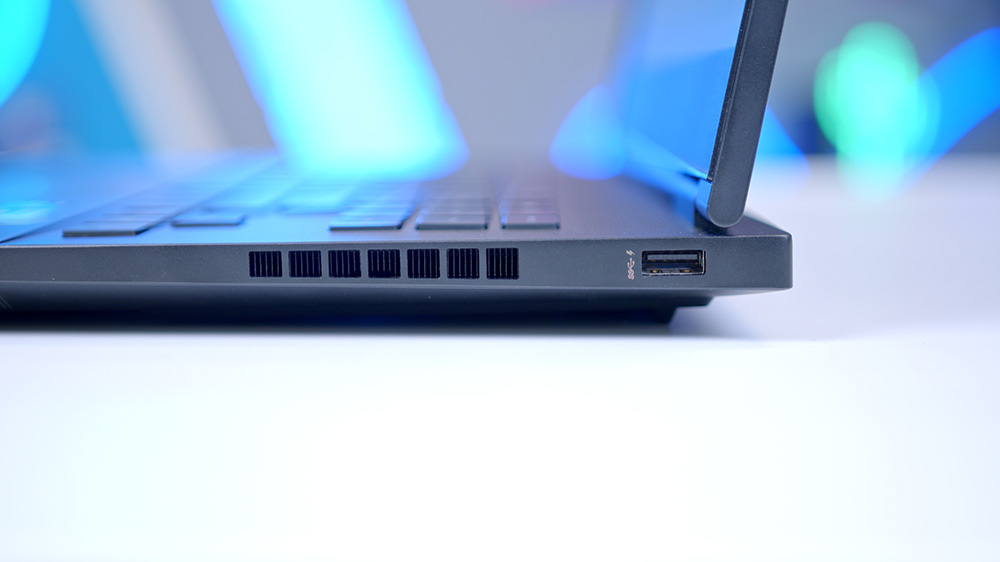 Rear IO & Connectivity
Another area in which the OMEN 16 excels is connectivity, as the ports located on the sides and rear offer a range of different ways to hook up external devices to improve the portable gaming experience. Along with the examples mentioned in the earlier specs and performance section, the presence of multiple USB-C and USB 3.0 ports means consumers have plenty of slots to connect a wireless gaming mouse or professional-grade controller.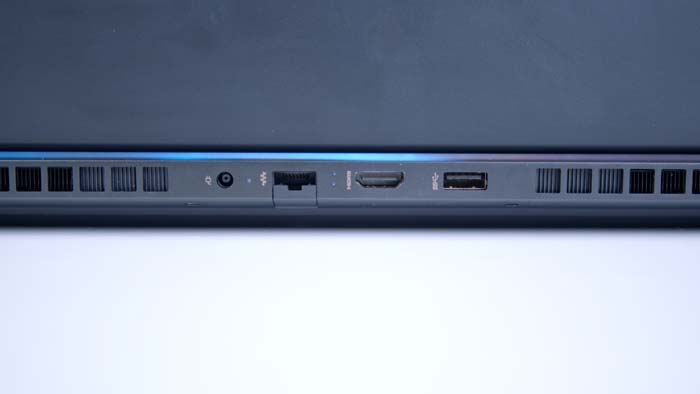 Features We Don't Like
Bulky Form Factor
Onto the negatives, the first of which being this design's bulky nature. Whilst a larger shape and form factor seems to be a burden that most gaming laptops have to carry to some extent, there isn't much here to suggest that HP have tried to slim down the OMEN 16 to increase portability. For example, the thick borders around the display and open spacing surrounding the keyboard and trackpad suggests this design could have been slimmed down more, or at least offered the illusion of being smaller than it truly is.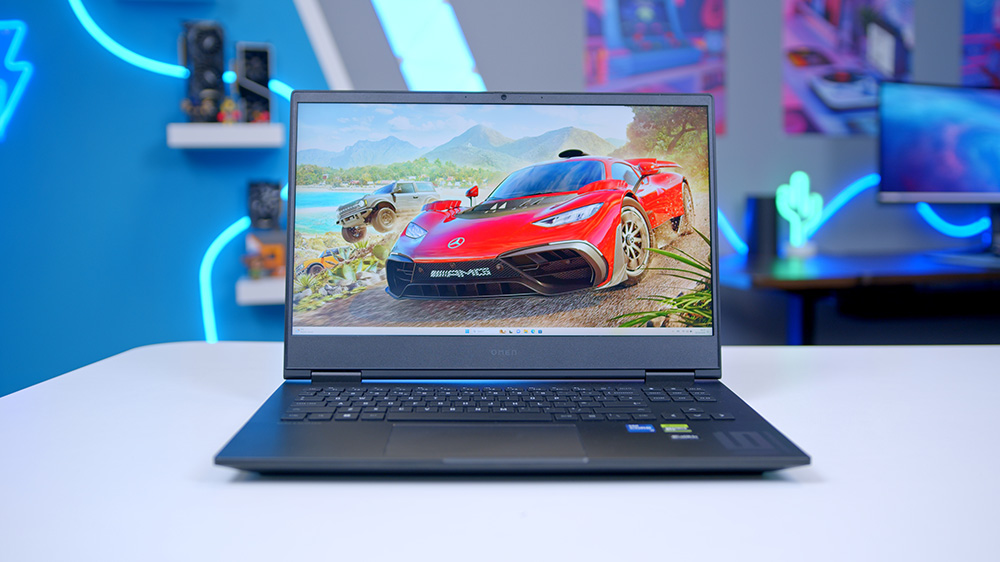 HP Omen Gaming Hub Software
It would be a little harsh to say that I didn't like the HP OMEN Gaming Hub software, as I felt more indifferent towards it rather than thinking it was straight up bad. Whilst the software UI looks clean and is fairly easy to navigate compared to what other brands provide, there are a number of frustrating elements that drastically hinder the experience.
Firstly, the lighting software, OMEN Light Studio, is separated from the main Gaming Hub software, which meant I had to jump over a lot of hurdles to mess around with the RGB keyboard. This decision was even more baffling when the list of customisation options on offer didn't seem much better than what's available on other software. Secondly, the main pages are filled with advertisements and promotions for links to their own store, which always doesn't sit right for a software that should focus on helping existing customers.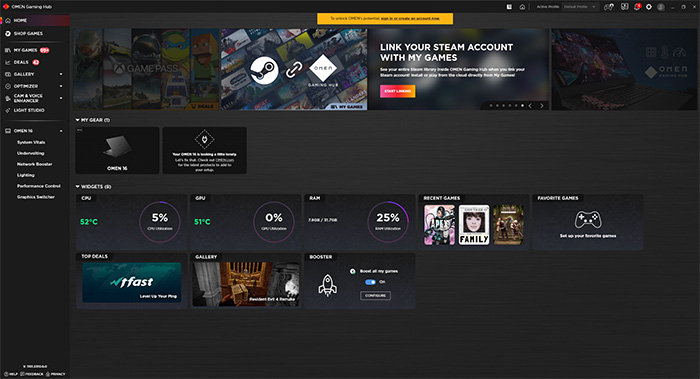 Lacklustre Aesthetic
Another disappointing element of the OMEN 16 is the aesthetic. Gaming laptops often include a range of distinct design features such as RGB lighting, angular shapes, and decals, to create a distinct and eye-catching appearance that is vastly different from general laptops. However, the OMEN 16 lacks the design choices needed to differentiates itself from a run of the mill laptop.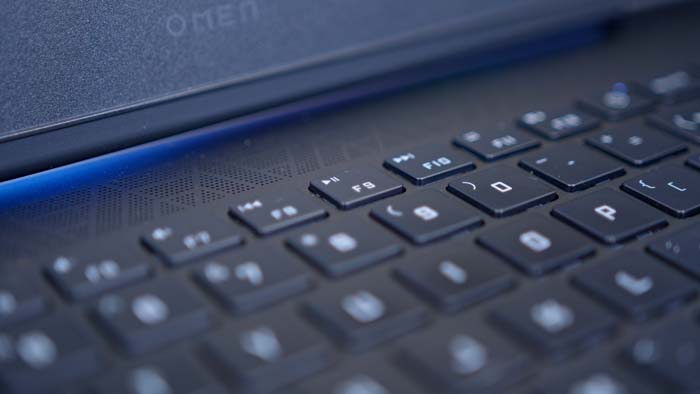 Gaming Benchmarks
To test how the HP OMEN 16 performs in gaming scenarios, we've ran a number of gaming benchmarks, including the latest blockbusters and popular Esports titles. For these benchmarks, we ran all the games at 1440p High settings, as this offers a solid blend of performance and visual fidelity.
Starfield -1440p High
Starfield is one of the most demanding PC games on the market, which leads to lots of systems struggling to push the frame rates above the 60FPS mark. Because of this, the 35FPS average that the OMEN 16 achieved isn't as bad as it sounds. Whilst we would like this to be closer to the 60FPS marks, the frame rates did spike up in menus, which will make the many instances of fast travel and inventory management within this game a lot snappier.
Spiderman: Miles Morales -1440p High
In the less demanding single-player narrative, Spider-Man: Miles Morales, the performance was a lot closer to what we'd expect from a gaming laptop of this calibre. Coming in at around 60FPS on average when swinging through the streets of New York, this laptop does enough to keep this game running smoothly. Whilst our benchmarking run didn't take advantage of NVIDIA's Frame Generation technology, we would have liked to see some better results in this title.
Apex Legends – 1440P High
In Apex Legends, we saw significant improvements to 1440p performance, which is no surprise considering the competitive nature of this game. During our benchmarking run, the HP OMEN 16 manged to reach significantly better frame rates than the previous titles, hitting around 140FPS on average. This should be more than enough to stay on par with the competition, which will hopefully lead to more victories.
Halo Infinite -1440p High
The final game we tested was Halo Infinite. Despite being a competitive arena shooter, this is another title that is known to demand a lot from a system, leading to lower outputs in higher settings. At 1440p High settings, the OMEN 16 stayed at a rather consistent 40FPS. This means that users of this laptop may struggle to remain competitive in this title, and may need to dial down the settings to achieve more competitive performance.
Alternatives
ASUS ROG Zephyrus M16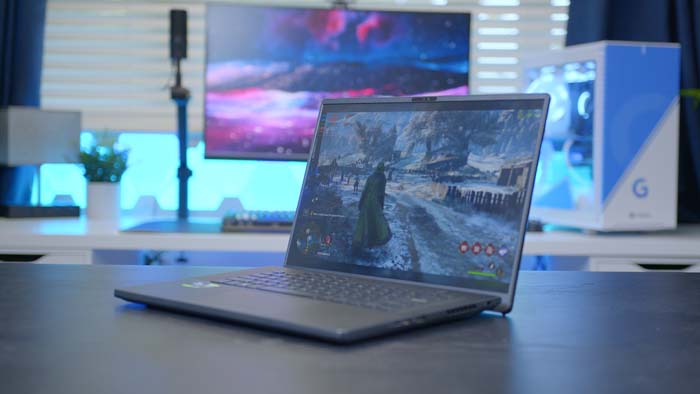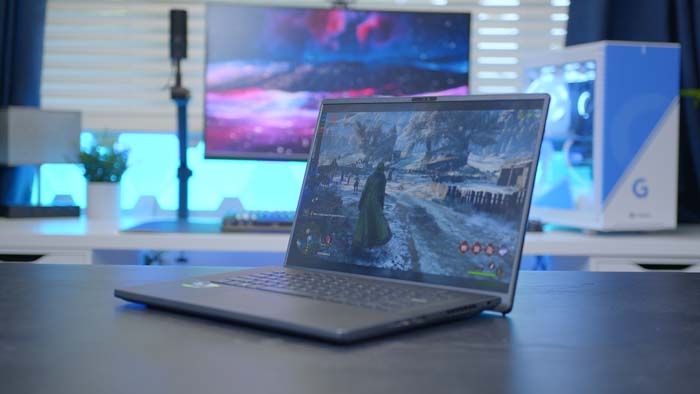 The ASUS ROG Zephyrus M16 is another gaming laptop that features an RTX 4080 GPU. However, this design possesses an appearance that will be more appealing to most gamers, mainly thanks to the custom AniMe Matrix LED Display located behind the screen grabs the attention of anyone that passes by. Plus, this 16-inch device is pretty slim and lightweight, making it surprisingly easy to carry around.
Buy the ASUS ROG Zephyrus M16 on:
Gigabyte AORUS 15 BSF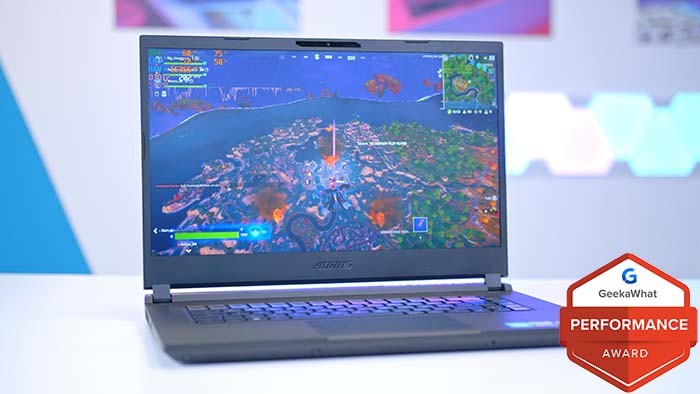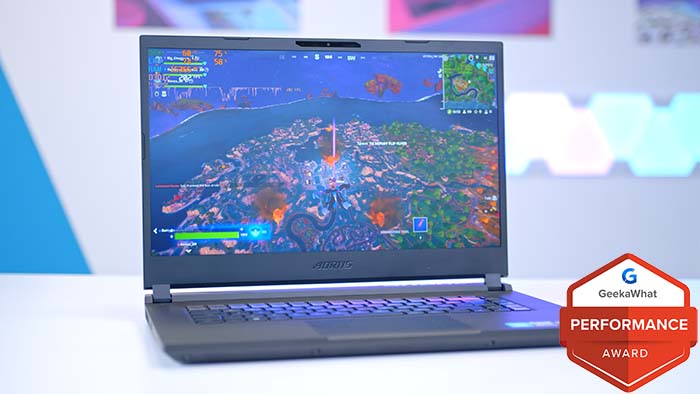 If you're looking for a cheaper alternative that also offers increased portability, then Gigabyte's AORUS 15 BSF is a solid choice to consider. Whilst the RTX 4070 graphics card and 165Hz 1440p display is a downgrade from the 240Hz on the OMEN 16, it is still enough to offer smooth and responsive gameplay in most titles. Plus, this laptop impressed us so much that we gave it a GeekaWhat Performance award.
Buy the Gigabyte AORUS 15 BSF on:
Conclusion
HP Omen 16 Gaming Laptop
Product Name: Omen 16
Brand: HP
Features

Design

Performance

Value For Money
Summary
Overall, the HP OMEN 16 is a good choice for consumers that want access to portable 1440p gaming at a reasonable price, whilst including most of the bells and whistles you'd expect from a gaming laptop. But 'good' is the most that I can say when describing this gaming laptop, as it lacks the features and wow-factor needed to be considered as an industry-leading device. 
Whilst the OMEN 16 gets plenty of practical aspects right, such as great thermal regulation and extensive connectivity options, its overall design and performance doesn't convince me that consumers would consider this design over other options on the market. Aesthetically, the OMEN 16 is fairly bland and bulky, with the additional software failing to improve the situation. It's a shame, as the HP OMEN 16 has strong foundations and has been incredibly reliable throughout our time with it. However, the lack of curb appeal and performance means this laptop will likely be overlooked by the gaming community.
Pros
✅ Good for 1440p gaming.
✅ Very efficient cooling system.
✅ Reasonable price point.
Cons
❌ Aesthetic is rather plain. 
❌ Bulky shape and form factor.
❌ HP OMEN software isn't great.