Introduction
GPU releases have been flying out at a rapid pace over the past 6 months, with what seems like a new graphics card every month. The latest option to arrive is Nvidia's RTX 4060Ti, a more budget-friendly 40 series card that performs well at both 1080p and 1440p in a range of the latest titles.
If you've found yourself lucky enough to grab one of these shiny new graphics cards, you may be wondering what PC case you should throw it into. Well, the good news is that most cases on the market will be able to house this GPU, which hasn't been the case for a lot of the previous RTX 4000 series releases.
But what if you have no ides where to begin on picking a chassis for your next gaming PC? Or just want to know what cases are best suited for the RTX 406Ti? In this buyers guide, we'll be taking you through the best PC cases for the RTX 4060Ti, along with advice on how to pick the best case for your gaming setup.
Suggested Article: Best Power Supplies to Buy for the RTX 4060 Ti 8GB
Our Recommendations
1. Fractal Design Torrent Nano
👑 The best mini-ITX case for the RTX 4060 Ti.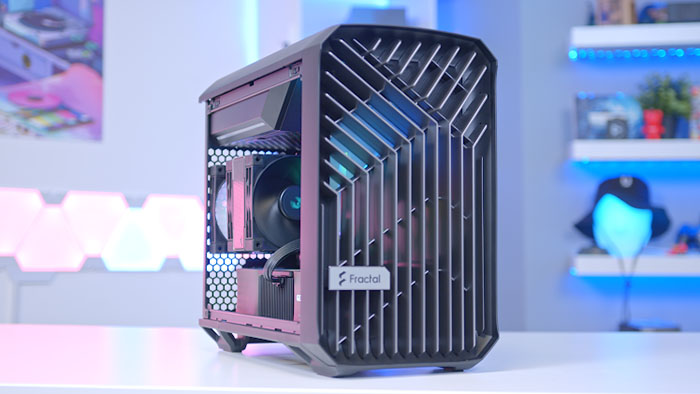 Introduction
We're keeping things small to start off with, introducing the Fractal Design Torrent Nano. As a company, Fractal are known for their less conventional approach when designing PC cases, with the Torrent Nano being one of their most popular twist on modern designs. Despite it's very compact Mini-ITX form factor, the Torrent Nano has a surprising amount of clearance for components, especially GPUs.
Supporting a max GPU length of 335mm, this case can comfortably fit the RTX 4060Ti and SKUs into its chamber without any problems. In one of our PC build videos, we even managed to fit an RTX 4090 Founders Edition into this case, which is no easy task given how chunky that card is! On top of this, the mesh front panel has plenty of ventilation to keep your system from feeling like a furnace.
Key Specs
| Key Specs | Fractal Design Torrent Nano |
| --- | --- |
| Form Factor | Mini-ITX |
| Max GPU Length | 335mm |
| Motherboard Support | Mini-ITX |
| CPU Cooler Height Clearance | 165mm |
| Max PSU Length | 200mm |
| Fans Support | 5 x 120mm, 4 x 140mm |
Things We Like
Compact design: This Mini-ITX design is perfect for those looking to keep their desk space as clear as possible. However, the compact design doesn't come with too much sacrifice to component clearance.
Lots of airflow: Though you would assume that a more compact case like this one would struggle to keep temperatures, the Torrent Nano offers plenty of ventilation. This means that the airflow of components is left rather unrestricted, leading to less risk of overheating.
Things We Don't Like
Clearance issues: Whilst the amount of clearance for the graphics card in particular, there is so much this case can do with the limited space. As a result, compatibility with other components, especially CPU Coolers is very limited.
Limited component choice: As previously mentioned, the Torrent Nano is fairly limited as to the choice of components that will fit into it's compact design. The main issue is with motherboards, as this PC case only support Mini-ITX motherboards.
Summary
Overall, the Fractal Design Torrent Nano is a strong choice for RTX 4060Ti users looking to build a gaming PC that doesn't take up an obscene amount of desk space. The Mini-ITX size doesn't hold this case back however, as it uses the space it has wisely to accommodate all the latest components, whilst still offering plenty of airflow.
Features: 4/5
Design: 4.3/5
Versatility: 4/5
Value for Money: 3.8/5
Pros
Compact form factor
Plenty of ventilation
Can support a RTX 4090 GPU
Cons
Limited cooling options
Still has some clearance issues
Where to Buy
Buy the Fractal Design Torrent Nano on:
2. Thermaltake Ceres 500 TG ARGB
👑 The best high-end case for the RTX 4060 Ti.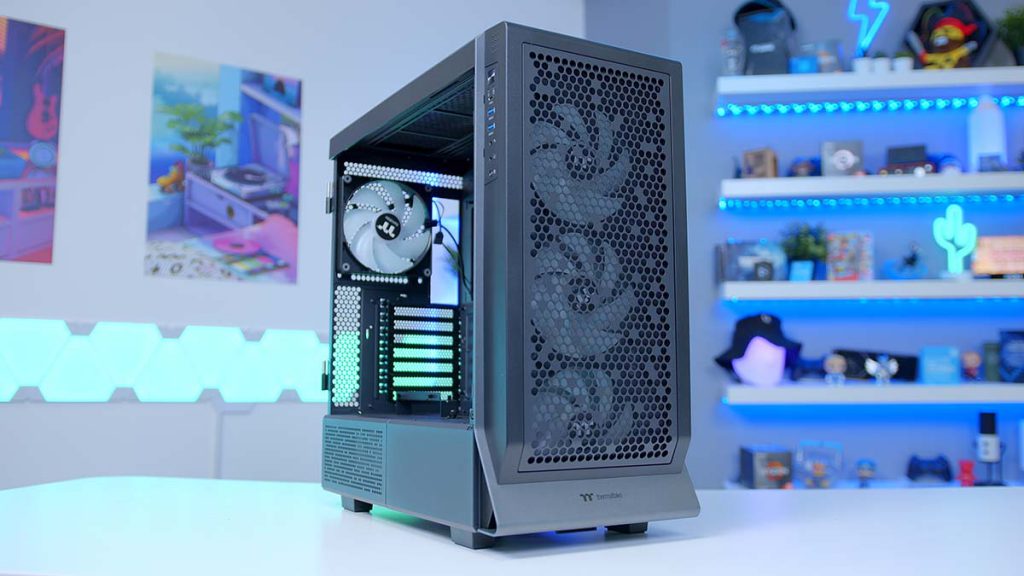 Introduction
For those looking for a PC case that is significantly bigger than our previous entry, then the Thermaltake Ceres 500 TG ARGB should definitely be on your radar. This mid-tower chassis has plenty of internal space to make it a absolute breeze to install all the recently released graphics cards from both AMD and Nvidia. In addition, this case leaves plenty of room for additional design features, which provides gamers with a luxurious gaming and building experience.
Along with the 395mm of clearance reserved for GPUs, the Ceres 500 TG ARGB supports most motherboards on the market, no matter the size. Also, the ability to install both 120mm and 140mm fans in each radiator slot allows builders to ensure the temperatures of their system remain optimal. Design-wise, the bulky nature of this case is bound to stand out by itself, but Thermaltake go one step further, equipping it with lots of support for RGB lighting, as well as an optional LCD panel to display reports or Gifs.
Key Specs
| Key Specs | Thermaltake Ceres 500 TG ARGB |
| --- | --- |
| Form Factor | Mid Tower |
| Max GPU Length | 395mm |
| Motherboard Support | Mini-ITX, Micro-ATX, ATX, E-ATX |
| CPU Cooler Height Clearance | 185mm |
| Max PSU Length | 220mm |
| Fans Support | 7 x 120mm, 7 x 140mm |
Things We Like
Plenty of room for components: For RTX 4060Ti builders, clearance won't be an issue on this case. The Ceres 5000 TG ARGB has all the tools and lots of space to support a wide range of components, with even some capacity to double up on the likes of CPU coolers.
Varied motherboard support: A prime example of the vast array of support this case brings to the table is the amount of motherboard form factors it support. With the ability to house Mini-ITX, Micro-ATX, ATX, and E-ATX boards, this case is a strong option for those that like their PCs to stay well connected.
Things We Don't Like
Takes up a lot of space: In order to access the sheer compatibility offered by this case, builders better be ready to clear up some space within their setups. Whether you prefer to have your PC above or under the desk, this case will occupy a lot of the dedicated space.
Design not for everyone: The Ceres 500 TG ARGB possesses quite a bulky design, which is bound to look like an eye-sore to some PC builders. Whilst we'd be quite happy with this design in our setup, it does have a resemblance to certain locomotives, so we understand why other would be looking to change tracks.
Summary
If you're a PC builder that wants to guarantee that all of your new and existing will fit into the same PC case, then it's hard to ignore the Thermaltake Ceres 500 TG ARGB. With more than enough room to support most gaming components on the market, this case is a very practical way to bring a cluster of different parts together, so long as you have the space for it!
Features: 4.5/5
Design: 4.2/5
Versatility: 4.5/5
Value for Money: 3.8/5
Pros
Plenty of space for RTX 4060Ti
Range of support for motherboard
Optional LCD display panel
Cons
Requires lots of space
Divisive design
Where to Buy
Buy the Thermaltake Ceres 500 TG ARGB on:
[adrotate banner="8″]
3. HYTE Y40
👑 The best looking case for the RTX 4060 Ti.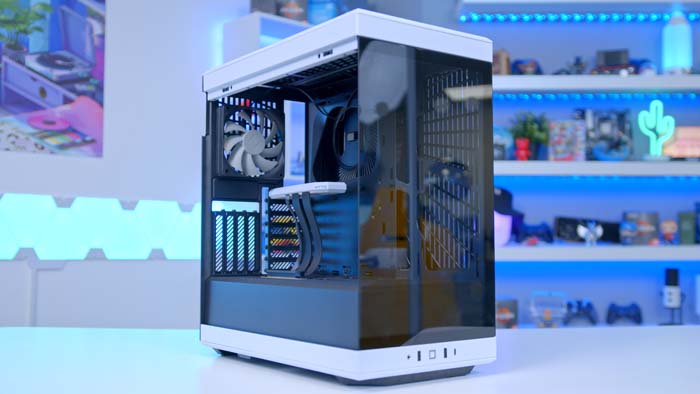 Introduction
A case that acts as somewhat of a middle ground between the previous cases featured on this list, we have the extremely popular HYTE Y40. After its bigger brother, the HYTE Y60, became a sensation within the PC building community, HYTE release this refined version to plenty of fanfare. This design takes the wrap-around glass look from its predecessor, and slims it down to matches a more traditional Mid Tower form factor.
However, this reduction in size didn't have much of an impact on the sheer amount of space available within this chassis. The 422mm of GPU clearance means this case will have no problems supporting the RTX 4060Ti, along with the rest of Nvidia's 40 series range. Since it first arrived in the GeekaWhat office, we've used the HYTE Y40 in a number of different PC builds and buyers guides, as it is simply one of our favourite cases due to its stellar blend of functionality and visual appeal.
Key Specs
| Key Specs | HYTE Y40 |
| --- | --- |
| Form Factor | Mid Tower |
| Max GPU Length | 422mm |
| Motherboard Support | Mini-ITX, Micro-ATX, ATX |
| CPU Cooler Height Clearance | 183mm |
| Max PSU Length | 224mm |
| Fans Support | 7 x 120mm, 3 x 140mm |
Things We Like
Great aesthetic: The sheer amount of glass on this case makes it the perfect display piece for PC enthusiasts. If you have this case and don't put it front and centre within your setup, you're doing it a great disservice.
Spacious design: Despite the slimmer shape compared to the HYTE Y60, this case has plenty of room for a wide range of components, making it a great choice for custom water-cooled builds.
Things We Don't Like
Airflow restrictions: Even though the wrap-around glass panels on this case are a great visual addition, it does come with the sacrifice of restricted ventilation. If gamers aren't careful with their builds, it could cause temperatures within the case to rise.
Pricey: Considering the RTX 4060Ti is a graphics card targeted towards more price-conscious buyers, the $150 retail price of this case will possibly be too steep for their liking. This is especially true when you take into account that adequate alternatives be found for half the price.
Summary
To sum up, HYTE cases like the Y40 are popular amongst PC gaming enthusiasts for a reason. This mid tower case provides a great compromise between compactness and compatibility. Along with being a design that can easily house any RTX 4060Ti GPU, this case provides a premium feel to any gaming setup it is placed into, and begs to be the centre of attention.
Features: 4.3/5
Design: 4.8/5
Versatility: 4.3/5
Value for Money: 4/5
Pros
Awesome aesthetic
Plenty of clearance
Available in multiple colours
Cons
Pricey for a PC case
Potential airflow limitations
Where to Buy
Buy the HYTE Y40 on:
4. Thermaltake The Tower 100
👑 The best compact case for the RTX 4060 Ti.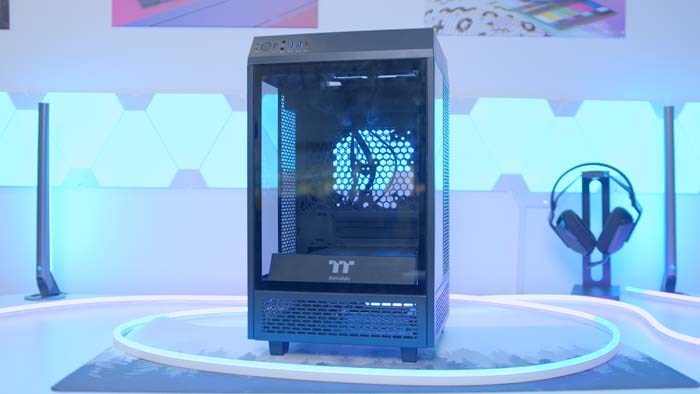 Introduction
To round off our list, we have another compact design from Thermaltake, The Tower 100. This Mini Tower case is one of the least intrusive options to desk space on the market thanks to its portrait orientation. Despite the smaller real estate, there is more than enough space for the latest graphics cards. We've previously managed to cram a RTX 4090 into this case, so the much smaller RTX 4060Ti should have no issues slotting into it either.
In addition to its unique shape, Thermaltake's The Tower 100 is surrounded by tempered glass, allowing gamers to see their build from all angles. In a similar fashion to the previous entry on our list, this case acts as a great centrepiece within a gaming setup, especially when its packed with lots of RGB. But if that's not enough flair, The Tower 100 is also available in a wide variety of colours, making it truly one of the most distinct designs available.
Key Specs
| Key Specs | Thermaltake The Tower 100 |
| --- | --- |
| Form Factor | Mini Tower |
| Max GPU Length | 330mm |
| Motherboard Support | Mini-ITX |
| CPU Cooler Height Clearance | 190mm |
| Max PSU Length | 180mm |
| Fans Support | 3 x 120mm, 3 x 140mm |
Things We Like
Unique form factor: The shape of more conventional PC cases often takes up a lot of desk space. However, the vertical tower design of this case reduces the amount of real estate which needs to be freed up for a gaming PC, making it a great choice for gamers with limited space within their setup.
Great for displaying components: With the heavy implementation of tempered glass which surrounds the chassis, this case is a perfect way to put the components within your PC build on full display.
Things We Don't Like
Limited compatibility: Whilst this case has enough room for most graphics cards on the market, it comes at the cost of other components. The biggest victim is the motherboard, as consumers will only be able to fit a mini-ITX board into this case.
Limited cooling: The combination of tempered glass and limited space can lead to restricted airflow. Also, this case can only support a 120mm CPU cooler, resulting in significantly lower thermal regulation possible on larger case designs.
Summary
Anyone looking for a design for their PC build that makes an impression within a compromised space, then Thermaltake's The Tower 100 will have no issues meeting those demands. This vertically oriented chassis gives any gaming PC a distinct shape that will puzzle fellow enthusiasts. Also, the surrounding glass panels allows you to show off every component from multiple angles.
Features: 4.2/5
Design: 4.3/5
Versatility: 3.8/5
Value for Money: 4/5
Pros
Compact design
Distinct form factor
Lots of vents
Cons
Lack of compatibility
Limits cooling options
Where to Buy
Buy the Thermaltake The Tower 100 on:
[adrotate banner="12″]
RTX 4060 Ti Size Comparison
When buying a PC case to house a brand-new graphics card, one of the first considerations is whether a certain chassis has enough room to allow the GPU to perform as intended. To make sure that a graphics card has plenty of airflow, we suggest picking up a case that accommodates for the length of the GPU, along with at least 50mm of clearance. Each type and version of a card will vary in length, so it is important to check the dimensions of the exact SKU you plan on using.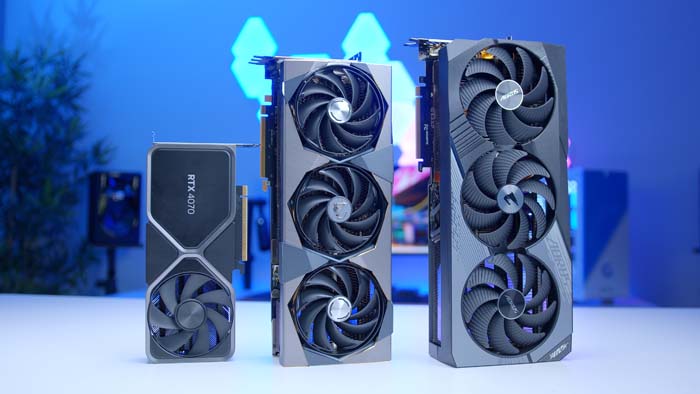 Compared to all of Nvidia's RTX 4000 series releases so far, the RTX 4060Ti is the smallest in stature, on par with the RTX 4070. This will be music to the ears of most PC builders, as this more compact design is much easier to fit into PC cases already on the market, something that has become a notorious issue with Nvidia's flagship offerings.
For those still unsure what to expect when fitting their RTX 4060Ti into a gaming PC, we've provided a list of dimensions for a range of graphics cards below, along with the recommended space required to accommodate it.
GPU
Dimensions
Recommended Case Clearance
Nvidia RTX 4090 Founders Edition
Length: 304mm
Width: 137mm
Length: 350mm
Width: 200mm
Nvidia RTX 4080 Founders Edition
Length: 304mm
Width:137mm
Length: 350mm
Width: 200mm
AMD Radeon RX 7900 XTX
Length: 287mm
Width: 110mm
Length: 330mm
Width: 150mm
AMD Radeon RX 7900 XT
Length: 276mm
Width: 110mm
Length: 330mm
Width: 150mm
Nvidia RTX 4070 Founders Edition
Length: 250mm
Width: 112mm
Length: 300mm
Width: 170mm
Nvidia RTX 4060Ti Founders Edition
Length: 250mm
Width: 112mm
Length: 300mm
Width: 170mm
Nvidia RTX 3090Ti Founders Edition
Length: 336mm
Width: 140mm
Length: 390mm
Width: 200mm
Nvidia RTX 3070 Founders Edition
Length: 242mm
Width: 112mm
Length: 300mm
Width: 170mm
Are Compact PC Cases Worth Considering?
Compact (or small form factor cases) are a bit of a niche topic in the PC gaming and hardware space. They've started to become popular in more recent years, with a plethora of manufacturers developing Mini Towers or ITX cases for those wanting a smaller build. But a big question still remains, are they worth considering over a traditional sized case? Honestly, this entirely depends on your use-case. If you're the kind of consumer that prides themselves on having a more portable setup because you travel a lot, or go to Esports competitions, having a smaller case will be a priority.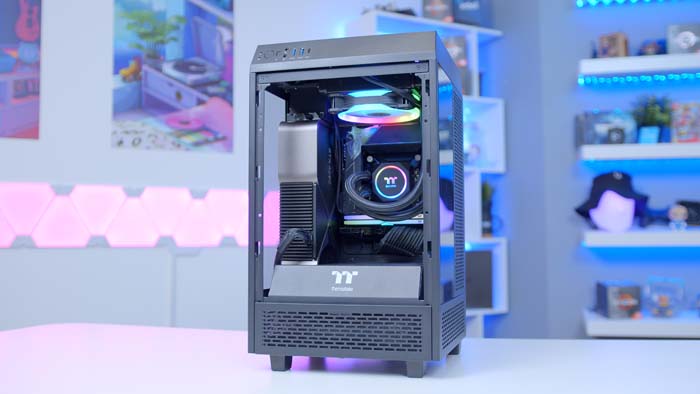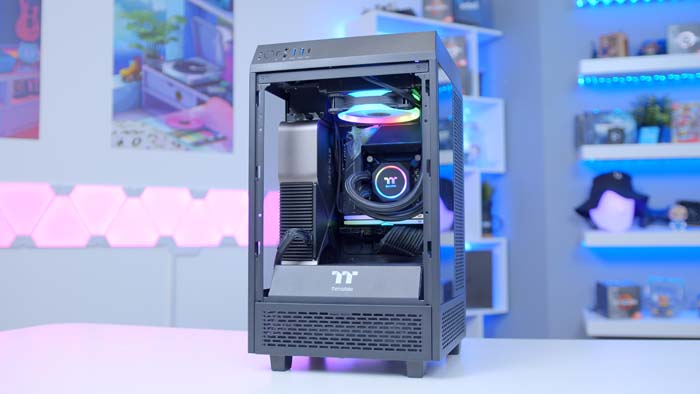 Compact or smaller PC cases take a traditional case size, and shrink them down massively to save on as much space as possible. This makes them easy to transport around due to the physical size and weight. But there are some major caveats. For one, they're generally more expensive. Due to the nicheness of these cases, manufacturers tend to have less stock, and therefore they charge a premium on them. A second caveat is that they're complicated to build in. If you're a first-time PC builder, these smaller cases can be an absolute nightmare, as you're having to make use out of as little space as possible.
Thirdly, compact cases don't always support standardised sizes, such as ATX motherboards and power supplies. Because of this, consumers are forced to pick up more expensive and smaller components to even be able to install them! As much as compact PC cases do have their benefits, you'll have to be willing to shell out a fair amount of money to build a smaller system, which tends to be a bit turn off for many consumers.
Nvidia GeForce RTX 4060Ti Gaming Performance
Most people searching for a case specifically for Nvidia's RTX 4060Ti have probably decided that the performance of this graphics card will meet their demands, but it never hurts to get more insight into what to expect before committing to a certain build. Also, it will help anyone not fully convinced by the RTX 4060Ti to make a final decision, one way or the other. With that being said, here are a few examples of how Nvidia's newest GPU stacks up against the competition in a range of titles and settings.
COD MW2 – 1440p High
To start off, we're going to offer a look at how the 4060Ti performs in the ever- popular competitive shooter, Call of Duty. In MW2 at 1440p with high settings enabled, the RTX 4060Ti was able to hit 127 FPS on average during our benchmarking run. This puts the performance comfortably above the 120Hz mark, meaning gamers will be able see the action clearly and take full advantage of the refresh rates found on a range of 1440p displays.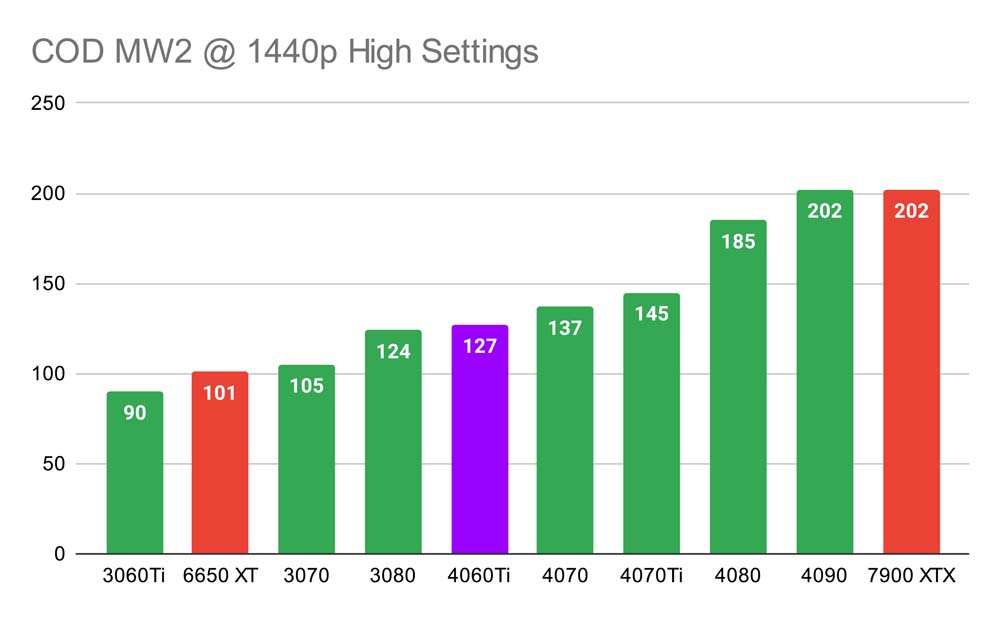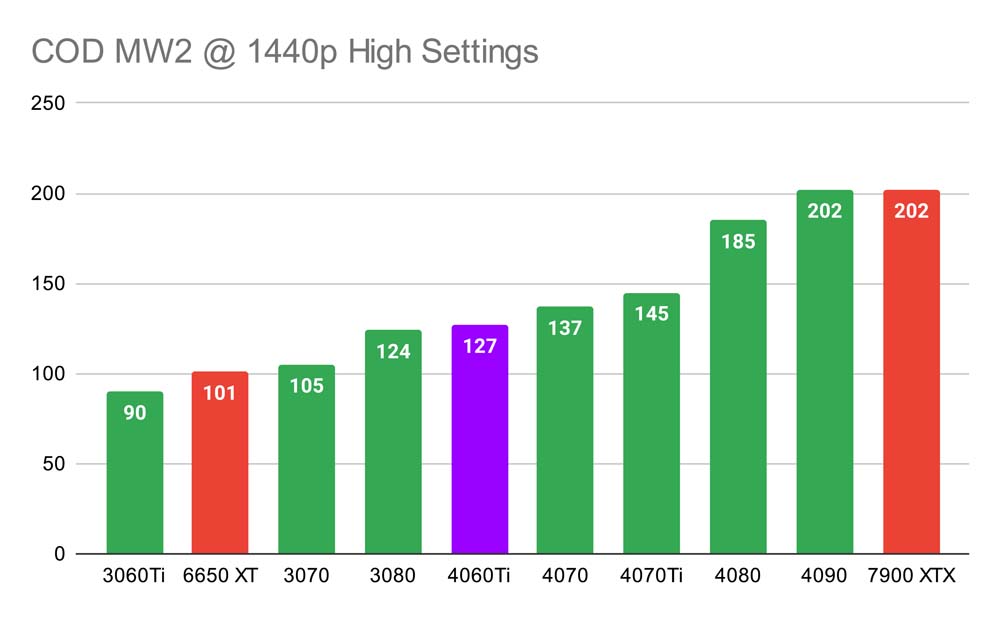 Hogwarts Legacy – 1080p High
In one of the most popular blockbuster titles of the year, Hogwarts Legacy, the 4060Ti manages to reach a respectable 100FPS on average. Higher framerates are quite hard to reach in open world, story-driven games like this one, making anything well above the 60 FPS threshold a good result. But more importantly, Nvidia's newcomer manages to eclipse the output of all the budget-friendly cards from the previous generation.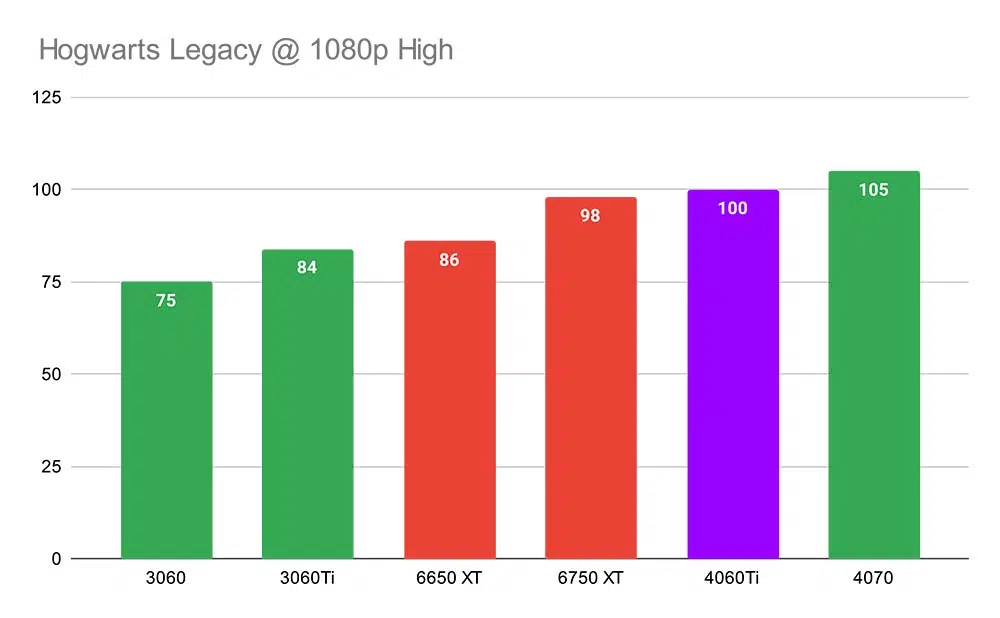 F1 2022 – 1440p Ultra
Finally, racing fans will be eager to see how this card performs on the track in F1 2022. This game runs surprisingly well on PC, providing solid performance alongside its high-quality visuals. At 1440p ultra settings with DLSS enabled, the 4060Ti easily surpasses 144 frames per second, which is perfect for gamers with a 1440p 144Hz display. Whilst the 158FPS in our benchmarks was enough to outperform the 3070, the 4060Ti struggled to keep up with the 3070Ti and 6750XT in this case.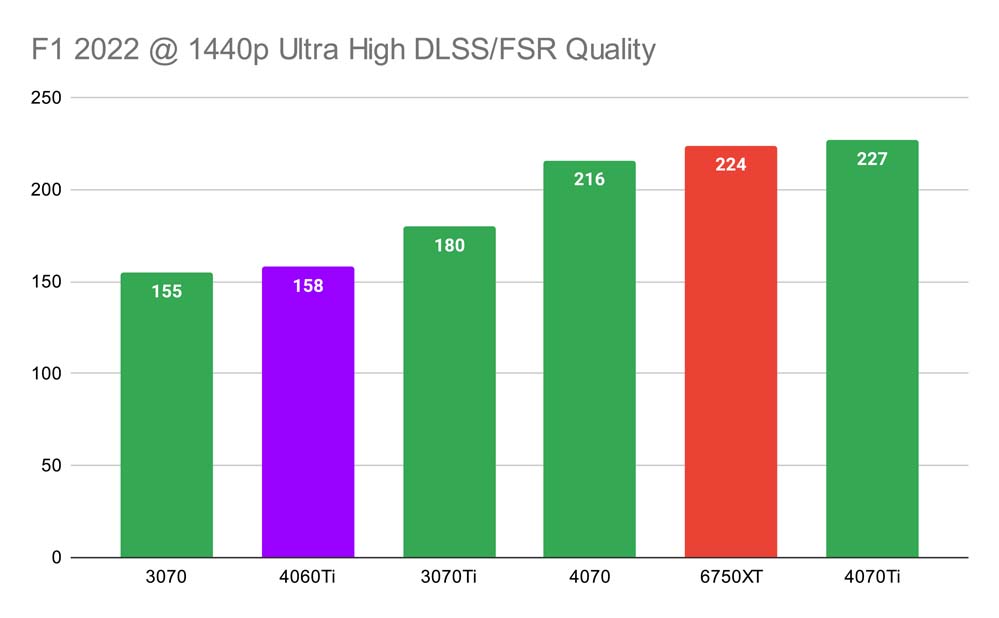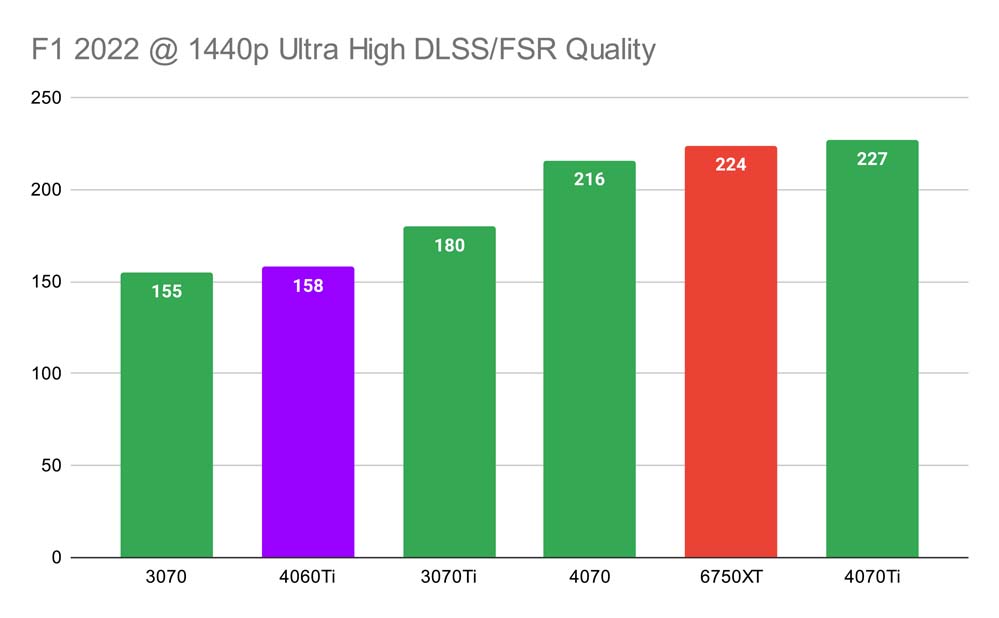 Why You Can Trust Us
If you've read through our recommendations and want to know why you should trust our opinions, allow us to explain. Our team of PC hardware experts and gamers are constantly testing all of the latest products in a range of gaming and productivity based scenarios. These findings are then used to create a general overview of each product, which gets relayed to our audience via YouTube videos and articles like this one.
Interested in learning more about each of our team members or our editorial promise? Head over to the About Us section.
How We Tested the Best PC Cases for the RTX 4060 Ti
In order to test and evaluate the best PC Cases for the RTX 4060Ti, there are a number of factors that we take into account, which include:
Size
Practicality
Versatility
Aesthetic
Value for Money
Conclusion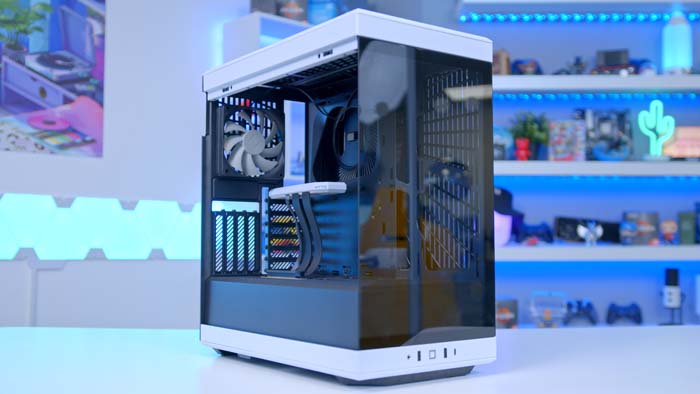 Best PC Case for the RTX 4060 Ti: HYTE Y40
After looking at all the options featured in this buyers guide, our number one choice for a PC case to house a RTX 4060Ti graphics card is the HYTE Y40. This innovative design offers the best blend of size and compatibility, whilst also possessing a design that is great for displaying new components, especially a shiny graphics card.
Read our full HYTE Y40 review, or Buy the HYTE Y40 on Amazon
Frequently Asked Questions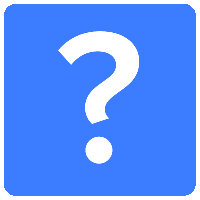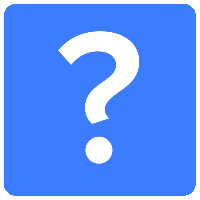 Do I Need to Worry About Case Clearance?
No! The RTX 4060 Ti is a relatively small graphics card, and although AIB models are likely to be larger in comparison, we don't imagine they'll cause any installation issues.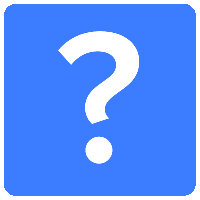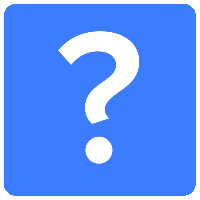 Is the RTX 4060 Ti Better at 1080p or 1440p?
The 4060 Ti is a very strong competitor at 1080p. Although it does offer very solid performance at a 2K resolution, it is definitely suited more to 1080p due having less performance overhead.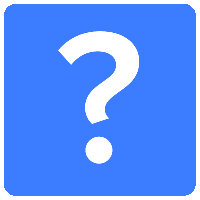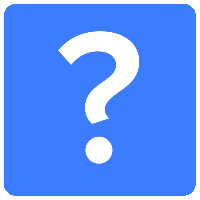 Can I install the 4060 Ti in an ITX Case?
It depends on which card you've picked up, but yes. The Founders Edition model sits at a length of around 200mm or so, which makes it perfect for a smaller case.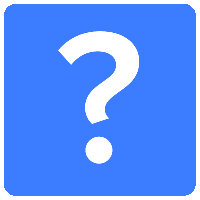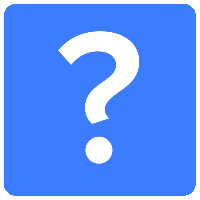 Can the 4060 Ti Handle Ray-Tracing?
Unfortunately not. Although the 4060 Ti is much better than it's RTX 3000 counterpart when it comes to Ray-Tracing. This card is not designed for Ray-Tracing. We'd recommend looking at other options if you plan on playing Ray-Traced games.