Introduction
The launch of Intel's 13th-Gen CPUs back in 2022 was an overwhelming success. After releasing only weeks after AMD's Ryzen-7000 platform, the new 13th-Gen CPUs blew the available AM5 CPUs out of the water. The Core i5 13600K was one of the best CPUs we've ever seen, with metrics on par with a 12900K. And although the 13700K and 13900K were not as impressive, performance was very strong.
But despite this awesome launch, consumers were only given access to three SKU's of processors which also came with three non-integrated graphics variants. Consumers have been waiting in anticipation for the launch of more chips, and after some exciting news at CES, Intel have officially announced the rest of their 13th-Gen line-up.
We've managed to get our hands on the Core i5 13400F, which has seen a significant upgrade compared to it's 12th-Gen predecessor. In this review we'll be delving into the architecture, compatibility, and of course – the benchmarks. We'll be seeing how this CPU performs on a synthetic level, alongside gaming benchmarks to see how this processor compares to the rest of the market.
Buy the Intel Core i5 13400F on:
Intel 13th-Gen Architecture
The gold standard of performance for the past five years has constantly been shifting between two major brands that operate within a duopoly – Intel and AMD. Intel's CPUs were a mainstay for a significant amount of time, with the majority of Team Blue's SKUs constantly blowing AMD out of the water… until the AM4 Ryzen platform came along.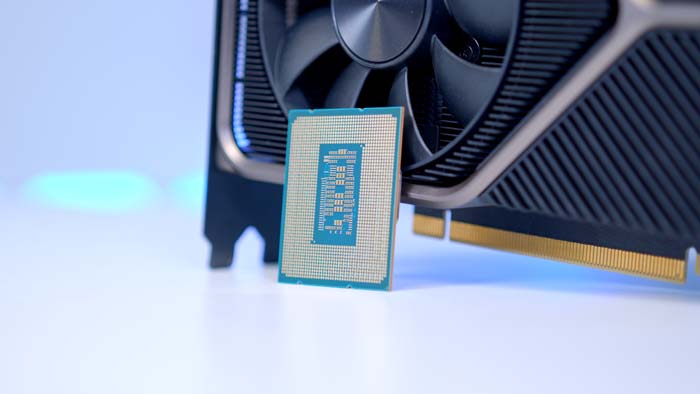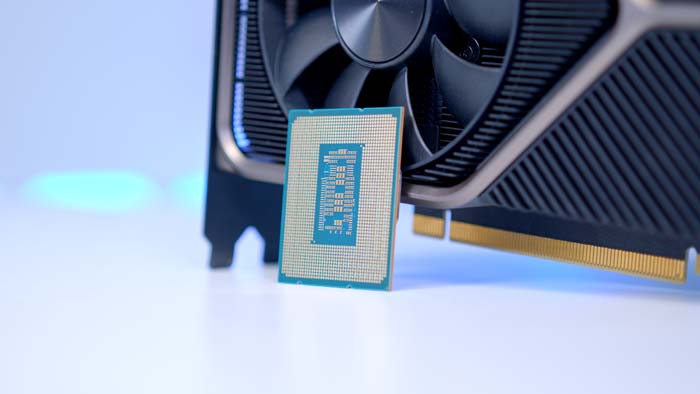 Once AMD Ryzen started to improve the platform, much of AMD's offerings started to prove better value compared to Intel. Intel's 10th and 11th-Gen CPUs were rather weak which gave AMD the monopoly in performance for a while. Ryzen 5000 was the standard for quite some time until Intel righted their ship with the LGA 1700 12th-Gen platform. With 13th-Gen releasing not long afterwards, AMD's most recent platform doesn't offer much value compared to Intel's most recent SKUs, which raises the question – are AMD likely to hit back anytime soon?
Intel's Raptor Lake architecture is a much more refined and improved version of the process node that launched with Intel 12th-Gen CPUs. This improved process allows Intel to bring out CPUs with more cores, threads, and higher clock speeds which is where we're seeing the performance jump. The Core i5 13400F saw a big increase in specs. Keep in mind, the 13400F is more of a budget-oriented CPU with 10 cores, and 16 threads, which can clock up to 4.6GHz at the maximum. Although this isn't the 5GHz speeds that we saw with some of the earlier SKUs, on paper the specs look incredible.
In terms of market positioning the 13400F sits closer to a 7700X, which was AMD's somewhat lacklustre mid-range offering at a much higher price point. The 13400F does come in at an exceptional price point compared to the rest of the market, but performance will be the big decider when it comes to value.
The remainder of the Raptor Lake architecture is mostly the same as the 12th-Gen Alder Lake design. Although there aren't necessarily any new features compared to 12th-Gen, we're seeing a higher quantity of the tech advancements that came with the previous generation. Features such as PCI-E 5.0, Thunderbolt 4, and DDR5 have seen improvements and thus, more motherboards at the budget end of the market are starting to gain access to these new integrations. All of this sits at a similar price to the 12th-Gen products with some slight bumps here and there for more advanced motherboards that sport the latest generation of tech.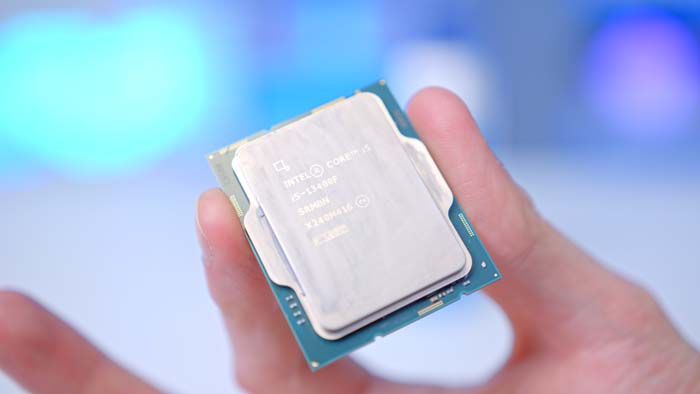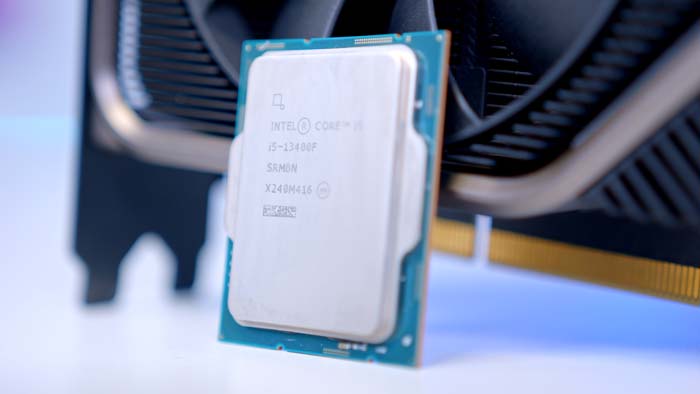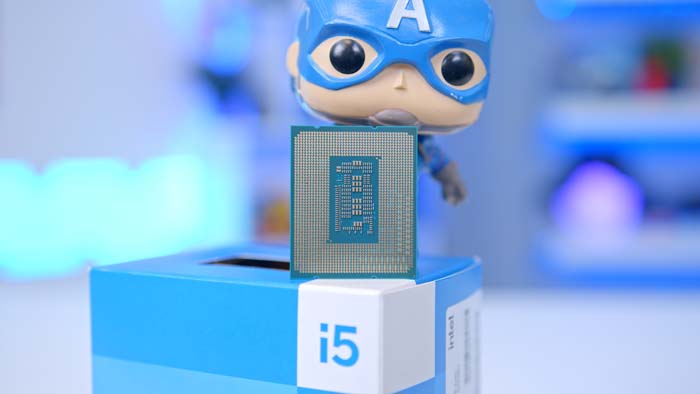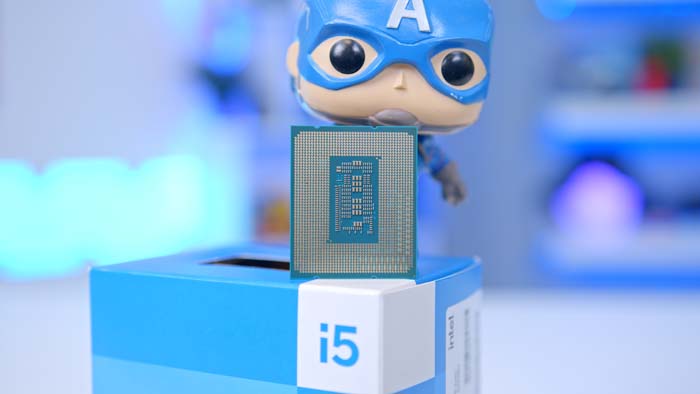 Do I Need a New Motherboard?
Whenever a manufacturer releases a new range of CPUs, we always get asked about socket changes and compatibility. For Intel 12th-Gen users looking at purchasing a powerful new CPU, the only thing you'll have to do is upgrade your motherboard's BIOS. Fortunately, Intel tends to retain the same platform for two generations, and as 13th-Gen is the latter for the LGA 1700 socket, no upgrading is required by default.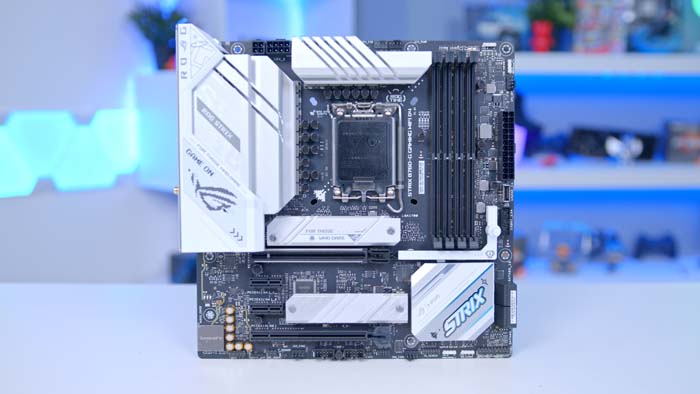 This means users with any of the 12th-Gen chipset motherboards (Z690, B660, H670, and even H610) can easily upgrade to a new CPU without any significant caveats. Whilst this does offer some benefits if you're upgrading from the previous generation, this does mean that Intel the 13th-Gen range is likely to be the last we'll see of the LGA 1700 socket. This means that users looking to keep their upgrade paths open when it comes to CPUs may potentially want to hold back on a purchase. Although Ryzen 7000 CPUs aren't excellent value currently, the AM5 platform offers much more upgradeability than Intel's Raptor or Alder Lake architecture does.
Intel Core i5 13400F Compatibility
The Core i5 13400F is one of Intel's more budget-oriented offerings, and is currently the only '400' SKU within the entire line-up. The 'F' suffix does mean users buying this CPU will need to pick up a dedicated graphics card such as a 3060Ti on Nvidia's side, or a 6650XT for Team Red users. As we've mentioned in the above section, Intel 13th-Gen users have a vast amount of options when it comes to motherboards, with users being able to choose from 600 series and 700 series boards.
But, based on the market positioning of the 13400F we would primarily stick to the more budget or mid-range end of the market. B660 and B760 motherboards sit at the cheaper end, offering less features compared to 'Z' series boards, but at a much more competitive price point. The H670 and H770 boards are also idea for those wanting more of the features that come with the 'Z' chipsets, but without the support for overclocking your CPU.
600/700 Series Chipsets
Compatible?
Do We Recommend?
Z790
✅
❌
Z690
✅
(with a BIOS update)
❌
H770
✅
✅
H670
✅
(with a BIOS update)
✅
B760
✅
✅
B660
✅
(with a BIOS update)
✅
H710
✅
❌
H610
✅
(with a BIOS update)
❌
Intel Core i5 13400F Thermals
Before jumping into the benchmarks, its worth briefly talking about the thermals. Overall, we were pretty impressed with the thermals of the 13400F where games sat around 51 degrees Celsius on average. At maximum temperatures did spike to around 60 in areas of high intensity, but the general average was a fair bit lower in comparison.
Looking at 100% utilisation, we saw temperatures around 54-56 degrees on average, which is very strong for a CPU of this calibre. Ultimately, the 13400F does have a lower clock speed and less cores compared to other SKUs, but even so, this is promising to see.
Intel Core i5 13400F Benchnmarks
Now for the most important section of any CPU review – the benchmarks. We've put the Core i5 13400F through the wringer with a vast range of benchmarks which include triple A and Esports titles, alongside synthetic applications to provide single and multithreaded results.
All of the benchmarks provide a well-rounded view as to how each CPU performs in both gaming and productivity applications, giving different types of consumers an insight into the performance. All of the full benchmarking runs can be found on our YouTube channel 'Benched' where you'll find a variety of CPU and GPU benchmarks in the latest gaming titles.
Intel Core i5 13400F – Cinebench
For our first synthetic benchmark, we decided to test out the 13400F in Cinebench R23 using both the single and multithreaded benchmarks. The multithreaded score was somewhat strong here, with the 13400F beating out its predecessor, alongside the newest Ryzen 5 7600X, and the 5800X3D from the previous generation. However, this CPU wasn't able to match the exceedingly strong performance of the 12600K. This was disappointing to see, as the performance gap doesn't seem to be huge compared to the previous generation, and this is likely down to the weak marginally increased clock speed.
Moving onto single threaded performance, yet again the 13400F is beaten out by the 12600K, but offers a slight improvement versus the 5950X and 5900X from AMD's AM4 platform. Much like in the multithreaded benchmark, we were hoping to see the gap close between the 13400F and 12600K, but it seems this 13th-Gen CPU can't keep up.
Multithreaded Score: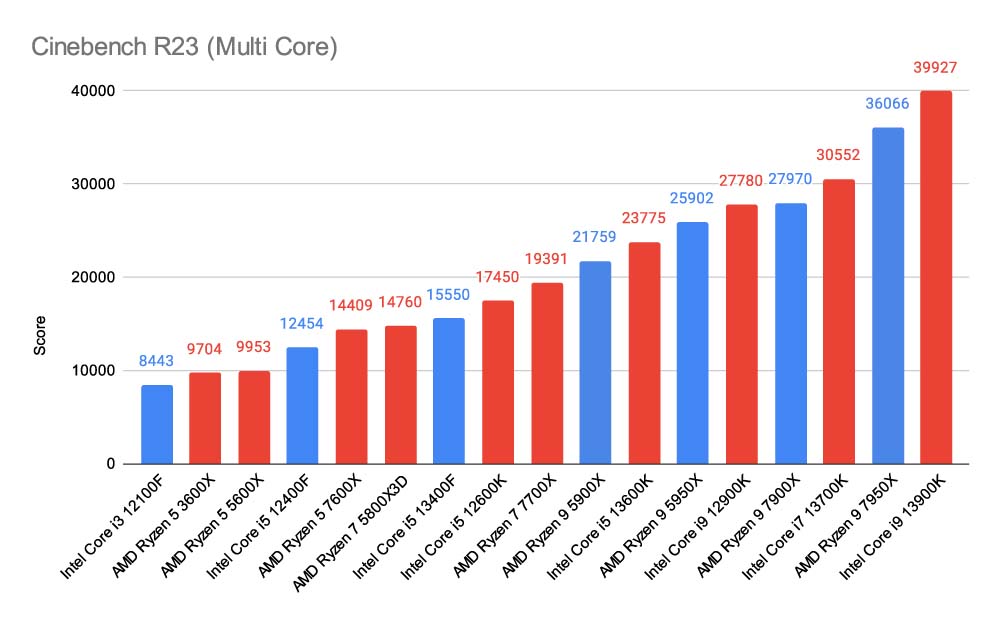 Single Threaded Score: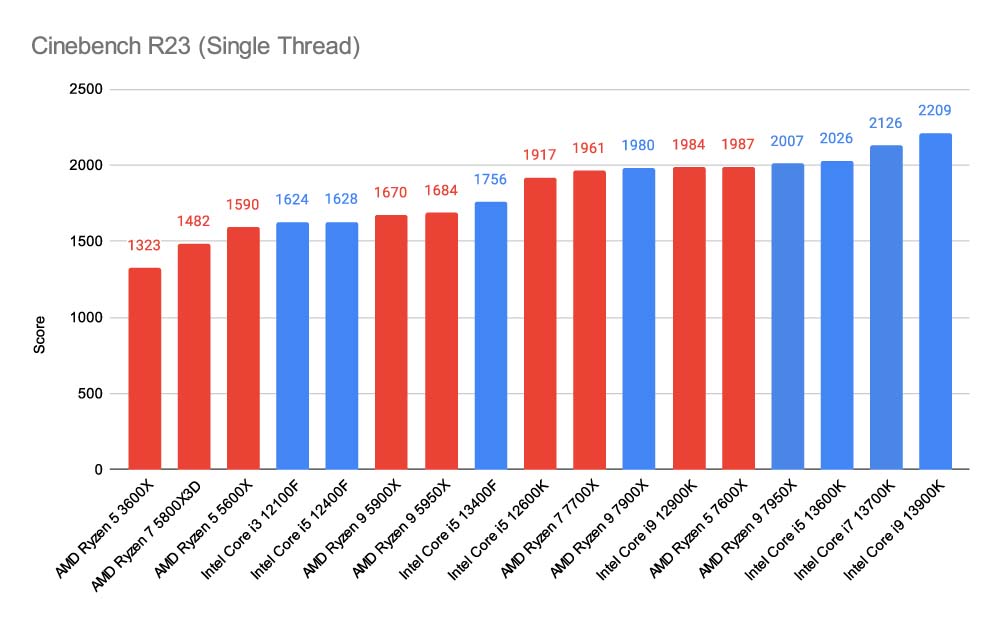 Intel Core i5 13400F – CPU Profile
In the CPU profile benchmark, we tested out the 13400F at a variety of different thread counts to see what kind of score we could reach. Much like our Cinebench results, the 13400F sits somewhere between the 12600K, and AMD's Ryzen 5 7600X, where scores are much closer to the AMD side. Our max thread score maxed out at 7376 which only offers a 11 point improvement versus the 7600X. As we start to use less threads, the score becomes weaker each time with both the 12600K, and 7600X coming out on top.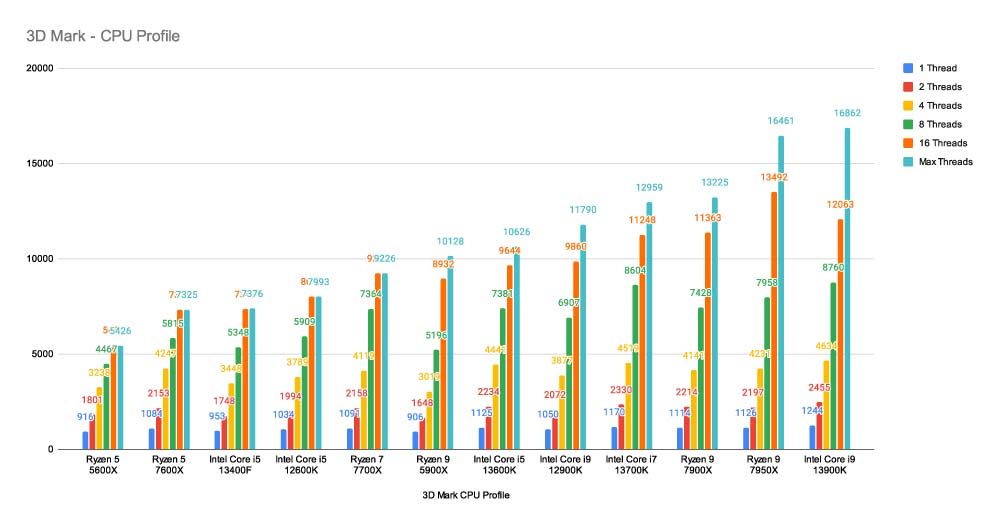 Intel Core i5 13400F – Timespy and Firestrike
Both of the 3D Mark Timespy and Firestrike benchmarks test the CPU capability alongside graphics in a more gaming-oriented style. We used Timespy Extreme to see how the 13400F performs at 4K, whilst keeping Firestrike at 1080P to get a well-rounded view. In Timespy Extreme we saw very similar scores between the 13400F and its competition. The 7600X and 12600K sit rather closely with the 13400F with only marginal jumps in the CPU score. This is mostly the same for the overall score where the difference is even smaller between each CPU.
We were somewhat expecting these score to sit closely together based on the results of the other benchmarks. However, I am disappointed that the 13400F isn't able to outperform the 12600K, we were expecting a much bigger performance jump compared to the previous generation.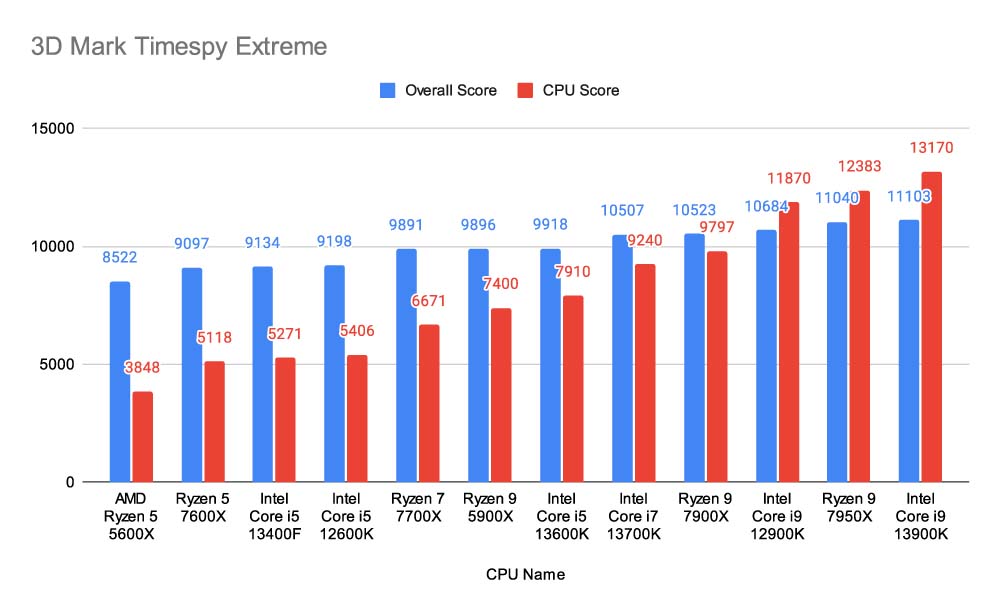 In 3D Mark Firestrike the situation has shifted in favour of the 13400F, but only by a short margin. In our results the 13400F managed to outperform the 12600K with its overall score sitting at around 400 points ahead. However, the physics score (which measures the CPU's power) was a fair amount weaker when compared to the 12600K. This demonstrates that the 13400F is better when it comes to 1080P, especially when paired with a graphics card that sits at a similar performance level.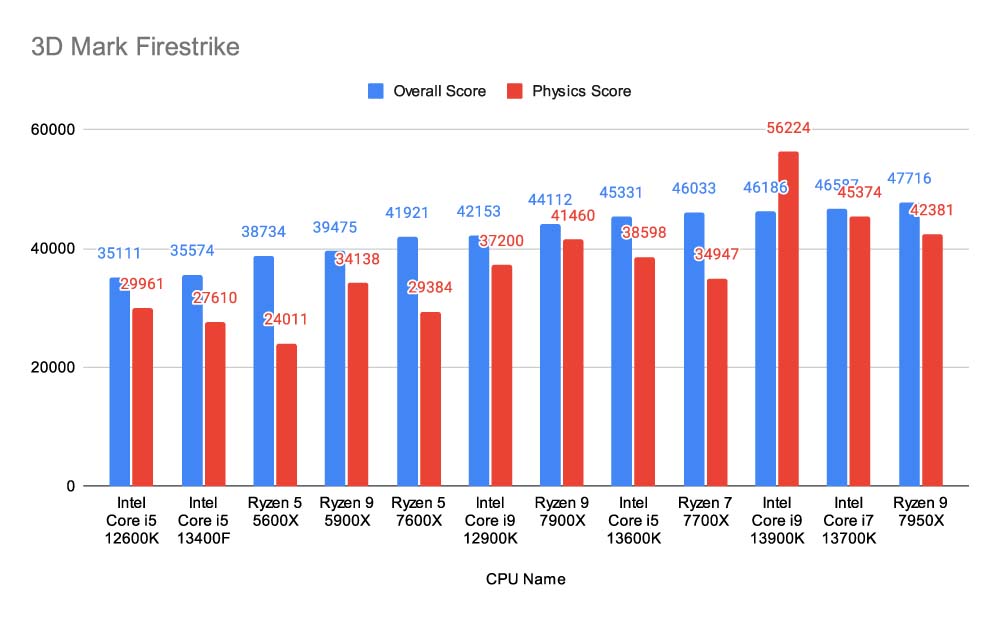 Marvel's Spiderman Remastered
In Spiderman Remastered we saw relatively reasonable performance from the 13400F with an average of around 71FPS which was smooth enough to enjoy the game. Unfortunately, this does put the 13400F at the bottom of our graph demonstrating the weakest performance compared to the rest of the market. This is unfortunate to see, but at the price point this is still great performance when paired with a powerful GPU.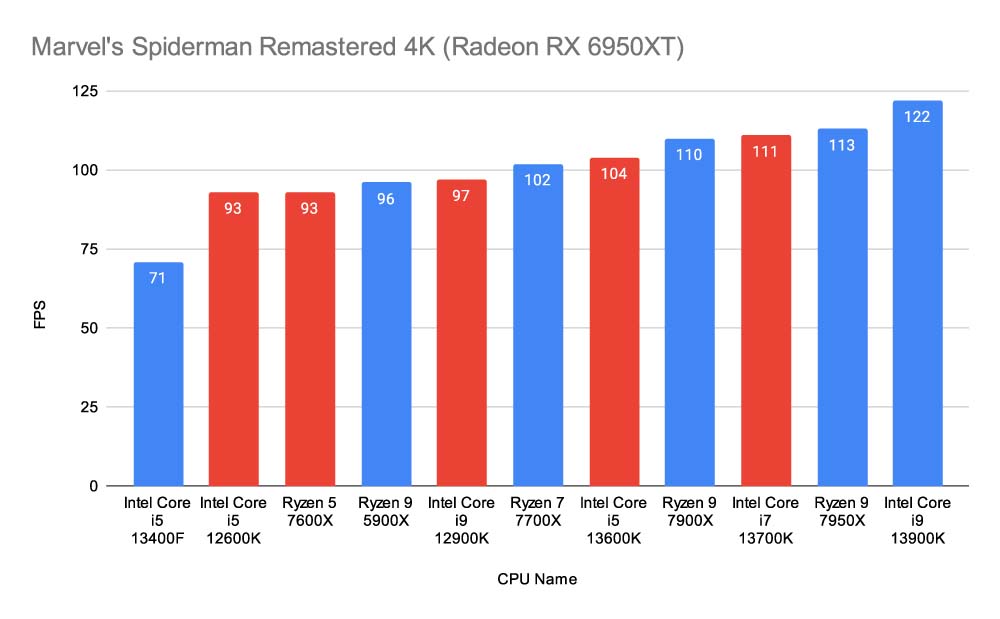 Apex Legends
In Apex Legends at 4K, we saw very similar performance between the 13400F and 12600K, with the former offering a 1FPS improvement. Although this wouldn't be particularly noticeable, it is good to see that the 13400F offers close metrics in some games when compared to the 12600K. 156FPS is more than playable, and also gives us plenty of room to enjoy a buttery smooth 144Hz refresh rate.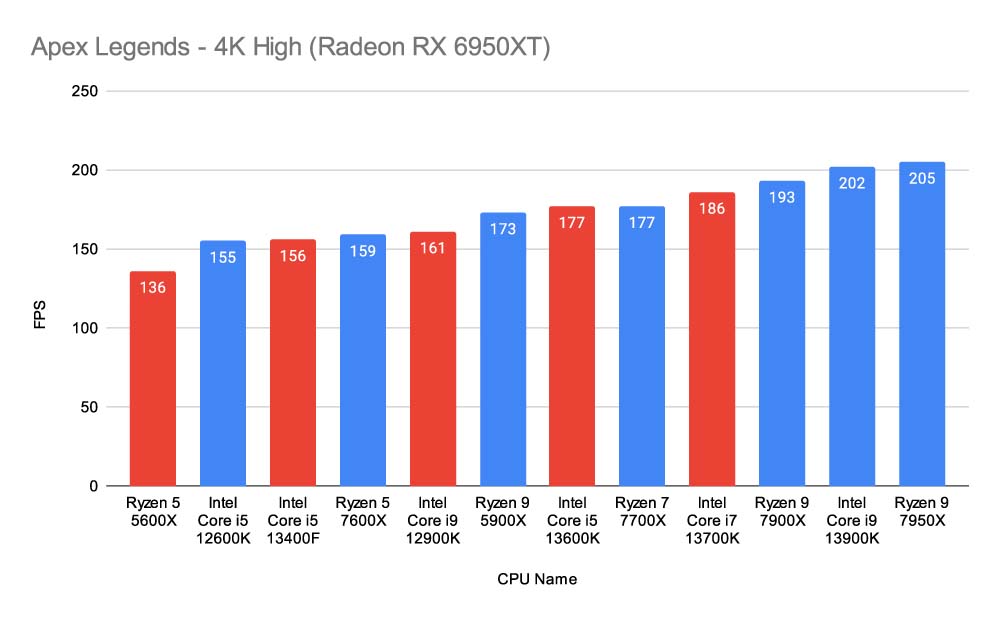 Battlefield 2042
In Battlefield 2042, performance started to shift for the 13400F where we saw much higher framerates compared to Intel's 12th-Gen CPUs. The 13400F offered around 93 frames on average in this title which sits in between the Core i9 12900K, and the Core i5 13600K. Battlefield 2042 is a much more recent title operating under the DirectX 12 API, and as Intel's CPUs are very new this might be why the 13400F is able to offer stronger performance compared to some of the other results.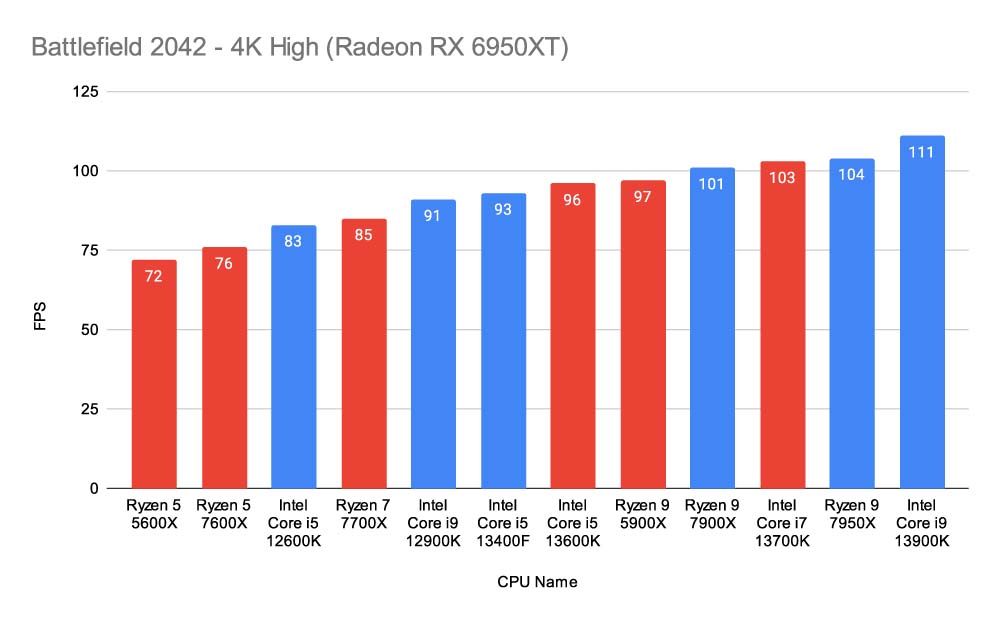 F1 2022
In F1 2022 we didn't see a massive variation in framerates from the entire range of CPUs that we've tested, and F1 proves to be quite demanding when Ray-Tracing is enabled. The overall performance sat much closer to a 12900K which is great to see, but the 1FPS difference doesn't really show a lot. Its awesome that the 13400F offers even reasonable performance at such high settings, but Ray-Tracing is clearly not the forte of this CPU.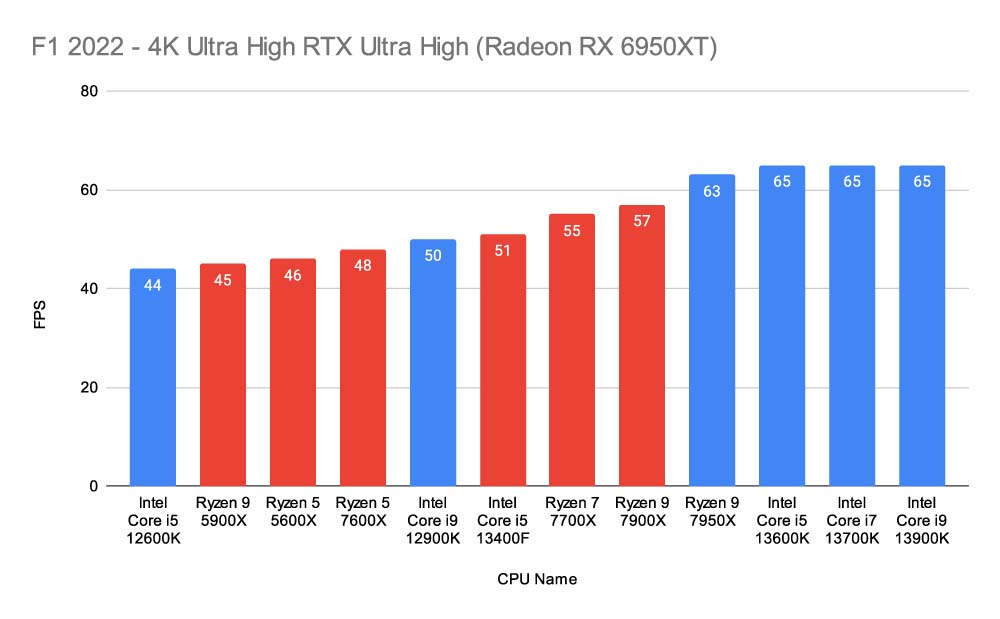 Conclusion
Intel Core i5 13400F
Product Name: Core i5 13400F
Brand: Intel
Features

Thermals

Performance

Value For Money
Summary
Intel's Core i5 13400F is an exciting new entrant in the CPU space, coming in at a very reasonable price point, whilst being supported by a vast amount of motherboards, allowing users to keep build costs down. However, I'm struggling to see the overall value of this processor, when we compare it against the rest of the market. If you're looking for a standalone budget CPU, the 13400F performs well when thrown at 1080P and 1440P settings, with some reasonable framerates at 4K. But the biggest caveat is that the 12600K offers better value at a very similar price point. To avoid being unfair to Intel, I think the 13400F will be perfectly fine as an entry point to the new platform, but if you're looking for some more powerful that can offer the support for high intensity workstation applications, the 12600K is significantly better value.
Pros
✅ Excellent price.
✅ Very strong thermals.
✅ Supported by a plethora of motherboards.
Cons
❌ Not great value compared to the 12600K.
❌ 4K performance can be hit and miss.
❌ Not good with work productivity applications.