Introduction
We haven't reviewed a motherboard since the release of Intel's B760 chipset. With 14th-Gen on the horizon, we are due some more high-end options capable of handling the rumoured new chips. ASUS in particular is one of the manufacturers creating a few new boards for the alleged new generation of CPUs, set to reach new levels of performance.
However, ASUS has been offering a bit of a mixed bag of products recently. We've seen their lacklustre ROG Ally lose support due to poor software, and an inherent microSD problem. Some ASUS motherboards were also exploding 7800X3D CPUs a few months back, which wasn't properly addressed by the manufacturer until an exposé was released about it.
However, ASUS hasn't always been in consumers bad graces, and I like to believe that they've just had a bit of a bad year when it comes to PR. Regardless of this, ASUS have kindly sent us their ProArt Creator motherboard on the Z790 chipset to take a look at, and we're pretty excited to see what this board has on offer versus the competition.
Buy the ASUS ProArt Z790 Creator WiFi on:
Suggested Article:
Are Z790 Motherboards Worth It?
Z790 is the flagship chipset that Intel has coined since the release of their Z390 options back in 2018. These boards offer the best features, support CPU overclocking, and I'd even go as far to say that they often look better than most other options. But with all things in life, the more fancy something is, the higher the price tag, and this is unfortunately the case with Z790 boards. While this chipset is the most feature rich, these boards are also the most expensive, which begs the question. Are Z790 motherboards worth it?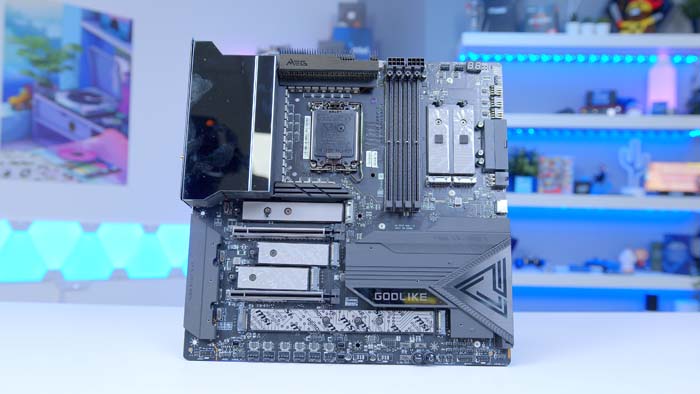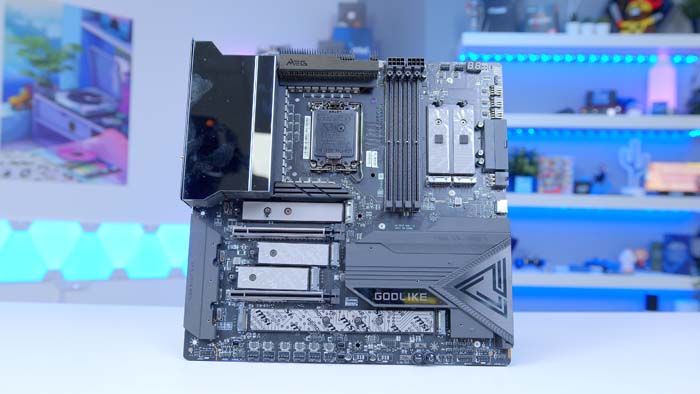 To break this down, it is probably worth briefly delving into chipset differences, to see what they both offer. The main competitor chipset to Z790 is B760. These boards are considered to be more budget and mid-range, and thus are cheaper. But there are also some small feature changes that separate the two. The main one is PCI-E slots, B760 boards only support 14 PCI-E 4.0 and 3.0 lanes, where as Z790 motherboards can leverage 28, on top of the PCI-E 5.0 lanes that come with the CPU. This means that Z790 options will have more graphics card and SSD slots, making them ideal for users that need more storage, or plan on building a multi-GPU system.
Otherwise, these chipsets are pretty similar all in all. You lose a couple of max USB ports and SATA ports, along with CPU overclocking capability on B760 boards, but the specs are pretty close on the whole. With this in mind, I think consumers should definitely have a rethink about picking Z790 motherboards over B760. While there are some distinct bonuses, these come at a cost that oftentimes isn't worth it. You're also to a degree buying into future-proofing tax more than anything, as the vast majority of B760 boards will be more than capable of handling more complex workstation applications, just without overclocking.
Z790 ProArt Creator Design & Aesthetic
Moving onto the design of the Z790 ProArt motherboard, upon opening the box and the anti-static bag, you're greeted with a gravelly black and grey, with golden inlays across the rear IO heatsink, and a number of other pieces of metal on the board. Admittedly, I am really not a fan of the aesthetic that this board is going for. I'm assuming that because this is a workstation motherboard that ASUS have gone for a sophisticated but minimalist style, but I feel the golden contrast just looks tacky. There are few motherboards that I think could get away with using gold, and the only one I've liked in the past is the Z790 Ace from MSI.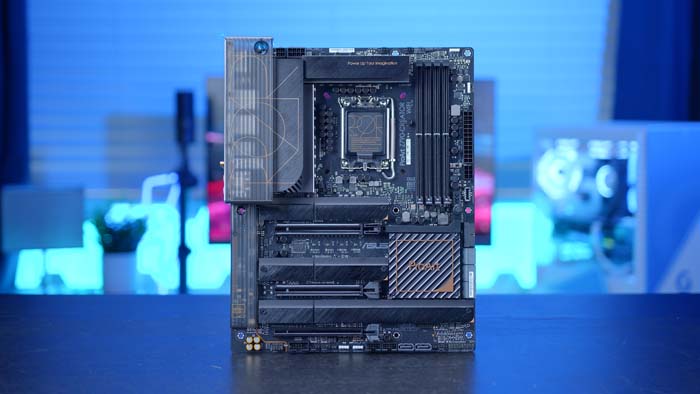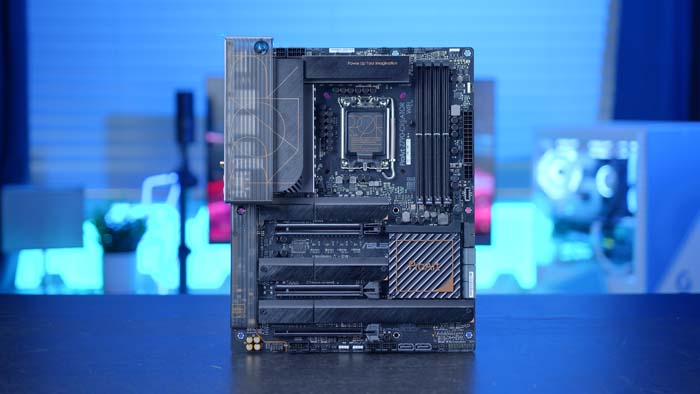 Luckily, ASUS haven't gone too crazy with the gold look on this board, but the ProArt livery on top of the IO heatsink is garish. I feel this motherboard would have looked much nicer if ASUS had prioritised a true minimalist aesthetic, with an all-black PCB and heatsinks. The weird translucent metal that dons the left side of the PCB just looks strange and I'm really not a fan of it. But if you share the same opinion as me, you'll likely be able to ignore the gross colour arrangement by putting it in a black case with some fairly minimal lighting.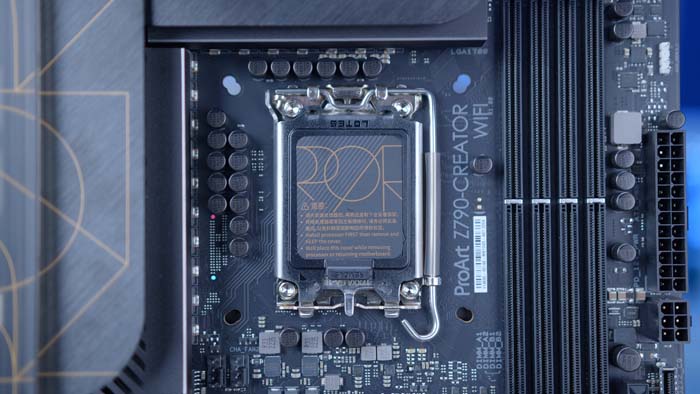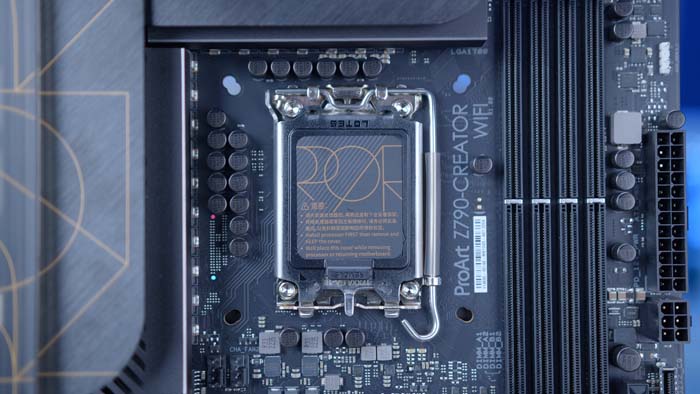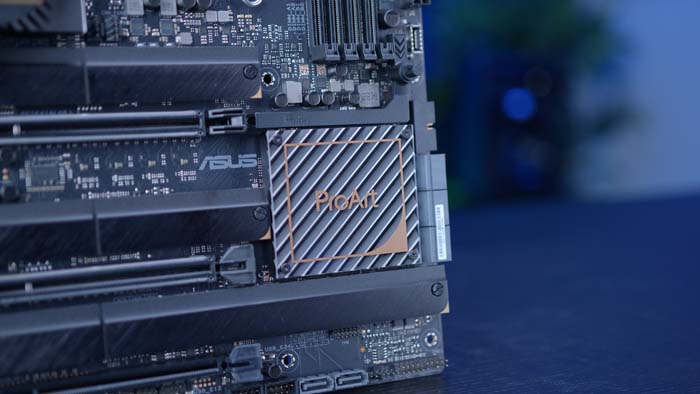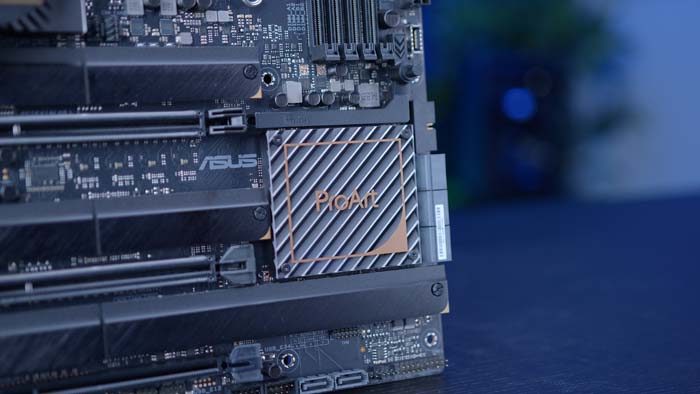 I do quite like the brushed black metal that you'll find on the M.2 heatsinks, I think ASUS have done a nice job there, its just a shame the rest of the board doesn't follow the same style. As an alternative approach to this, I feel ASUS could have opted for an all-white aesthetic instead. White is all the rage for minimalist style systems, and if this is what ASUS are trying to achieve with their Creator-focused workstation boards, then I think white would go down better.
To summarise the design, this ATX board is really not for me. The gold livery has the opposite effect that ASUS are trying to achieve, resulting in a tacky and quite garish looking board that would be much better with an all-black aesthetic. Some consumers may like this, but I'd rather just have one block colour, some nice brushed metal, and call it a day.
ProArt Specs & Performance
Moving onto the specs of this motherboard, we're taking a slightly different approach to this review in comparison to some of our older motherboard content. Instead of talking about the specs of this board as if they're features, we'll be breaking down all of the individual specs, with discussion as to why they're good (or bad). We've also provided a couple of other motherboards here that come in at a similar (or lower price) to use as points of comparison highlighting the pros and cons of this particular motherboard.
Specifications
ASUS ProArt Z790 Creator WiFi
Gigabyte Z790 AORUS Master
ASRock Z790 Taichi
VRM Power Phases
16+1 (70A)
20+1+2 (105A)
24+1+2 (105A)
DDR5 Overclocking Speed
7200MHz
8000MHz
7200MHz
PCI-E 5.0 Slots
2x PCI-E 5.0 x16 Slots
1x PCI-E 5.0 x16 Slot
1x PCI-E 5.0 x4 Slot
2x PCI-E 5.0 x16 Slots
1x PCI-E 5.0 x4 Slot
PCI-E 4.0 Slots
4x PCI-E 4.0 x16 Slots
4x PCI-E 4.0 x4 Slots
1x PCI-E 4.0 x16 Slot
4x PCI-E 4.0 x4 Slots
USB Connections (Rear)
2x Thunderbolt 4 Type-C
6x USB 3.2 Gen2 Type-A
2x USB 3.2 Gen2x2 Type-C
1x USB 3.2 Gen1 Type-C
7x USB 3.2 Gen2 Type-A
4x USB 3.2 Gen1 Type-A
2x Thunderbolt 4 Type-C
2x USB 3.2 Gen2 Type-A
6x USB 3.2 Gen1 Type-A
2x USB 2.0 Type-A
USB Connections (Front)
1x USB 3.2 Gen2x2 Type-C
1x USB 3.2 Gen1
2x USB 2.0
1x USB 3.2 Gen2x2 Type-C
4x USB 3.2 Gen1
4x USB 2.0
1x USB 3.2 Gen2x2 Type-C
4x USB 3.2 Gen1
4x USB 2.0
Networking
2.5 & 10 Gigabit LAN
WiFi 6E
10 Gigabit LAN
WiFi 6E
2.5 & 1 Gigabit LAN
WiFi 6E
Current RRP
£515.99 from Scan
£441.59 from Newegg
£489.99 from AWD-IT
At the time of writing these RRP prices were correct. Pricing and availability may be subject to region and vendor.
Specification Breakdown
Looking at the specs of the ProArt starting from the top of the table, you'll immediately be able to see that overclocking is not the strong suit of this motherboard. While 16+1 VRM power phases is fine, we'd expect much more from a motherboard this expensive, where you can see that both the Gigabyte and ASRock options offer definitively stronger overclocking support, despite being cheaper. DDR5 RAM overclocking speed is about what we'd expect, with the ProArt capping out at 7200MHz. Most kits can't even support this out of the box, so this isn't a particularly big issue for us.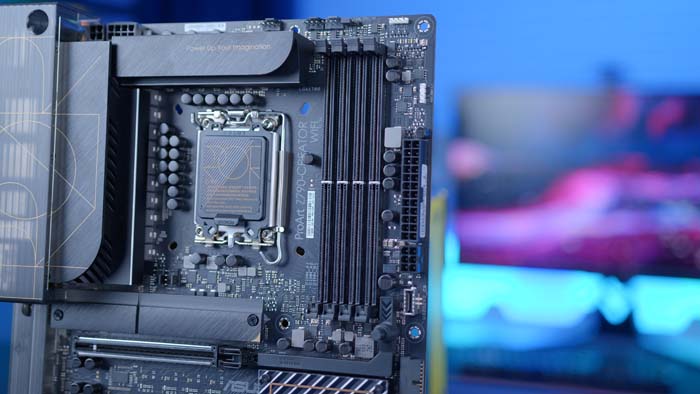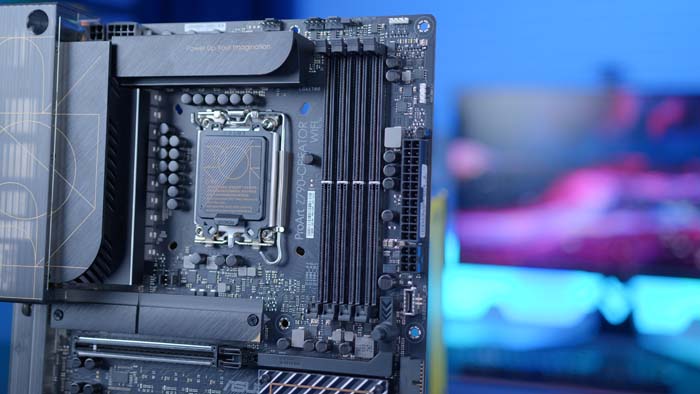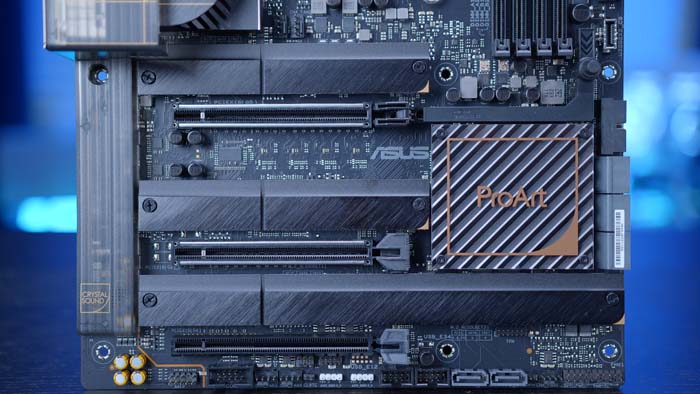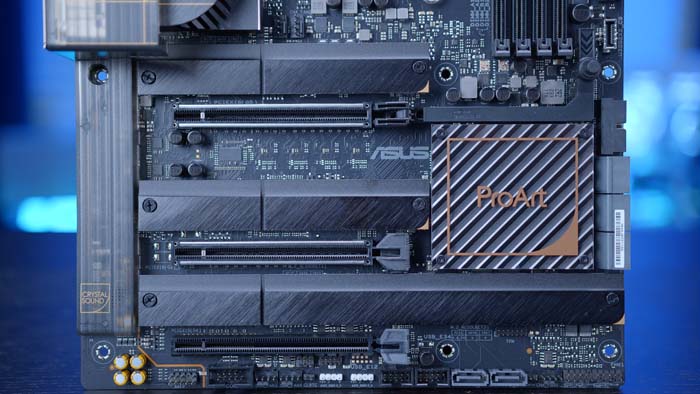 On the expansion front, its great to see dual PCI-E 5.0 slots, but the ProArt immediately falters when we compare it to other options. You're losing a Gen5 SSD slot, versus the other options, and as these drives are currently saturating the market, it would make sense to me for a workstation board to support them, but this board doesn't. USB ports is a bit lacking too, there's eight ports in total here, all of which are high speed options. But you're losing out on a mass of other ports compared to the alternatives we've provided, with the AORUS Master offering 14 in total, and the Taichi providing consumers with 12, with two being Thunderbolt 4 options.
Networking is where this motherboard thrives, offering dual LAN ports, of which the options are 2.5 Gigabit and 10 Gigabit. This is ideal for transferring big files, so I have to say ASUS wins on this front. But both of the other options that we've provided are still pretty competitive. Pricing is the biggest con of the ProArt, where two boards that I'd say are inherently better when it comes to specs are both cheaper at the time of writing, which says to us that the branding of this board might be part of the reason why its so expensive.
Features We Like
In this section, we'll be taking a look at the main features of this motherboard, that are specific to this ProArt model. We'll break down each of them individually highlighting the areas that we like.
Dual High Speed LAN Ports
One of the big wins for the ProArt is the usage of Dual LAN ports. Most motherboards will only offer one LAN port as standard, so there's clearly a focused priority here for consumers that need connection to a file server, and to a network. These ports are rated at 10 Gigabit and 2.5 Gigabit speeds, which I'd say is a rarity, even for top-end boards.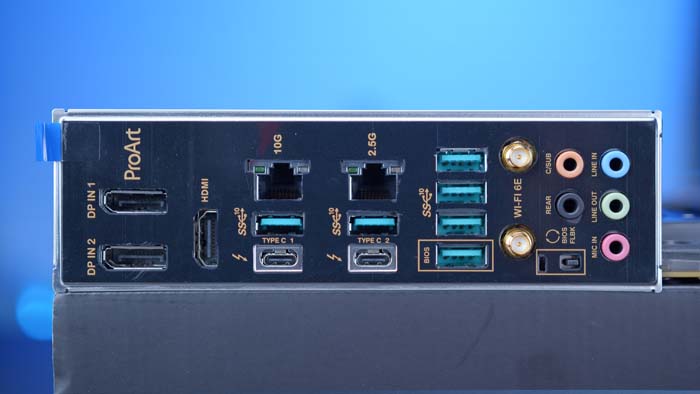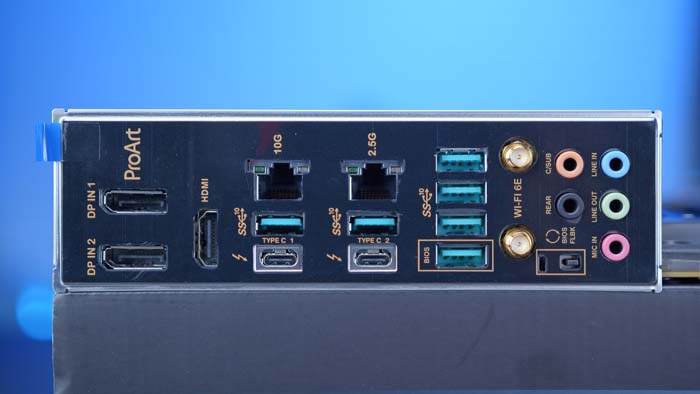 Dual Thunderbolt 4 Ports
Thunderbolt 4 is starting to be used on modern Intel and AMD motherboards, but they're generally reserved for top-end designs. The ASUS ProArt offers two of them. They're rated at 40Gbps and are ideal for high speed transfers, or if you've got a mobile setup, you can use an eGPU.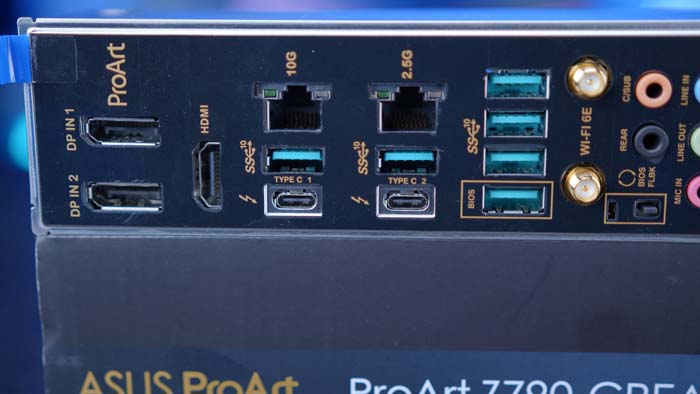 Features We Don't Like
Some Motherboard Configuration Locked Behind Armoury Crate
If you've read any of my other reviews in the past, you'll know that I dislike Armoury Crate a fair amount. This software is buggy, and doesn't often fix component issues with updates (as we've found in our review of the Zephyrus M16 laptop), so understandably I'm not a fan.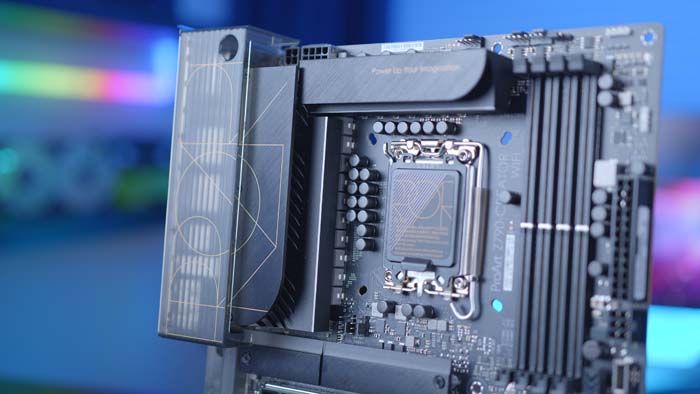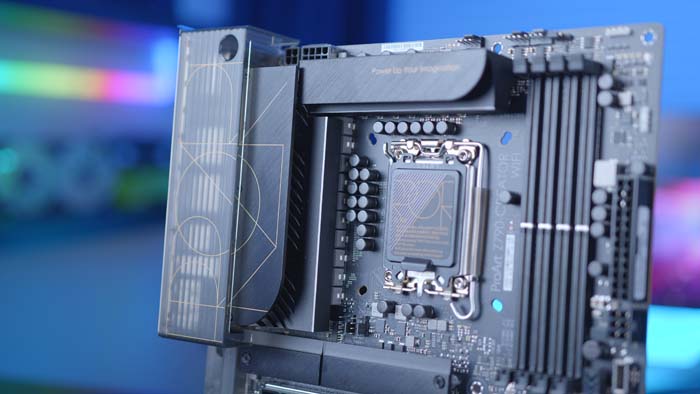 ASUS have unfortunately locked behind some of the motherboard configuration of this particular PCB behind their Armoury Crate software. You can manually configure things like fan curves in the BIOS, but when a manufacturer cuts out the hassle for you, you're likely going to use it. However, some of the configurations on this board will have to be done through Armoury Crate, which can be a tenuous piece of software to use. Needless to say, I'm not hugely happy that this is the case.
Includes a Chipset Driver Disc
This one did make me chuckle initially, but then I started to realise how ridiculous it is. For some reason, inside the motherboard box of the ProArt, there is a chipset driver installation disc. This felt like something out of the early-2000s, causing me to be quite perplexed.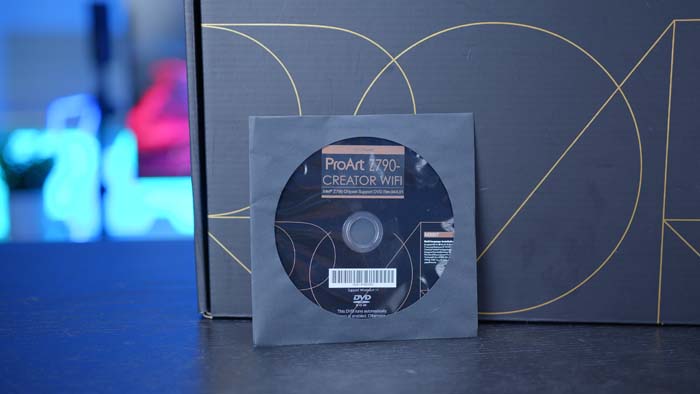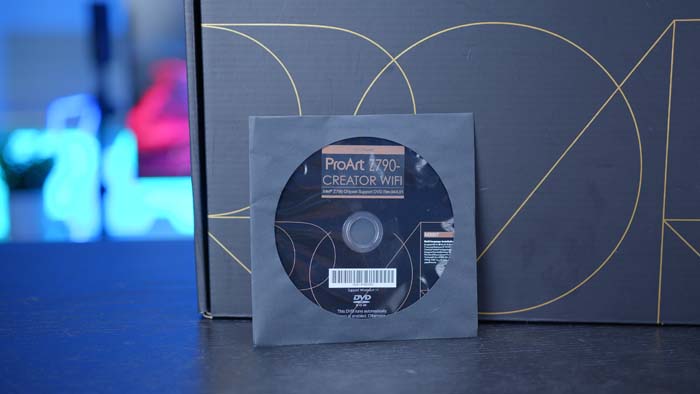 Including an installation disc is entirely pointless, because the vast majority of consumers that have upgraded within the past five years or so, aren't likely to have a CD/DVD drive. Case manufacturers started to phase this out quite some time ago, with modern options not even supporting disc drives, which further adds to the confusion as to why ASUS have included it, in the first place. If you've caught up with the times, go onto the Pro Art motherboard page, and download the drivers online.
What's in the Box?
The ASUS ProArt is a pretty expensive motherboard in the grand scheme of things, so I feel the vast majority of consumers will be expecting some nice extras that'll be included in the box.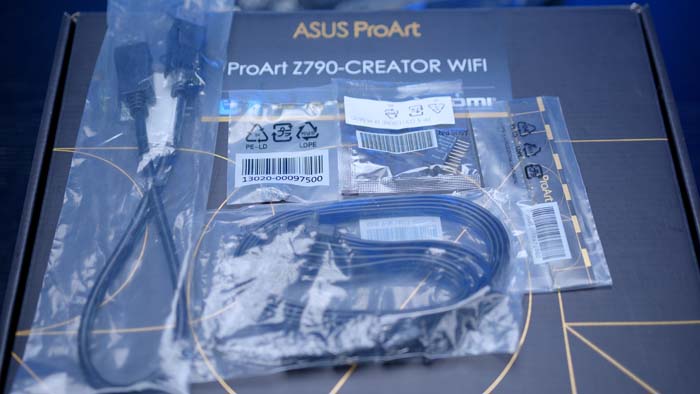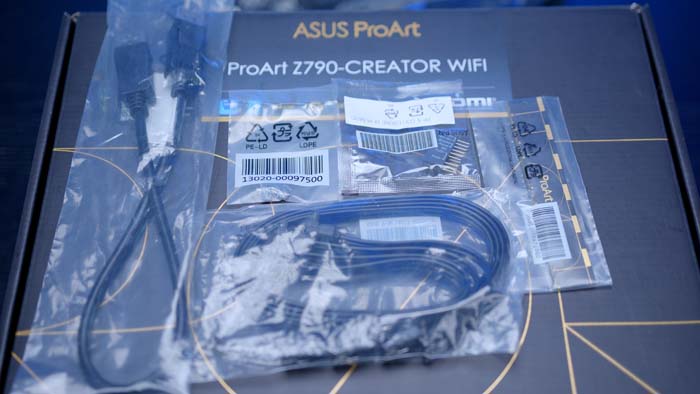 Rummaging around in the packaging, you'll find an included WiFi 6E adapter. Once you've screwed the connectors in, you'll want to go onto the ProArt support page and download the included WiFi drivers. In one of the bags, ASUS have included some sort of 'ruler'. We're not entirely sure if this is just supposed to be an extra, or whether it needs to go on the board, but regardless they've given you one. There are extra M.2 latches, which allow you to fasten your drives without any tools. There a couple of SATA cables for those with older storage drives.
There's also a DisplayPort cable. This threw me off a bit initially, but its an extra display port cable if for some reason your monitor doesn't have one. And finally, they've included a Q-connector, which allows you to easily plug in all of your front panel cables. I do like to see these, just because they're great for first-time builders that aren't quite familiar with front panel power.
Alternatives
Although there's some solid features on this Pro Art motherboard, which could make it a compelling for your build. However, there are a number of other awesome options on the market right now, that come in a similar price that could be a better alternative.
Z790 AORUS Master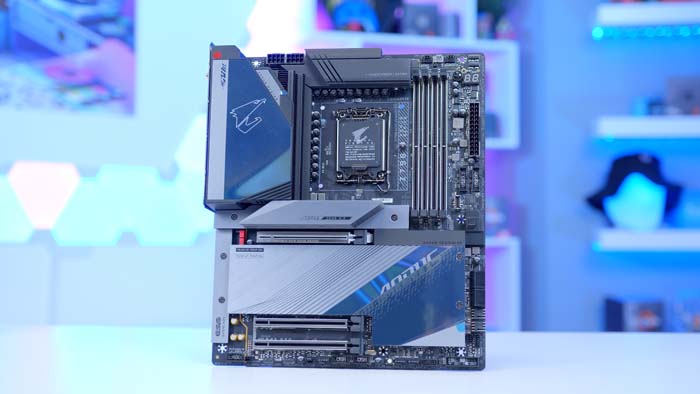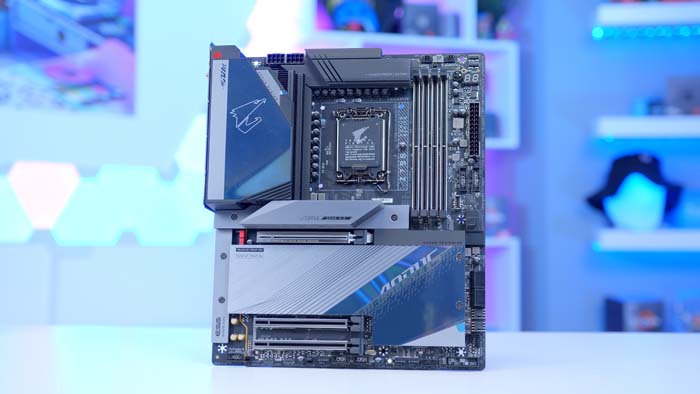 For our first alternative, we've picked the Z790 AORUS Master from Gigabyte. This is currently one of the best Z790 options on the market right now, and sits at a pretty similar price (or cheaper) to the Z790 ProArt. This board is incredibly feature rich, offering PCI-E 5.0 support for both SSDs and GPUs. There's more ports than you could possible imagine, with the vast majority of them offering USB 3.2 speeds. You can also utilise the insane amount of VRM power phases, geared towards those that need plenty of extra juice for overclocking. This is definitely a winner if you need a top-end motherboard.
Buy the Gigabyte Z790 AORUS Master on:
ASRock Z790 Taichi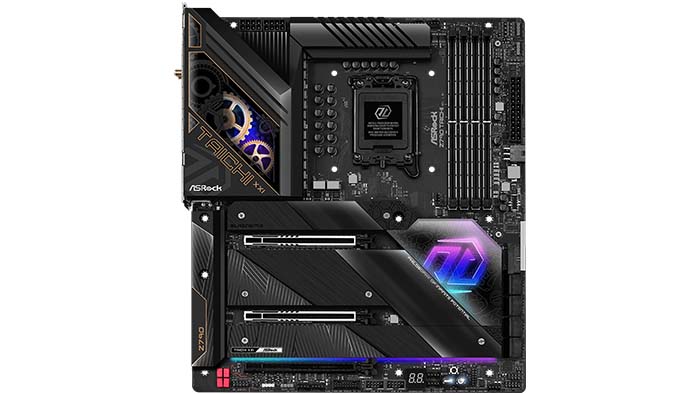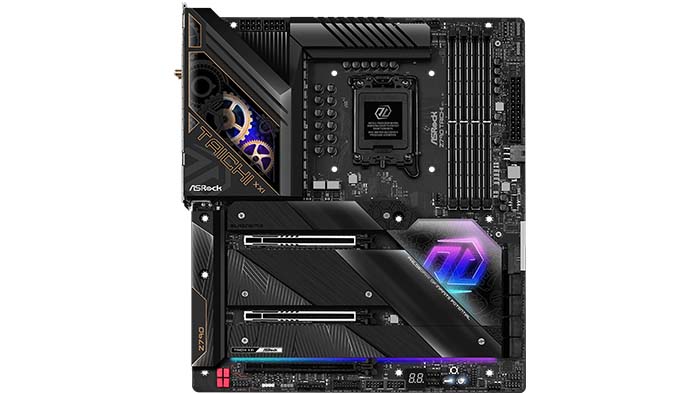 Next up is the Z790 Taichi from ASRock. We've recommended this board a significant number of times in the past for high-end builds, because it is an exceptional option. 24+1+2 VRM power phases, dual Gen5 GPU slots, along with support for a Gen5 SSD, dual LAN, and to top it all off, the design of this board is awesome. The Z790 Taichi is also one of the few options on the Z790 chipset that supports Thunderbolt 4, so if you're the kind of consumer that needs 40Gbps transfer speeds, this board is fierce competition. Needless to say, the Z790 Taichi is definitely worth considering if you're looking to build a feature-rich high-end system.
Buy the ASRock Z790 Taichi on:
MSI Z790 Carbon WiFi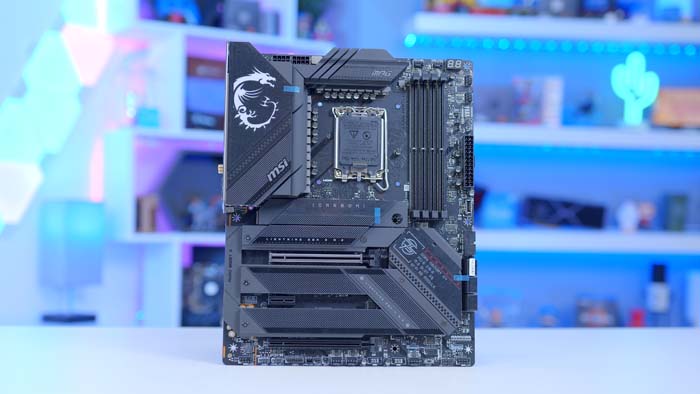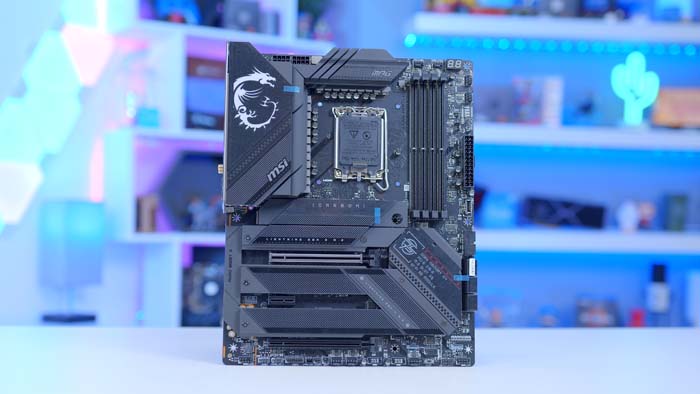 For our final pick, we've chosen the Z790 Carbon WiFi from MSI. This board is a slightly cheaper option in comparison to the other two alternatives that we've provided, but despite this, it is still equally competitive. Consumers can leverage strong PCI-E 5.0 support, on both the SSD and GPU front. This board has a mass of USB ports, ideal for those with plenty of peripherals. Networking is also pretty strong too, offering 2.5 Gigabit LAN, and WiFi 6E for those that prefer a wireless setup. Rounding this summary off, the Z790 Carbon WiFi is also one of the cheapest high-end designs, coming in close to the $300 mark, which is a great price point.
Buy the MSI Z790 Carbon WiFi on:
Conclusion
ASUS ProArt Z790 Creator WiFi
Product Name: ProArt Z790-Creator WiFi
Brand: ASUS
Features

Design

Performance

Value For Money
Summary
The ProArt Z790 Creator WiFi is a motherboard that I feel is pretty hit and miss on the whole. While the Z790 ProArt does have a nice set of features and connectivity options, it gets immediately beaten by other alternatives on the market that come in at an extremely similar price point, offering more in comparison. Besides the support for 10 Gigabit LAN, and Thunderbolt 4 (which I feel isn't as exciting or important as it used to be), this doesn't feel like a motherboard that prioritises creators.
I want to love this board, but I feel that there's more of a precedent set by the branding, than there is the physical features on the board, which is why the ProArt is effectively made redundant by gaming options that actually seem to be cheaper. I think, if you like the branding and the aesthetic, this board is a solid choice. But, you can very easily pick out another motherboard that offers more features, and I would argue a stronger design too. To summarise without slating ASUS too much, there has clearly been a big focus on the brand, more-so than the features of this board, which is a shame because ProArt products on the whole are industry leading, but this option does not seem to follow suit.
Pros
✅ Strong connectivity options.
✅ Offers 10 and 2.5 Gigabit networking.
✅ Solid audio codec.
Cons
❌ Not a competitive option versus alternatives.
❌ Other cheaper boards offer better overclocking support.
❌ Branding is ugly.