Introduction
A gaming mouse is an important part of any PC gaming setup, which means its important to grab a design that suits your gaming needs. However, there are wide variety of gaming mice on the market, all of which vary in their design, performance, and connectivity.
Because of this, it's important for gamers to understand how each aspect of a gaming mouse could benefit or hinder their gaming experience in order to find the perfect choice to go alongside their gaming PC. Whether you want a lightweight design that's perfect for competitive gaming, a comfortable form factor for a more casual approach, or both, there will be a gaming mouse that meets your demands.
Suggested Article: Best Gaming Mice to Buy for Under $100
In this review, we'll be looking at Thermaltake's latest addition to their gaming mouse collection, the Damysus RGB Wireless, to see what this ergonomic design brings to the table. Additionally, we'll be evaluating the design, features, and performance of this wireless gaming mouse to see whether it's worth picking up.
Buy the Thermaltake Damysus Wireless RGB on:
Ergonomic Gaming Mice – Are They Worth It?
One type of gaming mouse that has been gaining a lot of interest in recent times is ergonomic and lightweight designs. Whilst an ergonomic gaming mice isn't a new concept, but lots of manufacturers have been turning their attention towards these designs, developing new models that provide high-end gaming performance while boasting a form factor that feels comfortable in the hand.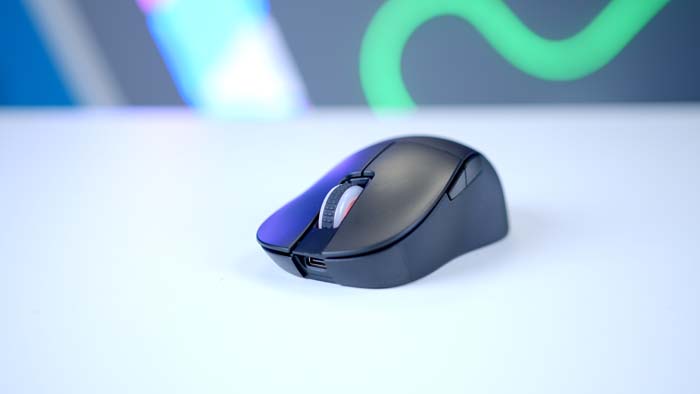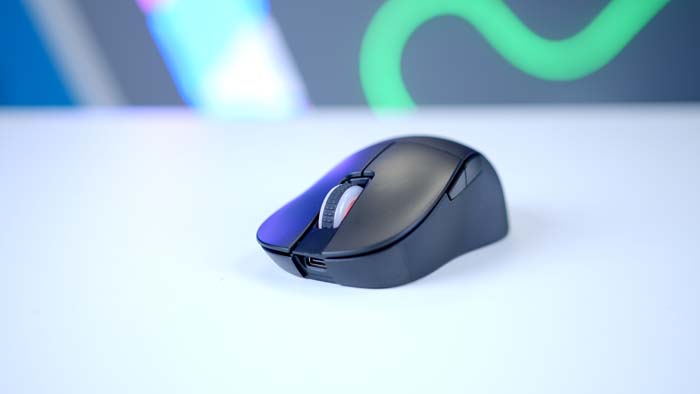 Additionally, ergonomic mice used to be typically reserved for either mice with lots of programmable buttons targeting MMO and MOBA players, or productivity-focussed designs intended for workstations. But nowadays, manufacturers are evolving ergonomic mice by releasing lightweight and wireless designs that have the sensitivity and responsiveness required to play games competitively.
This has resulted in a range of ergonomic gaming mice that provide an ideal blend of comfort and performance, making them the best choice for gamers looking for one mouse to play their favourite games. Whilst not every gamer will enjoy what these ergonomic designs offer, having the choice to pick up a design that feels comfortable in the hand without having to sacrifice gaming performance is a welcomed addition to the gaming peripherals space.
Damysus Wireless RGB Design & Aesthetic
It seems as though Thermaltake have noticed the developments in ergonomic gaming mice, and have decided to develop their own design for all-round gamers. The Damysus Wireless RGB is a lightweight gaming mouse that looks to combine comfort and performance for satisfying control and movement in all the latest titles.
Visually, the Damysus Wireless RGB looks very clean thanks to the predominantly black design, with only a hint of RGB lighting on the Thermaltake logo and scroll wheel. The plastic shell includes injection-moulded side grips to increase grip, which leads to a more comfortable design than what's found on most gaming-focussed mice. However, the top shell is very shiny and prone to smudges, but this is a fairly common issue with gaming mice.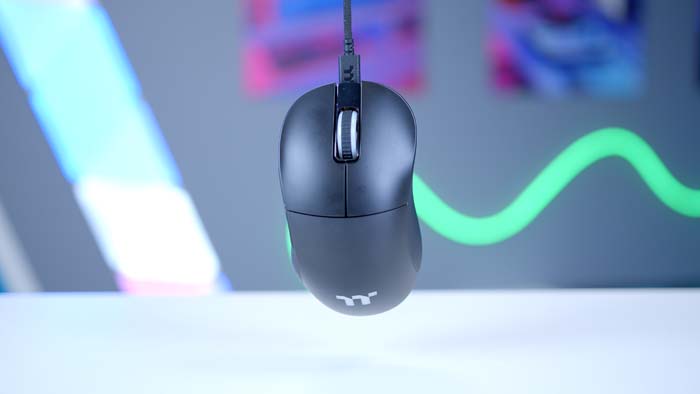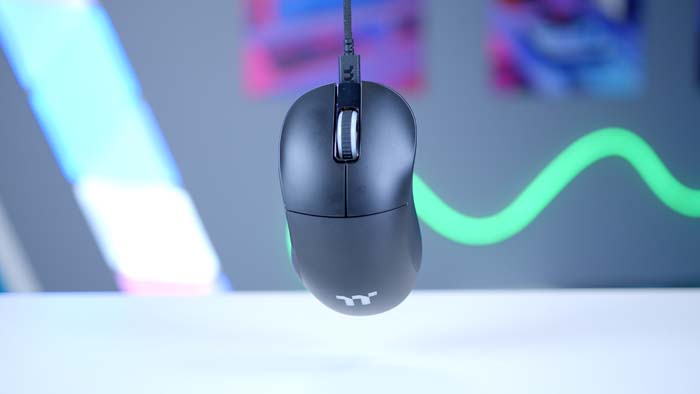 However, the main selling point of this mouse is the ergonomic shape, which is meant to feel comfortable over prolonged periods of time. As someone who mainly utilises a fingertip grip when using a gaming mouse, the Damysus RGB Wireless felt comfortable in the hand throughout my time using it. But after trying out the other grip types for short periods, the shape of this mouse isn't the most comfortable when adopting a claw grip.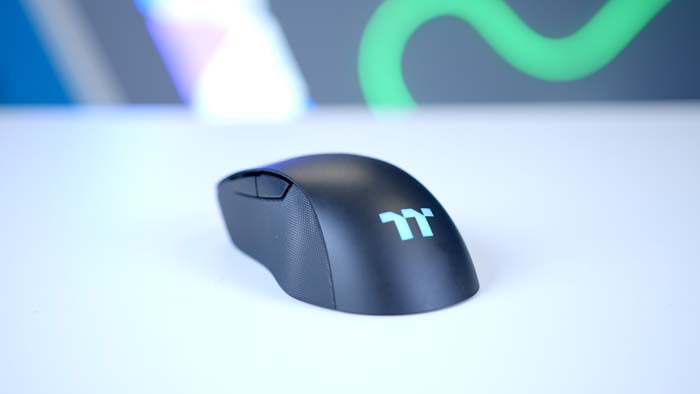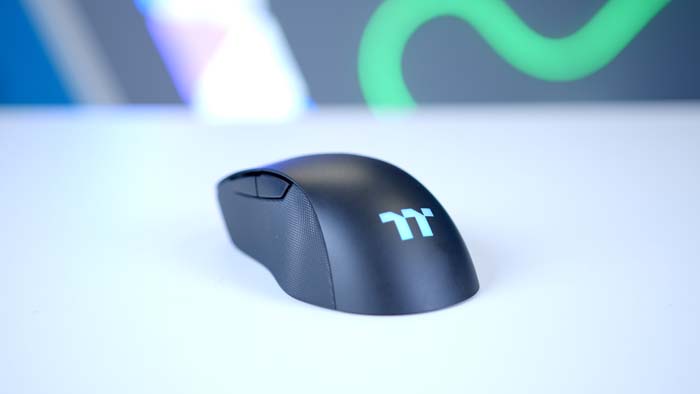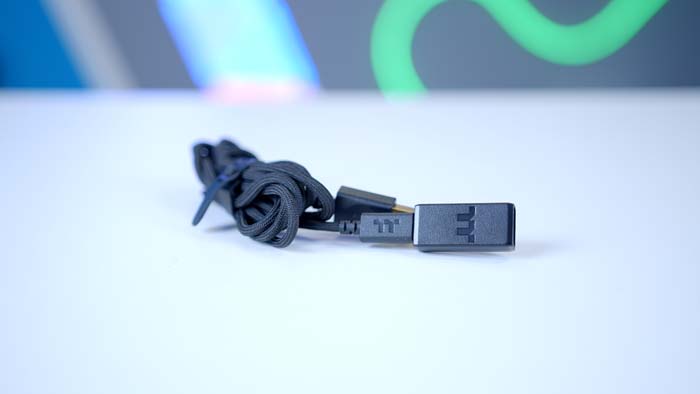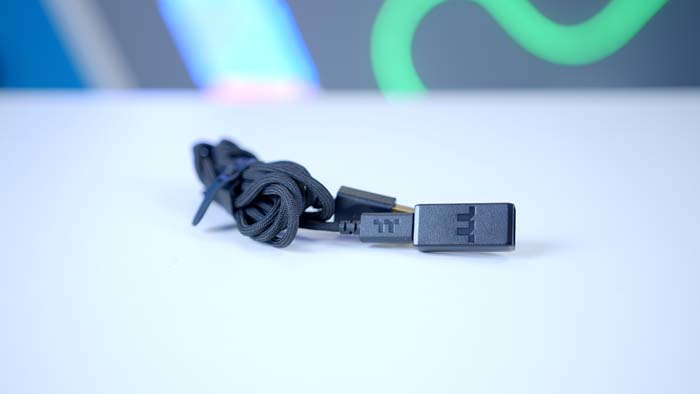 Damysus Wireless RGB Specs & Performance
Moving onto performance, the Damysus Wireless RGB possesses solid specs on paper, with a couple areas that fall just short of the industry leaders. For example, the 19,000 DPI sensor is significantly lower than the 25K+ sensors that can be found on other high-end gaming mice. However, this sensitivity will be more than enough to cover the desired speed and precision of most gamers, even in competitive scenarios.
To pair with this, the 1000Hz maximum polling rate allows mouse movements to remain smooth and responsive for increased accuracy in the heat of the movement. Importantly, both these settings can be adjusted to allow users to curate a tailor-made gaming experience.
| Key Spec | Thermaltake Damysus RGB Wireless |
| --- | --- |
| Max DPI | 19000 |
| Weight | 84g |
| Switch Lifespan | 60 million clicks |
| Polling Rate | 1000Hz |
| Programmable Buttons | 6 |
| Connectivity | 2.4GHz, Bluetooth, and USB-C |
| Max Battery Life | Up to 250 hours |
Thermaltake Damysus RGB Wireless Performance Specs
In terms of weight, the 85 grams on this design makes the Damysus RGB Wireless fairly lightweight compared to most ergonomic mice. However, it feels heavier than that. This is possibly due to the weight distribution being skewed, but the problem does add fatigue over long stretches of non-stop gaming.
Features
From the design and performance, Thermaltake's latest design has put itself into a good position to be a solid entry into the ergonomic gaming mouse market. But to convince gamers that this mouse is worth picking up, it needs to offer some key features that can't be found on other products. But does the Damysus Wireless RGB have the selling points required to distinguish itself between the competition?
Here is a list of the key features we liked during our time with the Damysus Wireless RGB, along with some areas where we'd like to see improvements.
Features We Like
Versatile Connectivity
For wireless gaming mice, having multiple modes of connectivity is essential in order to avoid the disaster of your mouse disconnecting mid-game. Luckily, the Thermaltake Damysus Wireless RGB comes with three ways to connect. With Bluetooth, 2.4GHz wireless, and a wired USB connection, you can constantly play your favourite games without having to worry about staying connected. Plus, it comes with a USB-C to A adpater, making it easier to access the 2.4GHz wireless dongle.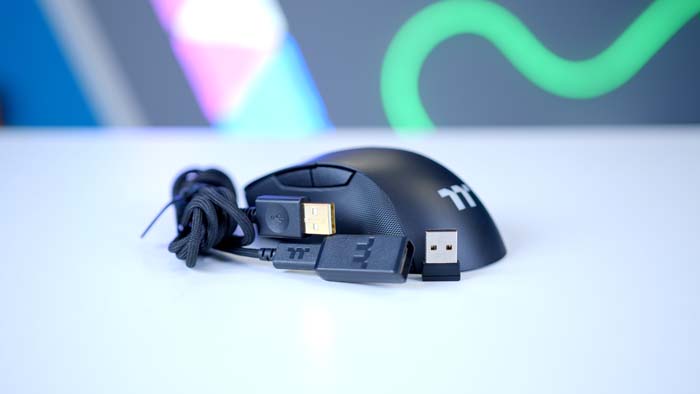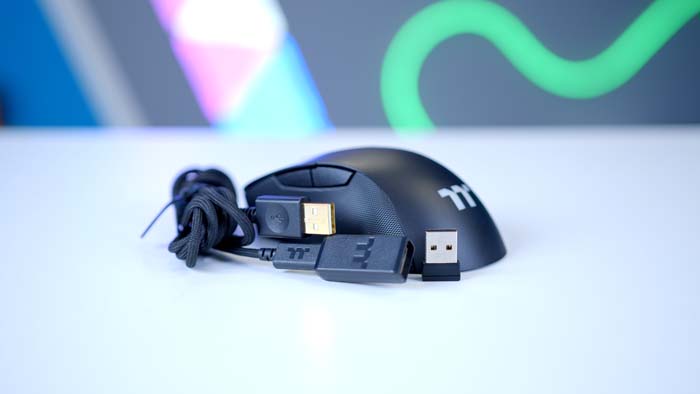 Comfortable Side Grips
Personally, I prefer using a gaming mouse that comes with rubber grips on the side, as it makes gaming feel more comfortable. That's why I was happy to see the Damysus Wireless RGB featured injection-molded side grips, as it helps increase the ergonomic value of this gaming mouse. Also, the criss-cross pattern on the texturized grips add some much-needed variety to the appearance of this mouse.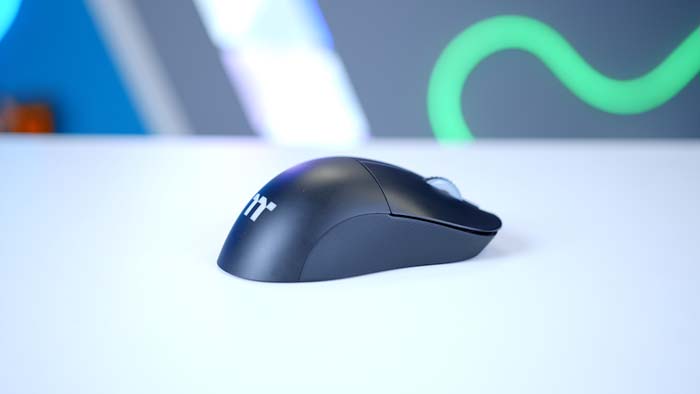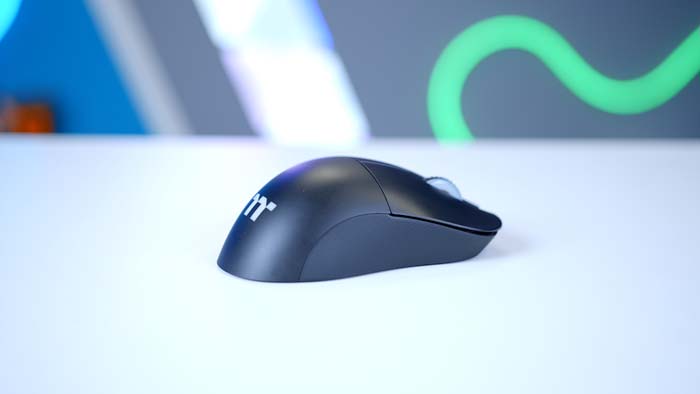 Features We Don't Like
Software & Customisation
Thermaltake's software has always been fairly lacklustre compared to the competition, and the TT iTake app used for this mouse doesn't do anything to change that impression. The interface looks like it belongs in the mid-2000s with blocky buttons and icons scattered throughout. Whilst it does include most of the customisation you'd expect from a modern software for gaming peripherals, the options for RGB lighting are extremely limited and it is an eyesore to navigate.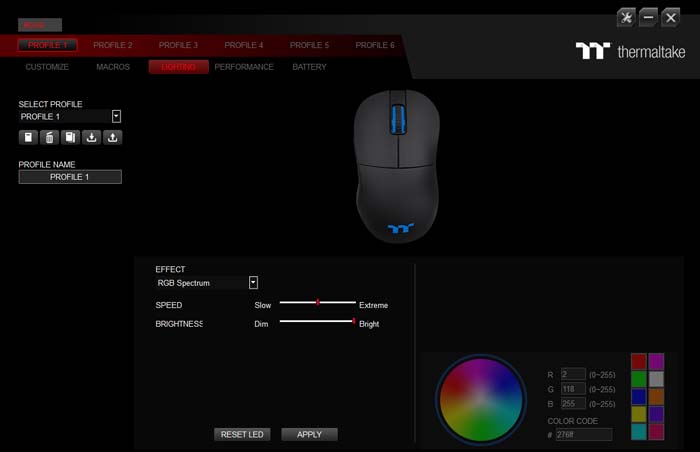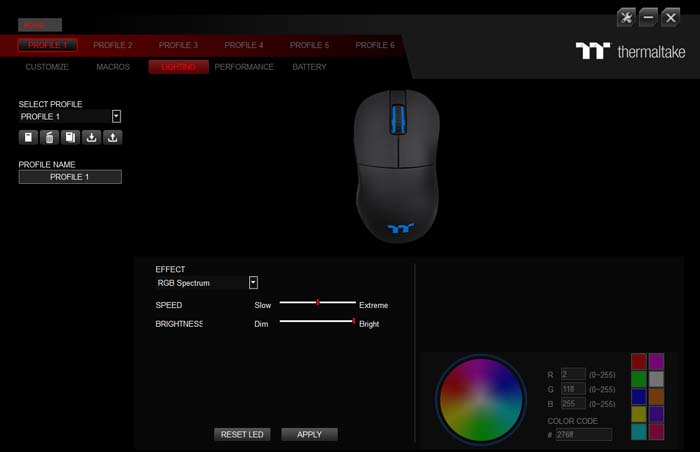 Programmable Buttons
Speaking of customisation, the programmable buttons that can be customised in the software fail to improve on that experience. Compared to other offerings available for a similar price, the side buttons feel hollow and cheap, whilst the scroll wheel provides too much resistance to quickly jump to the bottom of a page or menu. These buttons will do the job, but it feels like these inputs should feel more premium when you consider the price of this mouse.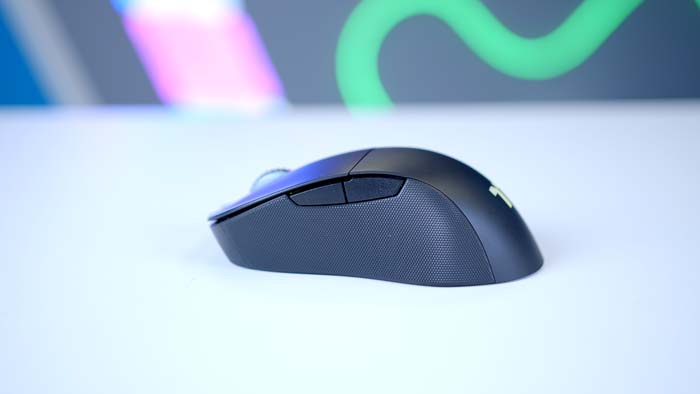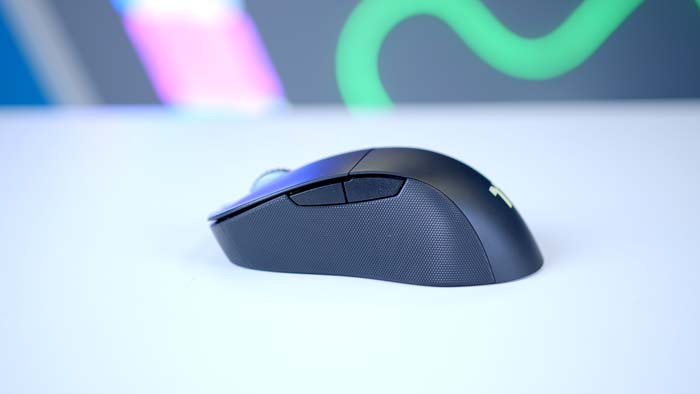 Alternative Option
MSI Clutch GM51 Lightweight Wireless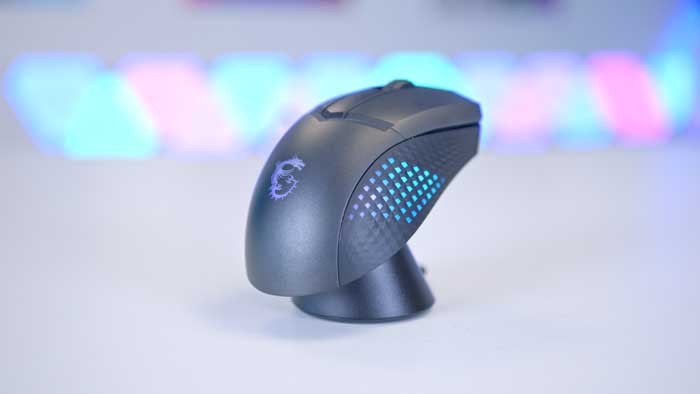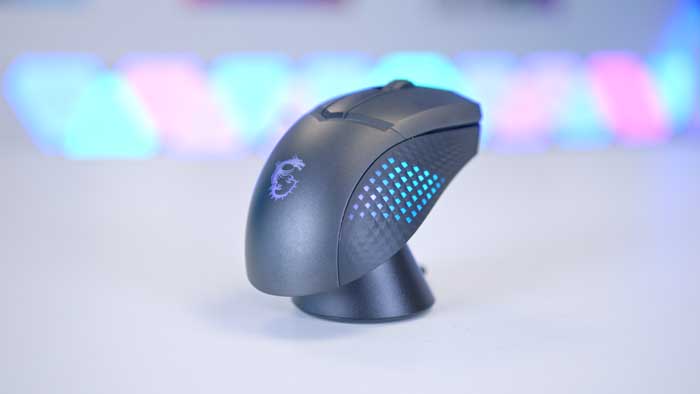 If you're looking for a design that is available for a similar price to Thermaltake's design, then the MSI Clutch GM51 Lightweight Wireless is another ergonomic gaming mouse that shares a lot of features with the Damysus Wireless RGB. Weighing in at 85 grams with rubberised grips and an ergonomic form factor, the GM51 will offer a similar handling experience to its Thermaltake counterpart. However, this design possesses more standout features that make it worth considering compared to the more established designs, such as a wireless charging dock and RGB Diamond Lightgrips.
Buy the MSI Clutch GM51 Lightweight Wireless on:
Conclusion
Thermaltake Damysus RGB Wireless
Product Name: Damysus RGB Wireless
Brand: Thermaltake
Features

Design

Performance

Value For Money
Summary
Overall, the Thermaltake Damysus Wireless RGB achieves its goal of being lightweight and ergonomic for a comfortable yet competitive experience, but does it in a way that feels uninspired and that won't grab any attention from most gamers. Throughout my time using this mouse, I didn't come across any major issues that would deter me from using this mouse again, but it also didn't offer anything that would make me want to use it over any other option already on the market. 
For those looking for a lightweight and ergonomic gaming mouse, this design ticks all of the essential boxes. But when you consider the other gaming mice available for a similar price, the Damysus Wireless RGB lacks any appealing factors to make it a worthwhile pickup for any gaming setup. The best thing I can say about this mouse is that it works as intended. 
Pros
✅ Ergonomic & lightweight
✅ Clean aesthetic
✅ Versatile connectivity
Cons
❌ Poor software integration
❌ Lack of appealing features
❌ Better options available