Introduction
PC monitors come in all shapes and sizes, with each design looking to address a specific set of needs within a PC setup. There are a wide range of variables within a display that can alter the performance and practical aspects of the design, leading to a distinct output that is suited to certain activities such as competitive gaming or high-quality video production.
But what about consumers that are looking for a productivity-related display, but don't want to give up their gaming habits? Well, you may be interested to hear more about ASUS' ProArt PA348CGV, a monitor that is designed for professionals, but also has the ability to showcase the latest games at a fairly high quality.
Suggested Article: Philips Momentum 27M1F5500P Gaming Monitor Review – The Best Workstation Hybrid?
In this article, we'll be reviewing the ProArt PA348CGV's design, performance, and features to see if this premium display is worthy of being placed alongside your PC build.
Buy the ASUS ProArt PA348CGV on:
Are Ultrawide Monitors Worth It?
In recent years, ultrawide monitors have drastically grown in popularity, acting as a solid replacement for multi-monitor setup. With a single ultrawide monitor being the tidier and more efficient solution, these displays are often considered a great option for gamers looking for greater immersion, or just to increase screen real-estate without having a major impact on desk space.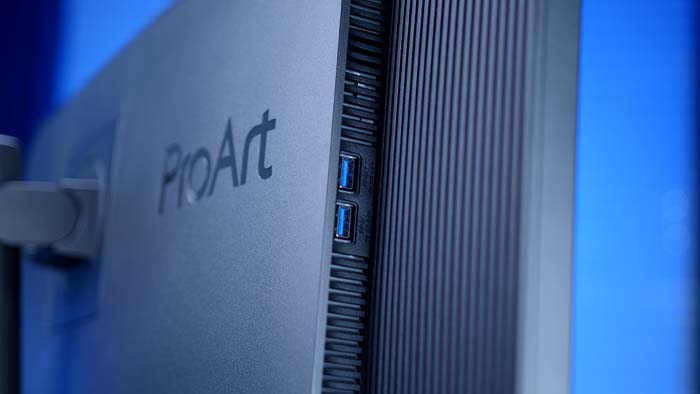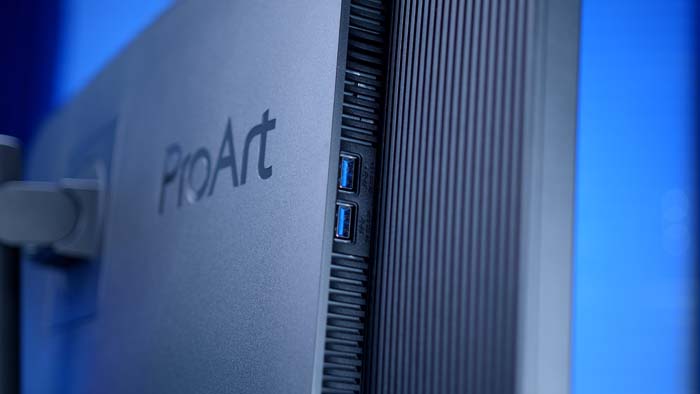 However, there are a few limitations to ultrawide designs compared to the conventional 16:9 layout that will make a wider screen less than ideal for certain consumers. Generally, the technological developments on ultrawide monitors are slower than other displays, leading to restricted performance compared to the alternatives. For example, most ultrawide gaming monitors are limited to a 1440p resolution, making it less than ideal for enthusiasts looking to play their favourite title at 4K.
Additionally, these monitors often come at a higher price point compared to other models with similar specs, mainly due to ultrawide designs being less common. In some cases, it can be cheaper to pick up multiple 16:9 monitor instead of a single 21:9 display, with the multi-monitor setups leading to increased real-estate in comparison.
If you're looking for an immersive gaming experience or increased screen real-estate while keeping the impact on your setup to a minimum, an ultrawide monitor is the perfect option for you. But, if value and performance take priority, then developing a multi-monitor setup over time might be the better route.
ASUS ProArt PA348CGV Design & Aesthetic
When it comes to design, we already had a strong idea of what to expect when the ASUS ProArt PA348CGV arrived at the GeekaWhat office. After previously analysing the 27-inch ProArt PA279CV and 32-inch ProArt PA32UCR in detail, we've gained a solid understanding of what to expect from the ASUS ProArt displays. To no surprise, as soon as we opened the box, we were greeted to a modest and sophisticated design that would naturally fit into any office or workplace environment.
Unlike the gaming monitors that are usually sent over to GeekaWhat HQ, this display doesn't feature any edgy accents, eye-catching designs etched into the panel, or RGB lighting. Instead, the PA348CGV opts for a smooth and consistent appearance throughout the design, with only a few subtle details to highlight this display is built with professionals in mind. For example, the ProArt logo and rigged effect on the back of the display adds to the premium feel, allowing the design to stand out from other displays.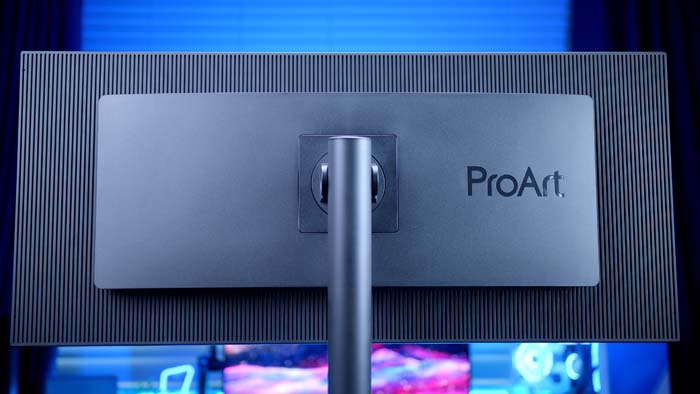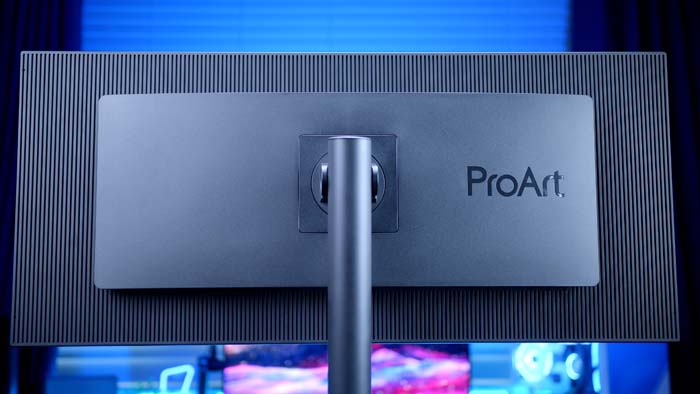 This design also puts a heavy focus on ergonomics, with the monitors being packaged with a regular stand and a Desk C-Clamp, which is designed to remove the impact on desk real-estate while improving manoeuvrability. The amount of space taken up by the included stand has been one of the biggest criticisms within our reviews of previous ProArt monitors, so we appreciate that ASUS have taken the feedback from us and others on board this time around. Plus, if neither of these mounting options are to your liking, you can always use another arm or stand, as this design is VESA 100 x 100 compatible.
Overall, we're fans of the subtlety and sophistication this display brings into an working environment. Whilst this design isn't meant to turn any heads, we wouldn't consider the appearance to be bland or boring. However, the focus on ergonomics and practicality is great, as it shows that ASUS were prioritising the aspects that are important within an office or dedicated workspace.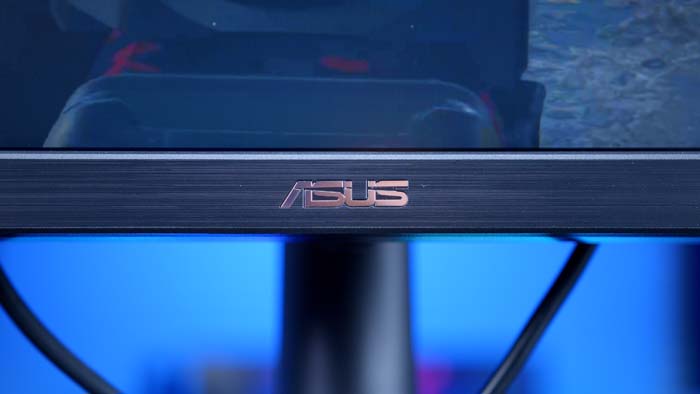 ASUS ProArt PA348CGV Specs & Performance
In terms of specs, the ASUS ProArt is certainly amongst the best ultrawide monitors that we've been able to test. And whilst many of the performance-based features are included to elevate image quality and productivity, a lot of the choices made allow this display to compete with some of the best 1440p gaming monitors currently available. For example, the 120Hz refresh rate is a lot smoother than the 60Hz usually on workstation displays and would be enough to leave most gamers satisfied.
Additionally, the inclusion of AMD FreeSync Premium Pro prevents the image from blurring of tearing, even in the most intense circumstances. Finally, the 2ms response time might be just shy of the 1ms standard on modern gaming monitors, but it by no means a deal-breaker, unless you plan on playing games at a very competitive level.
| Specifications | ASUS ProArt PA348CGV |
| --- | --- |
| Screen Size | 34″ |
| Max Resolution | 3440×1440 |
| Refresh Rate | 120Hz |
| Response Time | 2ms |
| Colour Gamut | 100% sRGB, 98% DCI-P3 |
| Panel Type | IPS |
| Display Inputs | 2x HDMI 2.0, 1x DisplayPort 1.4, 1x USB-C DP Alt Mode |
| Adaptive Sync | AMD FreeSync Premium Pro |
But with all that in mind, this display is still meant to be used in a professional setting, which is why this panel is filled with technology designed to elevate the image quality and accuracy. This is vital for experts within the media landscape, as their display needs to show them an image that offers a precise representation of what the audience will see when there content is published.
One of the many ways in which the ProArt PA348CGV achieves such an accurate output is thanks to the IPS panel. Compared to the likes of TA and VN panels often used in monitors, IPS images tend to provide a greater colour accuracy and vibrancy, leading to a higher-quality image when viewing or editing forms of media. The only element that is slightly concerning with this design is the 1440p resolution, as most professional displays will accept nothing less than 4K nowadays. Whilst we understand this is likely due to the limitations on ultrawide displays, the reduced visual fidelity and sharpness is bound to hinderance to a lot of consumers.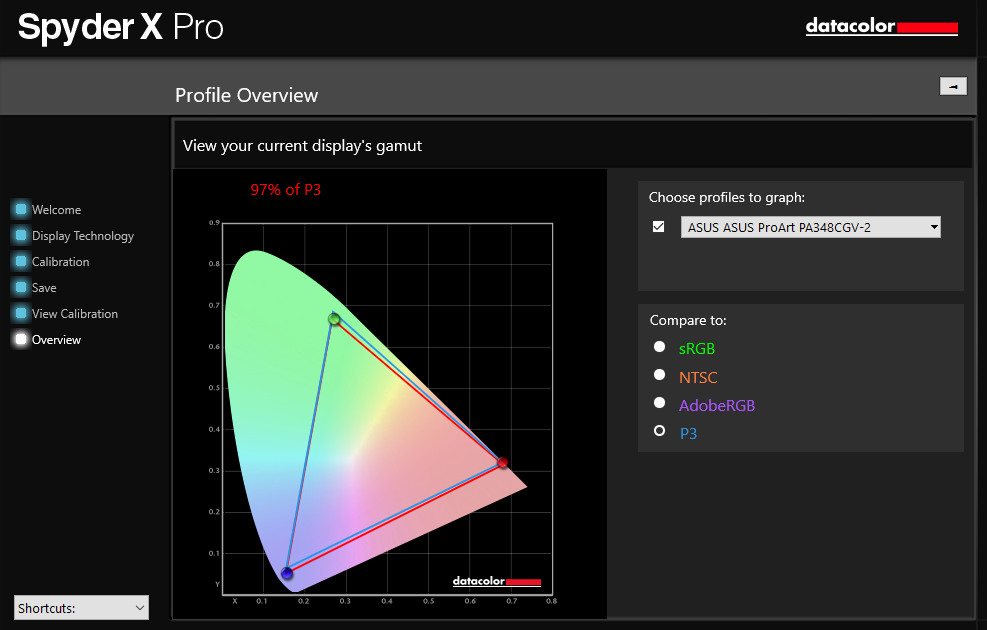 To make sure the visuals were as advertised, we ran a colour accuracy test using our screen calibration software. Our results showed this display generates a colour spectrum that covers 100% of the sRGB colour gamut used on standard displays, as well as 97% of the DCI-P3 colour gamut. Whilst our DCI-P3 score is slightly below the 98% that ASUS claim, we're willing to give them the benefit of the doubt, as many of our tests on other display have been a lot further off the mark.
Features We Like
120Hz IPS Panel
For a monitor that is focussed on productivity, it's quite rare to see a refresh rate above 60Hz. Because of this, the PA348CGV is surprisingly good for gaming and media consumption, as the 120Hz refresh rate will offer a smooth and responsive output. On top of this, the IPS panel improves the colour accuracy and overall image quality of the 1440p display.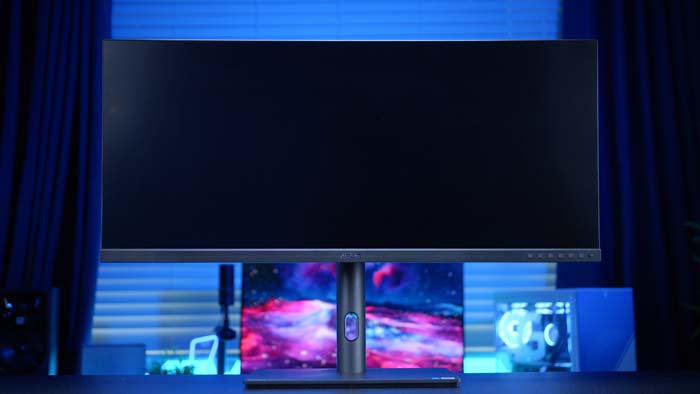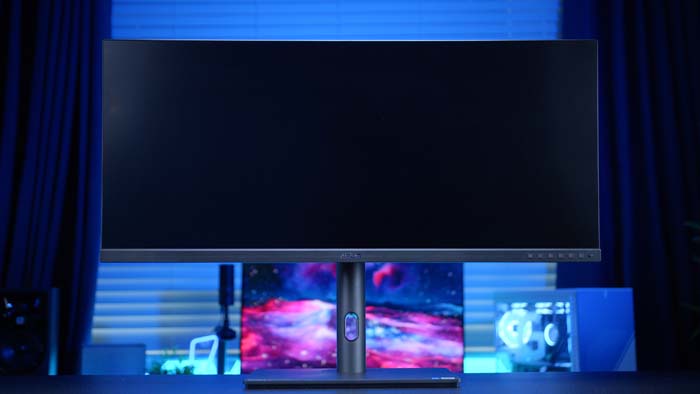 Versatile & Ergonomic Mounting Hardware
In terms of design, ASUS have done a fantastic job with the ergonomics of this display. With ultrawide monitors in particular, the included mounting hardware can significantly restrict the adjustability of the display, making it harder to install into a setup with limited space to accommodate the expanded screen. However, the base stand allows users to tilt, swivel, and adjust the height of the display to match your line of sight. Plus, the included C-Clamp gives users the option to clear up desk space, making it easier to keep gaming peripherals and accessories on your desk.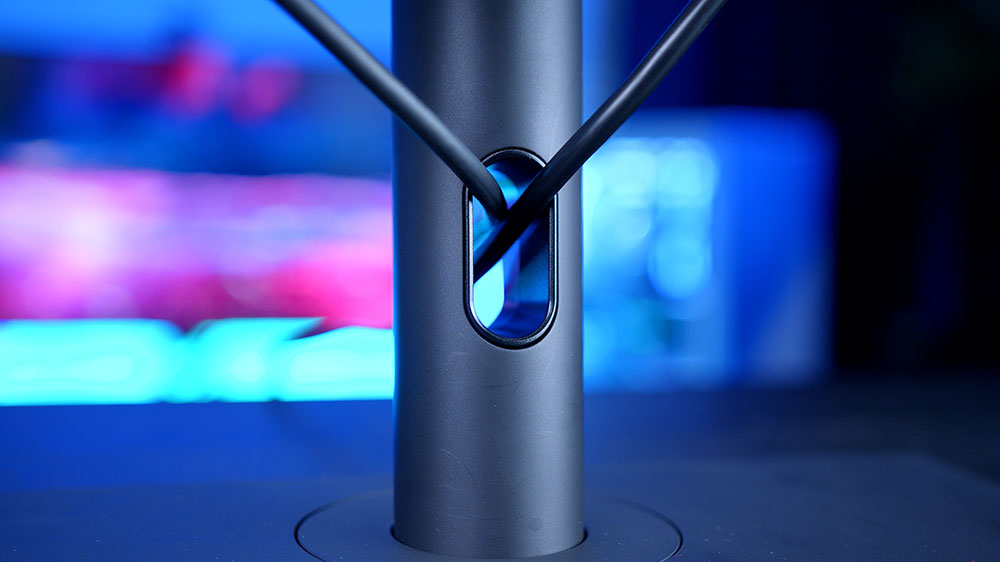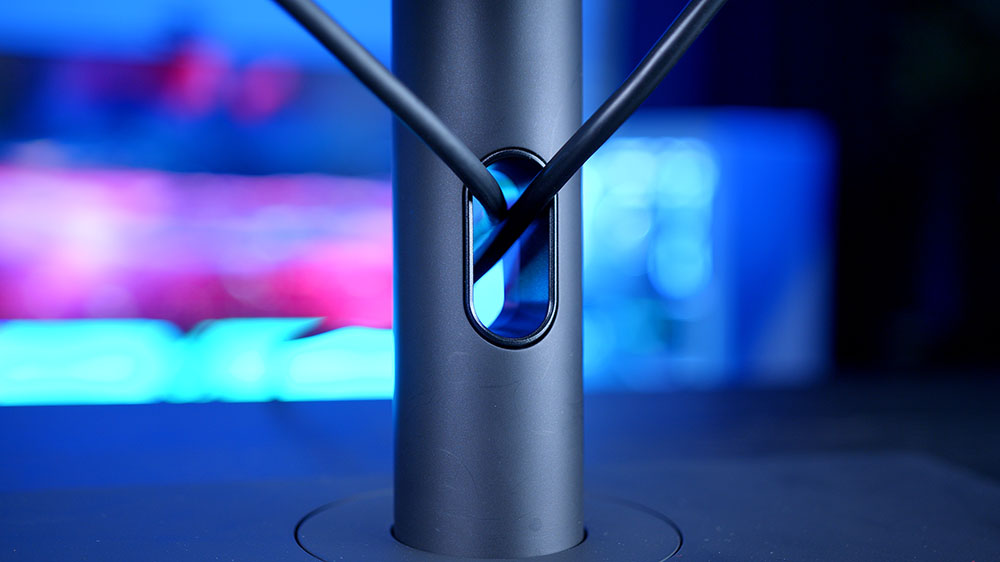 OSD & Navigation
Another accessibility feature that I like on this display is how easy it is to adjust the display settings through the OSD. A lot of modern monitors push the navigational buttons to the back of the screen for aesthetic purposes, which can make adjustments quite fiddly. That's why I was happy to see an array of buttons on the front of this display, including a navigational joystick. These inputs are surprisingly not that intrusive, but make the user experience with this display much better, eliminating a lot of the hassle when trying to change the on-screen settings.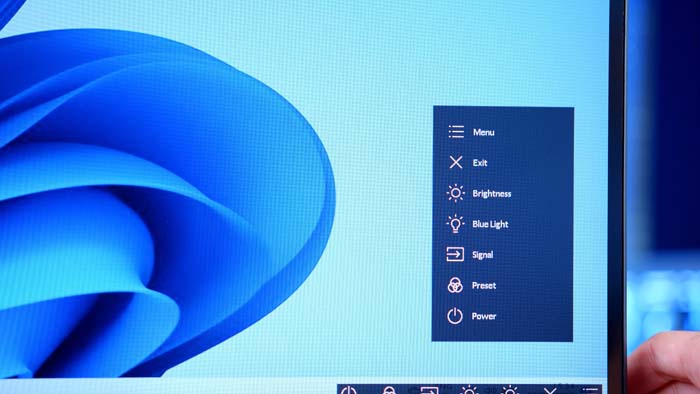 Varied Connectivity
In terms of connectivity, this monitor provides plenty of ways to hook up a laptop or desktop, as well as other accessories. With two HDMI ports, a DisplayPort, and USB-C DP Alt mode, the PA348CGV can support a range of devices at once, making this display a more than viable option for a single monitor setup.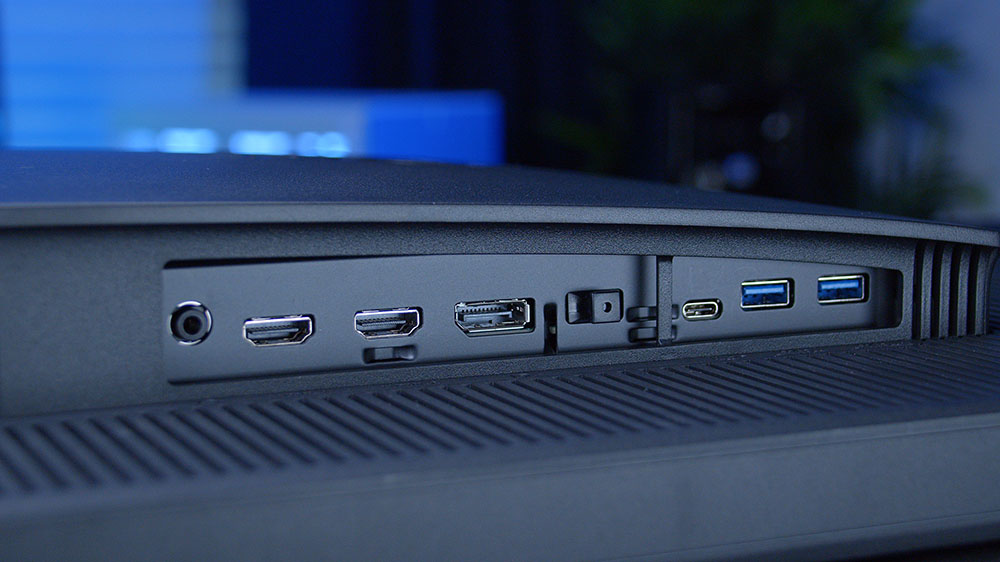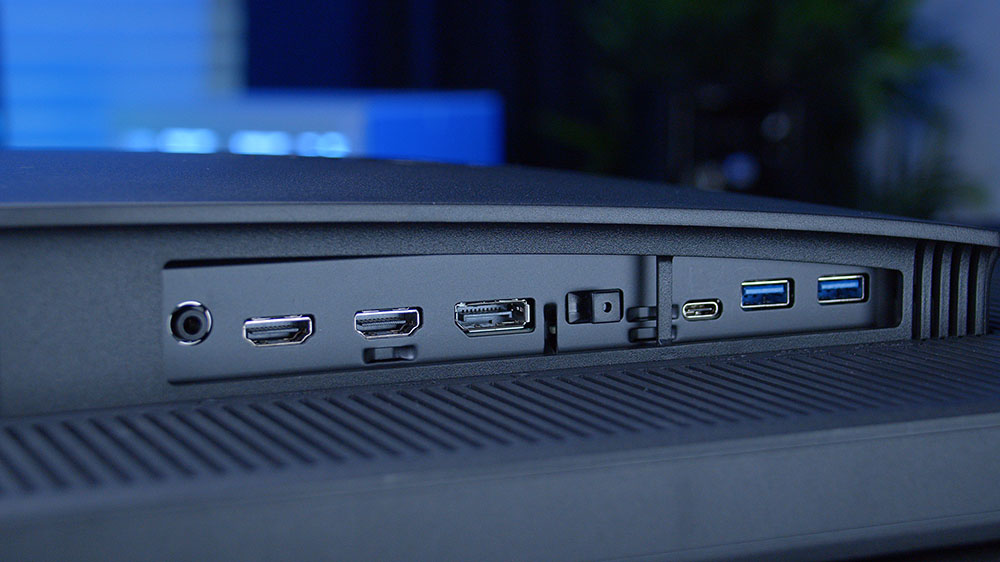 Feature We Don't Like
1440p Resolution
The biggest weak point of the ProArt PA348CGV is the 1440p resolution, as media professionals would want their display to produce a high-quality 4K image. Whilst the IPS panel and strong colour accuracy helps with visual fidelity, the restricted resolution does mean users won't be able to see their work in it's best light, which will be an issue for those working in the media industry.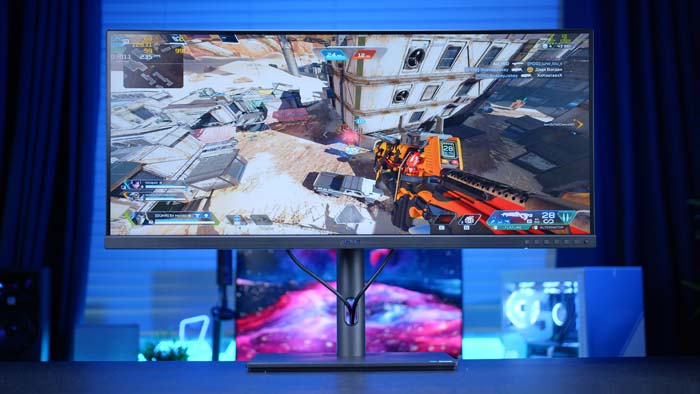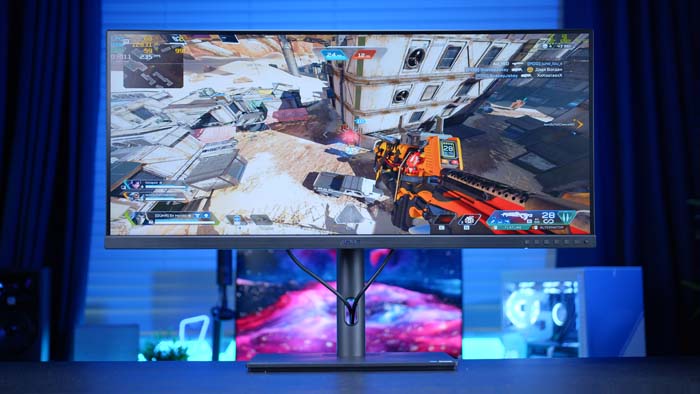 Brightness and Contrast
In a similar fashion to the resolution, the limited brightness and contrast on this monitor reduces the visual quality further, which is concerning for a display designed for productivity. Though the HDR 400 rating and 1000:1 contrast ratio would be respectable on a standard display, a high-end monitor that is targeted at professionals should aim to provide higher levels of brightness and contrast.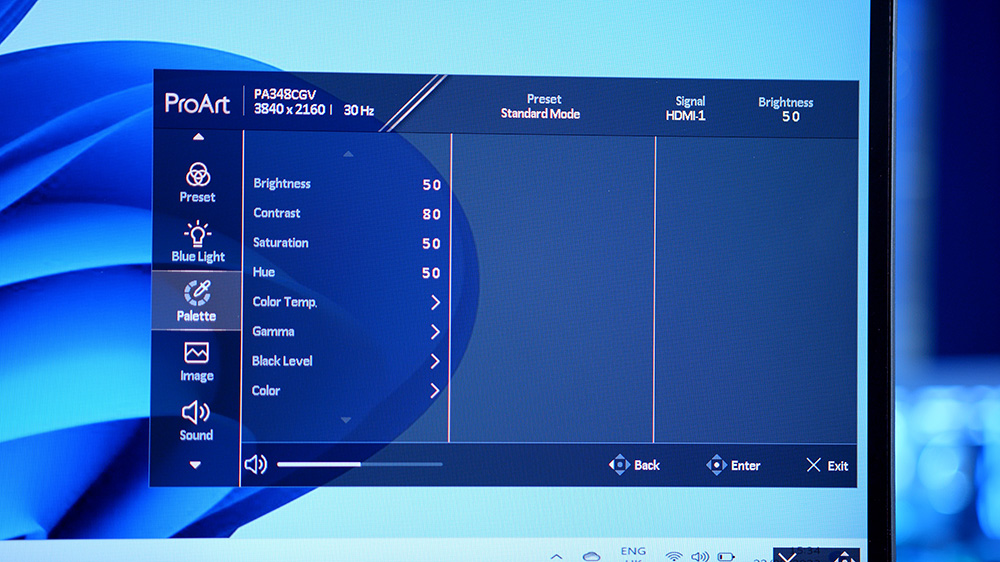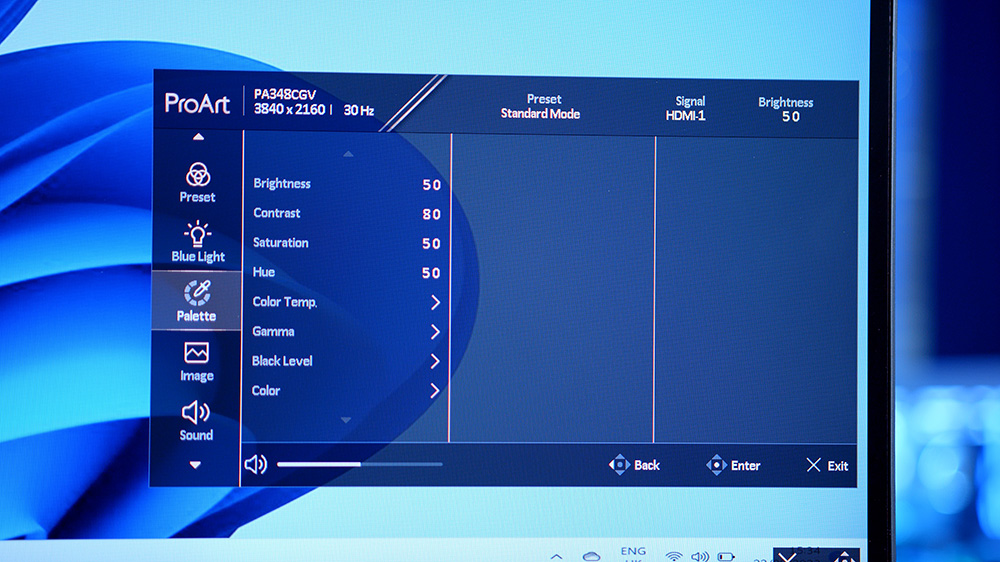 Alternatives
ASUS ProArt PA32UCR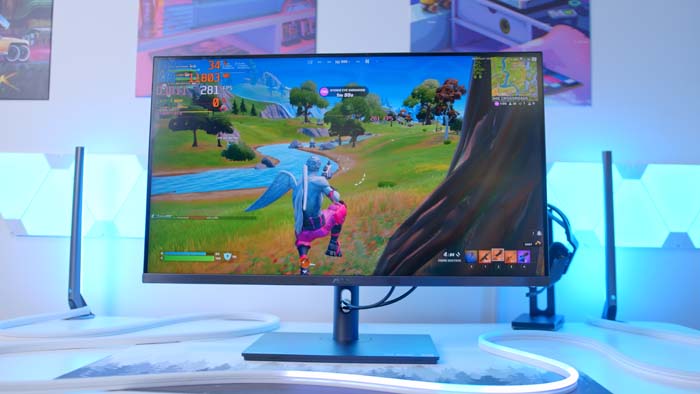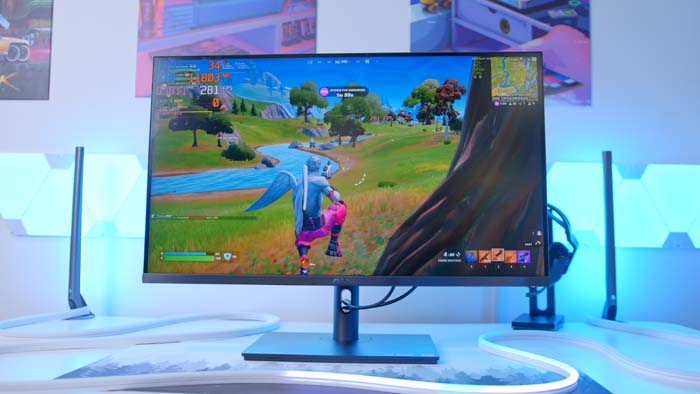 If the ProArt design has grabbed your attention, but the ultrawide form factor and 1440p resolution on the PA348CGV doesn't meet your demands, then the PA32UCR is a solid alternative within the ASUS ProArt collection. This display comes in the more traditional 16:9 format, with a 32inch 4K display, allowing users enhanced visual quality while maintaining the strong levels of colour accuracy.
Buy the ASUS ProArt PA32UCR on:
MSI MD271UL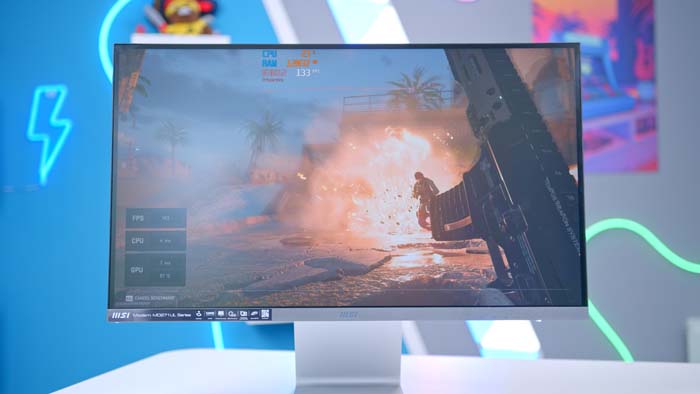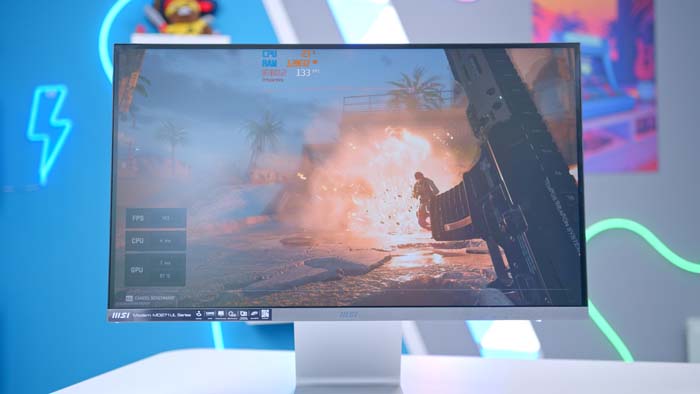 For content creators and editors looking for a smaller display that is capable of producing a high-quality image, the MSI MD271UL is a solid choice for any workplace environment. This 4K display comes with all the tools needed to provide consumers with a bright and detailed picture, all whilst sticking to a very affordable price tag. Due to its smaller size and price tag, this display is also ideal for multi-monitor setups.
Buy the MSI MD271UL on:
MSI Optix MEG381CQR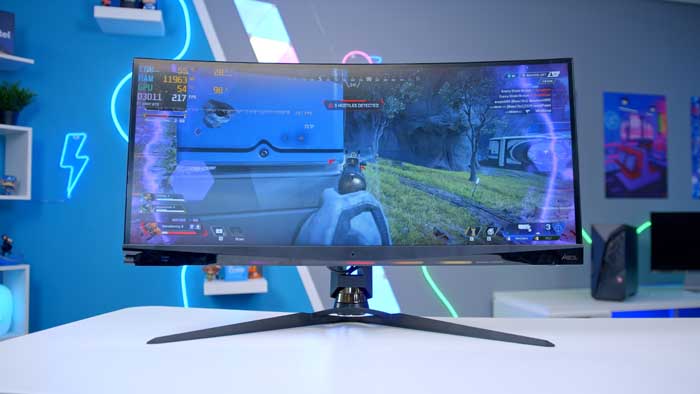 Finally, if an ultrawide monitor is an appealing concept for your setup, but you'd like a display that is tailored towards gaming, allow us to introduce the MSI Optix MEG381CQR. This 38″ ultrawide display comes with a 1ms response time and 175Hz refresh rate, which leads to snappier gameplay in the latest titles. Also, the design includes plenty of RGB lighting to elevate the look of your PC gaming setup.
Buy the MSI Optix MEG381CQR on:
Conclusion
ASUS ProArt PA348CGV
Product Name: ProArt PA348CGV
Brand: ASUS
Features

Design

Performance

Value For Money
Summary
Taking the latest addition to the ASUS ProArt range at face value, the PA348CGV is an excellent 1440p monitor that offers a great balance of performance and quality, with the ultrawide layout providing something different to the ProArt collection. However, the limitations that come with these types of monitors hinders this monitor significantly, preventing it from achieving the primary goal of offering professional-grade visuals to creative individuals. As a result, the ProArt seems to fall short compared to other monitors designed for professional, which becomes a major sticking point when you consider how much consumers would have to pay out to pick up this monitor. 
For a similar price, consumers could pick up multiple 4K display with similar specs to create a workspace that is much better at offering the tools needed to complete creative tasks. Whilst there are plenty of ways in which ASUS try to rectify these issues, such as providing stellar ergonomics and improved refresh rates to streamline workflow, the lack of visual quality means this display will fall short of that output that media professionals would expect.
However, for professionals that aren't too concerned about visual quality, and are perhaps interested on gaming on the side, the ProArt PA348CGV will be a suitable choice, albeit a little expensive compared to gaming monitors of a similar calibre.     
Pros
✅ Adjustable & ergonomic design.
✅ Good balance of performance & visuals.
✅ Accurate colour profiles.
Cons
❌ Expensive for a 1440p monitor.
❌ Wide panel is too big for some setups.
❌ Lack of visual quality for productivity-focussed design.