Introduction
ASUS is one of the giants in the PC gaming and tech industry offering a myriad of different product ranges catering to a vast array of budgets and use-cases. Within the past year or so, we've seen ASUS branch out into displays, a rather competitive space that has a plethora of options for consumers to choose from.
However, during Gamescom of 2023, we got to take a look at their brand new OLED monitors, two of which were ultrawides, taking the market by storm with high refresh rates, and an impressive set of specs. In this review we'll be taking a look at their super ultrawide, the ROG Swift OLED PG49WCD. This monitor is one of the biggest displays that we've ever had in the office, so we're excited to do a deep dive on the design, features, and visual quality that the ROG Swift offers.
Buy the ASUS ROG Swift OLED PG49WCD on: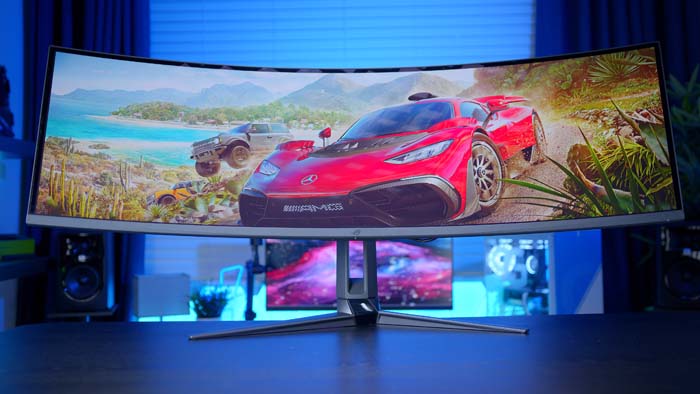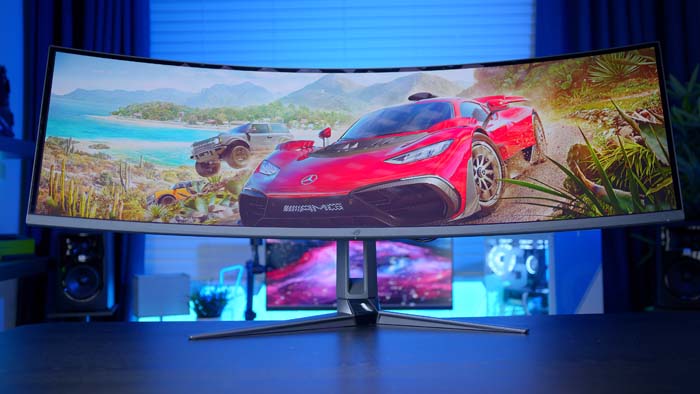 While I'm currently staring at the ROG SWIFT PG49WCD while writing this review, my answer would be yes. This vibrancy and visual fidelity that the QD-OLED panel provides is practically unrivalled. There are few monitors that will remotely come close to OLED if you're looking for the holy grail of picture quality. But they need to be cheaper. Much like we saw with the rise of 4K displays, these monitors need to heavily saturate the market, and the technology needs to become cheaper for it to be fully worth it.
Most OLED monitors will sit above $500 for a 1440p or 4K display, which is outside the range of a practical budget for the vast majority of consumers. So the reality is, if you are dead set on picking up an OLED panel, you'll need to set aside a fair bit of cash to secure one. But if you do, you won't be disappointed with the quality. OLED is the next step in monitor technology, and we're hoping that more options like the PG49WCD become available at a lower price point.
Suggested Article: Best PC Cases to Buy in 2023
ROG SWIFT OLED PG49WCD Design & Aesthetic
Upon opening the box of the PG49WCD, all of us at the GeekaWhat office were surprised as to how big this monitor actually is. It is difficult to fathom how large 49 inches is when it comes to screen real estate, so it is worth noting that you will need either a big desk for this display, or a very robust monitor arm. Without the stand, the ROG Swift weighs about 8.5kg, leaping up to 11.7kg with the stand. Looking at the overall aesthetic, this monitor keeps in line with the signature 'ROG' aesthetic, with an angular stand and various logos dotted around. The stand is also fairly robust, offering very little wobble during an intense session of gaming.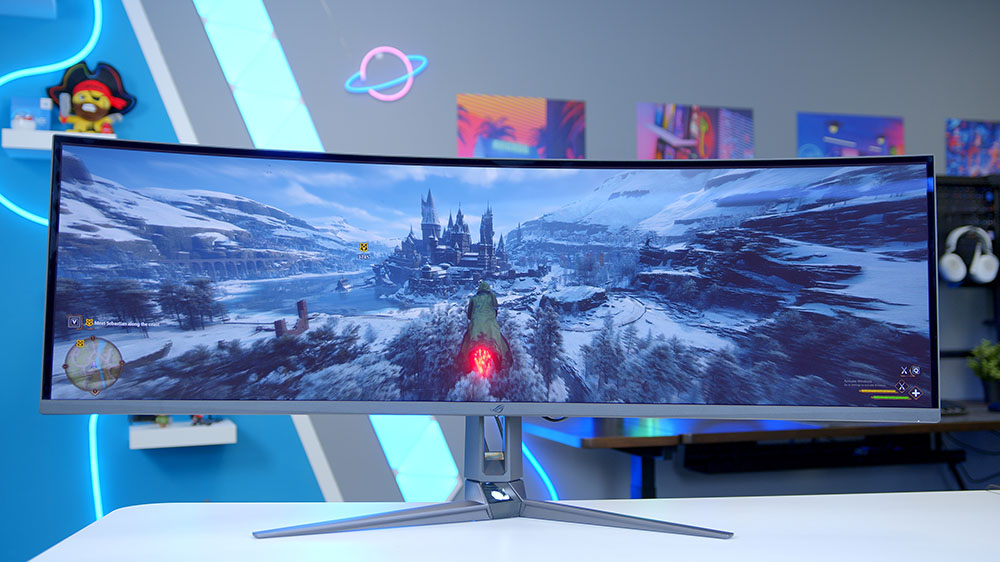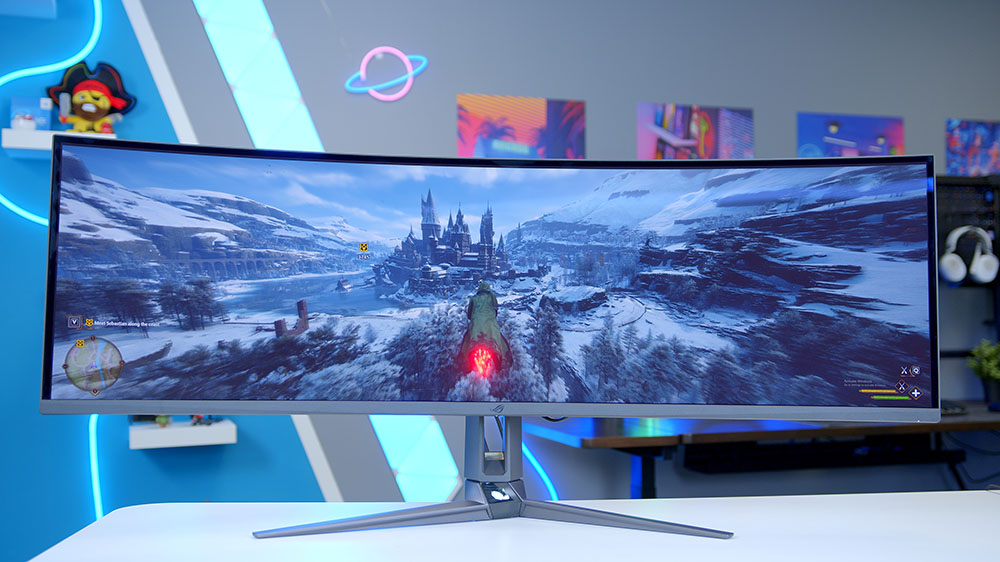 On the rear of the panel, consumers will notice a light up display showing off the ROG logo. While this is a nice touch, I do feel it is pointless. Unless you're showcasing the back of the monitor, you're not really going to see this panel. If anything this is just adding to the overall power consumption, than it is the quality of the monitor. But I digress, it isn't that much of an issue. The ROG Swift sports a dark grey plastic housing the the panel itself. While I don't think this is going to be a major problem, ASUS could have utilised a more premium material. There's a lot of flex in the plastic which I would argue shows that there may have been some cost cutting.
However, I imagine ASUS have used plastic to cut down the weight, which is understandable. The external housing for the display is pretty minimal, there aren't a crazy amount of bezels, which is great to see, this ultimately increases the amount of screen real estate we have access to.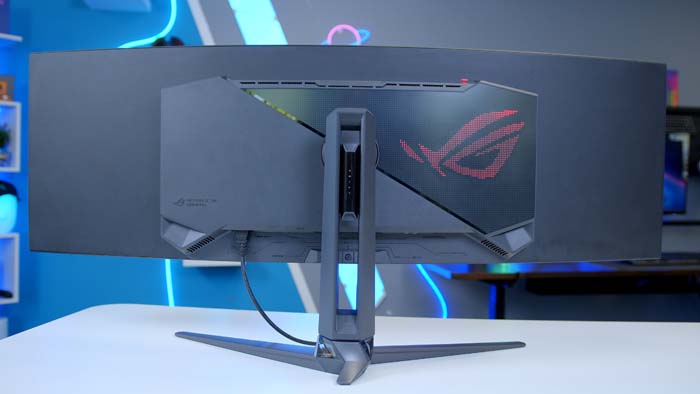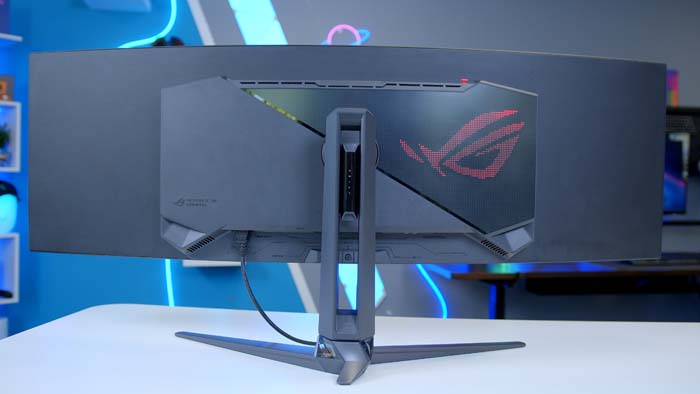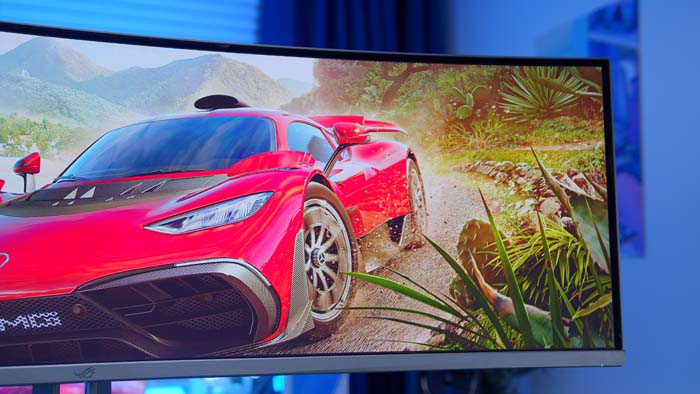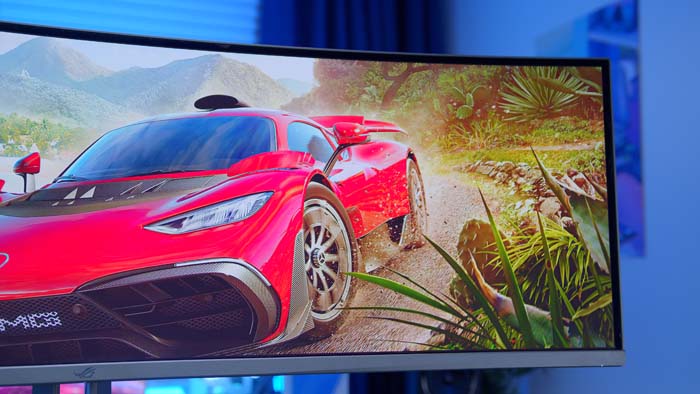 In terms of curvature, the ROG Swift sports a rather subtle 1800R bend. There are many super ultrawides on the market right now, but I feel ASUS has nailed the curvature, as the screen viewing angles are a bit easier on the eyes. Monitors like the Odyssey Neo G9 feature a much more pronounced 1000R curve, which feels like you're more enclosed in your own screen battle station of sorts. Regardless, I'd say this is definitely a win for ASUS when it comes to the feel and look of the screen. I think ASUS have done a pretty good job with the overall design, considering how gargantuan this thing is.
ROG SWIFT OLED Visual Quality
Instead of delving into the specs and colour accuracy, I thought it best to instead talk about the visual fidelity and quality that this monitor offers. I feel the vast majority of consumers looking to buy a monitor of this calibre aren't doing it for workstations, as you'd be better off picking up a ProArt option (which we highly recommend if you need a colour accurate display). For this reason, it is worth touching on how impressive this display is in games.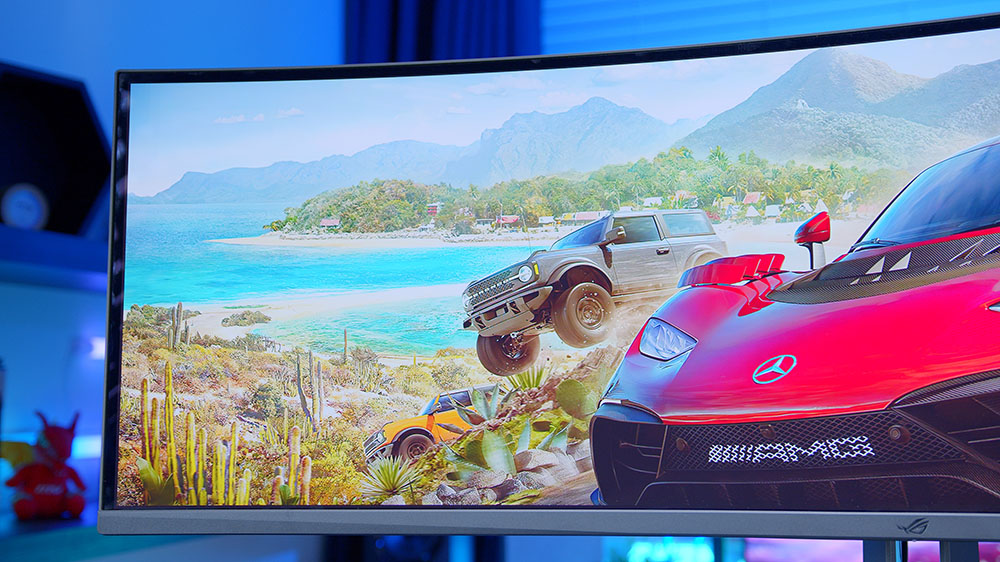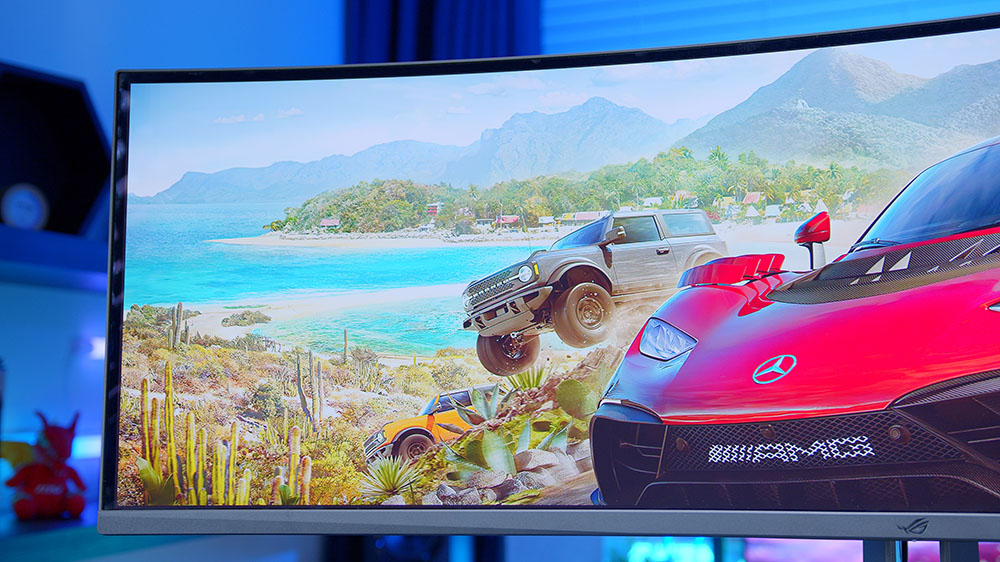 Not many games support ultrawide displays, but the ones that do, allow you to enjoy a huge field of vision with zero sacrifices. The ROG Swift's OLED panel offers a refresh rate of 144Hz, combined with a response time of 0.03ms. This means that even during intense sessions of gameplay, such as a match of Apex Legends, or if you're building a tower in Fortnite, there is minimal stuttering and tearing.
And I can wholeheartedly agree with this. I fired up Destiny 2 (which is my current go-to game) to see how the monitor would perform. And even when I was running around lighting up the Cabal with Strand threads, or attempting to kill other Guardians during Crucible, there was no tearing, or latency problems in sight. I had concerns about how it would feel playing Destiny 2 in an ultrawide resolution, but the extended FOV in a 5120×1440 resolution is strangely quite satisfying.
In terms of visual fidelity, so far the PG49WCD is the most beautiful panel that we've had in the office. Running around Neomuna and being able to enjoy all of the sights and lights shining off each building was awesome. The vibrancy of this QD-OLED panel is truly unrivalled, and as someone who isn't a fan of ultrawides, if ever there was a monitor that would make me change my mind, it is the PG49WCD.
Colour Accuracy
In order to test colour accuracy we use the DataColor Spyder X Pro. We purchased this during 2022 to test ASUS' ProArt monitors, and we've continued to use it for further monitor reviews to assess how accurate they are when it comes to colours. The first result showed us that the ROG Swift covers 100% of the sRGB colour space. sRGB is commonly used with webpages to display data and information, so the fact that this OLED monitor covers 100% of this space isn't surprising, but it is still rather impressive.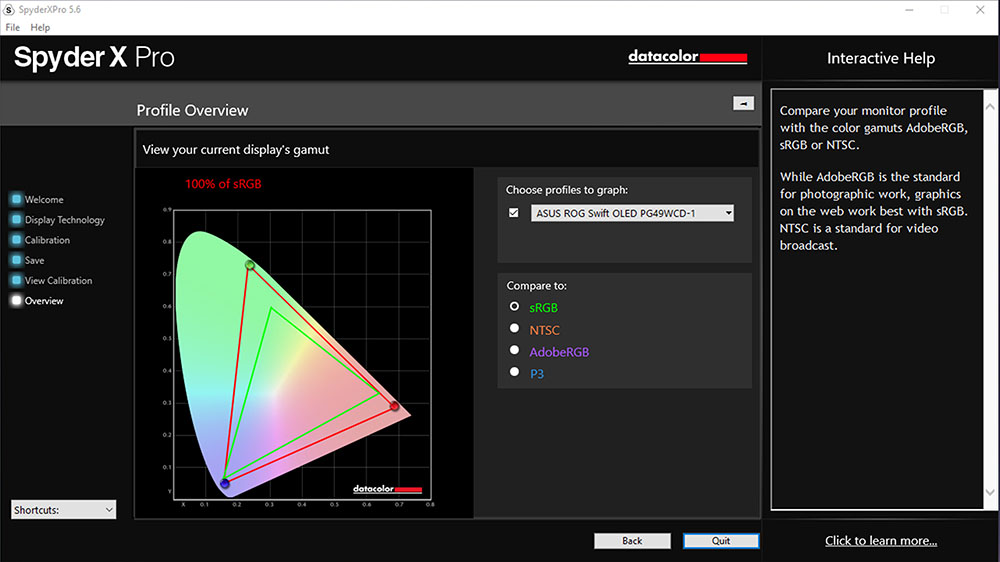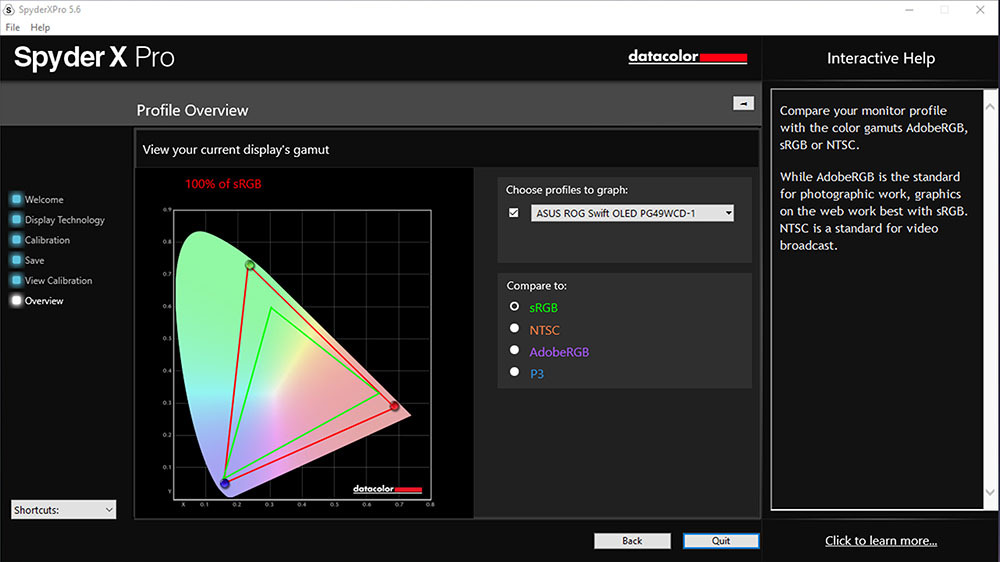 Our AdobeRGB results were still pretty impressive. Although the specs page of the ROG Swift doesn't specifically highlight AdobeRGB colour accuracy, its good to know that this monitor covers 96% of this specific space. AdobeRGB is commonly used with both video and photo editing, so this goes to show how excellent the ROG Swift would be with some colour-focused productivity applications.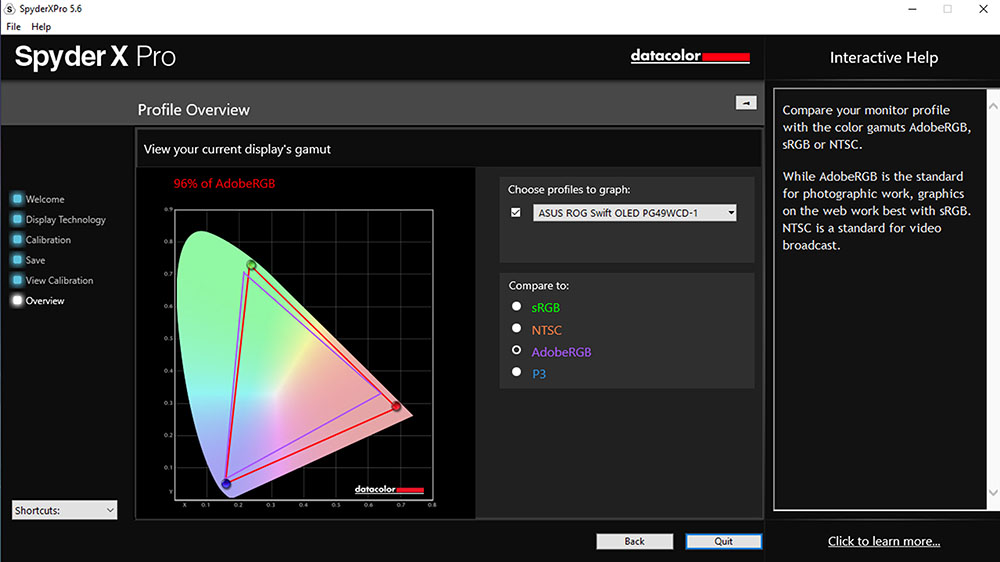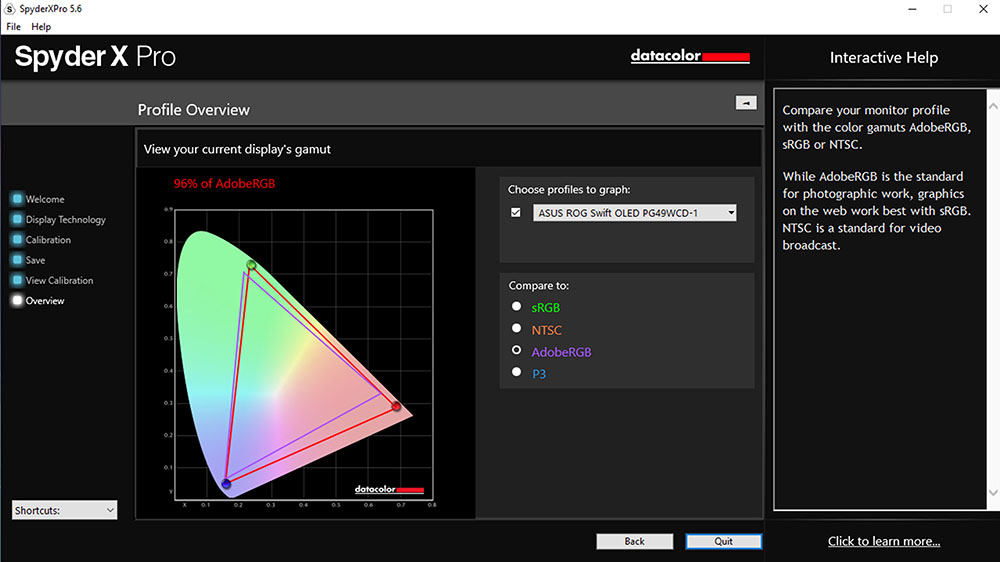 The rated accuracy of the DCI-P3 colour space according to ASUS is 99%. Our results from the DataColor calibrator show a 97% rating, which is still a very impressive result. Ultimately this isn't the 99% result that we were expecting, but I'd argue that 2% is within the margin for error, so there's a possibility that despite our result the 99% rating could still be accurate.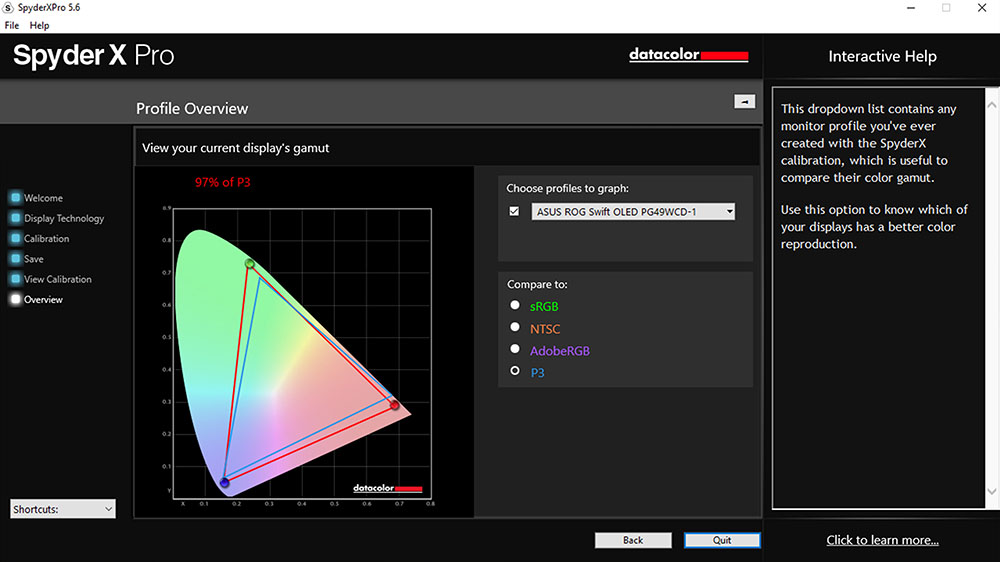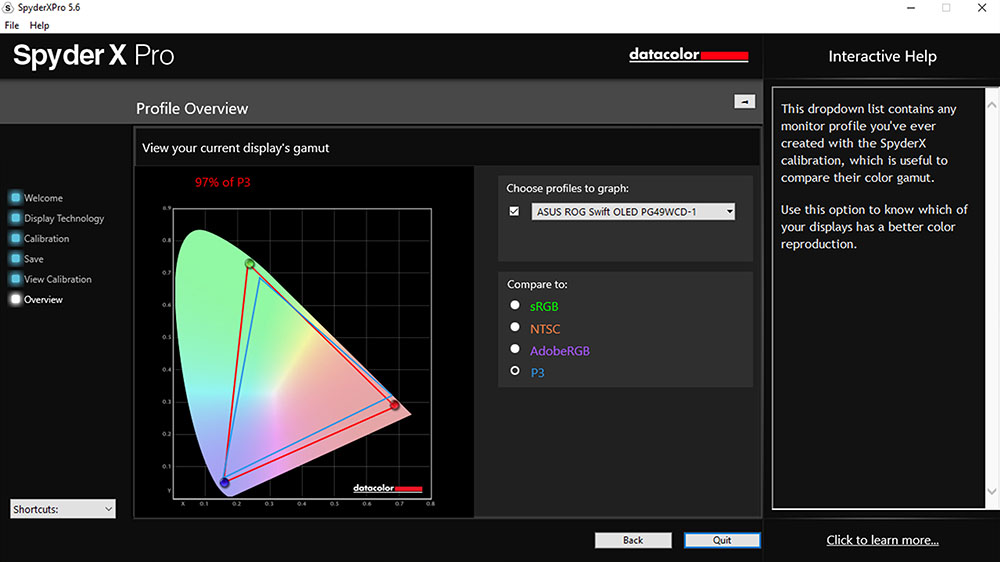 Features We Like
In this section we'll be taking a look into the various features that ROG SWIFT OLED offers. We'll be highlighting the ones that we're a fan of, and the ones that we think could do with some work.
Perfect for Gaming and Workstation Systems
The ROG Swift OLED is one of the most strongest performing ultrawides that we've ever had the pleasure of reviewing. ASUS have put a massive focus on optimising this monitor for both gamers and working professionals. On the gaming front, consumers can leverage an awesome 144Hz refresh rate, alongside a 0.03ms response time. This is further complimented by the AdaptiveSync technology that the ROG Swift offers which minimises any stuttering or tearing. This is also done regardless of the GPU that you're using, so both NVIDIA and AMD users can rejoice, as G-Sync and FreeSync is available.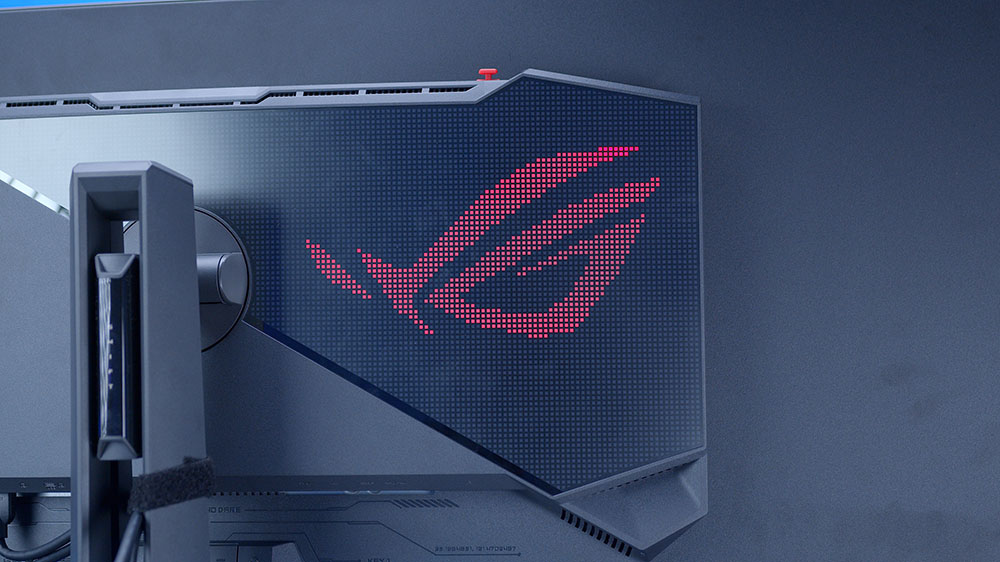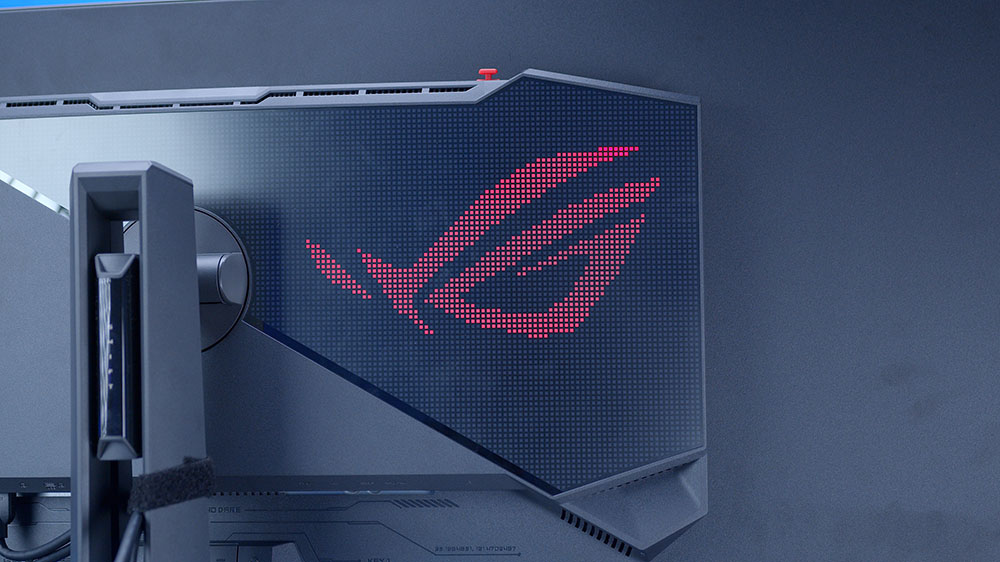 For workstation users, the ROG Swift offers 1000 nits peak brightness, which is incredibly vibrant. This monitor also offers 99% coverage of the DCI-P3 colour space, and has a Delta E of less than 2, so colour accuracy is very solid. It also features a KVM, so those with multiple devices can easily switch between them, providing a solid focus on productivity. All of the KVM settings can be controlled using the Display Widget application too.
Solid Screen Protection
The one big caveat to picking up a monitor or TV with an OLED panel, is burn-in. Burn-in is relatively common, primarily because OLED displays are very very bright. So the pixels physically burn the projection of whatever is on your screen, resulting in an after-image which can be quite distracting and often ruin your monitor experience.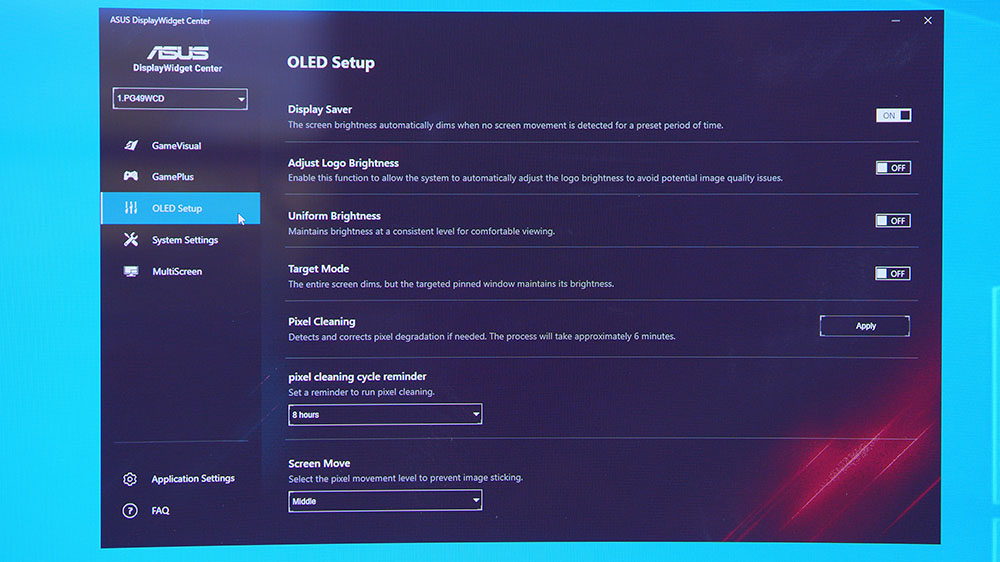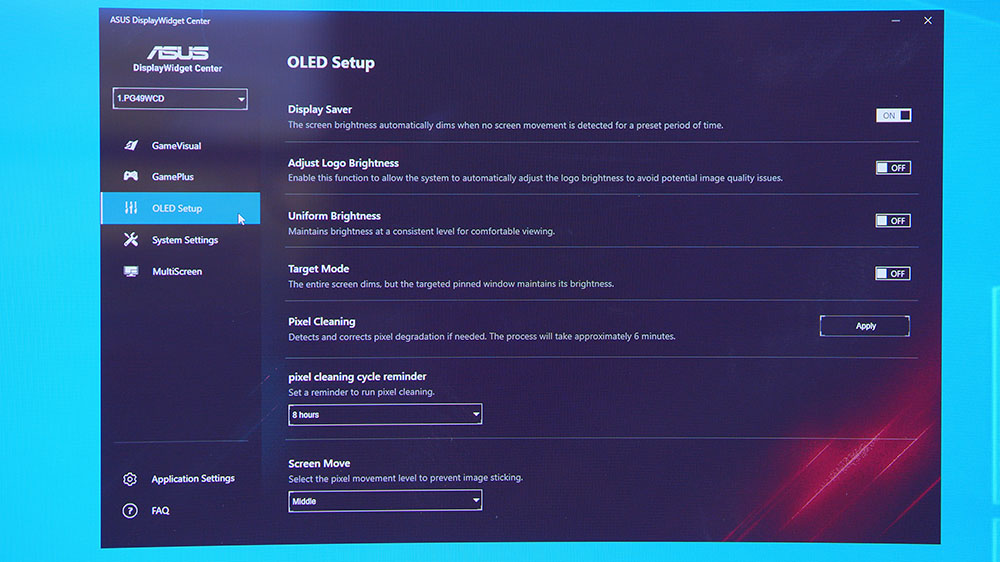 However, ASUS have developed a number of techniques both on the software and hardware front, to ensure that your OLED screen stays clean. By downloading the Display Widget Centre, consumers can toggle a number of different settings on the 'OLED Setup' panel to improve the lifespan of your screen. Things like uniform brightness, pixel cleaning, and screen move can help burn in and pixel degradation. In terms of hardware the custom heatsink and graphene panel will keep operating temperatures down, dissipating heat effectively, further reducing the effect and possibility of burn-in.
Solid IO Options
Looking at IO, consumers can have access to a number of different ports available at their disposal. In terms of display output, the ROG SWIFT offers an HDMI 2.1 and DisplayPort 1.4 port, alongside USB-C with 90W power delivery. On the other side of the IO, there are three USB ports, along with S/PDIF out, for those with speaker setups.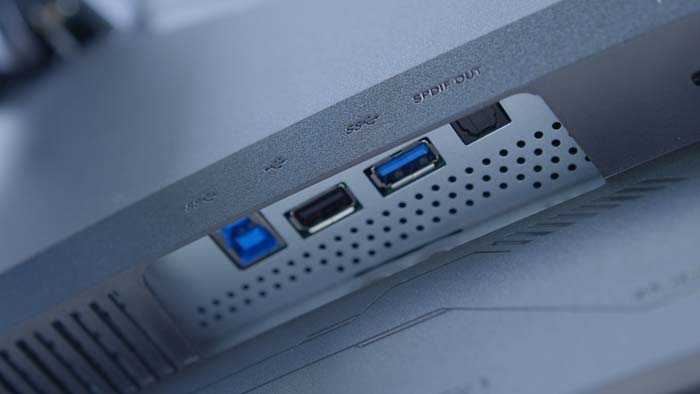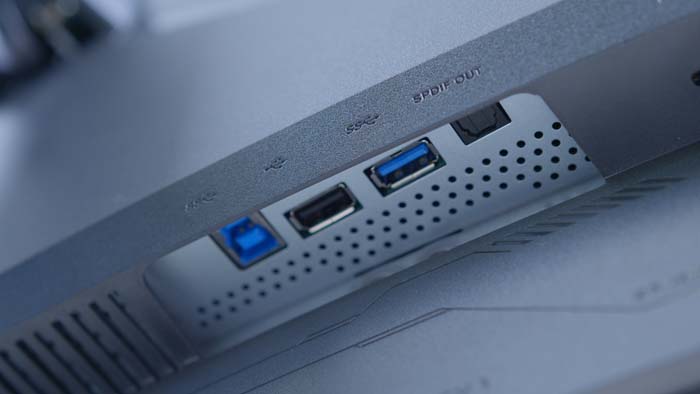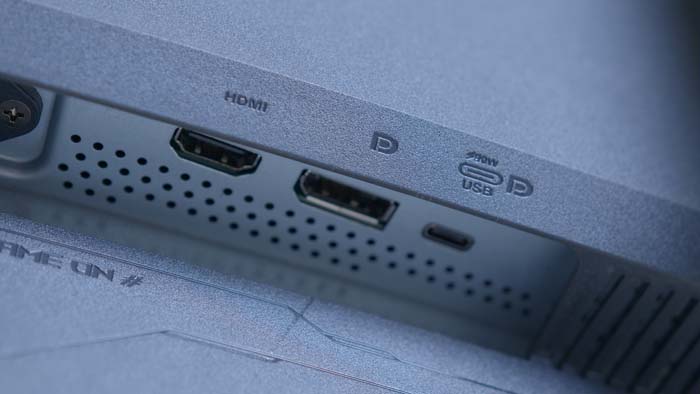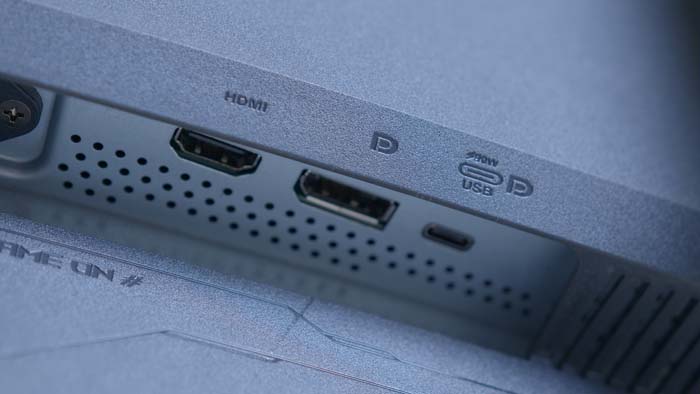 Versatile OSD
Behind the ROG logo located at the front of the display, consumers will find an OSD joystick. This is used to navigate the monitor's various settings, allowing you to configure brightness, game settings, and more. The OSD is relatively simple to navigate and is worth utilising for those looking to get the most out of this monitor.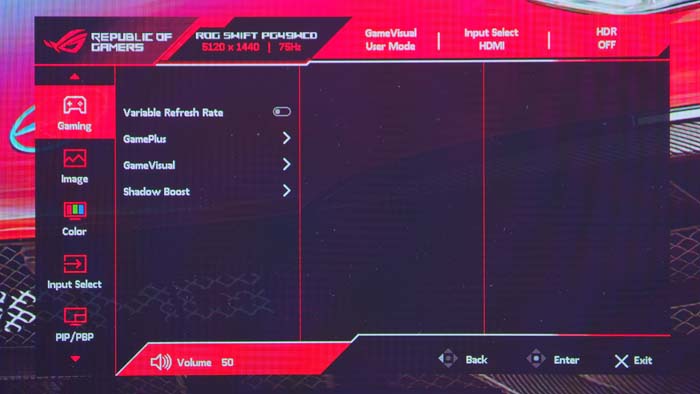 The OSD joystick is a four-way switch that allows you to fully navigate the menus and settings that the PG49WCD offers. There are also two buttons located on the left and right side of the joystick that are used to power it on, and change input devices.
Features We Don't Like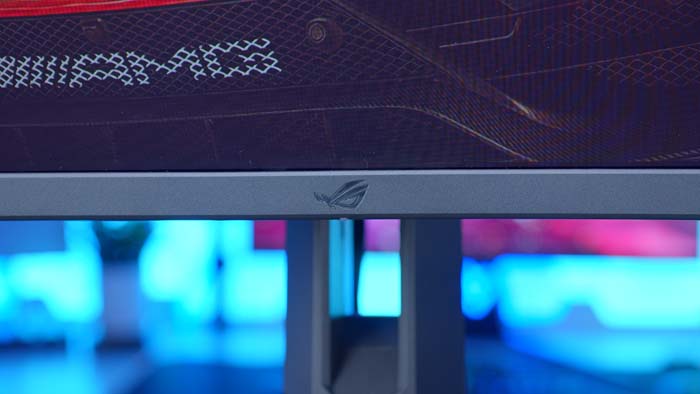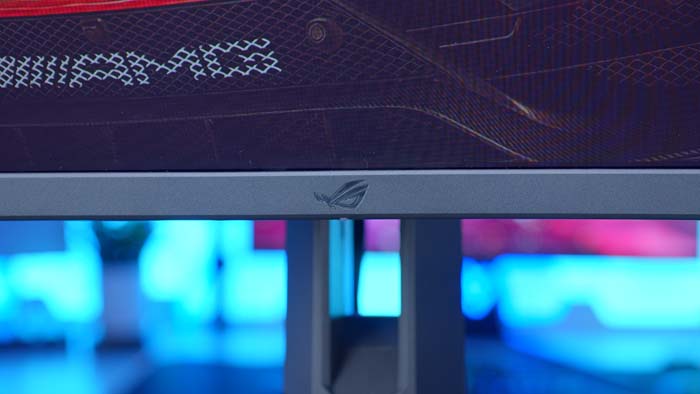 For this reason, ultrawide gaming can be rather hit and miss. Those looking to pick up an ultrawide display will want to research their favourite games to ensure they scale up to an ultrawide resolution.
Conclusion
ASUS ROG SWIFT OLED PG49WCD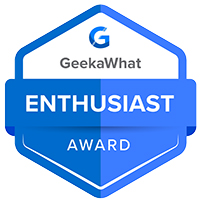 Product Name: ROG SWIFT OLED PG49WCD
Brand: ASUS
Features

Design

Performance

Value For Money
Summary
The ROG Swift OLED PG49WCD is the first super ultrawide that has made me significantly reconsider my opinion on them. While I do think the use-case for this particular display, and other ultrawides is still relatively niche, the performance and visual quality that the Swift OLED provides is practically unrivalled, and will be a massive determining factor for those considering shifting to an ultrawide for their setup.
The obvious elephant in the room that needs to be addressed is cost. This display comes in with an MSRP of $1499.99, which is going to be rather rich for the vast majority of consumers. But I somewhat feel that the price is justified. There are very few, if any OLED displays that provide a solid user experience for consumers on opposite sides of the fence (gaming and productivity). And considering you're getting access to 49 inches of crisp and vibrant OLED pixels at a 1440p resolution, I can't really see the price being much cheaper. This does mean that budget and mid-range users aren't really being catered to here, but I don't think this is the demographic that ASUS are targeting.
To summarise, consumers that are looking to pick up the best of the best ultrawide on the market, the Swift OLED so far, is our definitive recommendation. This monitor offers gorgeous visuals, tight response times, and plenty of quality of life features that make it perfect for workstation users that have just the one monitor. But we would urge consumers to keep in mind that one massive monitor isn't often better than multiple smaller ones, especially when considering price, alongside the fact that ultrawide gaming isn't massively supported in all titles.
Pros
✅ Strong multifaceted workstation and gaming performance.
✅ Incredibly vibrant and rich display.
✅ Huge amount of screen real estate for one screen.
Cons
❌ Very very expensive.
❌ Ultrawide gaming isn't massively supported in modern titles.
❌ ROG panel on the rear is kind of pointless.