Introduction
When the bulk of consumers were working at home during a pandemic, the need for a webcam exponentially surged worldwide. Zoom and Teams calls became normality for the majority of people, making it worthwhile to pick up a good quality webcam with prolonged usage.
But for those that aren't quite familiar with the webcam scene, it can become frustrating and difficult to make a choice on a specific product when there's a plethora of options on the market. So what are your options if you're looking for a 4K webcam but you're not wanting to spend a fortune?
Well today we'll be taking a look at that exact description with a full review of the Verbatim AWC-03 4K webcam. We'll be delving into the features and design, whilst looking at other alternatives on the market to see how it compares.
Buy the Verbatim AWC-03 Ultra HD 4K Webcam on:
Are 4K Webcams Niche?
In short, yes. Although the amount of people that have bought webcams for a multitude of different uses has increased over the years, the majority of these are likely to be 1080P. Most consumers that need a webcam for conferencing or just to call friends won't need to spend the money for 4K. This is primarily due to the lack of app support, but also because of the price.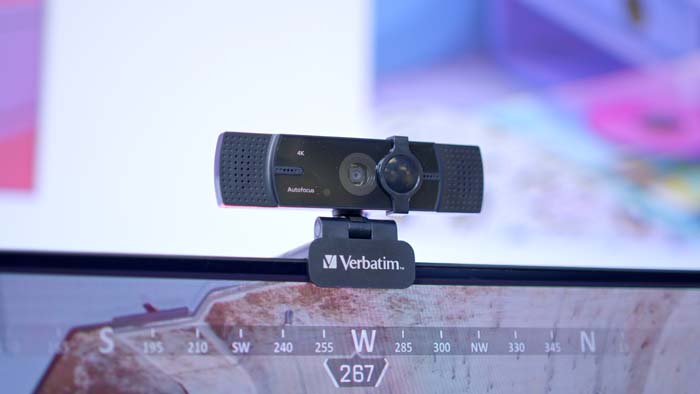 And, arguably, if you're looking to create 4K content on regular basis, you've likely made the effort to find a better and more permanent solution. Although webcams can be powerful, tend to suffer with exposure issues, bitrate, and balancing of colours. This is something that effectively disappears when you pick up a dedicated video camera with a good lens.
On top of the issues that can come with cheaper designs, the amount of users that actually have a 4K screen and an application that supports higher resolution streaming or calling is very low. This makes 4K video calling somewhat redundant if you're not really able to enjoy the luxury of a sharper resolution. Although this won't be the case in all scenarios, most consumers that need a webcam generally won't need one that can output 4K, and even if they can, whether your computer supports this is an entirely different question in of itself.
Verbatim AWC-03 Design & Aesthetics
From the outset, Verbatim has created a very strong and robust stand that doesn't feel flimsy. The clip that mounts on a monitor or desk is very solid, and adheres well once you've attached it correctly. I think the metal design is also quite clever as well, providing almost a counter-balance pushing the clip of the webcam further into the monitor. This means the webcam is less likely to fall if it wasn't mounted properly.
The webcam itself offers a relatively cheap and plastic design which I'm not a huge fan of. At a brief glance this webcam looks very similar to one of Logitech's most popular webcams – the C920. But despite the copy-pasted look, Verbatim has opted for a rather plain design. This is ultimately down to the fact that this webcam is geared towards businesses and more professional outlets.
However, I feel it wouldn't hurt to have an integrated ring light to help with some of the colour-balancing issues, as the extra lighting will aid in a multitude of situations. Overall I think the design of the AWC-03 is perfectly fine, there isn't anything spectacular about it. The metal mount for displays is very solid and will adhere to most displays without any issues. I would prefer the chassis and shell of the webcam to be metal, but as the webcam is generally a cheaper buy, this isn't a deal-breaker.
Verbatim AWC-03 Features
Despite the small size of this 4K webcam, there's plenty of features on offer for consumers to sink their teeth into. We've covered each of the key features below with an in-depth discussion!
4K UHD Resolution
The main standout feature of this webcam is that it can handle a 4K resolution at 30 frames per second. If you have an application that can handle 4K, the AWC-03 is able to out put a high resolution consistently with minimal stuttering or frame drops. Admittedly unless you have the right lighting, the picture quality can be somewhat fuzzy.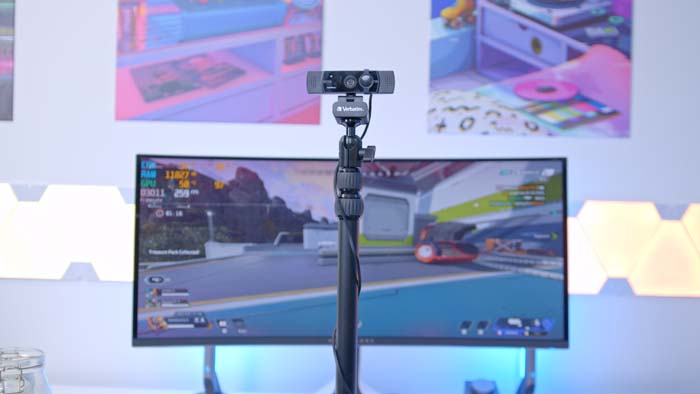 Applications that can handle a 4K resolution do recognise that this webcam output 4K which is a good sign, but the quality didn't feel much better compared to 1080P. This was tested on a 4K monitor with OBS to ensure that there wasn't a difference, but it wasn't overtly clear. I believe the overall quality is fine, but it doesn't feel like true 4K.
Omnidirectional Microphones
If you're the kind of consumer that doesn't want to buy an extra microphone or a headset, you can make use of the omnidirectional design featured in this webcam. The microphones feature noise-reduction technology that can cancel out unwanted background noise. This makes this webcam great for when you're working at home, or in an office on a conference call.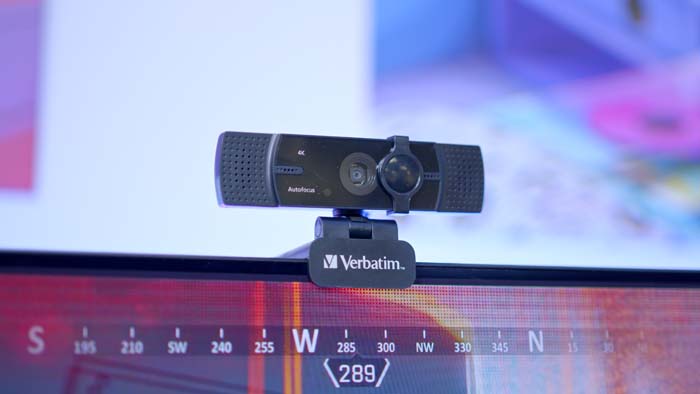 As a small segue, I think the microphone is perfectly fine on this webcam. I have no real criticisms, the sound quality is perfectly fine, and the noise cancellation seems to work as advertised too. Ultimately you're not paying for supreme quality here, but more for the camera resolution.
Versatile Viewing
A major problem when picking up a webcam is that they often tend to be stiff and not provide much when it comes to viewing angles. The AWC-03 has plenty of leeway in movement giving you the ability to tilt 120 degrees vertically, and rotate a full 360 degrees. This gives you plenty of space in a smaller office or room where you're video calling.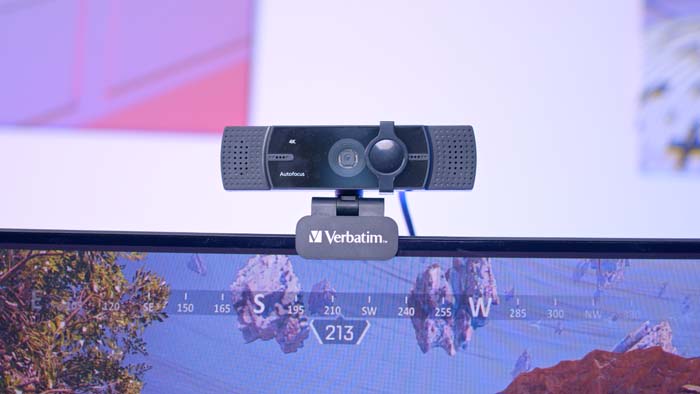 Speedy Autofocus & Auto White Balance
The autofocus of the AWC-03 is blazing-fast. This ensures that your face remains clear on camera even when moving quickly. Once your face is skewed, the AWC-03 quickly readjusts putting your face back in focus extremely fast. Although the autofocus is very good, the auto-white balance isn't quite able to handle weaker lighting conditions.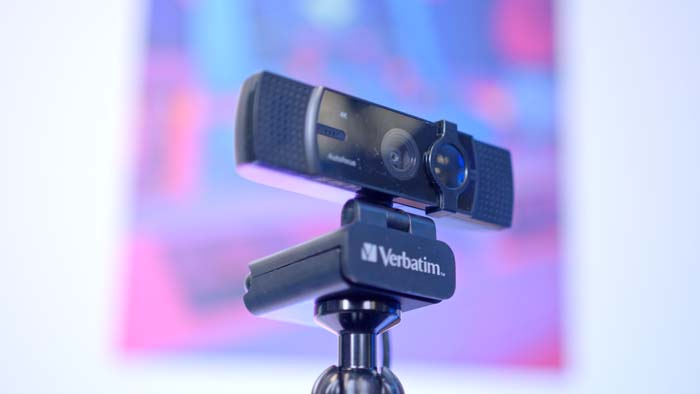 Colours look overexposed and underexposed at the same time. Items in the background are much darker, whilst items in the foreground are much brighter, not quite representing their natural colour. I was somewhat disappointed with the image adjustment of this webcam, and I would recommend using a ring light in order to create better conditions for the webcam. This will hopefully minimise the amount of exposure that the webcam can't cope with.
Side-by-Side Comparison
In order to test the image quality of the Verbatim 4K webcam we decided to compare it to the 1080P AWC-02. The AWC-02 comes with a ring light and only records in 1080P, but as you can see from the images below, there is a clear difference when better lighting is involved.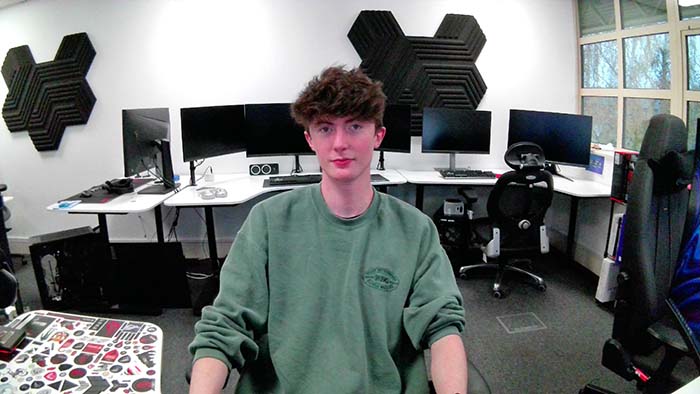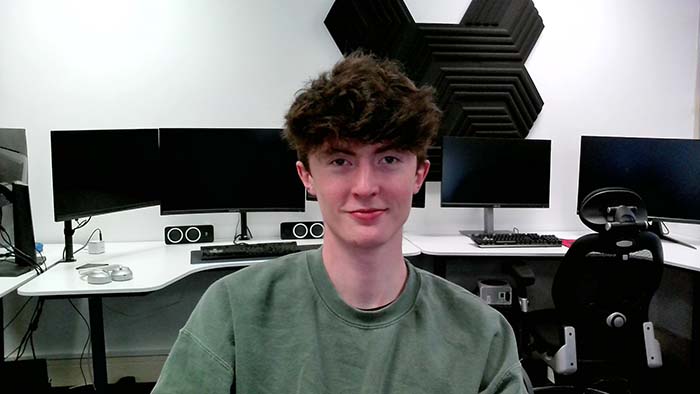 One of our editors for the GeekaWhat YouTube channel (Dan), kindly did a test for us with both of the webcams. As you can see from the images above, the 1080P webcam provides a much nicer image overall. The lighting from the AWC-02 makes the background and foreground look less exposed. Although you're getting a smaller cropped image, the colours are more well-rounded.
The AWC-03 image clearly has exposure issues, where elements of Dan's face look pinker and brighter. The image is obviously wider giving a larger view of the GeekaWhat office in the background, but at the cost of overall quality. The background also has issues where the image looks much fuzzier in comparison. I think this gives you a clearer view as to the image and recording quality of the AWC-03, and for those looking that prefer the AWC-02 we recommend checking out Verbatim's website for all of their products.
Alternatives
The Verbatim AWC-03 comes in at a great price for a 4K webcam, but there are many other alternatives out there that can offer similar performance at the same price. We've rounded a few alternatives that are excellent for conference calling, streaming, and a variety of other use-cases.
Logitech Brio Stream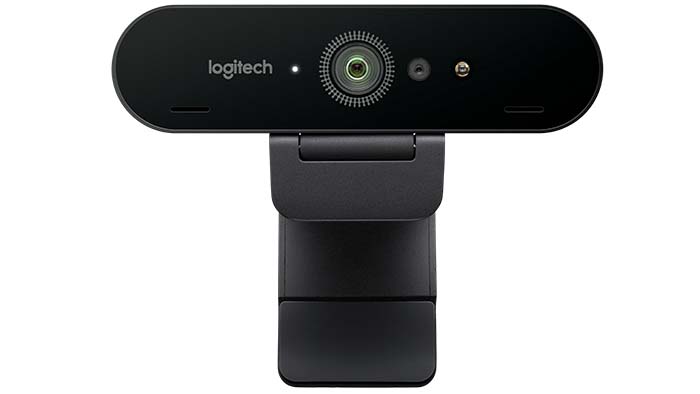 Logitech's Brio Stream camera is an excellent pickup for those that want a true 4K experience either for streaming or conference calls. Logitech's RightLight3 with HDR provides accurate image adjustment making it easy to stream or record in any lighting. The Logitech Brio also makes it easy to record high framerate content with in a multitude of lighting conditions. Framerates can reach highs of up to 90FPS with streaming and video recording sitting at 30FPS with minimal stuttering. This camera is somewhat expensive yes, but you're definitely getting what you pay for!
Buy the Logitech Brio on:
Insta360 Link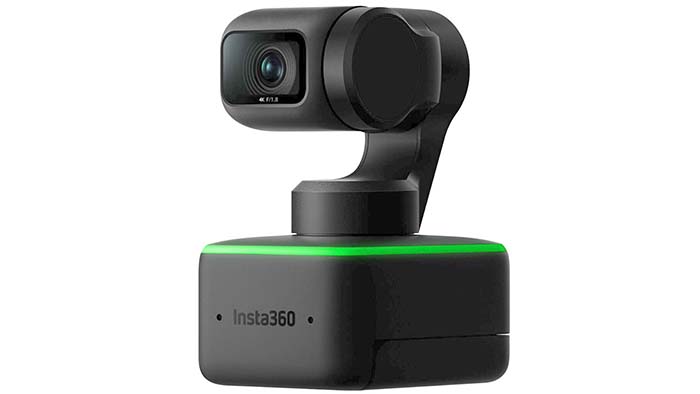 The Insta360 Link is an AI-powered 4K webcam designed to bring crystal-clear 4K to your setup for live streaming, calling, and recording. The Insta360 Link also has an exceptional sensor capturing life-like detail whilst offering a high dynamic range providing excellent colour and shadow balancing. The Link also has a Phase Detection Auto Focus designed to bring items into focus at blazing-fast speeds. This can be done exceptionally quickly, and keeps your video looking natural with the auto exposure. The Insta360 link is an incredibly unique design and is well worth the bigger price tag.
Buy the Insta360 Link on:
Elgato Facecam Pro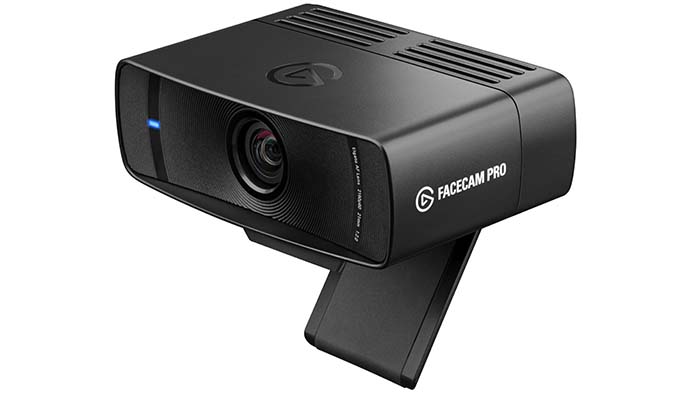 For our final 4K webcam, we've picked out Elgato's Facecam Pro. The Facecam Pro is perfectly designed for those that want to stream at 4K60 without the hassle of having to setup a camera with a multitude of cables. The Elgato autofocus lens allows you to catch every detail across the frame, whilst providing lightning-fast autofocus so that stream or recording won't miss out on detail for a prolonged amount of time. The Facecam Pro also has plenty of customisation options which can be fully configured within Elgato's Camera Hub giving you access to zoom, tilt, contrast, focus and more.
Buy the Elgato Facecam Pro on:
Conclusion
Verbatim AWC-03 4K Webcam
Product Name: AWC-03 4K Webcam
Brand: Verbatim
Video Quality

Features

Design

Value For Money
Summary
Verbatim's AWC-03 4K webcam is a cheap design with an OK set of features. There are some positives I've found in the included lens cover to help with privacy, and the included monitor mount is sturdy enough that it adheres well to the top of a display. And although the microphone wasn't particularly amazing, I think it will be perfectly fine for conference calling. My entire issue with this webcam is the quality of recording, which is effectively the main makeup of its design.
Recording at 1080P 60FPS is fine overall, but the image quality seems relatively washed out making colours under or overexposed. And without any extra lighting to help with the poor colour-balancing, this is made even worse. Bumping up the resolution to 4K doesn't particularly help, colours don't really feel sharper, if anything the image looks fuzzier at times. Ultimately this was just my experience, and other users may find this better, but I just feel disappointed overall. Despite being disheartened, this webcam has some OK features, and is very cheap for a webcam that can output 4K. I think if you're looking for a relatively higher quality webcam compared to a cheap off-brand product, the Verbatim AWC-03 will give you that experience. But don't expect a true high quality, 4K experience with a webcam priced this low.
Pros
✅ White-balance and auto focus are great.
✅ USB 2.0 interface makes this webcam viable for many users.
✅ 1080P60 feels very smooth.
Cons
❌ No included software to configure colours or focus.
❌ Exposure and colour issues.
❌ Microphone quality is mediocre.