Introduction
Nvidia's new RTX 4000 series has arrived, and the first card releasing is their flagship Founders Edition 4090. We've been anticipating the release of this beast and now we can finally talk about how insane these new cards are. Its been very busy in the GeekaWhat offices of late, and we've been working day and night to benchmark these new GPUs so that we can see how they hold up compared to the competition and previous generations.
And today, I've got a rather interesting SKU from MSI to introduce you to. Meet the MSI RTX 4090 Suprim Liquid X. This card sports the same hardware as the Founders Edition 4090, with a slightly improved clock speed and a liquid cooled design. We don't tend to get many liquid cooled GPUs in the office, so it was exciting to get this across my desk to take a look at it. In this review, we'll be breaking down the architecture and looking at the very different but hopefully improved design, along with some all-important benchmarks towards the end.
Buy the MSI RTX 4090 Suprim X Liquid on:
Suggested Article: Nvidia GeForce RTX 4090 Review (Founders Edition Benchmarks)
Architecture
All of the new RTX 4000 cards are based on the ADA Lovelace architecture, bringing a massive performance uplift coupled with improvements to software and hardware that make these new cards definitely worth picking up. At the forefront of the design, we've got big changes to DLSS and Ray-Tracing technology. In addition, efficiency improvements allow you to use current-gen PSUs without having to upgrade to the PCI-E 5.0 standard or increase your wattage.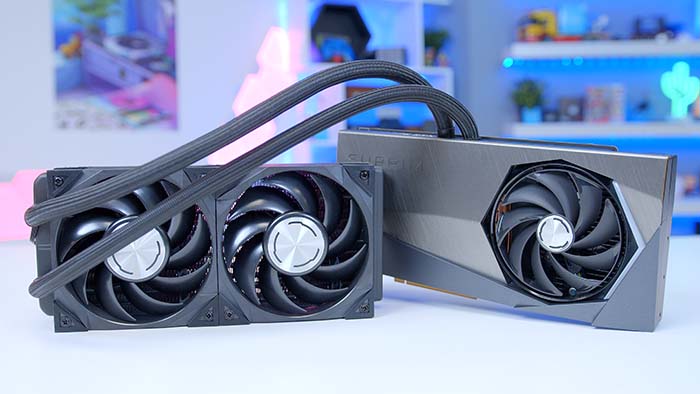 The biggest change that we've seen is the drastic improvement to DLSS. Nvidia is now using DLSS 3.0 on the new RTX 4000 cards and boy does it increase frame output! Besides the overall improvements to the resolution scaler that increases your average frames, the Frame Generation integration is mind blowing. Nvidia has trained their AI to be able to predict 2 out of 3 frames and redraw them whilst your game is running in real-time. Doing this offers massive improvements to gameplay and allows you to experience 4K with Ray-Tracing maxed out, reducing the significant performance overhead.
Speaking of Ray-Tracing, we've also seen an increase in the amount of RT cores for the 4090, which is the driving force of the Ray-Tracing capability within games. Games have never looked better with the introduction of Ray-Tracing, and the 4090 is able to handle the global illumination and lighting techniques used to increase the visual fidelity of your favourite titles. I honestly can't wait to see what consumers do when we get access to the RTX Remix technology, which will bring Ray-Tracing to older DX11 and DX10 titles.
The architecture improvement is definitely significant, and many consumers were worried we'd end up in a similar situation to the RTX 2000 cards, where they were very much 'all bark and no bite'. But this simply isn't the case with the 4090, and I imagine many consumers will want to make use of the big changes to the new 4000 series of GPUs.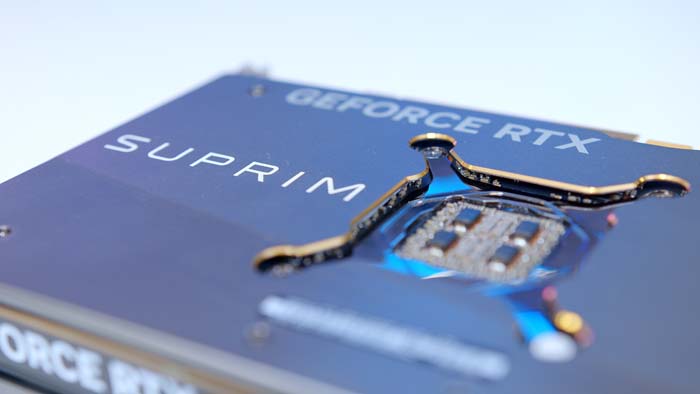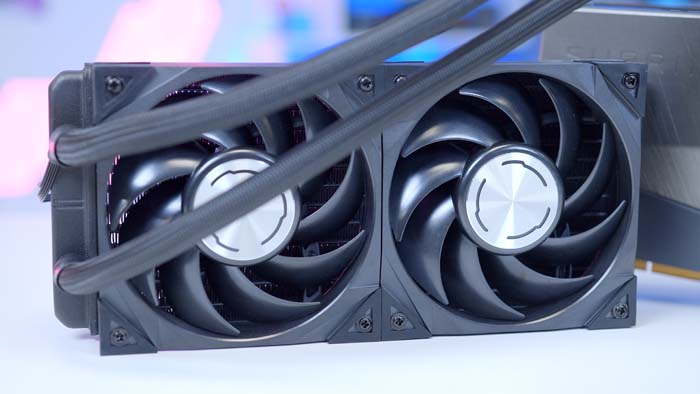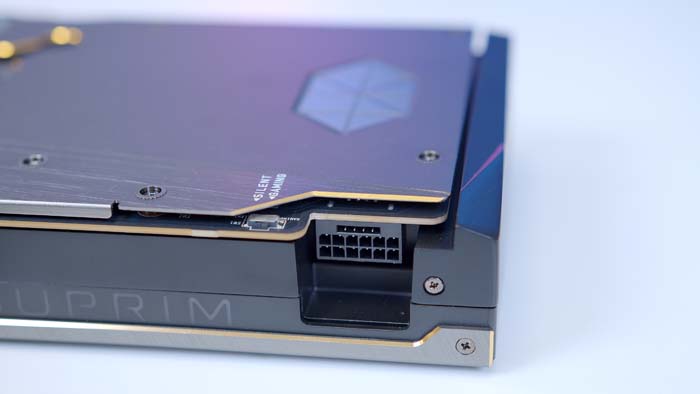 Specifications
The RTX 4090 has very impressive specs that much can be said. So we've provided a table that highlights the key hardware differences between the 4090 and other cards on the RTX 3000 architecture.
Spec
RTX 4090
RTX 3090Ti
RTX 3090
RTX 3080Ti
Video Memory
24GB GDDR6X
24GB GDDR6X
24GB GDDR6X
12GB GDDR6X
Memory Bus
384-bit
384-bit
384-bit
384-bit
Core Clock Speed
2.23GHz
1.86GHz
1.7GHz
1.37GHz
Boost Clock Speed
2.52GHz
1.67GHz
1.4GHz
1.67Hz
CUDA Cores
16384
10752
10496
10240
Power Consumption
450W
(Founders Edition)
450W
(Founders Edition)
350W
(Founders Edition)
350W
(Founders Edition)
RT Cores
3rd Generation
2nd Generation
2nd Generation
2nd Generation
Tensor Cores
4th Generation
3rd Generation
3rd Generation
3rd Generation
PCI-E Generation
PCI-E Gen 4
PCI-E Gen 4
PCI-E Gen 4
PCI-E Gen 4
Design
Upon opening up the box of the MSI Suprim Liquid X 4090, I was immediately taken back to the days of the old 1000 series cards. This particular model reminded me of a Founders Edition 1080Ti, but with a slightly shorter and wider design. The angular accents on the card let me reminisce about a time when graphics cards were much less powerful, but equally impressive. However, I won't let nostalgia affect my opinion too much!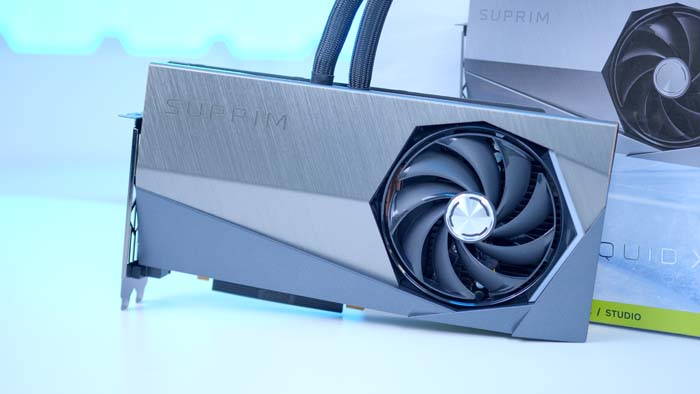 Despite the GPU itself looking like a blast from the past, the design is very minimalist and doesn't offer much in terms of aesthetic. If you're a fan of brushed metal designs, you'll definitely prefer this MSI 4090, but if you're looking for something more flashy I'd hold out for a non-liquid Suprim X, or perhaps an ASUS ROG Strix design. It would be nice to have some more RGB other than the chevron on the front, which we've seen from other Suprim X designs (specifically on the 3000 series range). But I imagine the design choices are to potentially improve thermals, especially as this is a liquid cooled card.
Overall, I'd say I'm not particularly impressed by the aesthetic of the Suprim Liquid X 4090 as it's a very plain looking card. But if you prefer a more minimalist design, this card will be perfect for a simplistic looking build.
Performance
As this GPU is a liquid cooled variant, I thought it would be best to discuss the thermals to see if the liquid cooling actually improves the card. We haven't experienced any thermal throttling from alternative designs, but MSI could potentially come out on top here with a quieter card that has better thermal output.
The MSI Suprim Liquid X 4090 had absolutely excellent during our testing. We averaged around 49 degrees, and our max temperature only hit 59. This is extremely impressive, and if we decided to overclock this card for more performance, the AIO attached to the GPU is perfect to move heat away as quickly as possible while maintaining optimal performance. And you'll see from the benchmarks below that this definitely aids performance and frame output.
As a small note, Nvidia hasn't upped the power consumption of the new cards, but a 1000W PSU or higher will be ideal in order to deal with the power requirements of this card. We've covered quite a few PCI-E 5.0 power supplies such as the Thermaltake GF3 or MSI MEG Ai1300 which will pair nicely with this GPU!
Moving onto the overall performance, this card outshines every other GPU we've tested in recent years. Nvidia said that these cards would double your performance, and they really weren't lying. Pretty much every title saw a two times improvement in average frames with DLSS 3.0 enabled and Ray-Tracing on at 4K, with some titles going even further to provide four times improvements. The 4090 does not pull punches and absolutely blew every other card out of the water when it comes to gaming and workstation benchmarks.
We've provided some benchmarks below for a number of games so that you can see how the MSI Suprim Liquid X 4090 performs both in terms of its thermals, as well as the kind of frames you can expect with an equivalent system. All of the benchmarks that we do can also be found on our YouTube channel Benched, which is where you'll find gameplay runs that use a variety of different CPUs and GPUs.
COD Warzone
In COD Warzone, the RTX 4090 stretched its legs here showing how capable it is at 4K. We were able to reach an astonishing 202FPS on average without dropping many frames. Warzone is another game where all the frames matter, and a smooth experience is pivotal for a win, and with over 200 frames, a battle royal win is definitely possible.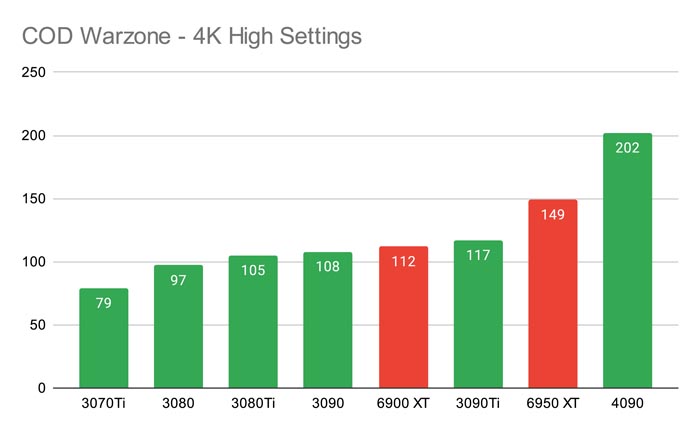 GTA V
In GTA V, the MSI Liquid 4090 further impressed us with a very high average framerate of 187FPS. GTA tends to drop frames in areas of high intensity, but the 4090 held its own and pushed through the poor optimisations and gave us a very promising result overall.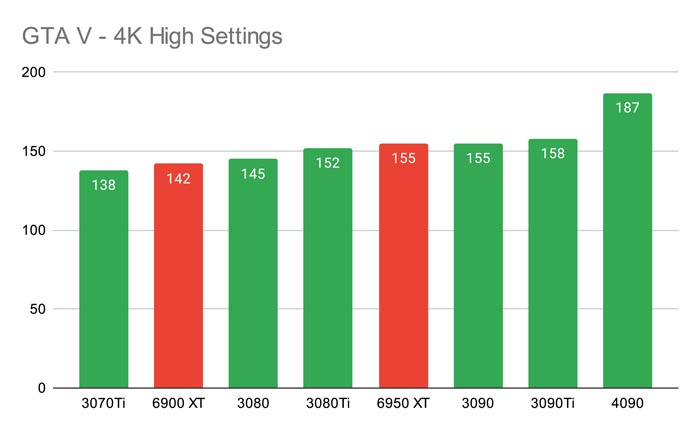 Fortnite
In this popular battle royale title, we dialed back the settings to low in order to see how many frames the MSI RTX 4090 could output. We test all of our GPUs in Fortnite at 1080P Competitive to demonstrate the kind of performance you would expect if you were playing this game in an Esports setting. The 4090 of course outshines all of the competition, reaching an average framerate of 337, which is more than enough to give us an advantage in the game.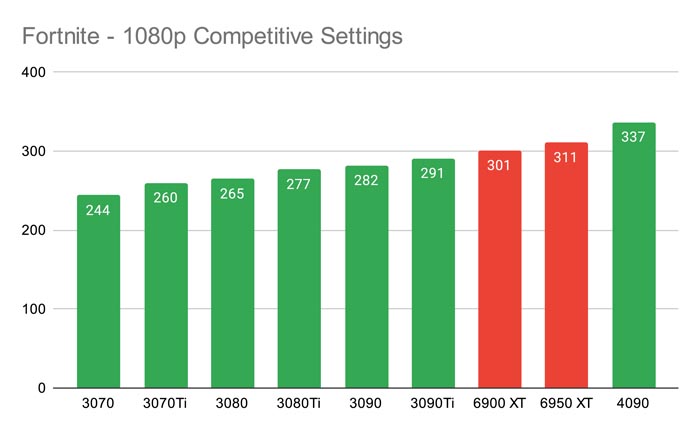 F1 2022
In F1 2022, we enabled the new DLSS 3 software and the MSI 4090 absolutely flew, giving us a framerate of 239 on average. This blew every other card out of the water, allowing us to follow our racing line smoothly and accurately.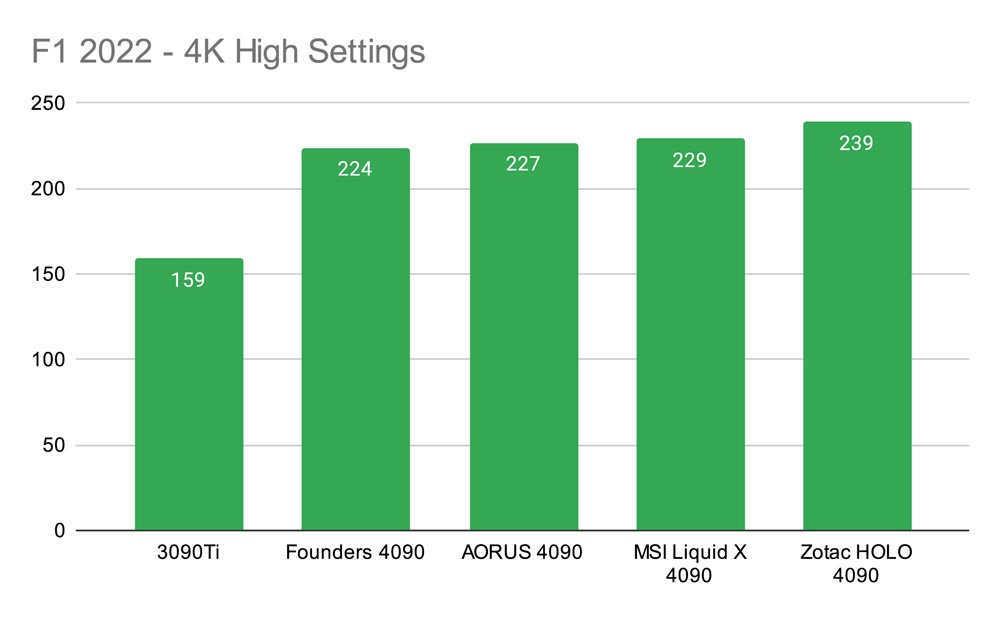 Marvel's Spiderman Remastered
Spiderman Remastered is another title which has pretty significant performance overhead on your GPU, but the MSI RTX 4090 absolutely smashed through this. With DLSS and RTX enabled, we reached a framerate of around 123. This is more than enough to swing through the city without any problems.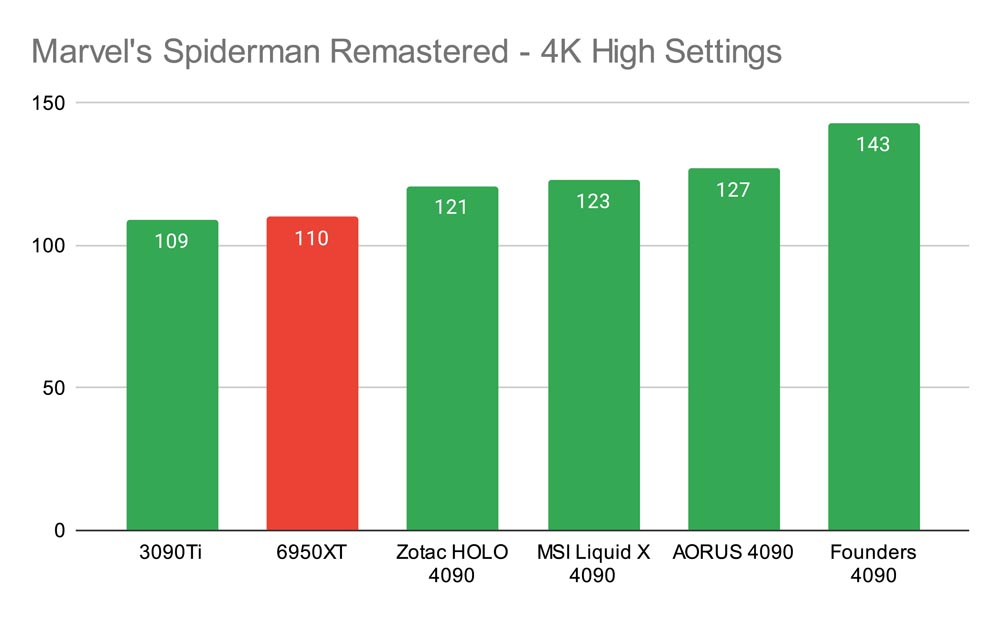 Cyberpunk 2077
In Cyberpunk 2077, we turned on DLSS and Ray-Tracing to experience the high visual fidelity and demonstrate the power of the new DLSS architecture. We were able to reach around 148 frames on average, which is an awesome result that let us play without any hindrances.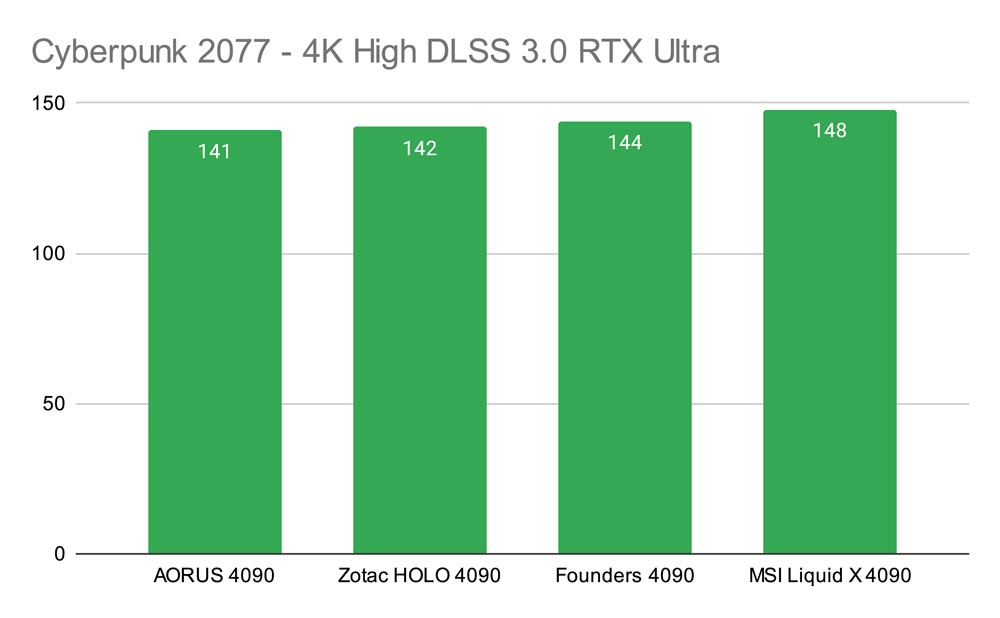 Conclusion
MSI RTX 4090 Suprim Liquid X
Product Name: RTX 4090 Suprim Liquid X
Brand: MSI
Features

Design

Performance

Value For Money
Summary
MSI's RTX 4090 Suprim Liquid X is an awesome AIB card that improves performance thanks to the liquid-cooling AIO attached to the board. The AIO both improves thermals and also keeps your system nice and quiet by minimising any annoying buzzing. I'm not a huge fan of the look of the card as it reminded me of the older 10 series cards, but upon further inspection, this GPU is effectively just a big silvery-grey block. However, if you like minimalist style GPUs, then this will be a great pickup. Arguably, this card is more designed for performance over aesthetic, which is why the design isn't a deal-breaker for us. This card is definitely expensive, and is a fair bit pricier than the Founders Edition card, but in this instance you definitely get what you pay for here, offering up incredible performance in both 4K and Ray-Traced titles.
Pros
✅ Incredible performance at 4K with Ray-Tracing.
✅ Optimal thermals provides better performance.
✅ RGB chevron is a nice touch.
Cons
❌ Very expensive.
❌ Might not have space in your case for a second AIO.
❌ Doesn't offer much in terms of aesthetic.