Introduction
NZXT has been one of the most popular PC case manufacturers for some time, and over the last few years we've covered their newest chassis extensively over on our YouTube channel. Over the last 12 months, we've seen NZXT shift their direction slightly with new product ranges and their design philosophy.
Suggested: NZXT Function MiniTKL Review
Meet the H7 range of cases. These cases give users some extra choice by providing the premium feel that comes with NZXT products, but with different options each aimed at different consumer needs.
This new range improves upon NZXT's previous generation (the H710 and H710i) quite significantly, adding a plethora of new features into the mix. In this review we'll be looking at the H7 Flow which puts airflow at the forefront of its design, for optimised cooling and best case scenario temperatures.
Buy the NZXT H7 Flow on:
NZXT H7 Line-Up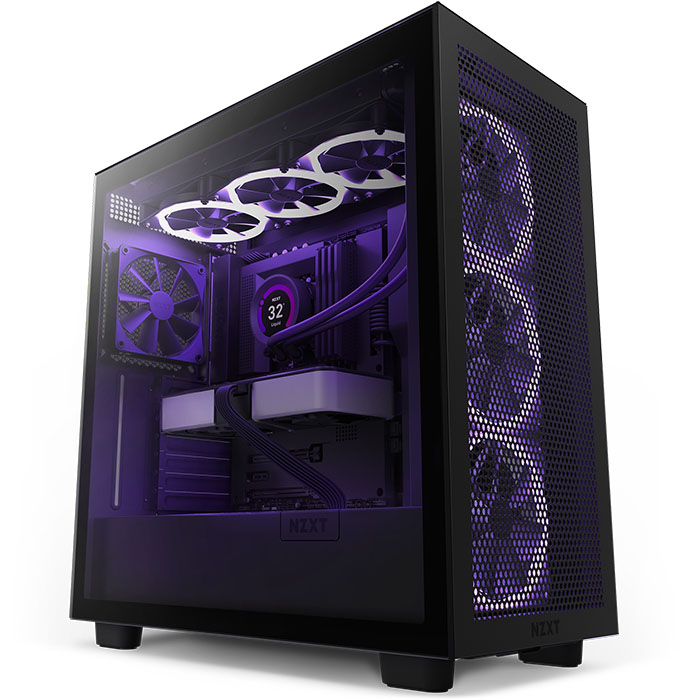 The H7 Flow fits quite nicely into this range of cases, and is relatively well positioned in the market too. The design premise of the H7 Flow – superior airflow. And generally, it hits this goal relatively well. This case brings another option for PC builds wanting a case that gives them quite literally some 'breathing room'. It offers a similar aesthetic to the base design H7, but with some perforations on the front and top.
Taking into account the MSRP, all of these cases are definitely geared towards a higher-end market though, compared to the likes of the Corsair 5000 series, these look to be a good value proposition. All three cases in the H7 line-up look to offer a range of features and provide a high-quality aesthetic and design.
| | | | |
| --- | --- | --- | --- |
| | H7 Base | H7 Flow | H7 Elite |
| Form Factor | Mid-Tower | Mid-Tower | Mid-Tower |
| Max CPU Clearance | 185mm | 185mm | 185mm |
| Max GPU Clearance | 400mm | 400mm | 400mm |
| Motherboard Support | Mini-ITX, Micro-ATX, ATX & E-ATX (Up to 272mm) | Mini-ITX, Micro-ATX, ATX & E-ATX (Up to 272mm) | Mini-ITX, Micro-ATX, ATX & E-ATX (Up to 272mm) |
| MSRP | $129.99 | $129.99 | $199.99 |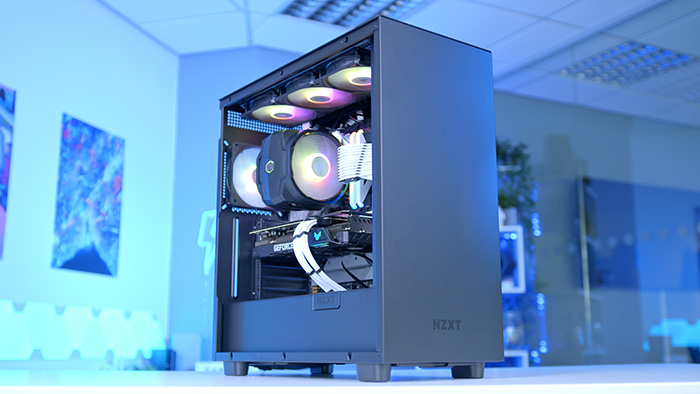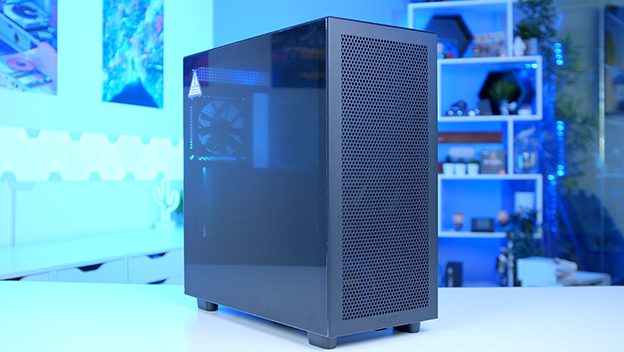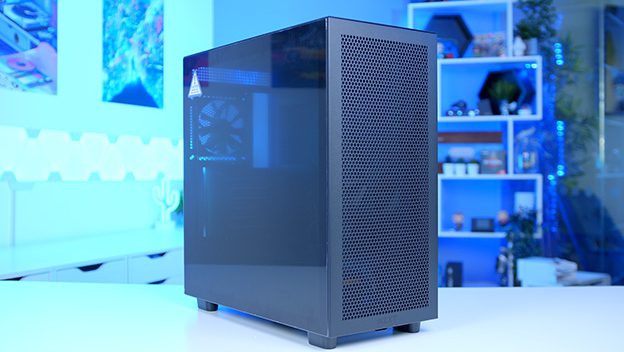 H7 Flow VS H710i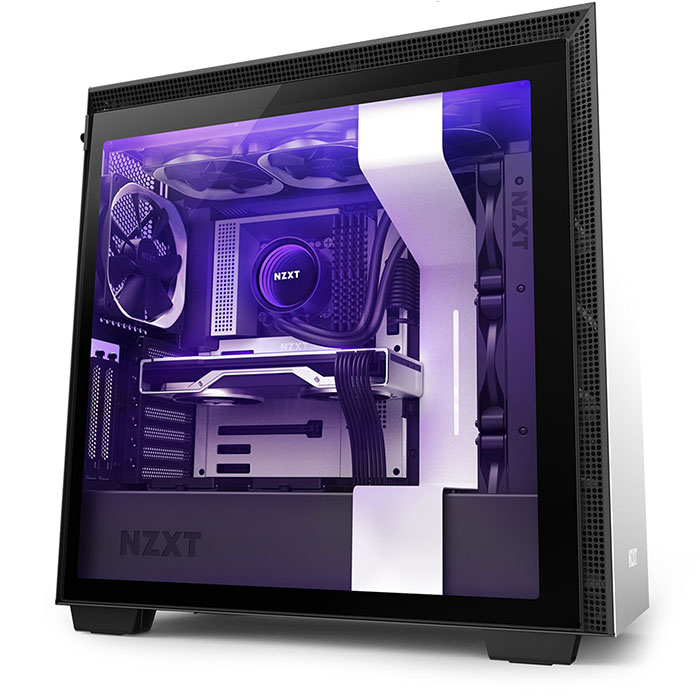 The difference between the H7 Flow and H710i is quite staggering. For years, NZXT have always had some form of solid front panel, so being able to see through the front panel with their non-elite models is a refreshing change. The major benefit of the H7 Flow against its older relatives is the thermal efficiency.
The H7 Flow still bears the iconic look that comes with NZXT cases, and doesn't differ a ridiculous amount from the overall aesthetic that came with the H710i. NZXT's H7 range also comes with a new set of colour options, dropping the black & red design that many NZXT customers will have become accustomed to.
H7 Flow Design & Aesthetics
The overall design of the H7 Flow doesn't change much compared to the base model. A main point to note here is that the focus of this case is to provide better airflow, but we'll cover that in the features section below.
Although this case offers a similar design to the standard H7, it still incorporates a modern look that is synonymous with NZXT chassis. The perforations on the front panel provide a small look into your build, while allowing air to flow freely. RGB fans aren't included with this model, but we think it would be especially nice to have some, as you'll be able to see the light poking through the holes. At minimum, NZXT should include more than a disappointing two fans in a case distinctly aimed at airflow.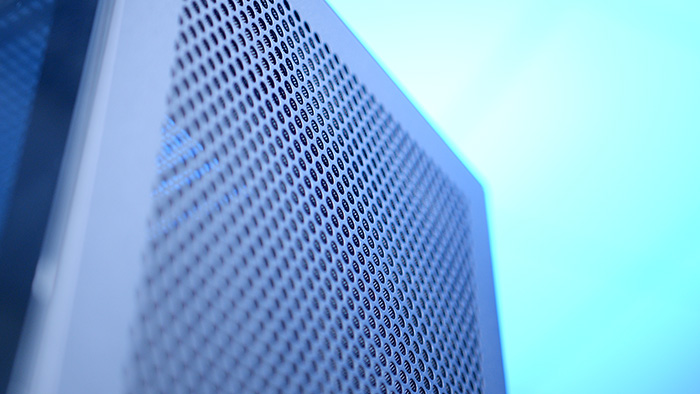 Around the entirety of the case, you'll find a seamless design that appears to have been machined very well, and harks back to the ultra modern look that we're used to seeing from NZXT. We see a similar design in terms of perforation on the top panel, which ensures air can exhaust easily as its taken in.
In our view, the H7 Flow has the potential to look amazing, but to really unlock this potential, you need to spend additional cash on high-end RGB fans to provide the aesthetic and cooling edge that this design clearly warrants. If you're wanting lots of RGB and tempered glass out of the box, you'll want to look at the review we've put together on the H7 Elite. The H7 Flow is a case for those that want to see some more capability for airflow, but at the same price as the base model.
Features
The amount of features available on any component is often what will dictate the price, along with the design and aesthetic that a component offers. When choosing the case that is right for you, it is best to look for the kind of features you want, and this will determine what cases are suitable.
Are you the kind of person that is fine with a 'metal box' look, or do you want the best looking case with the most tempered glass you can find? These are the questions you should be asking yourself when trying to pick out a case. We've taken a look at the standout features of the H7 Flow below, to figure out if this case is good value for money.
Improved Ventilation
The H7 Flow features perforations on the top and front panel of the case. These holes provide more ventilation (similar to mesh designs that we see), and due to this ventilation the thermal efficiency is better. Its all well and good having support for numerous fans, but if you don't have the ventilation to match, then this is somewhat redundant. Its good to see that NZXT are providing multiple ways for the air to quite literally 'flow' around the case.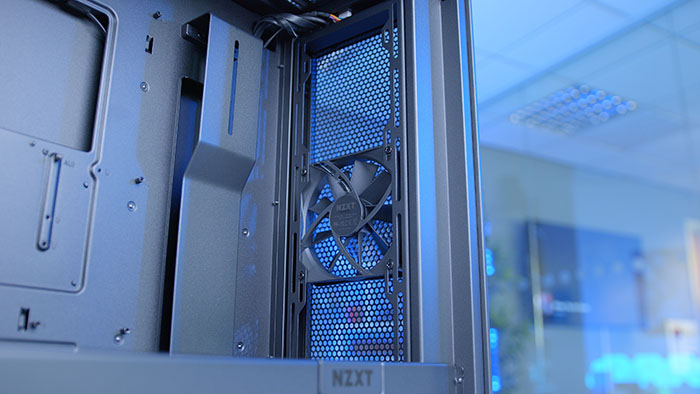 Simple Cable Management
Putting your cables away in an orderly fashion can be tedious and frustrating. But with the H7 Flow, you have an ample amount of space to jam your cables in and not worry about them. If you want to organise them so they look nice, the H7 Flow has plenty of channels and hooks to make your management of cables much easier.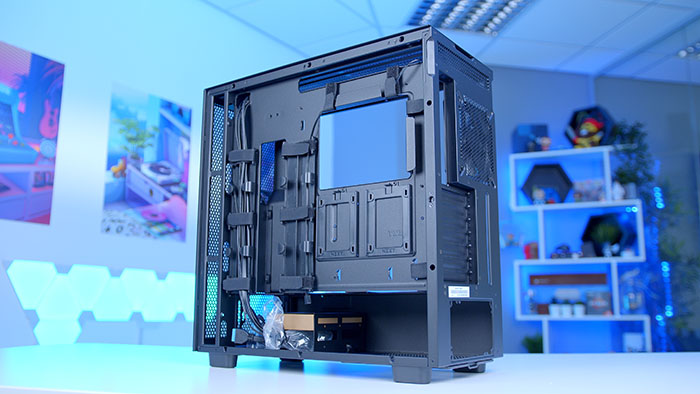 Versatile Motherboard & Fan Support
It can be an annoying experience finding a case that you like the look of, only to find it doesn't support your motherboard, CPU Cooler or have enough options for mounting fans. The H7 series supports all consumer desktop boards (with select E-ATX boards), and has plenty of choice for cooling. Overall, you won't run out of options for adding more fans or swapping out your board when it comes to this case.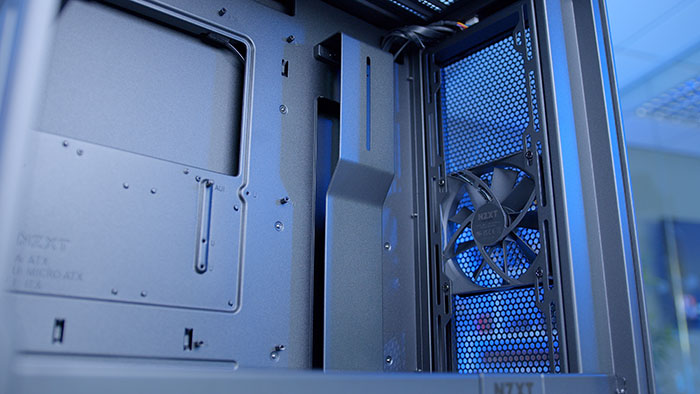 Other Features
Not too dissimilar from the H7 base iteration, you're given 3 USB 3.2 Gen 1 ports, with one of them being Type-C, and a headset audio jack. You've also got plenty of CPU and GPU clearance for those of you wanting big CPU coolers or larger GPUs.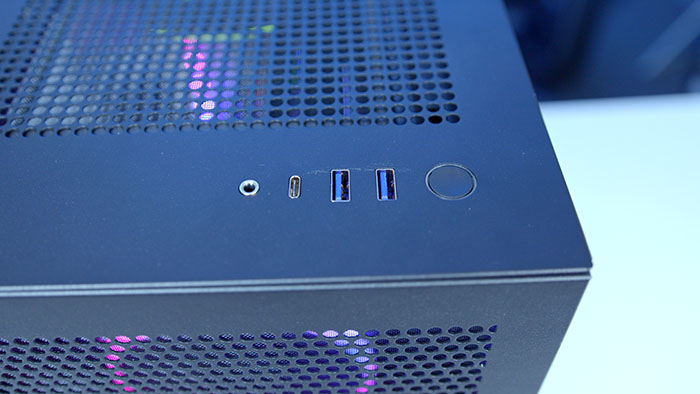 Alternatives
NZXT's H7 Airflow is an excellent addition to the market, and gives PC builders some more options when deciding on which case is best for them. However, there are still many awesome cases on the market that take a similar design approach for a reasonable price point. The cases below are some of our favourites that fit the purpose of providing optimal cooling and airflow by sporting mesh intakes.
Corsair 4000D Airflow
The 4000D Airflow is part of Corsair's 4000 range that use a familiar design philosophy of providing cases for different purposes. This airflow version gets rid of the front panel from the base model, and replaces it with a 'high airflow' panel. This is more optimised for cooling as the entire front can be used as an unimpeded intake vent. With support for several fan and radiator configurations, if you want good cooling, this might be the case for you.
Buy the Corsair 4000D Airflow on:
---
Fractal Meshify 2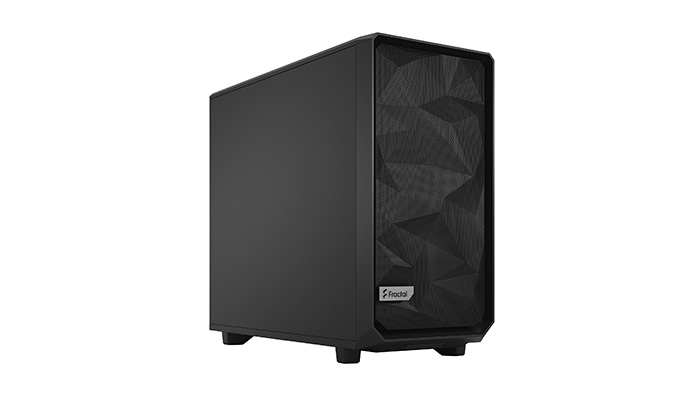 The Fractal Meshify 2 is one of the best looking 'stealth' cases that provides increased airflow. This is one of my personal favourites as it makes building so much simpler by having a removable top. The Meshify 2 is also a great option for those that want a custom water cooling loop – supporting large reservoirs and radiators. Although this case is very minimalistic, it definitely delivers on expansion, upgradeability, and is overall an awesome looking case.
Buy the Fractal Meshify 2 on:
---
Lian Li O11 Air Mini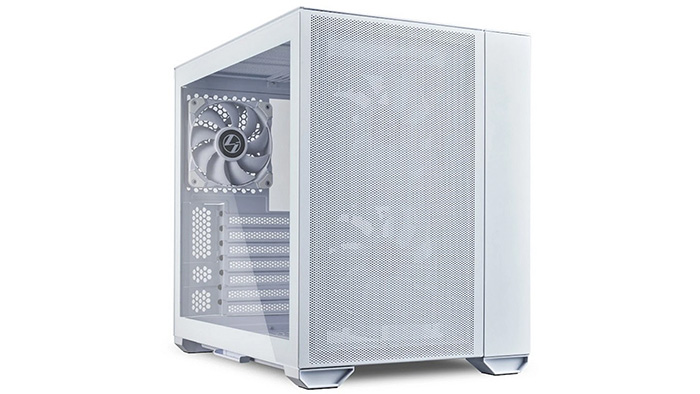 The O11 Air Mini is a modular case that has varying support for motherboards and fan configurations. Dependent on whether you want a vertically mounted GPU, or you have a smaller motherboard, you can configure the O11 Air Mini to your liking. With a mesh front, and plenty of room for an abundance of coolers, this case is perfect for builds that need high airflow. At a very reasonable price point, Lian Li is bringing some clear competition.
Buy the Lian Li O11 Air Mini on:
---
Conclusion
NZXT H7 Flow
Product Name: H7 Flow
Brand: NZXT
Features

Design

Versatility

Value For Money
Summary
NZXT has brought some exciting new additions to the case market that change their design philosophy by bringing a wider range of options for PC builds. This case doesn't differ a huge amount from the standard model, but for the exact same MSRP you get access to a design that has better airflow and cooling. The H7 Flow provides a great design and superb airflow at a price point we like the look of. It is the best case in the H7 line-up when considering value for money metrics, and will no doubt sell well within the PC building community.
Pros
✅ Very good thermal efficiency.
✅ Sleek minimalist design.
✅ Plenty of support for cooling and motherboards.
Cons
❌ No preinstalled RGB.
❌ Not very different from the H7 base model.