Introduction
We're back with another versus battle, this time around its the RTX 4070 vs RTX 3070 Ti but where is your money best placed?
We'll be putting these GPUs side by side, comparing their architecture, gaming performance, and overall value to determine which GPU is the best choice for consumers looking to build a mid-range gaming PC.
With a significantly reduced form factor and lower price point than a number of other RTX 4000 Series GPUs, the RTX 4070 is one of, if not the only 40 series card to truly compete with Nvidia previous-gen options when it comes to price versus performance. Will it be enough to topple the RTX 3070 Ti however, time will tell
Suggested Article: Nvidia GeForce RTX 4070 vs Nvidia GeForce RTX 3070
Our Recommendation: NVIDIA GeForce RTX 4070
After putting both the RTX 4070 and RTX 3070 Ti through a head-to-head battle in our testing, we concluded that the RTX 4070 is the clear winner and our pick. Nvidia's current mid-range GPU release blows the performance capabilities of the RTX 3070Ti out of the water, with the RTX 4070 outperforming the pervious-gen offering in all of our gaming benchmarks.
Strong rasterisation performance further bolstered by the impressive Frame Generation technology leave the RTX 3070 Ti in the rear view mirror. An MSRP of $599 also makes the RTX 4070 one of the best placed RTX 4000 series cards on the market and cements itself as our recommended choice.
Nvidia GeForce RTX 4070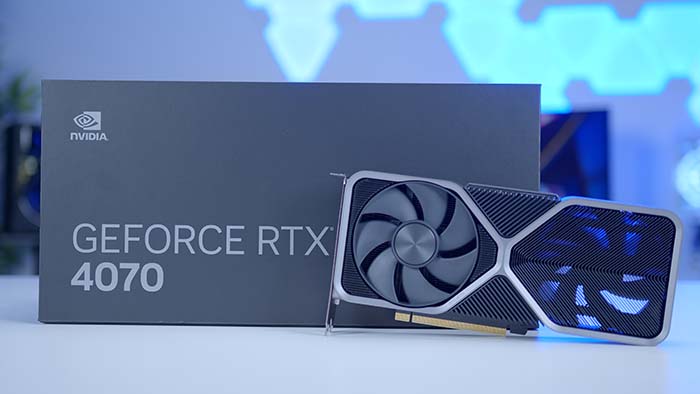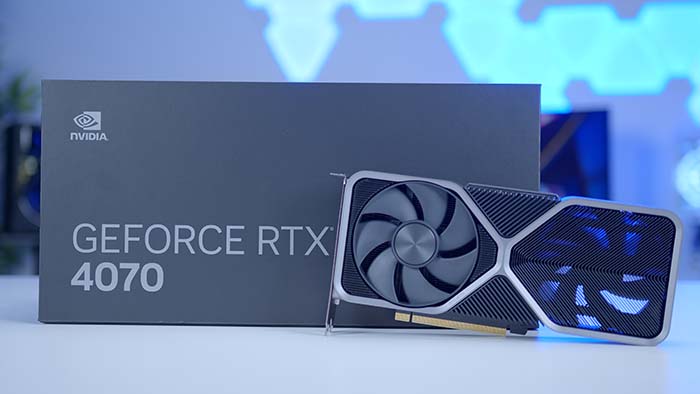 It's safe to say that the RTX 4070 was the first 40 series GPU that appeals to the gaming masses, mainly thanks to the more affordable price tag. Coming in at an MSRP of $599, the RTX 4070's pricing makes it competitive, even with that of Nvidia's RTX 3000 Series.
Acting as a nice surprise for mid-range gamers, the RTX 4070 varies a lot from the previous entries in a way that will be more beneficial to most gamers. Not only is this card available for a significantly reduced price contrasting to the RTX 4080 and RTX 4070 Ti SKUs, this card is also much smaller. The RTX 4070 comes in at a size that is more aligned with the previous generation designs, not restricting case options as much.
Despite the smaller size, during our in-house testing we found Nvidia's mid-range GPU still packs enough of a punch to provide strong performance metrics at 1440p, with 4K also being a viable option.
DLSS 3.0 is the biggest advantage of the RTX 4000 series GPUs and the RTX 4070 is no different. We found the RTX 4070 to make great use of the Frame Generation tech further bolstering performance during our benchmarking.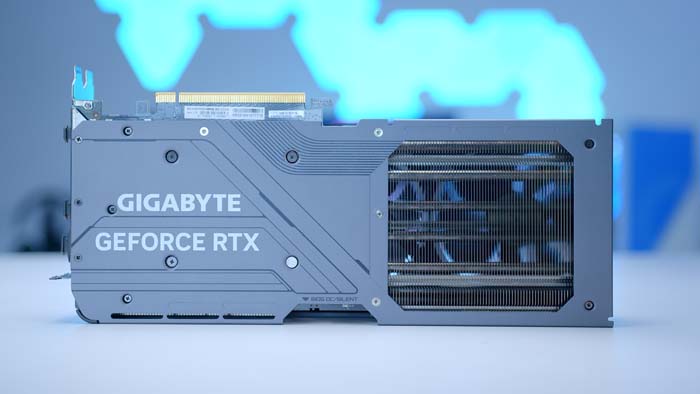 Buy the Nvidia GeForce RTX 4070 on:
Nvidia GeForce RTX 3070 Ti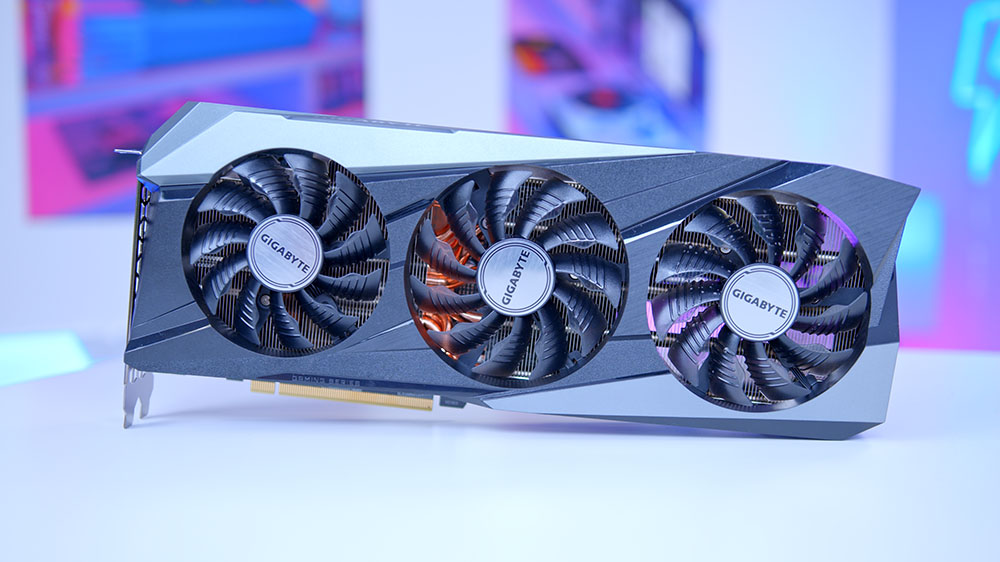 Releasing back in June of 2021, the RTX 3070 Ti was one of the latest RTX 3000 graphics cards to arrive. As a 'Ti' variant, this graphics card was designed to improve the performance found on the original RTX 3070 for a slightly higher price.
Featuring slightly higher clock speeds and core counts than its non-Ti equivalent, we found the small bumps in specs allowed the RTX 3070 Ti to offer an enhanced gaming experience across the majority of titles during our testing. The RTX 3070 Ti offers strong performance across a suite of even the most demanding titles at 1440p, whilst we found during benchmarking that 4K is also a fairly interesting proposition. As a result, the RTX 3070 Ti acts as a solid option for the those looking to build a mid-range PC build.
The RTX 3070 Ti is arguably the biggest victim of the release of the RTX 4070, as the $599 original MSRP for the RTX 3070 Ti is identical to that of the improved RTX 4070. Whilst it's possible to find cards below the MSRP price point, it is unlikely to be enough to steer potential buyers away from picking up the RTX 4070 instead.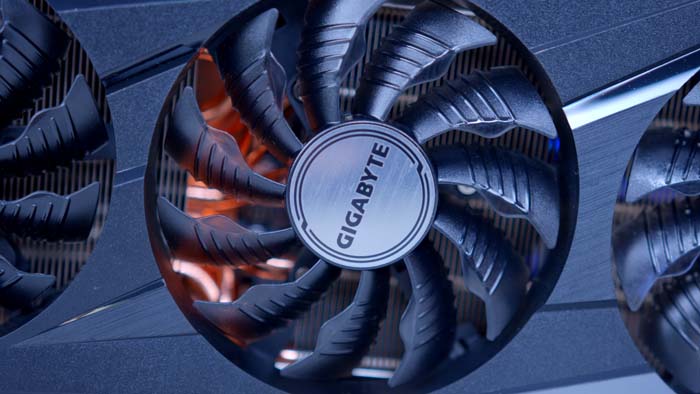 Buy the Nvidia GeForce RTX 3070 Ti on:
Specs
Spec
RTX 4070
RTX 3070 Ti
Video Memory
12GB GDDR6X
8GB GDDR6X
Memory Bus
192-bit
256-bit
Game Frequency
1.92GHz
1.50GHz
Boost Frequency
2.48GHz
1.73GHz
CUDA Cores
5888
5888
Power Consumption
200W
(Reference Model)
220W
(Reference Model)
Architecture
Ada Lovelace
Ampere
PCIE-Generation
PCI-E Gen 4
PCI-E Gen 4
Lovelace vs Ampere – Which is Better?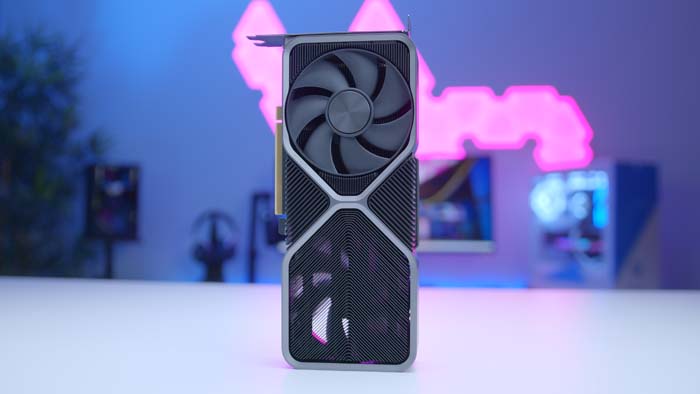 Ada Lovelace bought with it significant changes, most notably, DLSS 3.0. Now capable of using Frame Generation tech, this features allows new frames to be generated between two existing frames with AI, leading to smoother gameplay in a range of titles. Whilst the list of games that can take advantage of DLSS 3 is still fairly limited, in the titles it is available on, we experienced a significant performance uplift during our testing.
Whilst RTX 4000 offers a better gaming experience than the previous architecture, the jump from Ampere to Lovelace is less significant than the improvements that came with the release of the Ampere architecture. Therefore, those sticking with a previous generation graphics cards shouldn't be too worried about missing out on gaming performance. We still find DLSS 2.0 to be more than up for the task, capable of improving performance without a significant loss to visual fidelity.
How We Tested the RTX 4070 and RTX 3070 Ti
Our in house GPU benchmarking whizz Harry Coleman tests GPU showcased here on the website, and on our YouTube channel across a tailored suite of games. All of Harry's GPU reviews can be read right here on GeekaWhat.com, including the latest generation of NVIDIA and AMD cards. The RTX 4070 and RTX 3070 Ti were tested across a range of the following titles for the purpose of this GPU comparison:
FPS Games: Apex Legends, Fortnite, COD MW2 Remastered, Warzone 2.0
RPG Games: Hogwarts Legacy, Starfield, GTA V
Simulation Games: F1 2022
Our benchmarking test rig utilises a 13th Generation Intel Core i9 13900K processor, running at stock speeds on an MSI Z790 motherboard, with 32GB of DDR5 memory. You can learn more about our detailed GPU testing methodology here.
RTX 4070 vs RTX 3070 Ti – Fortnite
Settings: 1080p, Anti-aliasing & Super Resolution TSR High, Temporal Super Resolution Performance, View Distance Far, Textures Low
The first title in our RTX 4070 vs RTX 3070 Ti benchmarking session is Fortnite. The RTX 4070 goes above and beyond to reach an average of 288FPS, whereas the RTX 3070 Ti just sneaks above 260FPS on average. Both GPUs managed to surpass the 240Hz mark, making a 240Hz monitor a viable pickup.
The RTX 4070 does a great job of providing a healthy performance uptick against the FPS average on show form the RTX 3070 Ti. With frames being so high in the first place, however, either GPU is a solid option to consider for a Esports Gaming PC build.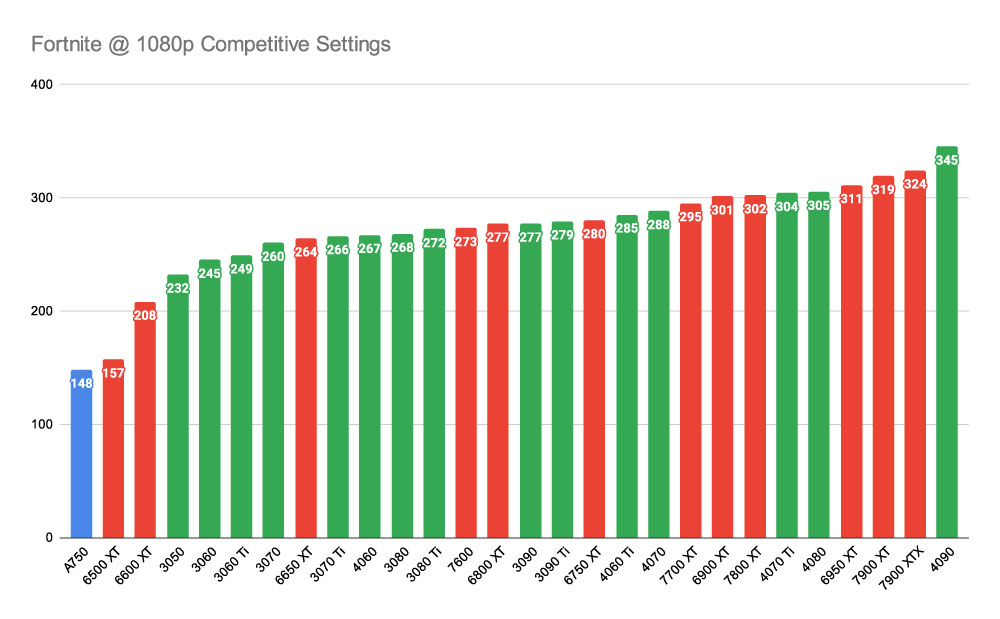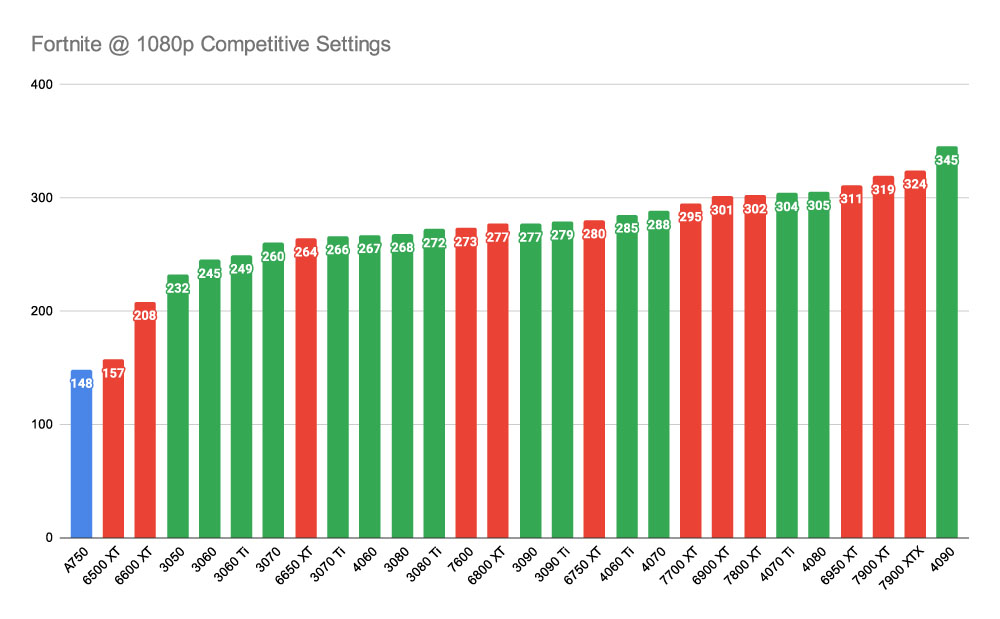 RTX 4070 vs RTX 3070 Ti – Apex Legends
Settings: 1440p High, FOV 110, Anti-aliasing TSAA, Texture Filtering 8X, Model Detail High
Apex Legends at 1440p High is the next title in our RTX 4070 vs RTX 3070 Ti battle. A battle that was a closer run race than we anticipated. The RTX 4070 pulled in an average of 179 FPS versus the 172 FPS average of the RTX 3070 Ti during our testing. We had expected there to be a slightly larger disparity between the two RTX cards, but the RTX 3070 Ti proved to still be a viable option for a 1440p Gaming setup.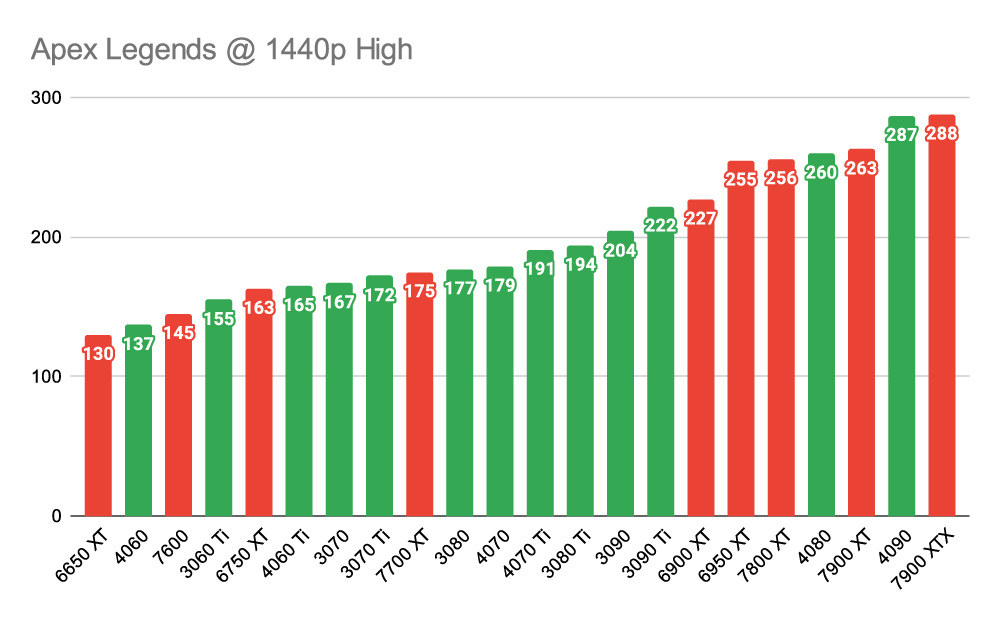 RTX 4070 vs RTX 3070 Ti – F1 2022
Settings: 1440p High, Anisotropic Filtering 8x, Ray-tracing off, Textures Ultra High, Ambient Occlusion HBAO+
F1 2022 is where we began to see the RTX 4070 leave the RTX 3070 Ti in its rear view mirror. Racing to an average of 216 FPS vs the 180 FPS average of the RTX 3070 Ti, the RTX 4070 put clear distance between the two GPUs. Both GPUs proved top be more than capable of playing at 1440p so much so that we suspect that 4K is a solid prospect for both RTX cards at a slight loss to performance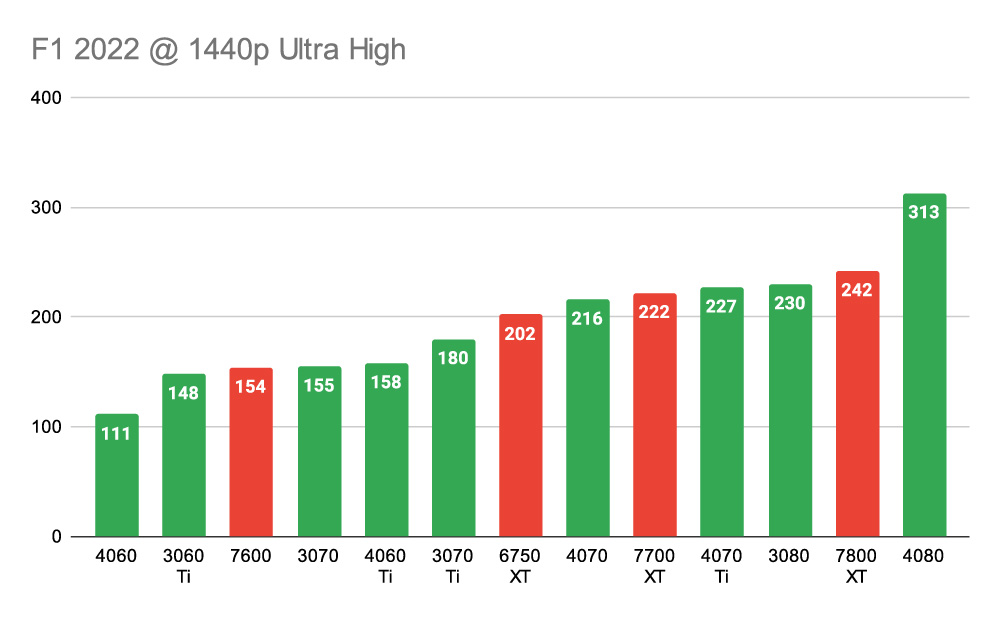 RTX 4070 vs RTX 3070 Ti – GTA V
Settings: 1440p High, Population Density/Variety 60%, FXAA/MSAA Off, Reflection MSAA 8X, Ambient Occlusion 8x
It was a similar story when look at the RTX 4070 vs RTX 3070 Ti in GTA V at 1440p. The RTX 4070 sits comfortably ahead with and average framerate of 171 vs the 154 FPS averaged by the RTX 3070 Ti during our testing. Both GPUs proved to be up to the mark but the RTX 4070 in particular clearly has some legs to perform strongly at 4K resolution too, making the RTX 4070 a tantalising proposition.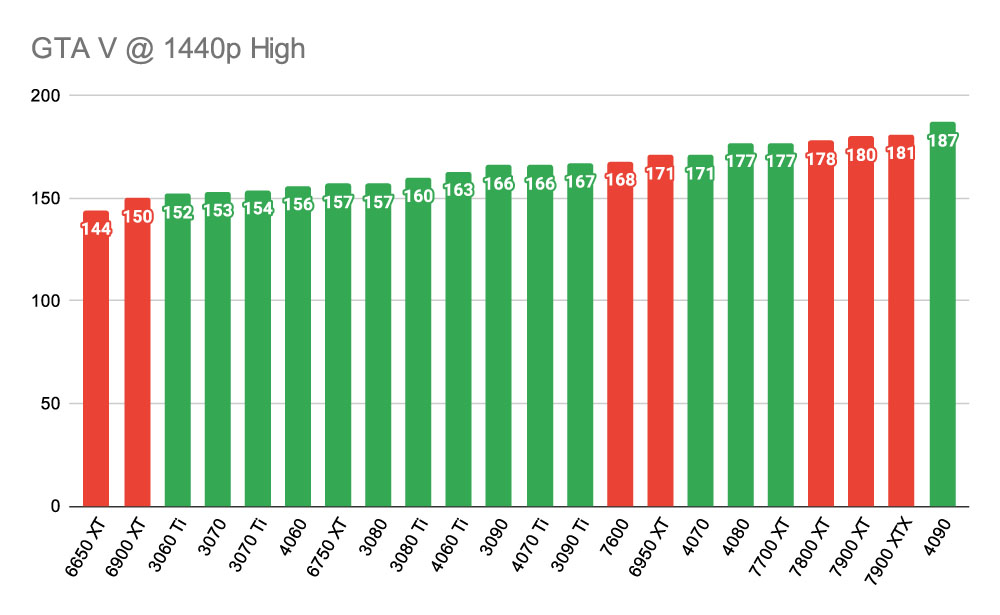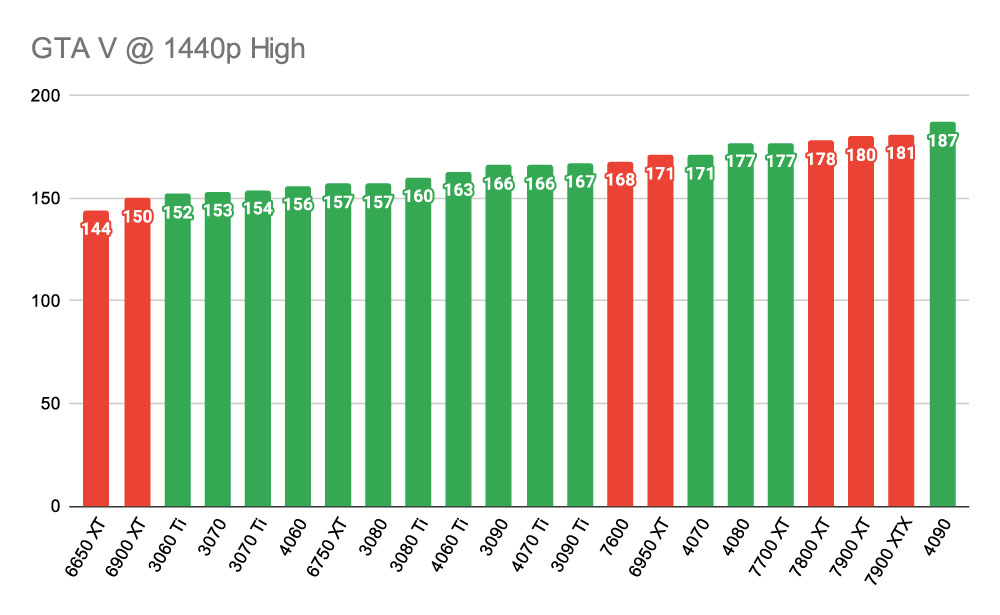 Our Verdict: RTX 4070
After all of our testing and comparisons, we concluded that the RTX 4070 is the clear winner when pitted against the RTX 3070 Ti. Nvidia's RTX 4070 blows the performance capabilities of the RTX 3070 Ti out of the water, with the RTX 4070 outperforming the pervious-gen offering in all of our gaming benchmarks.
Considering that the MSRP of these graphics cards are the same, it seems like picking up the RTX 4070 over the 3070Ti is a no-brainer, as it possesses a much better price-to-performance ratio. With 4K gaming also being viable option with the RTX 4070, the RTX 4070 is our recommendation for those looking to buy a mid-range Gaming PC build.