Introduction
PlayStation's latest State of Play included a new trailer for God of War Ragnarok. The trailer focused on the upcoming game's story and stars an epic clash with Thor, God of Thunder.
Action-Packed Trailer
With the new God of War coming out in less than 2 months, PlayStation compiled a trailer which shows off key story elements. The trailer was played at the end of the September 13th State of Play. God of War Ragnarok carries on the story of Kratos' journey into the Norse realms which started in God of War (2018).
In the trailer, protagonists Kratos and Atreus encounter a number of characters from Norse mythology, such as Odin and Tyr. However, the highlight came at the end of the trailer when we saw a glimpse of the battle between Kratos and Thor.
Along with the action-packed sequences, the trailer provided a hint as to how the relationship between Kratos and Atreus will develop. It suggests that the events may cause a rift between the father and son. Also, the trailer offers bits of interactions with the likes of Tyr, hinting at how they could impact the story.
Fans of the franchise will not have to wait long for the next installment as God of War Ragnarok releases on the 9th Novemeber 2022.
Limited Edition DualSense
As part of the conclusion to their State of Play announcement, PlayStation revealed an Limited Edition of the DualSense controller inspired by the upcoming game.
The controller features a blue and white aesthetic which seems to resemble the icy setting of Midgard. Also, a Norse inspired insignia of a Bear and Wolf are located on the front of the controller to represent Kratos and Atreus.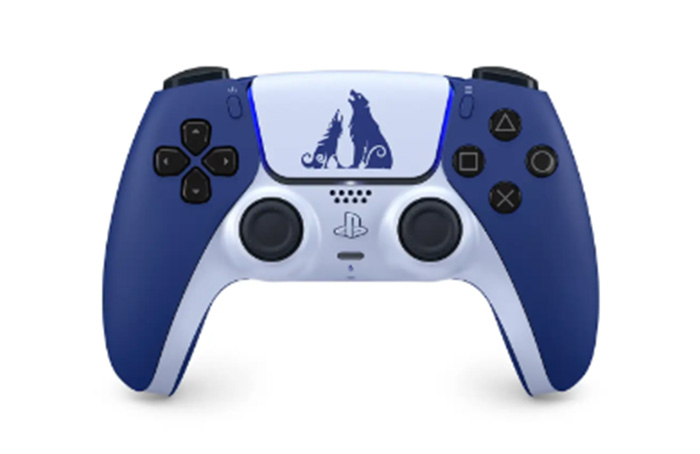 The controller will release alongside God of War Ragnarok on the 9th November. But if you want to secure one early, you can pre-order them from September 27th on the PlayStation website.