Introduction
After what seems like an endless slew of launches we're finally reaching the end of the year and seeing the market calm down. Consumers have been given a huge range of products and components to sink their teeth into including the world's most powerful gaming graphics card we've ever seen. However, it seems that Nvidia aren't quite done this year, and thus we've got our hands on another highly anticipated product – the GeForce RTX 4080.
After a seemingly surprising announcement from Nvidia back in October, Team Green decided to 'unlaunch' the 12GB RTX 4080 model. This means we've been left with somewhat empty hands as we were expecting to be looking at two 4080 SKUs, but nonetheless we're still excited to talk about this excellent card.
The particular variant that we're talking about today is the MSI Suprim X. For those of you that have been followers of the website and GeekaWhat YouTube channel for some time, you'll know that we're big fans of the Suprim X cards. The sophisticated yet bulky design brings something extra to the table that you can't find with the Founders Edition cards. Not to mention the RGB lighting on these designs is excellent.
In this review we'll be taking a look at the performance of the brand new RTX 4080 to see how it fares against previous models, and one of Nvidia's most recent cards – the RTX 4090. We'll also be diving into the architecture, and aesthetics to see whether this MSI variant is worth the money!
Buy the MSI RTX 4080 Suprim X on: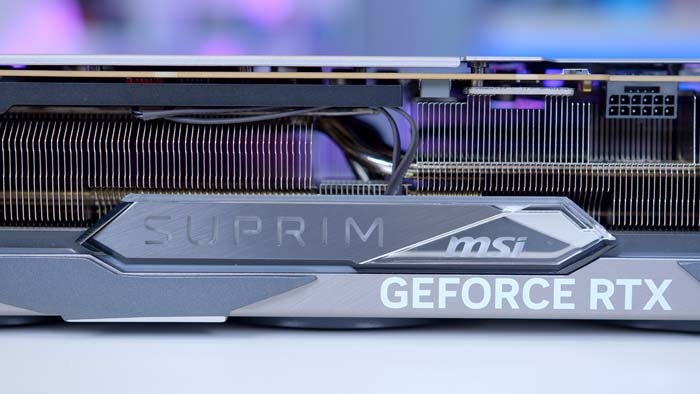 Nvidia have faltered in the past when providing improved generational performance, and with the bar set so high after the launch of the RTX 3000 range, Team Green definitely had their work cut out for them. But despite the difficult task, Nvidia pulled through giving us an abundance of hardware and software improvements alongside the newly specced cards further pushing the performance boundary.
Besides the increase in cores and clock speeds, one of Nvidia's biggest selling points for the new range of RTX cards comes in the form of an AI-backed resolution scaler. DLSS 2.0 was a game changer for those wanting to enjoy higher resolutions but with a large reduction to performance overhead. And because DLSS 2.0 is supported in a plethora of titles, many consumers could enjoy higher fidelity in a number of their favourite titles. If you thought DLSS 2.0 was good, well brace yourself, because DLSS 3 is even better.
This significantly improved resolution scaler has been upgraded even further with games now able to make use of Nvidia's new Frame Generation technology. This improvement is absolute ground-breaking when it comes to performance multiplication, as users can enjoy their favourite games with Ray-Tracing set to max, but with a reduced overhead that would come with this much more intensive workload.
Framerates can also be pushed even more with CPU bottlenecks hugely reduced, and performance gains maximised. DLSS 3.0 is bleeding-edge technology, and as we see more games become saturated with this new technology, consumers that own the new RTX 4000 cards can enjoy much better visual quality.
Ray-Tracing has become more of an accessible option, with framerates consistently higher than they were with the previous generation's RT cores. With the new third generation RT cores that come with the Lovelace architecture, users can enjoy up to two times the Ray-tracing capability. Although we're yet to see any mid-range SKUs in the RTX 4000 range, as Nvidia starts to release other products later next year consumers with a less powerful card will be able to experience great performance and high visual fidelity with the significantly improved architecture.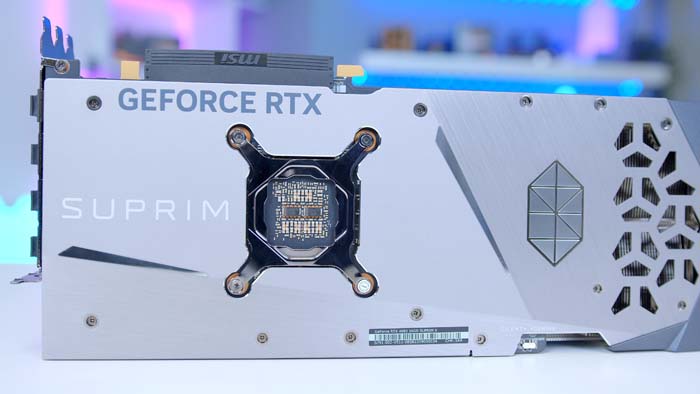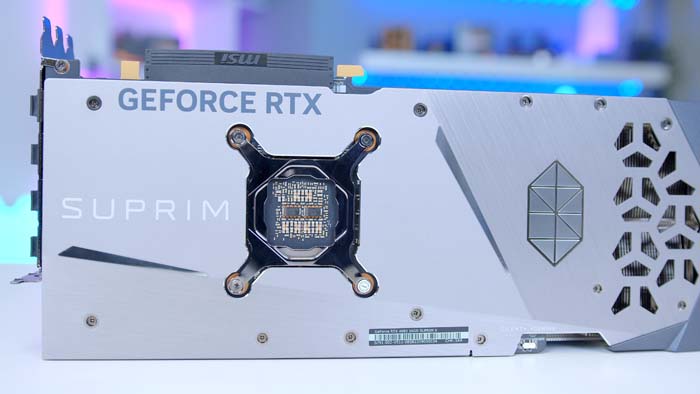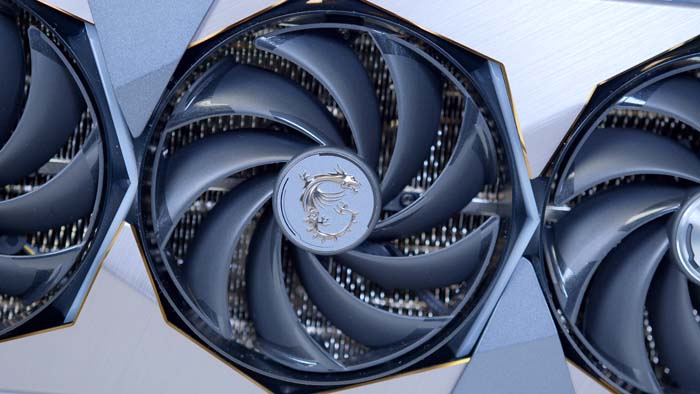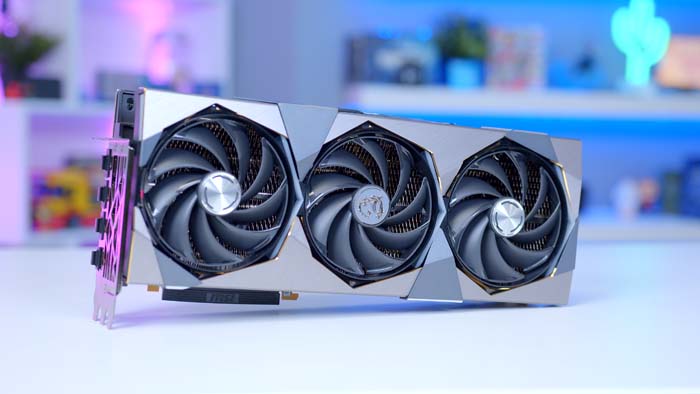 Specifications
Nvidia's RTX 4080 has very impressive specs from a glance, and users will be able to enjoy high framerates in games, and rendering times notably reduced in a number of workstation applications. We've noted down the key hardware differences between the RTX 4090, 4080, and other cards that utilise the RTX 3000 architecture so you can see a clear difference in specs.
Spec
RTX 4090
RTX 4080
RTX 3090
RTX 3080
Video Memory
24GB GDDR6X
16GB GDDR6X
24GB GDDR6X
12GB/10GB GDDR6X
Memory Bus
384-bit
256-bit
384-bit
384-bit / 320-bit
Core Clock Speed
2.23GHz
2.21GHz
1.7GHz
1.26GHz / 1.44 GHz
Boost Clock Speed
2.52GHz
2.51GHz
1.4GHz
1.71Hz
CUDA Cores
16384
9728
10496
8960/9704
Power Consumption
450W
(Founders Edition)
320W
(Founders Edition)
350W
(Founders Edition)
350W / 320
(Founders Edition)
RT Cores
3rd Generation
3rd Generation
2nd Generation
2nd Generation
Tensor Cores
4th Generation
4th Generation
3rd Generation
3rd Generation
PCI-E Generation
PCI-E Gen 4
PCI-E Gen 4
PCI-E Gen 4
PCI-E Gen 4
Design
When we received the new RTX 4080 SKUs in the office we were hoping for a reduction in the size of the new cards. The RTX 4090 was massive, and although it is very powerful the fact that picking up this card necessitates a case upgrade for most users, could put people off the purchase. Unfortunately you'll be saddened to know that the RTX 4080 is the exact same size as the 4090.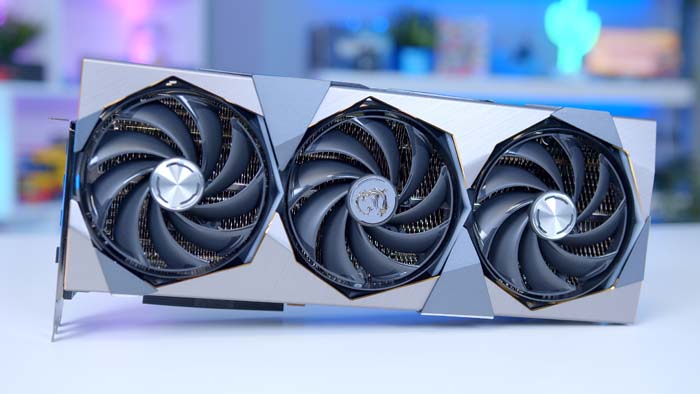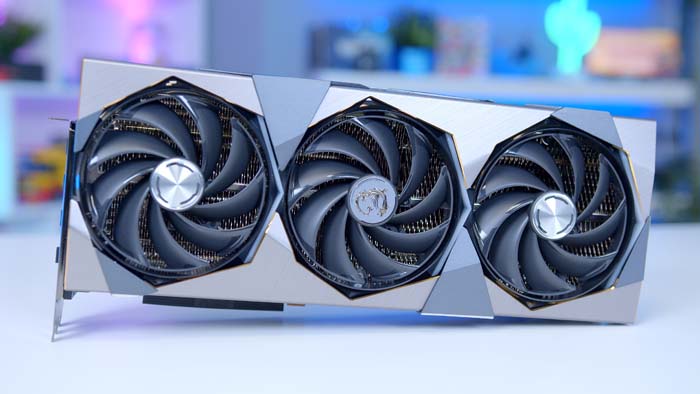 We've still got the triple slot card that we were hoping not to see, but this isn't all doom and gloom. Despite this card being gargantuan I think most consumers will be pretty happy with the overall look of the Suprim X version from MSI. The Suprim X cards haven't changed much from the previous generation, but I'm a believer in consistency, and MSI definitely tune into that philosophy with their Suprim X graphics cards.
I'm a big fan of the sharp angular edges that we can see on the brushed metal shroud that surrounds the fans. MSI have opted for that signature octagon cut-out design that we saw on the previous RTX 3080, and it still works here. The brushed metal aesthetic on the GPU shroud although offers a relatively simplistic and minimalist look, I believe it suits the overall aesthetic of the card.
We're also seeing the renowned RGB chevrons that have popped up on previous MSI designs, and I've got to admit, they definitely work. MSI haven't gone crazy on the RGB front, but you can still add some flair by playing around with lighting options. I'm really into the design of MSI's Suprim X 4080, and I hope that other SKUs offers the same consistency this one does.
Performance
Moving onto the part you've probably all been waiting to read, in this section we'll be delving into the performance. Nvidia has set the bar quite high with the overwhelming success of the RTX 4090 launch, but will the RTX 4080 follow?
So far in our benchmarking it seems that the 4080 has definitely met expectations. Although this GPU doesn't quite reach the highs that the 4090 was able to output (and we weren't expecting it to), the performance is close in many case. This GPU sits exactly where we thought it would, which is a clear jump above previous generations cards (with the 4080 beating out the 3090Ti). In relation to FPS, the 4080 has no problems with 4K settings and Ray-Tracing enabled, and with the DLSS 3.0 enabled, frames can soar even higher.
Ray-Tracing performance is a worthy talking point to touch upon. With RTX 3000 and 2000 cards, there were quite a few teething problems when utilising Nvidia's RTX technology. But Team Green has had plenty of time to improve their real-time lighting and we're seeing these improvements jump out at us with the launch of RTX 4000 cards. The consistency 60FPS no longer seems to be a problem or even a target with RTX and Frame Generation enabled. In a number of titles we were able to consistently maintain over 100 frames with the 4080 demonstrating how capable these new GPUs are.
To provide some more context we've compiled all of our benchmarking data into a set of graphs so you can see how the MSI Suprim X 4080 performs, and how it compares to a range of other GPUs from the 4090, all the way down to the RTX 3080 and 3070 SKUs. Alternatively, if you're looking for more detailed stats including thermals, and the settings we used, we recommend checking out the full benchmarking runs which can be found on our YouTube channel – 'Benched'!
GTA V
First off we tested out GTA V and cranked the settings up to 4K high. Overall we were very happy with the performance in this game. GTA V tends to struggle with consistently high framerates (ultimately due to the older game engine). But despite the poor optimisations, the 4080 held strong and averaged around 166 frames. Although it wasn't quite able to surpass the 4090 the MSI RTX 4080 still held its ground giving us an exceptional framerate.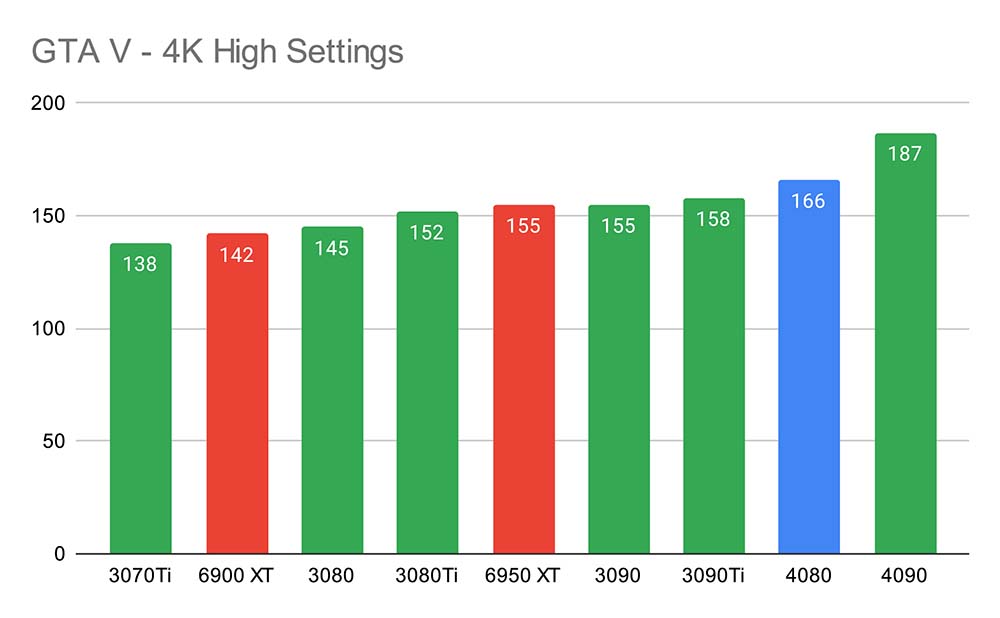 Battlefield 2042
In Battlefield 2042 the frames started to dip a little bit, but not to an unreasonable level. Much like GTA V, Battlefield 2042 is a rather unoptimised title, so at higher resolutions even the strongest graphics cards aren't able to output an exceedingly high amount of frames. However, the MSI RTX 4080 was able to give us around 112 frames on average at 4K. Although this isn't the 144Hz sweet spot that we'd love to see with high-end graphics cards, 112 FPS is more than playable, and overall it was a very smooth experience.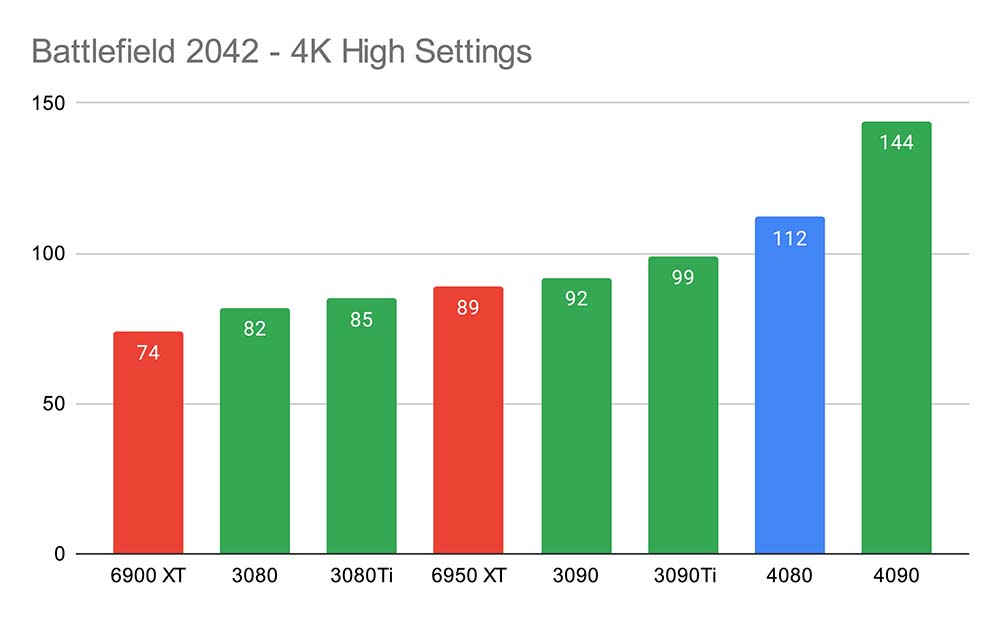 Apex Legends
In Apex Legends we saw an excellent average framerate of 159 with the RTX 4080. Apex is a title where FPS matters, and gaining the upper-hand against another trio is vital. With our frames soaring above 150FPS we were able to attain the 144Hz mark for a buttery smooth gameplay experience while giving us extra frames to ensure that we could achieve a victory in this title.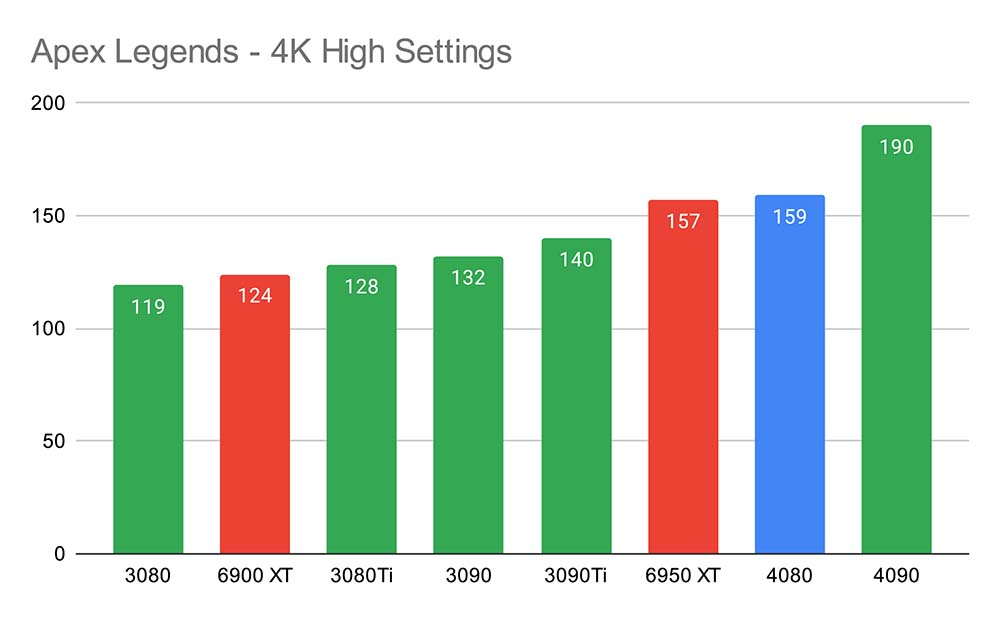 Valorant
In Valorant we saw our framerate leap to seemingly unreachable highs. The MSI RTX 4080 was able to output around 447 frames on average giving it a very respectable third place when compared to other graphics cards. Unfortunately AMD's RX 6950XT was able to beat out the RTX 4080, but at frames this high the performance difference would be entirely negligible. Overall we were very impressed with this result from the 4080!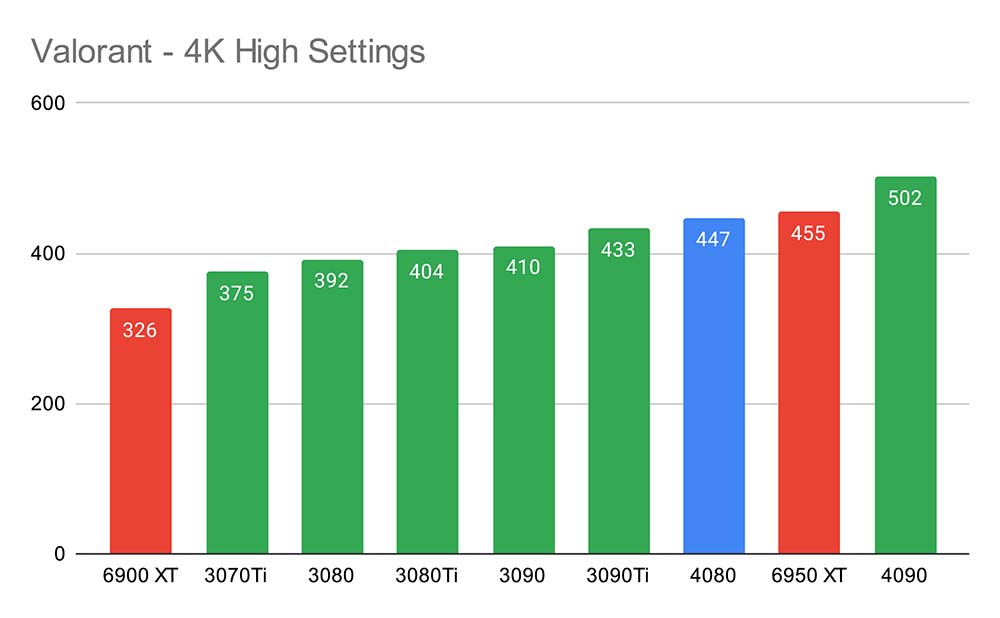 COD Warzone
In COD Warzone, the RTX 4080 demonstrated how capable these new cards are at a 4K resolution. Warzone is another title that suffers from consistent frames, but the RTX 4080 was able to output a massive 155FPS on average with minimal frame drops. FPS matters in this game, as you're always attempting to gain the upper hand and get the drop on your enemy to secure a victory. The RTX 4080 made light work of Warzone which in the past has been difficult to run at times, making this a perfect card to pick up to ensure your next win!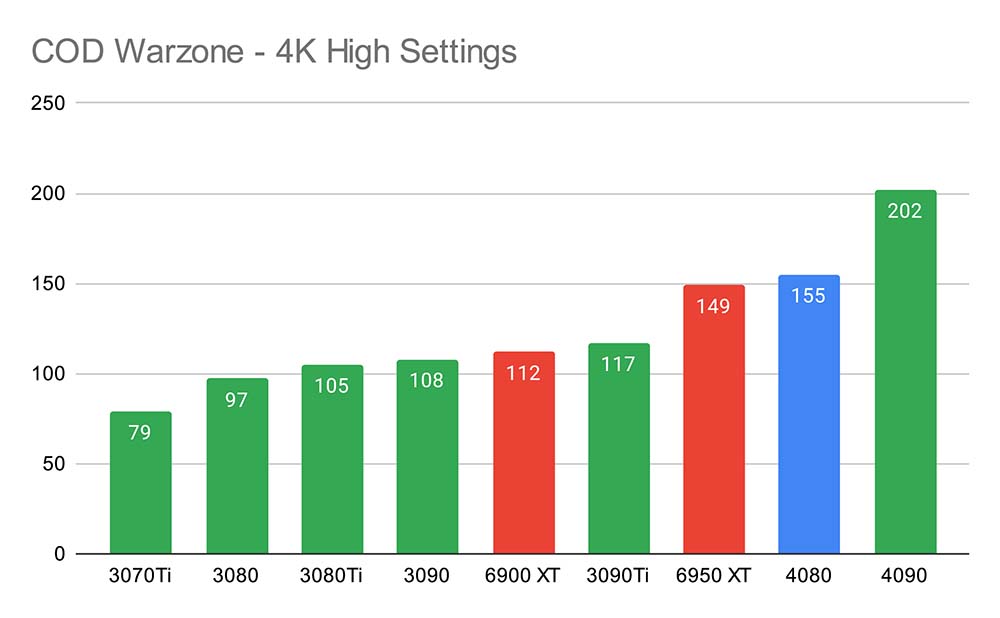 Fortnite
And for our last title we jumped on Fortnite and dialled the settings back down to 1080P to see how many frames this card was able to provide. And needless to say, the RTX 4080 was dressed to impress. This card is one of the very few that we've tested that was able to consistently maintain over 300FPS on average, which is a difficult task at times in this title. The RTX 4080 gives users the ability to enjoy exceedingly high refresh rates which provides a buttery smooth experience and gives you the edge you'll need to obtain a Victory Royale!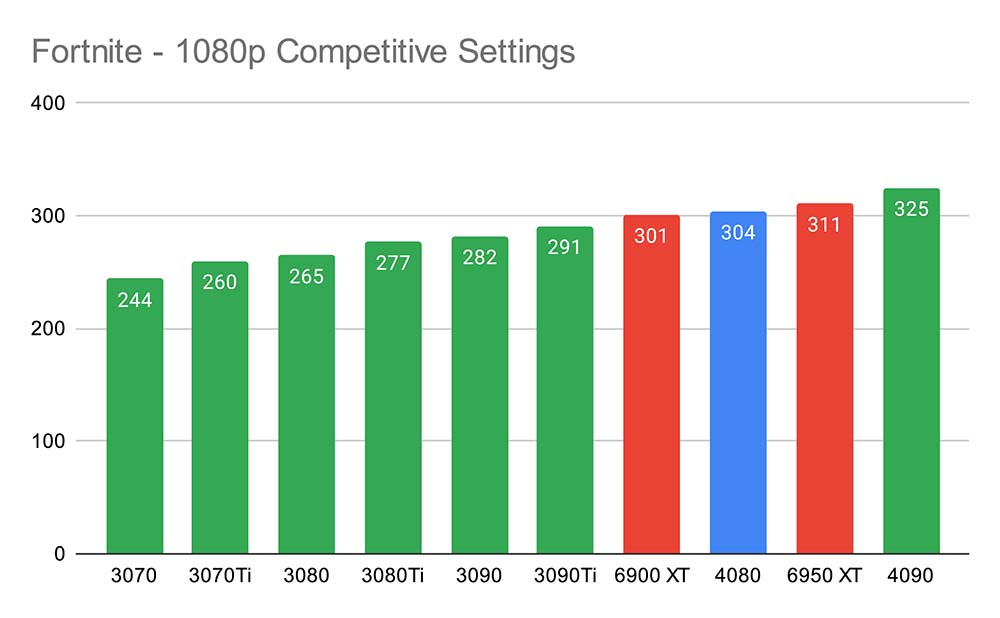 Conclusion
MSI RTX 4080 Suprim X
Product Name: RTX 4080 Suprim X
Brand: MSI
Features

Performance

Design

Value For Money
Summary
Is MSI's new Suprim X RTX 4080 worth the pickup? Or has Nvidia fallen flat with this launch? From our benchmarks, Nvidia have definitely pulled through with the RTX 4080, and in collaboration with MSI's excellent design, this card does not disappoint. If you're looking for a new and awesome looking graphics card, the Suprim X 4080 is definitely one we'd recommend picking up. The RTX 4080 is able to provide excellent metrics in 4K games, and with DLSS 3 and Ray-Tracing enabled, frames are pushed even further giving users the opportunity to enjoy improved visual fidelity without the performance overhead. Although the price of this card is a point of contention for most users, I'd argue you get what you pay for. If you're comfortable with the price point, MSI's Suprim X is an excellent card when it comes to performance, design, and thermals!
Pros
✅ One of the best looking RTX 4080 GPUs.
✅ Excellent performance at 4K with Ray-Tracing enabled.
✅ RGB looks awesome!
Cons
❌ Very expensive.
❌ Large design will limit case choices.
❌ Aesthetic will not be for everyone.