Introduction
Intel's brand new 13th generation Raptor Lake CPUs are finally here, and we've been working day and night to see how these new processors perform. Spoiler alert: they're awesome! What better way to showcase the performance of the new Intel range of CPUs by showing you how to build an awesome Core i7 13700K PC. This PC has been kitted out with insanely powerful components such as an ASUS ROG Strix RTX 3080 and 32 GB of Corsair Vengeance RGB Pro memory.
Needless to say, this PC is ready and raring to play games at 4K, and deal with some heavier workloads like 3D rendering or video editing. As usual, we've broken down all of the main components below, along with our recommended peripherals choices and the all-important benchmarks so you can see exactly how this system performs!
Suggested Article: Intel Core i7 13700K Review – The Ryzen 7000 Usurper
Main Components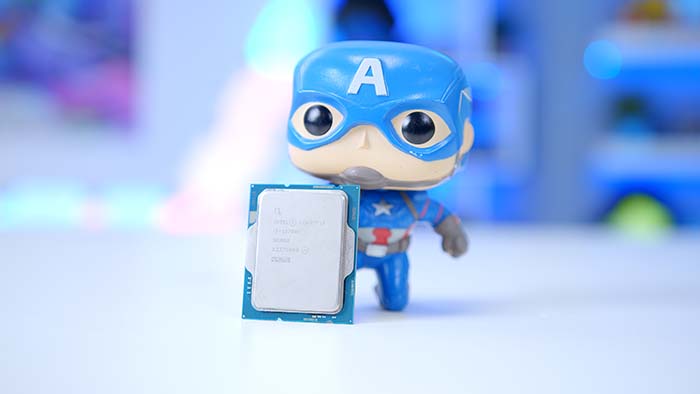 CPU: Intel Core i7 13700K
The main feature of this build is of course Intel's latest 13th-Gen CPU, the Core i7 13700K. This CPU has launched alongside two other SKUs, and from our testing and benchmarking, you definitely won't be disappointed. The i7 13700K offers alike performance to the previous generation's Core i9 12900K, but with less cores. We were hugely impressed with all of the new Intel CPUs, but the 13700K definitely blew us away the most when you consider the price and the amount of cores this thing has! You can read our full coverage of all of the SKUs on our homepage, or the full review on the Intel Core i7 13700K specifically.
Buy the Intel Core i7 13700K on:
Key Facts:
Boost Clock Speed: 5.4GHz
Core Count: 16
Thread Count: 24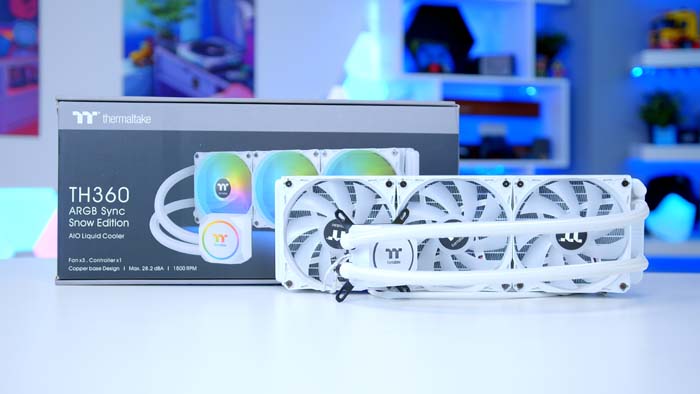 CPU Cooler: Thermaltake TH360 ARGB Sync Snow Edition
To go with our shiny new 13th gen Intel processor, we've picked the Thermaltake TH360 as our cooling option. The Sync Snow colourway and addressable RGB are sure to make the three 120mm fans stand out in this build, while providing plenty of cooling capacity for the i7 13700K.
Buy the Thermaltake TH360 ARGB Sync Snow Edition on:
Key Facts:
Radiator Size: 360mm
Included Fans: 3
RGB: Yes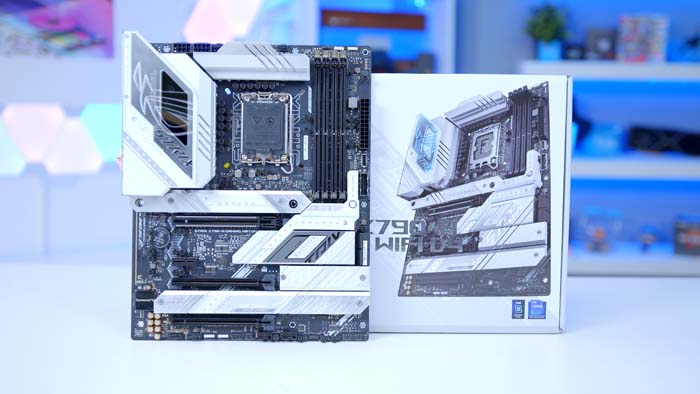 Motherboard: ASUS ROG Strix Z790-A Gaming WIFI D4
With the release of new CPUs comes new motherboards, and in preparation for Intel 13th gen CPUs, ASUS released the ROG Strix Z790-A Gaming WIFI D4. This motherboard is specifically designed for Intel 13th gen processors, with support for PCIe Gen 5 and WIFI 6E to offer optimal connectivity and performance. The white and silver heatsinks make it a great shout for this white-themed build, well-suited to lighter aesthetics.
Buy the ASUS ROG Strix Z790-A Gaming WIFI D4 on:
Key Facts:
Form Factor: ATX
Built-in IO Shield: Yes
Max Memory: 128GB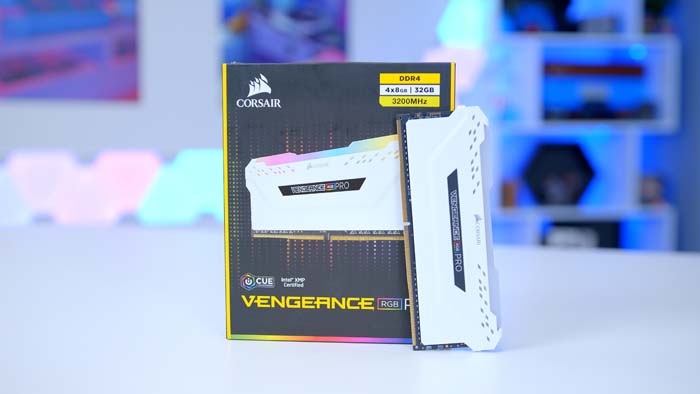 RAM: Corsair Vengeance RGB Pro 32GB DDR4
For the RAM, we've picked out the Corsair Vengeance RGB Pro. Offering a blend of style and substance, this kit comes with a 32GB capacity and a clock speed of 3600MHz. The support for Corsair's iCUE software allows for custom RGB lighting which we can sync across a number of components – perfect!
Buy the Corsair Vengeance RGB Pro 32GB DDR4 on:
Key Facts:
Capacity: 32GB
Clock Speed: 3600MHz
CAS Latency: 18-22-22-42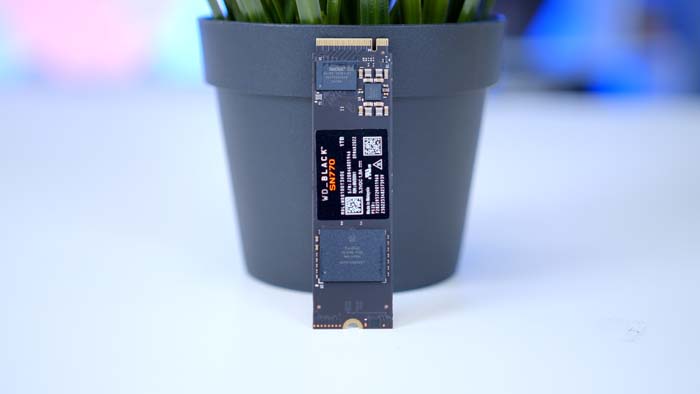 SSD: WD Black SN770 1TB
When it comes to finding a storage option that is great value for money, Western Digital often provides the answers. Their WD Black SN770 offers up read and write speeds around the 5GB/s mark, which allows it to keep up with all the latest titles, without costing a fortune. This Gen4 SSD is available in multiple sizes, but we choose to go down the middle and pick the 1TB option for this build.
Buy the WD Black SN770 1TB on:
Key Facts:
Capacity: 1TB
Read Speeds: 5150MB/s
Write Speeds: 4900MB/s
Interface: PCIe Gen4 x4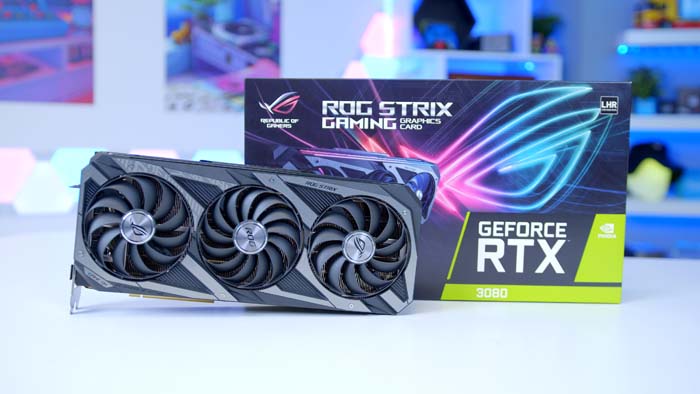 GPU: ASUS ROG Strix RTX 3080
There were no shortage of options of GPUs that we wanted to try out with Intel's latest processor, but we've opted for the ASUS ROG Strix RTX 3080. Our graphics card of choice will match the performance of the new Core i7 CPU, as well as the aesthetic of the Z790 motherboard. Combined with the 13700K CPU, this build will have enough power to enjoy smooth 4K gaming.
Buy the ASUS ROG Strix RTX 3080 on:
Key Facts:
CUDA Cores: 8704
TDP:
RT Cores: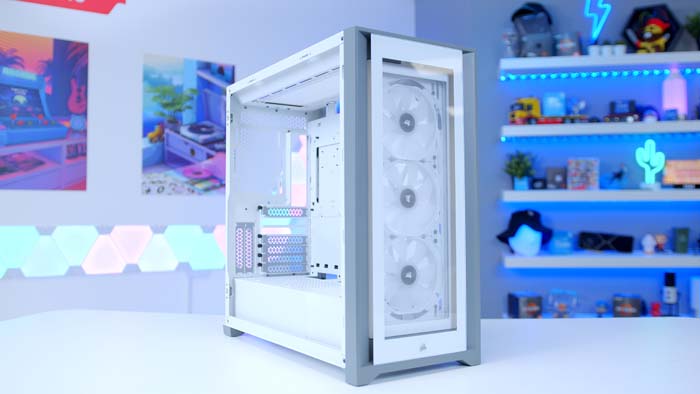 Case: Corsair iCUE 5000X RGB
To house all of our components, we've picked up the smart and stylish iCUE 5000X case from Corsair. Not only does this case look great, it has a range of customisation options to enhance airflow and cable management. The 5000x also includes three RGB fans which can be controlled with Corsair's iCUE software to match the rest of the build.
Buy the Corsair iCUE 5000X RGB on:
Key Facts:
Form Factor: Mid Tower
Fan Support: 10 x 120mm
Motherboard Support: ATX, micro-ATX, E-ATX, ITX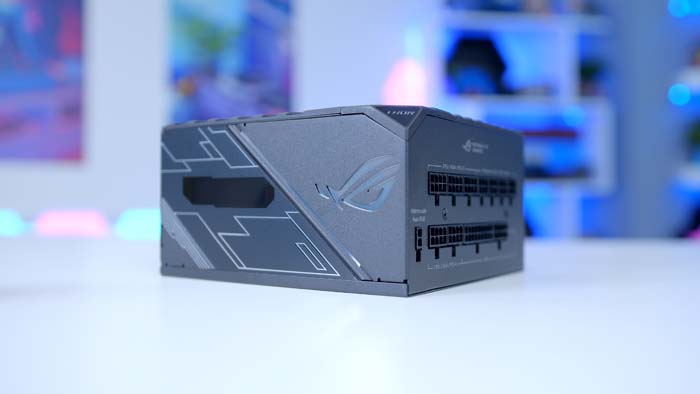 PSU: ASUS ROG Thor 850W Platinum
For the final component of today's build, we've kept the ASUS ROG theme going with the Thor 850W Platinum PSU. Equipped with a wing-blade fan, this power supply is designed to keep dust out, resulting in increased longevity. On top of this, the integrated Aura Sync RGB and OLED display tracks the real-time power output of the system.
Buy the ASUS ROG Thor 850W Platinum on:
Key Facts:
Wattage: 850W
Modular: Yes
Efficiency: 80+ Platinum
Peripherals
To finalise our build we've picked out some peripherals that match the aesthetic and performance of this build. We've made zero sacrifices on cost and features ensuring you get the best option that money can buy!
Corsair M65 Elite Mouse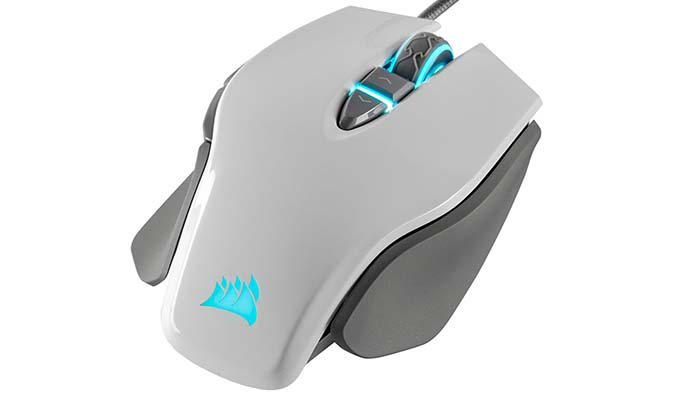 Corsair's M65 Elite is an excellent tuneable mouse with a high DPI sensor. The white chassis with RGB shining through matches the aesthetic of the build, and 18000 DPI sensor follows the high performance metrics that we're reaching with our component choices. The M65 is fully customisable both in terms of lighting colour, effects, and you can also adjust the weights inside the mouse to get a lightweight or heavier feel dependent on what your preferences are.
Buy the Corsair M65 Elite on:
ASUS ROG Strix Scope NX TKL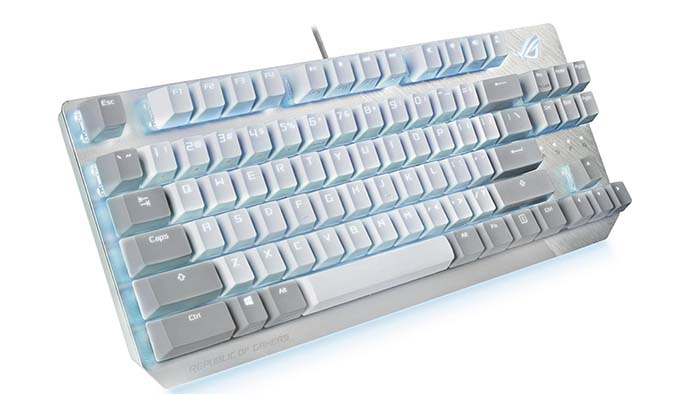 ASUS make brilliant keyboards, and I'm a big fan of their ROG Strix Scope RX that we have in the office. The Scope NX offers similar features such as a stealth key, a compact TKL design, and excellent feeling switches that make typing and gaming a smooth experience. Coupled with the white and grey design, this keyboard closely matches the style of our build further adding to the aesthetic, combined with the high quality keycaps and switches.
Buy the ASUS ROG Strix Scope NX TKL on:
ASUS ROG Delta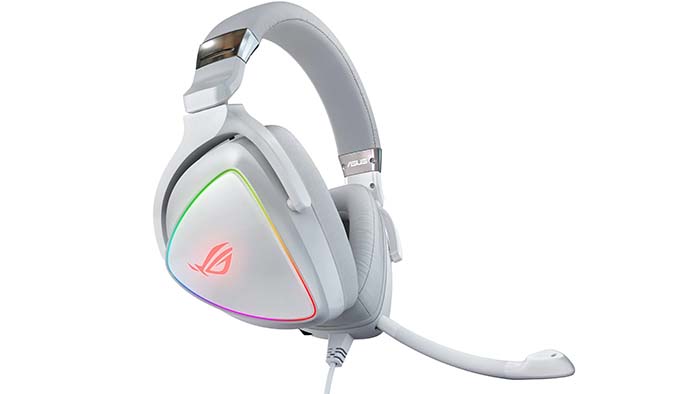 And finally for our headset choice, we've picked the ASUS ROG Delta. This headset features a Quad-DAC design that bring crystal clear audio quality, giving you the edge you need to seek out footsteps of an enemy. The ROG Delta has a very plush and comfortable design, allowing you to last during a long session of gaming. And the circular rainbow lighting on the outside of the earcup provides some additional flair matching nicely with our build.
Buy the ASUS ROG Delta Headset on:
Benchmarks
Now for the most important part of this article – the benchmarks. The CPU and GPU combo we've picked is insanely powerful, and we've compiled plenty of data overtime to see how components perform. Below you'll find a variety of graphs that show how each graphics card performs in different triple A and popular Esports titles. If you're looking for more detail, you can find the full runs of each game on our YouTube channel benched which has all of the gameplay footage for various GPUs and CPUs.
Gallery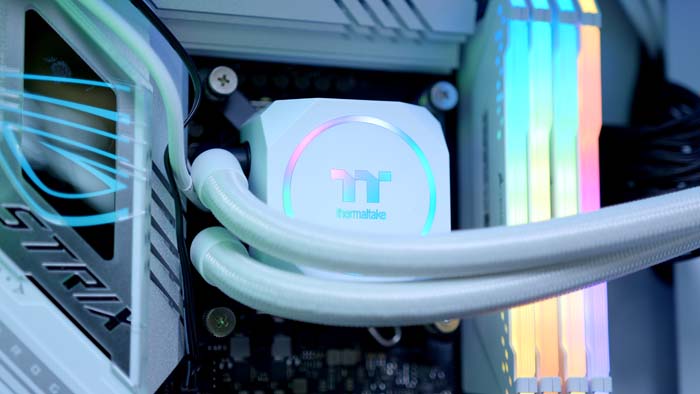 Video