Introduction
We're back again with another CPU launch, but instead of a market entry from AMD, we've got Intel's latest 13th gen processors. These new CPUs are set to take away AMD's performance crown after only a few weeks, but many questions still remain unanswered regarding Intel's latest CPUs and just how good they are.
Is it worth upgrading to a new Core i9 13900K? Has Intel once again stolen the limelight for processor performance? We'll be answering all of these questions in a good old fashioned CPU battle. We'll be delving into the key facts and specs in relation to both of these CPUs, and we'll be comparing them against each other using our all-important GeekaWhat benchmarks.
Suggested Article: Intel Core i9 13900K Review & Benchmarks – The Best Gaming CPU Ever Made
CPU Versus Battle
Core i9 13900K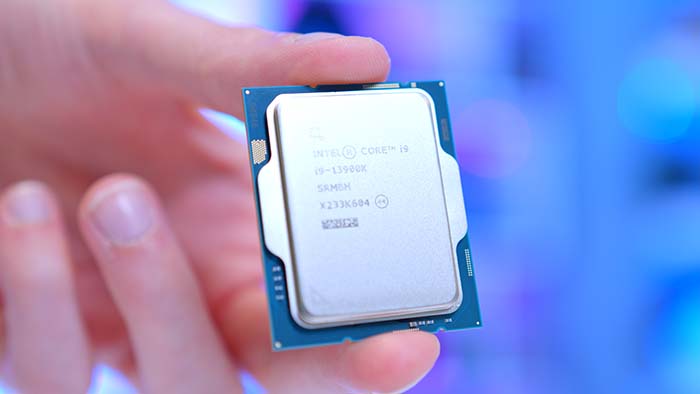 | | |
| --- | --- |
| Core Count | 24 |
| Thread Count | 32 |
| Base Clock Speed | 3GHz |
| Boost Clock Speed | 5.8GHz |
| Default TDP | 253W |
| Overclocking | Yes |
| Total Cache | 32MB |
Intel's Core i9 13900K is Intel's new top-spec option for those wanting the best of the best. With more cores, more threads, and a higher clock speed when compared to its predecessor, this is a chip that means business. The new architecture might only represent a small iterative change over 12th Gen, but whatever Intel has done here has certainly worked. Intel seems to have refined the existing process node extremely well, allowing for more cores, better efficiency, and higher performance cores.
Features haven't been altered massively either, with Intel providing similar options to those already available on 12th Gen motherboards, but with bountiful choices on cheaper boards. This means that less expensive Z790 boards may have access to PCI-E 5.0. Intel have also retained support for DDR4 alongside the newer DDR5 tech, which opens up options for users looking to build a more budget-oriented gaming PC.
The 13900K is a top-tier CPU that works well for 4K gaming and pairs up nicely with one of Nvidia's brand new RTX 4090 cards, helping to minimise CPU-oriented bottlenecked on these almost too powerful GPUs. Multithreading looks to be insane with this CPU, and single threaded performance shares a similar story, a perfect storm for great gaming performance.
Unlike the Ryzen 7000 launch, there doesn't seem to be any major caveats with the Core i9 13900K. You'll of course need to spend a significant amount in order to put a high performance build together, but that goes without saying. Thermals seem to be higher to 12th Gen CPUs, but not by much, with the higher number of cores bumping up temperature.
Buy the Intel Core i9 13900K on:
Ryzen 9 7900X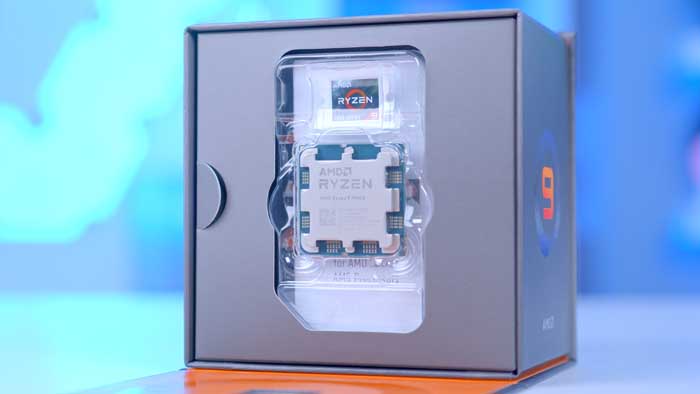 | | |
| --- | --- |
| Core Count | 12 |
| Thread Count | 24 |
| Base Clock Speed | 4.7GHz |
| Boost Clock Speed | 5.6GHz |
| Default TDP | 170W |
| Overclocking | Yes |
| L2 + L3 Cache | 78MB |
AMD's latest entrants to the market came in the form of their new Ryzen 7000 CPUs. The new AM5 platform brought a whole host of new features for AMD, along with massive IPC improvements set to dethrone Intel. And for around three weeks, AMD sat squarely atop of the CPU market.
With a solid jump in performance when compared to the previous Ryzen 5000 CPUs, AMD provided consumers with plenty of new tantalising upgrade options. The new X670E and B650E motherboards boast widespread PCI-E 5.0 support, ready for next-gen graphics cards, while all boards are fully DDR5 compatible for good measure. Rear IO is also very strong on Ryzen 5000, with the new chipsets bringing better networking and USB 4 support for good measure.
If you look at the price and performance of the Ryzen 9 7900X, this CPU is designed for high-end gaming and workstation PCs. Based on the high core and thread count of this CPU, you'll have a better shot at 4K gaming, or heavier workloads. The multithreaded performance of the 7900X is excellent, and single threaded performance is strong too.
Unfortunately, there are some pretty big caveats when it comes to Ryzen 7000. One of our main ones is thermal performance. AMD has changed the boosting behaviour of the new CPUs so that it reaches its thermal limit before boosting. Doing this gives it more headroom, but ultimately makes your build pretty toasty. For this reason, you'll need a very good CPU cooler to make sure your processor doesn't suffer any damage. You're also stuck with DDR5 memoryy only, and the new X670E motherboards are pricey to say the least.
Buy the Ryzen 9 7900X on:
Our Testing Methodology
To ensure that any product or component we receive gets fair treatment, we've designed a rigorous and repeatable methodology to gauge performance metrics. To do this, we'll only ever use similarly matched PC components to reduce bottlenecking, so that each part can perform optimally. To test the new Intel 13th gen CPUs, we've used one of AMD's RX 6950XT GPUs and tested games at both 1080p and 4K resolutions at High Settings. The RX 6950XT becomes the major control variable in all of our tests, but cards like the RTX 4090 and upcoming RDNA 3 launch from AMD will ultimately push frames even higher.
Benchmarking Performance
All of the full gaming benchmark runs can be found on our YouTube channel – 'Benched'. We test a variety of different GPUs and CPUs to see what kind of performance metrics are on offer. All of the benchmarks that we do are tested in a range of triple A titles and popular Esports games, providing extra context on how these components perform within games.
Cinebench R23 Multi Core
For our first synthetic benchmark, we put the 13900K up against Cinebench R23 in the multi core test. This maxes out all of the threads to get the highest performance possible, rendering each image optimally. The Core i9 13900K beat out the 7900X by around 12,000 points, skyrocketing to 39927 in total.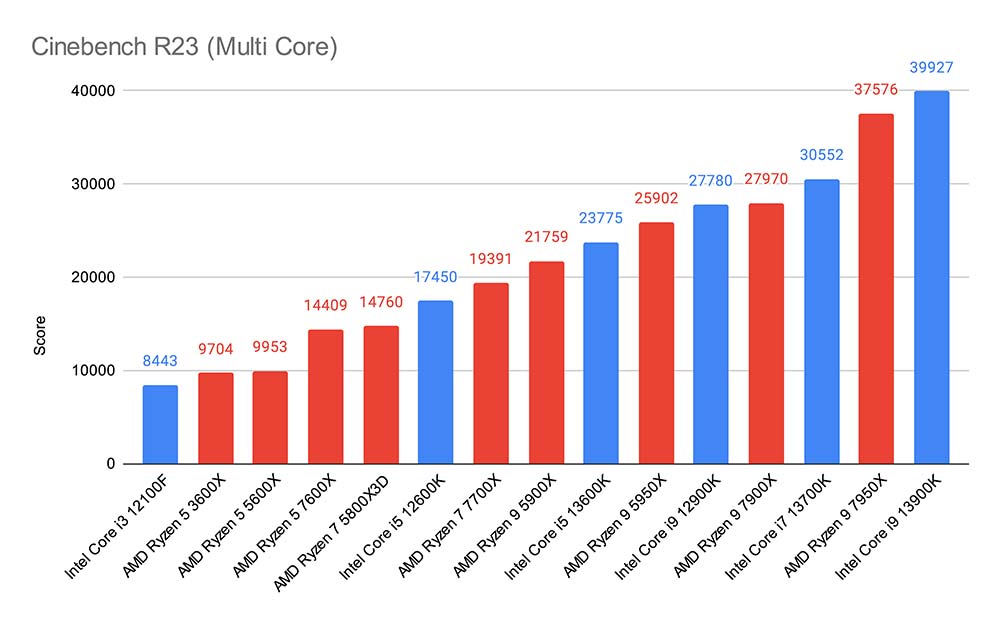 Although the 13900K was able to beat the 7900X, the Ryzen 9 was still able to offer impressive multithreaded performance, sitting at 27,970 in total. Both of these CPUs are very capable in multithreaded performance, but the 13900K is a clear winner for more intensive workloads, even if it does cost a little more on a CPU-only basis.
Cinebench R23 Single Core
Yet again, in the single core benchmark, the Core i9 13900K stretched its legs, showing how strong its single threaded performance is too. This is an important metric to take note of because this gives is some context for how the 13900K and 7900X will perform in gaming-oriented workloads. The 13900K outshined both of Intel's top performing options, the 7950X and 7900X, with a near 100 point lead versus the 7950X.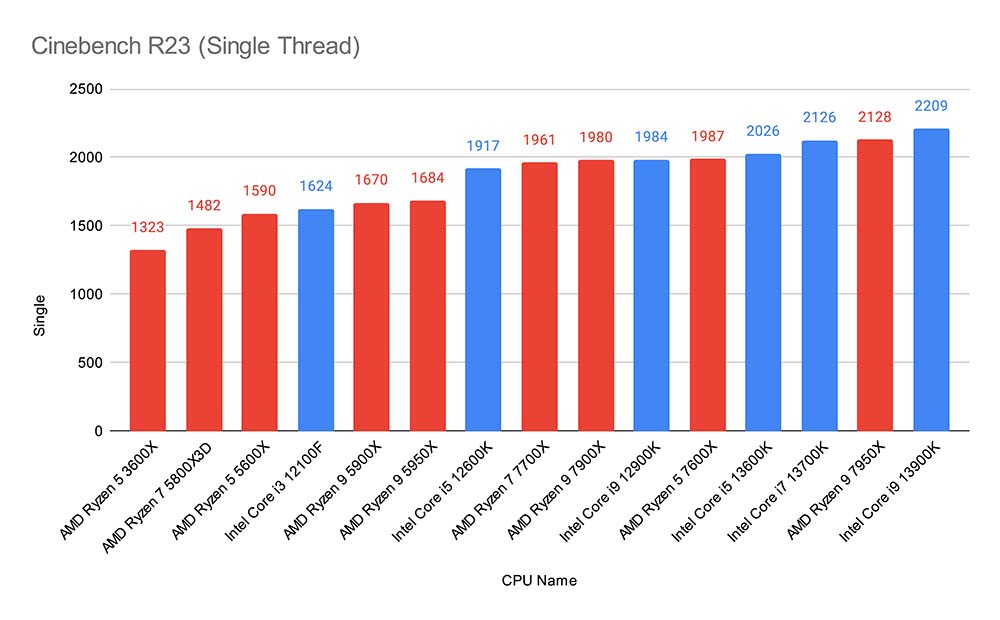 Unfortunately, the 7900X didn't do amazingly when it comes to single threaded performance, with a score of 1980. Despite the clock speed being rather high, the mid-range 7600X actually has a stronger lead versus the 7900X. Although the lead isn't by a huge margin, its still disappointing to see that a high-end CPU isn't able to beat its mid-range sibling in this particular test.
3D Mark CPU Profile
To test the capability of different thread configurations, we used 3D Mark's CPU profile. At max threads, the Core i9 13900K reached a score of 16862, which is the highest we've seen out of any CPU we've ever tested. Single threaded scores were similarly impressive, with a final total of 1244. Compared to the 7900X, the 13900K absolutely dominated this benchmark.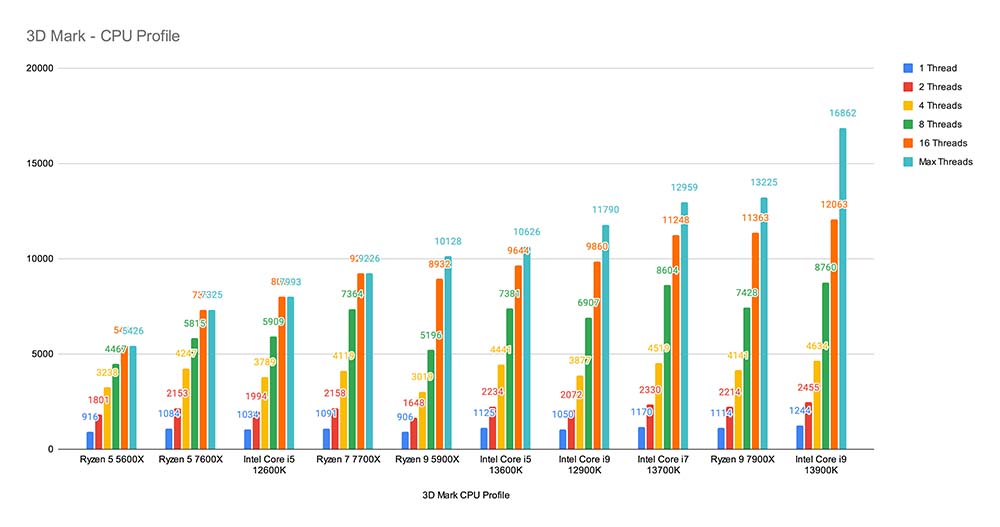 AMD's Ryzen 9 7900X offered somewhat impressive multithreaded and single threaded scores, but Intel's newest top performing CPU definitely seems like the better choice for intense workloads.
3D Mark Timespy Extreme & Firestrike
In both 3D Mark Timespy Extreme and Firestrike, the Core i9 13900K came out on top. In Timespy, Intel's top end chip delivered a score of 13,170, topping the charts and outperforming the 7900X. It was a similar story in Firestrike, where the i9 13900K delivered a CPU score of 45,186, topping the Ryzen 9 7900X by just over 1,000 points.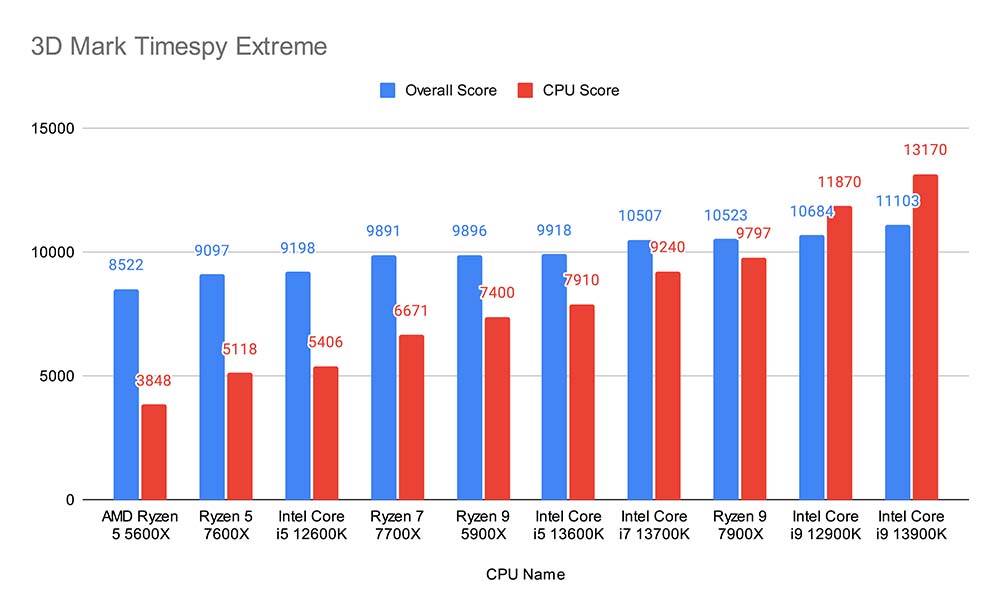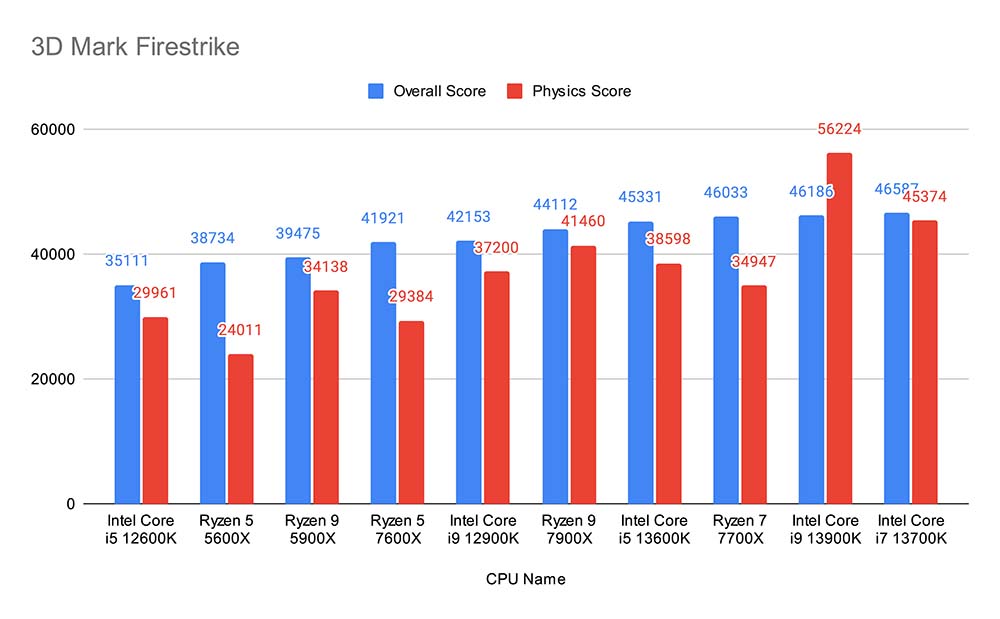 Battlefield 2042
In Battlefield 2042, we dialled the resolution up to 4K and cranked the settings up to, giving us pretty similar results for both the 13900K and 7900X. The 13900K topped the leaderboard with an average framerate of 111, but the 7900X wasn't a million miles behind with an average of 104 frames per second. We were very happy with the performance overall, and this benchmark shows the capability of both of these CPUs. A small win for the 13900K again here.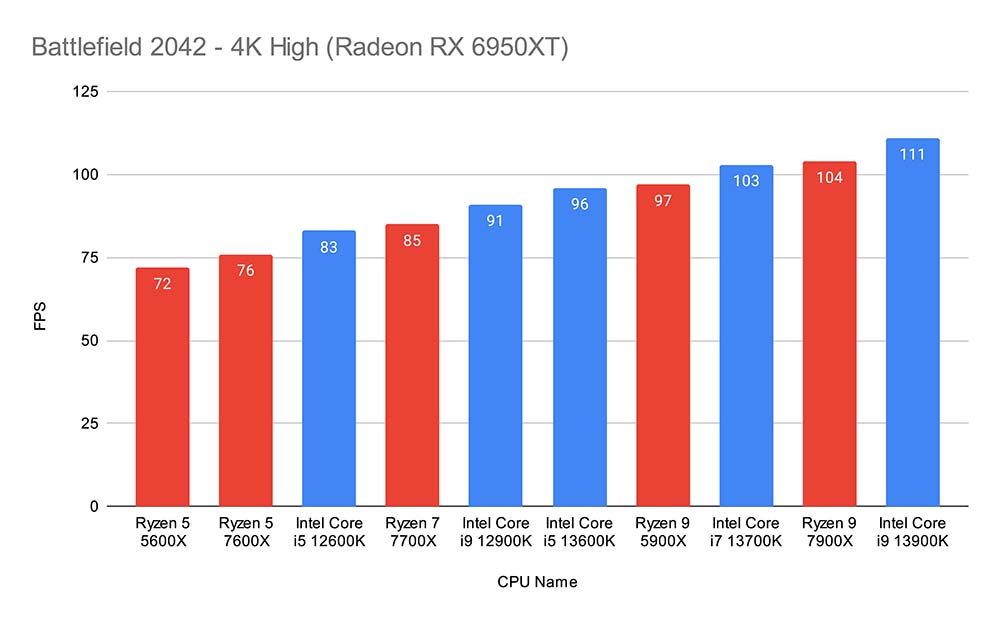 F1 2022
In F1 2022, the 13900K hit the top of the charts, on par with both of its less powerful siblings. It is important to note that the frame rate here wasn't limited in any way, but instead we reached a GPU bottleneck. Nevertheless, another win for Intel here.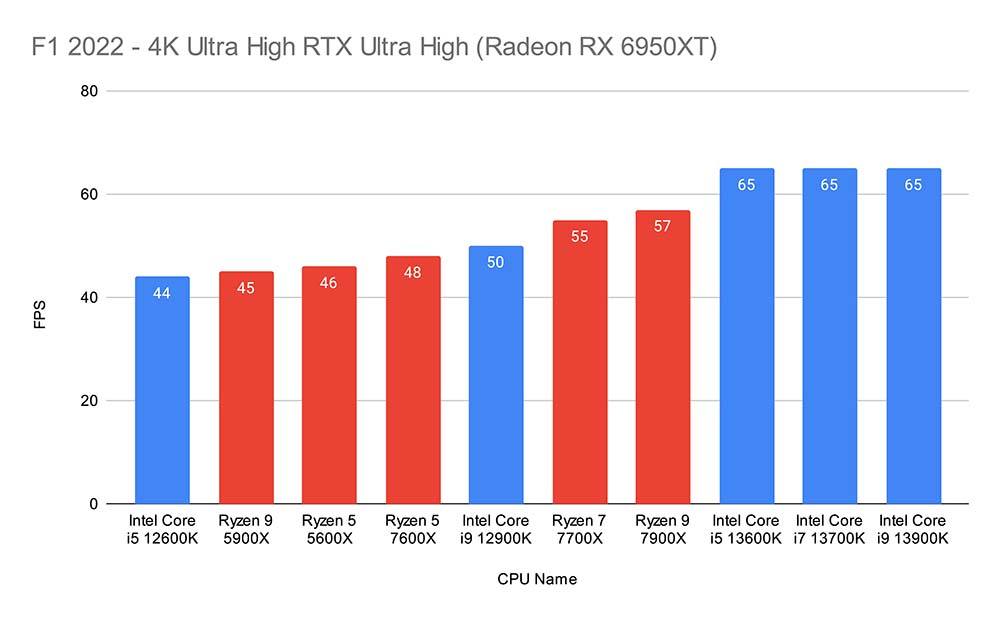 Marvel's Spiderman Remastered
In Spiderman Remastered, we've followed a similar pattern of the 13900K and 7900X, offering similar performance within 4K games. The 13900K sits at the top with 122FPS on average, with the 7900X closely follows with a 110 average FPS.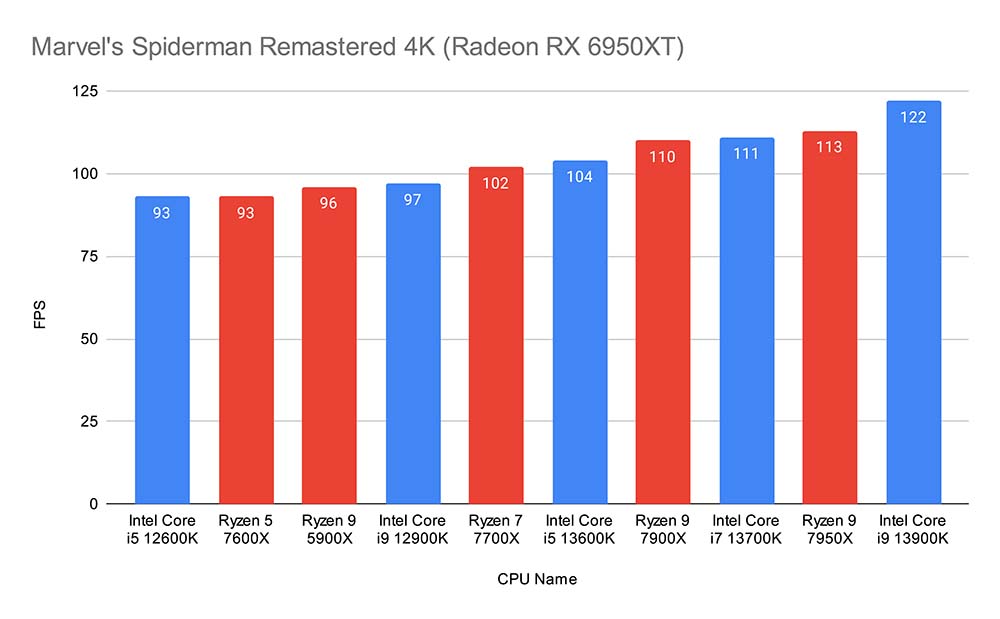 Apex Legends
In our final benchmark, we tested out Apex Legends at 4K set to High Settings. The Core i9 13900K surpassed more than 200 FPS, nearly 10FPS more than the Ryzen 9 7900X. Both of these chips delivered superb performance, but Intel undoubtedly takes the cake again here.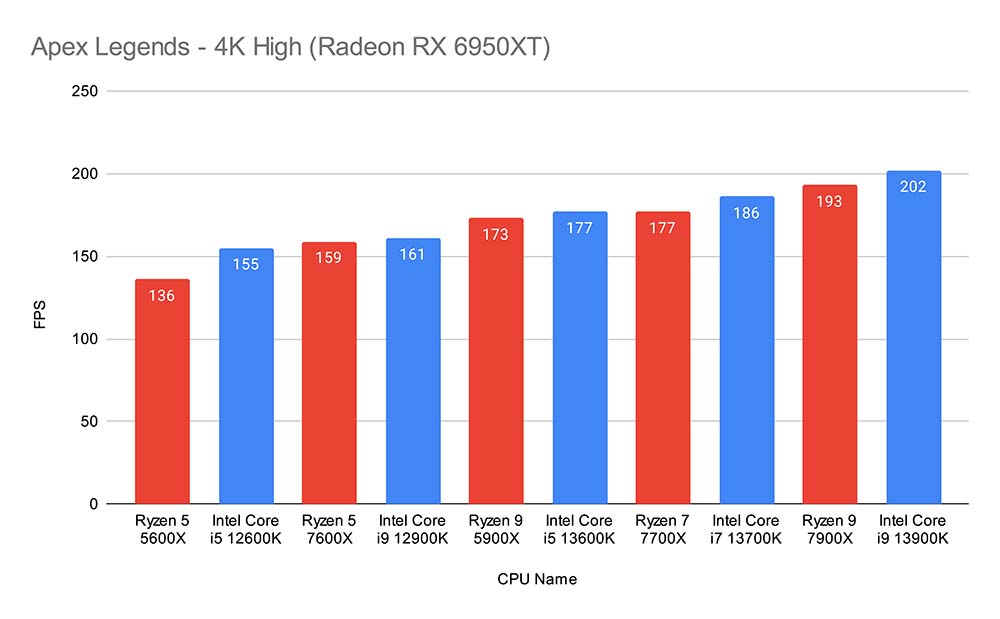 Conclusion
Circling back around to the questions that we asked at the start, is the Core i9 13900K worth upgrading to, or is the 7900X still a better option? The answer is a bit of a mixed bag to be honest. If we take the gaming benchmarks alone, the Ryzen 9 7900X and Core i9 13900K offer very similar performance, with Intel winning all of our tests, but not by huge margins.
The i9 13900K is undoubtedly the better bet, given the better availability of cheaper motherboards, DDR4 memory, and plainly a better optimised architecture. Second-gen AM5 chips have a fantastic base to build off, but for now Intel is the easy recommendation to make in this test.