Introduction
Intel's new 13th generation CPUs have finally landed and we've got our hands on some of the SKUs to test and see how they perform. Intel's previous 12th Gen CPUs were heavy hitters when they released, and Intel set the bar pretty high for IPC and performance metrics.
But this begs the question, is Intel's Core i5 13600K any good, and worth the upgrade? Or is it worth sticking to your guns and picking up a tried and true CPU, the Core i5 12600K? We'll be answering both of these questions in a fashion you all recognise – a GeekaWhat versus battle. In this article we'll be breaking down the main features of both CPUs, while looking at market positioning and pricing. Then we'll jump into the nitty gritty with some benchmarks to see how both of these CPUs really perform!
Suggested Article: Intel Core i5 13600K Review – A Mid-Range Performance Titan
CPU Versus Battle
Core i5 13600K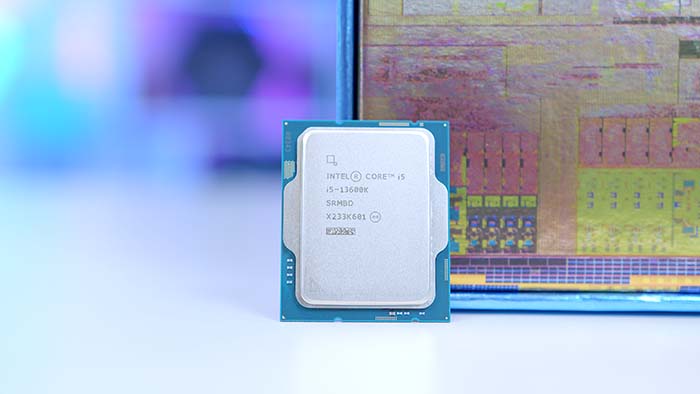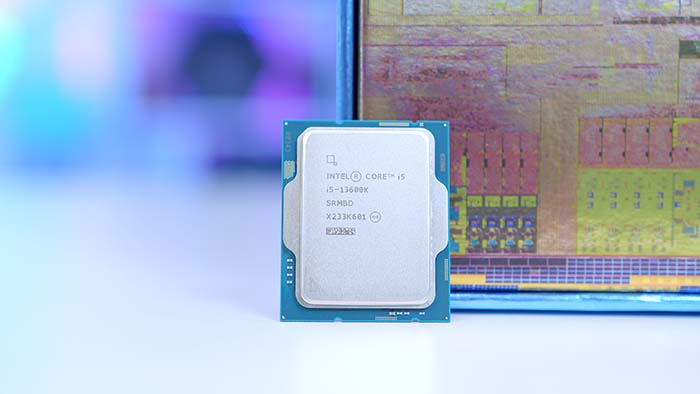 | | |
| --- | --- |
| Core Count | 14 |
| Thread Count | 20 |
| Base Clock Speed | 3.5GHz |
| Boost Clock Speed | 5.1GHz |
| Default TDP | 181W |
| Overclocking | Yes |
| Total Cache | 44MB |
The new Core i5 13600K is Intel's primary mid-range option available on release. The refined processing node that we saw on Intel's Alder Lake CPUs has popped up here yet again, but with further improvements allowing Intel to add more cores and higher clock speeds to the new CPUs. This means that both single and multithreaded performance has seen a significant bump in this instance.
With regards to 13th Gen features, we haven't seen drastic changes to the motherboards. Many of the currently available 13th Gen boards are pretty much the same as their predecessors, but many of the newer features like PCI-E 5.0 and USB4 ports are starting to pop up on cheaper boards. Giving access to consumers building more budget oriented PCs is a nice touch and we're all for it! Intel has also retained support for DDR4 with the new motherboards giving users the opportunity to still build a powerful PC, but at a cheaper cost. DDR5 builds are still possible too, but you'll obviously have to swallow the premium that comes with the generational upgrade.
Performance wise, the 13600K offers great metrics at 1080P and 1440P at high settings. However, it does tend to falter at 4K based on the slightly weaker single core performance compared to the Core i7 and i9 ranges. The 13600K is best positioned to offer excellent performance at lower resolutions and for that reason should be paired up with other mid-range GPUs like an RTX 3060Ti up to a 3070Ti. On the AMD side, a 6700X to 6800 will also do just fine at these resolutions too. Although thermals are somewhat similar to the previous 12th-Gen CPUs, you'll still want a good CPU cooler to keep your thermals at a good level, and we've recommended a range of them for the Core i5 13600K on our website!
With regards to pricing, I'd argue that the Core i5 13600K is a bargain when comparing to other options. Intel could price these CPUs much higher if they wanted to, but sitting at under $350 is a steal. Intel have only bumped up the prices on these CPUs by around $30 or so which is tiny when you consider the performance improvements.
Buy the Intel Core i5 13600K on:
Core i5 12600K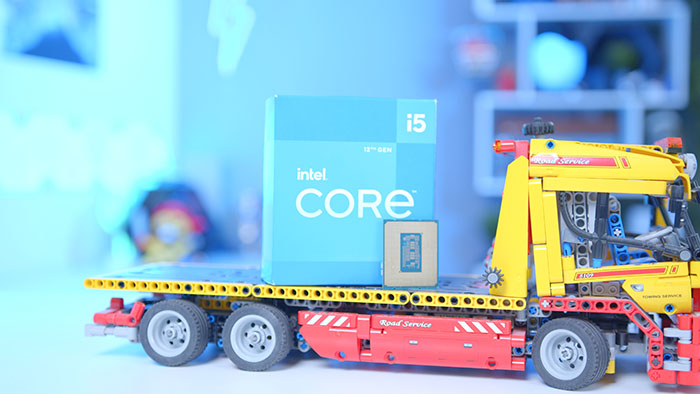 | | |
| --- | --- |
| Core Count | 10 |
| Thread Count | 16 |
| Base Clock Speed | 3.7GHz |
| Boost Clock Speed | 4.9GHz |
| Default TDP | 150W |
| Overclocking | Yes |
| Total Cache | 29.5MB |
Intel's Core i5 12600K, was one of the new options in the 12th Gen range that stopped the proverbial ship from sinking. No CPU was remotely close to the 12600K in terms of price and performance making it one of the best mid-range CPUs you could buy. Although AMD's new Ryzen 7000 range has caught up, it seems that Intel still lead the fore when it comes to price to performance metrics
The new 12th Gen range of CPUs brought with them a whole host of new features for consumers to sink their teeth into. Gen5 and Gen4 SSD support, WiFi 6E, PCI-E 5.0 for graphics cards, and Intel were of course the first manufacturer to pioneer the consumer-based DDR5 standard. DDR4 was still available on the new motherboard chipsets, but many of the top-end Z690 boards utilised the new DDR5 DIMM slots. All of these new features were another major selling point alongside the significant performance improvements giving consumers the opportunity to build a feature-rich PC but without having to spend an absolute fortune.
Looking at performance, the Core i5 12600K was the best gaming CPU that money could buy. 4K does pose some issues even with a high-end graphics card, but it is a possibility even you're willing to put up with less frames compared to other options. We would recommend pairing up mid-range GPUs similar to what we've recommend for the 13600K to ensure you get the best value for money and performance.
If we take a look at pricing, the Core i5 12600K was priced very competitively at launch especially when you consider the performance. At under $300 you can't really argue with the price, and now that Intel 12th Gen is a little bit older, you'll be able to pick up this CPU for an excellent price, or much cheaper if you're willing to hold out for Black Friday/Christmas deals.
Buy the Intel Core i5 12600K on:
Our Testing Methodology
We've created a rigorous and repeatable testing methodology that ensures every component is tested fairly and accurately. Every CPU and GPU we test is put into a system with similarly matched components so that any bottlenecking is reduced and each part can perform optimally. To test the new 13th Gen processors we used one AMD's RX 6950XT so that framerates could reach their highest removing any graphical bottlenecks within games.
The second major part of out testing methodology is sticking to our editorial promise that we've set out on our website. We tend to receive a variety of components from a number of manufacturers that may want us to test and review them. Regardless of our relationship with the manufacturer we will always set out to create a fair review and be candid about our thoughts on the product.
Benchmarking Performance
In this section we'll be taking a look at the performance of the 13600K and 12600K side by side. Below you'll find a selection of graphs which show off the performance in various synthetic benchmarks along with triple A and popular Esports gaming titles. You can find all of the full runs that features these numbers on our benchmarking YouTube channel – 'Benched'.
Cinebench R23 Multi Core
In Cinebench R23 we put the 12600K and the 13600K up against each other in a multi core benchmark. Here it seems that both of these CPUs are relatively similar in their performance. The 13600K has a stronger score overall, but the 12600K is close behind just sitting below the 5900X. We're definitely expecting to see performance improvements when it comes to multi core workloads, but this can entirely depend on whether the rest of your system matches up to your CPU.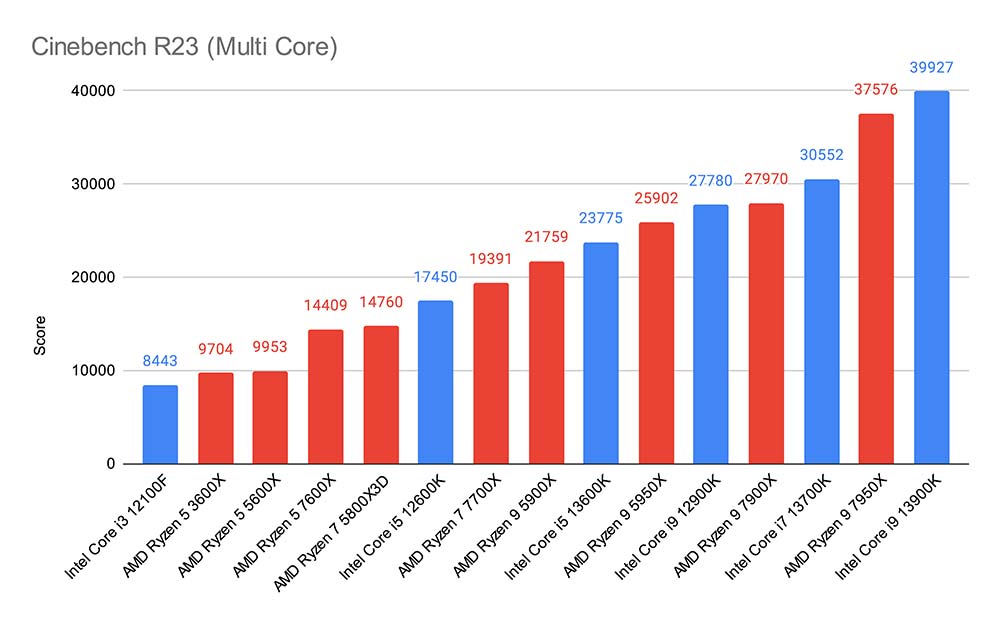 Cinebench R23 Single Core
In our single core benchmark, we experienced a similar situation with the 13600K beating out the 12600K by around 100 points overall. This is still impressive, demonstrating that the 13600K should offer up better gaming performance, but this will ultimately depend on what GPU you've put in your build. The 12600K offers similar performance to that of a 7900X which is impressive for Intel, and pretty disappointing for AMD.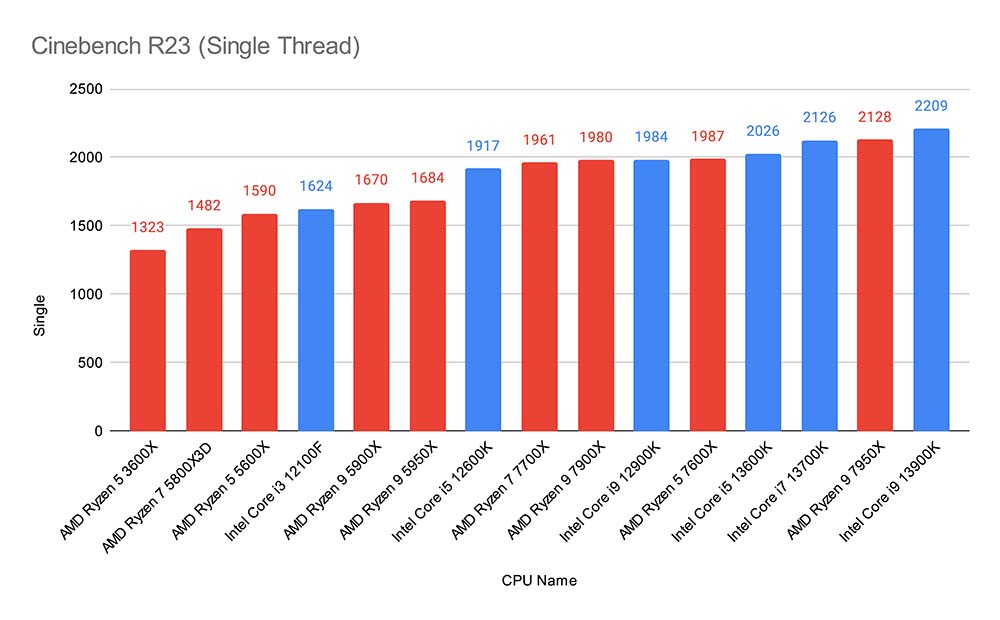 3D Mark CPU Profile
In our CPU profile benchmark, we tested both of these CPUs in a variety of different thread configurations, from one and two threads, up to the max possible. In single threaded performance, the 12600K and 13600K sit very close together, with the 13600K only offering around a 100 point lead or so. At max threads, the scores start to separate more showing off the stronger metrics from the 13600K that come with better cores that threads.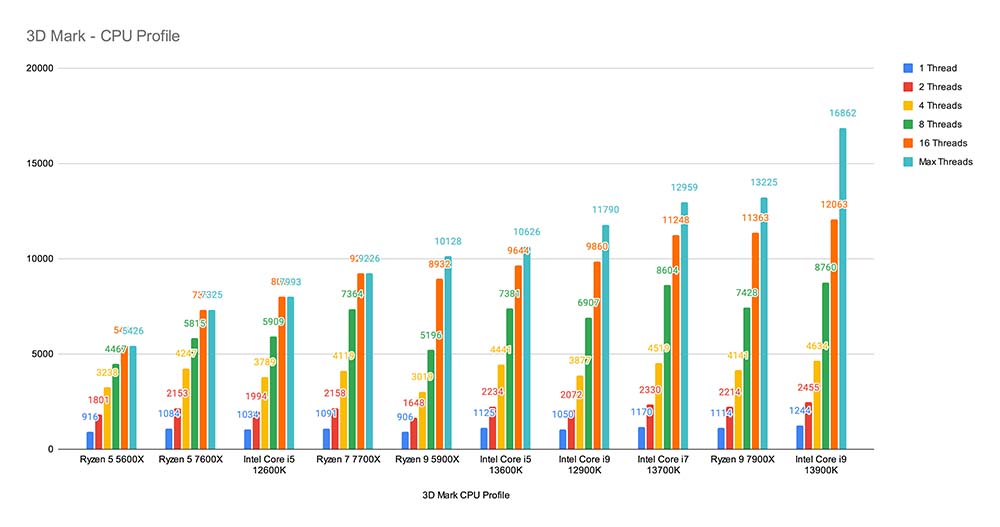 The 13600K definitively came out on top here, however the Core i5 12600K offered competitive performance sitting above the new Ryzen 5 7600X, with alike metrics to that of the Ryzen 9 5900X.
3D Mark's Timespy Extreme and Firestrike
In TimeSpy Extreme, the 13600K and 12600K were relatively on par with one another. Neither of these CPUs are specifically designed for 4K, so while they still outperformed the Ryzen 5 7600X, the overall score difference wasn't much. The 13600K was able to beat the 5900X in this benchmark, but unfortunately both of these CPUs are let down by having less cores and a slower clock speed compared to high-end options.
In 3D Mark's Firestrike, we start to see the performance metrics differ quite significantly. Unfortunately, the Core i5 12600K was left in the dust sitting at the bottom of the leaderboards with a score of 35111. This is somewhat saddening to see, but its worth noting that the physics (or CPU) score was still higher than the 5600X and nearing the 5900X. The 13600K yet again blew most of the other options out of the water, soaring up to the top sitting in third place. Both the overall and physics score of the were very high, and further demonstrates how capable this CPU is at 1080P!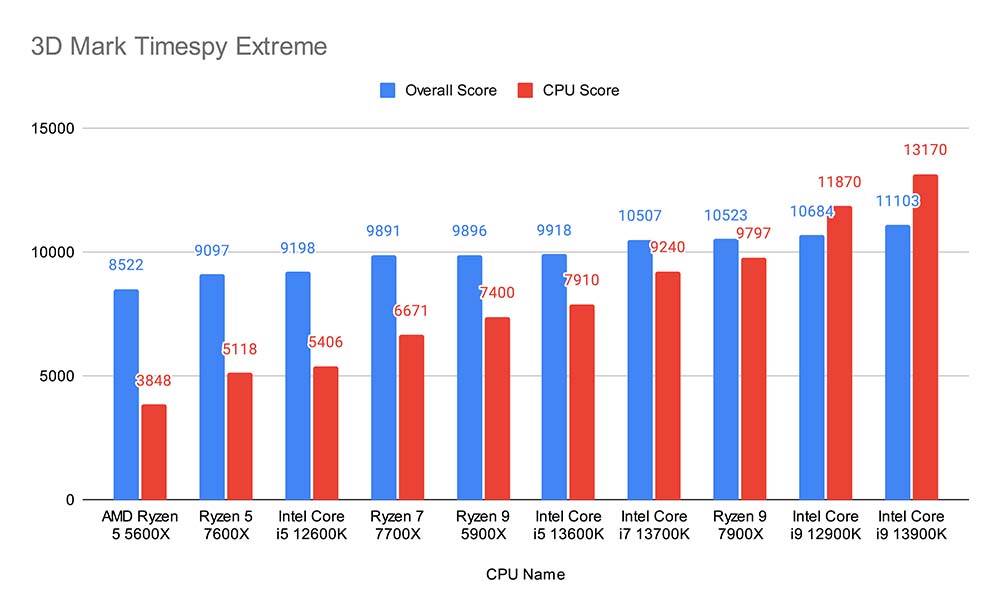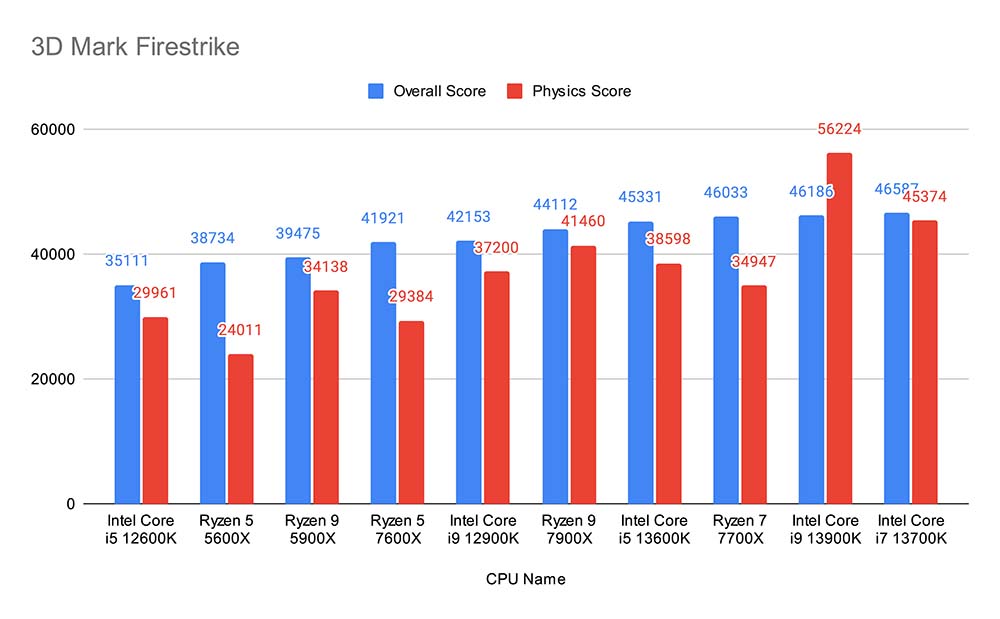 Marvel's Spiderman Remastered
For our first game we tested out Spiderman Remastered at 1080P high settings. Looking at the graph, the 13600K was able to outperform the 7600X and the 12900K at these settings. This is incredibly impressive and demonstrates how strong the single core performance is within this title.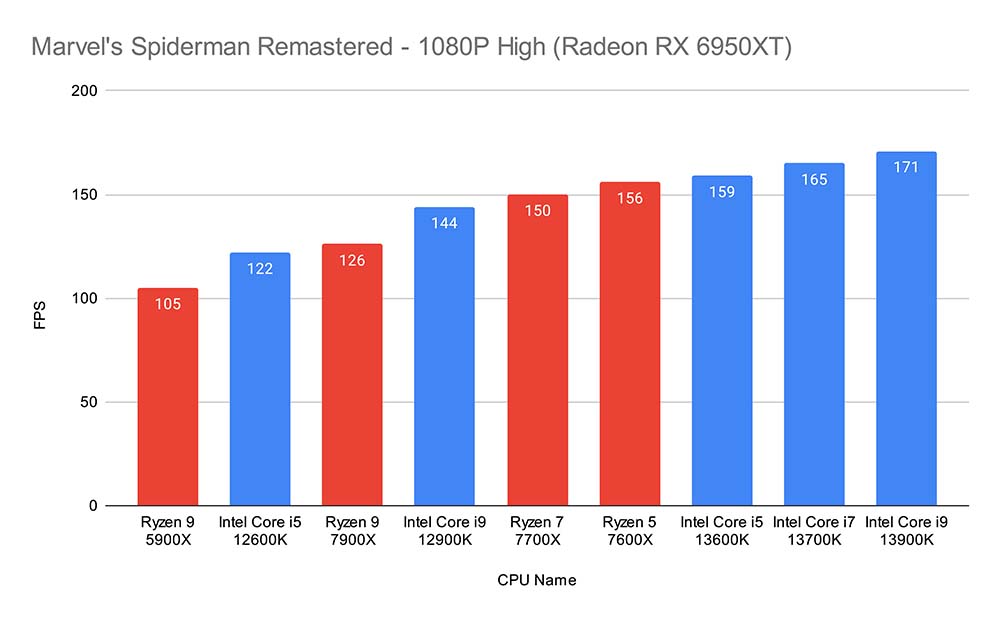 The 12600K didn't perform as well in comparison hitting around 122 frames on average. This is still more than enough to have smooth gameplay, but it shows how drastic the improvements are with single core performance on the new 13th-Gen CPUs.
Apex Legends
In Apex Legends, the 13600K reached an average framerate of 281 which is well over the 144Hz sweet spot benefitting fast-paced titles. Unfortunately, the 12600K yet again sits at the bottom of the leaderboards, but still offering up a framerate of 236.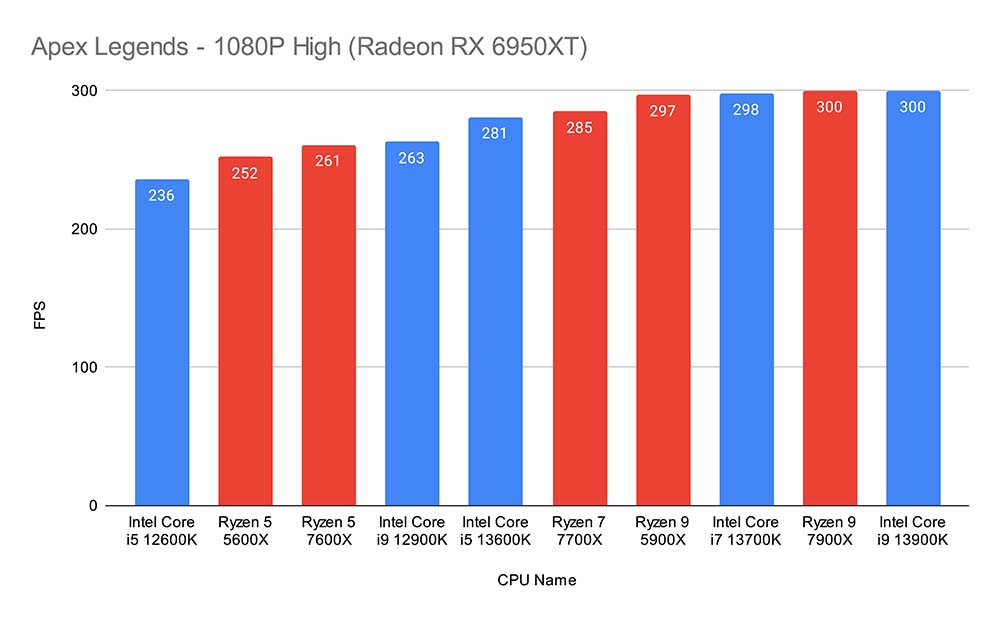 We're not disappointed with the 12600K, because at frames this high, you won't be able to notice the difference between 230 versus 280, but this demonstrates the IPC improvements that came with the generational upgrade.
Battlefield 2042
Battlefield 2042 tends to be a pretty intense title even at 1080P, so hitting a framerate of 181 from the 13600K was definitely impressive. The 13600K is constantly able to outperform many of the previous generation CPUs and the new Ryzen 7000 SKUs which is honestly just mind-blowing to see a mid-range CPU beat a 12900K.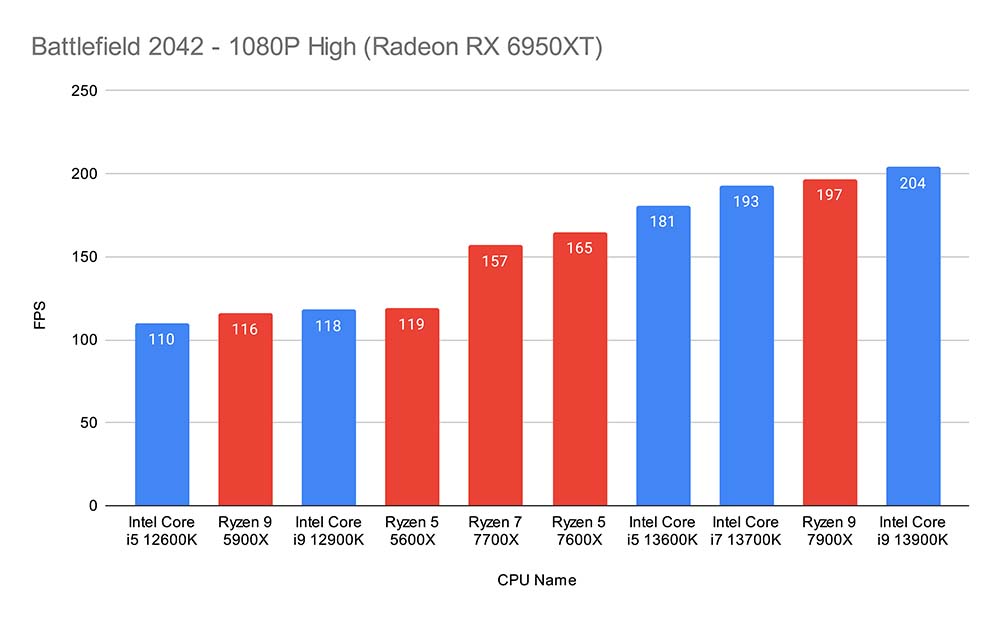 The 12600K did take a bit of a loss here only reaching 110 frames on average which unfortunately isn't enough for a smooth refresh rate. However 110 is still more than enough to have a playable experience.
F1 2022
And finally, in F1 2022 the 12600K and 13600K were at opposite ends of the spectrum. Its clear that the 12600K does tend to suffer on more recent DX12 titles, but 111 is plenty to be able to follow your racing line. The 13600K on the other hand blew some of the other top-end options out of the water. The single core performance of this CPU is beastly, and that is clearly being showcased here with the 182 average framerate we were able to reach.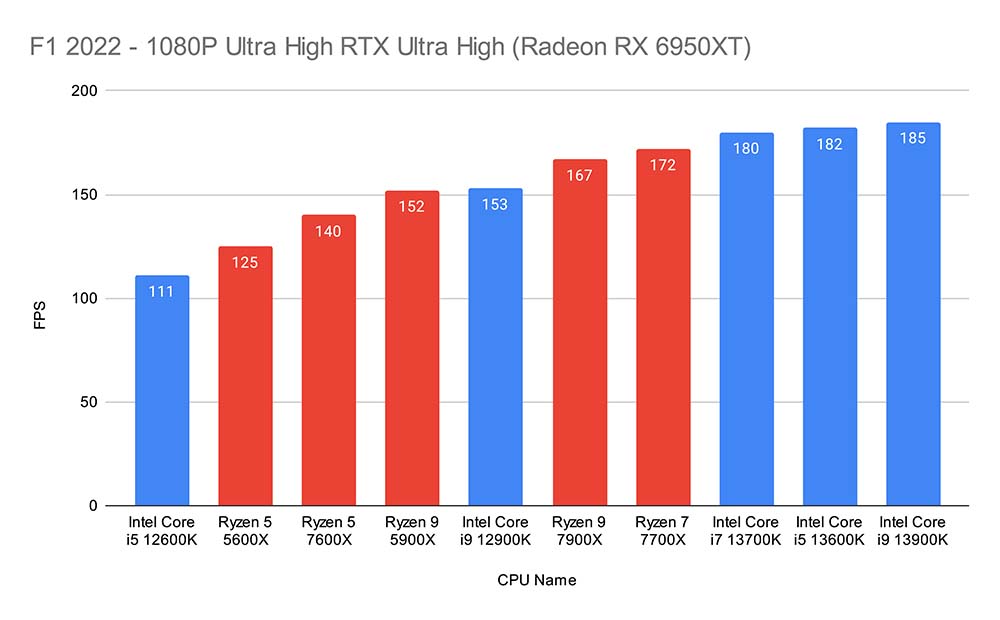 Conclusion
Circling back around to the questions we asked at the start, is the new generational upgrade worth it? Or is the tried and true 12600K still a superior option? In short, it seems here that the 13600K is the clear winner here. In pretty much all of our benchmarks the 13600K (and keep in mind this is the cheapest CPU Intel are offering in the 13th-Gen range) managed to beat out most of the alternatives bar its more powerful siblings. The fact that this mid-range titan is able to outperform some of the most powerful CPUs we've ever seen in the most recent years is insane. And this makes it a clear winner when looking at price to performance.
However, the 12600K is still an excellent choice if you're looking for something slightly cheaper. I would still wholeheartedly recommend the Core i5 over most of AMD's new Ryzen 7000 range. The 12600K is still a very strong choice in today's market and will still cost you much less than the exorbitant price that comes with upgrading to a DDR5 motherboard. Either both of these CPUs are a good choice, but the 13600K is a definitive winner at 1080P and 1440P games.