Introduction
AMD's Ryzen 5 7600X is the one of the latest options available in the new Ryzen 7000 CPU range on the AM5 platform. As the cheapest CPU in this initial Ryzen 700 rollout, it is the most accessible option for consumers that want to build themselves a brand new mid-range gaming PC without having to spend a fortune.
But in the wake of these new releases, consumers may find themselves sticking to older solutions based on the expense of having to upgrade to the new platform. This starts to raise some questions. Is the Ryzen 5 7600X worth swallowing the exorbitant motherboard cost for a performance boost? Or should you stick to a cheaper but solid alternative with one of AMD's previous releases in Ryzen 5000? Today we'll be answering these questions with a good old-fashioned GeekaWhat versus battle. We'll be comparing both of these CPUs side-by-side to see which option is better in terms of performance, pricing, specs, and more.
Suggested Article: AMD Ryzen 5 7600X Review – Architecture, Performance & Thermals
CPU Versus Battle
AMD Ryzen 5 7600X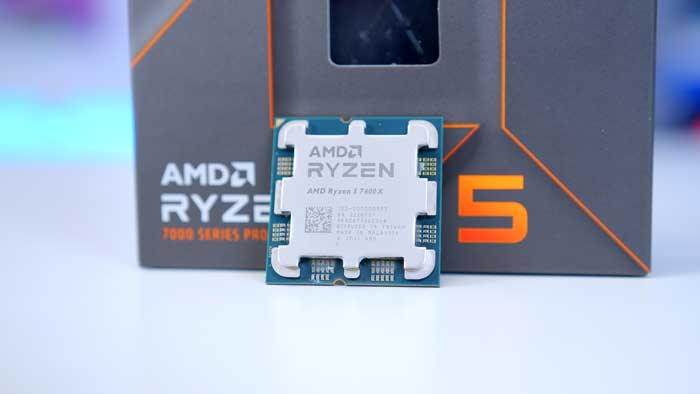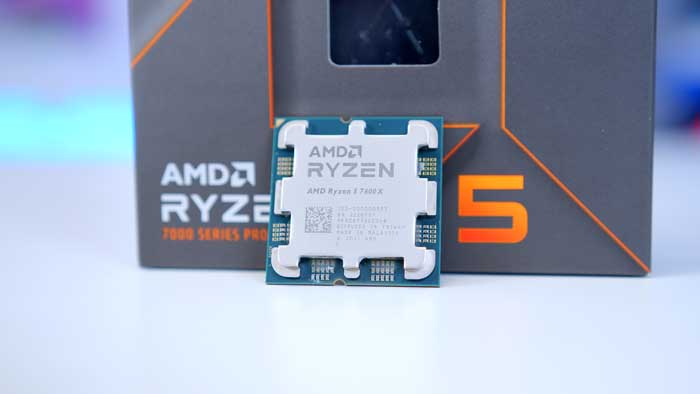 | | |
| --- | --- |
| Core Count | 6 |
| Thread Count | 12 |
| Base Clock Speed | 4.7GHz |
| Boost Clock Speed | 5.3GHz |
| Default TDP | 105W |
| Overclocking | Yes |
| L2 + L3 Cache | 38MB |
AMD's Ryzen 5 7600X is the lowest priced Ryzen 7000 option available, geared more towards the mid-range market. With the launch of this new platform for AMD, we've seen the inclusion of new features such as widespread PCI-E 5.0, DDR5 EXPO profiles, and USB4 ports. PCI-E 5.0 was previously an Intel 12th gen only feature, but AMD has strived to put this new standard at the forefront of their new architecture.
Ryzen 7000 CPUs are the answer to Intel's 12th-Gen range, and all of these new processors are impressive. The Ryzen 5 7600X is equipped with a boost clock of 5.3GHz and offers a 6 core, 12 thread makeup.
The Ryzen 5 7600X offers great frames when it comes to games running at a 1080P and 1440P resolutions. 4K is a possibility here, but due to the significant performance overhead, this higher resolution won't perform as well when compared to other options. The 7600X is also excellent when it comes to single threaded performance. Due to the high clock speed, boosting to its rated clock speed on a single core is a breeze for this CPU, giving you a much needed performance boost, especially in gaming.
In terms of pricing, I'd argue that the Ryzen 5 7600X is one of the best priced mid-range CPUs with an identical MSPR to its 5600X predecessor. In a climate of worldwide inflation, this is a very positive move from AMD. This CPU allows consumers to gain access to AM5 without having to spend an absolute fortune, but the expensive costs of new X670 motherboards for this architecture are certainly a barrier.
Buy the AMD Ryzen 5 7600X on:
AMD Ryzen 5 5600X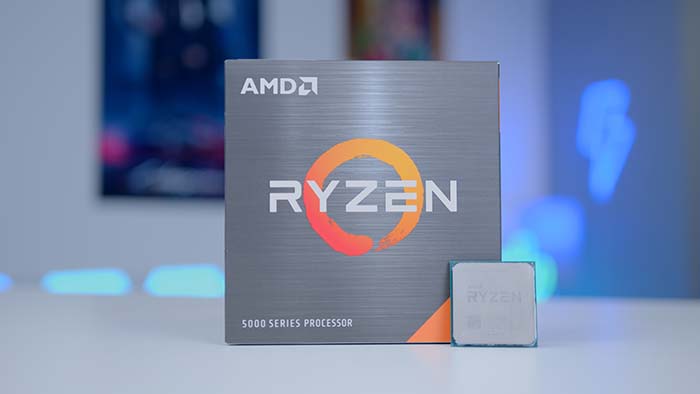 | | |
| --- | --- |
| Core Count | 6 |
| Thread Count | 12 |
| Base Clock Speed | 3.7GHz |
| Boost Clock Speed | 4.6GHz |
| Default TDP | 65W |
| Overclocking | Yes |
| L2 + L3 Cache | 35MB |
The AMD Ryzen 5 5600X was one of the few mid-range options to launch on the AM4 platform. At launch, it provided an exceptional alternative to Intel's somewhat meagre 10th and 11th gen processors, offering brilliant multithreaded performance for a reasonable price. We didn't see as much in terms of new features within this range, but consumers could install Gen4 SSDs into select motherboards and see strong overclocking support.
The Ryzen 5 5600X is a great mid-range CPU and although this is hardly 'cutting-edge' now, the 4.6GHz clock speed helps the six cores and 12 threads along in both games and workstation applications.
When looking at the performance, the Ryzen 5 5600X doesn't sit a million miles behind the newer 7600X in terms of its positioning. This CPU is perfect for 1080P and 1440P gaming, but will unfortunately struggle with 4K. The 5600X can handle select well optimised games at 4K, but generally we'd recommend sticking to lower resolutions. Single core performance is pretty good, with the 5600X sitting above the Intel options at the time, but it does fall flat when we start to compare to Intel 12th gen CPUs.
With regards to pricing, the original MSRP put the 5600X in a weird market position, and did see consumers swallow a large price bump over the previous Ryzen 5 3600X. This price seems to be a little more reasonable in todays market, and the 5600X can often be found on sale now due to its age.
Buy the AMD Ryzen 5 5600X on:
Our Testing Methodology
In order to test and review all of the components we have access to here at GeekaWhat, we follow two simple steps to ensure that these parts are tested correctly and fairly. The first step is our benchmarking method. All of our benchmarks are done in a repeatable way with similarly powered components to reduce bottlenecking and ensure that the component performs optimally. For today's comparison, we paired 32GB of RAM with a Radeon RX 6950XT to make sure any performance difference was being caused by the CPU power, and not the graphics card.
The second step of our methodology is sticking to our editorial promise when we review any products we receive. While brands may send over products for us to review, they have no external influence on our opinion and the final outcome of the review. All reviews remain fully impartial and candid about how good (or bad) a product is.
Benchmarking Performance
All of our benchmarks, and graphs in today's comparison feature on our very own YouTube channel – 'Benched'. Any CPU or GPU that we test are benchmarked in the latest triple A games, and popular Esports titles supplemented with plenty of stats to see how each component performs.
F1 2022
In F1 2022 at 1080P ultra high settings, both the Ryzen 5 7600X and 5600X sat side by side in the graph, though the 7600X did provide a modest performance boost. The higher single thread clock speeds (which are impressively close to 6GHz) help speed things along a lot here. The newer 7600X stills flat to the Ryzen 9 5900X from last gen, but does beat out the Intel Core i5 12600K by a strong margin.
BattlefieId 2042
In Battlefield 2042, the Ryzen 5 5600X massively impressed us. This CPU topped out at 119FPS on average, surpassing all of the other options, aside from the news 7600X. AMD's latest Ryzen 5 performed very well, with an average FPS of over 180FPS.
Apex Legends
Fnally, in Apex Legends, both the 5600X and 7600X did incredibly well during our gaming benchmark. At frames this high, you'll struggle to notice a performance difference, but 252 frames or 261 frames is more than enough to have a super smooth gameplay experience with minimal hindrances or stuttering.
Both chips also beat out the i5 12600K, which was impressive to witness.
Conclusion
Looping back to the questions we asked at the start, is the new Ryzen 5 7600X enough to decisively leave the last-gen Ryzen 5 5600X in the history books? Yes, but with one large asterisk. While the average mid-range 1080p and 1440p gamer will appreciate the ~15% performance upside of this new chip, with far more expensive motherboards, and pricey DDR5 RAM to contend with, Ryzen 7000 is hardly accessible. The answer, then, is that the best mid-range CPU option is not all that clear cut. It even feels a little unfair to compare these CPUs, given just how much more costly it is to get a strong Ryzen 7000 rig off the ground.