Introduction
AMD's Ryzen 5 7600X is the one of the latest options available in the new Ryzen 7000 CPU range on the AM5 platform. As the cheapest CPU in this initial Ryzen 700 rollout, it is the most accessible option for consumers that want to build themselves a brand new mid-range gaming PC without having to spend a fortune.
But in the wake of these new releases, consumers may find themselves sticking to older solutions based on the expense of having to upgrade to the new platform. This starts to raise some questions. Is the Ryzen 5 7600X worth swallowing the exorbitant motherboard cost for a performance boost? Or should you stick to a cheaper but solid alternative with one of AMD's previous releases in Ryzen 5000? Today we'll be answering these questions with a good old-fashioned GeekaWhat versus battle. We'll be comparing both of these CPUs side-by-side to see which option is better in terms of performance, pricing, specs, and more.
Suggested Article: AMD Ryzen 5 7600X Review – Architecture, Performance & Thermals
CPU Versus Battle
AMD Ryzen 5 7600X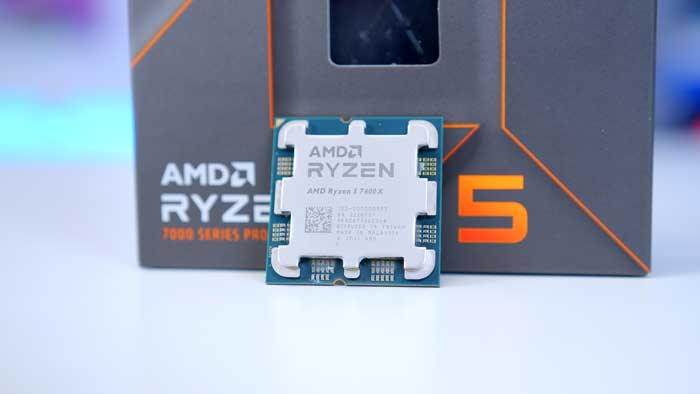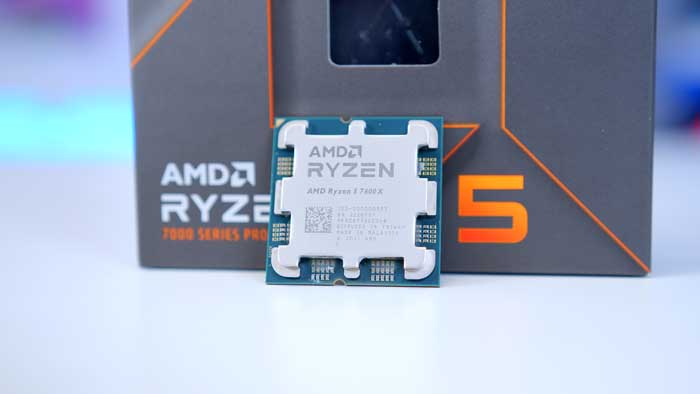 AMD's Ryzen 5 7600X is the lowest priced Ryzen 7000 option available, geared more towards the mid-range market. With the launch of this new platform for AMD, we've seen the inclusion of new features such as widespread PCI-E 5.0, DDR5 EXPO profiles, and USB4 ports. PCI-E 5.0 was previously an Intel 12th gen only feature, but AMD has strived to put this new standard at the forefront of their new architecture.
Ryzen 7000 CPUs are the answer to Intel's 12th-Gen range, and all of these new processors are impressive. The Ryzen 5 7600X is equipped with a boost clock of 5.3GHz and offers a 6 core, 12 thread makeup.
The Ryzen 5 7600X offers great frames when it comes to games running at a 1080P and 1440P resolutions. 4K is a possibility here, but due to the significant performance overhead, this higher resolution won't perform as well when compared to other options. The 7600X is also excellent when it comes to single threaded performance. Due to the high clock speed, boosting to its rated clock speed on a single core is a breeze for this CPU, giving you a much needed performance boost, especially in gaming.
In terms of pricing, I'd argue that the Ryzen 5 7600X is one of the best priced mid-range CPUs with an identical MSRO to the 5600X This CPU allows consumers to leverage the new AM5 platform, but the expensive cost of new X670 motherboards for this architecture are certainly a barrier.
Key Specs
| | |
| --- | --- |
| Core Count | 6 |
| Thread Count | 12 |
| Base Clock Speed | 4.7GHz |
| Boost Clock Speed | 5.3GHz |
| Default TDP | 105W |
| Overclocking | Yes |
| L2 + L3 Cache | 38MB |
Things We Like
Strong single core and gaming performance: The Ryzen 5 7600X's biggest selling point, is it's strong performance in games at 1080P and 1440P. The 7600X has incredible single core performance reaching very high clock speeds under higher utilisation. This CPU is definitely worth considering if you're looking fora a great gaming CPU.
Relatively well priced: Alongside the strong performance metrics, consumers won't need to worry about spending a fortune for this CPU. Ryzen 7000 processors are set at mostly reasonable prices and are rather affordable across the entire range. The 7600X is definitely worth considering if you're looking for a modern and affordable CPU.
Things We Don't Like
Build cost is too expensive: The biggest caveat to a Ryzen 7000 build, is that despite the mostly affordable CPU prices, a whole build is very expensive. Consumers will need to content with the rather ridiculous motherboard prices, and the fact that all of these boards are DDR5 only, so you'll need to pick up some DDR5 DIMMs to pair with your system.
Insane thermals: Due to a change in the boosting behaviour of these new CPUs, consumers can expect pretty high temperatures. Maxing out your CPU utilisation will normally make your CPU pretty toasty, but these processors can reach over 100 degrees even with a strong CPU cooler. You'll definitely want to pick up a good cooler if you plan on utilising some more intense workloads.
Summary
AMD's Ryzen 5 7600X is a strong CPU when it comes to single core and gaming performance. The 7600X holds up very well in modern titles where a higher clock speed is needed, and consumers can expect great performance at a 1080P and 1440P resolution. Ryzen 7000 is a rather expensive platform to buy into, but if you can secure a motherboard and some RAM for a solid price, you won't be disappointed.
Features: 4.5/5
Thermals: 3.5/5
Performance: 4/5
Value for Money: 4/5
Pros
Solid single core and gaming performance.
Processor is reasonably priced.
Ideal for a mid-range system.
Cons
Processor runs very hot.
Ryzen 7000 system build is expensive.
Where to Buy
Buy the AMD Ryzen 5 7600X on:
AMD Ryzen 5 5600X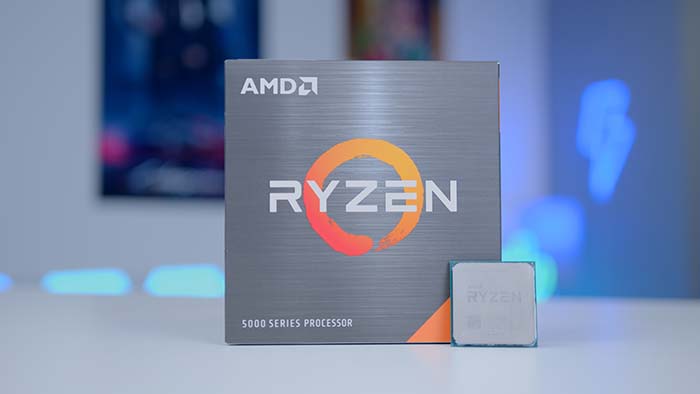 The AMD Ryzen 5 5600X was one of the few mid-range options to launch on the AM4 platform. At launch, it provided an exceptional alternative to Intel's somewhat meagre 10th and 11th gen processors, offering brilliant multithreaded performance for a reasonable price. We didn't see as much in terms of new features within this range, but consumers could install Gen4 SSDs into select motherboards and see strong overclocking support.
The Ryzen 5 5600X is a great mid-range CPU and although this is hardly 'cutting-edge' now, the 4.6GHz clock speed helps the six cores and 12 threads along in both games and workstation applications.
When looking at the performance, the Ryzen 5 5600X doesn't sit a million miles behind the newer 7600X in terms of its positioning. This CPU is perfect for 1080P and 1440P gaming, but will unfortunately struggle with 4K. The 5600X can handle select well optimised games at 4K, but generally we'd recommend sticking to lower resolutions. Single core performance is pretty good, with the 5600X sitting above the Intel options at the time, but it does fall flat when we start to compare to Intel 12th gen CPUs.
With regards to pricing, the original MSRP put the 5600X in a weird market position, and did see consumers swallow a large price bump over the previous Ryzen 5 3600X. This price seems to be a little more reasonable in todays market, and the 5600X can often be found on sale now due to its age.
Key Specs
| | |
| --- | --- |
| Core Count | 6 |
| Thread Count | 12 |
| Base Clock Speed | 3.7GHz |
| Boost Clock Speed | 4.6GHz |
| Default TDP | 65W |
| Overclocking | Yes |
| L2 + L3 Cache | 35MB |
Things We Like
Insanely cheap: Due to the age of the 5600X, this CPU is one of the cheapest options that you can pick up right now. Consumers can expect to spend less than $200, and the price will only decrease as this CPU gets older. Definitely worth a consideration if you're on a budget, or looking to build a gaming system on the cheap.
Holds up well in most titles: The Ryzen 5 5600X isn't the best option on the market right now, but if you're looking to play games at 1080P high settings, this CPU is ideal. Even some of the latest titles aren't demanding enough to cause this CPU to chug, making it ideal for consumers looking to save some money on a 1080P gaming processor.
Things We Don't Like
Platform is deprecated: Although Ryzen 5000 CPUs still hold up relatively well in today's market, the platform has been deprecated for a little while now. This effectively means that Ryzen 5000 is the last available range of CPUs on the AM4 socket. So if you're looking to future proof your system, this platform might not be a great bet.
Can't handle all modern titles: As we see more modern games enter the market with ever increasing performance demands, older CPUs like the Ryzen 5 5600X will start to struggle. Although this might not be the case for current titles, if you plan on playing the latest titles a few years into the future, the 5600X will start to cope less with the performance demands.
Summary
AMD's Ryzen 5 5600X was a solid CPU for it's time, and it still holds up relatively well by today's standards. It won't be able to handle all games at high settings, but with some configuration and the right graphics card pairing, consumers can put together an awesome system with this cheap CPU. The 5600X is a winner for those on a more restrictive budget, that don't want to resort to internal graphics for their 1080P gaming.
Features: 4.5/5
Thermals: 4.2/5
Performance: 3.6/5
Value for Money: 4/5
Pros
Great performance in 1080P games.
Very cheap due to newer models.
Perfect for a budget system.
Cons
Deprecated platform.
Won't be able to handle all modern games.
Where to Buy
Buy the AMD Ryzen 5 5600X on:
Zen 4 vs Zen 3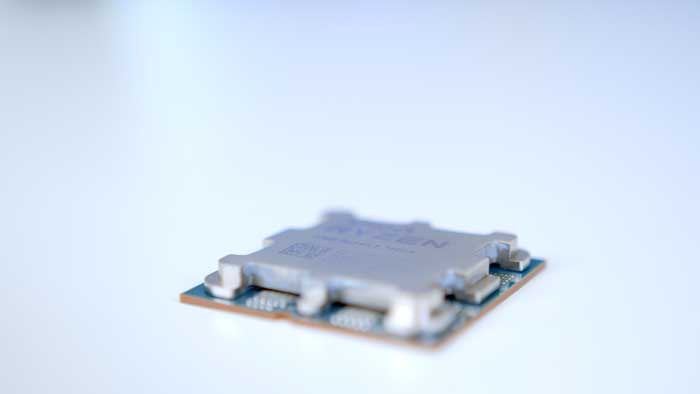 Zen 4 Architecture – Ryzen 7000 CPUs
AMD's Zen 4 architecture is the foundation the the new Ryzen 7000 CPUs are based on. This entirely new platform from AMD has changed their traditional PGA socket to an LGA style. AMD have decided to retain the chiplet design that we saw with Zen 2 CPUs which can see improvements in performance with high speed memory. The biggest changes that came with Zen 4, are the significant increases in clock speeds, where all of the Ryzen 7000 CPUs can boost to 5GHz and above dependent on the SKU. This makes these CPUs very competitive when it comes to single core, and primarily gaming performance.
The architecture doesn't seem to have changed much beyond this, we've been given more of the 3D SKUs compared to Ryzen 5000, which opens up more options for top-end gaming performance. It is worth noting that AMD have changed the way in which these new CPUs boost, where temperatures skyrocket before the boost clock does, which does make thermals a point of contention at times. Overall the change is definitely positive, but because Zen 4 is a first for AMD, this new platform definitely has disadvantages that we could see disappear with more refined CPU generations.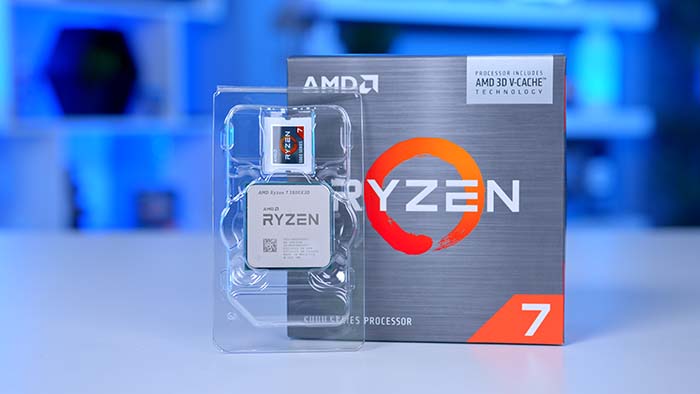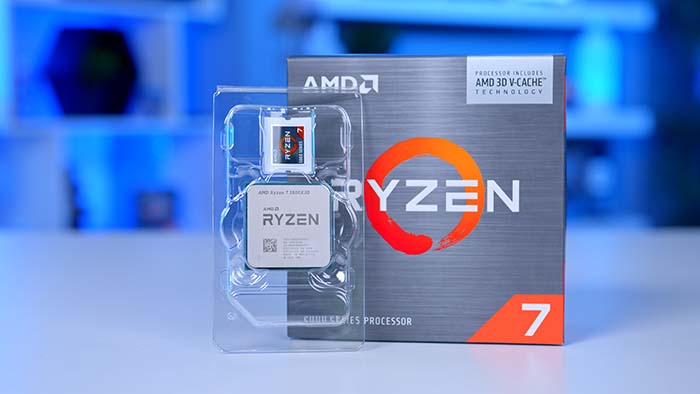 Zen 3 Architecture – Ryzen 5000 CPUs
At the time, the Zen 3 architecture was AMD's biggest and most promising innovation when it came to CPU performance. Both the Ryzen 3000 and Ryzen 5000 ranges were so much better than Intel's offerings, making them a definitive purchase for the majority of consumers building a new system. This architecture brought along access to Gen4 SSDs, improved DDR4 speeds, motherboards with high speed USB 3.2 ports and more. Needless to say, Zen 3 was definitely a big change for AMD, and this was the architecture that made many consumers swing over to Team Red.
Despite all of this, the Zen 3 architecture is somewhat old now, nearing the three year mark by the end of 2023. Out of the two Zen 3 is obviously the weaker based on the performance improvements that have come with Ryzen 7000 CPUs. However, Zen 3 still stands to be one of the best architectural improvements we've seen in quite some time, and I would argue it beats out Zen 4 based on value for money. Ryzen 5000 was the 'golden age' of CPUs for AMD, and it isn't likely we'll see a return to that until Zen 4 becomes much more refined.
AMD 'X' and 'non-X' CPUs – What is the Difference?
AMD's range of CPUs bring a set of varied options for consumers to choose from featuring overclockable versions, locked core multiplier processors, and 3D V-Cache CPUs. Although these CPUs are pretty similar when it comes to specs, there are major differences between each SKU that might change which once you decide to pick up. As a small note, we won't be talking about the 'X3D' SKUs in this section because none of the Ryzen 5 SKUs have one, but we could see this change in the future with further refinements.
AMD 'X' CPUs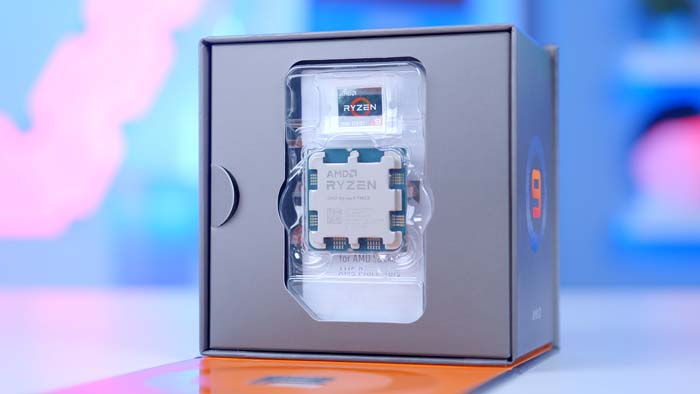 AMD's 'X' CPUs tend to be the most popular option on the market, and these SKU's release first compared to the 'non-X' variants. Quite simply, these CPUs are the overclocking capable versions, allowing you to push the performance of your CPU even further. These CPUs have fully unlocked core multipliers which can be modified manually through the BIOS, or using the renowned Ryzen Master software. Pretty much all of the Ryzen SKUs will have 'X' variants, but there are a couple such as the Ryzen 3 models, or Ryzen 5 5500 that did not have an alternative overclockable version.
AMD 'non-X' CPUs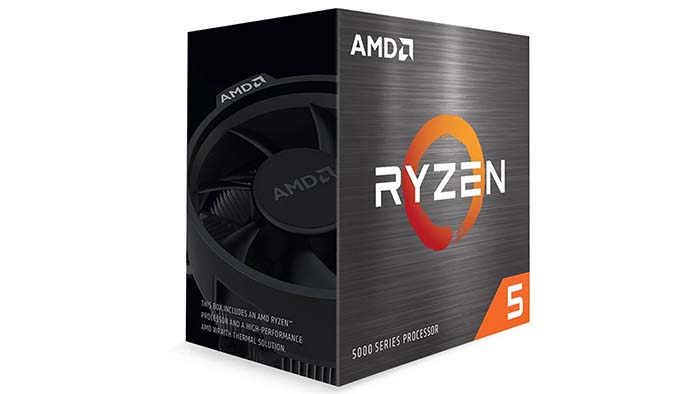 AMD's 'non-X' SKUs generally will release after all of the flagship models, providing an alternative for consumers to choose from. These CPUs unlike the 'X' versions, do not have any CPU overclocking capability due to having a locked multiplier. AMD do this to provide a slightly cheaper CPU for those that aren't particularly bothered about overclocking. These versions will have exactly the same specs compared to the 'X' versions, but overclocking functionality is removed. So far, all of the main Ryzen CPUs on offer do have these alternative versions, but the price difference might not necessarily be worth it dependent on the model.
Buy the AMD Ryzen 5 7600 on:
Buy the AMD Ryzen 5 5600 on:
How We Tested the Ryzen 5 7600X and Ryzen 5 5600X
At GeekaWhat HQ, we're fortunate to have a myriad of components enter our offices each month. For this reason, we've had to put together a concrete testing and evaluation method to ensure that each product performs as expected and to determine what kind of value is on offer for consumers. After our initial review procedure we'll put these components in a range of different builds to ascertain performance at different levels for gaming and workstation systems.
For CPUs specifically we fire up a range of different software including Cinebench R23, Prime 95, and various 3D Mark benchmarks, all whilst we take a note of thermals and utilisation with HWInfo. We do this to make sure our CPU isn't being bottlenecked by poor thermals, which would in turn affect our overall benchmarks. We also do this to make sure that our returned data is consistent across different software and applications ruling out any anomalies, whilst also offering comparative metrics for consumers so that we can see strengths and weaknesses across the board.
Alongside all of our productivity benchmarks, we have a suite of games at our disposal that we use to see how CPUs will perform at varying resolutions. A high-end GPU is used to minimise any graphical hindrances, so performance is entirely reliant on the differences in CPU capability. Our benchmarking suite consists of triple A and Esports titles such as: Fortnite, GTA V, Apex Legends, F1 2022, and more. We always keep our games up to date, so consumers can see what kind of metrics their CPU offers in different titles. As always you can find our full gameplay benchmarks on our component testing YouTube channel – Benched!
CPU Benchmarks
In this section of the article we'll be jumping into some gaming benchmarks for both of the processors in this CPU Versus Battle. We've provided two main sets of graphs to show off workstation and gaming performance, and you'll be able to compare these against older CPU options that we've covered.
Cinebench R23 Multi Core CPU Winner – Ryzen 5 7600X
First off in our benchmarks, we fired up Cinebench R23 and started off with the multi core test. The Ryzen 5 7600X sits towards the bottom of the graph, offering a score of 14409 in total which puts it slightly below the Ryzen 7 5800X3D. This isn't amazing performance, but this is somewhat what we were expecting because the Ryzen 5 is only a six core CPU. Single core metrics should be better based on the higher clock speed of this CPU.
The Ryzen 5 5600X wasn't too far behind in this benchmark, losing out to the 7600X by about 5000 points in total. We were surprised to see the results so close together overall, but again the performance was somewhat what we expected, as the 5600X doesn't have as many cores as the rest of the other options on this graph. Overall this isn't a great start for either of these CPUs, but the 7600X is the definitive winner when it comes to multi core capability versus the 5600X.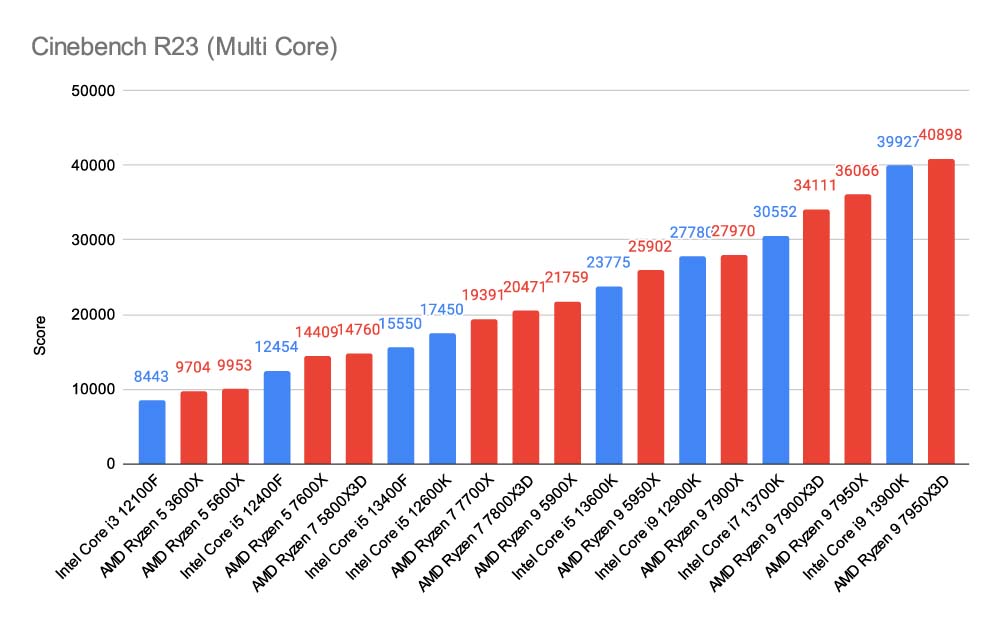 Cinebench R23 Single Core CPU Winner – Ryzen 5 7600X
Next up is the single core test in Cinebench R23, this benchmark tests only one core of each of the CPUs. The Ryzen 5 7600X has much more promising metrics in this benchmark with the performance sitting on par with the Core i9 12900K. This goes to show that the modern Ryzen 7000 CPUs are much strong when it comes to single core metrics, which means modern games shouldn't be a problem for this processor.
The Ryzen 5 5600X unfortunately doesn't hold up incredibly well in this benchmark, with a score of 1590, which puts it towards the bottom of the graph alongside Intel's 12th-Gen Core i3 and the Ryzen 7 5800X3D. There isn't much to be said in this benchmark, the 5600X is clearly showing it's age here, which means that modern gaming could be a potential issue as performance demand increases.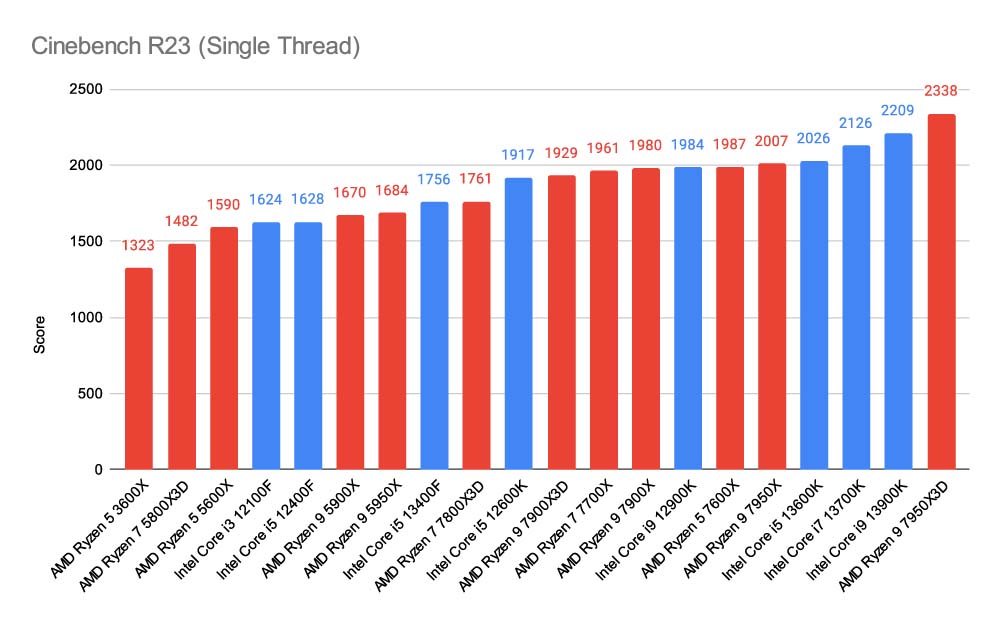 3D Mark CPU Profile CPU Winner – Ryzen 5 7600X
In 3D Mark's CPU Profile, the Ryzen 5 7600X is technically the winner, but not by much. The 7600X sits in second to last compared to the rest of the CPUs we've tested. The max threads and single thread scores weren't incredible overall, we can conclude from this that the 7600X is clearly not geared towards workstations, this CPU is definitely better as a standalone gaming CPU.
The Ryzen 5 5600X is effectively in the exact same place as the 7600X, but with worse off performance. In this benchmark we saw the weakest single thread performance and the worst max thread performance too. Needless to say, the 5600X is definitely the weakest out of the lot, and we would avoid using this CPU if you're running intense applications.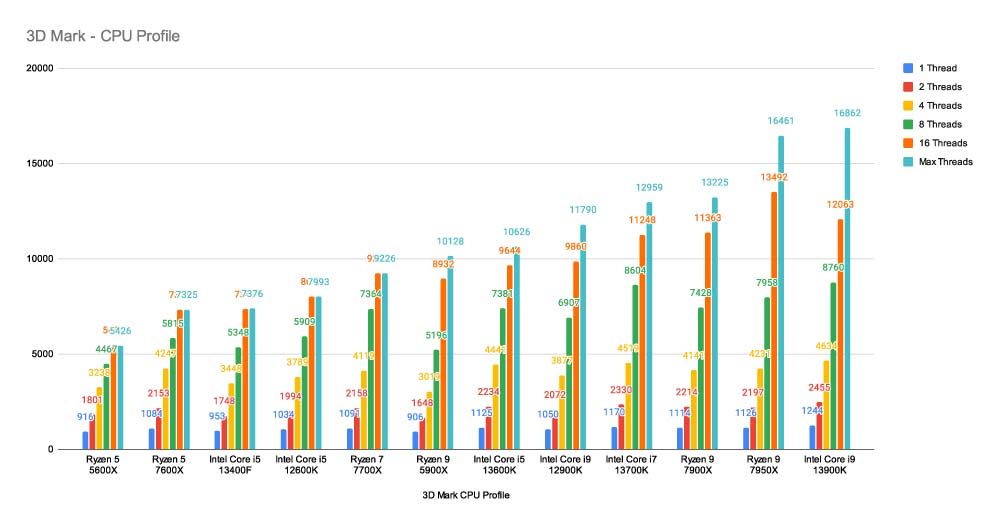 3D Mark's Timespy Extreme and Firestrike CPU Winner – Ryzen 5 7600X
In TimeSpy Extreme we saw relatively similar performance from the Ryzen 5 7600X, with the overall score sitting at 5118. This puts it at the bottom of the graph again, sitting slightly below the Core i5 13400F. The Ryzen 5 7600X seems to be even weaker in Timespy Extreme with an overall score of 3848. The Ryzen 5 5600X is a strong CPU, but it cannot handle a 4K benchmark it seems.
In 3D Mark's Firestrike which is a 1080P benchmark, the Ryzen 5 7600X offered much stronger performance with the overall score sitting just below the Core i9 12900K. This furthers the conclusion that the 7600X is comparative to the 12900K in a multitude of games, which is great to see. The Ryzen 5 5600X also saw an uplift in performance. Although the CPU score of the 5600X is still the weakest compared to the rest of the graph, a good graphics card pairing will make the 5600X solid in a multitude of games at 1080P.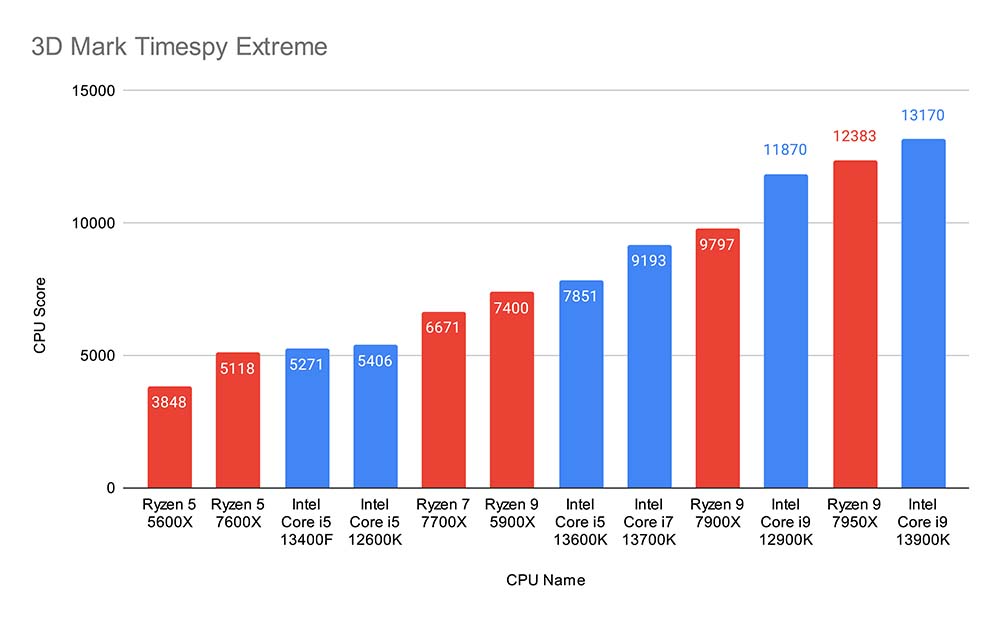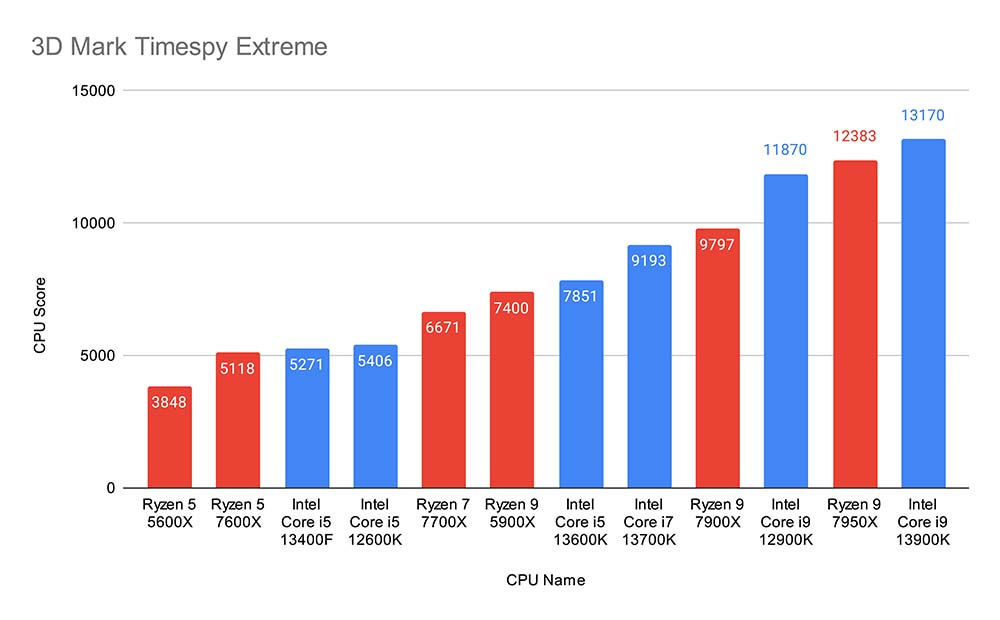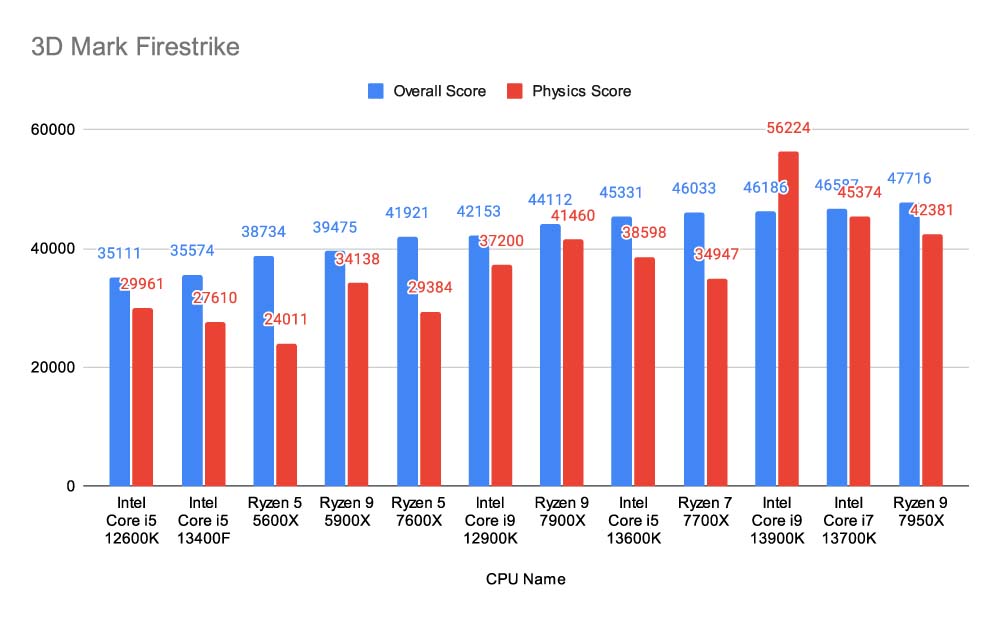 F1 2022 CPU Winner – Ryzen 5 7600X
Next up in our gaming benchmarks, we fired up F1 2022 and turned on Ray-Tracing at 1080P. The Ryzen 5 7600X output an average framerate of 140FPS, which I'd say is pretty strong overall. Although this game would benefit from a high refresh rate, I imagine the majority of consumers would be pretty happy with this framerate. F1 2022 isn't the most intense title, so I wouldn't say a 144Hz refresh rate is a requirement.
The Ryzen 5 5600X wasn't too far behind in performance, outputting an average framerate of 125FPS. Again, I'd argue with Ray-Tracing enabled that the vast majority of consumers would be happy with this performance. The graphics card is definitely a big requirement for this title and for Ray-Tracing, but it's good to see that both of these CPUs can still hold up relatively well in modern games at 1080P.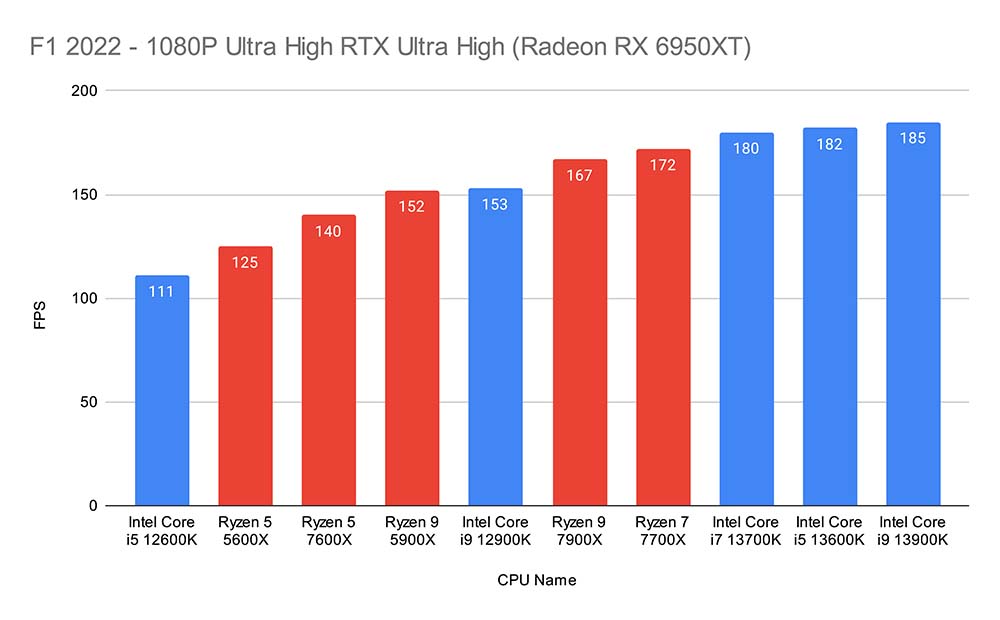 BattlefieId 2042 CPU Winner – Ryzen 5 7600X
In Battlefield 2042 we saw pretty strong performance from the Ryzen 5 7600X, with an average framerate of 165FPS. This was well above the 144Hz sweet spot and is ideal for this title due to the intensity. Overall the Ryzen 5 7600X provided excellent performance, our gameplay was buttery smooth and this is definitely a win for the new Ryzen 7000 CPU.
The Ryzen 5 5600X wasn't too far behind in this benchmark, losing out to the 7600X by about 40 frames on average. Although the 5600X wasn't quite able to surpass the 144Hz sweet spot that we love to see in modern games, the overall gameplay experience was very smooth. Again, the choice of GPU is vital here, but its good to see that the 5600X can handle this modern title.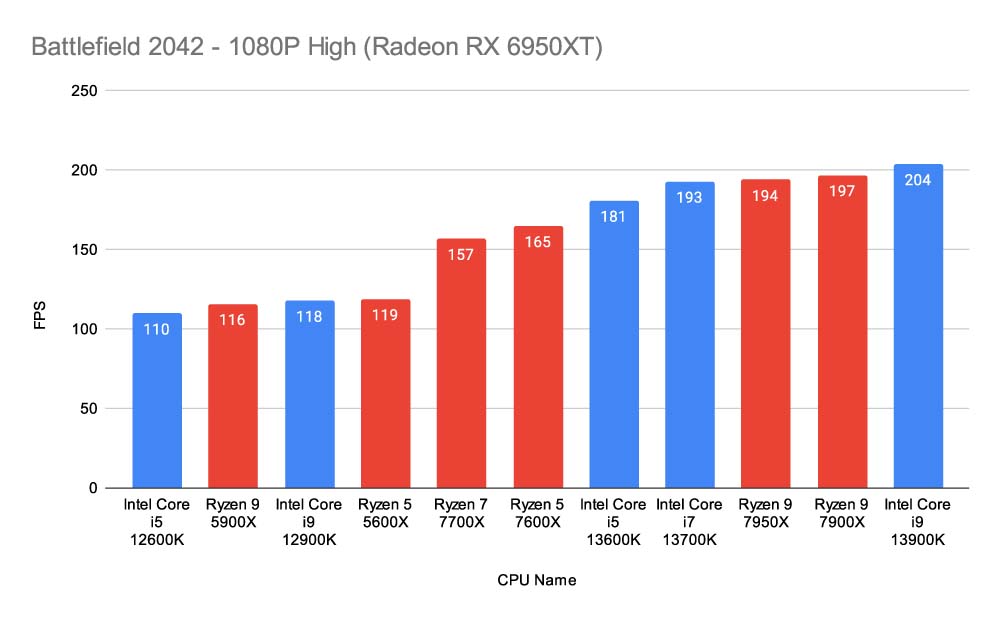 Apex Legends CPU Winner – Ryzen 5 7600X
In Apex Legends at 1080P the 7600X was sitting towards the bottom of the graph, but performance seems to be relatively strong overall. The 7600X was able to reach around 261 frames on average, which is more than enough for super high refresh rate, providing a buttery smooth experience. Apex doesn't tend to be intense as other titles, which is why performance is much better in this game. However it is good to see that the 7600X can handle this title relatively well.
The Ryzen 5 5600X wasn't too far behind in this title, losing out to the 7600X by around 10 frames or so. Again, performance was good enough in Apex that the 5600X was able to reach a framerate high enough for a solid refresh rate, which is rather important in this intense game. Overall, definitely a strong showing from AMD's previous generation CPU.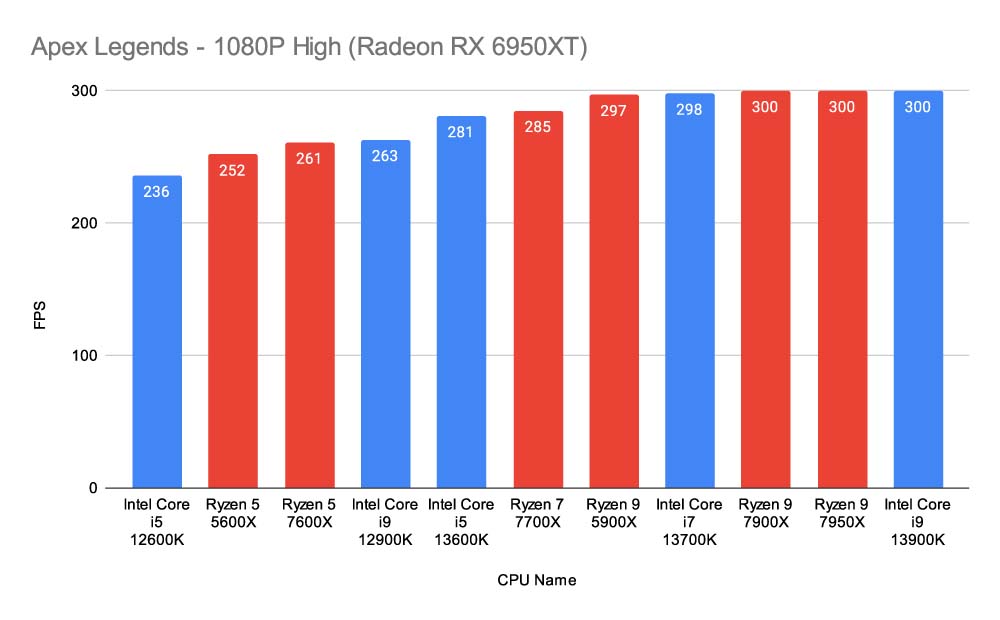 Conclusion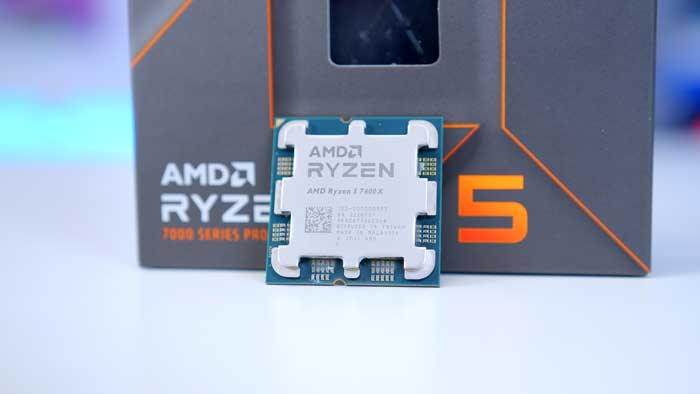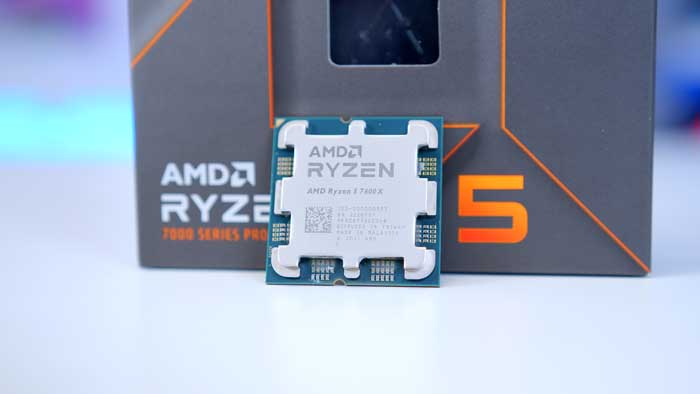 CPU Versus Winner – AMD Ryzen 5 7600X
Winning this CPU Versus battle is AMD's most recent Ryzen 5 7600X – but not by much. Despite the performance being marginally better in all circumstances, the Ryzen 5 5600X still holds it's own, and consumers can expect to play a multitude of modern games with the right graphics card pairing. This being said, there are some clear downsides to picking up a Ryzen 5 5600X that makes the 7600X a better option for a modern PC build.
Despite the not so massive performance gap between them, the 7600X is a better option for a multitude of reasons. The performance is better, the price is still pretty reasonable, and the CPU is modern. The Ryzen 5000 range of CPUs sits on a deprecated platform that will only worsen with time, making it a worse choice as games become more demanding.
We would recommend sticking to the 7600X if you're looking for some upgrade options in the future, with the capability to play modern games right now. As much as the 5600X is decent, it's age is the deciding factor for us. Hopefully AMD will make their 8600X (or whatever they call it) much better when it comes to performance.
Buy the AMD Ryzen 5 7600X on:
Buy the AMD Ryzen 5 5600X on: