Introduction
Intel's 13th Gen is finally here, and we've got our hands on the new CPUs. We've been working day and night to test the new processors, and spoiler alert – they awesome! Rumours surfaced on the internet that these new CPUs were set to blow AMD's Ryzen 7000 range out of the water, and so far these rumours seem to be holding true.
But many questions still stand regarding the new processors. Is the Intel Core i5 13600K worth the upgrade compared to its 12th Gen predecessor? Or is AMD's Ryzen 5 7600X a better worthwhile choice to pick up to stand the test of time? In today's buyers guide, we'll be answering both of these questions with another GeekaWhat versus battle.
Suggested Article: Intel Core i5 13600K Review – A Mid-Range Performance Titan
CPU Versus Battle
Core i5 13600K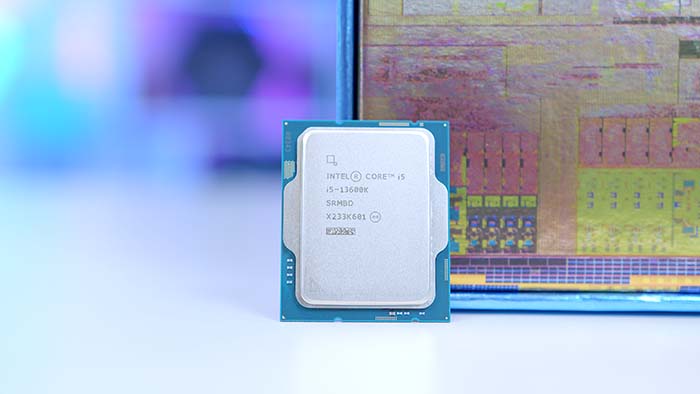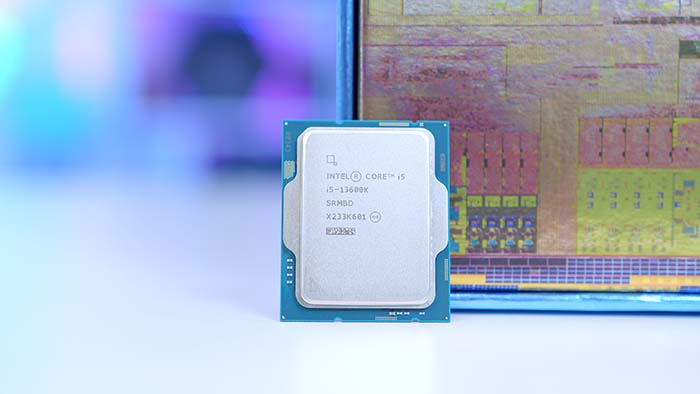 | | |
| --- | --- |
| Core Count | 14 |
| Thread Count | 20 |
| Base Clock Speed | 3.5GHz |
| Boost Clock Speed | 5.1GHz |
| Default TDP | 181W |
| Overclocking | Yes |
| Total Cache | 44MB |
Intel's Core i5 13600K is the newest mid-range option offering better cores, threads, clock speeds, and pricing. The Raptor Lake architecture hasn't seen a drastic change compared to the previous generation's Alder Lake, but the refinement and changes to the processing node has definitely seen significant IPC improvements, along with better single and multithreaded metrics.
Features don't seem to have changed much either, with many of the same features we saw on Intel 12th Gen boards popping up on 13th Gen options, but with more of them overall. Z790 motherboards have seen more inclusions of PCI-E 5.0, along with Thunderbolt 4 ports, spicing up your rear IO choices somewhat. The new motherboards also have continued support for DDR4, giving consumers options to build a cheaper PC, but DDR5 is still an option for those looking at high speed DIMMs. All of the previous 12th-Gen coolers still work with 13th-Gen motherboards and we've recommended a variety that will pair well with the Core i5 13600K on our website.
With regards to price and market positioning, the 13600K definitely sits in the mid-range market by offering incredible performance at 1080P and 1440P, but may struggle at higher resolutions. We'd recommend pairing up a CPU like this with one of Nvidia's 3060Ti models, or up to a 3070Ti if you've got some extra money to spare. Or on the AMD side, a 6700XT or 6750XT will do great at the resolutions we've specified.
Single and multithreaded performance is also very strong on the 13600K (as you'll find out later in the benchmarking section). We wouldn't necessarily recommend the 13600K for a top-end workstation PC, but this CPU can cope with somewhat heavier workloads dependent on the rest of components you have in your system.
I'd say the price of the Intel Core i5 13600K is pretty exceptional considering the performance boost you're getting. Intel have somehow managed to keep down prices for CPUs and motherboards without skimping out on features. The 13600K is positioned well in the sense that you can build a very powerful gaming PC without breaking the bank. This CPU is an excellent choice for a mid-range PC, and definitely worth the price!
Buy the Intel Core i5 13600K on:
Ryzen 5 7600X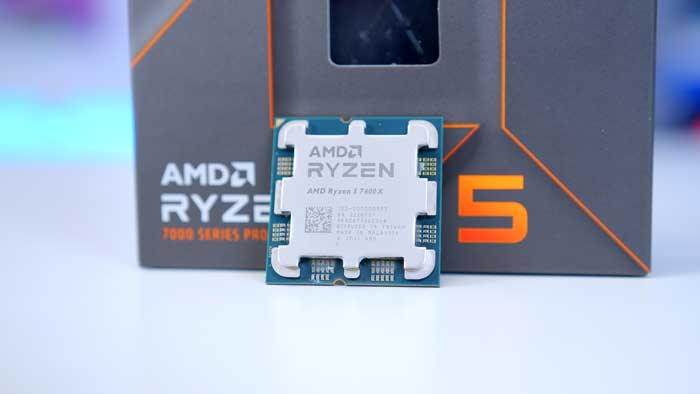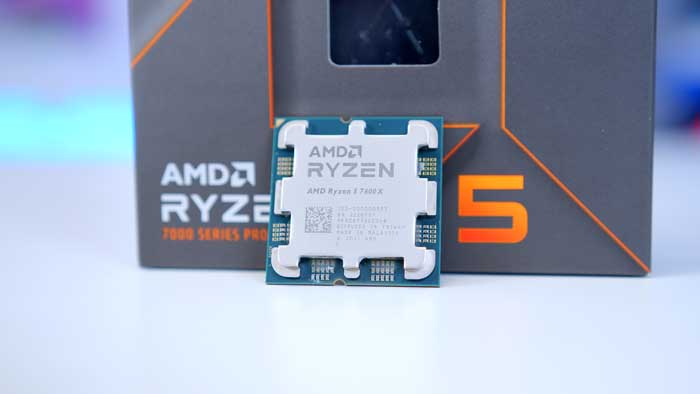 | | |
| --- | --- |
| Core Count | 6 |
| Thread Count | 12 |
| Base Clock Speed | 5.3GHz |
| Boost Clock Speed | 4.7GHz |
| Default TDP | 105W |
| Overclocking | Yes |
| L2 + L3 Cache | 38MB |
AMD's Ryzen 5 7600X was the mid-range offering in the Ryzen 7000 range set to remove the Core i5 12600K from its seemingly impenetrable throne. However, despite the significant changes to the Ryzen architecture that came with the AM5 platform, Ryzen 7000 CPUs were somewhat underwhelming when compared to the current available options from Intel.
Ryzen 7000 CPUs saw a massive enhancement to the features when compared to Ryzen 5000 options on the previous AM4 platform. The X670E and B650E motherboards saw widespread support for the new generation of PCI-E (Gen5), along with support for new memory overclocking known as EXPO, bountiful amounts of high speed USB ports, including Thunderbolt 4, and a whole lot more. Regardless of the feature-set upgrades, these were not enough of a selling point to justify the price of the new motherboards.
Looking at price and positioning, the Ryzen 5 7600X looked to be a definitive choice for those wanting a performance upgrade. The 7600X offers great performance in 1080P and 1440P, and shares a similar story at 4K resolution. An RTX 3060Ti or alike graphics card from Nvidia or AMD would pair well with this CPU. But it is an important point to note that your overall build cost will be much higher compared to alternative options.
Single threaded performance on the Ryzen 5 7600X is actually very impressive. We were taken aback during our initial testing of a singular core. However, the multi threaded performance isn't quite as impressive comparatively, sitting on par with Intel's 12th Gen counterparts.
Overall, the Ryzen 5 7600X is a bit of a mixed bag when comparing to other options. The Ryzen 7000 launch catered more towards the top-end side of the market, but the mid-range offerings are still decent if you're able to reduce the cost of your build. The 7600X does have good performance in games, but we'd definitely recommend erring on the side of caution when it comes to building a PC on the new AM5 platform.
Buy the Ryzen 5 7600X on:
Our Testing Methodology
Our testing methodology involves two main steps to ensure that every component is tested fairly. The first part of our methodology is to use matched PC components. This ensures that a component is able to perform optimally and any bottlenecking is minimised. For the Intel 13th Gen CPUs, we tested each processor with one of AMD RX 6950XT at 1080P and 4K settings to get a good indicator of the performance levels, with no hindrances in graphical performance.
The second part of our methodology simple involves sticking to our editorial promise. Any components that we receive are put through a fair review, and any of our articles are only ever edited in-house and not subject to external review. This ensures that all opinions are entirely our own, whether the component is good or bad, we will be candid about this.
Benchmarking Performance
Now for the most important section – benchmarking. Below, we've provided a selection of graphs that show off the performance in a range of synthetic benchmarks, along with triple A and popular Esports. All of our full benchmarking runs can be found on our very own YouTube channel – 'Benched'.
Cinebench R23 Multi Core
In our multi core benchmarks, the 13600K set a very high bar and positioned itself in between the Ryzen 9 5900X, and the Ryzen 9 5950X. If we look at the graph, this isn't a far shot from nearing the 12900K in terms of performance. To outperform a top-end CPU on AMD's older architecture is somewhat mind-blowing, at the time the 5900X was seemingly unrivalled, but the 13600K has blown it out of the water.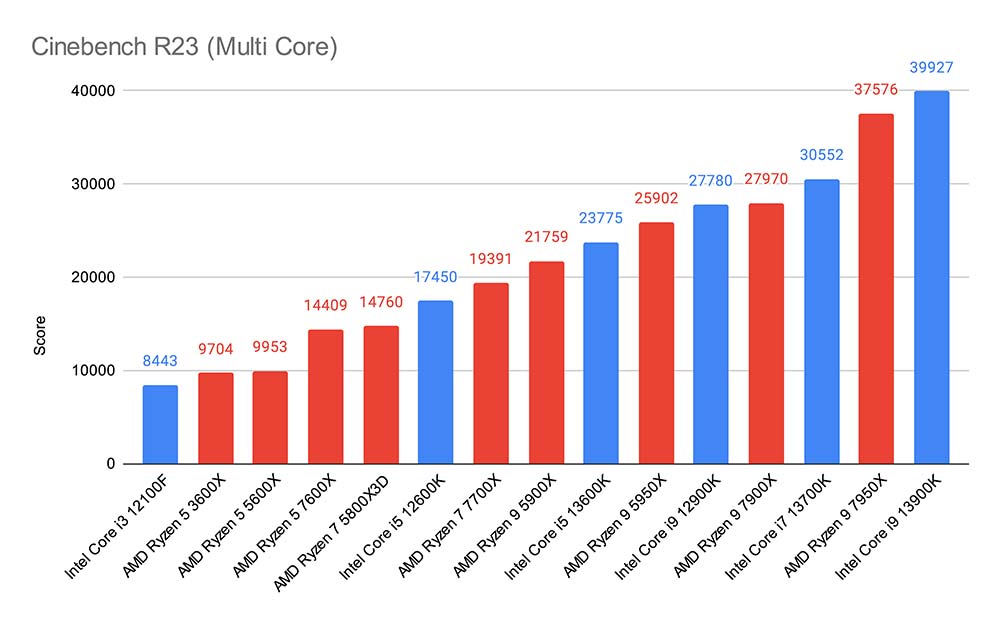 For the Ryzen 5 7600X, things are looking a little bleak. The 7600X doesn't necessarily thrive when it comes to multi core performance, and you can see here how the mighty has fallen to some extent. The 7600X sits just below the 5800X3D which is an excellent gaming CPU, and unfortunately is miles behind the 13600K in this multi core benchmarks. Its saddening to see that AMD haven't quite caught up when it comes non-singular core performance.
Cinebench R23 Single Core
In the single core benchmark, the 7600X and 13600K sit relatively on par with each other. The 7600X was able to offer very impressive metrics with one core, hence being excellent when it comes to 1080P and 1440P gaming performance. However, Intel has still managed to outshine AMD with their 13600K. I will note though, the score difference between AMD and Intel is very small, so I can imagine the performance will likely be very similar when it comes to other single core applications including games.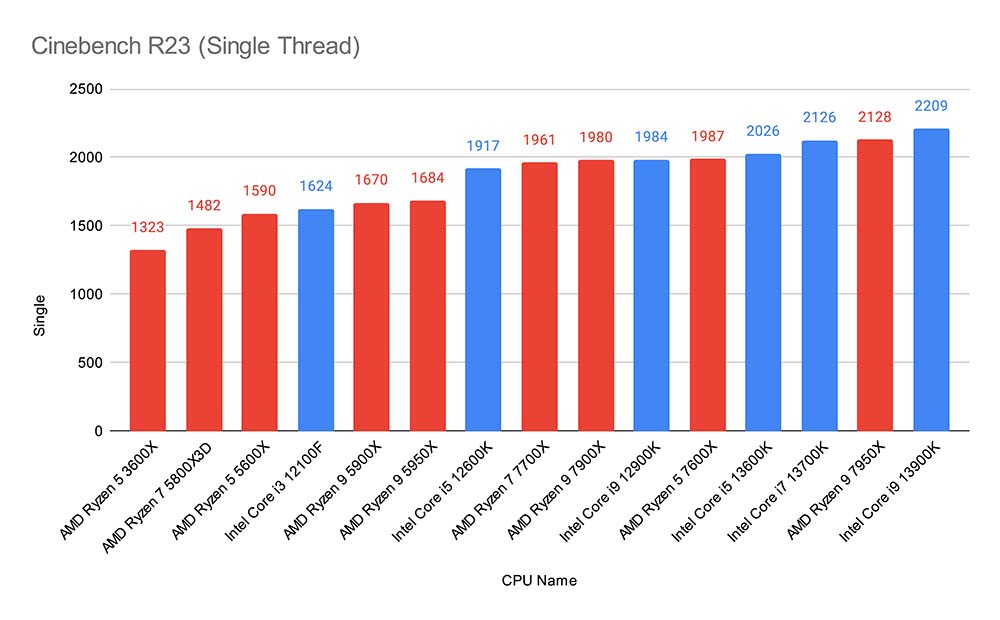 3D Mark CPU Profile
In the CPU profile benchmark, the 13600K blew us away with the overall performance. This new Intel CPU offers better scores in every benchmark when compared to the 12900K, other than the max thread score. This is ultimately due to having less cores and threads, but the fact that a mid-range CPU is able to outperform one of the best high performing CPUs of the previous generation is insane.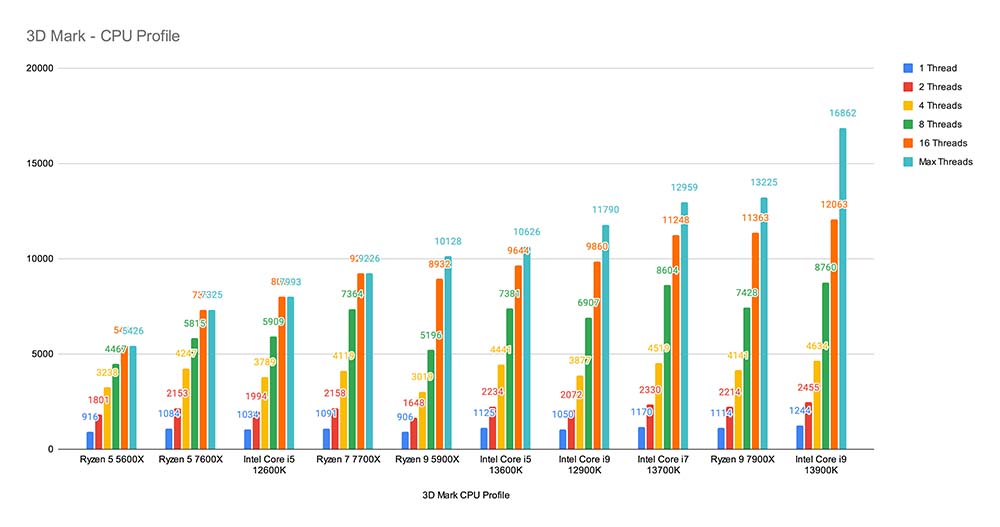 Not to dissimilar from the Cinebench R23 benchmarks, the 7600X doesn't look great here. Despite being close to the 13600K in terms of price and specs, the 7600X falls flat overall, sitting at the bottom of the leaderboard. Unfortunately, it seems that the 7600X is ultimately closer to its previous gen 5600X than any of the other available options, which is very disappointing to see. This means that despite my earlier statement about there being slightly similar performance, the 7600X might not be able to keep up with the impressive metrics of the 13600K.
3D Mark's Timespy Extreme and Firestrike
In 3D Mark's Timespy Extreme, the Core i5 13600K reached an impressive overall score of 9896 beating out the Ryzen 5900X, and sitting close to its more powerful sibling, the 13700K. Unfortunately, the Ryzen 5 7600X wasn't really able to cope with 4K, sitting towards the bottom of the leaderboard just slightly above the 5600X. Neither of these CPUs are really designed for 4K gaming, but its still impressive to see Intel offering competitive performance at a higher resolution.
In Firestrike, the 13600K soared to the top of the leaderboard, offering an overall score of 45331. The physics (or CPU) score sat relatively close to the 7900X, which is a very impressive point of comparison. AMD took another loss here with the overall score putting it in between the 5900X and 12900K. It seems that the 7600X isn't quite as strong as the 13600K in terms of its CPU score, which is a bit disappointing to see considering this is a new generation of processors for AMD.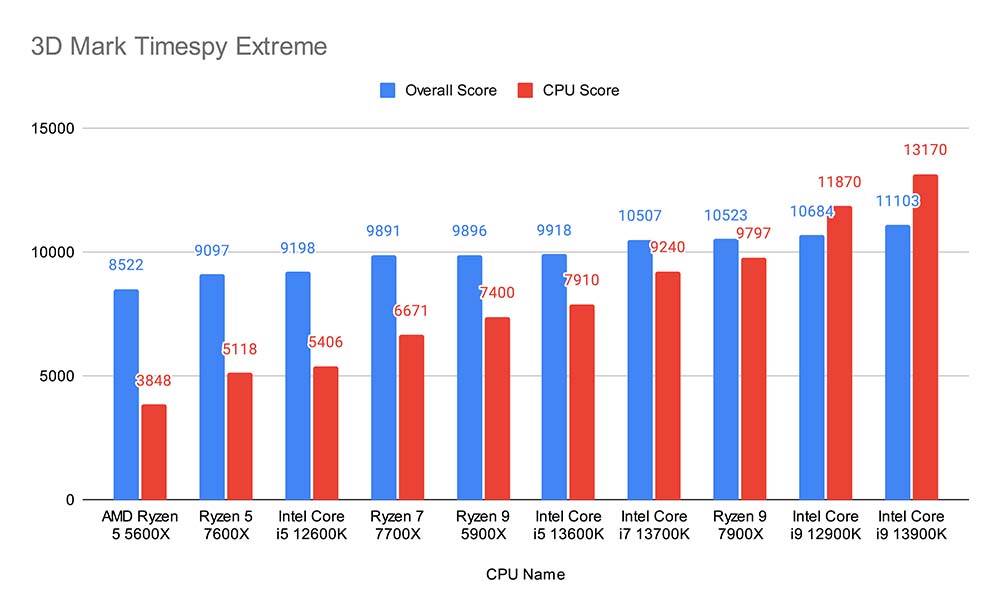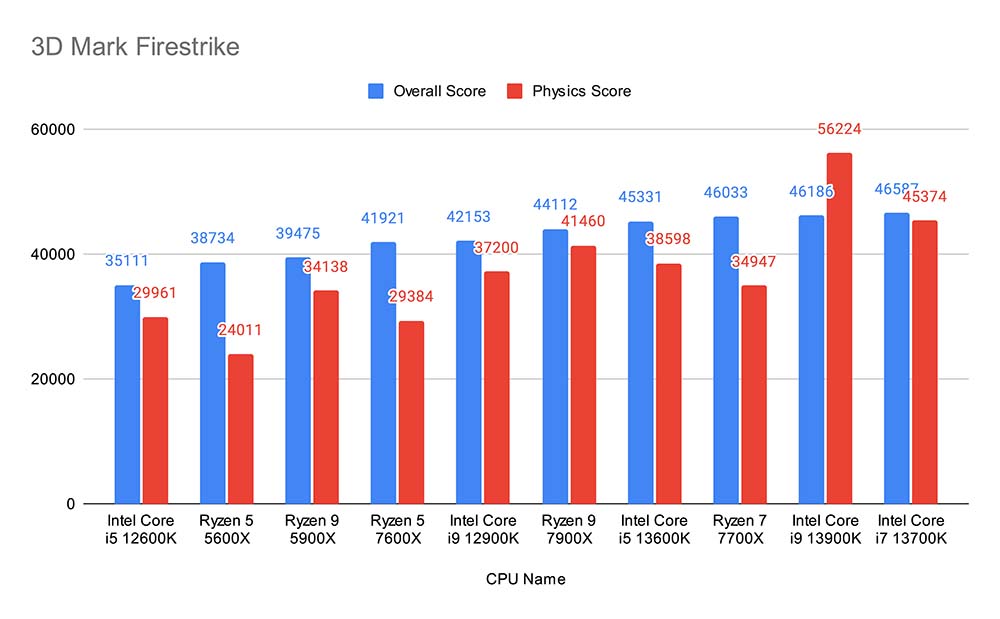 Battlefield 2042
In Battlefield 2042, the tables have turned slightly for the Ryzen 5 7600X, with this mid-range AMD CPU beating out the 13600K. However, I'll note that this is only by four frames, which isn't that impressive. However, with AMD taking losses left right and centre when compared to the 13600K, this is a small win demonstrating that the single core performance of the 7600X is actually very good at lower resolutions.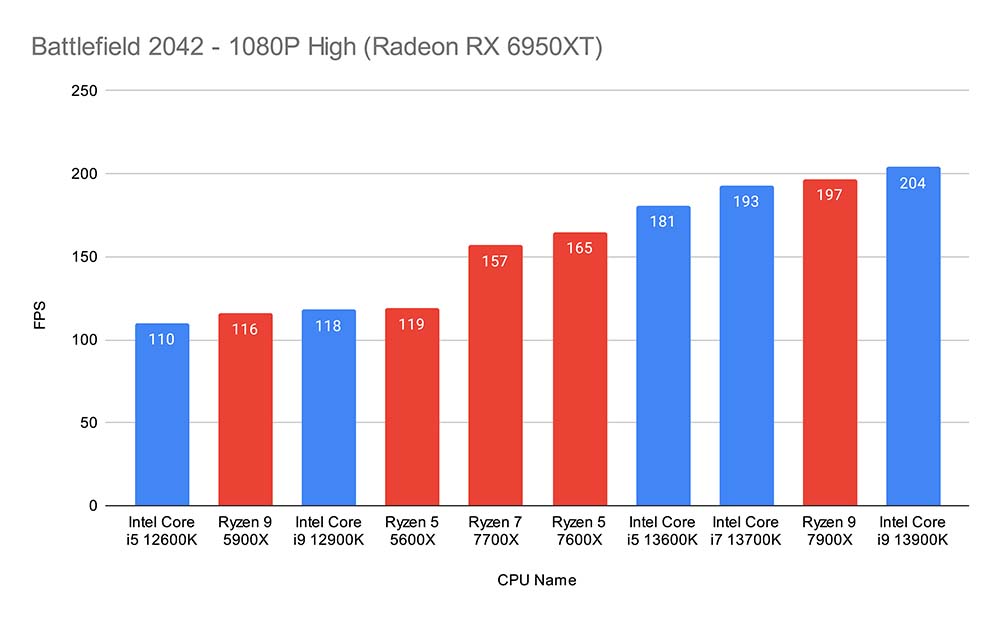 F1 2022
In F1 2022, the Core i5 13600K neared the top of the leaderboards offering up 182 frames on average, which is a very impressive result considering how intense this game is. The 7600X still offered very playable framerates at 140, but this goes to show the significant IPC improvements and clock speed changes that came with the new 13th-Gen CPUs.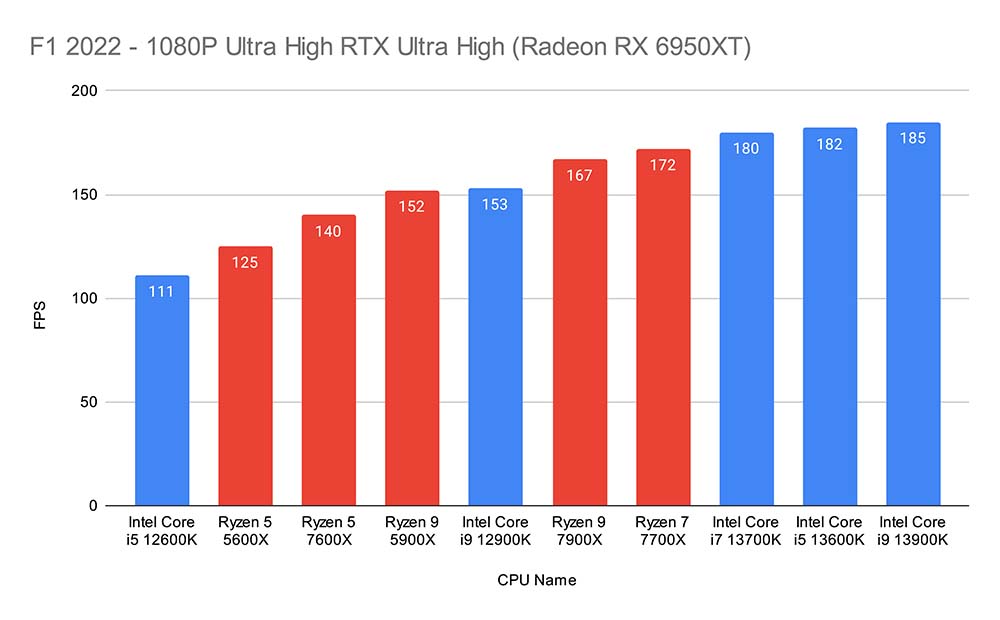 Marvel's Spiderman Remastered
In Spiderman Remastered, the 7600X and 13600K were actually very close in their respective framerate with only three frames between them. This again goes to show the leading single core performance of both of these CPUs. I was very impressed with the results from both of these CPUs, especially considering the intensity of Spiderman even at lower resolutions.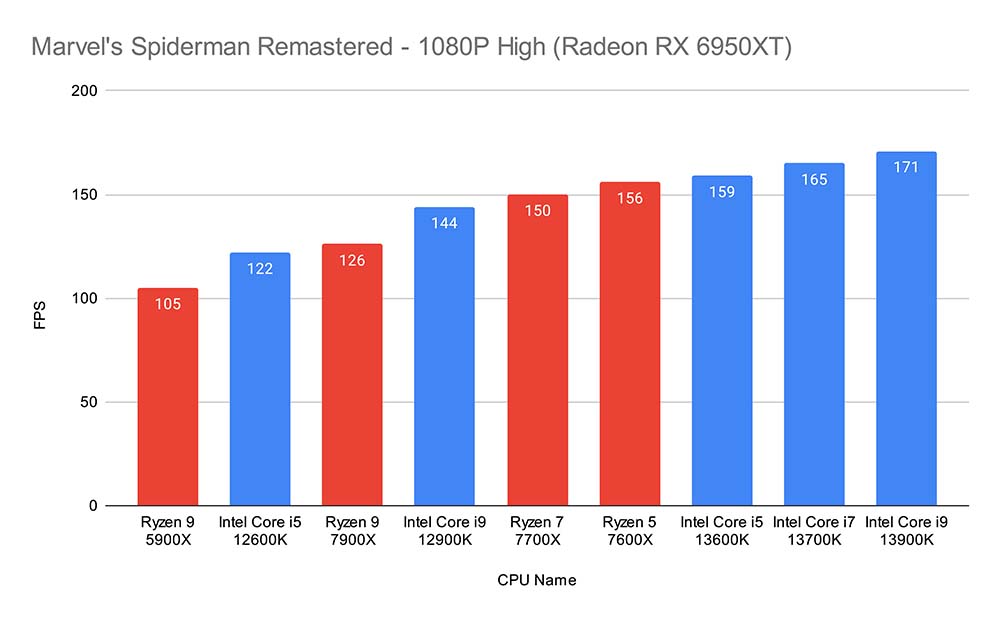 Apex Legends
In Apex, we saw the framerates from both of these CPUs absolutely fly. When Apex is uncapped, you can really see how impressive your components are, and both the 7600X and 13600K were relatively close in their results. The 13600K offered around 281 frames, more than enough for a buttery smooth framerate. The 7600X was close behind leaving us with 261 frames to play with, which again is perfect for an exceptional gameplay experience.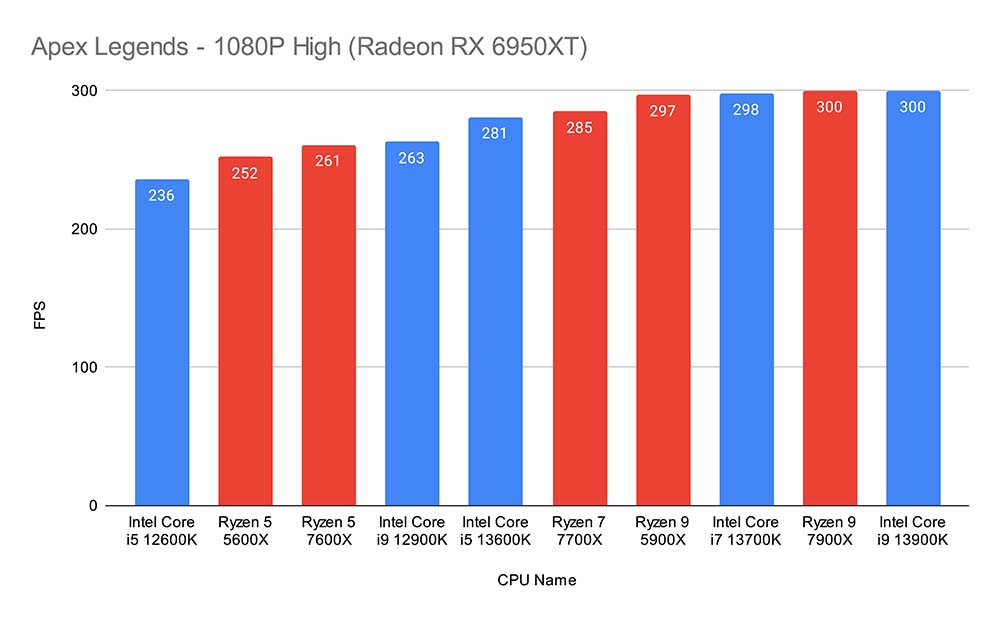 Conclusion
So the big question is, where do these CPUs stand in terms of performance? Is the 13600K worth upgrading to, or is AMD's 7600X a worthwhile pickup? The answer is a bit complicated it seems. While the 13600K blew the Ryzen 5 7600X out of the water in most instances, the difference in framerates when playing games was marginal. And even if the gap was big, the overall framerate was so high that you won't really be able to notice the difference between them. However, despite the 7600X holding up relatively well to it's Intel counterpart, there are some very clear upsides and downsides when picking Team Red or Team Blue.
First off is price. AMD's Ryzen 7000 CPUs forcing a DDR5 upgrade requirement makes your overall build cost much more expensive, both in terms of your motherboard and RAM cost. And while Intel has retained support for DDR4 and DDR5, it makes the price much easier to swallow. But if we consider upgrade paths, DDR5 will slowly become the standard as the tech matures and prices come down, leaving older Intel users in the dust.
The second major point is use-case. It's clear here that the 13600K and 7600X are very close when it comes to gaming performance, but looking at more intense single and multithreaded workloads, the Core 13600K can out perform some of the best top-end options. If you're looking to build a gaming PC with better upgrade paths but at a higher cost, then the 7600X is an acceptable choice with some good component pairings. But if you're wanting something more multifaceted, in terms of a gaming and workstation PC, then the 13600K is a much better pickup at a very reasonable price!