Introduction
A case is arguably one of the most important components for any PC build. Components need to be installed somewhere, so that your various whirring fans don't get loaded up with dust within a week's usage. However, the market has been relatively stale over the past five years. We've seen some interesting additions from a few manufacturers in attempts to keep up with the ever changing dimensions of graphics cards. But for the most part, cases have pretty much stayed the same when it comes to design.
This raises some points of contention for first-time builders, because it becomes difficult to find a chassis that stands out amongst the other 1000 designs that look the same. So what are your options? Is it worth taking a risk with a 'bog-standard' looking case in the hopes that it will have enough airflow? Or is aesthetic not worth sacrificing for those trying to build a PC with an awesome look?
Well. I may have found a case that provides an excellent balance between form and function, with a more compact approach. Meet the HYTE Y40. A case with a design we're all familiar with, at a cheaper price tag, and with smaller dimensions, than the Y60. In this review, we'll be delving into the aesthetic and features of the Y40 to see what's on offer from this newly popular manufacturer!
Buy the HYTE Y40 on:
Suggested Article: HYTE Y60 Review – The Game-Changer Case
What Are the Benefits of Compact Designs?
Compact cases have been around for quite some time now, but not many manufacturers offer compact iterations of the same case. We've seen manufacturers such as Lian Li create different variations of their O11D case, which sure enough had a Mini version for a more compact feel in it's overall size. But, as a general rule, manufacturers tend to just create a smaller form-factor case, like a Mini Tower, in order to satiate those that want less chassis, but plenty of features.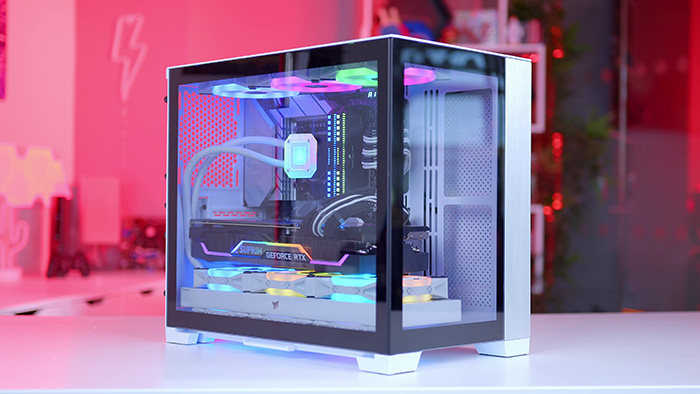 This means that the compact design is often more desirable, as it provides space for larger components such as a 280mm radiator, or one of NVIDIA's new graphics cards. But it does this without having to bump up the overall size to a larger Mid-Tower, like the Corsair iCUE 5000T, or an even larger case, like the HAF 700 EVO from Cooler Master. Large cases are rather unruly, they're difficult to haul around, difficult to build in, if you've got a lot of components, and sometimes they're just plain ugly.
Compact cases offer a nice balance between size, and space. You're not having to hide a gigantic (or tiny) case under your desk, but you're also not needing to make huge compromises on space. This opens your options for upgradeability, and allows consumers to build a bespoke PC of their choosing (with limits). I will say that although compact ATX designs are generous on clearance and space, there are restrictions and limitations to what can fit within your case of choice, without having to go up a size.
HYTE Y40 Design & Aesthetics
Looking at the overall aesthetic, the Y40 has taken more of a traditional approach to case design. We're seeing the standardised 'cuboid' shape that many other manufacturers tend to offer, but with a slight twist. In contrast to the Y60, HYTE have gotten rid of the 'antechamber' which separates any cable management, and moves it to the back of the case. This does mean that users will need to apply more effort when it comes to managing pesky cables, but the adequate channels and ties that come with the case should aid users in this process.
The Y40 offers the modern and sleek aesthetic that we've seen with their previous case, which I'm a big fan of. The block white colour, surrounding the bottom and top panels of the chassis are great to look at, and its honestly very easy on the eyes. There are two other colour choices that consumers can choose from (red and black), but we've picked out the white one for this specific review. The seamless glass also appears on the Y40, which is one of the 'wow-factors' that came with the previous Y60 case. This provides an unhindered view into your build, which is perfect for those that want to turn their system into more of an art piece than just a gaming machine.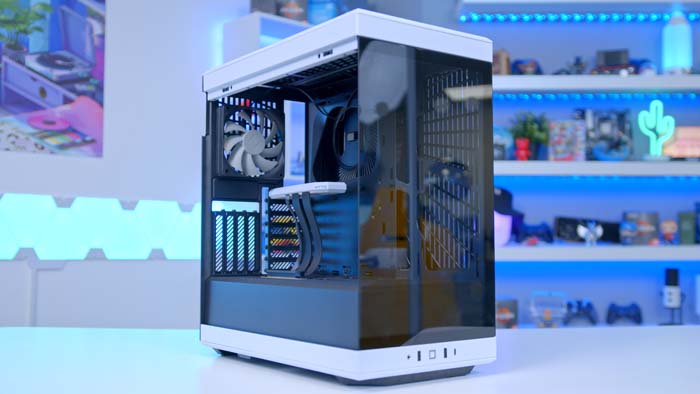 The back of the case still features plenty of ventilation, which fits in line with the overall style of the case. The bottom also features a similar style of ventilation which will aid the thermals and airflow of this case. One of the pre-installed fans is also located in the floor of the case which will further improve thermals. Overall, the design hasn't changed much, but HYTE have done what they do best, which is provide a consistently good looking case. The Y40 is more 'traditional-looking', but it offers a modern style that will work with a variety of different builds.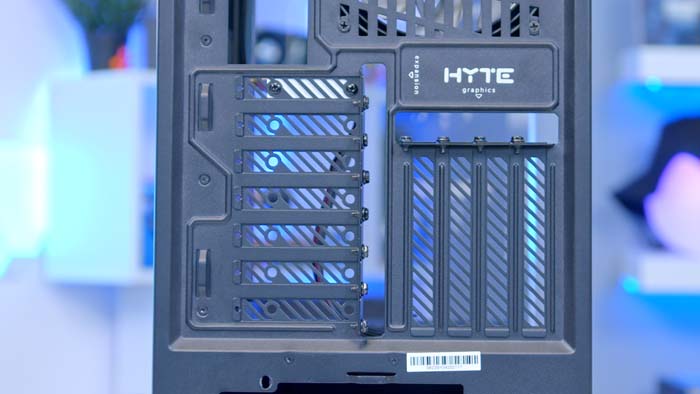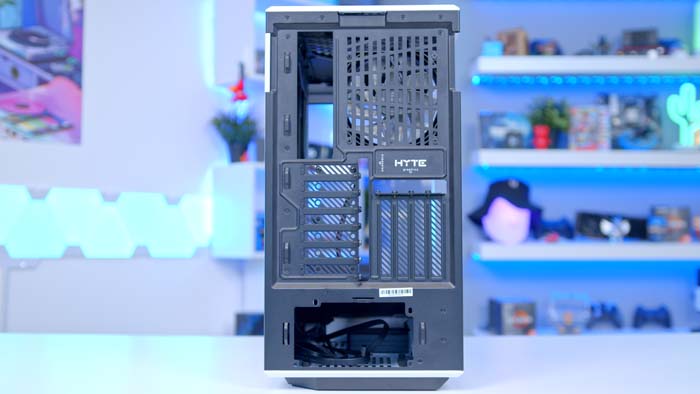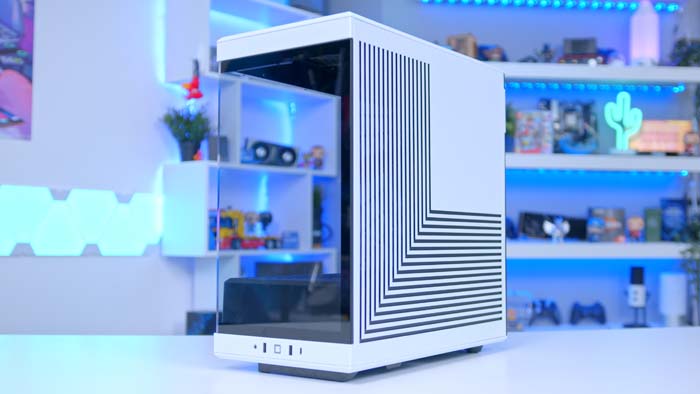 Features
Much like it's older sibling, the HYTE Y40 comes with plenty of features and usability extras that make this case a definitive purchase for many consumers. We've broken down all of the important ones below:
The PCI-E Riser Cable
One of the big benefits of the original Y60 was the included Gen4 riser cable which makes installing a graphics card vertically, much easier. The Y40 offers exclusive vertical mounting, which opens up plenty of options when it comes to aesthetic and design. Many users might be against vertically mounting their GPU due to the lack of airflow, alongside having to buy an extra riser cable. But HYTE have definitely put consumers at the forefront of their mind with this case.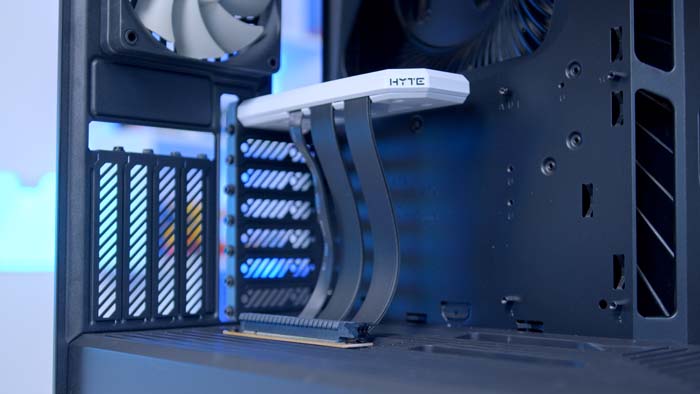 I'm a big fan of the riser cable, it saves users some money in the long run, and also keeps in with the overall aesthetic of the case. The riser is also Gen4 compatible, which provides support for the latest series of NVIDIA and AMD graphics cards.
GPU Clearance
As we've alluded to above, the HYTE Y40 sports a Gen4 PCI-E riser cable which, offers enough bandwidth for the latest generation of graphics cards. The Y40 also has plenty of space for even the biggest GPUs of this generation. The RTX 4090 and 4080 sit at a similar size, with some AIBs offering a length of 350mm in certain instances.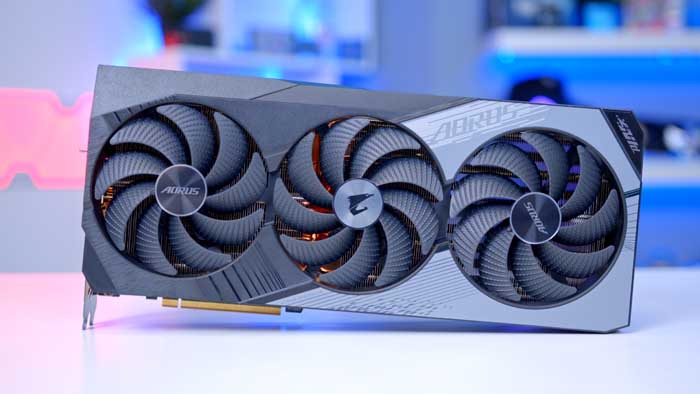 Needless to say, all of the latest GPUs are gigantic, but HYTE have prepared in advance for this occasion, and offered plenty of space in their compact design. With some extra fans, the ventilation located on the side and top of the case should be more than enough to keep the air in your case nice and cool.
Cable Management
The HYTE Y40 features a new 'cable shelf' which acts as a shroud cavity, providing a way to seat your cables further back in the case. This minimises the amount of cables being shown in the front of the case, while keeping them away from major airflow zones that could potentially impact cooling. At the back of the Y40 there are also a variety of hooks and channels where cable ties can be used to keep your cables from shifting around.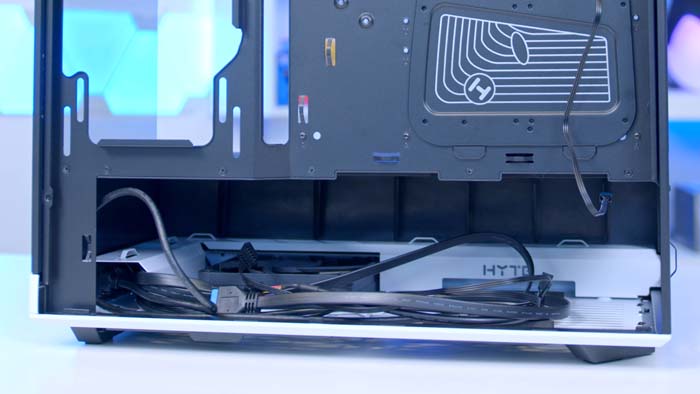 Fan and Radiator Support
Despite the smaller stature of the HYTE Y40, consumers have access to a wide range of configurations for fans and radiators. We've noted down all of the configurations in a table below: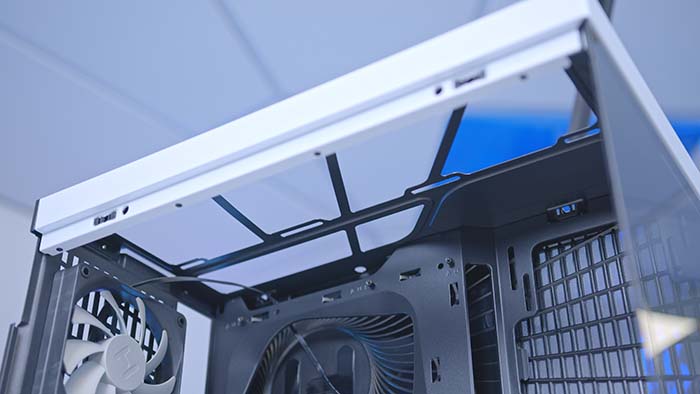 | | | |
| --- | --- | --- |
| Position | Fan Support | Radiator Support |
| Side | 2x 120mm/2x 140mm | Up to 280mm |
| Top | 3x 120mm | Up to 360mm |
| Rear | 1x 120mm (included) | Up to 120mm |
| Bottom | 1x 120mm/1x 140mm (120mm included) | N/A |
Front IO
Much like the HYTE Y60, the Y40 comes with a great set of front IO, which includes two USB 3.0 ports, alongside a USB 3.2 Type-C port which provides lightning-fast transfer speeds. HYTE have also included a combination audio/mic jack which is ideal that need an extra port for their peripherals.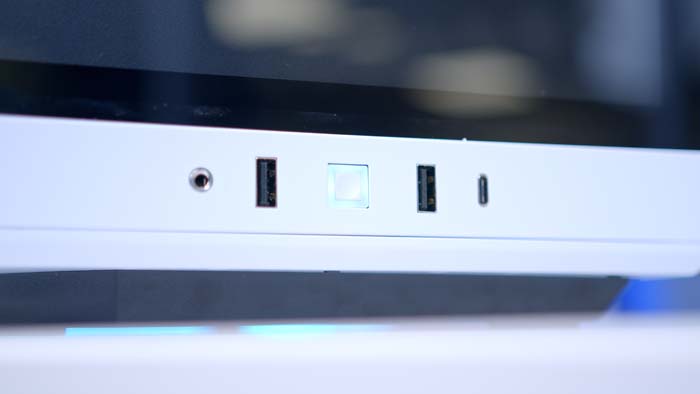 Conclusion
HYTE Y40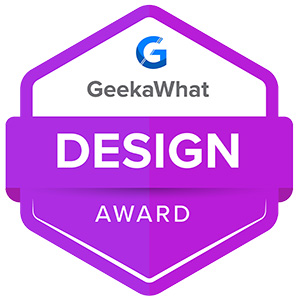 Product Name: HYTE Y40
Brand: HYTE
Features

Design

Versatility

Value For Money
Summary
HYTE's brand new Y40 case is another excellent addition to the market. This chassis sports the familiar, but sophisticated aesthetic that we saw with the Y60, while shrinking down the overall dimensions of the chassis. Despite the much smaller size, the Y40 still offers a versatile set of cooling options with a huge amount of space for large GPUs. The overall aesthetic of the Y40 is excellent, with options for three different colours, sporting a minimalist design across the entire case. Although the Y40 follows a more traditional look, I'm a big fan of the approach that HYTE have taken with this case, demonstrating consistency across two great products. HYTE have designed the Y40 to be a minimalist, sleek, and compact case, all whilst offering a vast range of features for consumers to sink their teeth into.
Pros
✅ Very reasonable price point.
✅ PCI-E Gen4 riser cable is included.
✅ Incredible design and aesthetic.
Cons
❌ Doesn't support E-ATX motherboards.
❌ Can hold two drives at maximum.
❌ GPU mounting is exclusively vertical.