Introduction
During the last quarter of 2022 Intel launched their overwhelmingly successful 13th generation CPUs. These new processors absolutely blew AMD's latest AM5 Ryzen platform out of the water with insane performance metrics as a very reasonable price point. But during this launch, Intel only released their popular (but expensive) Z790 chipset.
This left out many consumers looking for a motherboard upgrade that didn't want to spend a premium to gain access to the new platform. However, those that have waited for the new year to roll around will be glad to hear that Intel have released their less expensive B760 and H770 chipsets. These new motherboards give consumers access to the 13th-Gen platform but with a significantly lower premium that comes with Z790 motherboards.
In this review we'll be taking at a brand new B760 motherboard from ASUS in their TUF Gaming range, the TUF Gaming B760-Plus WiFi D4. We'll be discussing what differs between the new B760 chipset and the Z790 chipset alongside looking at the design and features of this new board!
Buy the ASUS TUF Gaming B760-Plus WiFi D4 on:
What is the B760 Chipset?
The 'B' series chipset has been a mainstay offering from Intel for quite some time. This particular chipset has provided a way for consumers to get access to the next-gen features but at a much lower price point compared to the flagship Z790 motherboards.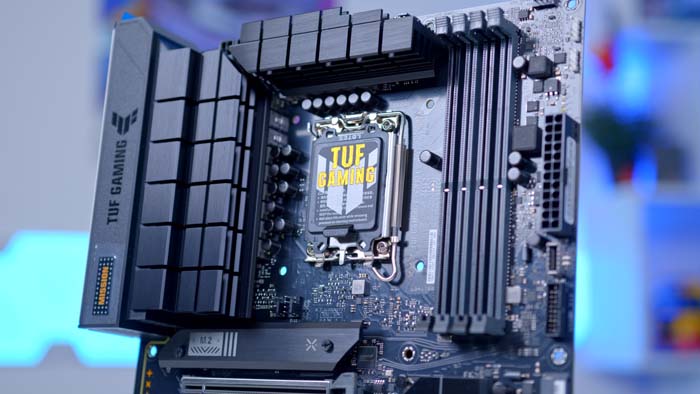 The one major caveat to this, is that features are often limited due to the manufacturer's decision. This ultimately means that B760 motherboards will have less of the latest generation PCI-E slots, both for graphics cards and M.2 SSDs. Due to the B760 chipset having the amount of PCI-E lanes cut in half, manufacturers aren't able to put as many high bandwidth PCI-E slots on their boards. So instead of the three to five M.2 slots you may see on a Z790 board, B760 chipset motherboards tend to have two or three, dependent on where the board sits in terms of price.
The biggest caveat to picking up a B760 motherboard is the lack of support for overclocking. B760 boards do not officially support overclocking, and thus will have weaker VRM power phases compared to the majority of the Z790 motherboards. However, the lack of overclocking is only limited to CPUs and not RAM, so for those looking to utilise their XMP profiles, you can do this!
Speaking of RAM, with Intel's 13th-Gen platform has retained support for DDR4 and DDR5 memory. This gives consumers plenty of options in terms of system building whilst also providing a way to save money on a component. As a point to note, DDR5 compatible motherboards aren't particularly common on the B760 chipset, as the technology does incur a significant premium. However, there are DDR5 options from most of the manufacturers, but you'll need to expect a large price jump if you're picking up a DDR5 board.
Chipset Differences
There are some major differences between the B760 and Z790 chipset, so we've put together a table that highlights the key features between the ASUS TUF Z790 motherboards versus the B760 version.
Features
ASUS TUF Gaming B760-Plus WiFi D4
ASUS TUF Gaming Z790-Plus WiFi D4
CPU Overclocking Support
No
Yes
VRM Power Phases
12+1
16+1
DDR4 Overclocking Speed
5333MHz
5333MHz
PCI-E 5.0 Slots
1x x16 PCI-E 5.0 Slot
1x 16 PCI-E 5.0 Slot
PCI-E 4.0 Slots
3x x4 PCI-E 4.0 Slots
4x x4 PCI-E 4.0 Slots
1x 16 PCI-E 4.0 Slot
USB Connections (Rear)
1x USB 3.2 Gen2x2 Type-C
1x USB 3.2 Gen2
3x USB 3.2 Gen1
1x USB 2.0
1x USB 3.2 Gen2x2 Type-C
3x USB 3.2 Gen2
4x USB 3.2 Gen1
USB Connections (Front)
1x USB 3.2 Gen2 Type-C
1x USB 3.2 Gen1
2x USB 2.0
1x USB 3.2 Gen2 Type-C
1x USB 3.2 Gen1
2x USB 2.0
LAN Type
2.5 Gigabit LAN
2.5 Gigabit LAN
WiFi Module
WiFi 6
WiFi 6
Estimated MSRP
Check on Amazon
Check on Amazon
Differences Breakdown
From a brief look at the table you'll be immediately able to notice some significant differences between both of these chipsets. First off is overclocking which we've touched upon before. B760 motherboards cannot overclock CPUs, and the lack of VRM power phases will directly affect this too. So this means consumers can save some money by picking up a non-K variant of Intel's CPUs due to the lack of overclocking. RAM overclocking is still supported on these boards, but system stability is down to your BIOS configurations.
Looking at PCI-E slots, there isn't a huge difference here. The only major advantage of picking up a Z790 board here is that consumers get access to a couple of extra PCI-E Gen4 slots. So if you plan on using numerous Gen4 drives, this can be of value, but this ultimately depends on user preferences. USB ports also share a similar story both on the rear and front. The TUF Z790 has got a couple of extra high speed USB 3.2 Gen2 ports, alongside an extra USB 3.2 Gen1 port. If you need more USB ports, there is a clear winner here, but I'd argue that 10 USB ports with the rear and front combined is probably enough for most consumers.
Other than that, these boards are relatively similar when it comes to features. The B760 board has some clear differences when it comes to the quantity of features, but this is just down to the restrictions that come with this chipset choice. Z790 motherboards are geared towards consumers that want to max out everything when it comes to features, but for those that aren't bothered about overclocking or just having loads of ports and slots, a B760 board will be perfectly fine.
Design & Aesthetics
Much like the Z790 version of this board that we've reviewed in full on our website, the B760 version is simplistic but still looks great. The heatsinks, logos and occasional RGB make this cheaper board much more appealing for those that value aesthetic alongside function.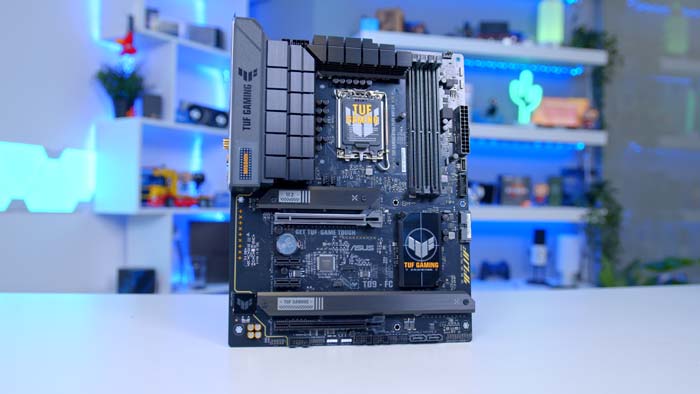 I actually much prefer the design of this B760 board compared to the Z790 version as ASUS have tried to make use of the 'all-black' approach to the design. The chunkier heatsinks over the VRMs follow this darker style, along with the M.2 heatsinks towards the mid-section and bottom of the board. The use of RGB isn't overkill here, but it provides some additional flair for those that like some light within their system.
The TUF Gaming B760 board does feature more exposed PCB compared to more expensive boards, but this will be down to saving costs. Overall I think ASUS have done a great job with the look of the TUF Gaming B760 board. The darker look is much more fitting with the rest of the board, and makes it much easier on the eyes when you're not transitioning to hugely contrasting colours. Despite being a cheaper motherboard, I have to commend ASUS on their eye for design here.
Features
Although the TUF Gaming B760-Plus is a much cheaper motherboard compared to the competition, ASUS are offering plenty of features keeping upgrade paths open whilst providing usability options that make building a PC less of a hassle.
PCI-E 5.0 Support
The first standout feature is the PCI-E 5.0 x16 slot. This GPU slot has extremely high bandwidth providing support for the next generation of graphics card in the future. Although there aren't any components as of yet that support the Gen5 standard, this provides some future proofing for consumers that plan on upgrading to a better graphics card later down the line.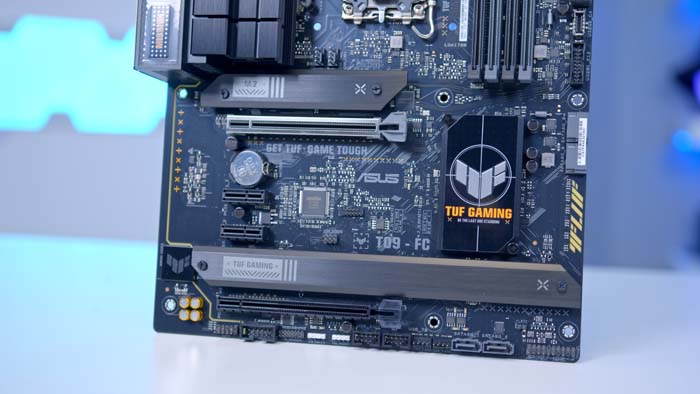 7.1-Ch Audio
The TUF Gaming B760 features a Realtek 7.1 surround sound audio codec which offers a 98 dB signal-to-noise ratio for the line out port providing crystal clear audio quality. On the rear IO, consumers also have access to a full audio suite including line-in, and out, alongside S/PDIF for those that have surround sound speaker setups.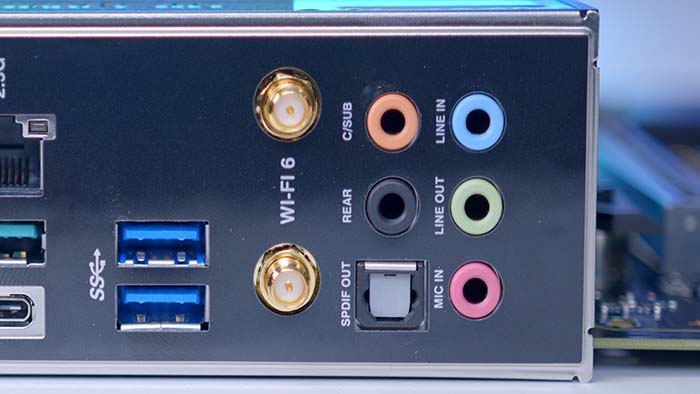 Thunderbolt USB4 Support
One of the big improvements we've seen in this generation is the advancement in USB speeds. Both Intel and AMD's latest platforms have seen the inclusion of Thunderbolt 4 which offers blazing-fast transfer speeds. Located on the front IO is a header for USB4 giving consumers the option to enjoy a speedy front panel USB port.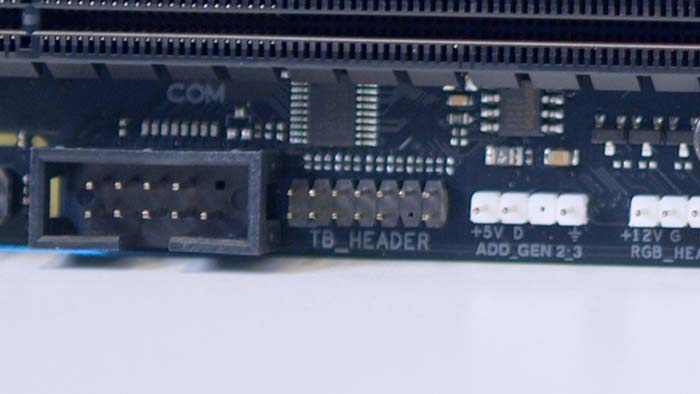 Rear IO
The rear IO of the TUF Gaming B760 motherboard is very bountiful giving consumers a mixture of high speed USB ports, along with 2.5 Gigabit LAN, and for those that would rather avoid cables – WiFi 6 Networking. This is plenty to plug in a vast number of peripherals and accessories.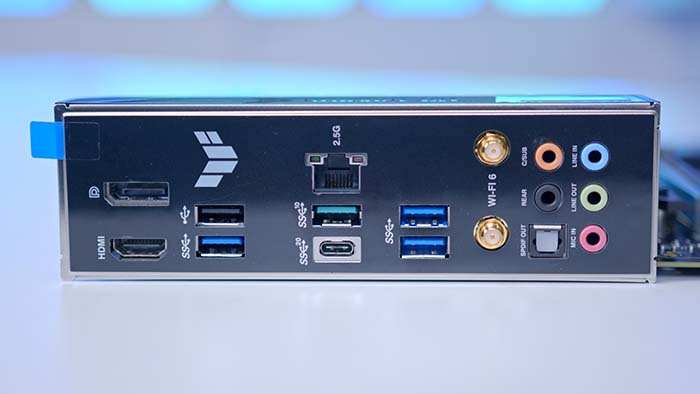 What's In The Box?
The ASUS TUF Gaming B760 comes with a few extra accessories in the box that can aid consumers with the building process. We've noted down all of the items in the box below:
ASUS WiFi Antenna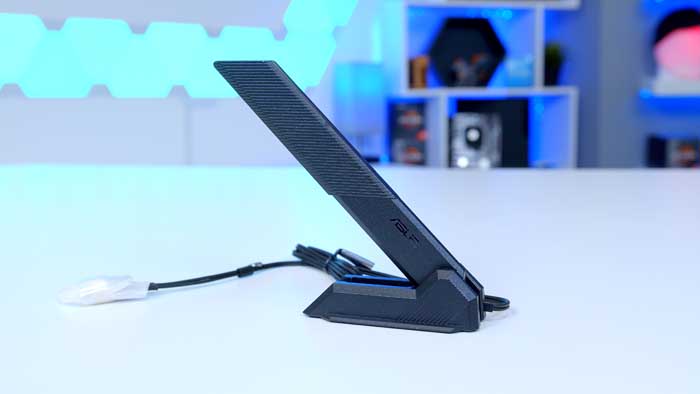 SATA Cables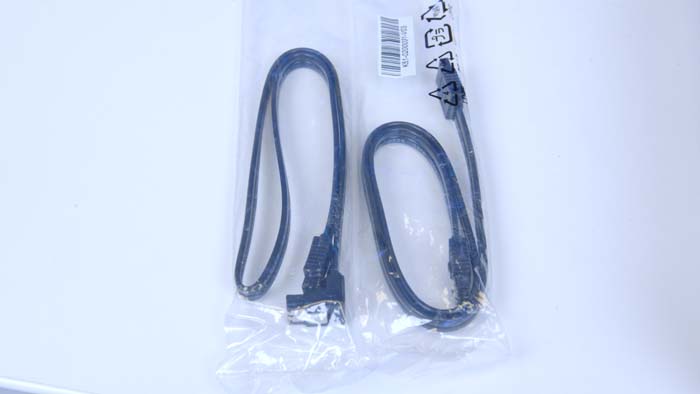 M.2 Q-Latch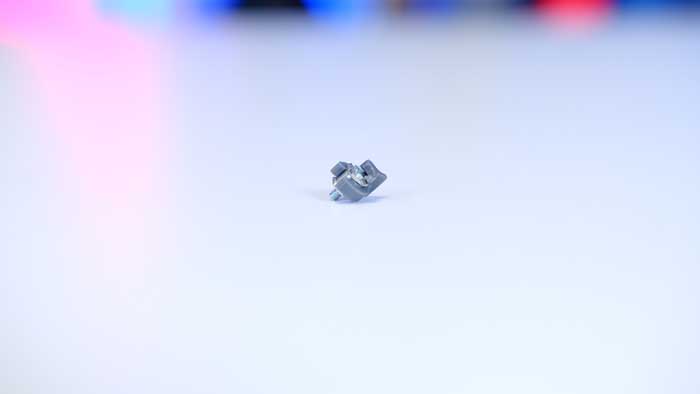 Compatible CPUs
Although the new B760 motherboards offer compatibility with both the 12th and 13th-Gen range of CPUs, consumers will want to consider sticking to the Core i3 and i5 ranges with this chipset.
The lack of overclocking support for CPUs on the B760 chipset means that the 'K' unlocked variants of Intel's CPUs will be somewhat wasted on the B760 boards. This doesn't mean that users won't be able to use the 'K' CPUs, you just won't be able to overclock them. Finding a balance between how much you can spend and how much you need is a vital decision making process that ensures you don't buy components that don't suit your use-case i.e. buying an extremely expensive CPU for a budget gaming system.
| | | |
| --- | --- | --- |
| CPU Name | Compatibility | Do We Recommend? |
| Intel Core i9 13900K | ✅ | ❌ |
| Intel Core i7 13700K | ✅ | ❌ |
| Intel Core i5 13600K | ✅ | ❌ |
| Intel Core i5 13600 | ✅ | ✅ |
| Intel Core i5 13500 | ✅ | ✅ |
| Intel Core i5 13400F | ✅ | ✅ |
| Intel Core i3 13100F | ✅ | ✅ |
| Intel Core i9 12900KS | ✅ | ❌ |
| Intel Core i9 12900K | ✅ | ❌ |
| Intel Core i7 12700K | ✅ | ❌ |
| Intel Core i5 12600K | ✅ | ❌ |
| Intel Core i5 12600 | ✅ | ✅ |
| Intel Core i5 12400F | ✅ | ✅ |
| Intel Core i3 12100F | ✅ | ✅ |
Conclusion
ASUS TUF Gaming B760-Plus WiFi D4
Product Name: TUF Gaming B760-Plus WiFi D4
Brand: ASUS
Features

Design

Performance

Value For Money
Summary
The ASUS TUF Gaming B760-Plus WiFi D4 is an awesome looking dark motherboard that offers plenty of features despite sitting at a much lower price compared to the vast majority of the competition. The usage of a Gen5 x16 slot opens upgrade paths for the future generation of graphics cards, and there are plenty of M.2 slots and USB ports that give consumers a plethora of options for installing new components or using more peripherals. ASUS have done a great job when it comes to the aesthetic, opting for an all-black design as opposed to contrasting colours, and I believe most consumers will be very happy with the look of this board in their build. ASUS has provided an entry-way for consumers to utilise Intel's powerful 13th-Gen CPUs at a very reasonable price point, and despite there not being as many features compared to Z790 motherboards, you can't really argue with the price.
Pros
✅ One of the best priced B760 motherboards.
✅ Cool dark aesthetic.
✅ Support for Thunderbolt 4.
Cons
❌ Not many usability features.
❌ Not much RGB.
❌ Only supports WiFi 6.