Introduction
Over the years, we've seen significant changes to cases from a variety of different manufacturers. We've been graced with a number of revised case iterations improving upon well-known designs, and some brands have pushed the boat out even further with bigger and better cases that quite literally dwarf the competition.
But with brand new features comes the unfortunate caveat of pricing. Many of these fanciful features such as LCD displays, infinity mirrors, or support for large radiators can be restricted by budget. So what are your options if you're looking for a case with unique features? Should you cave and spend a fortune on an expensive design, or are there alternative options on the market?
Enter the Deepcool CH510 Mesh Digital. The CH510 takes a renowned mesh case design providing better airflow, whilst offering an integrated display that can show critical system stats. We'll be taking a look at the CH510 Mesh Digital in a full review covering the design, and standout features to see if this chassis is worth its price tag.
Buy the Deepcool CH510 Mesh Digital Case on:
Are Good Features Restricted By Price?
As we've briefly discussed in the past, most manufacturers tend to follow a relatively standardised design when creating cases. The 'metal box' aesthetic is a relatively common style that we've seen for many years now. Despite this, there are many cases that offer a unique twist or extra features that make a purchase worthwhile. But are these cool features restricted by how much you're willing to spend?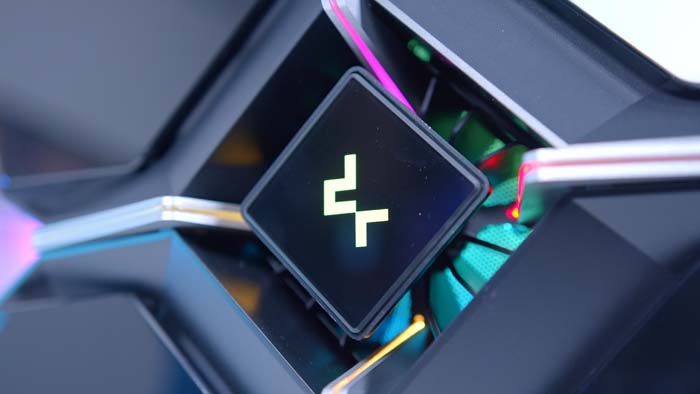 If we look at some of the cases that we've reviewed on our website, the majority of them offer very similar designs. Tempered glass tends to appear here and there, and we also get access to more usability features dependent on the manufacturer and pricing. However, there are two main outliers. The Corsair iCUE 5000T and Cooler Master's HAF700 EVO are both extremely unique, offering excellent feature-sets that come with a rather high price tag.
Unfortunately for consumers, other brands appeared to have followed suit. Many of the interesting designs tend to sit at the more expensive end of the spectrum, which is somewhat restrictive, but they arguably shouldn't. There is a clear interest in these distinctive features, and even though they are premium to some extent, I do feel manufacturers should make an effort to offer standout designs at a much cheaper price. And we may very well find that Deepcool is one of these manufacturers attempting to change the status quo.
Deepcool CH510 Mesh Digital Design & Aesthetics
Looking at the design of the CH510, I was immediately greeted with a simple looking case. The chassis offers an all-black finish, which includes the mesh and ventilation surrounding the case. The CH510 doesn't have much when it comes to angular edges or accents, making it a simplistic design that I'm honestly a big fan of. The all-black coating is what I'm a huge fan of with the CH510, as it makes the case look sleek and sophisticated all the way around, minimising jarring colour changes that come with cheaper designs.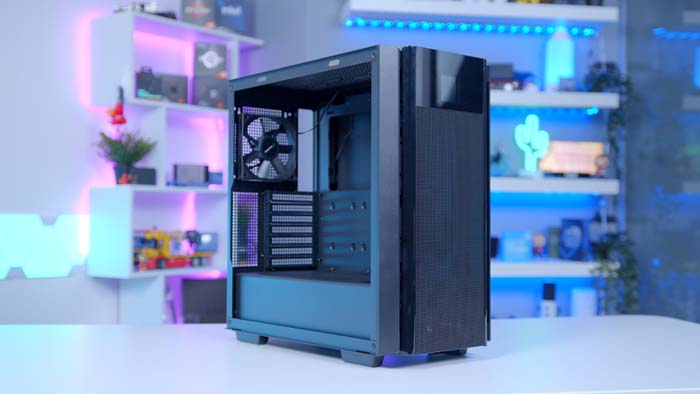 The CH510 is a relatively light mid-tower chassis, sitting at around 7.5KG with the doors installed. The tempered glass side panel spans the entirety of the side, giving you an unrestricted view into the internals of the case. This side panel is also easily removed with a small notch located towards the back of the case, which can also be easily screwed in once your build has been assembled. The majority of the case can be disassembled with ease, including the front panel which will need to be removed in order to install a fan or a radiator.
Overall, I'm a big fan of the design approach that Deepcool have taken here. Yes this case is simple, but minimalist cases are 'all the rage' nowadays. Deepcool have definitely provided a sleek and sophisticated chassis that will sit nicely in a cupboard, or showcase all of your components on a desk!
Deepcool CH510 Mesh Digital Features
Despite sitting at a very reasonable price compared to other options on the market, Deepcool's CH510 Mesh Digital has a wide range of features on offer that we've detailed below:
LCD Display
The LCD display featured on the CH510 Mesh Digital is one of the big selling points of this case. LCDs on any component tend to be reserved for the top-end options, meaning you may have to spend a significant amount in order to acquire a case with one. However, the CH510 keeps costs relatively low, and still offers an awesome feature that is extremely useful. The LCD display allows you to monitor system information just by looking at the front panel of the case.
The LCD can display system stats such as GPU or CPU temperatures, allowing you to change critical settings on the fly if it becomes too hot to handle. The one criticism I have of the display is that it doesn't work outright upon booting. You will need to download Deepcool's 'DIGITAL Setup', which can be located on the product webpage. However, once this software is installed, it should be easy to amend various configurations for the display.
Spacious Interior
Despite the CH510 being a Mid-Tower case, there's a huge amount of room to support a variety of different components across the board. This case has space for large GPUs up to 380mm, which gives consumers the option to pickup one of Nvidia's latest RTX 4000 series. The CH510 also provides ample space for CPU coolers, specifically up to 175mm in height, which makes the case ideal for larger coolers that need the max amount of airflow possible.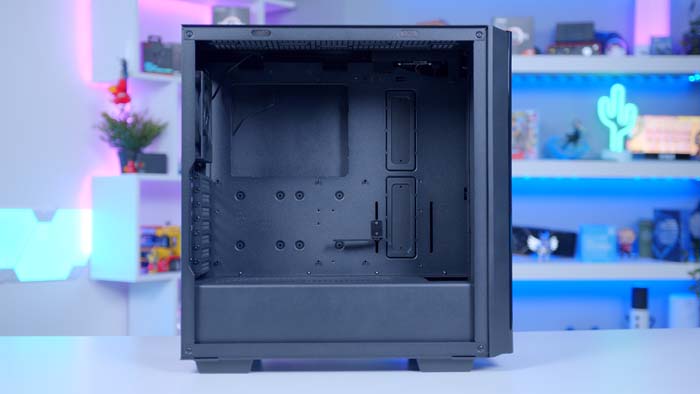 Front IO
Plugging in peripherals becomes much easier when you're not having to fiddle around at the back of your case to find a spare USB port. The CH510 offers two USB ports at the front, one is Type-C and the other is USB 3.0. Alongside the USBs, the CH510 also has a mic/audio port which is ideal for those rocking 3.5mm headsets. This isn't a massive amount of IO, but it gives consumers the option to power their peripherals, or just charge devices.
Radiator & Fan Support
The CH510 Mesh Digital has ample room for a variety of fans and radiators, making it ideal for those that want the best cooling out of the box. We've created a table below that shows fan and radiator configurations across all panels of the case.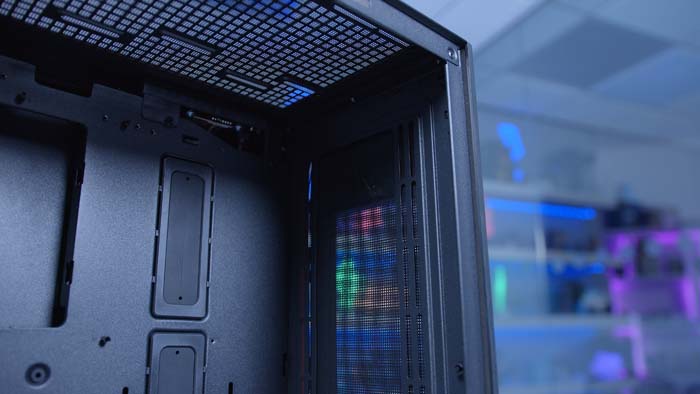 | | | |
| --- | --- | --- |
| Case Position | Radiator Mounting | Fan Mounting |
| Front | Up to 360mm | 3x 120mm / 2x 140mm |
| Top | Up to 360mm | 3x 120mm / 2x 140mm |
| Rear | N/A | 1x 120mm / 1x 140mm |
| Bottom | N/A | 2x 120mm |
GPU Support Bracket
The final feature to touch on is the GPU support bracket. The CH510 has plenty of space for modern graphics cards, and to make your life easier, Deepcool have included a bracket to reduce any sag. This bracket is mounted directly to the case, and can be adjusted accordingly to aid a variety of different GPUs.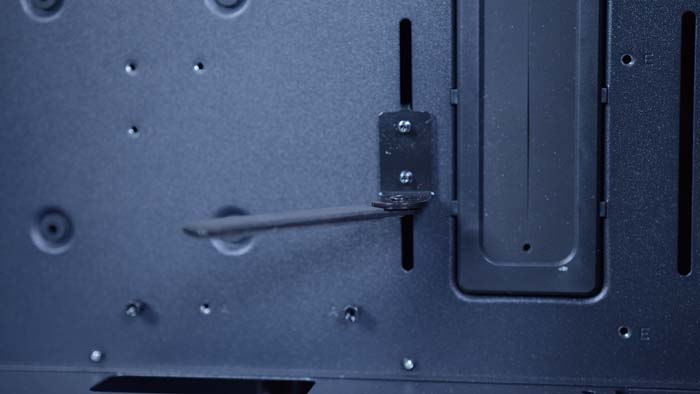 Conclusion
Deepcool CH510 Mesh Digital Case
Product Name: CH510 Mesh Digital
Brand: Deepcool
Features

Design

Versatility

Value For Money
Summary
Deepcool's CH510 Mesh Digital is an affordable Mid-Tower case that features its own independent display which can provide system information. The case itself has an all-black aesthetic, which I'm a big fan of, and there's ample space for varying types of builds and budgets. My only criticism of this case is that Deepcool doesn't offer much besides the LCD display. The CH510 doesn't have loads of RGB, it only comes with one pre-installed fan, and usability features like cable management are relatively simplistic across the board. Even though this case is very reasonably priced, I can't help but feel that I want more with this case. Some more fans would have been a nice bonus (especially as this is a mesh design), or an extra USB port on the front IO. However, these aren't deal-breakers and overall, Deepcool have provided a very sleek looking chassis that doesn't cut corners when it comes to quality.
Pros
✅ All-black aesthetic looks awesome.
✅ LCD display is very useful.
✅ Very affordable.
Cons
❌ Not many features besides LCD display.
❌ Simplistic aesthetic won't be for everyone.
❌ LCD display requires software.