Introduction
Over the years external hard drives have gradually become faster, offering consumers a viable way of taking all of their must needed files with them, without having to wait for hours to transfer them. In the modern age we're seeing magnetic disk-based drives slowly become phased out, making way for the new age of external storage – SSDs.
However, while these external SSDs are becoming the norm, a big concern still remains when it comes to pricing. The faster and more powerful options incur a cost that looks to be higher than most internal Gen3 and Gen4 options, which indicates a targeted demographic of consumers that doesn't seem to include those with a lower budget.
With this in mind, we'll be taking a look at a new external SSD on the block, the Crucial X10 Pro. This looks to be the slightly more powerful sibling of the X9 Pro, a drive that we're a fan of here at GeekaWhat. But will this more powerful option live up to the expectations of the rest of the family? Lets find out in this dedicated review!
Buy the Crucial X10 Pro SSD on:
Crucial X10 Pro Specs
Taking a look at the specs of the X10 Pro, this drive offers a substantial upgrade versus the less powerful, but equally impressive X9 Pro. Advertised reads and writes sit at 2100MB/s and 2000MB/s respectively. These speeds are ideal for those with a productivity-focused system for high speed file transfers. Alternatively, those playing games will also benefit from this provided they can leverage a USB 3.2 Gen2x2 USB port, which is a requirement to reach these max speeds.
Warranty stands at five years, which is pretty standard for most forms of storage drive. Consumers have three capacities to choose from, 1TB, 2TB, and 4TB. Ultimately, the prices go up the higher the capacity, so it is probably worth dividing and conquering to find some balance of internal storage versus external storage if you can.
| Crucial X10 Pro | Specification |
| --- | --- |
| Capacity | 1TB, 2TB, 4TB |
| Sequential Read Speed | 2100 MB/s |
| Sequential Write Speed | 2000 MB/s |
| Dimensions (Inches) | 0.3 x 2.6 x 2 |
| Warranty | 5 years |
| Connection Type | USB-C (20Gbit/s) |
| Colour | Black |
Crucial X10 Pro Spec Table
Suggested Article: Crucial X9 Pro External SSD Review
Crucial X10 Pro Design
Looking at the design of the X10 Pro, this sleek looking drive doesn't differ much from the design of the X9. Instead of a silvery-grey chassis, the X10 Pro is instead black, which persists across the entirety of the SSD. After a comparison versus some other drives in our office, we noticed that the X10 Pro is pretty small, sitting at the same size as the X9 Pro. This drive can easily fit in your pocket, providing more portability and ease of transportation. There shouldn't be too much of an intrusion on your portable setup with this SSD included.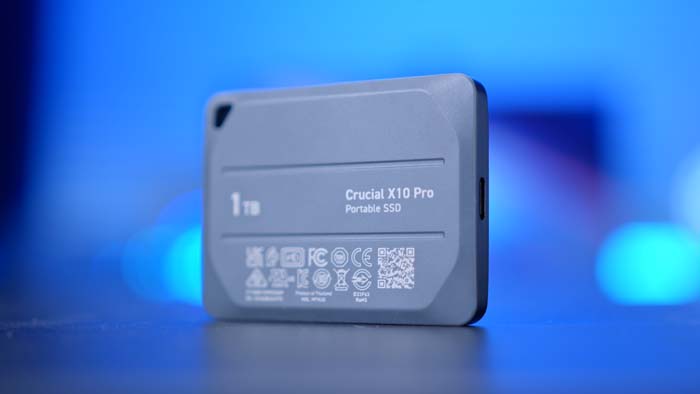 Crucial X10 Pro Performance
Moving onto performance, the rated read and write speeds of the X10 Pro are 2100MB/s and 2000MB/s respectively, so across the board we're getting a whole 2GB/s of speed provided your motherboard or laptop can support USB 3.2 Gen2x2 (which is normally a Type-C port). However, rated speeds are never worth taking as gospel due to accuracy, so we've tested the X10 Pro with our own benchmarking. The way we do this, is through the industry-standard Crystal DiskMark software, which will evaluate how fast data can be transferred to and from the device.
We run a 1 GiB test that will uncover what speeds we're actually getting versus the rated speeds. In our test, we found that the read speeds sat around 1990MB/s, with the writes sitting at a lower 1726MB/s. The read speeds I would argue is within the margin of error. Admittedly, a whole 200MB/s is a fair bit, especially as we're not seeing that 2GB/s maximum here. But I think we can let the disparity go here.
The write speeds are however disappointing. I'd say anything more than 200MB/s (so around 10%+- or so) is outside the margin of error, and that's when we'd need to consider anomalous data, and retest the drives to make sure we're getting the same result. Unfortunately, when retesting the write speeds of the X10 Pro, we were sitting around this 1700MB/s mark during each run. This goes to show that it isn't best to 100% trust advertised speeds, but also that the X10 Pro isn't as powerful as it is made out to be. A 300MB/s difference in write speeds is rather significant, and will definitely increase the transfer time if you're moving around larger files.
But despite the weaker write speeds of this drive, we were still impressed with the performance regardless. Being able to achieve nearly 2GB/s consistently of sequential reading and writing purely over USB is impressive, and we're excited to see more Crucial drives push this barrier even further.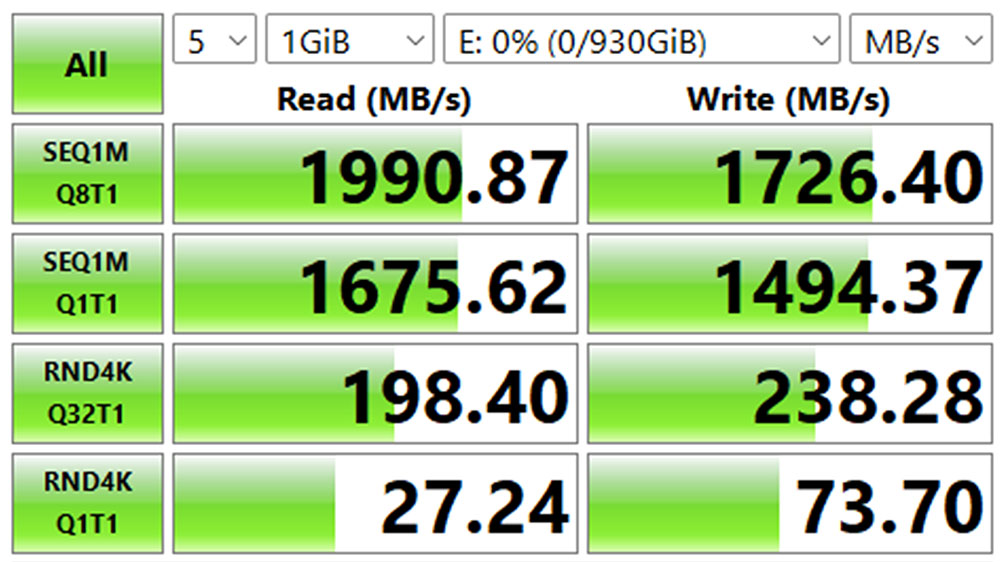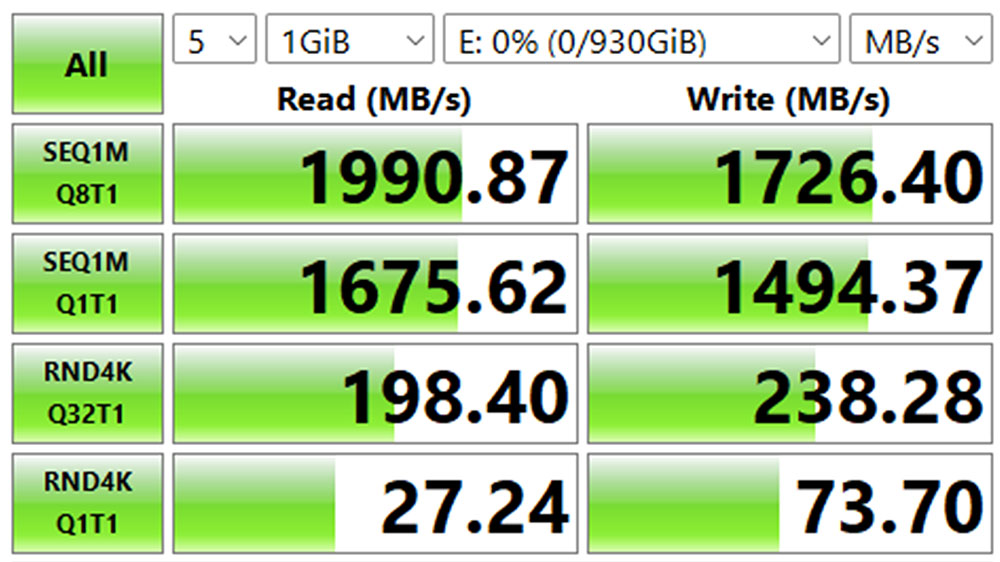 Are External SSDs Worth It?
While external SSDs have significantly improved read and write speeds over the past few years, with Samsung's T5 portable being a mainstay for the vast majority of creators. One major question still stands – are they worth it? While I do think many workstation and media creators will benefit from having an external SSD, the demographic I would argue is relatively niche. Most laptops generally have enough storage to get you through the day without any problems, and even if they don't, most portable systems are also upgradeable too to a degree, making external SSDs relatively redundant.
What's more, external SSDs aren't cheap. A drive like the X10 Pro comes in well above the price that it would cost for an internal drive, and this is only for 1TB of storage. This will be a hard sell for manufacturers like Crucial and Samsung when internal drives are so incredibly cheap right now.
I do think that external SSDs will be worth it for many, the main considerations you'll want to make are use-case and cost. Do you desperately need an external SSD, and do they fit within your budget? If either of these answers are no, I'd recommend upgrading your current laptop, or perhaps purchasing a new portable machine with better storage capacity, cutting out the need for an external drive.
Conclusion
Crucial X10 Pro
Product Name: X10 Pro
Brand: Crucial
Features

Design

Performance

Value For Money
Summary
Crucial's X10 Pro external SSD is a solid option for those that need extra capacity outside their laptop or desktop machine that can still offer high speeds irrelevant of location. The small and sleek nature allows users to carry this drive with them very easily, and plug it in via a USB 3.2 Gen2x2 port or higher, to ensure the speeds they get are the highest that this drive can reach.
However, I feel the value-proposition of the X10 is comparably weaker versus the slower, but cheaper sibling, the X9 Pro. Most consumers (unless they've got plenty of money to spare) aren't normally willing to shell out an excessive amount of cash for a fast 1TB drive, especially if that drive is over the $100 mark. For this reason, I feel the target audience of the X10 Pro is much smaller based on the less competitive price point. I'd say if you desperately need a very high speed external drive, the X10 Pro is a good option to pick. But if you don't, there are a number of alternatives that will be slightly slower, but provide users with more capacity at a lower price point.
Pros
✅ Still pretty fast despite weaker advertised write speed.
✅ Extremely portable.
✅ Ideal for workstation users.
Cons
❌ Write speeds aren't as advertised.
❌ Very expensive for 1TB of storage.
❌ Relatively niche demographic.