Introduction
With the recent launch of the RTX 3050, a mere week after AMD launched its RX 6500 XT, the budget GPU battle is well and truly heating up again. With this being the first truly budget orientated GPU released by Nvidia in almost a year, we were eager to get a hands-on look here at the GeekaWhat office.
The RTX 3050 completes the line-up of base model cards boasted by Nvidia, slotting in alongside the RTX 3060 on the cheaper end of the scale, whilst also closing the historical gap in performance which existed between the GTX and RTX series of cards.
Nvidia has done a great job of making PC building even more accessible with the release of this card and with the recent upturn in the market, the RTX 3050s are becoming increasingly available for prices that are somewhat close to resembling MSRP!
Buy the Zotac TwinEdge RTX 3050 on:
Suggested Article: Best GPUs to Buy in 2022!
Architecture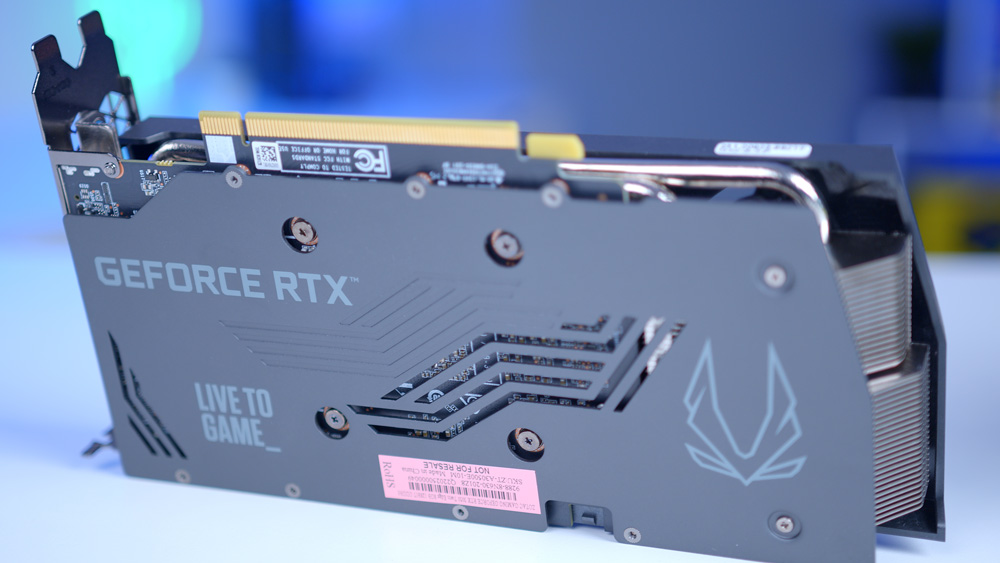 The 3050 is another GPU built using NVIDIA's Ampere architecture. The architecture offers second generation RT Cores as well as third generation Tensor Cores, for accelerated deep learning applications. The latest Ampere Architecture is definitely worthy of its plaudits, producing a larger performance improvement between GPU generations than we have seen in recent history.
Features such as DLSS – NVIDIA's AI-based resolution scaler – are a major driving force behind the increase in the generational performance gap, increasing frames per second without significantly degrading visual fidelity.
The Zotac RTX 3050 makes great use of DLSS, bringing that added performance boost to the masses of 1080p gamers without breaking the bank. Nvidia Reflex is another welcome feature available with the RTX 3050, enhancing communications between the CPU and GPU to combat system latency. Most notable in Esports titles such as CS:GO, Valorant & COD Vanguard, NVIDIA reflex provides that extra edge in the moments where every millisecond matters.
Zotac's RTX 3050 comes loaded with a healthy 8GB of GDDR6 memory, similar to that of both the RTX 3060Ti and 3070. Having the right amount of video memory is hugely important, something we witnessed with AMD's recent 6500XT launch. A card which had great prospects on paper was let down with just 4GB of VRAM, it is good to see Nvidia not make the same mistake here. The card features a very respectable boost clock speed of 1777MHz, the same as Zotac's Twin Edge RTX 3060 and slightly higher than that of the RTX 3060Ti. With these solid on paper specs, it's no surprise to see the RTX 3050 perform so well across a range of titles at 1080p.
The RTX 3050 fits into NVIDIA's line-up nicely and feels right at home amongst the bigger boys of the GPU world thanks to the additional benefits that the RTX line-up of cards features. Zotac does offer two more variations of the 3050, namely the Twin Edge OC and AMP models, both of which boast higher boost clocks of 1807 & 1830 MHz respectively.
Design
Zotac's Twin Edge RTX 3050 takes a no-frills approach when it comes to design. The simple black and grey colour scheme with dual fan cooling and no RGB offer little to a build in the aesthetics department, but it doesn't stop me being a big fan. To many in this day and age, the lack of RGB may seem like a step backwards, reminiscent of GPU designs of yesteryears, but I find it to be a refreshing change.
It's great to see a GPU design-focused purely on performance and functionality rather than flashy aesthetics in hopes of gaining extra customers, something I respect Zotac for.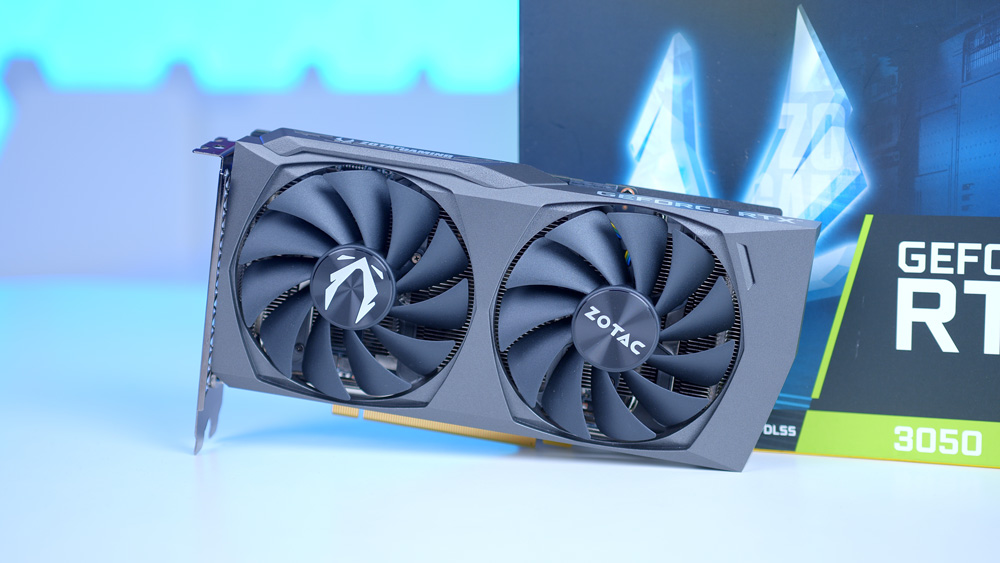 Zotac doesn't currently offer much variation on this stance until you begin to look at some of their higher-end cards, and whilst commendable this won't be to everyone's taste. Let's not forget though, that the RTX 3050 is first and foremost a budget card and this approach fits the bill. The addition of RGB would no doubt improve the aesthetics but at what overall gain?
This 'Twin Edge' model of the RTX 3050 does a great job of producing impressive performance at a reasonable price point. Yes, the card is largely made of plastic and lacks any eye-catching features, but you cannot deny the fact that the Twin Edge does what it set out to do. Bringing affordable performance to the masses of 1080p gamers, Zotac's Twin Edge 3050 is undeniably a solid choice for any budget build.
Performance
Did Zotac's design choices payoff? Yes! The Twin Edge RTX 3050 serves as a great entry point GPU, smashing through the 1080p 60FPS barrier with ease across a range of titles. Apex Legends, Battlefield 2042, Halo Infinite, Fortnite, you name it the RTX 3050 can run it.
During our testing, we played each game at 1080p High settings and were not disappointed. Forget 60FPS, the twin Edge 3050 surpassed 100FPS in the majority of titles we played and completed benchmark runs without any frame stutter or performance kinks. Throw DLSS into the mix and the RTX 3050 even had some legs to run a select few games at 1440p. The new budget king? We think so!
With DLSS enabled we witnessed an average FPS increase of a consistent 10%, though select titles, such as COD Vanguard, witnessed up to a 30% gain in FPS at times. DLSS is a fantastic feature to have on such a budget card, helping to seat the RTX 3050 a level above the previous-generation cards. The same can be said when comparing the RTX 3050 to its AMD equivalent, the RX 6500 XT. AMD's Fidelity FX lags behind that of NVIDIA's DLSS currently, contributing to the sizeable gap in performance between the two cards in question. AMD are making waves to catch up, but for the time being at least, NVIDIA's DLSS is still leading the way.
The Twin Edge RTX 3050 slots in perfectly amongst its RTX 3050 counterparts, rivalling their performance whilst coming in at a lower MSRP.

Harry Coleman
Let's not allow AMD's RX 6500 XT woes to take away from the RTX 3050 successes, however. NVIDIA has accomplished what they set out to do, introducing a brand new budget GPU capable of knocking on the door of the RTX 3060 in certain titles – no easy feat. Zotac's Twin Edge is a worthy addition to any budget build, capable of running the biggest triple-A titles of the last year without costing a fortune.
Here at GeekaWhat HQ, we post all of our complete benchmark runs on our 'Benched' YouTube channel, so feel free to check out the full recorded runs for all of the titles tested. Games benchmarked include Apex Legends, COD Warzone & Vanguard, Battlefield 2042, Fortnite, Valorant, Halo Infinite, & more!
Conclusion
Zotac Twin Edge RTX 3050 - A New Budget King?!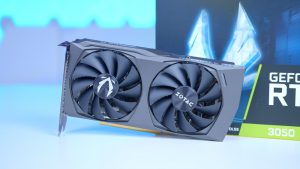 Product Name: Zotac RTX 3050 Twin Edge
Brand: Zotac
SKU: Twin Edge
Design

Performance

Features

Value For Money
Summary
Zotac and NVIDIA for that matter have both done a stellar job with this latest addition to the 30 series of GPUs. Zotac's Twin Edge produces shockingly good performance at an accessible price point. Although without all of the bells and whistles a number of the more expensive RTX 3050 models feature, the Twin Edge is rivalled by few when looking at price to performance. The addition of DLSS and Ray Tracing is a great step forward and though the latter is better suited to the higher end cards, by enabling DLSS as well the Twin Edge continued to show that it was up to the challenge. If aesthetics are what you're after this won't be the card for you, but if you're looking to squeeze as many frames as possible on a budget, you won't find many cards better than this!
Pros
✅ Great performance levels
✅ Good value MSRP on Zotac's Twin Edge design
✅ Perfect card for 1080p gaming
Cons
❌ Otherwise basic cooling design, with no RGB functionality
❌ Limited legs for gaming at 1440p
❌ Weaker Ray Tracing performance than it's Nvidia counterparts