Introduction
One of the most important components of any PC build is the power supply. If you don't have one, or you do have one, but the wattage is insufficient, you won't be able to deliver the required power to the parts in your system, meaning you won't be able turn on your PC. But the question remains, which PSU should you choose and how do you choose the right power supply for your PC build?
If you're building a high-end PC with powerful components, the answer becomes relatively simple. But with varying wattages for budget parts, it can be difficult to make a decision. Here we're hoping to provide the answer for the budding budget gamer, with a review on one of Corsair's tried and true budget power supplies – the CX650F RGB. We're taking a look at how this power supply performs, the extra features it has, and the kind of PC you can expect to build around 650 watts.
Buy the Corsair CX650F RGB on:
Suggested Article: How to Choose the Right Wattage PSU for your Gaming PC
What Components Can a 650W Unit Power?
One of the big questions you should always ask yourself when building a PC is what kind of power you expect out of your build. If you're building a top-end PC, trying to attain the best performance at 4K, you'll need some high performing components to meet this requirement. And unfortunately, with high processing power, comes high power consumption. You can follow the same kind of logic for more budget oriented systems too, less powerful components don't need as much wattage in order for them to run.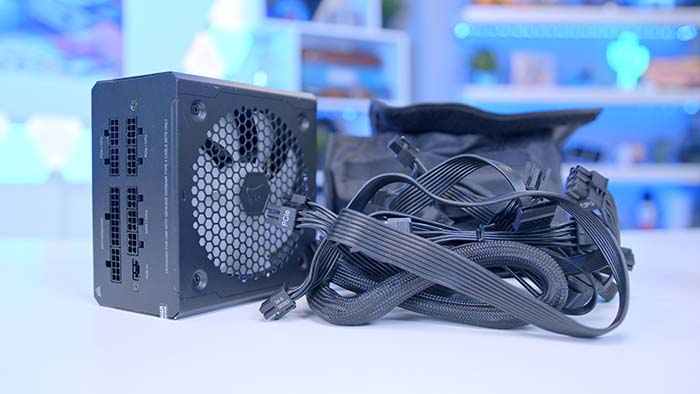 With all this in mind, what kind of PC can you build with a 650W PSU? We'll be covering some recommendations in a table below, but to discuss this briefly, you'll likely be building a budget PC. With a wattage of 650 there are unfortunately restrictions with the kind of components that you can use. This is primarily down to the graphics card, as the latest 3000 series GPUs are quite power hungry, and this could become even more problematic when we look at the rumoured 4000 GPUs.
As a general rule, a 650W PSU will be perfect for those looking to build a budget or possibly mid-range system, but there will be limitations on upgrading later down the line. Check out the table below for some recommendations on components that you can use with a 650W PSU.
Table of Recommended Components
Component
Max TDP
Key Facts
Estimated Price Range
Intel Core i5 12400F
117W
Boost Clock Speed: 4.4GHz
Core Count: 6
Thread Count: 12
$180 – $200
AMD Ryzen 5 5500
65W
Boost Clock Speed: 4.2GHz
Core Count: 6
Thread Count: 12
$120 – $130
Nvidia RTX 3060
170W
CUDA Cores: 4864
RT Cores: 28
Boost Clock Speed: 1.78GHz
$300 – $320
AMD RX 6650XT
180W
Stream Processors: 2048
Ray Accelerators: 32
Boost Clock Speed: 2635MHz
$400 – $450
Efficiency, Modularity and Features
When weighing up how good a PSU is, there are a few factors to consider. The first is efficiency. With the CX650F, Corsair have the PSU rated as 80+ Bronze efficiency. We're a little bit disheartened to see the efficiency rating as low as Bronze, however based on the lower wattage, this should be more than enough for most consumers. 80+ Bronze is also rated to have a higher efficiency at lower levels of load, making less power intensive components better suited.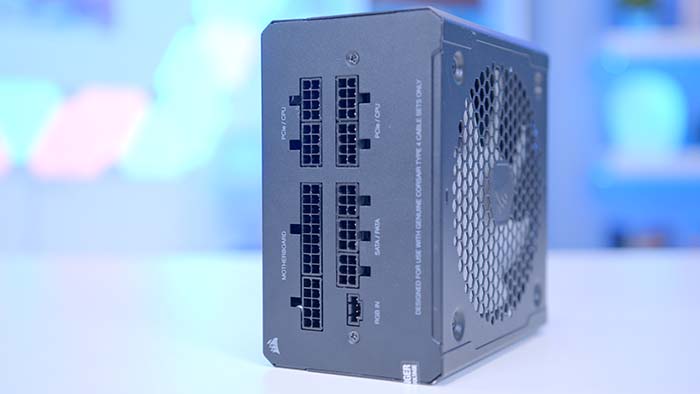 80+ Rating
Efficiency Level
80+ (White)
20% Load: 80%
50% Load: 80%
100% Load: 80%
80+ Bronze
20% Load: 82%
50% Load: 85%
100% Load: 82%
80+ Silver
20% Load: 85%
50% Load: 88%
100% Load: 85%
80+ Gold
20% Load: 87%
50% Load: 90%
100% Load: 87%
80+ Platinum
20% Load: 90%
50% Load: 92%
100% Load: 89%
80+ Titanium
20% Load: 90%
50% Load: 92%
100% Load: 94%
Table of the efficiency ratings an '80+ rated' PSU will provide. Efficiency is defined as the amount of power available, compared to the advertised wattage, when tested at 20%, 50% and 100% utilisation.
The CX650F has a fully customisable RGB fan, where you can change colours and lighting effects with Corsair's iCUE software. The 120mm fan should keep your PSU nice and quiet, but it also adds a beautiful accent to your build. This can be matched to other compatible components for cohesive lighting, even if most people are going to hide this under a power supply shield.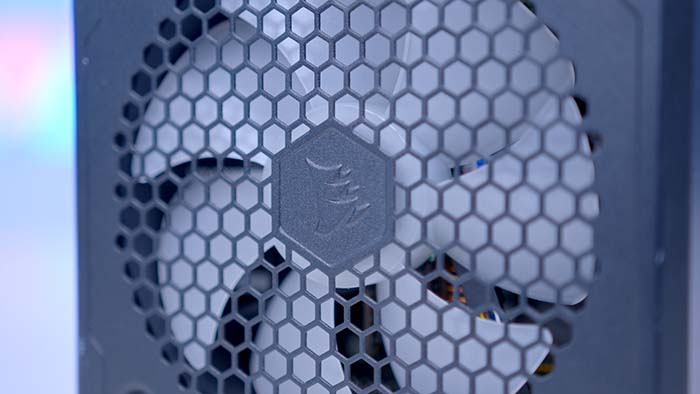 One of the most awkward and frustrating parts of any PC build is having to manage your cables. With the CX650F, Corsair's consumer-friendly focus allows you to minimise any cable clutter with a modular design. You can pick and choose all of your cables to your heart's content, minimising the time needed to cable manage your system.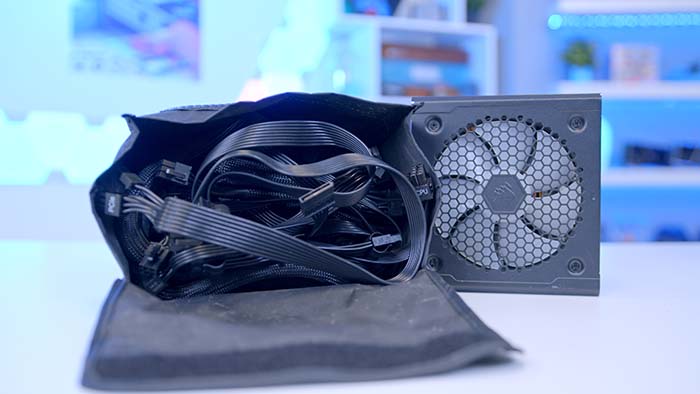 Corsair CX650F Alternatives
Cooler Master MWE 650 Gold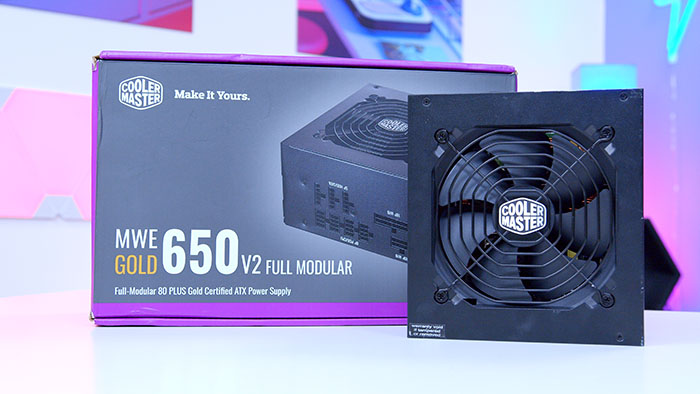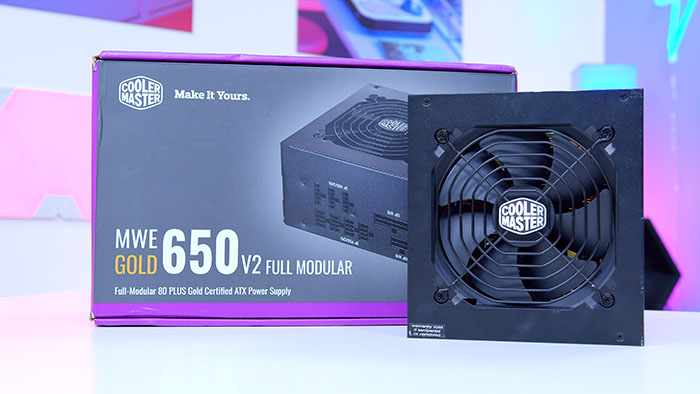 Cooler Master's MWE 650 Gold is a power supply that use fairly regularly in many of our budget PC builds. This is an excellent ATX PSU sporting a fully modular design, while also being rated for an 80+ Gold efficiency. With the modular design you're able to pick and choose the cables you want in your build at will minimising any extra cable management. The MWE 650 Gold also features an HDB fan delivering quiet and effective cooling!
Buy the Cooler Master MWE 650 V2 on:
NZXT C650 Gold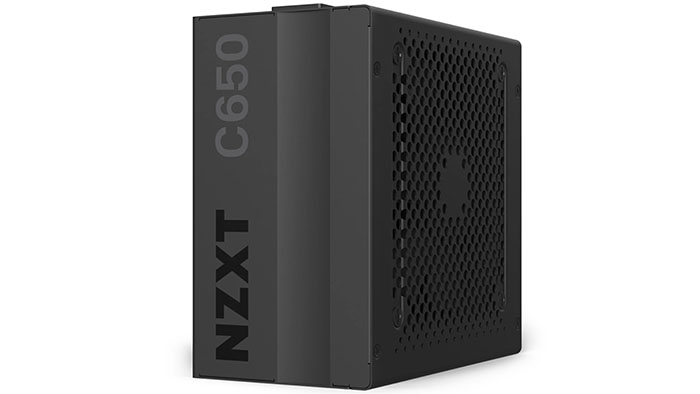 NZXT's C650 Gold is another excellent fully modular design rated with an 80+ Gold efficiency. The sleeved cable design resist heat and also damage, meaning you won't have to replace any later down the line. The Zero RPM mode also allows you to run a silent system when your system is under minimal load. The sleek and minimalist NZXT design also provides a great look to any build. For the price, this is an great ATX choice.
Buy the NZXT C650 Gold on:
EVGA 650 BQ Bronze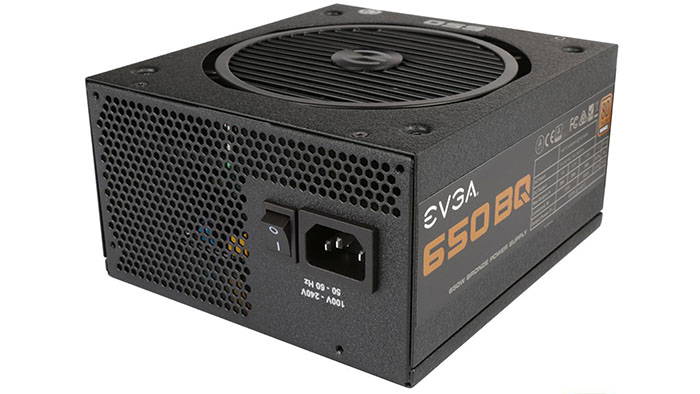 Our last alternatives is the EVGA 650 BQ Bronze. This semi-modular 650W PSU is bronze rated for efficiency and is perfect if you're on a budget. You have the luxury of picking out cables for various peripherals such as your graphics card and SATA power. The Teflon Nano-Steel bearing fan allows for near-silent operation keeping your PC nice and quiet, minimising any fan whirring or buzzing while you're gaming.
Buy the EVGA 650 BQ Bronze on:
Conclusion
Corsair CX650F RGB
Product Name: CX650F RGB
Brand: Corsair
Features

Design

Efficiency

Value For Money
Summary
Corsair's CX650F RGB power supply will be an excellent addition to any build. The fully modular design makes building a PC simple and clean, and the customisable lighting effects on the RGB fan is a nice touch for those that want additional flair. However, we can't help feeling that the efficiency rating could be better. This isn't to say that Bronze efficiency rated power supplies are bad, but due to the higher power consumption of RTX 3000 graphics cards and Intel's latest CPUs, many systems will be reaching higher power levels consistently as a general rule. Regardless, the CX650F is a great PSU, and for the price we can't really argue with the performance.
Pros
✅ Customisable RGB fan.
✅ Fully modular design.
✅ Very low noise levels.
Cons
❌ Not a Gold rated efficiency.
❌ No Zero-RPM mode.
❌ RGB fan might not be visible based on certain configurations.