Introduction
DDR4 memory has been a mainstay for quite some time, and with the introduction of DDR5 still in its relative infancy, it can make sense to stick with DDR4 until the new tech matures. But this begs the question, What memory kit should you pick up for your gaming PC build?
Today, we'll hopefully be answering that question with a review of GeIL's Orion RGB DDR4 kit. We'll be taking a look at the design to see what kind of aesthetic is on offer, along with some performance numbers to see how this kit fairs within a gaming PC system.
Buy the GeIL Orion RGB DDR4 Kit on:
Suggested Article: The Best RAM To Buy for Gaming in 2022 – DDR4 & DDR5 Buyers Guide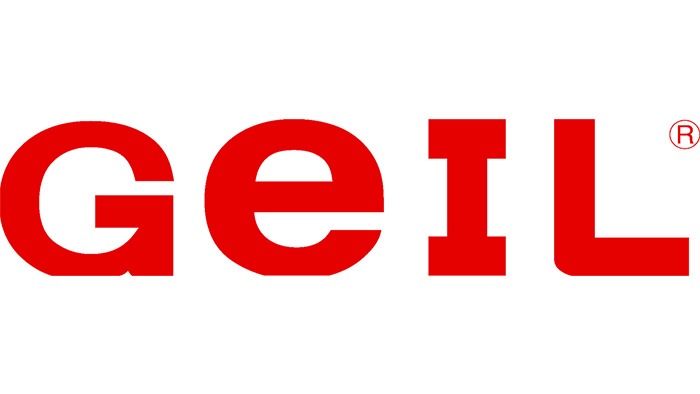 GeIL are one of the lesser known brands in the PC components space, but we use their Orion RGB kit fairly regularly. GeIL have a wide range of kits available to buy, with their Polaris DDR5 kit being the world's first RGB DDR5 memory. They also sell SSDs, but most of their sales are in the DRAM space.
Design and Aesthetics
Now that we've covered who GeIL are, we'll dive right into the design of this particular kit. It can be difficult to judge the aesthetic of DRAM kits, because many available options tend to be a little bit more bleak looking. Before the RGB craze came into effect, most kits of RAM generally offered little other than colour changes to the heat spreader.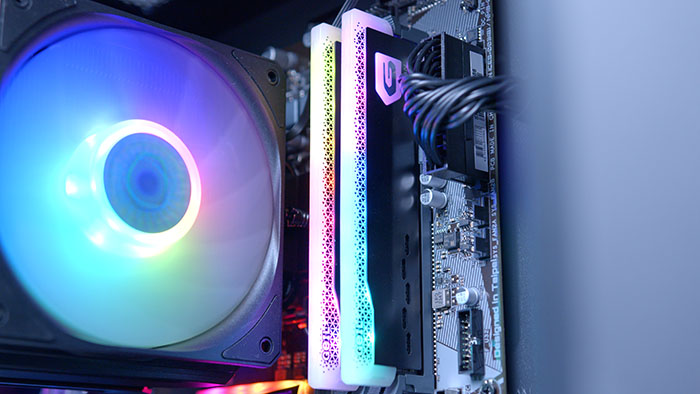 With this GeIL Orion kit, there's plenty to look forward to in terms of the design. The dark green heat spreader has a very sleek look overall and will blend in relatively well with most cases. A more striking red design is also available, for an added aesthetic wow factor. Towards the left side of each DIMM there are some little indents, and although these don't technically do anything, they provide some extra depth to the design which I'm a fan of.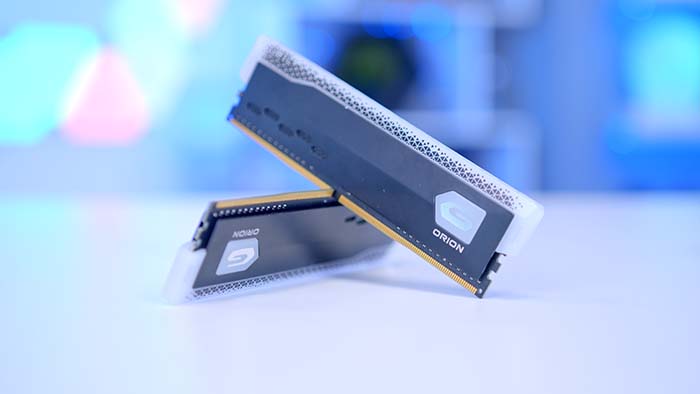 If we move over to the light strip at the top, this provides a number of customisable, addressable LEDs which can be tuned to your preferred colour effects. The RGB strip is very vibrant and can be customised with a vast amount of different lighting effects and colours in various different software suites, such as Corsair's iCUE, or ASUS' AURA Sync software. The GeIL logo also lights up too which is a nice touch. Otherwise there isn't much else to be said about the design. GeIL have really hit the nail on the head when it comes to RGB, and overall this is a very nice looking kit.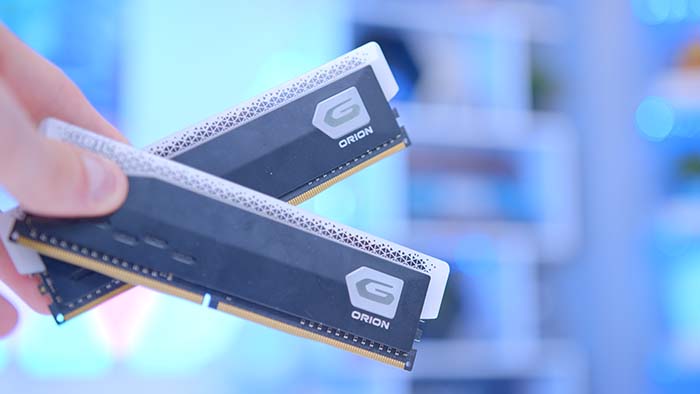 Specifications and Comparisons
Before looking at performance benchmarks, it is important to take note of how it compares to other kits on the spec front. The below table compares all of the specs we deem to be of importance to the general consumer when buying RAM. These include factors like the capacity of DIMMs available, XMP support, CAS latency and voltage.
| | | | |
| --- | --- | --- | --- |
| Specifications | GeIL Orion RGB DDR4 | Corsair Vengeance RGB RT | ADATA XPG Spectrix D60G RGB |
| Clock Speed | 3600MHz | 3600MHz | 3200MHz |
| Capacity | 16GB | 16GB | 16GB |
| CAS Latency | 18-20-20-40 | 16-20-20-38 | 16-16-20-20 |
| Voltage | 1.35V | 1.35V | 1.2V |
| RGB | Yes | Yes | Yes |
| Performance Profile | XMP 2.0 | XMP 2.0 | XMP 2.0 |
Table of DDR4 Memory Specifications
All of the kits here share much of the same specs, with the differences lying in rated clock speeds, CAS latency, and voltage. All of the kits we've listed above will offer very similar performance overall. In gaming it is very unlikely that there will be any noticeable significant difference, while in benchmarks there will be some minor differences. The GeIL Orion has a slightly higher latency, which will impact performance slightly, but the timings are still fairly solid overall.
The GeIL Orion RAM kit offers very close competition to both the Corsair and ADATA XPG options, especially if we take a look at pricing, making all of these kits a solid choice, For any budget or mid-range gaming system, a 3600MHz CL18 kit will be perfectly fine, and work well alongside the latest CPUs and GPUs. When we start looking at the high-end market, these kits somewhat fall flat, but a 32GB option would not go amiss when pairing with more powerful components.
Benchmarks
To benchmark this RAM we've used the renowned AIDA64 Extreme, to take a look at the memory read, write and latency. The system we've put this RAM into utilises a Ryzen 5 5600X, along with a Gen4 SSD, and an AMD RX 6800XT graphics card.
Memory Read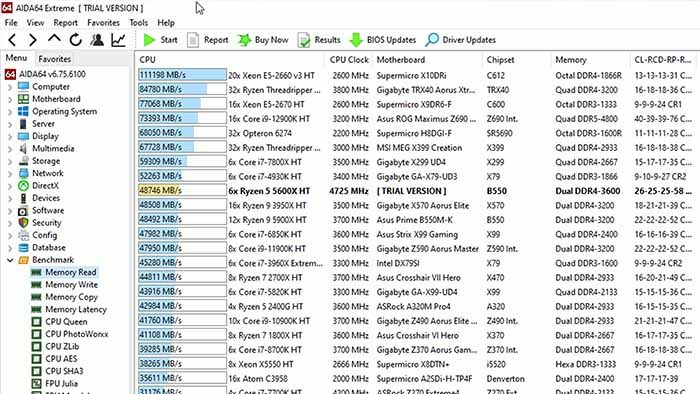 In our memory read we reached around 48000MB/s. This compares to a lower end Ryzen 3000 CPU and RAM pairing.
Memory Write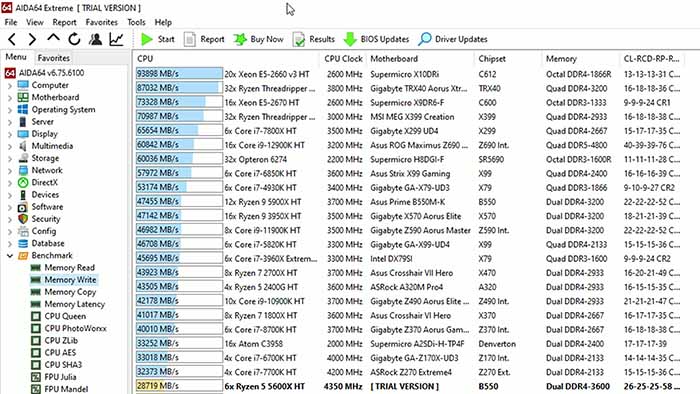 For our memory write, we were left a little disheartened. This benchmark should have achieved similar speeds to due the RAM being in dual channel, but we were left towards the bottom of the leader board with the GeIL Kit.
Memory Latency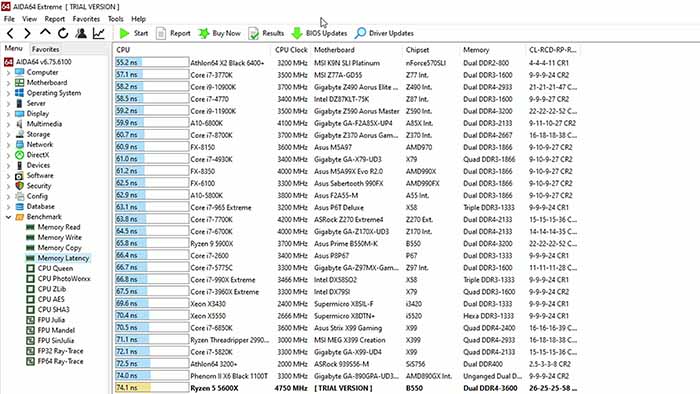 During the memory latency benchmark, we faced a similar situation with a much slower speed. 74.1 nanoseconds won't be particularly noticeable outside of benchmarking and overclocking, but this isn't great despite the CAS latency of the DDR4 GeIL kit. Overall, our benchmarks have shown that this older kit doesn't hold up incredibly well in a modern setting, and might be better as a stop-gap between a budget build and a later DDR5 upgrade.
Conclusion
GeIL Orion RGB DDR4
Product Name: Orion RGB DDR4 Kit
Brand: GeIL
Performance

Design

Value For Money
Summary
GeIL's Orion RGB DDR4 Kit offers consumers a fresh and clean design that sports plenty of options for customisation and adding flair. Unfortunately, this particular kit of RAM falls flat when we start looking at performance metrics. In all of the benchmarks we did, the GeIL Orion kit was outperformed by slower and even older RAM. This is rather disappointing to see, and might cause a modern rig with a more powerful 12th Gen Intel CPU to suffer when doing tasks that cause higher load.
Pros
✅ Awesome looking kit.
✅ Plenty of customisation with RGB lighting.
✅ Very reasonable price.
Cons
❌ Can buy similar priced kits with better performance.
❌ Doesn't overclock well.
❌ Intel systems don't perform as well compared to AMD.