Introduction
Gaming monitors are constantly improving, with manufacturers frequently releasing new displays with higher resolutions, refresh rates, and response times. This includes a plethora of 4K gaming monitors, which have received a major uplift in performance. Lots of these displays are now reaching the 144Hz refresh rates that were previously reserved for 1440p and 1080p monitors, resulting in a blend of performance and visual quality that acts as a worthy companion to a high-end gaming PC.
MSI are the latest company to push their performance boundaries, with the MSI MAG 323UPF, which is their first 4K 160Hz display. But is the additional performance on this 32″ gaming monitor worth the investment? To find out, we'll be putting this monitor through its paces while analysing its performance, features, and design.
Buy the MSI MAG 323UPF on:
Are 4K Gaming Monitors Worth It?
Before looking at MSI's MAG 323UPF in more detail, it's important to consider whether a 4K gaming monitor is the right choice for your gaming setup. Typically, 4K monitors are only considered the best option for enthusiasts that want a display that offers the best performance and visual fidelity possible, who also have a PC powerful enough to generate optimal gameplay in the latest titles.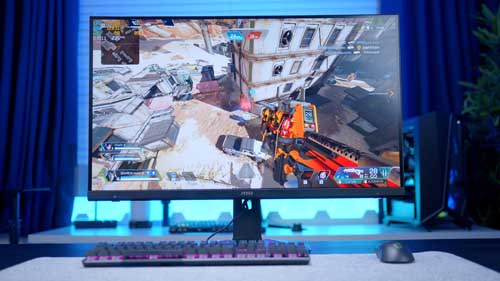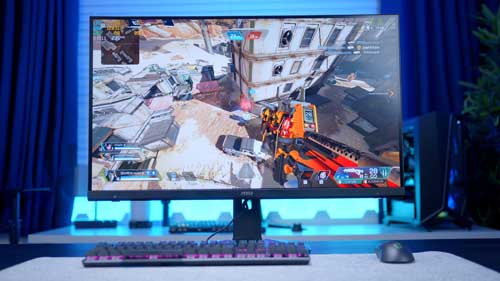 This is because most price-conscious gamers will need to choose between a lower resolution display with higher performance, or a higher-res monitor with limited performance. In this case, most will opt for a 1440p display with competitive refresh rates, as it provides a healthier balance between the two variables. On top of this, gamers that prioritise visual quality will likely pick up a productivity-based monitor or TV instead due to their better value proposition.
As a result, we'd only recommend a 4K monitor to gamers running a PC build with a high-end GPU like the RTX 4090, as this is the only way to guarantee that you will be getting the most out of such a large investment.
MSI MAG 323UPF Design & Aesthetic
We've received a number of different gaming monitors from MSI over the years, so we had a good idea of what to expect when the MAG 323UPF arrived at the office. In terms of designs, this monitor is very similar to their previous displays, with the thin borders around the front panel being paired with their trademark chevron-esque pattern across the back.
As a flat 32″ display, the 323UPF is arguably on the larger side for a gaming monitor, but shouldn't have many issues when fitting it into a gaming setup, especially when taking the target audience for this display into account. The size burden is also eased slightly by the included adjustable stand, which can be used to change the height, tilt, and swivel to align with your desk or additional monitors.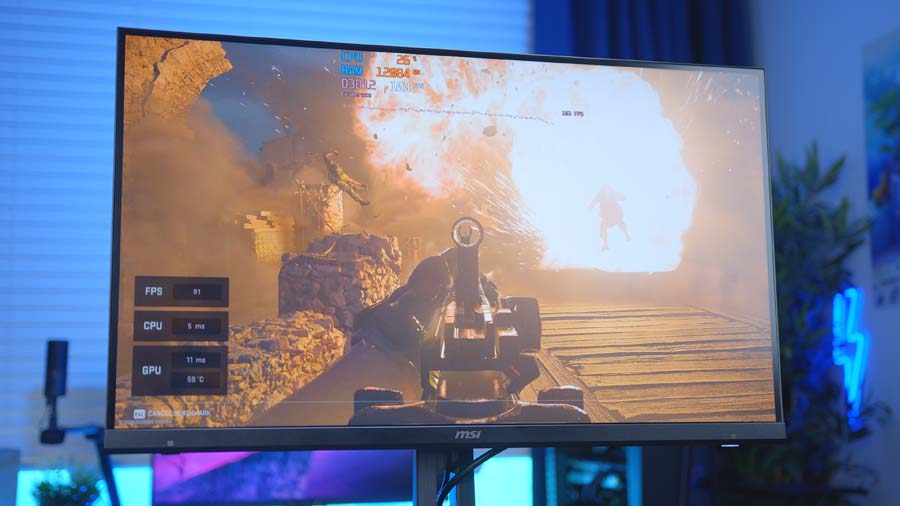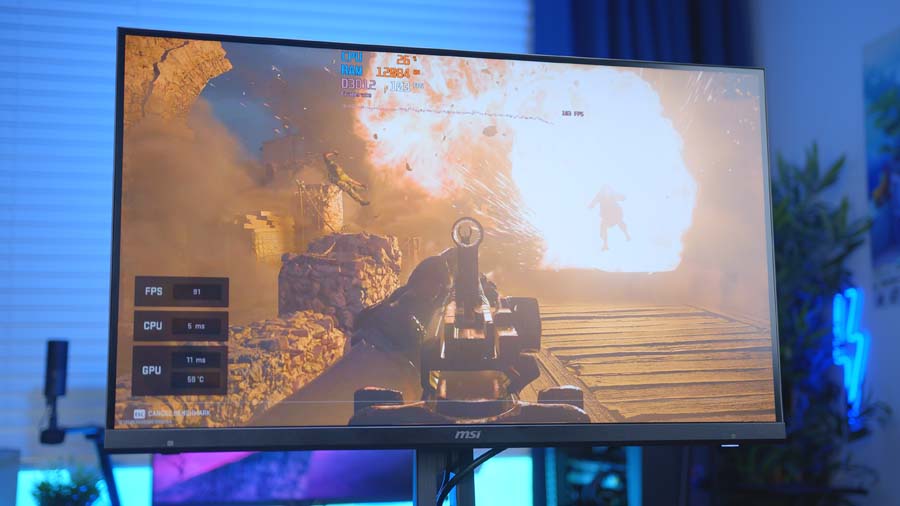 All of these aspects come together to forge a sleek design which looks premium, whilst also boasting plenty of small touches that will make it appealing to gamers. However, one of MSI's key design features that the 323UPF is missing is RGB lighting, which they typically put on the back of the monitor for a colourful glow. This is slightly disappointing given the price tag and gaming focus for this display, but it might be a worthy sacrifice for the improved performance.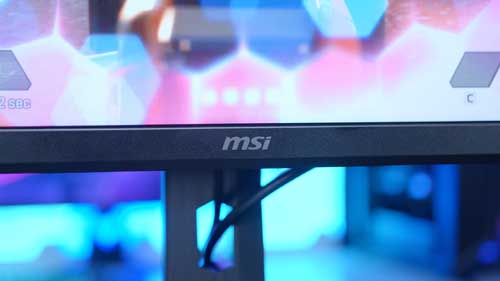 MSI MAG 323UPF Specs & Performance
In terms of performance, this gaming monitor is jam-packed with performance. Whilst this isn't the only 4K gaming monitor to reach a refresh rate of up to 160Hz, it's hard to find one that can improve on this output. Because of this, the MSI MAG 323UPF is one of the best-performing displays on the market. To support this statement even further, the 323UPF also includes a 1ms response time and AMD FreeSync Premium Pro, which leads to smoother gameplay.
| Specifications | MSI MAG 323UPF |
| --- | --- |
| Screen Size | 32″ |
| Max Resolution | 4K (3840 x 2160) |
| Refresh Rate | 160Hz |
| Response Time | 1ms |
| Colour Gamut | 125.7% sRGB, 95% DCI-P3 |
| Panel Type | IPS |
| Display Inputs | 2x HDMI 2.1, 1x DisplayPort 1.4, 1x USB-C (DP Alt) |
| Adaptive Sync | AMD FreeSync Premium Pro |
In regards to image quality, MSI claim that the MAG 323UPF covers over 100% sRGB, as well 95% DPI-P3 and 93% AdobeRGB, which would imply that this 4K monitor is great at portraying accurate colours. Whilst our colour calibration test showed the 100% coverage of the sRGB colour gamut, the results for the DCI-P3 and AdobeRGB were lower than expected. With the AdobeRGB in particular, the 87% coverage was a lot lower than the 93% that MSI claim to acheive.
Nevertheless, the colour accuracy of the 323UPF is still quite strong for a gaming monitor, producing an image that is very vibrant. To boot, this monitor is HDR 600 certified, which leads to a sharp image with improved contrast and brightness.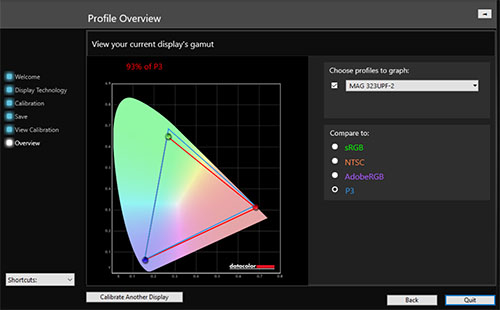 Features We Like
4K IPS Panel
Like most modern 4K gaming monitors, the visuals of the MAG 323UPF are powered by a rapid IPS panel. These panels are usually considered one of the best options for producing a colourful image, along with OLED, but IPS panels are unrivalled when it comes to consistency, with minimal changes to the image, even at tighter viewing angles. However, the one downside used to be with their slower response times. Fortunately, the rapid IPS technology has made this an issue of the past. MSI's is one of the many gaming monitors to have benefitted from this advancement, offering consumers with an excellent mixture of visual fidelity and blisteringly-fast performance.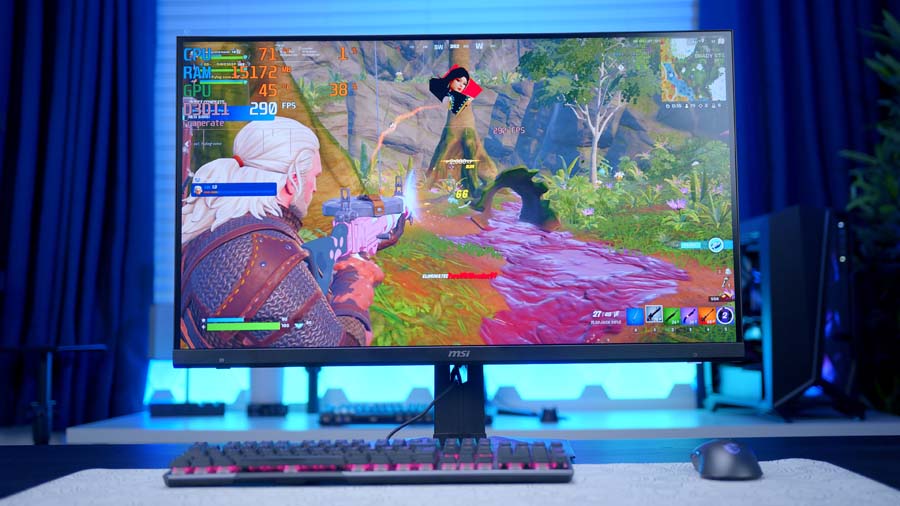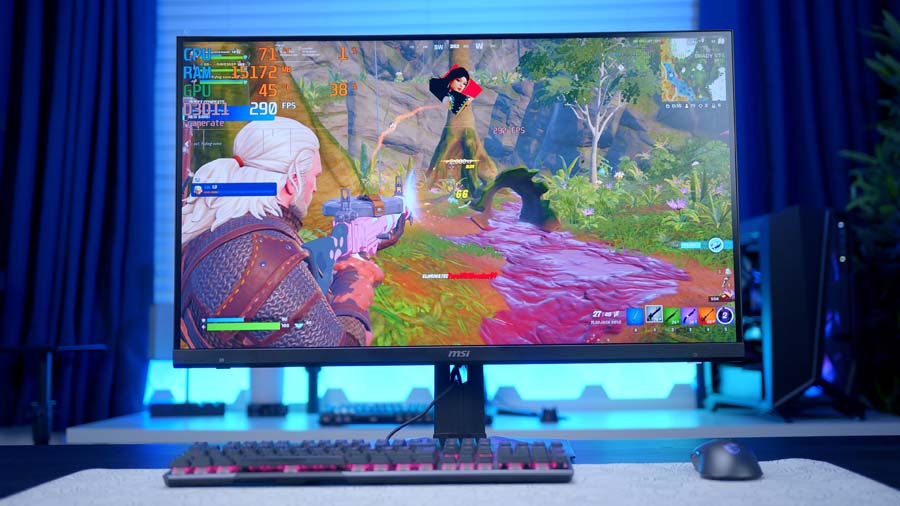 Rear IO & Connectivity
When it comes to connectivity, the 323UPF includes a range of ways to hook up this monitor to you gaming PC, as well as other devices such as a laptop or console. Plus, these ports are all top of their class. For example, the HDMI 2.1 ports allow for optimal connectivity with Xbox Series and PS5 consoles, whilst the USB-C DP Alt Mode makes it easy to connect a gaming laptop.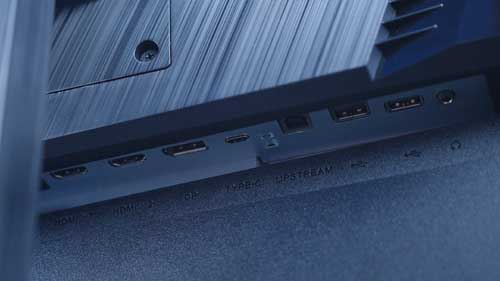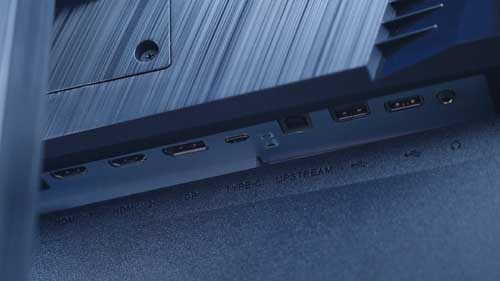 OSD & Navigation
The 323UPF's OSD is certainly a lot more vibrant than the menus you see on most displays, some of which can feel like something from the 20th century. It's a nice change to see the vivid purple background on this navigational system, as it shows another level of attention to detail. As for the controls, this display uses the typical 5-directional joystick that can found on most gaming monitors, which will make it feel very familiar for PC users. But for those wanting some extra customisation options, you can install the MSI Gaming Intelligence app to gain access to more settings, as well as the ability to control settings from your PC or gaming laptop.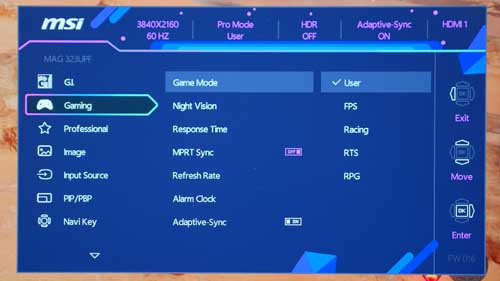 KVM Mode
To take advantage of the versatile connectivity options on the rear IO, MSI have included a KVM mode. This allows users to use the same mouse and keyboard combination, or controller, to control all of the connected devices. This eliminates the need to double up on gaming peripherals, saving you money, time, and space in the process. Similarly, the picture-in-picture and picture-by-picture modes can be used to display multiple devices at once.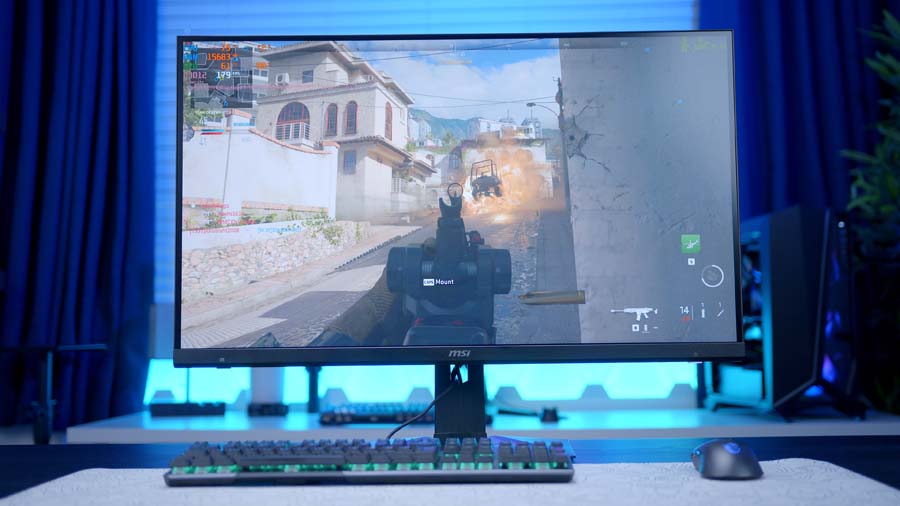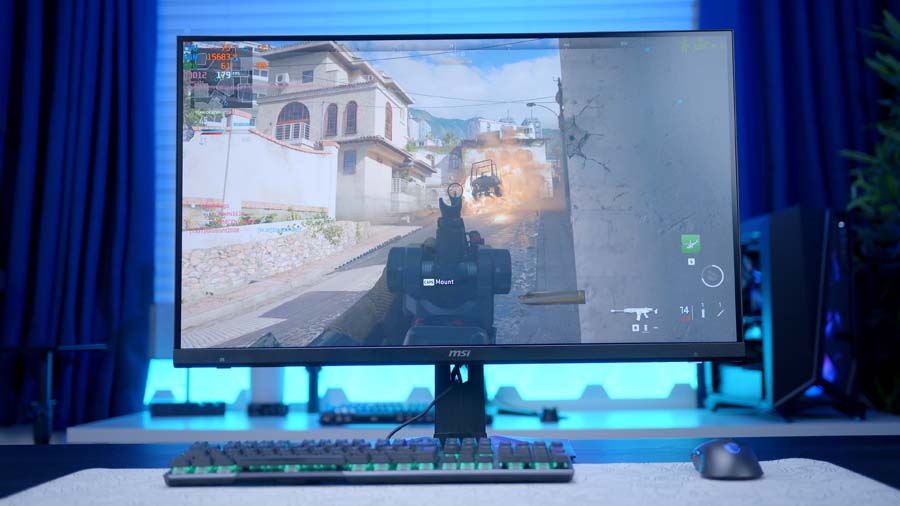 Features We Don't Like
Stand Design
Whilst there aren't any major concerns with this display, there are a few small changes that could be made to make the 323UPF even better. The biggest gripe I have with this monitor's design is the large base on the stand, as it takes up quite a lot of desk space. However, this problem can be easily solved by replacing the stand with a monitor arm, which will be quite easy thanks to the 100×100 VESA compatibility.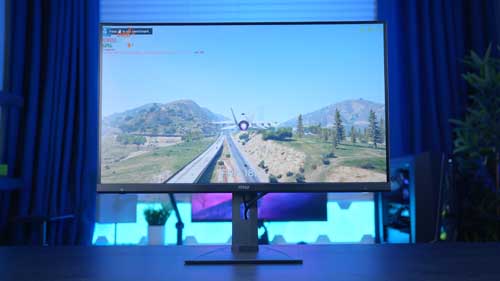 No RGB Lighting
One of the most disappointing aspects of this display is MSI's decision to ditch the RGB lighting on the back panel. This is a strange exclusion given the premium nature of this gaming monitor, as the additional flair would have been appreciated.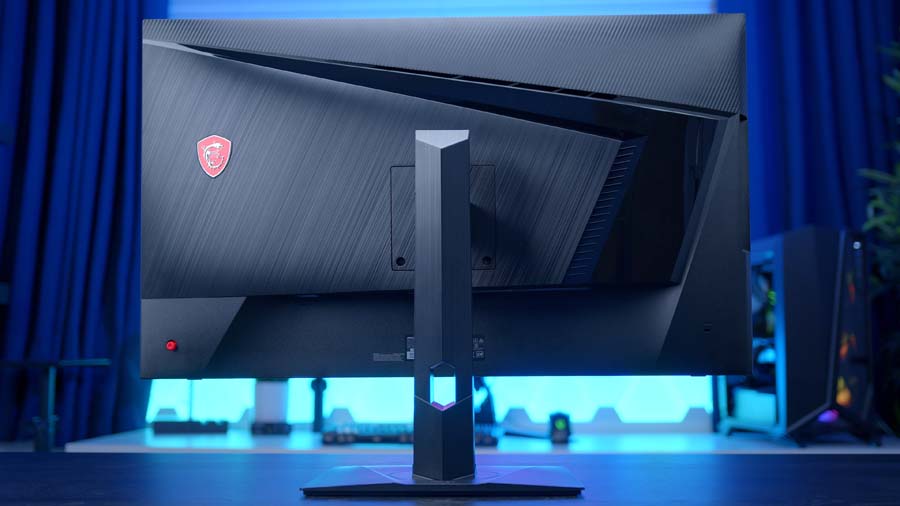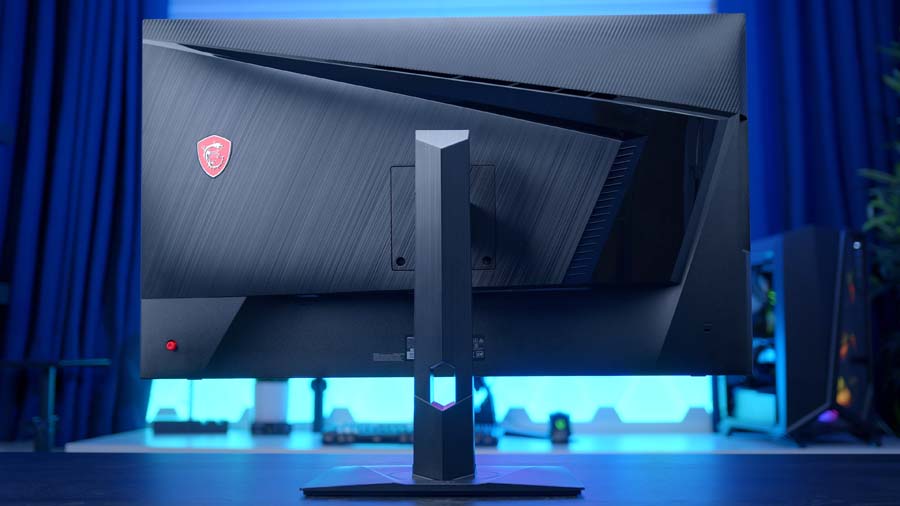 Alternatives
Gigabyte M32U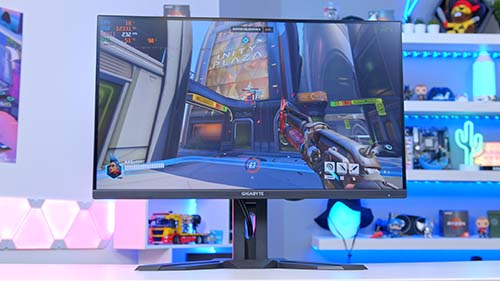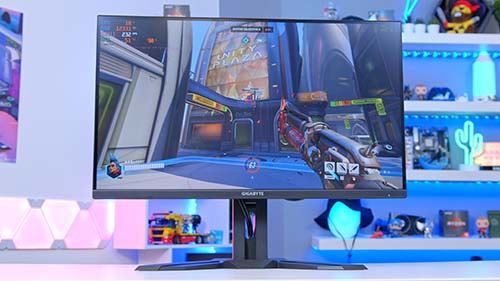 Before the MSI MAG 323UPF made its way into the office, the Gigabyte M32U has been a mainstay within our benchmarking setup. This 4K gaming monitor boasts a 144Hz refresh rate, allowing for competitive gaming at the highest resolution. Whilst it is slightly lower performance than the 323UPF, it can also be found for cheaper.
Buy the Gigabyte M32U on:
Corsair Xeneon 32UHD144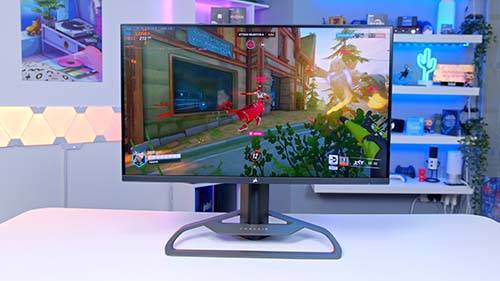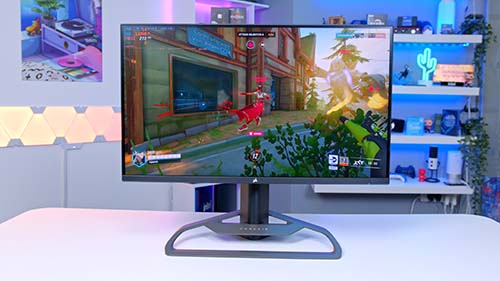 Corsair's Xeneon 32UHD144 is one of the most luxurious displays on the market, thanks to its 4K 144Hz display that is matched with a rather elaborate design. The Quantum Dot panel provides plenty of vivid detail, but the metallic stand with integrated cable management gives this monitor a more eye-catching look in a high-end gaming setup.
Buy the Corsair Xeneon 32UHD144 on:
Conclusion
MSI MAG 323UPF
Product Name: MAG 323UPF
Brand: MSI
Features

Design

Performance

Value For Money
Summary
MSI's MAG 323UPF certainly pushes the boundaries of what a 4K gaming monitor is capable of, letting gamers with a high-end PC build reap the benefits of their flagship components. Whilst this display isn't the first to achieve this level of performance, the way in which this gaming monitor balances the performance and visuals with reasonable pricing is hard to find elsewhere. It's not a surprise to see a large price tag attached to this, but MSI have done well to keep the pricing of the MAG 323UPF in check, allowing it to compete with 4K displays with lower refresh rates.
With a 160Hz refresh rate, 1ms response time, and AMD FreeSync Premium Pro, the 323UPF boasts plenty of firepower to produce competitive gameplay that doesn't hinder visual fidelity. On top of this, the IPS panel and supporting technology leads to a very accurate image with plenty of vibrancy and colour.
There are a few tweaks that could be made to the design of the MAG 323UPF, such as an improved stand and re-instate the RGB lighting on the back panel. But on the whole, the MSI MAG 323UPF is an excellent 4K gaming monitor that enthusiasts should consider alongside a high-end gaming PC.  
Pros
✅ Top-tier gameplay and visuals.
✅ Packed with features and customisation.
✅ Competitive price point.
Cons
❌ Stand design takes up lots of desk space.
❌ Lack of RGB lighting.