Introduction
AMD's Ryzen 7 7700X is an interesting SKU, available within the Ryzen 7000 range. Although this CPU wasn't received particularly well during the initial launch, after some price drops, and updates for the Ryzen 7000 platform, this CPU offers a much better value proposition. This processor will be perfect for a mid-range system, playing a mass of games at 1080p, all the way up to 4K, with a powerful GPU option.
With this in mind, which is the best graphics card to buy for the Ryzen 7 7700X? Is the RX 6750 XT the best choice for those wanting to save the most amount of money? Or is a more powerful GPU, like the RTX 4080 a better option to ensure you can hit the max amount of frames with all of the settings dialled to high with Ray-Tracing enabled?
In this buyers guide, we'll be answering these questions with a roundup of the best GPUs to pair up with the Ryzen 7 7700X. We'll be delving into our GPU recommendations, and we'll be discussing some major talking points with concerns to VRAM, and case clearance!
Suggested Article: Best Graphics Cards to Buy Under $600 in 2023
Our Recommendation: AMD Radeon RX 7800 XT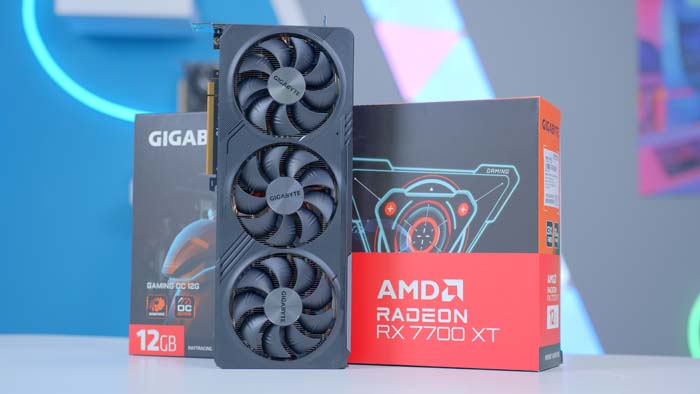 📸 View RX 7800 XT gallery.
Our testing of the RX 7800 XT against the leads us to declare the RX 7800 XT the winner and the best graphics card for the Ryzen 7 7700X. Not only does it generally provide great performance, but it comes in at a MSRP price point of just $500. 
Improved ray tracing performance, and the latest FSR 3 technology help it to performance matching or exceeding it's market alternatives allowing it to win our recommendation for those looking to pair with the Ryzen 7 7700X.
All the Graphics Cards in our 7700X Testing
Our Recommendations
1. AMD Radeon RX 6750 XT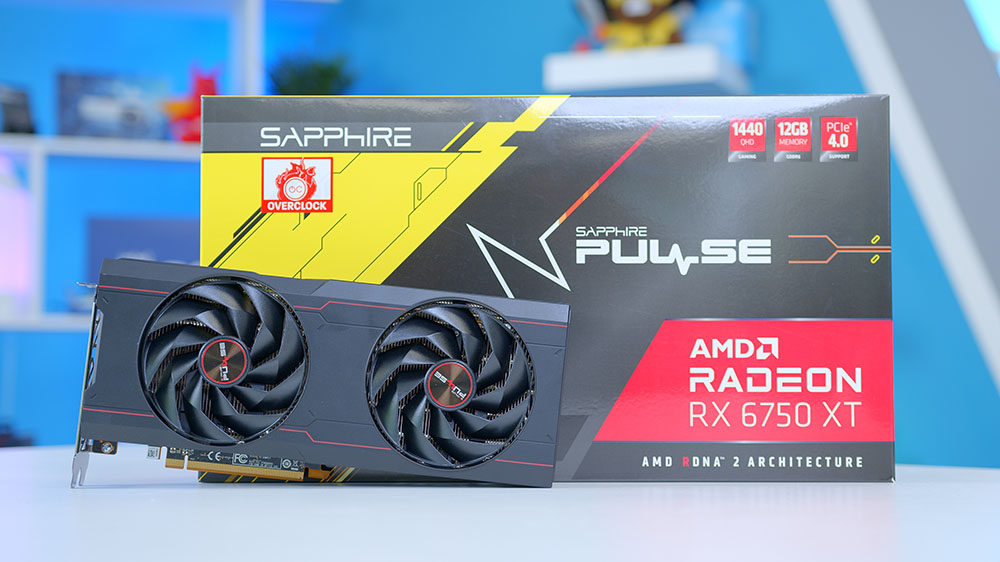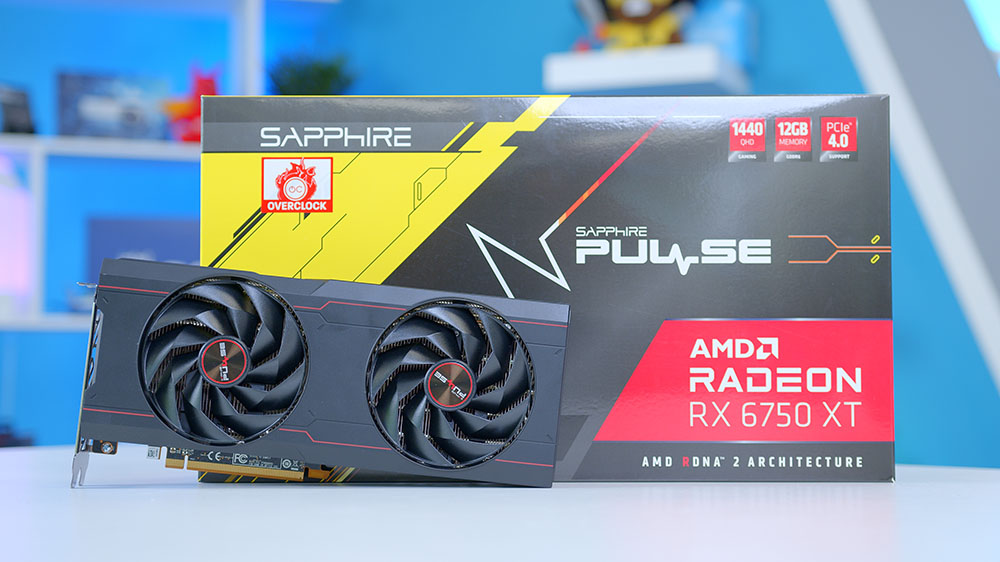 AMD's RX 6750 XT is an excellent budget option for the price conscious buyer. During the initial Radeon 6000 refresh, we were a bit dismayed by the performance capability of these cards, as there didn't seem to be much of an improvement versus the original GPUs. Fast forward to today, and these cards are absolute bargains when it comes to performance and pricing. AMD's 'fine wine' treatment of the drivers has brought massive leaps in performance in a mass of popular games, making cards like the 6750 XT a much more worthwhile option to consider if you're looking to spend the least amount of money for your GPU.
With the release of the Radeon RX 7600, this card has only gotten cheaper, with some GPUs starting at $330 at certain vendors. Performance wise, the 6750 XT is an excellent 1440p option, allowing consumers to enjoy buttery smooth refresh rates in their favourite games. This card does also have legs in 4K as well, but we wouldn't urge consumers to utilise this GPU at 4K in modern titles, as you may face diminishing returns.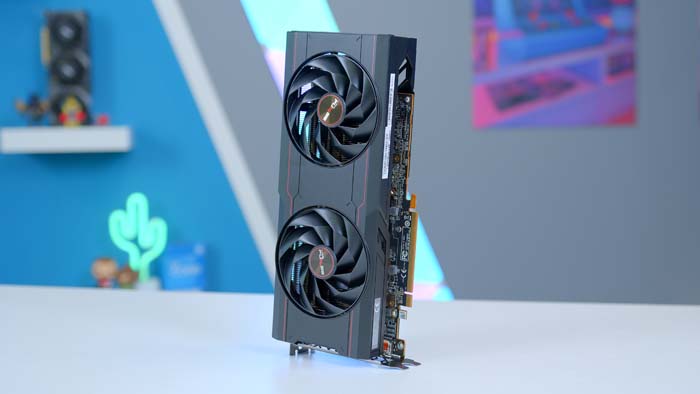 Although this GPU can handle some games at 4K, it isn't specifically designed for it. We'd recommend looking at alternative options if you plan on playing all of your games at 4K.
AMD's newest architecture (RDNA 3) is some of their best work. Unfortunately, the Radeon 6000 cards won't benefit from all of the new hardware benefits.
Where to Buy
Buy the AMD Radeon RX 6750 XT on:
2. NVIDIA GeForce RTX 4070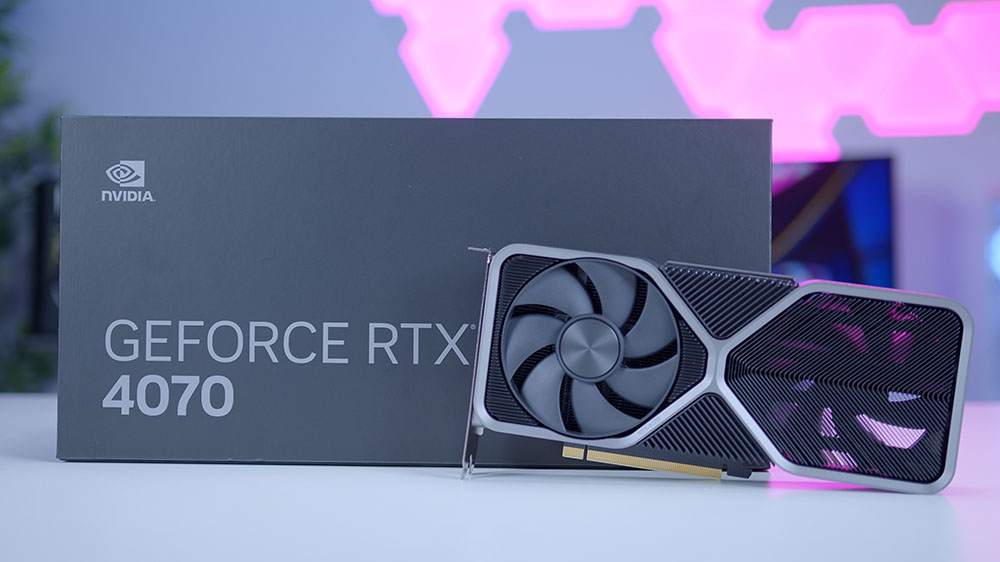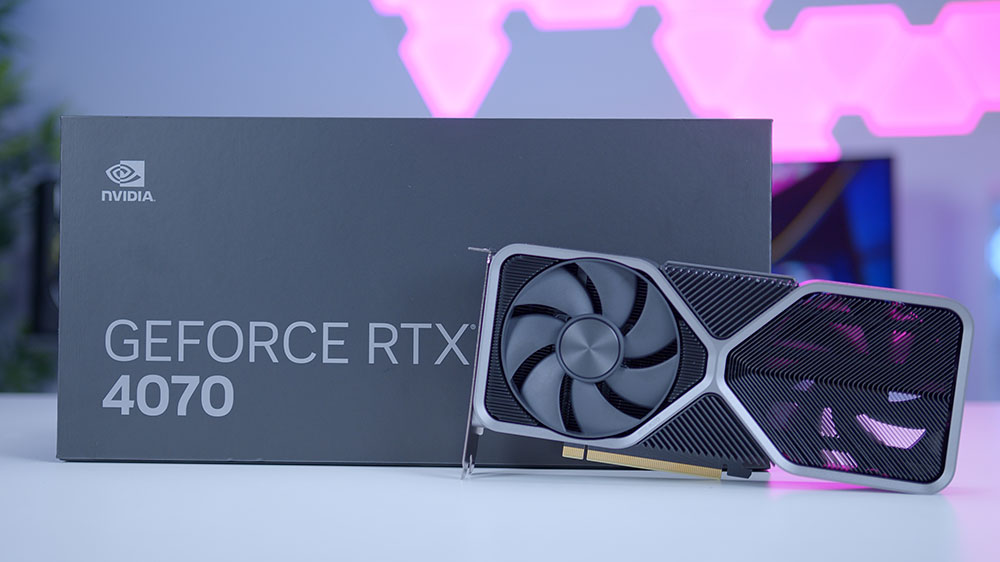 Next up is the RTX 4070 which is another mid-range option from NVIDIA. This card was unfortunately a bit of a flop during the initial launch due to marketing and pricing decisions. Although performance is pretty strong, this card is still a rather pricey option versus the rest of the market, clocking in at $500, which will be a major turn-off for many consumers. But despite this, the RTX 4070 is actually a very strong performing card.
This card was advertised as a 1440p titan, of which this is true, but it can also handle 4K very well too. The higher VRAM capacity combined with the powerful Ada Lovelace architecture allows this GPU to chomp through 4K, with even modern titles not standing much of a chance. Combined with DLSS or Frame Generation, this card can really soar, and is a great bet for either 1440p or 4K, dependent on the monitor that you've picked up too.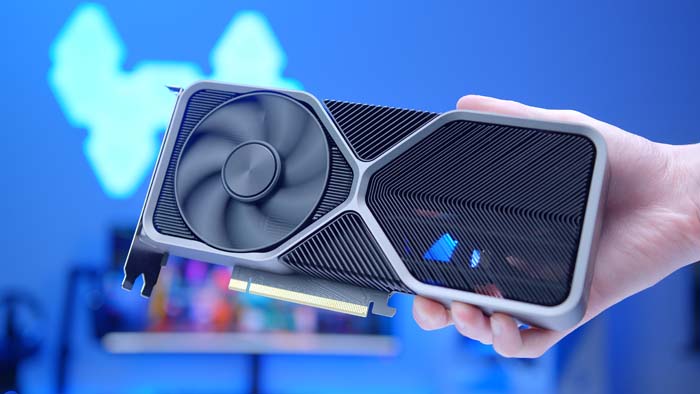 The RTX 4070 can handle most games at 4K, but when you throw Ray-Tracing into the mix, this card can struggle. We'd advise picking up another option if you're looking to max out your system with some Ray-Tracing.
The Founders Edition of this card is pretty small, but unfortunately, some of the AIB choices are absolutely gigantic. If you've got a smaller case, you'll want to be careful with your GPU choice, just in case you run into any installation problems.
Where to Buy
Buy the NVIDIA GeForce RTX 4070 on:
3. AMD Radeon RX 7800 XT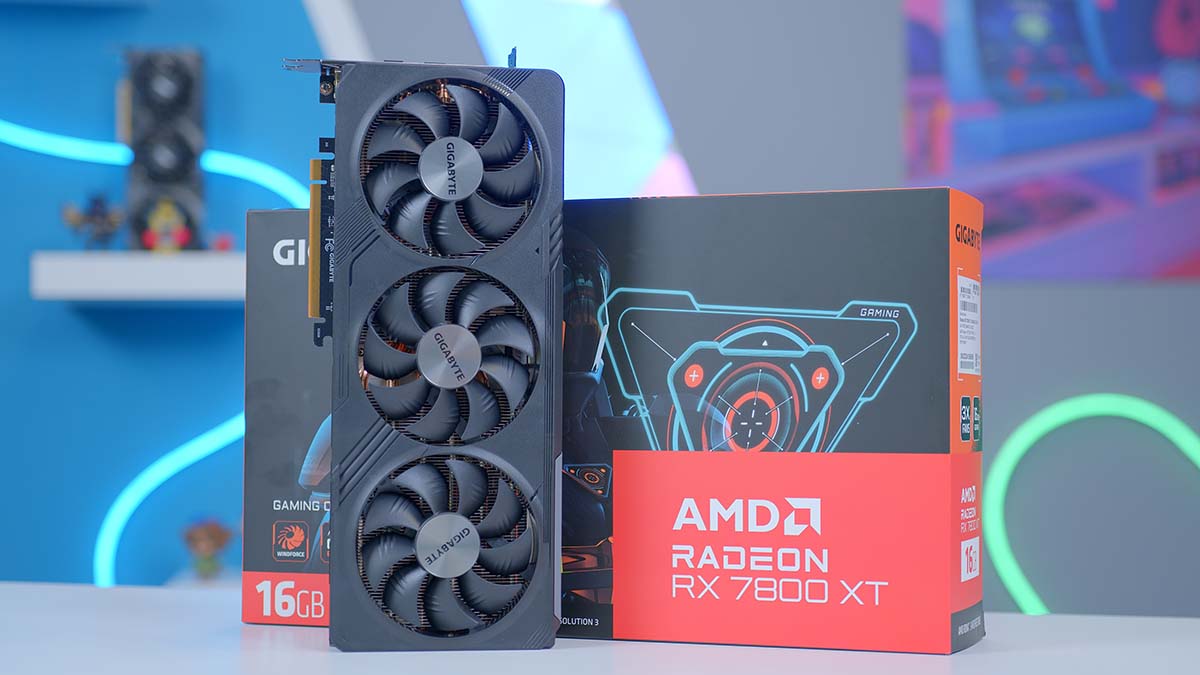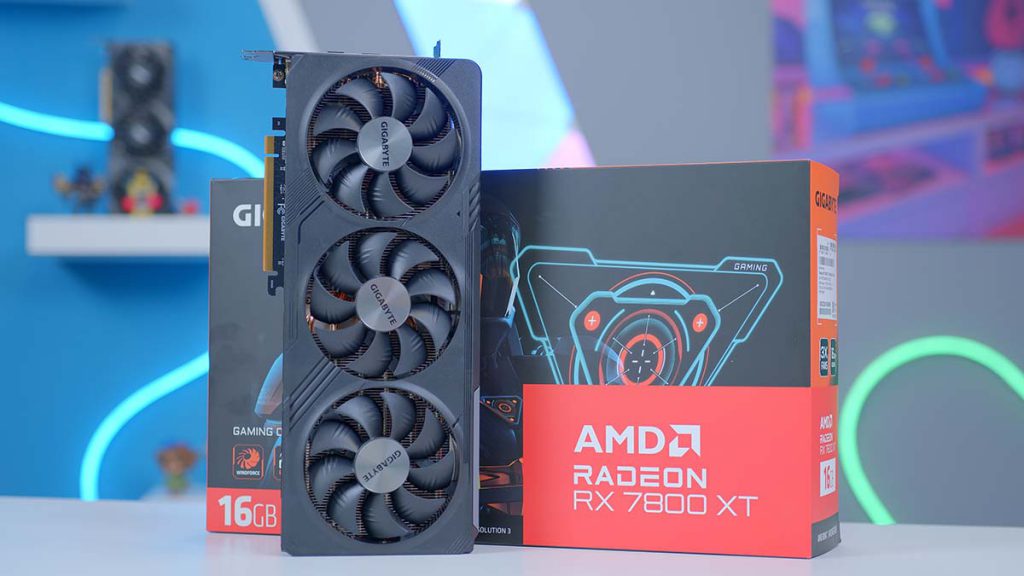 We've picked out the Radeon RX 7800 XT to pair with the 7700X. The 7800 XT has been one of those cards that has found a middle ground in its competitionn with the 4000 series NVIDIA cards due to the performance metrics of said cards. But now, because these cards are much better priced, the 7800 XT is a compelling option.
Performance wise, the 7800 XT aligns itself between the RTX 4070 and the 4070 Ti. With 16GB of VRAM, a high clock speed, and a mass of cores and processors, this card can handle 4K without any problems, and Ray-Tracing also isn't much of an issue either. This card also has pretty solid workstation capability too, and is ideal for a low-end productivity system.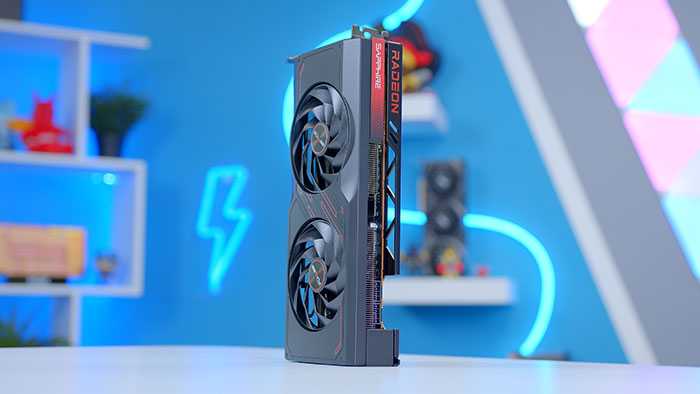 As a general rule of thumb, NVIDIA cards are much better for Ray-Tracing. Although AMD aren't insanely far behind, NVIDIA RTX 4000 and 3000 GPUs are better for this particular in-game setting.
Where to Buy
Buy the AMD Radeon RX 7800 XT on:
4. NVIDIA GeForce RTX 4080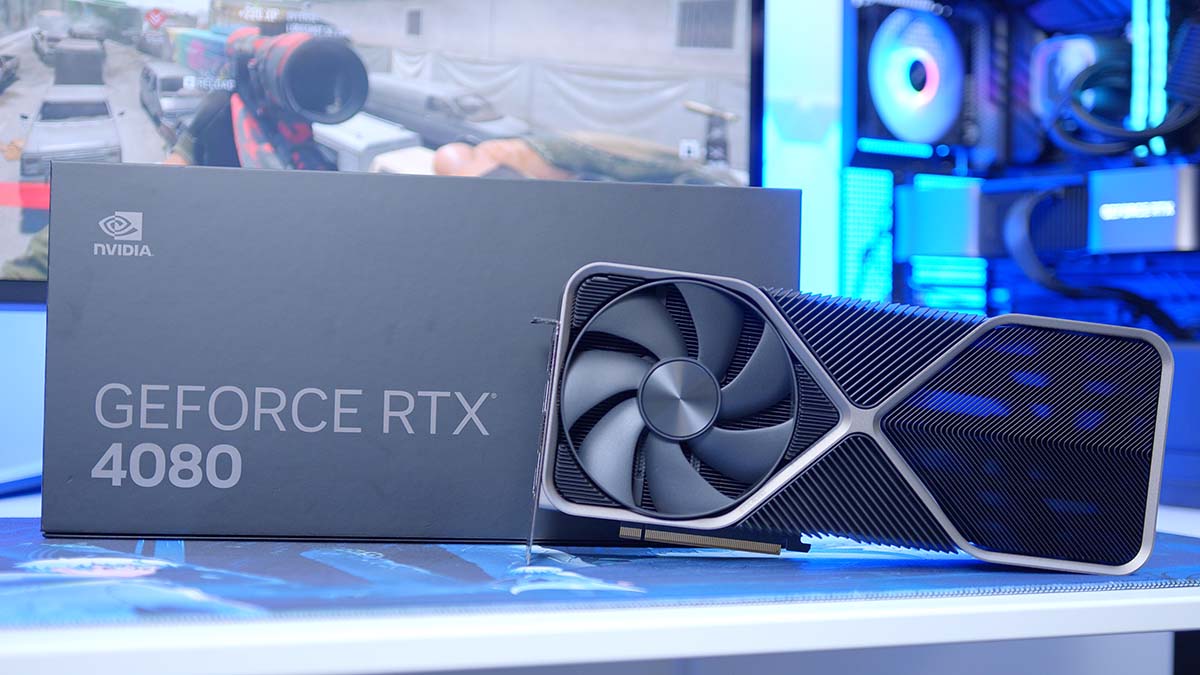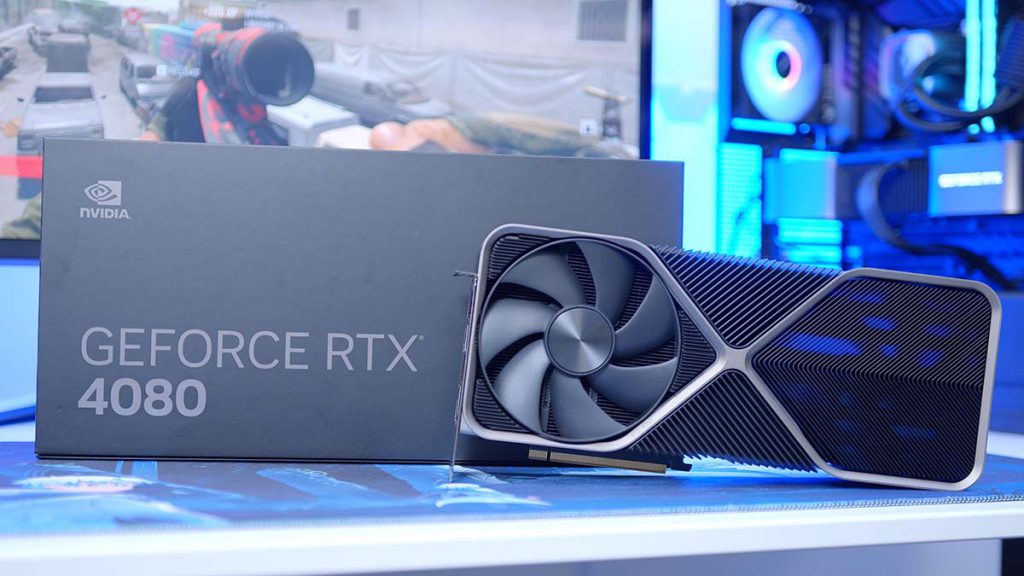 And for our final recommendation, we've picked out one of NVIDIA's top-end SKUs, the RTX 4080. This card was a bit of an unpopular choice from Team Green, due to the obscene price tag. The previous generation's RTX 3080 sat around $600, with $700 AIBs, but the RTX 4000 version is about double the price of it's predecessor. This makes this card around $1200 with a variety of different options sitting below this price. As you can expect, $1200 is not really a price that most people are comfortable spending on one component, which is the primary reason for why the RTX 4080 hasn't been the most popular option.
Despite this, the RTX 4080 is actually one of the most powerful NVIDIA cards available on the market, and one of the best options for those looking to build a top-end PC. This GPU is extremely capable, offering excellent framerates at 4K with all of the settings dialled up to max. Ray-Tracing also isn't an issue for this GPU, and framerates can soar even further with DLSS or Frame Generation enabled.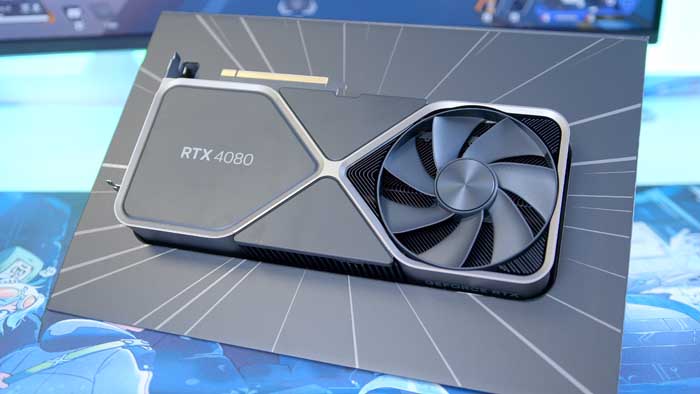 The RTX 4080 is not a cheap graphics card by any means. This GPU will set you back by around $1200 which is probably around the cost of a decent mid-range gaming PC.
Additionally, all of the RTX 4080 options are absolutely gigantic. Even the Founders Edition is 304mm which could definitely cause some clearance issues if you've got a smaller case.
Where to Buy
Buy the NVIDIA GeForce RTX 4080 on:
Is the Ryzen 7 7700X Any Good?
As with any component, the 'is it any good' question, is the main point of contention on our minds. Is your brand new CPU actually a worthwhile option, or are you about to see some diminishing returns? With the Ryzen 7 7700X, my opinion has changed in recent months. Although a Ryzen 7000 build is still going to cost you more in comparison to Intel, the difference won't be gigantic, and there are some major benefits to picking up a CPU on the AM5 platform.
Performance wise, the 7700X is also an incredibly solid gaming option. This CPU (when paired up with the right graphics card), should easily be able to handle 4K, and will have capability in a range of workstation-based applications. Whilst there are going to be far superior options when it comes to core counts, the 7700X is an eight-core, 16 thread option, with a very high boost clock speed. Although this won't be able to handle the most intense workstation applications, gaming should should be no issue for this excellent CPU.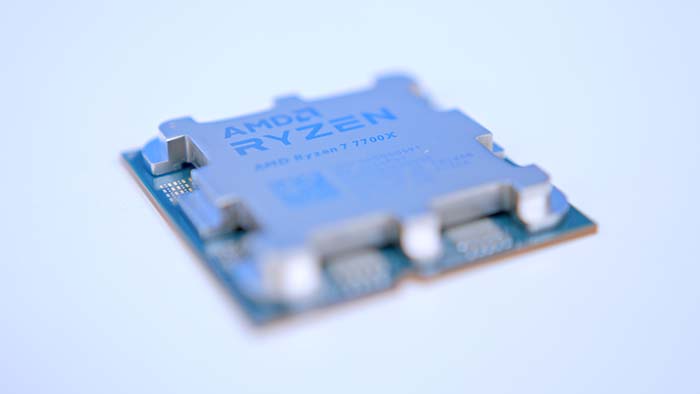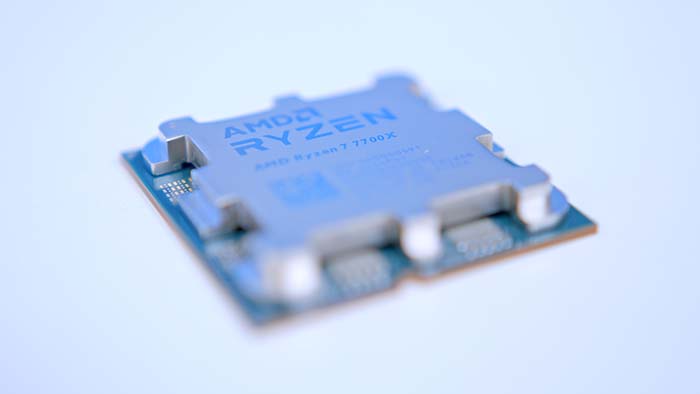 Is Clearance Going to Be An Issue?
GPU clearance has been a major point of contention with the release of NVIDIA's RTX 4000 cards, but AMD have followed suit to a degree with their 7900 XTX and XT SKUs. These newer cards are absolutely gigantic in comparison to older SKUs that we've seen in the past, and thus can cause a lot of issues when it comes to clearance and installation, but which cards are the problem?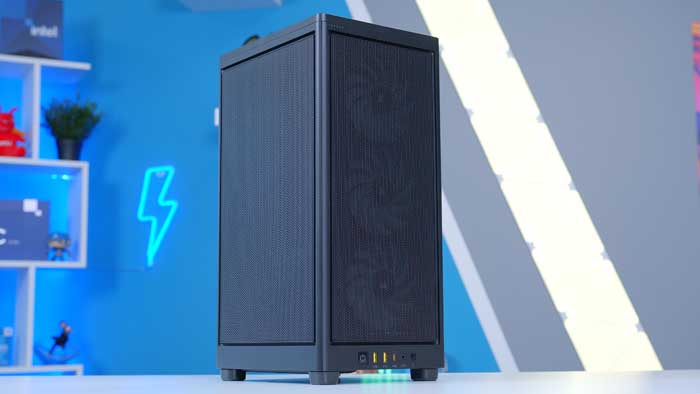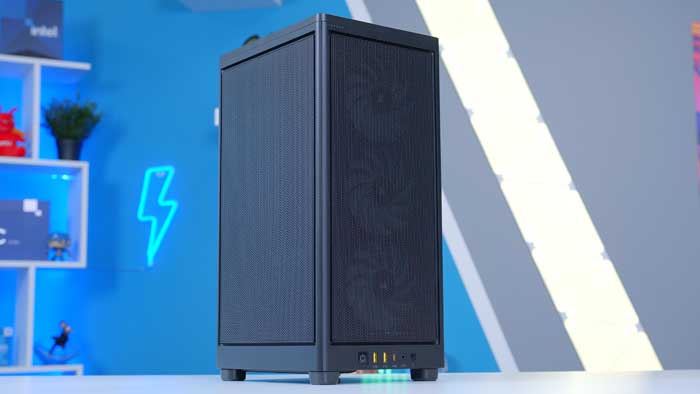 The best approach to take with this, is research what cases are on the market, and the GPU length they all support. As a general rule of thumb, we recommend around 50-100mm of clearance in total, which should provide you with plenty of room for a radiator or some fans even if this is at the front of your case. So if you've picked up a card that is 330mm in length, you should be looking for a case that supports 380mm and upwards, to ensure you have enough space. This will minimise any issues you have when it comes to installation.
How We Tested the Best GPUs for the Ryzen 7 7700X
In order to test and evaluate the best graphics cards for the Ryzen 7 7700X there are a number of factors that we take into account, these are:
Gaming Performance
Productivity Capability
Thermals
Size
Value Proposition
Conclusion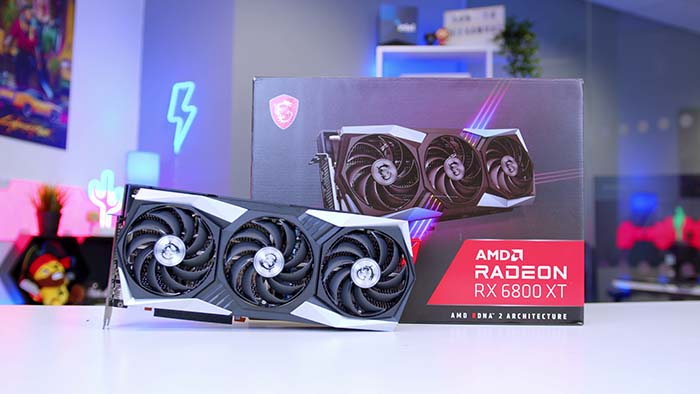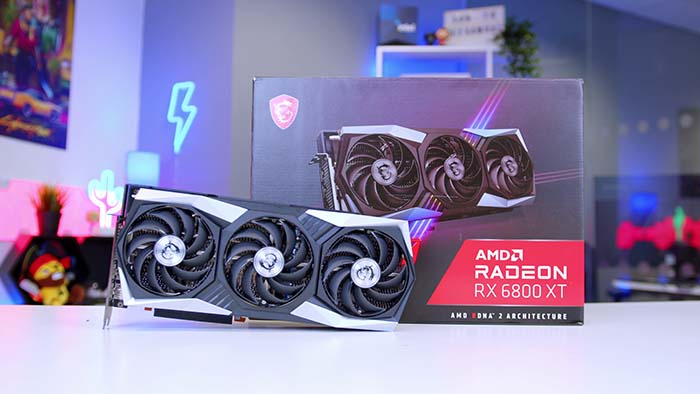 Best GPU for the Ryzen 7 7700X: AMD Radeon RX 7800 XT
The Radeon RX 7800 XT is one of the best 4K capable graphics cards that you can pick up right now. Although this option can't quite compete with NVIDIA when it comes to Ray-Tracing, it is by far, one of the cheapest and most reliable options for 4K games. Consumers with this card won't need to upgrade for a significant amount of time, and can enjoy high framerates in their favourite titles at a variety of different resolutions.