Introduction
Motherboards are an essential purchase when putting together a new PC build, as they act the main skeleton of a system. To make sure the performance of their system is up to scratch, consumers are required to pick a chipset that aligns with their processor, assign a budget, and throw themselves into the deep-end.
For a mid-range processor from AMD, such as the Ryzen 5 7600X, then any AM5 motherboard will be able to support this CPU. This gives users a wide range of boards to pair up with this Ryzen 7000 CPU, including designs with a B650, X670, or X670E chipset.
But with so many motherboards to choose from, how do you pick the ideal motherboard for the Ryzen 5 7600X? In this buyers guide, we'll be testing a range of AM5 motherboards to see which options are the best for anyone looking to build a system around the AMD Ryzen 5 7600X.
Our Recommendation: Gigabyte B650 Gaming X AX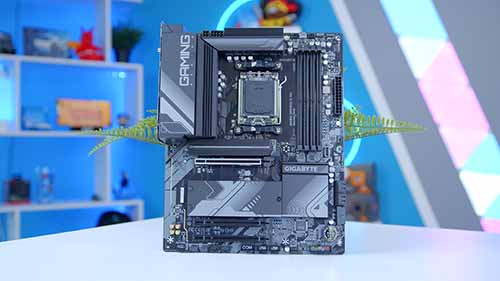 After testing an array of motherboards that support the Ryzen 5 7600X, we found Gigabytes B650 Gaming X AX to be the best choice to house this CPU. This design boasts strong overclocking capabilities for the price point, along with plenty of connectivity options both for USB and internet.
To top it all off, the B650 Gaming X AX motherboard boasts an aesthetic that will be an ideal fit for wide range of gaming-based PC builds.
All the Motherboards in Our Ryzen 5 7600X Testing
ASUS ROG Strix B650-A Gaming WiFi
ASUS TUF Gaming X670E-Plus WiFi
Our Top Motherboard Picks
Now for the most important part of the article – the recommendations. Below we've picked out a range of motherboards from three different chipsets. The boards we've picked cover a myriad of different features and price points, providing options for a plethora of consumers.
1. ASUS ROG Strix B650-A Gaming WiFi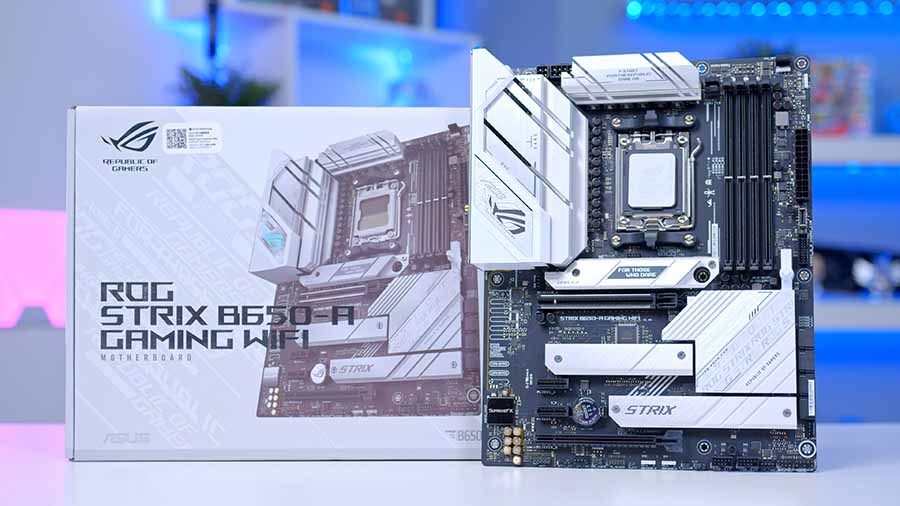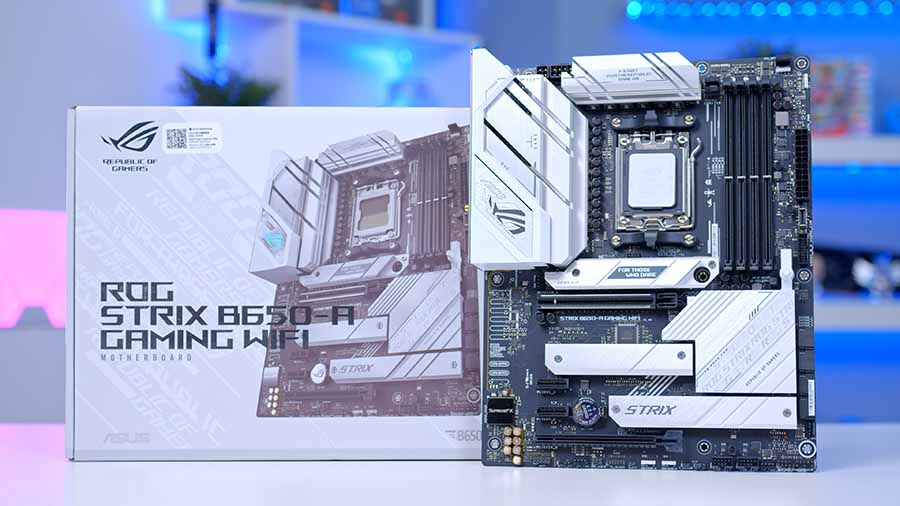 For those wanting to pick up a motherboard that will be a natural fit within a predominantly white PC build, then the choices are surprisingly limited. Despite their sudden rise in popularity, the ASUS ROG Strix B650-A Gaming WiFi is one of the few motherboards that will appeal to Ryzen 5 7600X users that have adopted a white colour scheme for their gaming PC. But that's not the only positive that this motherboard brings to the table, as the B650-A Gaming WiFi also offers plenty of features that puts it amongst the best motherboards featuring a B650 chipset. This ATX motherboard includes two Gen4 PCI-E slots for both graphics cards and storage, as well as a Gen5 x4 slot that can accommodate the best M.2 SSDs available.
And when it comes to connecting your brand-new gaming PC to the internet, the ASUS ROG Strix B650-A Gaming WiFi offers two ways to get online. With a choice between WiFi 6E and 2.5 Gigabit LAN, consumers can ditch the ethernet cable and enjoy wireless surfing of the web, without having to worry about latency issues.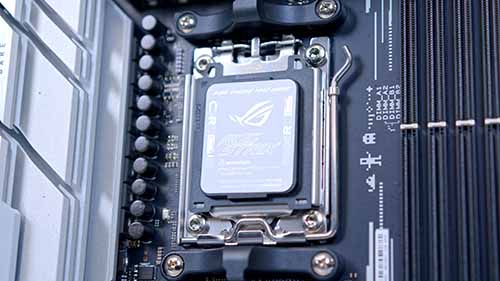 But the big caveat to this particular design is the pricing. The rarity of the design, along with the inclusion of more premium connectivity options on the budget-friendly B650 chipset hikes the price of the B650-A Gaming WiFi significantly, to a point where a motherboard with a more powerful X670E chipset becomes a viable alternative. In addition, this design includes a few shortcuts that will dampens its overall appeal to consumers, such as a plethora of USB 2.0 ports on the rear IO.
Buy the ASUS ROG Strix B650-A Gaming WiFi on:
2. ASUS TUF Gaming X670E-Plus WiFi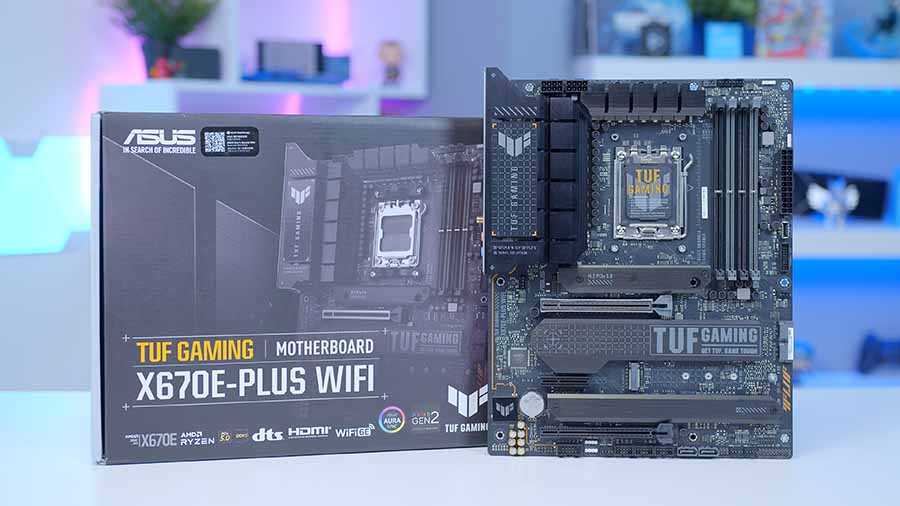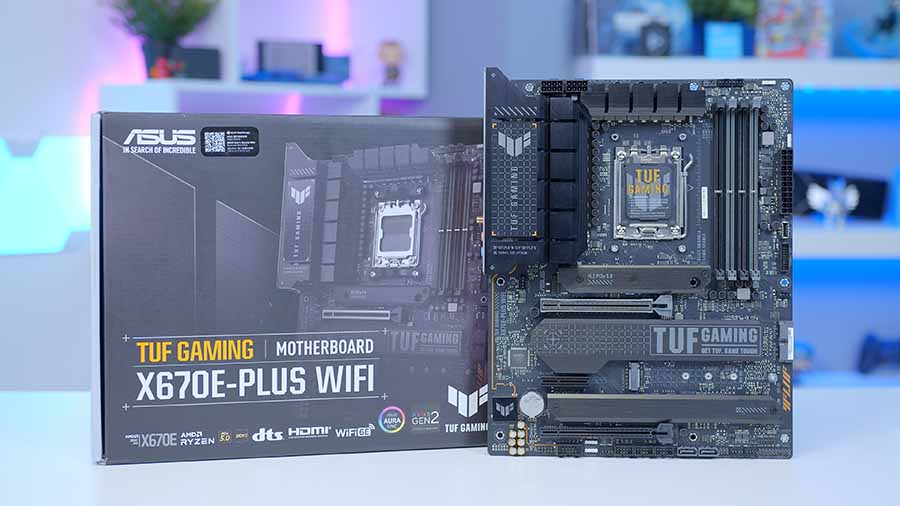 The TUF Gaming X670E-Plus WiFi from ASUS is a motherboard that we've had plenty of experience with in the past, and it offers a strong balance of connectivity and performance. This TUF gaming board is one of the few X670E options which comes in at a more reasonable price point. Despite the slightly more competitive pricing, the TUF Gaming X670E comes loaded with excellent features. Gen5 is a mainstay on this board, with two slots for a graphics card and an SSD. Additionally, the rear IO is excellent with strong networking options, and no USB 2.0 in sight, which means all of the back panel ports are pretty fast. Design wise, the TUF Gaming sports an industrial-oriented theme, which looks awesome!
Consumers will be able to see various heatsinks adopting this theme, adding some extra flair to the board. This board is a little bit lacking on RGB, but arguably for the price, this won't be an issue for most consumers.
Whilst this motherboard does have plenty of features to keep most Ryzen 5 7600X users satisfied, it does lack the premium additions that would make it a suitable motherboard for a high-end build. Mainly, the lack of multiple PCI-E 5.0 slots means this design falls short of the feature-sets that can be found on other motherboards that include an X670E chipset. Other notable exclusions include the lack of USB4 on the rear IO, as well as limited support for memory overclocking.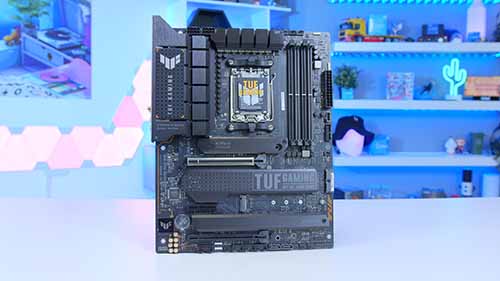 Buy the ASUS TUF Gaming X670E-Plus WiFi on:
3. MSI MAG B650M Mortar WiFi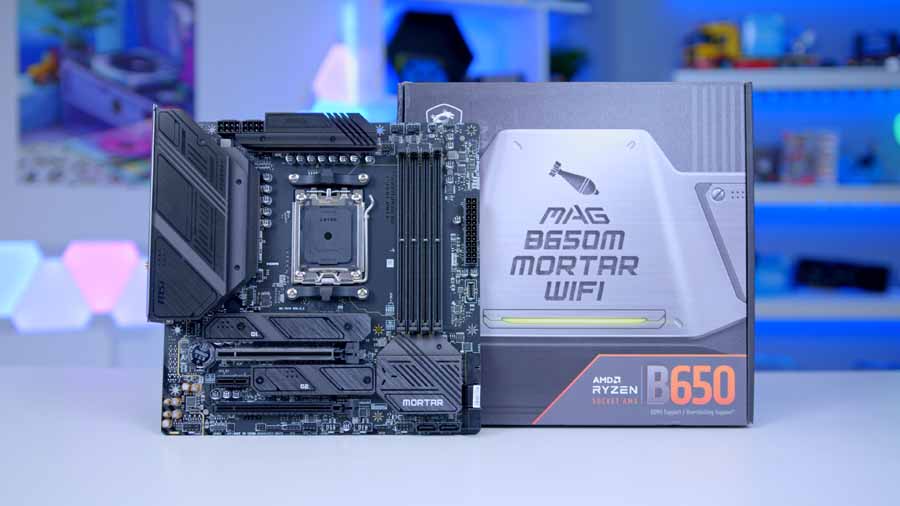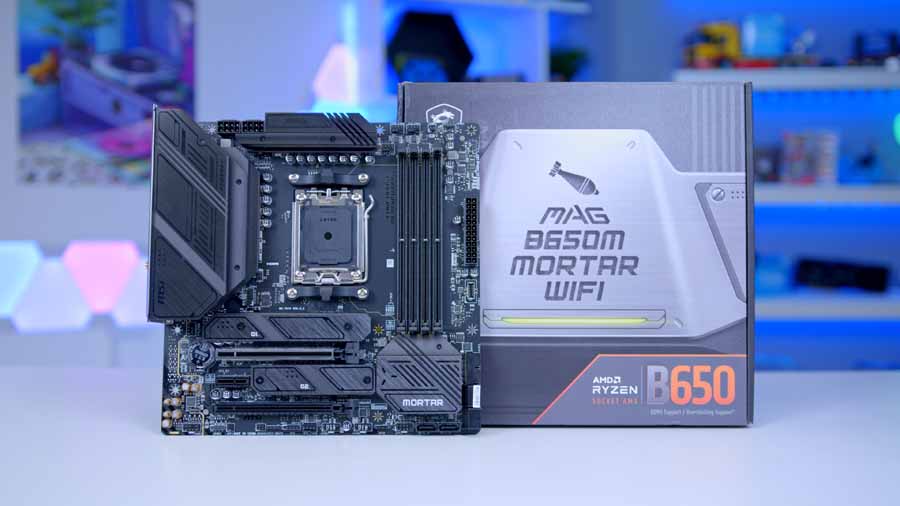 MSI's MAG B650M Mortar WiFi is one of the cheapest mid-range options available on the B650 chipset. Although B650 motherboards sacrifice some features in order to decrease the cost, they still end up coming with excellent features that will be very handy for anyone rocking a Ryzen 5 processor. In terms of the design, the Mortar is an all-black motherboard, with plenty of heatsinks covering the PCB. I'm a big fan of the Mortar logos and design, and the matte black look across the board will blend in relatively well with the majority of PC cases on the market. Moving onto the features, the B650M Mortar offers plenty of versatility, despite being a smaller Micro-ATX motherboard.
The entire board is littered with high speed USB 3.2 ports, with no USB 2.0 in sight. The rear IO also houses a full audio suite, complete with S/PDIF out, which makes it ideal for those that have surround sound or high quality speakers in their setup.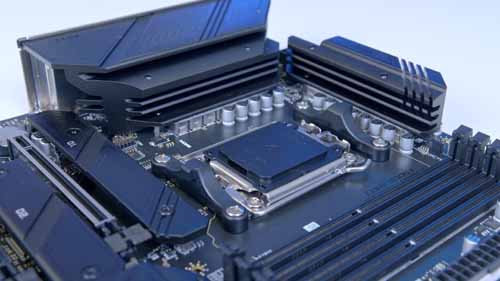 The only major downside comes from the PCI-E slots, as this motherboard only supports Gen4 options. But considering Gen5 graphics cards haven't hit the market, and SSDs are quite rare, this won't be a deal-breaker for the majority of consumers. Another divisive feature is bound to be the overall size of this board, as the micro-ATX form factor can easily look out of place when paired up with a larger PC case or one of Nvidia's high-end RTX 4000 series graphics cards.
Buy the MSI MAG B650M Mortar WiFi on:
4. Gigabyte B650 Gaming X AX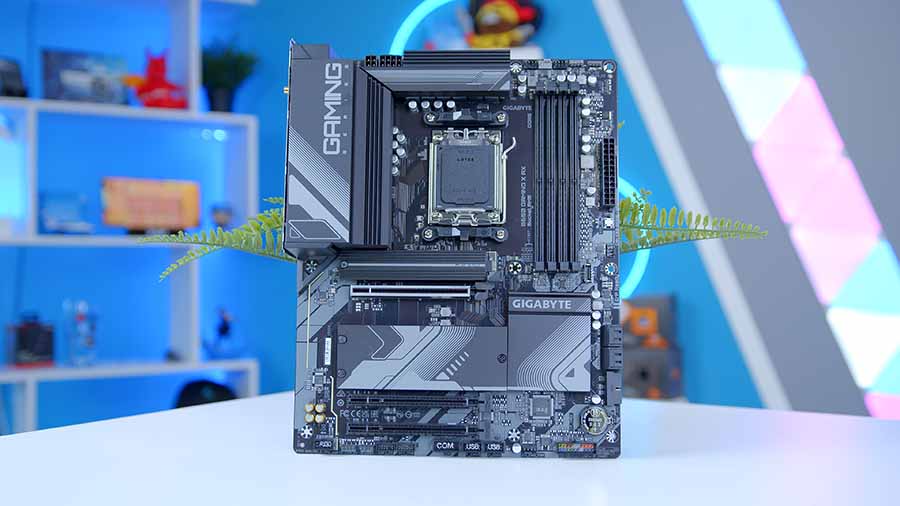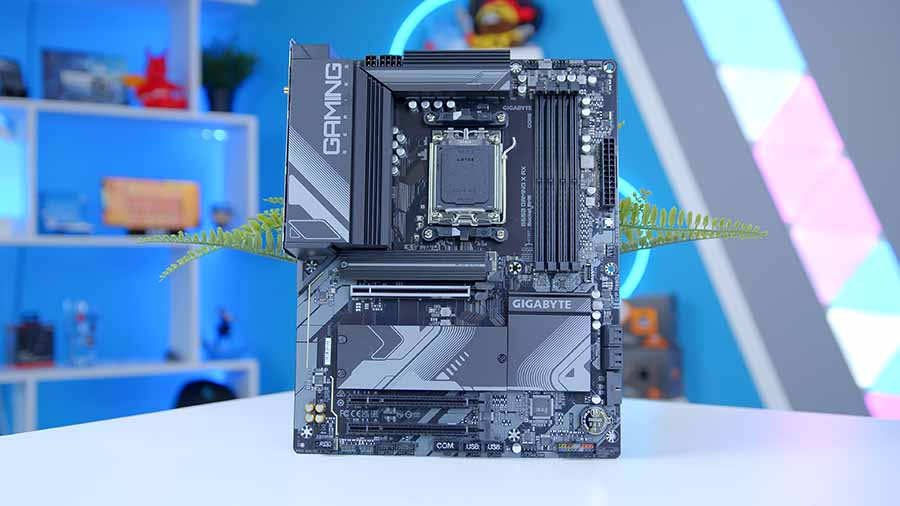 For our final option, we've picked out another budget-oriented board from Gigabyte, the B650 Gaming X AX. This particular motherboard is one of the cheaper options on the B650 chipset, hence the more relaxed and minimal aesthetic on the PCB. Admittedly, this motherboard isn't much of a looker, despite Gigabyte's efforts to provide some logos and extra colour. However, this is to be somewhat expected with a budget-friendly motherboard like this one. Taking a look at the features, the B650 Gaming X AX has a reasonable set of IO, with the majority of the USB ports offering blazing-fast speeds. USB 2.0 has made an appearance here to bulk up the ports, which is likely a cost saving method.
Looking at PCI-E slots, the Gaming X AX has plenty of options for storage and graphics card installation, with the available slots utilising the Gen4 standard. This does mean upgrading to PCI-E 5.0 components is out of the question, but this isn't likely to be a deal-breaker for most 7600X users. The B650 Gaming X AX also features integrated WiFi 6E, making it ideal for those that don't want to run cables to their router.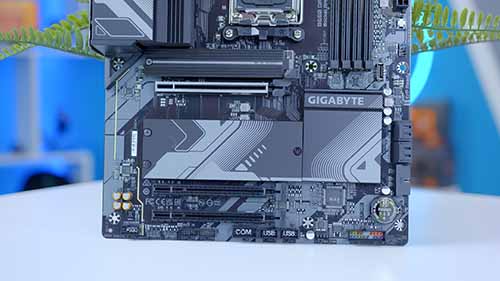 The main sticking point that most consumers will have with the Gigabyte B650 Gaming X AX is the appearance, as the black and grey colour combination is bound to split opinions. On top of this, the exposed PCB throughout the design makes this motherboard reduces its curb appeal in comparison to the more luxurious designs that Ryzen 5 7600X users have at their disposal.
Buy the Gigabyte B650 Gaming X AX on:
Ryzen 7000 CPUs – Are They Any Good?
AMD's Ryzen 7000 CPUs were advertised as the answer to Intel's 12th-Gen range, but sadly the metrics were somewhat disappointing. At the top-end of the available SKUs, AMD provided excellent CPUs that have strong metrics in both single and multi core applications. But as we move down towards the more budget and mid-range options, the value starts become slightly weaker to a degree. This doesn't necessarily mean CPUs like the Ryzen 5 7600X or 7700X are bad, but when compared to other available options on the market, you might be better off picking an alternative.
Which Chipsets Should I Use for the Ryzen 5 7600X?
When it comes to a particular chipset, I'd say that this is dependent on your use-case. If you plan on pushing your 7600X to the limit in terms of overclocking, the X670E and B650E chipsets will be more ideal.
The 7600X is also fully overclockable, so picking up a motherboard that has more VRM power phases is worth some consideration. However, these boards do come with a significant premium that will put off plenty of consumers. Not only this, you'll also need to consider picking up a better CPU cooler if you plan on overclocking, as the wattage and power necessary to drive a higher clock speed will affect thermals.
If you're trying to be somewhat more price conscious in your purchases, the B650 chipset offers plenty of budget and mid-range boards that will be ideal for this. We recommend checking out our full chipset comparisons for some more context on the kind of features, and options you'll have available with each set of motherboards.