Introduction
Picking up a case is one of the most vital components of any PC build. The chassis that you decide to pick up needs to provide enough space for all of your components, whilst also providing enough airflow and ventilation that will keep your system cool.
We've taken a look at quite a few cases in the past, and there are a number of manufacturers that get airflow correct, and quite a few others that do not. Often the solution tends to be offering mesh front panel, with plenty of space for fans and radiators, which seems like a relatively simple design choice to make in order to ensure that your PC doesn't turn into an oven.
In today's review however, MSI may have found a solution to all of your thermal woes. Meet the MSI MPG Gungnir 300R Airflow, a case that offers some unique design choices that prioritise customisation and airflow for the most important components within your system.
Buy the MSI MPG Gungnir 300R Airflow on:
Suggested Article: Thermaltake The Tower 200 Review – A Well Designed Refresh
Is Airflow Important?
Airflow is one of the most single important topics to discuss when it comes to cases, besides the actual physical amount of space you have accessible to you. But why is this the case (no pun intended)? The crux of this talking point is that if your system doesn't have enough airflow, you'll be turning your PC build into an oven. Airflow will entirely determine whether the components in your system are getting enough cool air passed over them, and whether hot air is dissipated out of your system.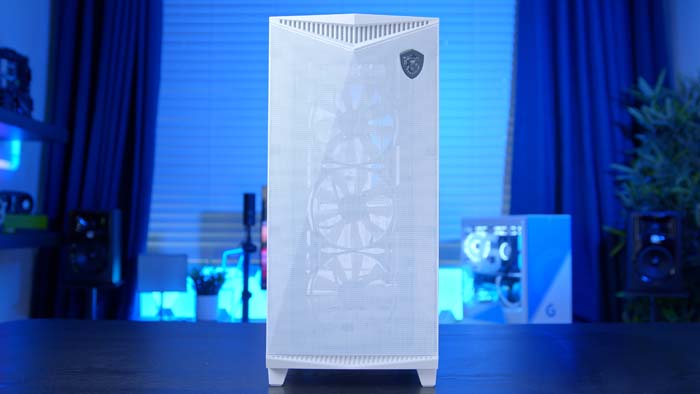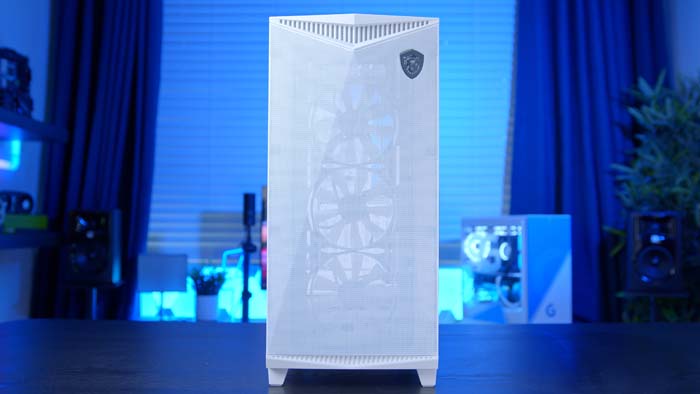 The reason why airflow is so important is for two primary reasons. The first is component damage. If your PC parts are shoved into your PC with no way of hot air being able to leave the case, they're going to eventually suffer some damage. This could come in the form of your CPU frying because it has reached its thermal limit. Alternatively, your CPU cooler could also sustain some damage too, as the hot liquid inside the tubes will constantly be in a state of trying to dissipate the heat, but be unsuccessful in doing so.
The second reason is thermal throttling. This is effectively when your components are running too hot, so in order to lose some of the heat, they end up down-throttling, resulting in a loss of performance. This often happens with your GPU or CPU, as these are the hottest components in your PC. A lack of airflow will definitively result in thermal throttling, followed by some form of component death later down the line. Regardless, ensuring that your case can provide enough airflow to your components is vital, and will ensure your PC lasts for many years to come.
MSI MPG Gungnir 300R Airflow Design & Aesthetic
Taking a look at the design of the 300R, it sits in line with the traditional Gungnir design that we've seen in the past. This does mean it isn't the most attractive case on the market, but despite this, it still comes with some RGB fans that provide extra flair. The front of the case is a mesh design which we love to see. Mesh cases are becoming the norm now, and it really does help with airflow as opposed to a full-glass front. The mesh at the front also gives you a translucent window, allowing you to see the three pre-installed ARGB 120mm fans, which should save you some money as well.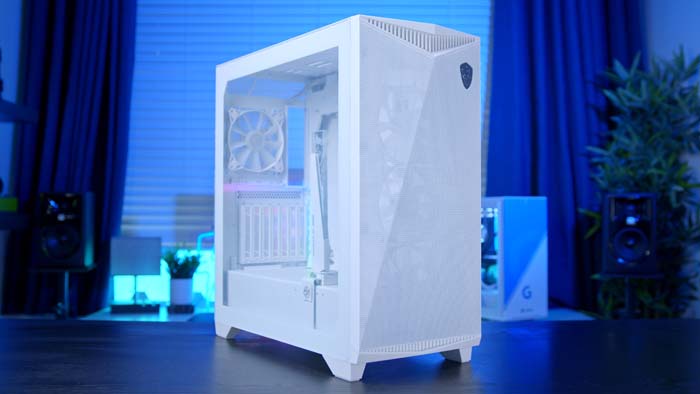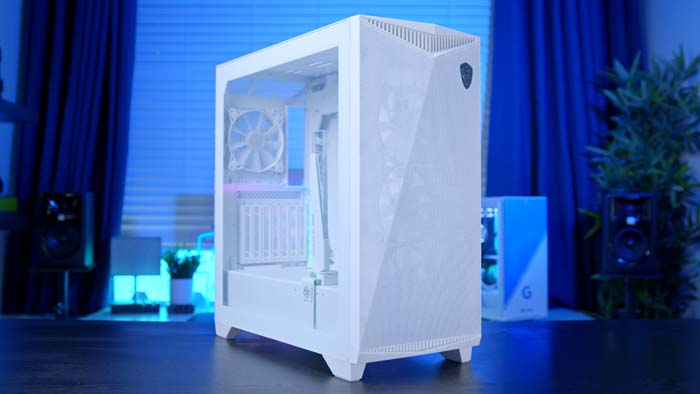 There is a big focus on airflow around the entirety of the 300R, as you'll be able to see a range of different perforations and vents that should continue to enhance the airflow around the case. On the side, you'll notice a tempered glass side panel that spans the entirety of the chassis from the top to the bottom. This side panel uses a push-latch design, which can also be seen on the opposing side panel too. I do like push-latch, but this could immediately become an issue when it comes to cable management. Push-latch mechanisms can easily become loosened by cable bulge, as we've seen with designs like the Fractal Torrent Nano.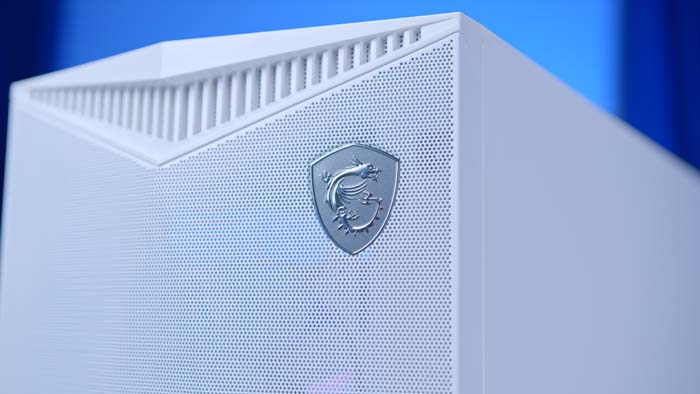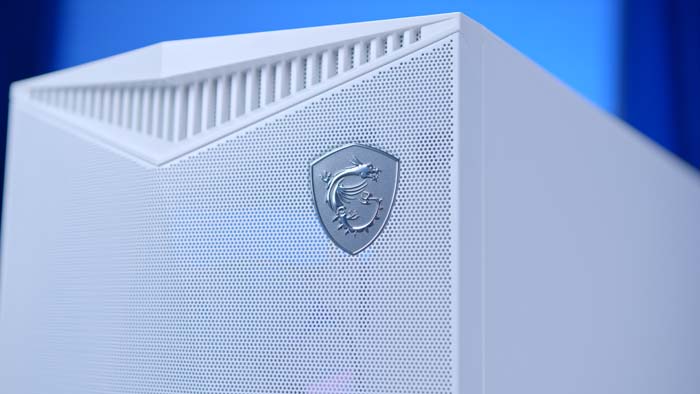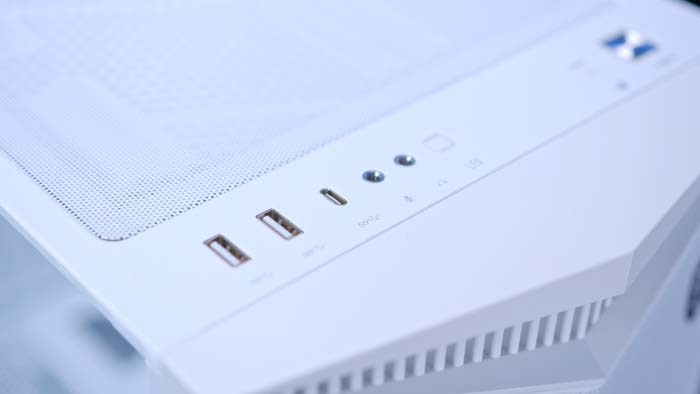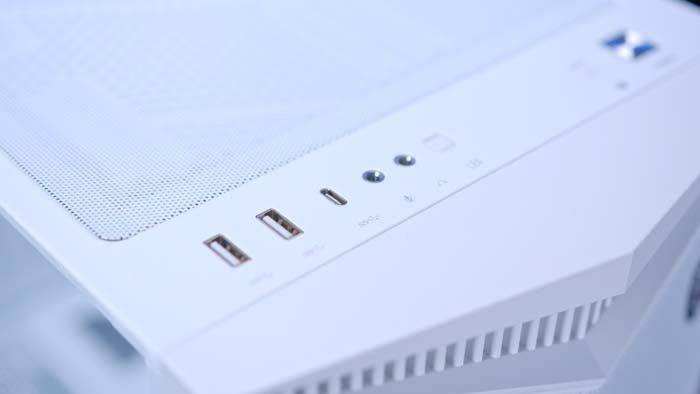 On the rear of the case you'll find another 120mm ARGB fan, which I was pretty impressed with. It frustrates me when case manufacturers focus on airflow but only provide two fans, so its great to see that MSI haven't skimped here. Overall, I do like the design of the Gungnir 300R, it isn't insanely impressive in terms of looks, but the simplicity and minimalist aesthetic is quite nice. There are some other cool design points to touch upon, but we'd like to provide more of a spotlight during the features section. So far, this mid-tower case is looking to be a pretty solid option.
Features We Like
In this section we'll be taking a look at some of the cool features of the Gungnir 300R. There's plenty of features on offer here, all of which are equally worth considering when deciding on your case choice.
Push-Latch Case Design
MSI have opted to use a push-latch case design, which means you can simply apply some force to the side of your case by pushing it, and it should open. Admittedly, this won't be great for the rear side panel, but as long as you've jammed your cables in, it shouldn't pose too much of a problem. I do like tool-less case designs, so it was nice to see MSI put some focus on making PC building a bit simpler.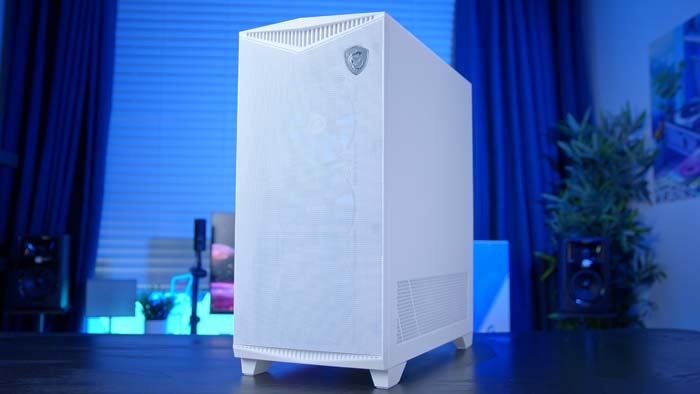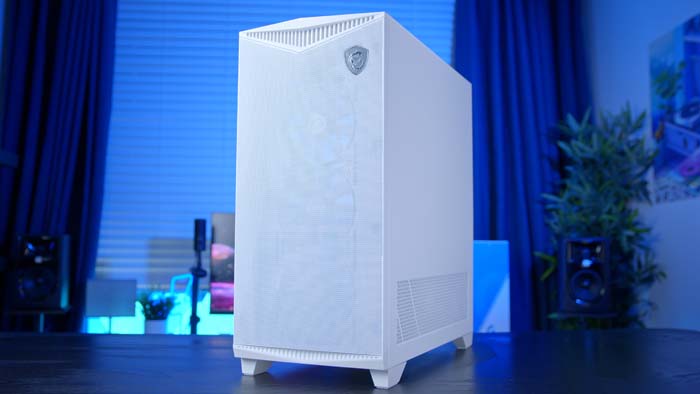 Included GPU Support Bracket
Another cool feature of the Gungnir 300R, is the inclusion of the GPU support bracket. The bracket is able to support cards up to 360mm, which I'd say is at the top-end when it comes to size. It also supports multiple orientations too, so whether you've installed your GPU vertically or horizontally, you shouldn't have any issues removing graphics card sag.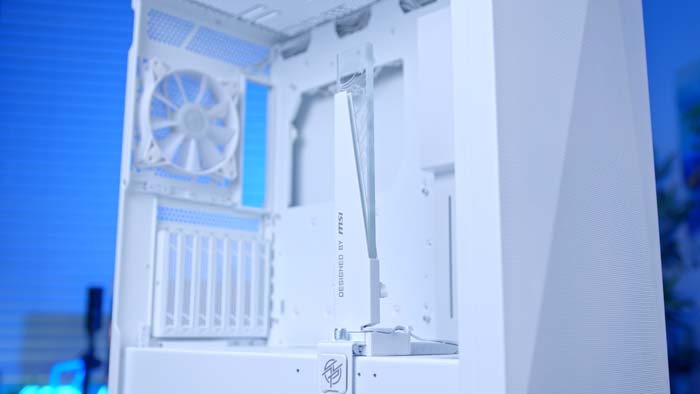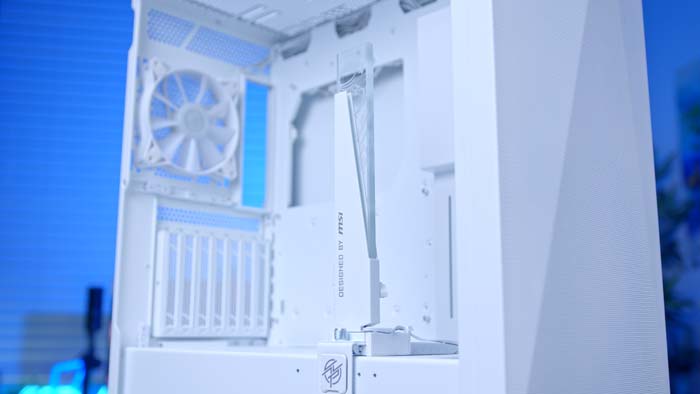 The GPU bracket can easily be moved to accommodate smaller cards, supporting 240mm at the lowest. This is easily done by unlocking the quick release screw which you'll find underneath a plastic shroud. This bracket is also quite a robust design as well, so there's no concerns from us that your GPU could cause the bracket to break.
Rotational PCI-E Slots
The coolest feature of this case by far, are the rotational PCI-E slots. Being able to install your graphics card vertically is becoming pretty popular, so providing the choice for consumers to be able to play around with this option, is a great addition. It is also worth noting that adapting the case to a vertical installation is incredibly easy.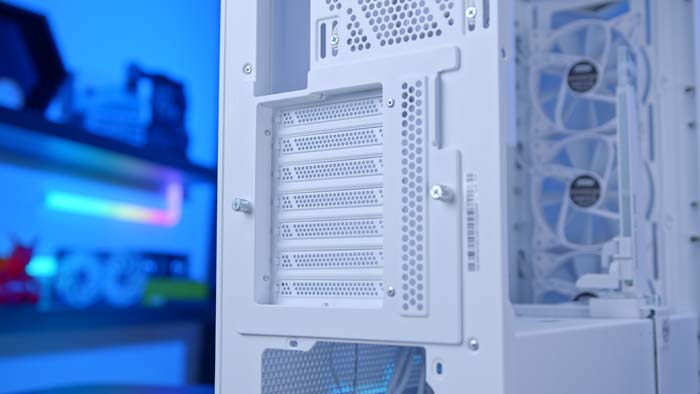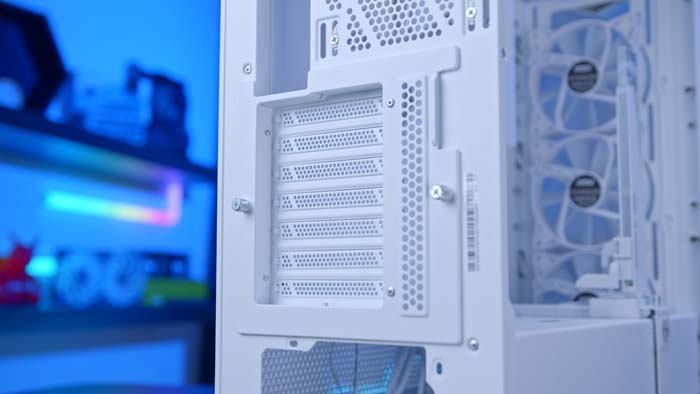 All you need to do is unscrew the thumbscrews at the back of the case that surround the PCI-E slots, and simply pop out the panel and rotate it. Credit to MSI on this one, you've done a great job at making this case versatile and extremely usable.
Lots of Tool-Free Mechanisms
Further adding to the usability of this case, MSI have created a number of tool-free mechanisms that add to the simplicity of building a PC within this cassis. At the bottom of the Gungnir 300R, you'll find a patented sliding HDD case design, allowing you to easily move the whole cage for more cable space, or dependent on the size of your PSU.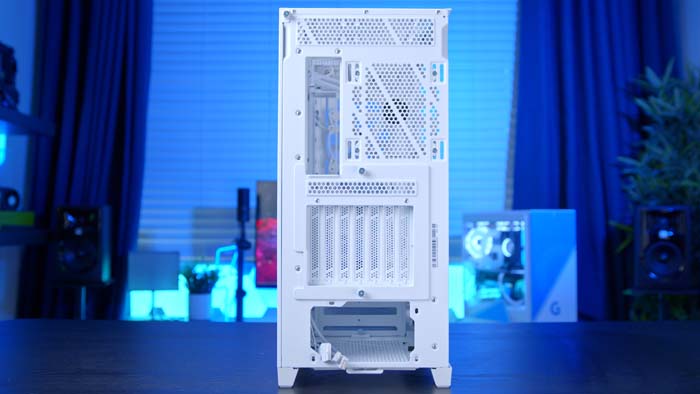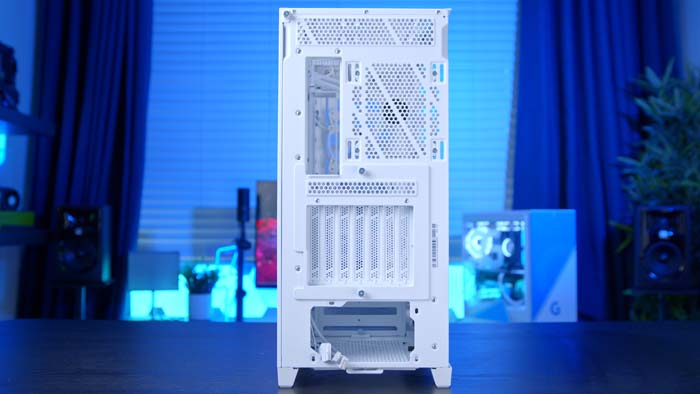 The front cable cover in the case uses a push patch design, which opens up more space for E-ATX motherboards, which I think is just ingenious. The front fan/radiator mounting is also tool-free as well, allowing you to remove it entirely to install your cooling solution. It is also worth noting that there are a number of Velcro cable straps that should make cable management much easier too.
Included ARGB and Fan Hub
Another awesome addition to the Gungnir 300R is the included ARGB and fan hub. If you're installing loads of fans, and you've got a mass of RGB components that you need to plug in, you can do this with the included hub. There are six 4-Pin PWM headers, along with six ARGB headers too. You can configure all of the lighting and various effects within MSI's Mystic Light software too.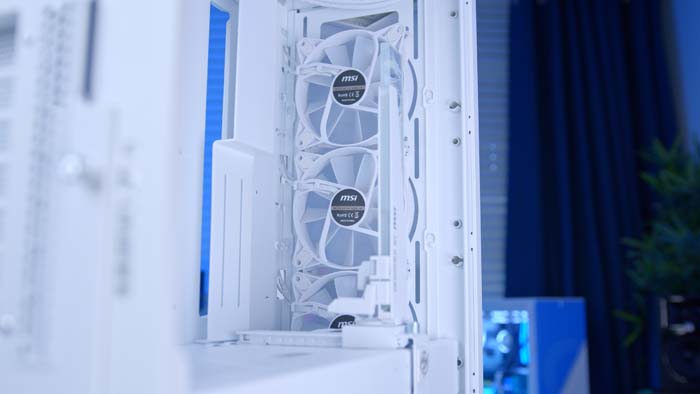 Features We Don't Like
Although the Gungnir 300R is an awesome case with some pretty great features, there's also a couple of strange design choices too. In this section we'll be briefly delving into these features to assess the cons of this chassis.
Rear Fan Bracket is Pointless
On the rear of the case, you'll find a rotational set of PCI-E covers, which I'm a massive fan of. This panel can be swapped out for a similar panel that includes a fan bracket. This fan bracket allows you to install either two 6015 size fans, or a singular 8025 fan. However, they are entirely pointless. I had my suspicions that they wouldn't do much when reading about the features, and MSI's test results entirely prove it.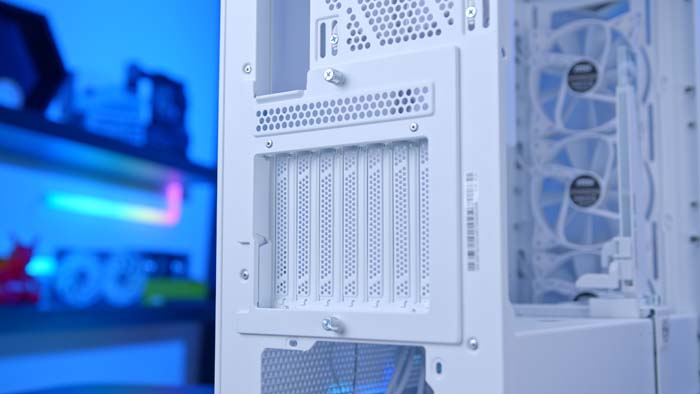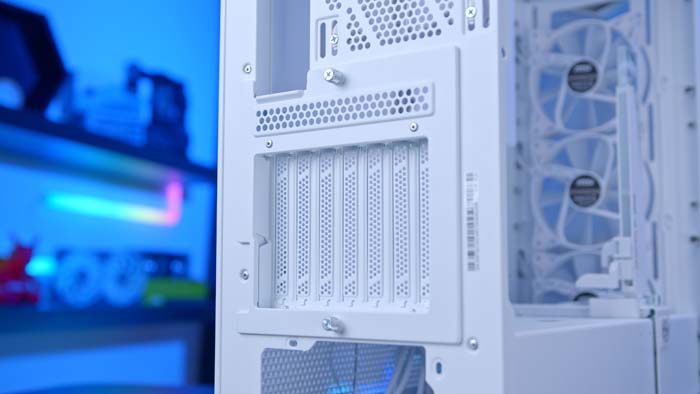 The reason why this is the case, is because the fans barely offer a temperature improvement. MSI provided us with some test results of the temperature improvement, and at normal RPM of 60%, you'll only really see about 2-3 degrees less, compared to what you would get without them. When you're hitting temperatures of 70 degrees or higher, this really won't affect much, and you probably won't notice a massive difference in terms of the actual heat coming out of your case. And the biggest caveat on top of this is that you've got to cable manage one or two extra fans that will also increase the noise floor of your PC.
It is worth pointing out as well that there is a slight improvement with the fans running at 100% RPM, but unless you've built your PC like a monster and you run all of your fans at 100% RPM all of the time, it isn't likely that you'll see consistent temperature reduction at lower levels. I get what MSI have tried to do here, but in their own test results, it proves entirely pointless. I really want to like this extra little fan panel, but it doesn't serve as anything other than just added building pain, which is unfortunate.
May Run into GPU Clearance Problems
Unfortunately, the Gungnir 300R only has space for GPUs up to 360mm. Considering the GPU holder is likely to take up a fair few millimetres of space too. In short, this means that some of the larger graphics cards options on the market will definitely cause some clearance problems. We imagine with a front mounted radiator and the GPU bracket, you could be restricted to 320mm-330mm at the maximum, which in reality is just not enough space for new GPUs on the market.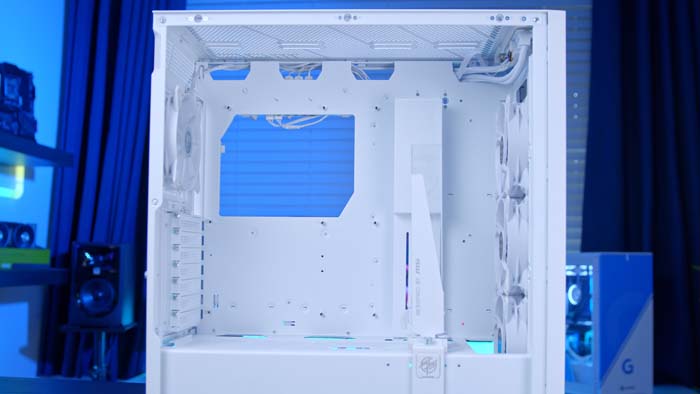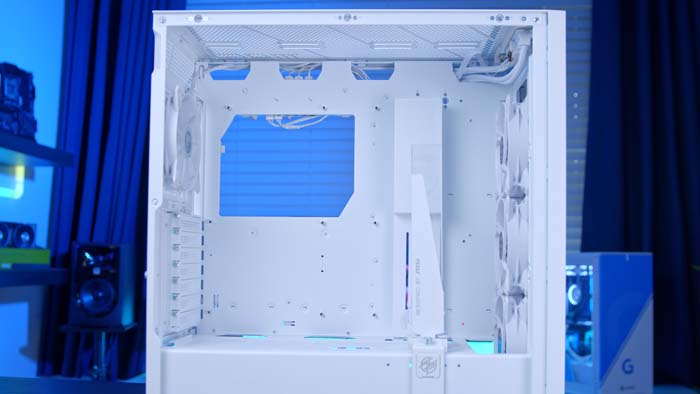 Conclusion
MSI Gungnir 300R Airflow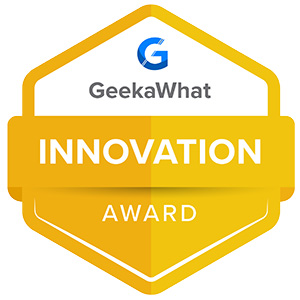 Product Name: Gungnir 300R Airflow
Brand: MSI
Features

Design

Versatility

Value For Money
Summary
MSI's Gungnir 300R is one of the most versatile cases that we've had in the GeekaWhat office. Despite being a mid-tower option, which frankly isn't gigantic, MSI have managed to cram in a bunch of tool-less and versatile features that make this case a joy to build in. I do feel there are some design choices that could be amended, such as the included fan panel for the smaller fans next to the GPU, or the sheer internal space. But this doesn't strike me as that much of a problem, purely on the basis that the fan panel is entirely optional, and while this case is a bit small when it comes to internals, there's still a decent amount of space for consumers to build a solid system. I think this is one of MSI's best cases to date, and I really hope that other case manufacturers take a leaf out of MSI's book, and develop stronger, and more versatile designs in the current market.
Pros
✅ Vast set of usability features makes PC building much easier.
✅ Rotational PCI-E slots are super unique.
✅ Included GPU bracket is a nice touch.
Cons
❌ Fan bracket is pretty much pointless.
❌ Might not be enough space for some larger GPUs.
❌ Push-latch may cause issues when cable managing.