Introduction
Choosing a display to pair up with your PC build can be a difficult endeavour at times. With a plethora of features, resolutions and sizes, and brands to pick from, the decision isn't an easy one. If you're familiar with a particular manufacturer, it can always be worth using this as a starting point to narrow down the available options.
Since entering the display market, ASUS have developed some stunning monitors that provide an excellent viewing experience and value for money. In this list, we have compiled some of their most competitive options, featuring a large variety of price points, at all three main resolutions.
Suggested Article: Best Graphics Cards to Buy for 4K Gaming in 2023
Hardware Considerations
In this roundup, we've featured a wide range of monitors, from budget options, all the way to high-end. Each of these options becomes increasingly more demanding when it comes to hardware, thus resulting in the end-user needing to accommodate the performance overhead. Displays with a higher resolution, such as 1440P or 4K, will require a much more powerful graphics card to drive.
For those sporting a 1080p display, a GPU upgrade likely won't be necessary other than to hit your desired refresh rate. Refresh rate is especially important at a lower resolution, because it becomes much easier to hit higher framerates, due to the lower performance demand. We've written a variety of buyers guides for graphics cards we recommend at different resolutions. We urge users to check these out, if you're struggling to figure out which GPU you need.
Best ASUS Gaming Monitors
1. TUF Gaming VG279Q1A
For our first recommendation, we've picked out the ASUS TUF Gaming VG279Q1A, a great starting point for anyone who needs a monitor that will keep up with most modern games, without breaking the bank. At 27 inches, it offers a comfortable viewing experience with a size that will fit most consumers' use-cases, without taking up too much space. It features a 1080p, IPS panel that will provide a great viewing experience, without the performance impact that comes with higher resolution displays.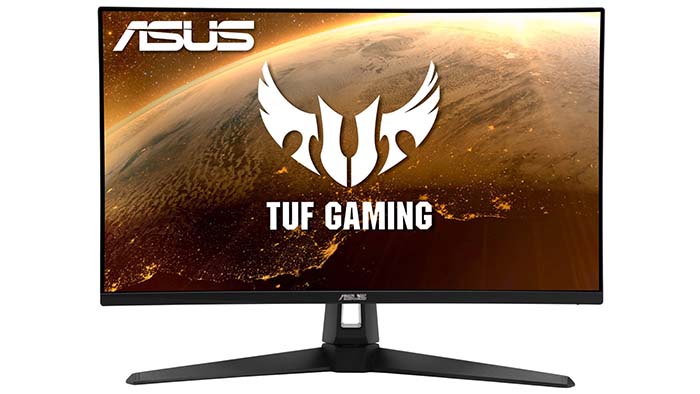 Key Specs: Screen Size: 27 inches // Resolution: 1080P // Panel Type: IPS // Refresh Rate: 165Hz // VRR Technology: Adaptive-Sync & FreeSync Premium
The TUF VG27 also offers a 165Hz display, providing crisp and smooth visuals across the board. This monitor is an excellent entry point for consumers that aren't bothered about all of the additional 'bells and whistles'.
Buy the ASUS TUF Gaming VG279Q1A on:
2. TUF Gaming VG279QM
The VG279QM is a great step-up in every possible way. The refresh rate sees a noticeable increase, up to 280Hz, while sticking to the same 1080p resolution. New features that make this monitor stand apart from the VG279Q1A include technologies such as G-Sync, which aids in eliminating tearing if using a graphics card that supports this tech. It also brings HDMI 2.0 to the table, allowing for much higher bandwidth from your PC or console to the display, which is essential for the much higher refresh rate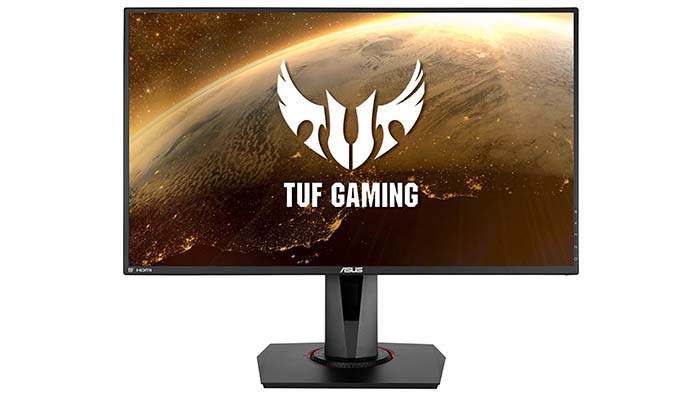 Key Specs: Screen Size: 27 inches // Resolution: 1080P // Panel Type: Fast IPS // Refresh Rate: 280Hz // VRR Technology: G-Sync Compatible
Other great changes include a much higher peak brightness. This not only allows brighter content to stand out more, but also officially makes this display HDR compatible. More specifically, it has an HDR 400 rating. The VG279QM also features a stand that has much more freedom and can be turned more in every direction, giving the user more customisation and precision in terms of the positioning of their display. Whilst offering an expected price increase over the VG279Q1A, it might be worth it for many gamers out there who want their gameplay to not only feel smoother, but look much better as well.
Buy the ASUS TUF Gaming VG279QM on:
3. ROG SWIFT PG259QN
This is the very first monitor on our list from the more premium ASUS ROG line-up. We are once again stepping-up the refresh rate, but this time, all the way to 360Hz! That alone makes up for the fact that most other specs and features are actually identical to the VG279QM. That includes G-Sync support, HDR 400 support, even down to the identical contrast ratio and colour accuracy.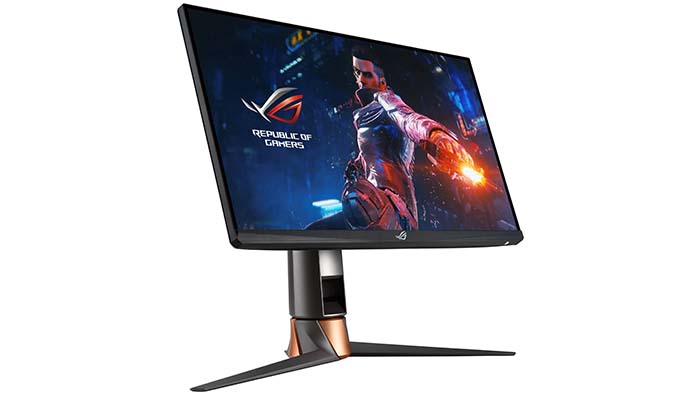 Key Specs: Screen Size: 24.5 inches // Resolution: 1080P // Panel Type: Fast IPS // Refresh Rate: 360Hz // VRR Technology: G-Sync
There are however two differences that potential customers should be aware of. Firstly, there is a small decrease in the size of the display, from 27 to 25 inches. For some, such as consumers who prefer something a bit more compact, this can be a positive. Secondly, unlike previous monitors we've recommended, this one receives support for the higher-bandwidth DisplayPort 1.4 standard. This, alongside the HDMI 2.0 support, gives users more flexibility in how they wish to deliver all the necessary bandwidth to this amazing display.
The change in branding from 'TUF' to 'ROG' also brings about some major changes in the visual design on the monitor that provides a more futuristic look across the entirety of the display. This style will stay with us for the rest of this list. It even features RGB, in the form of a light-up ROG logo at the back.
Buy the ASUS ROG SWIFT PG259QN on:
4. ROG STRIX XG27WQ
The XG27WQ is the first to feature a 1440p resolution on this roundup. This has a great impact on the pixel density, and will make the image look sharper and clearer. The panel itself is 27 inches, like the two TUF models on our list. Whilst this display does have a lower refresh rate compared to the ludicrous 360Hz of the PG259QN, it's not without reason. It would be almost impossible for even more high-end PCs to generate so many frames per second at the higher resolution present on this model. The 165Hz refresh rate of this monitor should still be more than enough for most gamers.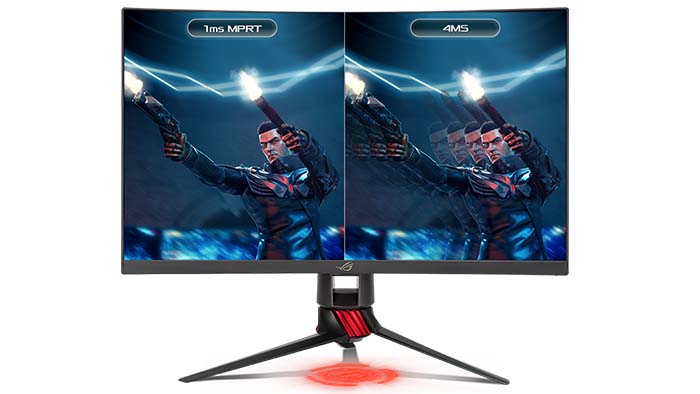 Key Specs: Screen Size: 27 inches // Resolution: 1440P // Panel Type: VA // Refresh Rate: 165Hz // VRR Technology: FreeSync Premium Pro
The increase in resolution and the curvature aren't the only things that will further immerse the user into the content on-screen. The XG27WQ also sees a notable increase in the contrast ratio compared to the displays we've covered so far, alongside a modest improvement in peak brightness. All of that, combined with much higher coverage of the sRGB and DCI-P3 colour spaces, help this monitor offer more accurate colours. Potential buyers should also expect a much more vibrant image as well, making this display great for gaming and media consumption.
The addition of AMD's FreeSync technology, on top of Adaptive-Sync for Nvidia graphics cards, ensures limited tearing no matter what graphics card is being used. While we do lose out on DisplayPort 1.4, it's not as necessary here given the lower refresh rate. The presence of HDMI 2.0 however means that this display still has some higher-bandwidth connectivity options available, great for both PC and console gaming.
Buy the ROG STRIX XG27WQ on:
5. ROG SWIFT PG329Q
For those interested in a great 1440p monitor, but without a curved panel, the ROG Swift PG329Q is a great alternative. Apart from having a regular, flat panel, there are some major differences between this monitor and the XG27WQ. The panel is also much larger, as this is a 32-inch screen, which should be more than enough for most users. We also see a modest increase in refresh rate, up to 175Hz, providing gamers an experience that's just a tad smoother.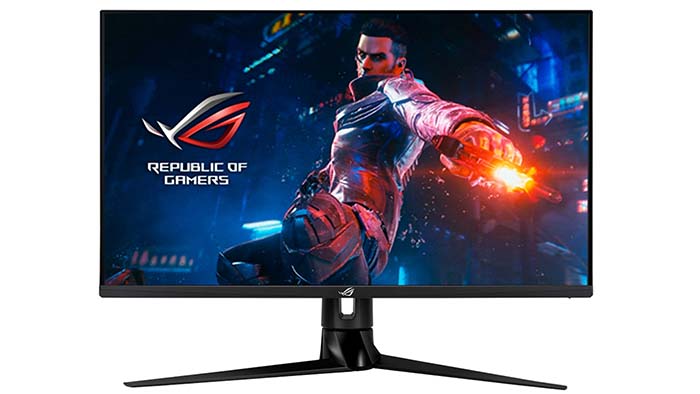 Key Specs: Screen Size: 32 inches // Resolution: 1440P // Panel Type: Fast IPS // Refresh Rate: 175Hz // VRR Technology: G-Sync Compatible
Peak brightness also sees an increase, enough so to make the PG329Q HDR 600-certified. This will make any HDR content that much more lively and vivid. It will be a very noticeable improvement over the previous monitors, as HDR 400 may not provide enough dynamic range for most HDR content. This, combined with much higher colour accuracy, come together to create an amazing viewing experience.
Buy the ROG SWIFT PG329Q on:
ROG SWIFT OLED PG42UQ
The ROG Swift PG42UQ is one of the few monitors on the market to feature OLED technology. In practice, this means that every pixel produces its own light. This gives way to excellent contrast and picture quality, especially in darker scenes. While that feature is exciting enough, let it not distract any potential buyers from the thing that sets the PG42UQ apart from all the others on this list even more: its size. As can be deduced from the name, this is a whopping 42-inch screen. That makes this display sit in a very unique category, being on the verge of being a very large monitor, or a small television.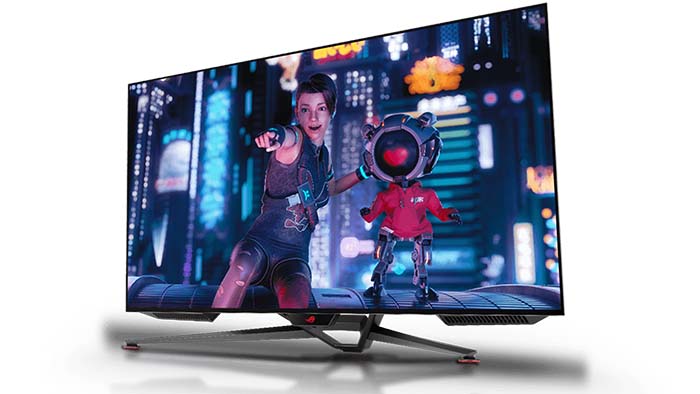 Key Specs: Screen Size: 41.5 inches // Resolution: 4K // Panel Type: OLED // Refresh Rate: 138Hz // VRR Technology: G-Sync Compatible
Naturally, the huge size will make this impractical for some who simply don't have enough space for such a monolith on their desk. Though given its large size, for anyone who still wishes to experience it, without the PG42UQ cluttering up their desk, it's also a great display for console gaming, either as a wall-mounted setup, or placed on a TV stand or cabinet. It's also the only monitor on our list to feature a 4K resolution. This high resolution of 3840×2160, will ensure that the pixel density stays high even on such a large display. This makes the viewing experience much better, and ensures all content stays crisp and sharp.
Just because it's 4K however, doesn't mean users will be missing out on a higher refresh rate. This monitor also comes with a panel capable of 138Hz, meaning that anyone who picks up this model won't be missing out on either high resolution or a smoother image. If that isn't enough features already, the PG42UQ also comes with HDR10 certification, meaning that HDR content will look its best on this display, making brighter and darker areas of the screen look more stunning. We've also covered the sibling of the PG42UQ (the PG48uQ) in a full in-depth review, which we recommend you check out if you're looking for a display of this calibre!
Whilst being by far the most expensive monitor on our list, it's more than understandable given the fact it spares no expenses on the excellent specs, making this perfect for anyone who desires a compromise-free viewing experience.
Buy the ROG SWIFT OLED PG42UQ on: