Introduction
Gaming monitors keep getting better, with lots of manufacturers attempting to push the performance boundaries of their displays. Whether its bumping up the resolution, expanding the screen size, or elevating the refresh rates, these advancements have led to plenty of gaming monitor variations to choose from. This means consumers should have no issues finding a monitor to go alongside their custom-built gaming PC.
For gamers looking for the most immersive experience possible, a curved ultrawide display should be at the top of the list when it comes to potential suitors for your gaming setup. Whilst there are plenty of ultrawide monitors on the market, Acer's Predator X45 is looking to stand out from the crowd with a unmatched blend of visual fidelity and performance.
But does this gaming monitor have what it takes to provide the ultimate immersive experience for gamers? To find out, we'll be evaluating the Acer Predator X45's design, performance, and features in further detail, to determine whether it is worth splashing out for.
Buy the Acer Predator X45 on:
Curved vs Flat Gaming Monitors- What's the Difference?
Before heading into our in-depth analysis of the X45, it is worth explaining why you might want to opt for a curved panel over a flat screen and vice versa. Curved displays have become very popular amongst gamers in recent years, mainly thanks to their ability to provide a more immersive gaming experience.
Compared to the layout of a traditional flat panel, curved monitors can match the human eye's FOV with greater accuracy, allowing users to see more of the screen at once. This is ideal for gaming, as it brings the HUDs located at the corner of the screen into view, making it easier to see key information when needed. Additionally, these displays are much better at blocking out your surroundings, leading to enhanced immersion and less distractions in the midst of the action.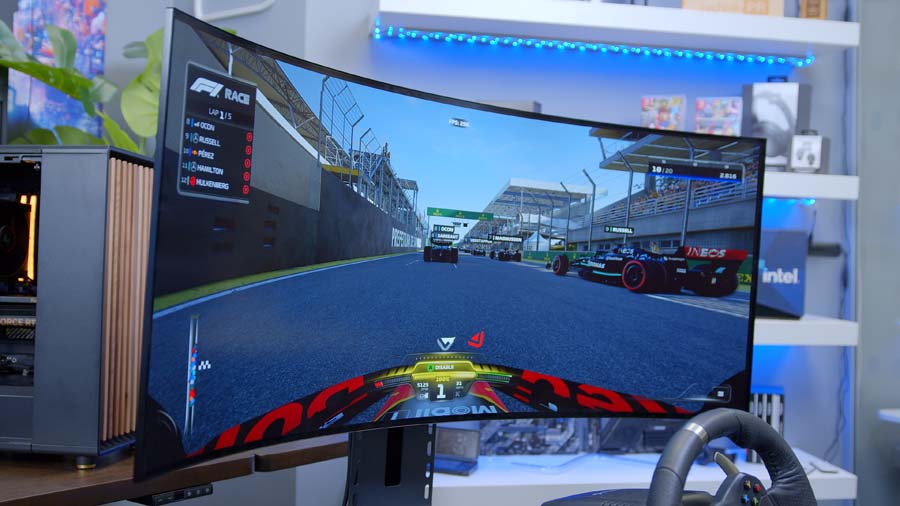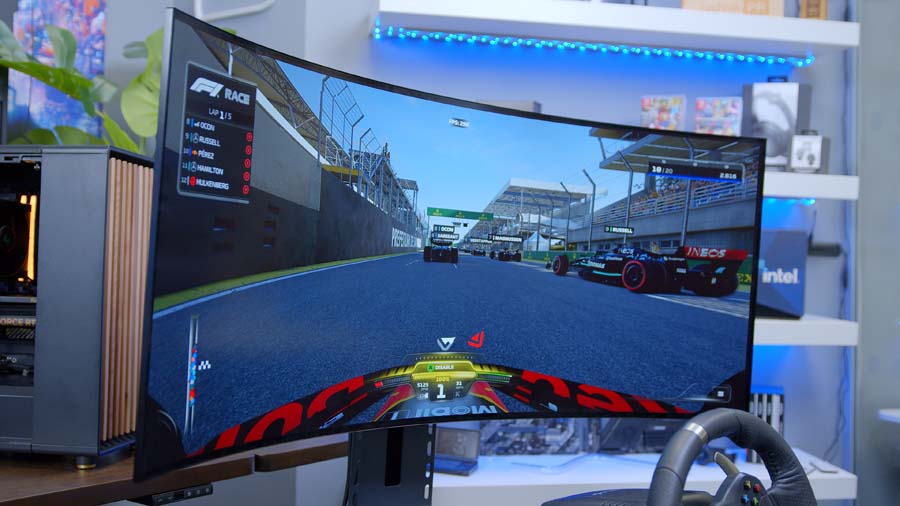 However, there are some limitations to these designs that could make a flat gaming monitor more appealing. The main caveat with a curved gaming monitor is the limited resolution and panel choices, as most of these displays are restricted to a 1440p resolution. Whilst most 1440p gaming monitors will offer good image quality, especially when supported by technology such as HDR, gamers wanting the best visuals will be better off with a 4K gaming monitor.
Another advantage of a flat screen is threat they are often easier to use when multitasking, as each task will be visible without looking skewed or distorted by the curvature of the display. Similarly, flat designs are generally easier to implement within a multi-monitor setup, as the screens are more likely to sit flush with each other.
Acer Predator X45 Design & Aesthetic
Acer's Predator X45 is an ultrawide 45″ display which features a 800R curvature, making it one of the biggest displays on the market. Because of this, the X45 is designed to be used as the sole display within your gaming setup. To be honest, we'd be impressed if you managed to fit another monitor alongside it.
Apart from it's gigantic form factor, the rest of the design is fairly straightforward. The frameless design at the front panel optimises the screen's real-estate, causing less distractions for increased immersion. This results in a fairly simplistic design that wouldn't look out of place in either a gaming or working environment.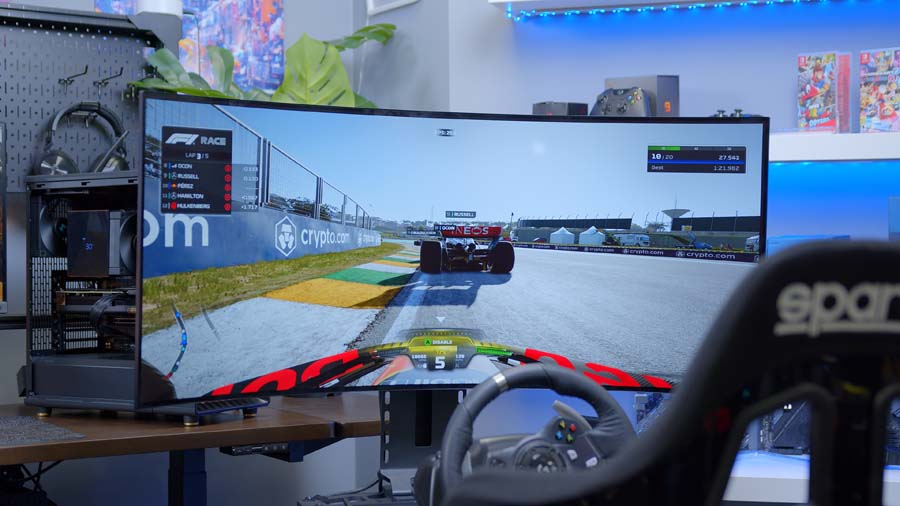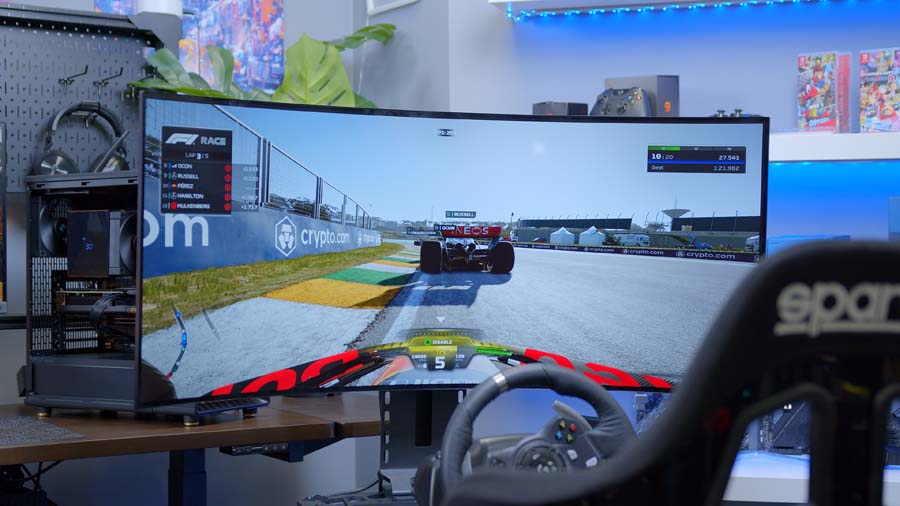 Moving around to the back, the X45 dons a metallic throughout the design, which adds a sense of luxury you'd expect from such a commanding display. However, the Y-shaped stand is the most eye-catching part of this monitor's design, arguably being the only aspect that resonates with the typical gaming aesthetic. Although, this shape isn't all for the looks, as it helps to reduce the impact on desk space while providing enough support the display, leading to a tidier looking setup.
Acer do enable the option to attach external mounting hardware, but with a 200×100 VESA mount instead of the conventional 100×100, which makes things slightly more complicated. To test how this monitor holds up with different mounting systems, we attached the Predator X45 to a racing sim, where it stayed in place with ease and truly elevated the immersive experience.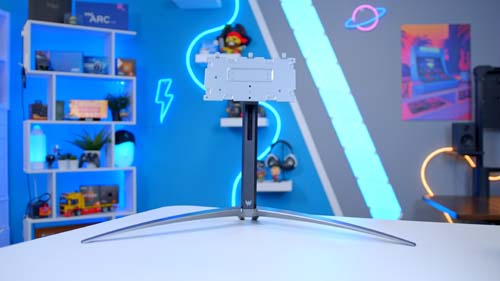 Acer Predator X45 Specs & Performance
Whilst this monitor may look the part, it also needs to firepower to perform well in gaming scenarios. As mentioned earlier, one of the biggest weaknesses of curved displays is the lack of 4K resolution available. However, this monitor with plenty of other interesting technology, which should make up for the lower resolution. For example, the X45 utilises an OLED panel, which leads to a more vibrant and colourful image.
On top of this, the 240Hz refresh rate makes the X45 one of the best preforming 1440p gaming monitors available, leading to gameplay that feels incredibly fluid. However, the one performance-based feature that caught my attention was the 0.01ms response time, which is unbelievably quick. Combining this performance with the OLED provides an optimal blend of visuals and performance that will satisfy most gamers out there.
| Specifications | Acer Predator X45 |
| --- | --- |
| Screen Size | 45″ |
| Max Resolution | 3440 x 1440 |
| Refresh Rate | 240Hz |
| Response Time | 0.01ms |
| Colour Gamut | 99% DCI-P3 |
| Panel Type | OLED |
| Display Inputs | 1x HDMI 2.0, 1x DisplayPort 1.4, USB Type-C (DP Alt Mode) |
| Adaptive Sync | AMD FreeSync Premium |
As for colour accuracy, Acer claim that the X45 covers 99% of the DCI-P3 colour gamut, which suggests that this display is incredibly accurate. Unfortunately, the curvature within the design meant that we couldn't get an accurate measurement with our SpyderX Pro colour calibrator, but the display does pass the eye test.
Features We Like
The biggest selling point of the X45 is the 45-inch display, as the performance and visuals on offer won't be easy to find on a typical gaming monitor. Whilst 1440p gaming monitors with a 240Hz refresh rate are becoming more accessible, the OLED panel bumps up the quality of this design even further. Considering that ultrawide displays tend to suffer when it comes to visual quality, the X45 does well to maximise fidelity despite the limitations.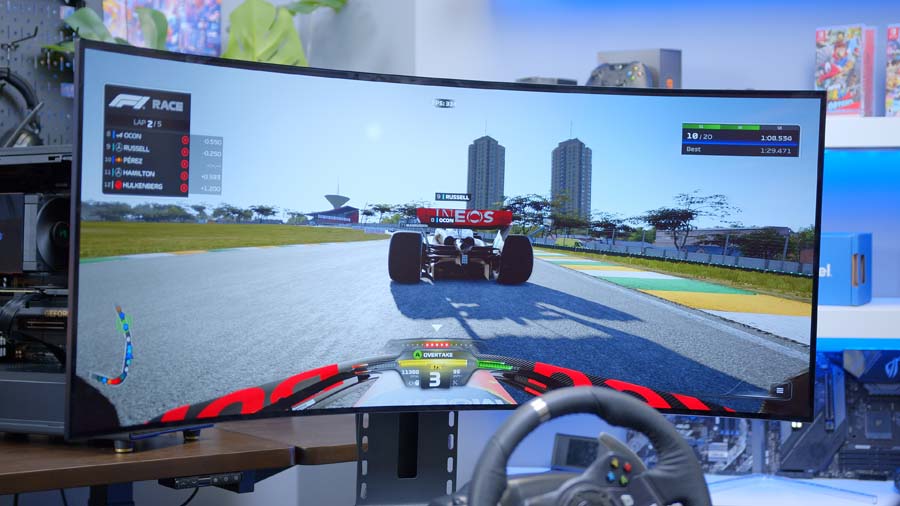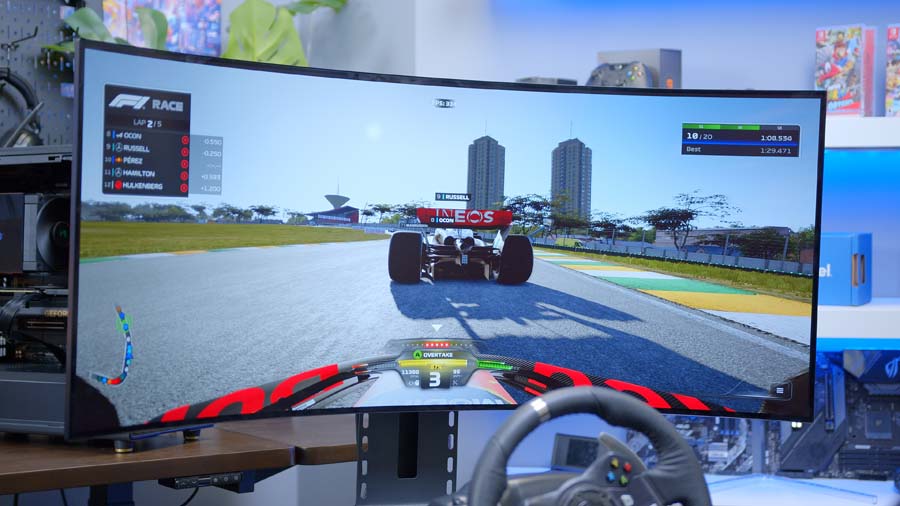 Though most gaming monitors with a curved panel will provide some sort of improvement to immersion, the larger size screen and increased curve on the X45 creates a wrap-around effect that throws users deep into the action. This greater sense of immersion is largely thanks to the 800R curvature used on this design, which is a much deeper curve than the standard 1000R and 1500R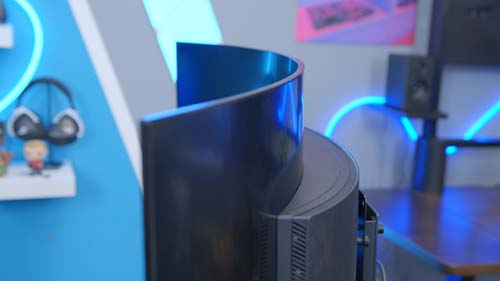 AMD FreeSync Premium
To support the high-end performance available on this display, the X45 includes AMD FreeSync Premium support. This software stabilises an image to remove instances of screen-tearing and stuttering without hindering gaming performance. Because of this, adaptive sync like FreeSync or NVIDIA's G-Sync have become an essential inclusion. Whilst FreeSync Premium Pro would bolster the image quality further, the inclusion of FreeSync Premium is a welcomed addition.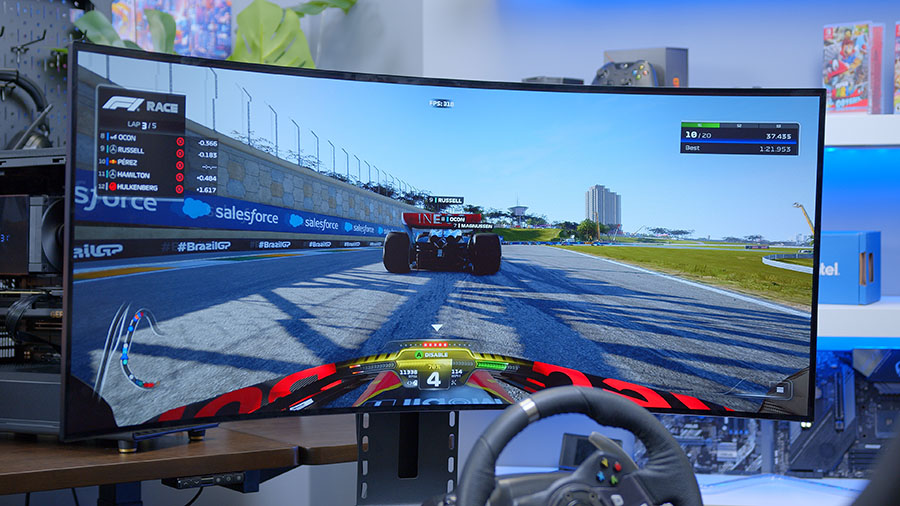 Features We Don't Like
No HMDI 2.1 Ports
One of the few downsides to this display is the connectivity. The X45 offers a wide variety of ports, including a HDMI, DisplayPort, and USB-C DP Alt Mode, which means gamers can easily connect a PC, Console, and laptop without any fuss. However, the most disappointing aspect is the lack of HDMI 2.1 support, as this will limit the output of next-gen consoles, preventing them from taking full advantage of this display.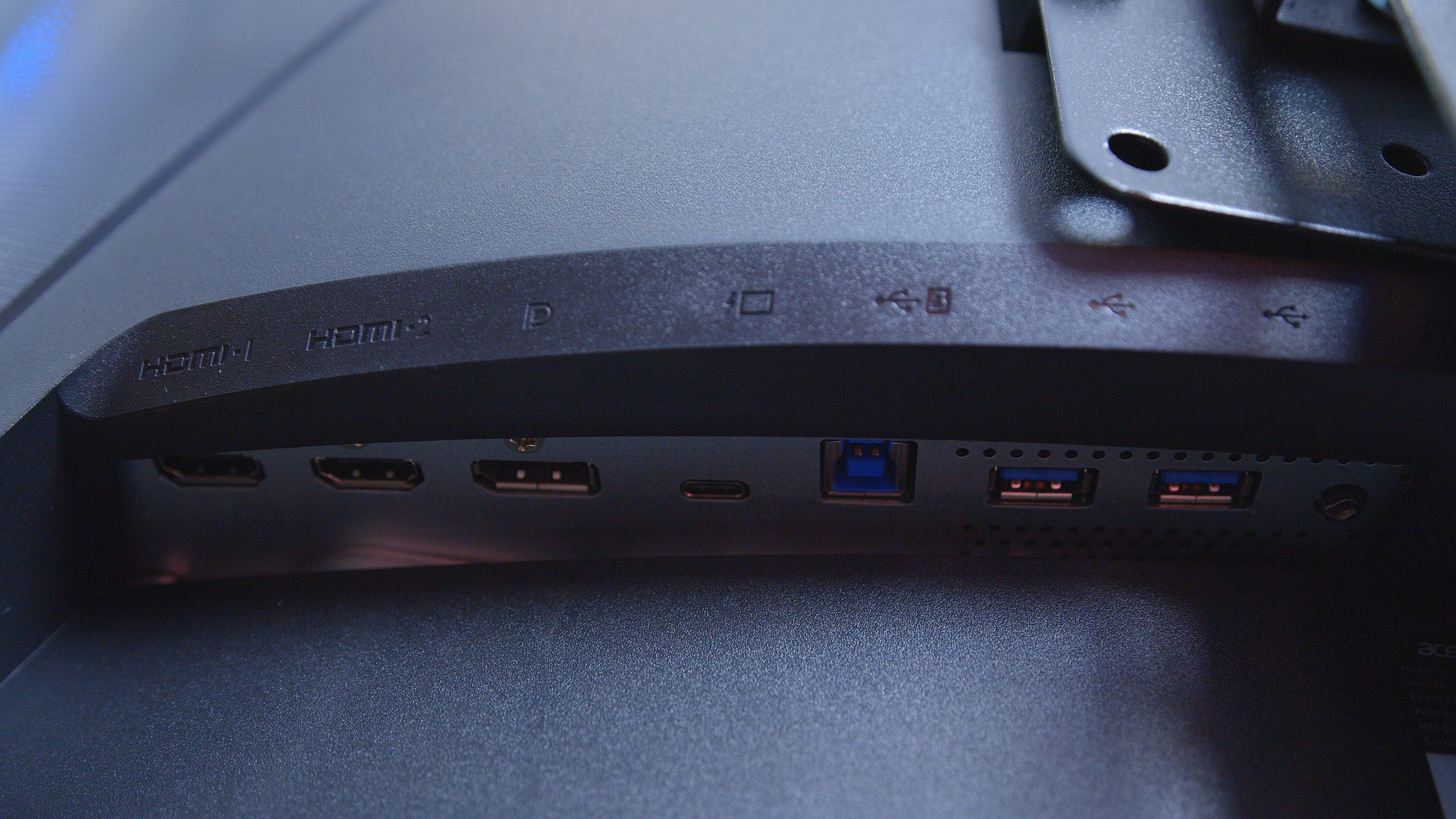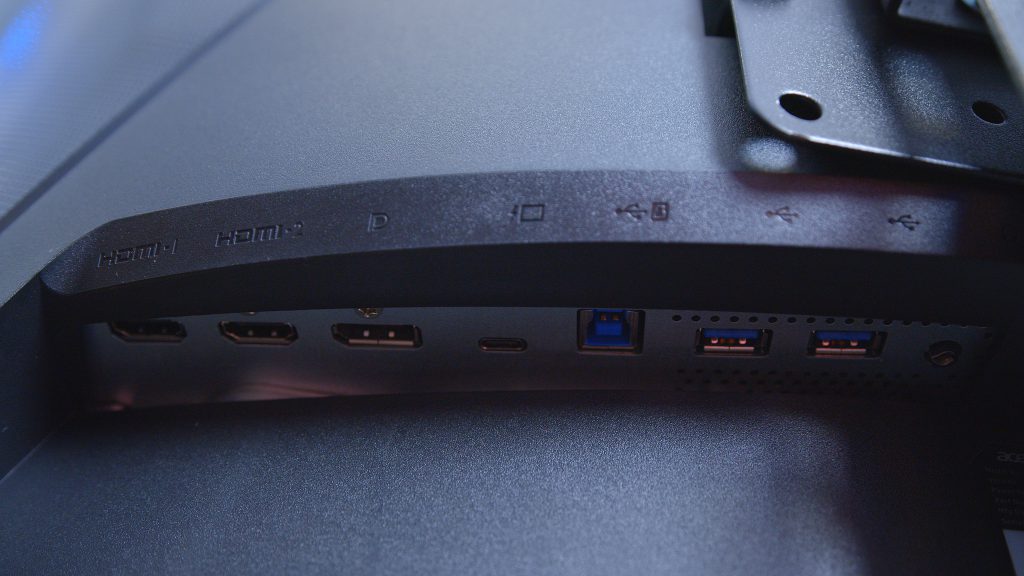 Lack of Supporting Software
When it comes to making adjustments to the display, the OSD on the Predator X45 is fairly extensive, with plenty of ways to adjust settings such as brightness and contrast, along with toggling features like AMD FreeSync Premium on and off. On top of this, the navigational joystick is located front and centre for easy access. That being said, most premium gaming monitors come with software compatibility. This allows users to adjust settings from their desktop, which is much easier than reaching over to the display.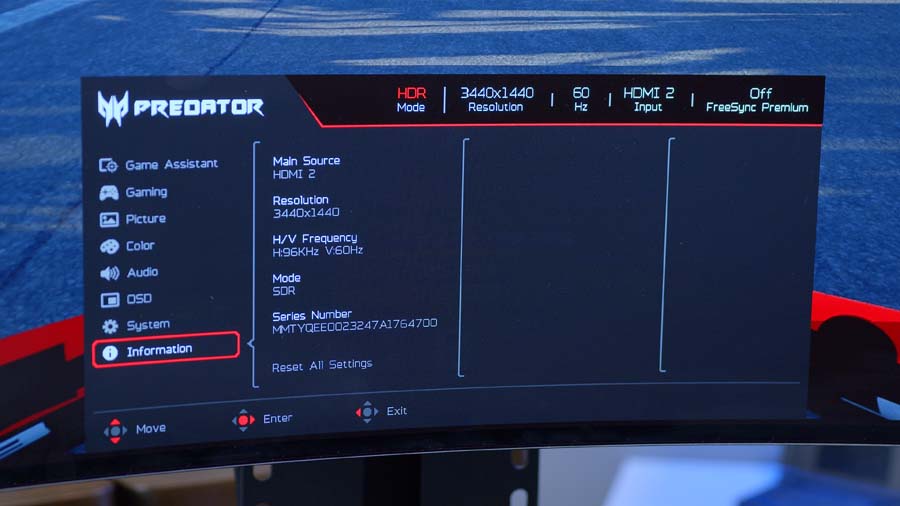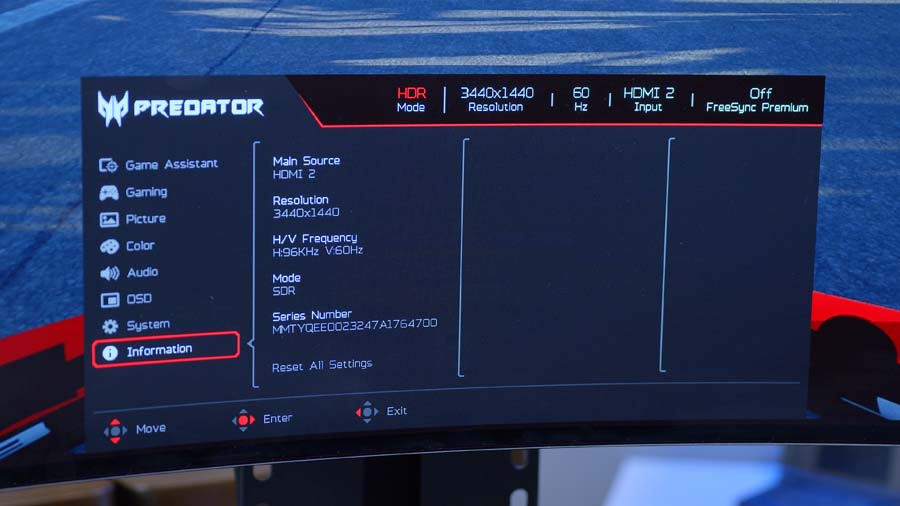 Alternatives
ASUS ROG Swift OLED PG49WCD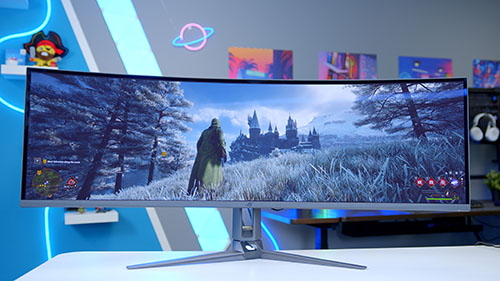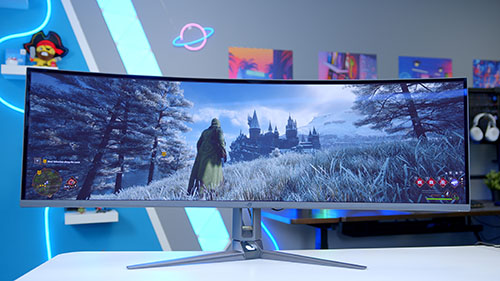 If a 45″ gaming monitor simply isn't big enough, then the ASUS ROG Swift OLED PG49WCD has you covered. This 49″ ultrawide gaming monitor produces a significantly wider image, which drastically changes the FOV. On top of this, the vibrant OLED panel and 144Hz refresh rate, this display is an ideal single-monitor solution for most modern setups.
Buy the ASUS ROG Swift OLED PG49WCD on:
Alienware AW3423DW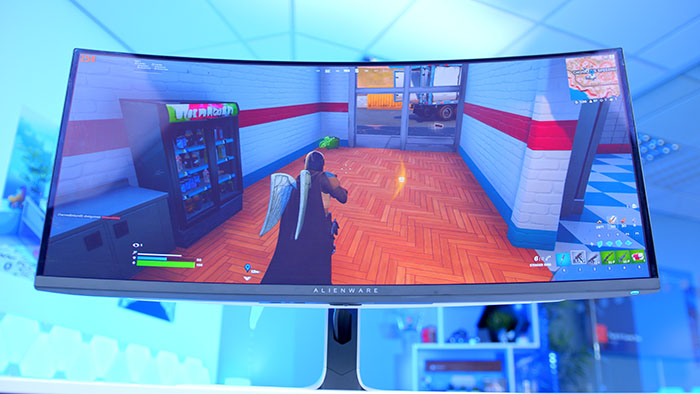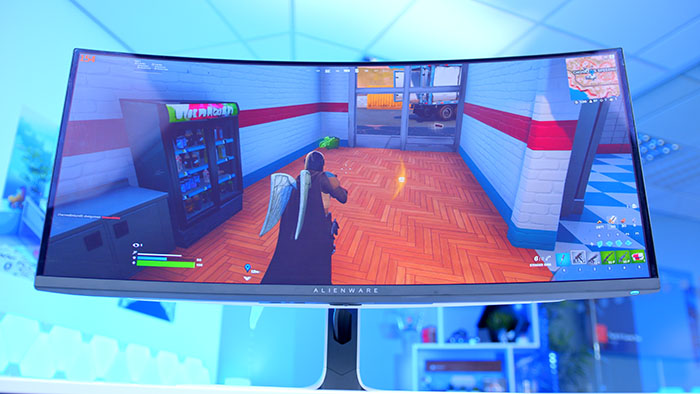 The Alienware AW3423DW has been a favourite within the GeekaWhat office since it first arrived, blowing us away with its visual quality and improved performance. With a QD-OLED panel, 175Hz refresh rate, and G-Sync Ultimate, the AW3423DW is a great choice for a high-end gaming experience, boasting a futuristic design to match.
Buy the Alienware AW3423DW on:
Conclusion
Acer Predator X45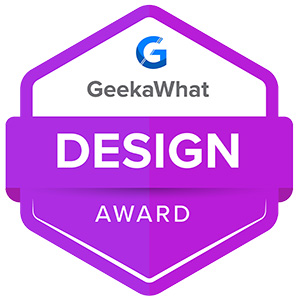 Product Name: Predator X45
Brand: Acer
Features

Design

Performance

Value For Money
Summary
When it comes to finding a gaming monitor that offers a highly immersive experience, it's hard to find a display that can best the Acer Predator X45. It's clear that Acer have everything they can to maximise the output from this curved ultrawide display, leading to exceptional gameplay when connected to a high-end gaming PC. Featuring a 240Hz refresh rate and 1440p OLED panel, the X45 provides an excellent balance of visual fidelity and performance that will impress even the most enthusiastic gamers. 
In terms of design, the frameless screen and Y-shaped stand provides a sleek and luxurious appearance that will blend into the rest of a setup with ease. Whilst the sheer size and curvature of this display reduces its appeal, this makes it an incredible choice as a standalone monitor for consumers that want to hone in on their games.
There are a few tweaks that we'd like to see to the overall design, such as a greater range of connectivity, as well as software to adjust settings using a mouse and keyboard. But on the whole, the Acer Predator X45 is an awesome display that is a must-have for gaming enthusiasts looking for the most immersive experience possible. 
Pros
✅ OLED panel offers great visuals.
✅ Lightning-fast performance.
✅ Very immersive for gaming. 
Cons
❌ Requires a lot of space.
❌ Connectivity options could be improved.
❌ Very expensive.