Introduction
Choosing the right peripherals for your PC build can be a minefield of information and confusion. Does it have the switches I'll like? Is the software suite good enough? Will the general design suit my use case? These are all pressing questions you have to ask of your next peripheral choice. The market is absolutely flooded with different keyboard designs, each with different styles and features.
Currently the market has shifted more towards a custom approach, with a lot of consumers creating their own keyboards. Keyboard enthusiasts all over the world have started creating their own builds, even down to soldering and programming PCBs.
However, there is a lot to be said of great 'out of the box options', especially for budget gamers – a market the GK50 Elite looks to tap in to. Today we're reviewing my personal favourite and daily driver, the GK50 Elite. We're going to really dig into what makes a good keyboard, and if this one hits the right marks.
Buy the MSI Vigor GK50 Elite on:
Suggested Article: How to Choose the Right Mechanical Gaming Keyboard in 2022
What Makes a Good Keyboard?
Generally speaking the premise of what makes a good keyboard depends on the purpose that you want it for. Furthermore, the question you should be asking is what are you trying to use the keyboard for? Are you using it for gaming? Are you a typist that wants responsive feedback from your keys? Do you build and design great looking keyboards? These are the questions that you should ask yourself before getting into the world of keyboard shopping. By doing this, it rules out some of the options that you're less likely to choose and will make picking a lot easier.
I personally believe that a good keyboard is one that is robust, and has a strong standout design. Likewise, your keyboard should also have keycaps that fit the fingers well, and switches that suit what you're doing. And on top of all of this, a good wrist rest. If you're spending most of your day typing or using a keyboard, you want a keyboard that compliments and allows the wrist to relax. Similar to the use of non-ergonomic mice, keyboards that aren't designed well are linked to RSI (repetitive strain injury). So, it is paramount to have a keyboard that provides comfort but also versatility and great usage.
Design
The GK50 Elite is a 100% form factor that offers plenty of room for your fingers. It isn't necessarily the greatest looking keyboard I've seen, but I have definitely grown fond of the design. The plate that the switches reside on has a brushed metal finish that provides a level of depth and texture. Weighing around 800g it's heavy enough that it shouldn't shift around too much from a long session of gaming. Unfortunately, there is no wrist rest provided, but the ergonomic design will help prevent strain from long usage.
Using the kickstands will also benefit usage over longer periods in combination with the high-low keycap design. MSI boasts that this design takes into account natural positioning for your hands and wrist, so moving your fingers to press the keys will require less strain. In the box you'll also find an included keycap puller that you can use to swap the keycaps out if you so desire. I personally think the keycaps are great, the octagonal design helps with slipping and just feels more natural when typing. The keyboard uses a lower profile key, which makes it great for typing, and allows your hands to more easily glide across the keys.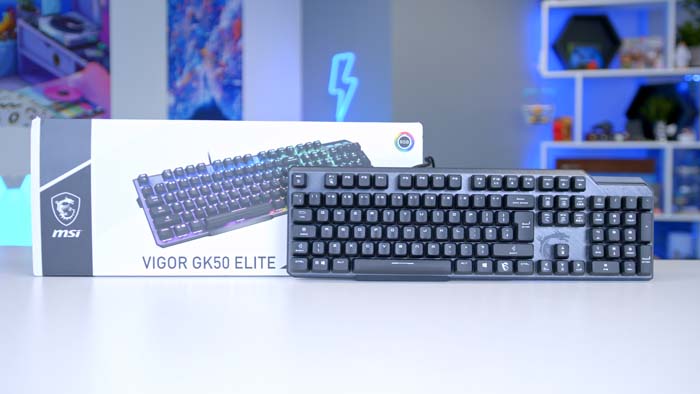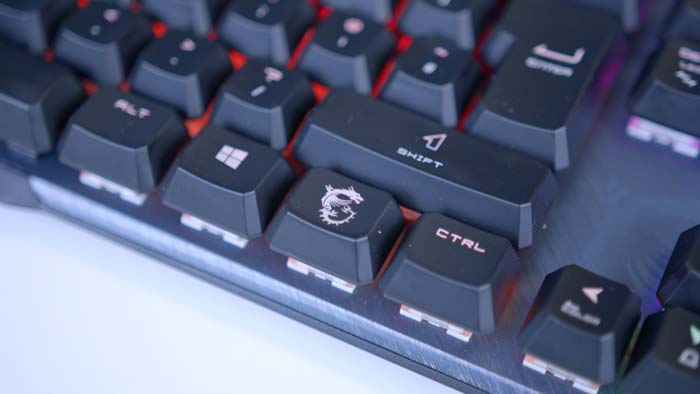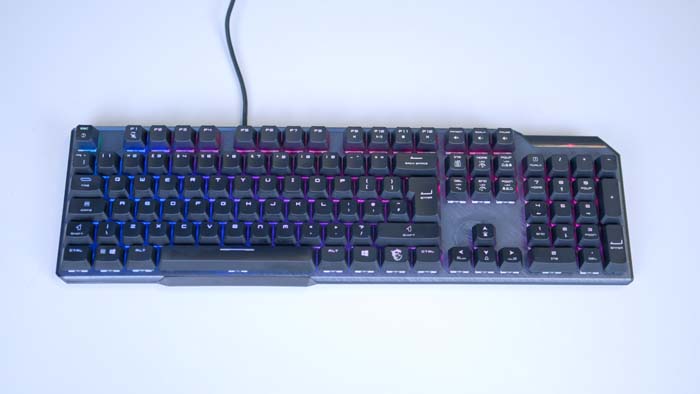 Switches and Keycaps
Switches are keycaps are the main make up of any keyboard, and these will ultimately change how your keyboard looks and feels. Different keycaps provide better positioning for your fingers, but also a different flair to the overall look. Switches will also differentiate how your keyboard performs in different circumstances. For example, tactile switches are commonly used for typing as they provide feedback that tells you the key has been pressed. Alternatively, gaming keyboards will often use linear switches, as these require less actuation force to respond – perfect for fast response times in FPS titles!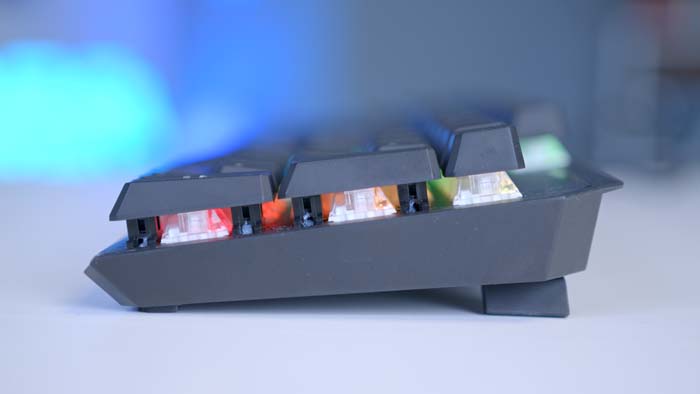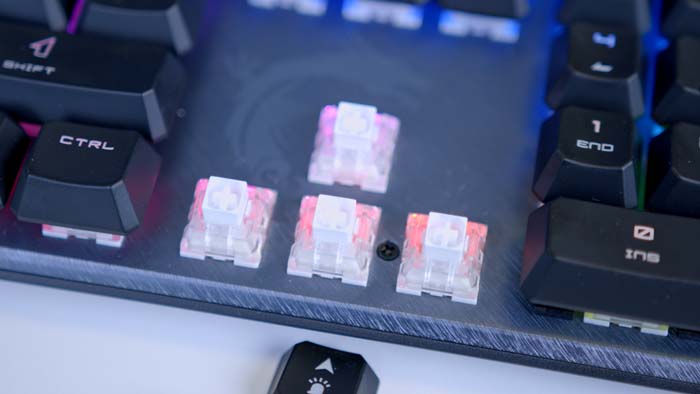 The GK50 Elite has a very unique design to the keycaps because they are octagonal. Most keyboards tend to have a square with sometimes ovular edges, but this keyboard takes a different approach. The octagonal keycaps provide a contemporary look, but the concaved design also feels great on the fingers. The switches are Kailh Box White, and the feedback type on these is known as 'clicky'. I believe that the keycaps compliment the switches well, and the audible click has almost a lower pitched 'thunk' that sounds better than other clicky based switches.
The switches also feel quite fast, with a lower actuation force aiding fast typing and quick response times in gaming. I think the lower profile keys also help with this, as you have less overall distance between your finger actuating the switch, and the switch itself,
Most keyboards tend to have a square with sometimes ovular edges, but this keyboard takes a different approach. The octagonal keycaps provide a contemporary look, but the concaved design also feels great on the fingers.
Features
One of the main features of the GK50 Elite is the per-key RGB backlighting. Combined with MSI's Dragon Centre, you can customise the lighting effects for full control over how you want it to look. As an alternative, the GK50 comes preinstalled with 9 lighting effects that really show off the capability of RGB.
The GK50 comes with plenty of features that make this keyboard great. With Full-Key Anti ghosting you can use multiple keys at once to your hearts content. MSI also provides multiple hotkeys that add another level of customisation for lighting, speed, and different modes.
The keyboard is also rated for a keystroke life of over 80 million, so there's a low likelihood the keys will stop responding for a while yet. One of the only real downsides we can see is the use of a USB 2.0 interface, which isn't ideal for response time.
We'd love to see a USB 3.0 connection to provide that optimum speed for responsiveness. A detachable cable would also be a nice addition, but because the keyboard is full-size in form factor, and aimed at a more price conscious buyer, this isn't a deal breaker. Otherwise the design is pretty simple, and shouldn't look out of place in any modern gaming setup.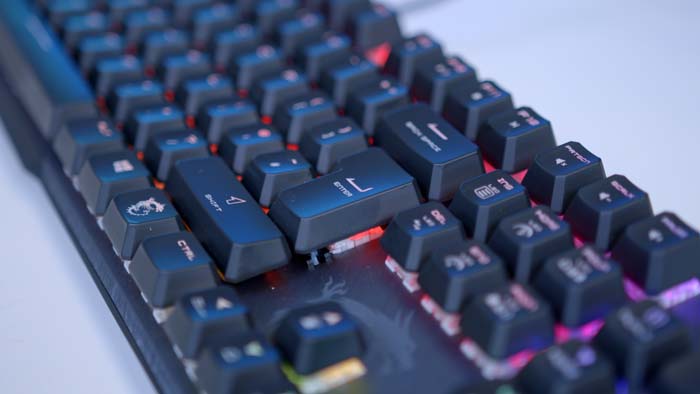 Alternatives
SteelSeries Apex 3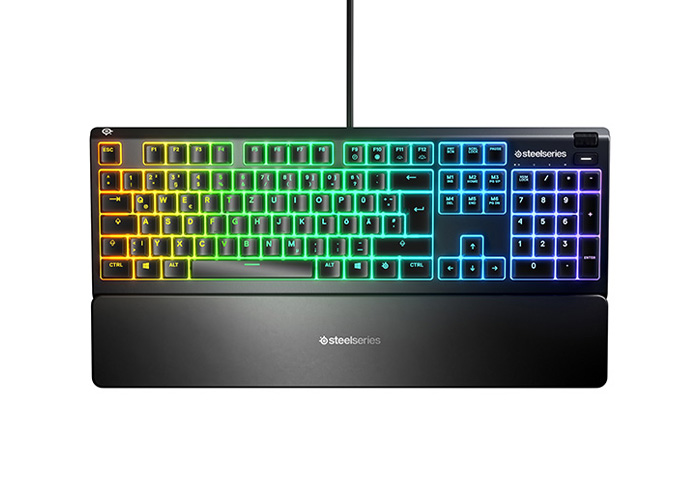 The Apex 3 offers a premium wrist rest with some water resistance. This is a great alternative at a similar price point and a sleek design.
Buy the SteelSeries Apex 3 on:
---
Corsair K60 Pro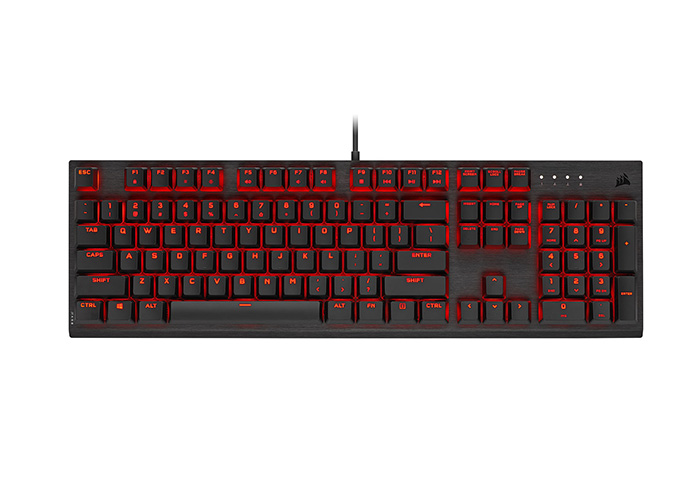 Using CherryMV switches, the K60 Pro gives a great mechanical experience. Combined with an aluminium finish, this is a great looking keyboard.
Buy the Corsair K60 Pro on:
---
Logitech G512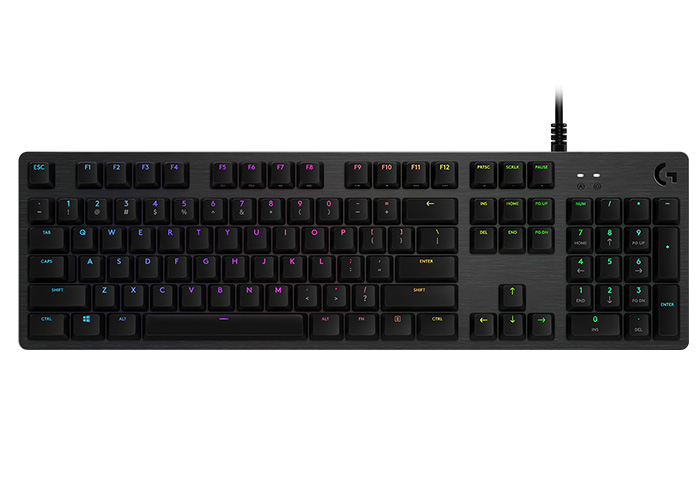 With a 1ms response time and USB passthrough, this is a great alternative. Although priced slightly higher, this keyboard has a very premium feel overall.
Buy the Logitech G512 on:
---
Conclusion
MSI Vigor GK50 Elite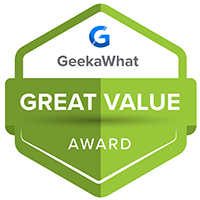 Product Name: Vigor GK50 Elite
Brand: MSI
Features

Design

Usability

Value For Money
Summary
To conclude, the GK50 Elite provides switches and keycaps that I have grown very fond of and will continue using as my daily driver. The overall look and design isn't anything particularly special, but the brushed steel and RGB are nice features that give it something extra.
Pros
✅ Brilliant for typing.
✅ Great price for the features.
✅ RGB adds a nice touch.
Cons
❌ USB 3.0 is preferable over USB 2.0.
❌ An integrated wrist rest would be useful.
❌ The switches are not interchangeable.