Introduction
Nvidia is back again with yet another product launch, squeezing in a graphics card right at the start of the new year before any other manufacturer. However, this card is a bit of a controversial entrant, as we're taking a look at the RTX 4070Ti- or for those following the launches over the past few months, the RTX 4080 12GB.
However, we're not letting the rumour mill affect this GPU comparison, and much like every other buyers guide, we'll be putting the 4070Ti through the wringer to see where it stands versus other components on the market. In this particular GPU Versus, we'll be comparing the 4070Ti against the 3070Ti to see which card is a better offering, and if Nvidia have really cracked the generational performance improvement with their new RTX 4000 series.
Suggested Article: Palit GameRock Premium Edition GeForce RTX 4070Ti Review
Versus Battle
Nvidia GeForce RTX 4070Ti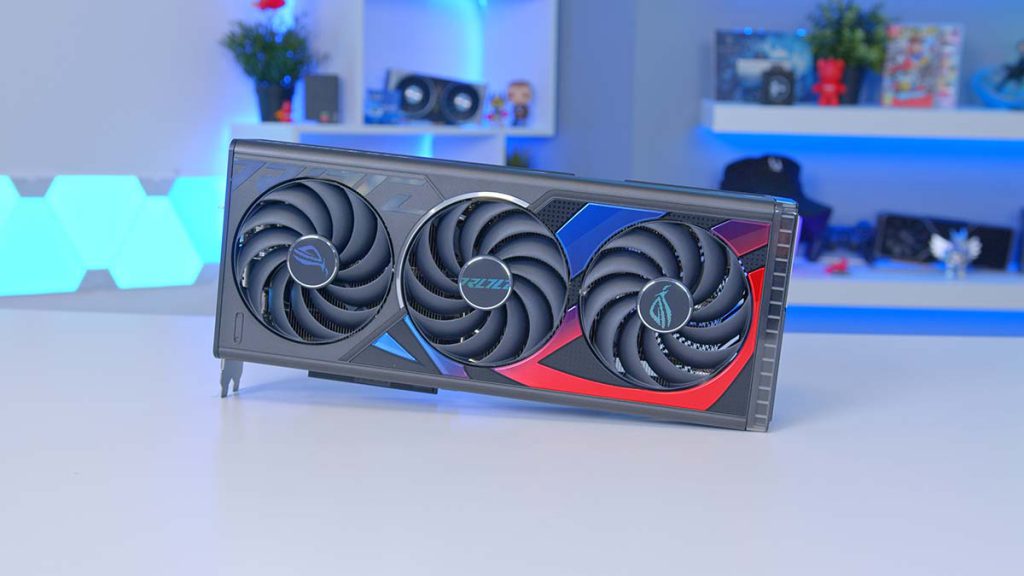 | | |
| --- | --- |
| Memory Capacity | 12GB GDDR6X |
| Boost Clock Speed | 2.7GHz |
| RT Cores | N/A |
| CUDA Cores | 7680 |
| TDP | 290W |
| Release Date | January 2023 |
| Price | Check Price on Amazon |
Nvidia RTX 4070Ti Specs
It seems that Nvidia's unpopular RTX 4080 12GB graphics card is making a return, but with a bit of a rebrand. Nvidia have decided to change the name of their card to give it a more fitting title, and we're hoping that the performance stacks up. Most of Nvidia's RTX 4000 cards have been pretty good when it comes to specs and performance, but the biggest caveat has consistently been price. Specs wise, the 4070Ti is offering up 12GB of GDDR6X graphical memory, 4GB more than the original 3070Ti. We've also got access to more CUDA cores and slightly more RT cores, which will boost Ray-Tracing performance.
Looking at performance, the RTX 4070Ti sits around right where you would expect it to, just below the RTX 4080 but above the RTX 3090Ti in games. The 4070Ti can still handle 4K games relatively well, with the majority of titles nearing the 100FPS mark or over, dependent on game optimisations. DLSS 3 of course comes in useful here, allowing us to enjoy upscaled 4K with less performance overhead. Ray-Tracing is where this card gets let down unfortunately. Although the 4070Ti can hit reasonable framerates most of the time, some games do need DLSS to be enabled when playing games at 4K with Ray-Tracing enabled. Realistically, the '70Ti' SKU hasn't really been geared towards top-end graphical performance, so we weren't expecting it to be incredible on the Ray-Tracing front, but you can still enjoy high fidelity games with this GPU.
Pricing is where things become difficult for us. With the official announcement at CES, Nvidia have priced this card at $799 which is a little bit too high for our liking. The '70' SKUs have always been pointed towards the mid-range market, with consumers having to spend a little bit more to secure the 'Ti' models. However, it seems Team Green have different ideas when it comes to the performance and pricing of this graphics card. This almost leads me to believe that the mid-range market has all but disappeared. Nvidia have gone on far too long pricing these cards exorbitantly, and as AMD have shown us recently, 'Moore's Law is not dead'. However, if Nvidia have decided to price this card more appropriately around the $650-$700 mark, we'd be much more inclined to recommend this GPU.
Buy the Nvidia GeForce RTX 4070Ti on:
Nvidia GeForce RTX 3070Ti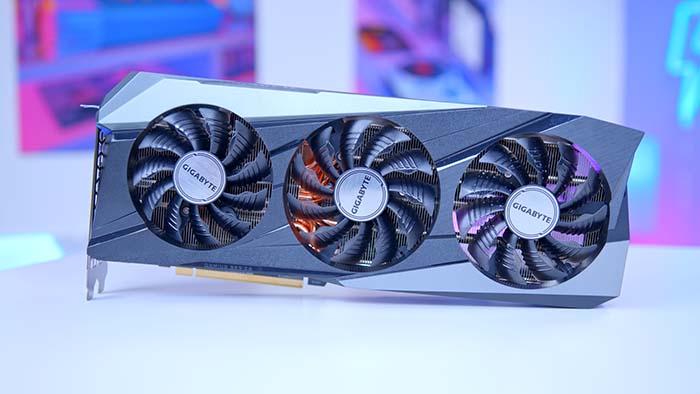 | | |
| --- | --- |
| Memory Capacity | 8GB GDDR6X |
| Boost Clock Speed | 1.77GHz |
| RT Cores | 48 |
| CUDA Cores | 6144 |
| TDP | 290W |
| Release Date | June 2021 |
| Price | Check Price on Amazon |
Nvidia RTX 3070Ti Specs
Nvidia's RTX 3070Ti was a somewhat late release amongst the entire series of cards. The 'Ti' variant was set to bring performance improvements to the original RTX 3070, only at a slightly increased cost. In terms of specs, the RTX 3070Ti has 8GB of GDDR6X memory, alongside 48 RT cores, and 6144 CUDA cores. These slightly improved specs compared to the RTX 3070 allows the 3070Ti to cope with a higher resolution at better settings. Although the RTX 3070Ti isn't quite designed to offer excellent metrics within Ray-Tracing, this particular SKU is more aligned with the high-end market when looking at overall performance.
The RTX 3070Ti is one of the best mid-range graphics cards on the market when it comes to performance. This card can easily handle 4K without issues, and other resolutions such as 1440P and 1080P are also not a problem for this graphics card. Though the 3070Ti doesn't have access to Frame Generation, DLSS 3 will allow consumers to enjoy higher framerates at less performance overhead with upscaling. Unfortunately, the 3070Ti isn't great when it comes to Ray-Tracing, but this card arguably isn't designed for it. We wouldn't encourage enabling Ray-Tracing with the RTX 3070Ti as you'll see a significant drop in performance. But we're hoping that as DLSS 3 becomes more widely available within newer games, and that Ray-Tracing can become more bearable for lower specced GPUs.
The original MSRP of the RTX 3070Ti was much more reasonable in comparison to Nvidia's latest 4070Ti. The 3070Ti came in at around $599 in total and the AIB's were priced slightly higher than the original price. Although we'd like the price to be lower, I'd argue with inflation and with performance improvements, that the 3070Ti was priced pretty well. We've recommended picking up this card numerous times if you're building a powerful mid-range PC, and that recommendation still stands today. Although the 4070Ti is definitely looking better when it comes to performance, the value-proposition of the 3070Ti looks to be much better, and the price is only likely to decrease as time goes on. Once the 4070Ti officially releases, we'll be able to make a value comparison to see if Nvidia's newest card is a better offering than one of their tried and true products.
Buy the Nvidia GeForce RTX 3070Ti on:
Our Testing Methodology
In every article we put together, we strive to create a consistent, fair, and repeatable methodology that can be followed by readers and viewers that are interested in reaching a similar level of performance for their personal system. We want all of our benchmarks to provide context that demonstrates the kind of performance you can expect within popular games and Esports titles. We do this by providing full benchmarking runs that showcases the settings we used.
All of our runs are recorded and any system used to test components will only use similarly matched parts to ensure any bottlenecks are minimal and won't hinder our performance results. We also ensure that any articles are only edited by our in-house team, and that we will always stick to our editorial promise. This promise details how we remain impartial and honest about the performance of any component or product that we receive.
Benchmarking Performance
All of the graphs that we've provided below are compiled from data during gaming benchmark runs. You can find all of the full runs from our YouTube channel 'Benched', where you'll be able to see a range of tests using the latest GPUs and CPUs.
Halo Infinite
For our first benchmarking run, we tested out Halo Infinite at 4K high settings. In this benchmark, the 4070Ti sat in between the RTX 3090 and 3080Ti hovering around the 105FPS mark. The 3070Ti unfortunately sat towards the bottom of the graph offering up 74 frames on average. Both of these framerates are perfectly fine for relatively smooth gameplay, but the 4070Ti is a clear winner with over 100 frames. We'd love to see both of these GPUs hit the 144Hz sweet spot as this is a relatively competitive title, but both the overall performance is perfectly acceptable.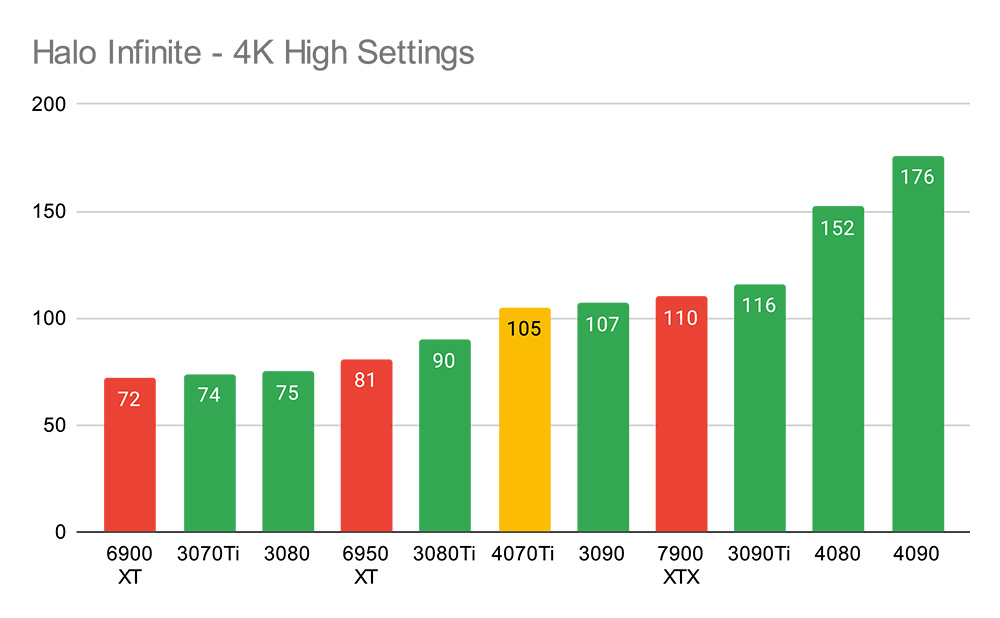 GTA V
In GTA V, we were able to reach better framerates overall, with the 4070Ti leading the fore again compared to the 3070Ti. There wasn't a huge difference in frames comparatively. This is ultimately down to the limitations of the game engine in GTA V. However, we saw more than playable framerates during both benchmarks with minimal dips. As an older title, GTA V allows a multitude of graphics cards to play this title at a 4K resolution.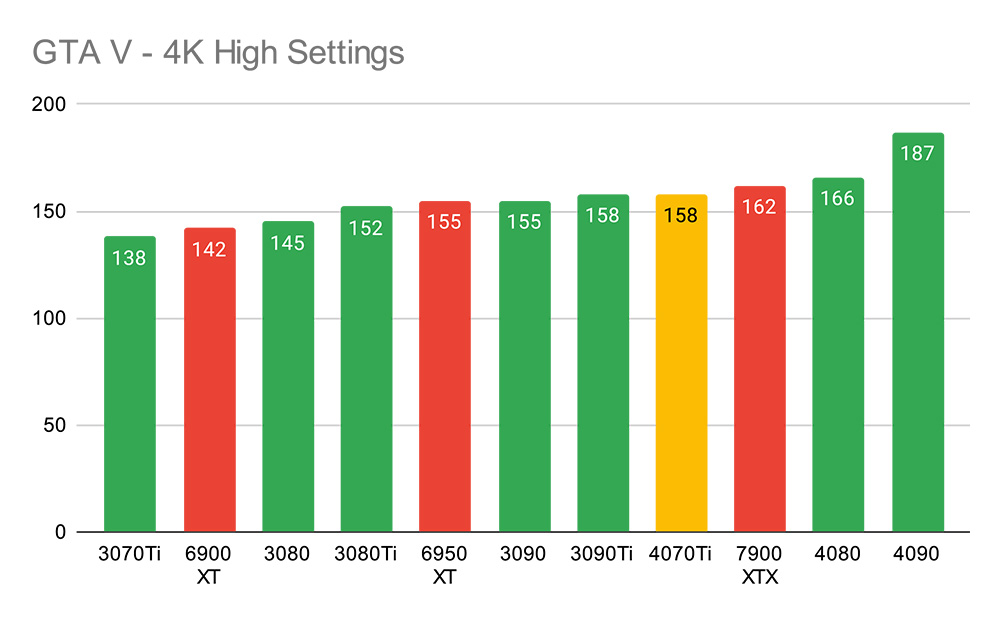 [adrotate banner="7″]
Valorant
In Valorant at 4K, frames soared to an all-time high with the 4070Ti offering up 440FPS. This is plenty of headroom for anyone to enjoy an extremely high refresh rate, which is ideal for a competitive Esports title like Valorant. Even though the 3070Ti wasn't quite able to reach the same framerate, the difference between gameplay will effectively be negligible, as both of these GPUs are able to reach excessively high FPS metrics.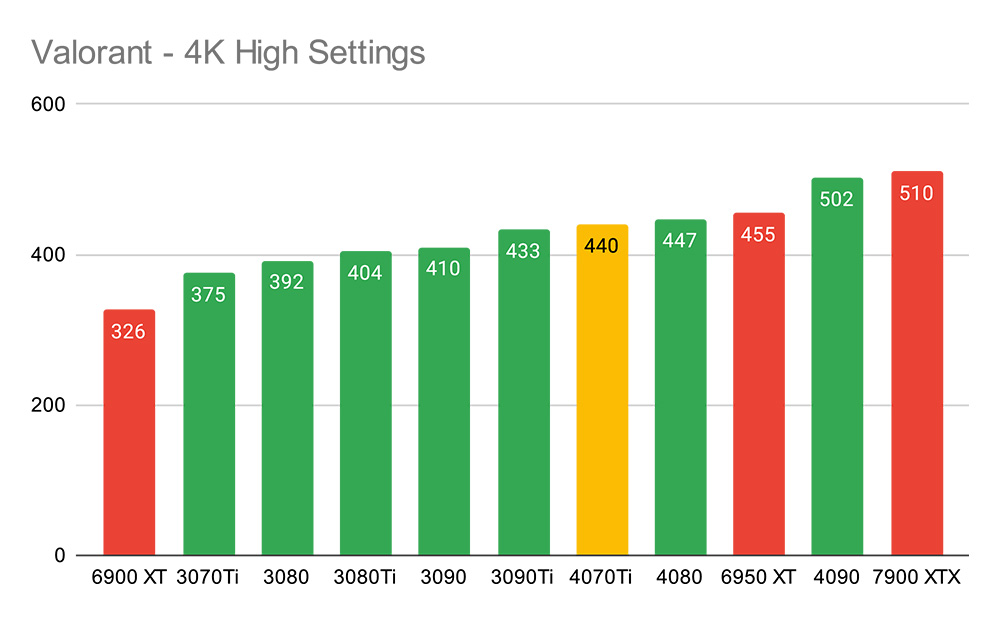 Fortnite
For our final game, we tested out Fortnite at 1080P competitive settings, which is commonly used in Esports to achieve the best framerates possible. Both the 4070Ti and 3070Ti reached excellent metrics here, with the 4070Ti just sitting below the 300FPS mark. Again, with framerates this high, differences will be negligible, so either of these GPUs will be ideal to play Fortnite at this resolution with a buttery smooth refresh rate.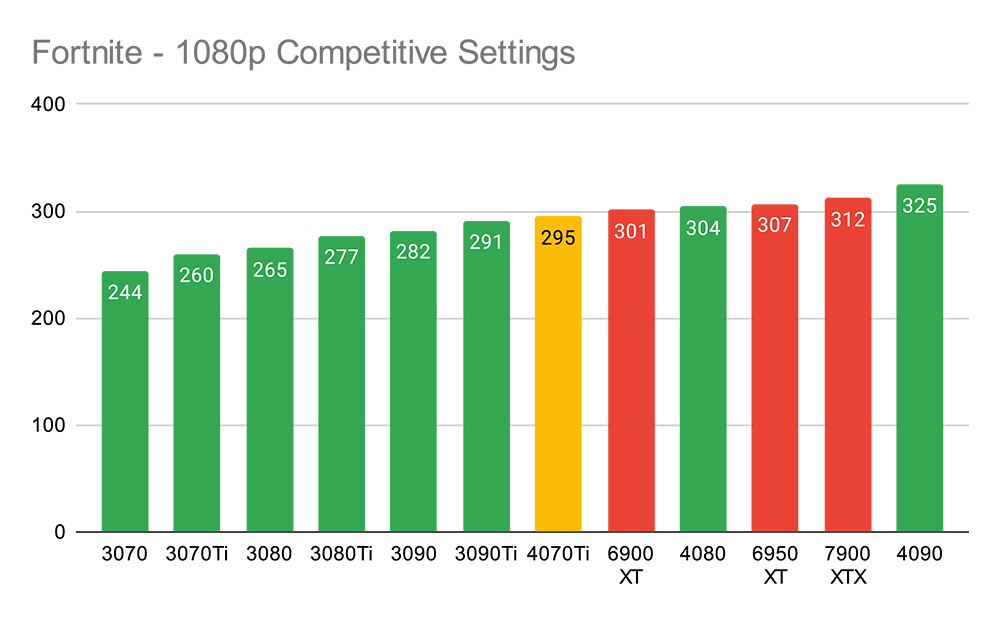 [adrotate banner="7″]
Conclusions
So the main question that still stands is which of these cards is better value when it comes to performance and pricing? Well so far, I'm inclined to lead towards the RTX 3070Ti as opposed to Nvidia's latest market entrant. Although the 4070Ti is a clear winner in sheer numbers, the key decision maker ultimately comes down to 'how much does it cost?'.
The 3070Ti is still an excellent card in todays market, and even at 4K, this GPU holds up very well. We're expecting to see performance decrease over time as games become more demanding. But for the time being, the 3070Ti has an incredible value-proposition. Looking at the 4070Ti we're somewhat disappointed with the performance , and more or less expected this card to sit on par or slightly better than the the RTX 3080 SKUs. However, based on the price, it seems that the RTX 3070Ti is a better option for those that are just looking to play games at 4K without loads of extra features.
At GeekaWhat, we believe in bringing high performance at an affordable level, and so far the RTX 4000 range has not followed that philosophy. That isn't to say Nvidia won't be more competitive, but we would argue that the the 4070Ti should sit around the $700 mark at the maximum for this card to truly sit in an affordable market. If not, the value of this GPU won't be there for most consumers, making the 3070Ti a better solution for 4K games at lower price point.