Introduction
Displays for custom-built PCs come in all sorts of shapes and sizes, all of which look to address a certain demands of desktop users. Here at GeekaWhat, we tend to focus on monitors designed for PC gamers. But as a media production company, we can also appreciate products that are tailored towards assisting with productivity-related tasks. For monitors in particular, a professional design is beneficial for daily work-based activities such as video editing and graphic design. But are these monitors better for workstations than other displays? And if so, which professional monitor should you consider?
Suggested Article: Best 4K Gaming Monitors
To answer these questions, it's time to ditch the MSI Gaming monitor for now and replace it with their latest display for professionals, the MSI MD271UL. We'll be reviewing the design, technical specs, and features to see whether it can help boost your productivity.
Buy the MSI MD271UL on:
Are Productivity Monitors Worth It?
Prior to taking a deep-dive into MSI's latest productivity-oriented display, it's worth discussing whether a monitor targeting professionals is worth considering for your setup. In most cases, these monitors arguably won't be the most beneficial. For gamers, productivity monitors are far from ideal, mainly because of their of their low refresh rates and slow response times. Plus, they often come with a hefty price tag and lack of features, making them less than ideal for general media consumption.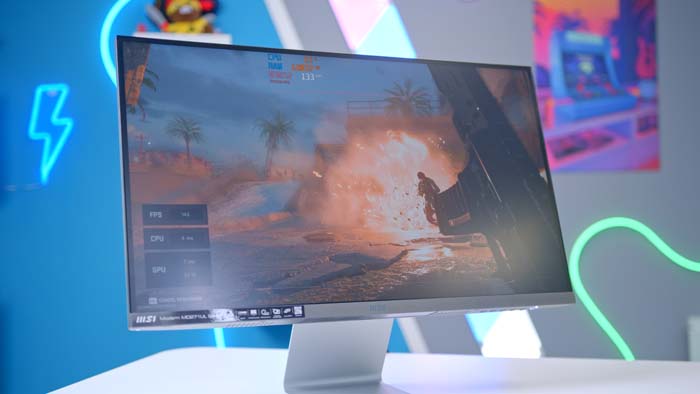 However, there are a number of advantages to these monitors as well. For example, these professional displays typically grant access to higher resolutions and cover a wider range of colour than gaming monitors of a similar price, creating a more vibrant and detailed image. On top of this, they often possess a more sophisticated appearance, making them a natural fit within office environments.
For a workstation PC being used to create artistic or media-related content, then a professional display is certainly worth considering. However, for any other purpose, it's probably worth looking at alternative solutions.
MSI MD271UL Design & Aesthetic
With that cleared up, it's finally time to turn towards the MSI MD271UL. When opening up the box, it was clear that this display was going to pass the eye test. With a fairly slim and minimalistic panel that's supported by an aluminium alloy stand, this design certainly looks like it belongs in an office or on a dedicated workspace.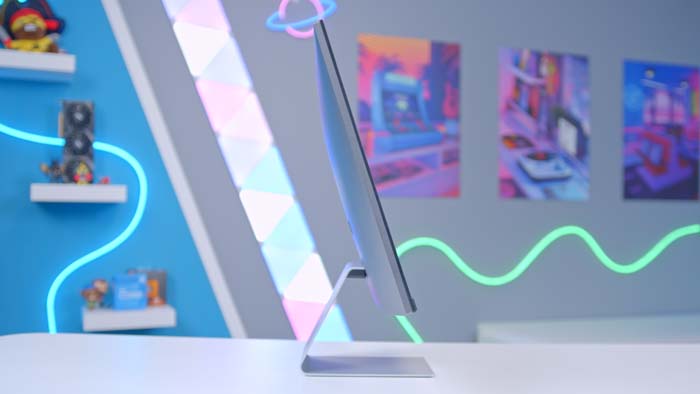 After getting the 27-inch display out of the box, putting it together was incredibly simple. The tool-less stand clicked into place right away without any effort. In fact, I became slightly worried that it hadn't been attached. But these concerns were quickly pushed aside. Plus, the exposed ports on the rear IO are oriented horizontally, making it easy to wire it up to a PC or laptop.
Whilst the stand looks smart and is easy to connect, it does have some limited movement, only allowing a slight tight. As a result, this monitor is less than ideal within a multi-monitor setup. To add insult to injury, it doesn't include any support for VESA mounts, making it hard to find a monitor arm or wall mount that can support this design.
At first glance, the MD271UL certainly portrays a sense of professional thanks to its clean and sleek aesthetic. But the looks aren't everything here, as this display also possesses plenty of practical features, including a stand that is easy to assemble and ports that are easy to access.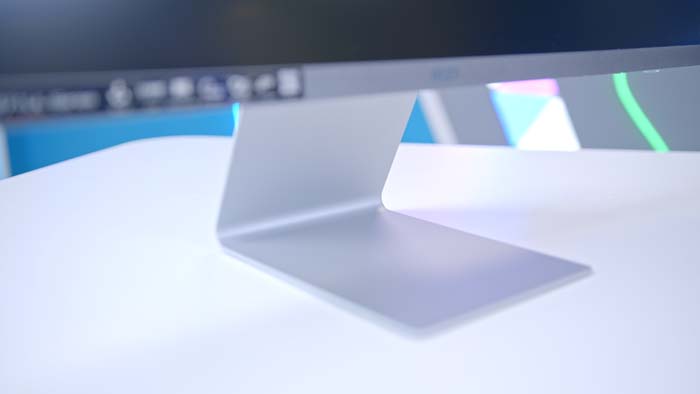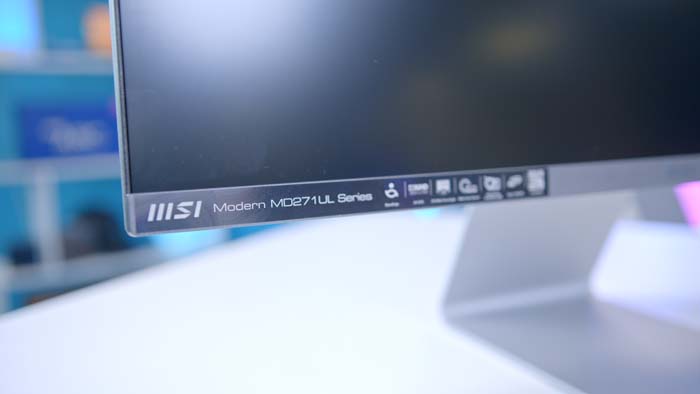 MSI MD271UL Specs & Colour Accuracy
From the outside, the MSI MD271UL has been able to impress so far. However, a look at how this monitor performs could truly derail its strong start. As a 27-inch 4K monitor, one thing users can expect is excellent visual fidelity with lots of sharp detailing. This is very crucial for editing or designing digital content, as it allows users to spot errors that could be missed on lower resolution displays.
| Specifications | MSI MD271UL |
| --- | --- |
| Screen Size | 27″ |
| Max Resolution | 3840×2160 (4K) |
| Refresh Rate | 60Hz |
| Response Time | 4ms |
| Colour Gamut | 99% DCI-P3, 139% sRGB, 95% AdobeRGB |
| Panel Type | IPS |
| Display Inputs | 2 x HDMI 2.0, 1 x DisplayPort 1.2, USB-C (DP Alt) |
| Adaptive Sync | N/A |
As for the performance output, this display includes a 60Hz refresh rate and 4ms response time. Whilst this is fairly respectable for a productivity-based monitor, it is less than ideal for gaming. Therefore, any gamers that were hoping for a cheap way to play triple-A blockbusters in 4K will be disappointed by these specs.
But arguably, the most important aspect of any professional-grade display is the colour accuracy. Luckily, the coverage claims on the MD271UL are pretty, with 139% of the sRGB colour gamut, 99% DCI-P3, and 95% AdobeRGB. However, our calibration testing showed that this coverage was slightly lower, with 97% coverage of DCI-P3 and 90% AdobeRGB.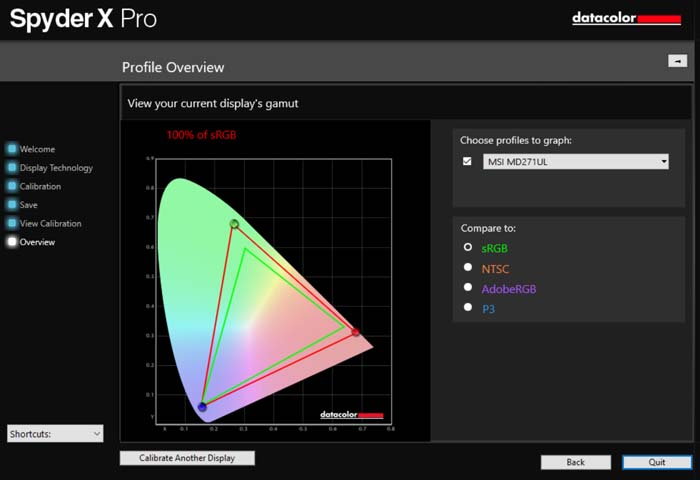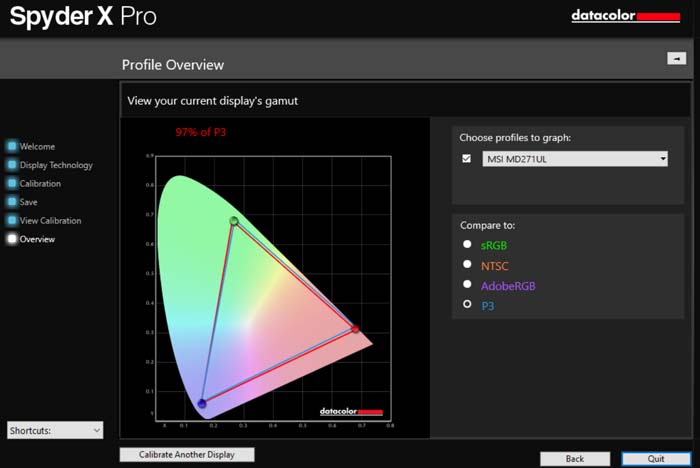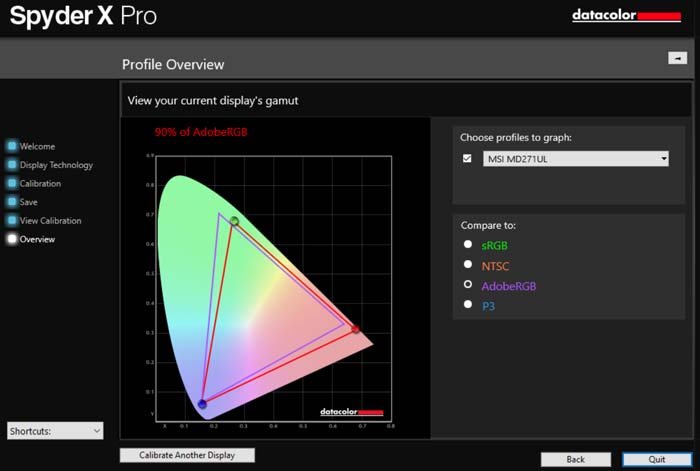 There is a small chance this is down to testing conditions, but these results are significantly lower than MSI's claims. Either way, this display still provides great colour accuracy, reassuring that the colours shown on-screen match the intended palette of a particular project.
MSI MD271UL Features
Due to the professional nature, and fairly affordable price tag, of this monitor, MSI's MD271UL is slightly lighter on features. Compared to gaming monitors, which often come with lots of bells and whistles, this design is streamlined so that there are less distractions within the user's workplace. However, there are a few key features that are worth taking a closer look at.
4K IPS Panel
The main advantage a work-focussed monitor like this one is the lower entry-level to 4K resolution. With less focus on refresh rates and response times, efforts can be diverted to improving the colour accuracy and sharpness of the on-screen images. One aid used to enhance the vibrancy of this display is an IPS panel. These panels offer a more detailed and colourful image compared to the likes of VA and TN panels, and also offer a better viewing experience at wider angles, making the MD271UL a great choice in multi-monitor setups.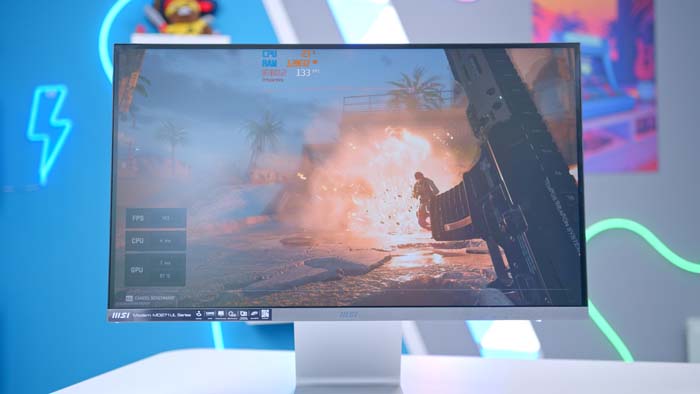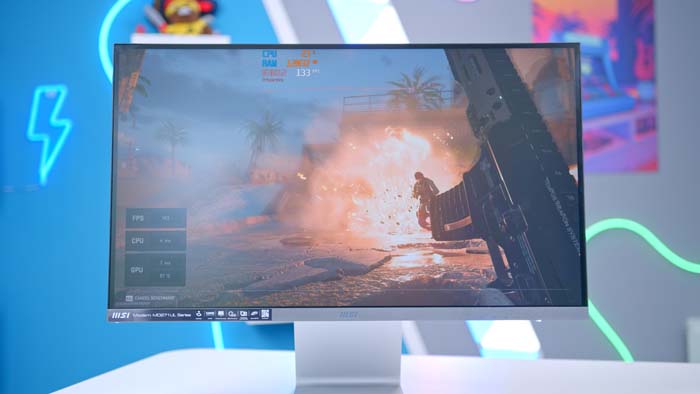 EyesErgo Tech
When you're spending days on end looking at a screen, it can take a toll on your vision, so having any way to reduce the impact on your sight is always appreciated. Fortunately, this monitor includes MSI's EyesErgo technology, which is filled with ways to help users keep their vision clear and healthy. Along with the typical anti-flicker and anti-glare technology, the Eye-Q Check system lets users complete a range of tests, which allows them to ensure their line-of-sight is optimal, or whether it's time to take a break from the screen.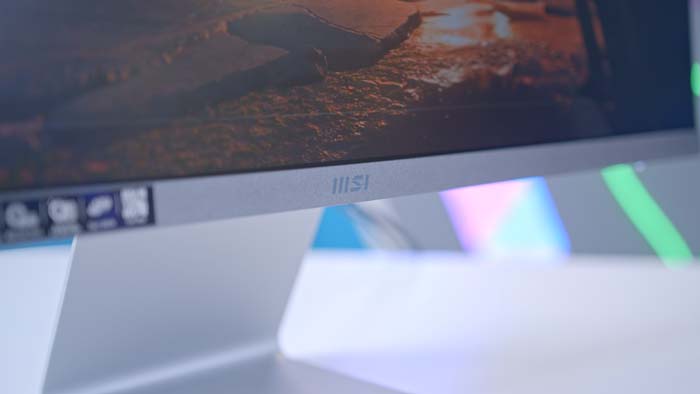 Rear IO & Connectivity
When it comes to the rear IO, the MSI MD271UL includes a lot of the typical ports for a modern display. Along with two HDMI 2.0 ports and one DisplayPort, this monitor has a USB Type-C DP Alt connector, making it easy to connect up laptops or MacBook to provide some additional screen real-estate. One top of this, the horizontal layout means there is less messing around with cables as you try and blindly find a port at an uncoventional angle.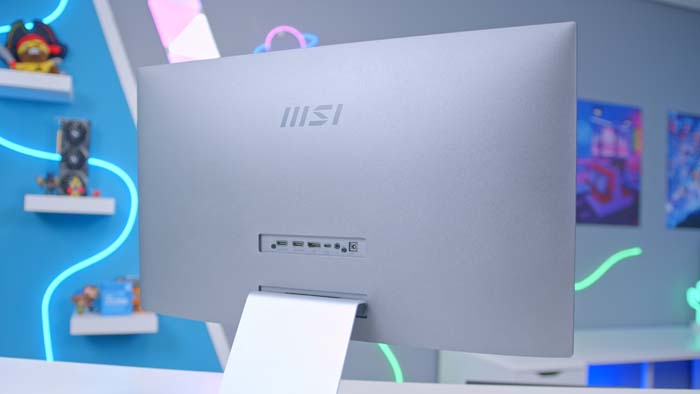 OSD & Navigation
Like many professional displays, the OSD is quite simple to navigate thanks to the multiple inputs on the bottom right-hand side of the screen. All of the buttons are also indented, making them easier to find. On top of this, the OSD allows for plenty of adjustments to the likes of brightness and contrast, which makes it easy for consumers to calibrate the display to their liking. However, for even greater control, users can download the MSI Display Kit software.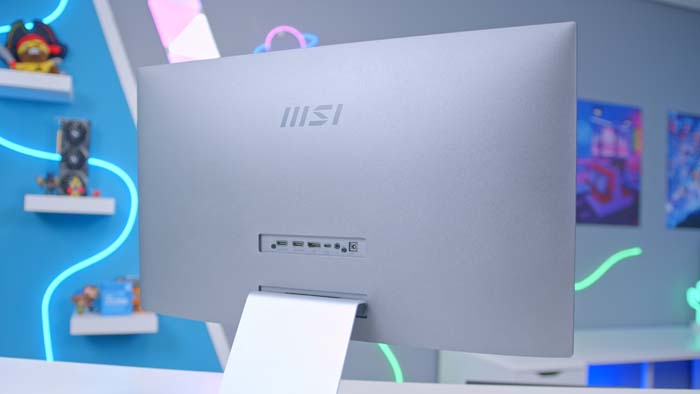 MD271UL Alternative
ASUS ProART PA279CV
For anyone that likes the look of a professional display, but are not yet convinced by what the MD271UL has to offer, then the ASUS ProART PA279CV acts as a solid alternative. Another 4K 27″ display designed for workplaces, this monitor also adopts a sleek aesthetic thanks to a brushed silver and black colour combination.
However, the ProART offers an enhanced viewing experience, with a plethora of pre-sets for various colour spaces and on-screen tools to allow users to scale their designs appropriately. In addition, this monitor is slightly more functional due to the increased manoeuvrability, which lets users adjust the position of their display when needed. This display does come with a heftier price tag than MSI's offering, but is certainly worth considering for those serious about elevating their productivity levels.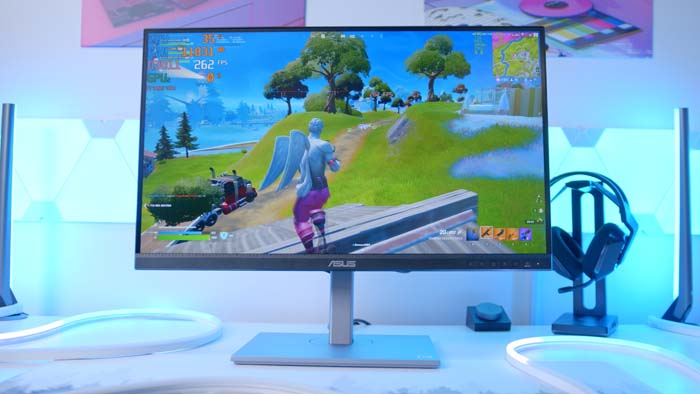 Buy the ASUS ProART PA279CV on:
Conclusion
MSI MD271UL
Product Name: MD271UL
Brand: MSI
Features

Design

Performance

Value For Money
Summary
Overall, the MSI MD271UL is a solid monitor that does exactly what it says on the tin, providing professionals with an affordable way to pick up a 4K display, whilst also offering a couple of useful features. In terms of visual fidelity, the 4K IPS panel provides a sharp and vibrant images, allowing editors and designers to see the all the small details that can often be missed on lower-resolution monitors.
As for the design, the bezel-less 27″ screen and aluminium-alloy stand gives this monitor a look that is a perfect fit for working environments. Also, the versatile connectivity options with a horizontal layout makes it easy to connect multiple devices. 
However, there are a few major sticking points that hold this display back. Even though the stand is very easy to assemble and looks great on a desk, the limited range of movement and lack of an alternative mounting method is less than ideal for those with limited desk space, or those looking to integrate this display into a multi-monitor setup. On top of this, the colour accuracy on our test results were slightly lower than the ones stated on MSI's website and the lack of additional features means this monitor fails to stand out from the other 4K monitors on the market. And whilst it is possible to game on this display, the lower refresh rate and higher response times makes it less than ideal for competitive games.
Pros
✅ Smart appearance
✅ Affordable 4K display
✅ Ideal fit for workspaces
Cons
❌ Lack of additional features
❌ Limited movement
❌ Lower colour accuracy on our results