Introduction
Lian Li is a veteran in the PC case manufacturing space, and over the years we've seen a vast number of awesome designs come into the office from Lian Li. However, one particular set of cases has always stood out to us, and this was their O11 series. The original O11 cases combines a sleek aesthetic, with excellent performance and a modular design, fitting a range of different use-cases.
In today's review we're taking a look at the concept design for the original O11 series of cases – the O11 Vision. This case maximises the amount of build that you can visibly see by providing three glass panels, all while maintaining an enhanced modular design geared towards enthusiasts. We'll be doing a deep dive on the O11 Vision, taking a look at the aesthetic, features, and some alternatives at the end.
Buy the Lian Li O11 Vision on:
The O11 Series – Some Context
The O11 range of cases has been extremely popular since their release back in late 2020. The reason why the O11 series of PC cases have been such a mainstay in the PC building space is primarily dow90n to their modularity and excellent price point. While the O11 models are not the cheapest, they do come in at a very competitive price point versus the alternatives, especially considering the available set of features.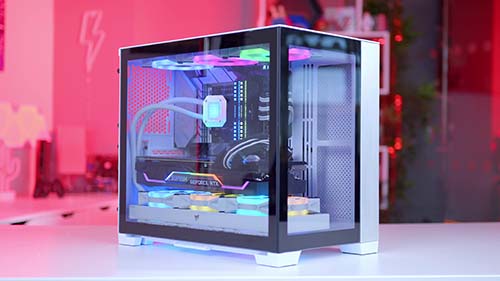 Aside from the strong set of features, Lian Li was also the first mainstream manufacturer to pioneer the dual-chamber case with a glass front and side panel. Prior to the O11 range of cases the vast majority of standard chassis' would have either a glass front, or side, but never both. Because Lian Li was one of the first manufacturers to offer this style and design, they set themselves apart from the competition.
Suggested Article: Best $2500 Gaming PC Build – November 2023
The design is also not the biggest strength of the O11 series of cases. Lian Li opted to create a highly modular design that massively helps with disassembly, but also allows consumers to fit out the PC build of their dreams. For example, the modular motherboard tray extends out to E-ATX, allowing you to install a bigger motherboard. There's a vast array of mounting and brackets for pump and reservoir combos, providing a way to install custom liquid cooling loops with ease.
Among a number of other awesome features, the O11 range of cases has been a staple of PC building, and is an awesome option for those prioritising modularity, customisation, and aesthetic.
Lian Li O11 Vision Design & Aesthetic
Lian Li's O11 Vision case is the upgraded and rather sleek version of its somewhat older sibling, the O11 Dynamic. While I do still love the O11D, the Vision holds a new place in my heart, because it is a gorgeous looking case. The seamless glass design that follows around the chassis is awesome. A lot of manufacturers seem to be jumping on the 'seamless glass' train, but I'd say that Lian Li are coming out on top here (sorry HYTE). The glass top panel just adds more visibility for your build. And while I do admit, we did have concerns in terms of the thermal capability, there's a mass of ventilation that keeps the O11 Vision cool with adequate fans.
It is worth noting that the glass panels can be removed quite easily, but in a different way compared to the original O11 design. There is a small notch at the top of the chassis that connects each piece of glass together, which is quite a cool way to minimise the amount of extra mechanisms that might take away from the aesthetic. Around the rear of the case, consumers will find all of the cable management, and mounting for any drives and your power supply. The O11 Vision accommodates ATX power supplies, contrasting to the O11D Mini which only supported SFX options.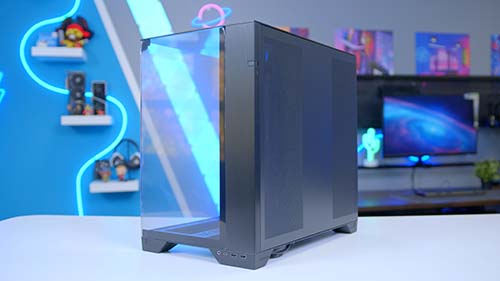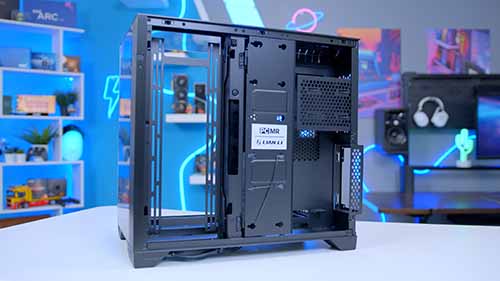 This is great to see as it should reduce the overall build cost. The front IO has been moved on the O11 Vision. Instead of being on the top of the case, the power button has moved to the side of the front glass panel, and the ports have moved to the bottom of the case. I don't think this takes away from the aesthetic, but I would prefer the IO to be on the front.
To briefly summarise, the O11 Vision is one of the most gorgeous looking cases that we've had in the GeekaWhat office. I think what this case does best, is keeps things simple. Many case manufacturers today seem to think that jamming the case with literally everything they can think of is an improvement, but I'm glad to see that Lian Li has stuck to their roots and improved upon the original O11 range by adding some more glass and some extra features here. I'd definitely consider this a win thus far when it comes to the overall design of the case.
Features We Like
In this section, we'll be delving into the main features of the O11 Vision, highlighting the ones in particular that we like and don't like. The O11 Vision is a very jam-packed case, so there's plenty to cover overall.
Triple-Glass Panelling
The triple glass design of the O11 Vision just looks awesome. These panels are connected via the little notch at the top of the case, and they are rated for 35kg of force, so they're pretty robust. There are very few if any cases that utilise three glass panels as a window into your build, which again, separates Lian Li from the competition. The three glass panels if anything are a spectacle, providing an unhindered view into your PC build.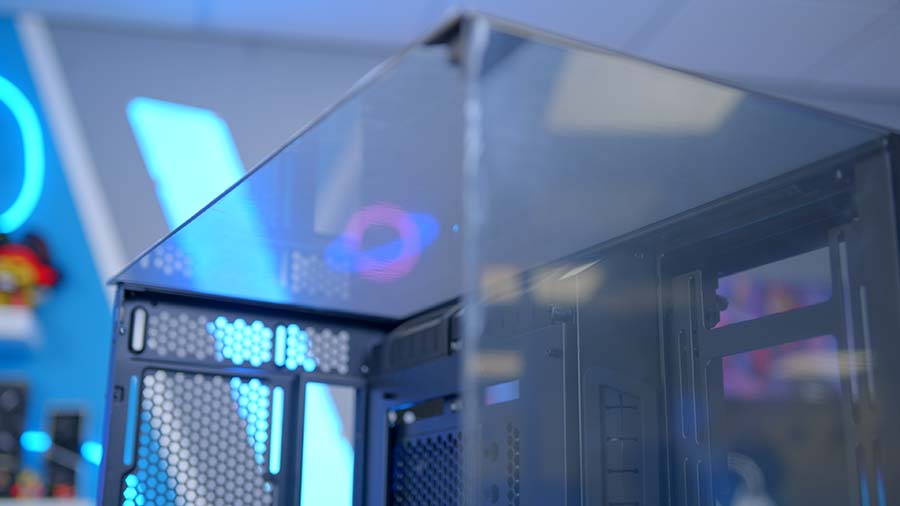 Adjustable Motherboard Tray
The adjustable motherboard tray on the O11 Vision is a pretty genius idea. Allowing consumers to mount pretty much all of their components on the outside of the case will save a lot of hassle. I will admit, if you don't have a long screwdriver, you might have some issues screwing the motherboard and tray into the standoffs. However, once you've done this, the rest of the PC build should be relatively smooth sailing.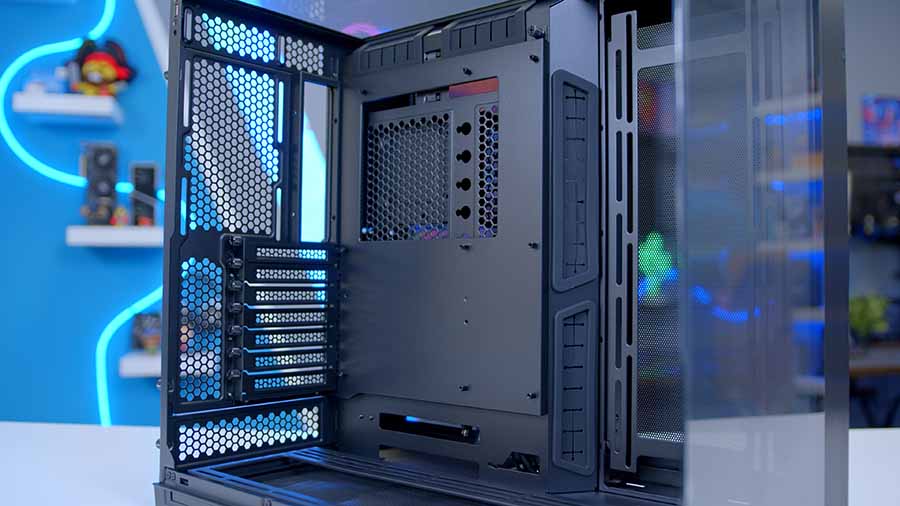 Can Effectively Be Fully Disassembled
Alongside the adjustable motherboard tray, consumers can more or less disassemble this entire case. Doing this will provide you with easy access to all of the individual components within your build, including making cable management a bit more simple.
A Big Focus on Cooling
Another one of the key highlights of the O11 Vision is the sheer amount of space for fans and ventilation. On the rear of the case, consumers can install up to a 240mm radiator, or dual 120mm fans, moving hot air out of the back of the case. And then your intake on the side can either be up to a 360mm radiator, three 120mm fans, or two 140mm fans.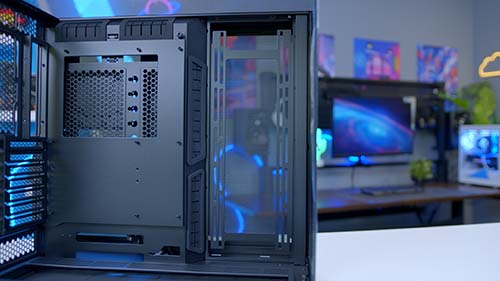 This provides consumers with more options when it comes to cooling configuration, but primarily will ensure that your system stays cool even under pressure. Lian Li have made sure that despite being a more enclosed case, that there's plenty of ventilation to go around.
Solid Cable Management Options
The O11 Vision also offers a number of flexible cable management clips on the rear chamber of the case. If you're like me, and you hate actually having to manage cables, shoving them into these clips and forgetting about them just makes life easier. It is also worth noting too that the O11 Vision comes with silicon cable covers providing a way to keep the ugly cable mess at bay, and hide it from your eyes.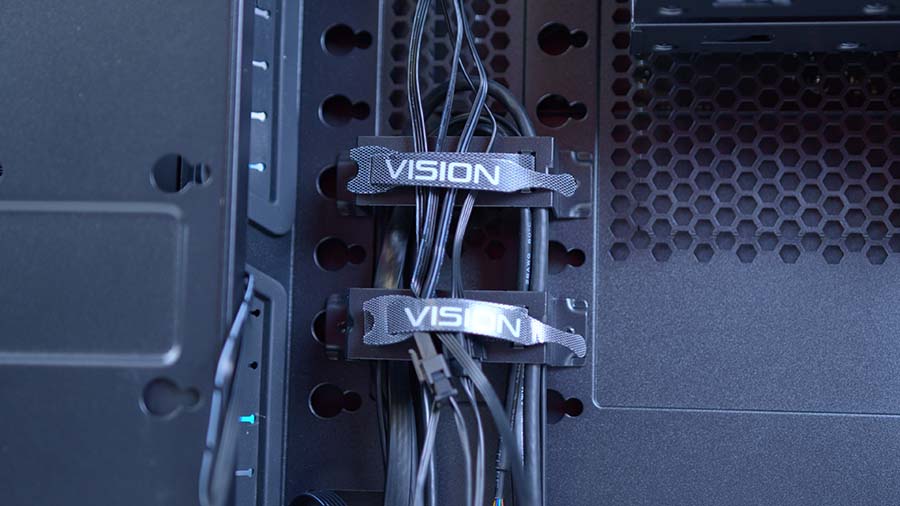 Features We Don't Like
Doesn't Come With a Vertical GPU Riser
Displaying your graphics card vertically seems to be all the rage these days, so much so, that manufacturers have started to include a riser with the case. However, Lian Li doesn't seem to have got the message, so if you're wanting to display your GPU vertically, you'll need to secure a riser cable alongside this case.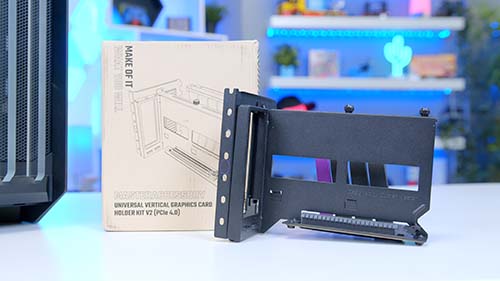 Likely to Need a Liquid Cooler or a Lot of Fans
While I do love the glass panels of this case, to a degree, they are this case's worst enemy. Although during our time using the O11 Vision we didn't experience any thermal anomalies, we imagine that if you weren't using a liquid cooler, along with some extra fans, you may run into some thermal problems.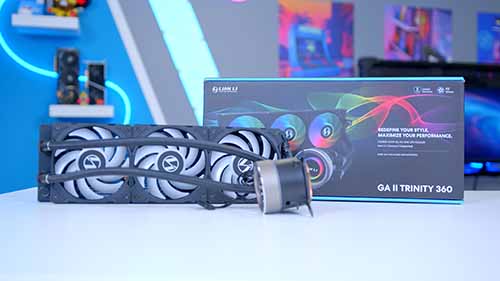 While this case does have plenty of ventilation, air isn't likely to passively flow from the front to the back of the case, which is why you'll need extra help from your fans to intake cool air, and exhaust the hot air. Needless to say, if you've picked up a relatively cheap air cooler, you might find yourself securing some more fans to ensure that your system stays cool and doesn't run into any issues.
Alternative Option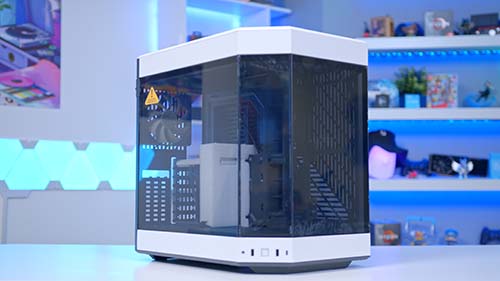 HYTE Y60
While the O11 Vision is a very solid case overall, there are a couple of alternatives on the market that are worth considering. However, there's one that stood out to us in particular, and this is the HYTE Y60. Although Lian Li may claim that the original seamless glass design is theirs, HYTE is the first manufacturer to actually provide a case that utilises.
The Y60 is a slightly older option now, but is still an incredibly innovative design that prioritises aesthetic, all while maintaining solid functionality across the board. The Y60 comes in a range of different colours, and also offers exclusive vertical GPU mounting, so you'll really be showing off all of your components within this system. The Y60 is definitely worth checking out if you'd like a slightly boxier, but equally competitive and good looking case to build in.
Buy the HYTE Y60 on:
Conclusion
Lian Li O11 Vision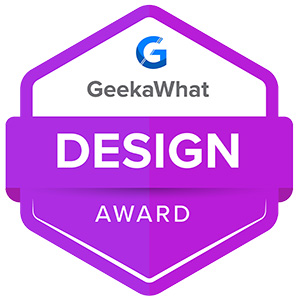 Product Name: O11 Vision
Brand: Lian Li
Features

Design

Performance

Value For Money
Summary
With the market for cases becoming relatively stagnant this year, Lian Li's O11 Vision gives me faith that we could get some big releases in this market next year. The O11 Vision is the peak of form and function, offering consumers a sleek and well-rounded design that prioritises viewing angles and cleanliness. And it does this while maintaining a huge range of features that cater to a mass of different consumers, especially those that like to tinker with their case. The main features that stood out to me particularly were the modular ones. Allowing consumers to fully disassemble their case, or build most of the actual system outside of the chassis. And around the rear of the O11 Vision, consumers can adapt their PSU mounting bracket, or remove hard drive cages to provide extra room for cable management. Needless to say, if you're looking for a fully customisable case, the O11 Vision will not disappoint.
However, it is worth noting that there are elements of this case that are somewhat disappointing, especially when we compare to the original O11 range. The first is the lack of pre-installed fans. In short, there aren't any. I fully understand that the margins on this case might be small based on its design, but not including any fans feels a bit cheap. A good set of fans can cost more than $50, so unless you've prepared for this in advance, you're going to be spending some more money. My other major qualm is the absence of support for custom liquid cooling loops. While there will be ways to get a custom loop installed in this case, the original O11D Mini offered modular brackets and mounting for pump/reservoir combos, so it is a bit disappointing that we're not seeing support for this here.
But despite all of this, I still think the O11 Vision is one of the best cases that we've had in the office this year. While there are a range of manufacturers that are trying their best to spice things up with their revised designs, Lian Li takes the cake on this one. And while I love what HYTE are doing with their seamless glass design, Lian Li's O11 Vision will be my go-to recommendation for consumers looking to buy a sleek and modern case.
Pros
✅ Successfully builds upon the great design qualities of the original O11 range.
✅ Offers a mass of modularity and customisable features.
✅ Looks gorgeous.
Cons
❌ Not much in the way of RGB.
❌ Doesn't come with any pre-installed fans.
❌ No explicit support for custom liquid cooling loops.