Introduction
Intel and AMD are once again tied in a fierce CPU battle, with Intel's 13th-Gen CPUs hitting back at the top-performing Ryzen 7000 range – but which '7' tier CPU is best, the Ryzen 7 7700X or the Core i7 13700K? In this piece we'll be looking at both of these CPUs, evaluating the performance of each in a range of benchmark tests.
We'll be answering the question of performance in typical GeekaWhat fashion with a CPU versus battle. We'll be delving into the key facts and features of each CPU, and seeing what kind of performance is available in gaming and synthetic benchmarks!
Suggested Article: Intel Core i7 13700K Review – Intel's Hidden Performance Gem
CPU Versus Battle
Core i7 13700K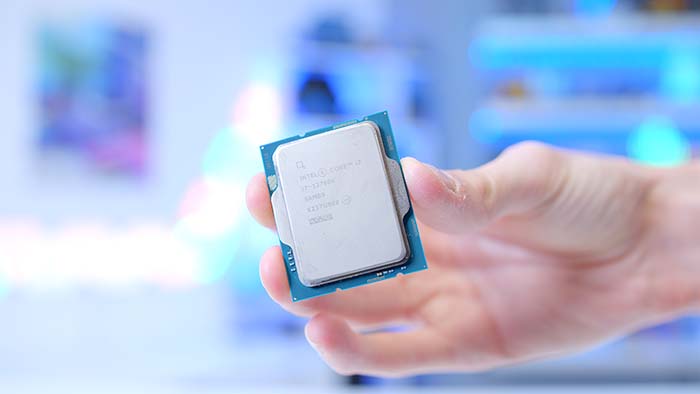 | | |
| --- | --- |
| Core Count | 16 |
| Thread Count | 24 |
| Base Clock Speed | 3.4GHz |
| Boost Clock Speed | 5.4GHz |
| Default TDP | 253W |
| Overclocking | Yes |
| Total Cache | 54MB |
Intel's Core i7 13700K is one of the latest CPUs in the 13th-Gen range, offering improved performance through a refinement to the previous 12th Generation processing node. This refinement has allowed Intel to push performance by adding in more cores and higher clock speeds. On launch, the general consensus opinion was that these CPUs are worth the money, but not necessarily worth the upgrade if you're moving from an Intel 12th-Gen build.
On the face of it, the Core i7 13700K is positioned well to compete against Ryzen with a whopping 16 cores (more on that in a second), and 24 threads. That puts this chip on par with the i9 chip from last generation, and well ahead of its AMD rival on paper. Clock speeds are also very good, with a boost clock of 5.4GHz, equal to AMD's Ryzen 7 7700 offering. A coincidence? We think not!
One thing to note with 13th Gen (and 12th Gen that came before it), is that all cores are certainly not made equal. With 6 performance cores, and 8 efficiency cores, Intel pull ahead of AMD, but not by the margin the on paper specs might initially imply. The idea here is that the P-cores run faster, and are used for gaming, while the E-cores help with power consumption, and remove the burden of any background tasks. This is why the core and thread counts are not within the typical 1:2 ratio for cores with hyper-threading. In practice, this tech works incredibly well, and the load balancer on the CPU switches effortlessly between cores with no noticeable performance changes.
These new CPUs also bring a whole new range of chipsets and motherboards to the market. The new motherboards don't seem to have changed much when compared to the previous 12th-Gen options, but the refinement of newer features is a major selling point on these new boards. Z790 boards have seen a wider adoption of the new generation of PCI-Express (Gen5 to be more specific), along with USB4 ports popping up here and there dependent on the board you have. Intel have decided to retain support for DDR4 while still offering DDR5 for those that want insane performance when this RAM technology matures.
Buy the Intel Core i7 13700K on:
Ryzen 7 7700X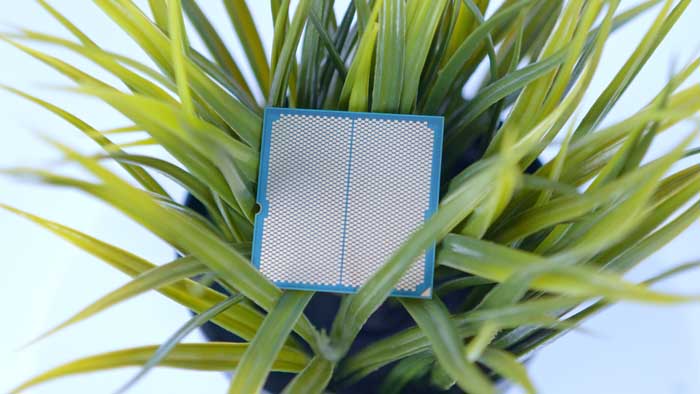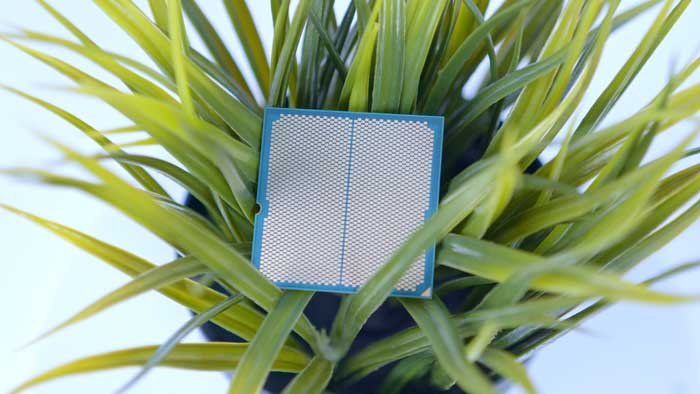 | | |
| --- | --- |
| Core Count | 8 |
| Thread Count | 16 |
| Base Clock Speed | 4.5GHz |
| Boost Clock Speed | 5.4GHz |
| Default TDP | 105W |
| Overclocking | Yes |
| L2 + L3 Cache | 40MB |
The launch of AMD's Ryzen 7000 processors showed AMD have the firepower to return to the top of the CPU market, but not that they can necessarily stay there for very long. With any major platform change comes the challenge of new technology, one that can prove positive in the long run, but painful for early adopters. It is for this reason that AMD appear to have been providing a greater focus on top-end CPUs where price to performance metrics were more favourable.
The Ryzen 7 7700X stacks up well on paper, with an efficient 105W stock TDP, great overclocking support and strong clock speeds. The only area we found ourselves a little disappointed was in the core count, where not much seems to have chained for the Ryzen 7-tier CPUs since early Ryzen.
New X670E and B650E chipsets provide plenty of options for great motherboards, though they are pricey, and the architecture is DDR5-only, penning potential customers into an expensive RAM upgrade at best.
The Ryzen 7 7700X is relatively well priced though, coming in with an MSRP around $400. (Prices are subject to change, information pulled from AMD.com). Compared to Intel, AMD sadly falls behind on price to performance, and on general platform usability, where the Blue Team maintains support for DDR4 RAM, and generally sells boards at a much lower price point.
There are hopes the AM5 architecture will mature, and that further BIOS and driver improvements will aid the Ryzen 7 7700X, and other CPUs in the Ryzen 7000 lineup, in gaining performance as they age.
Buy the AMD Ryzen 7 7700X on:
Our Testing Methodology
We follow a rigorous methodology that involves two principal steps to ensure that every component we receive is tested fairly. The first part of this method is to use fairly matched PC components. This allows each part to perform optimally, reducing any bottlenecking. For the Ryzen 7000 and Intel 13th-Gen launch we tested each CPU with an RX 6950XT at 1080P and 4K to get an indicator of performance, while also making sure that graphical performance did not suffer.
The second part of this methodology involves sticking to our editorial promise. Outlined in the 'About Us' section on our website, we ensure that any components we receive from manufacturers are put through a fair review and not subject to any external parties. All opinions highlighted in our articles are entirely our own, and whether a component is good or bad, we will be candid about this.
Benchmarking Performance
Now for the section you've all been waiting to read – benchmarking. Below you'll find a selection of graphs that show off synthetic benchmarks along with gaming benchmarks at 4K. All of the full gaming runs can be found on our very own YouTube channel – 'Benched'.
Cinebench R23 Multi Core
We fired up Cinebench R23 and ran the multi core benchmark along with the single core. In the multi core benchmark, the 13700K sat towards the top of the graph in third place sitting in between the 7900X and the 7950X. Unfortunately the Ryzen 7 7700X didn't do quite as well, sitting on par to the 12600K. Ultimately the weaker performance is due to having less cores and threads than the 13700K, but we were expecting the new platform to do better.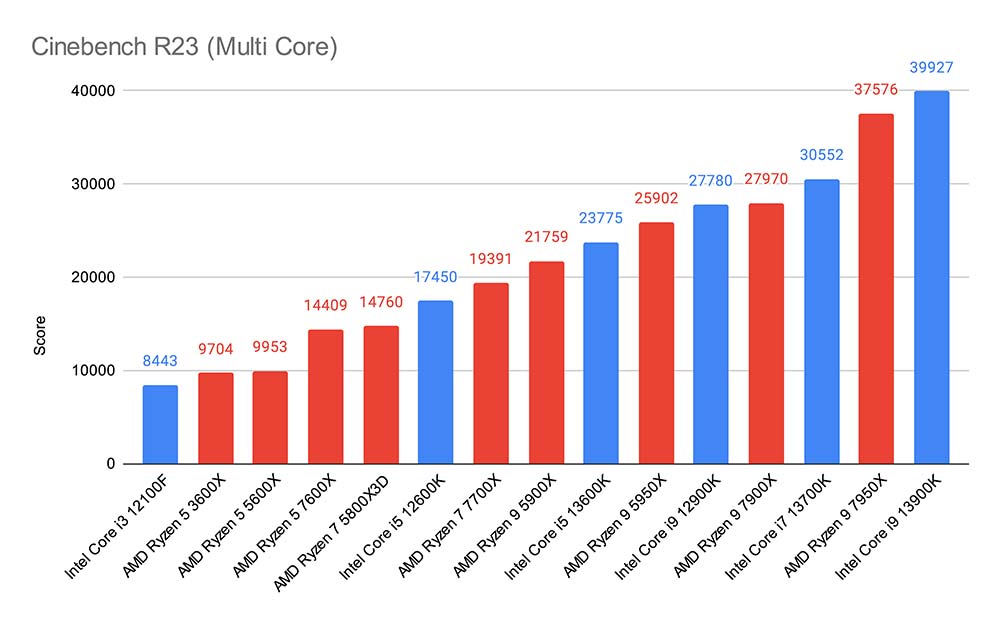 Cinebench R23 Single Core
In the single core benchmarks we saw a similar situation with the 13700K and 7700X. The Core i7 sat again at the top of the charts, clocking in a respectable 3rd position. This only tailed the higher-end i9 in the 13th Gen range, and AMD's new Ryzen 9 7950X flagship. The Ryzen 7 7700X was somewhat disappointing in its single threaded performance with the cheaper Ryzen 5 7600X actually performing better. This is due to the incredibly high clock speeds of the Ryzen 5 7600X.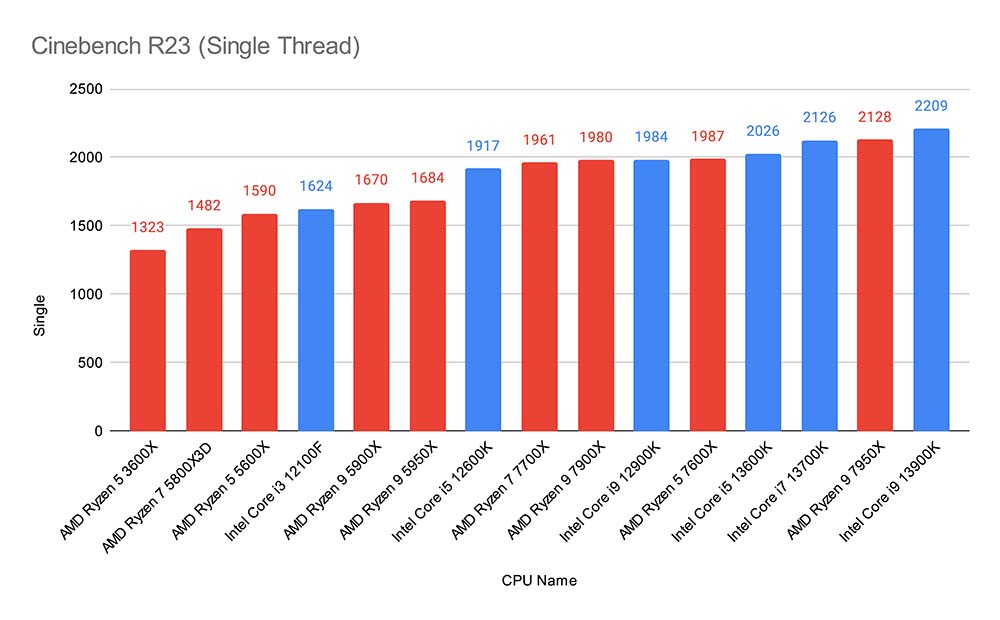 3D Mark CPU Profile
To see how each of these CPU performs with different thread configurations, we fired up 3D Mark's CPU profile. Intel yet again set the bar very high with a very impressive set of scores. At max threads the 13700K was able to reach 12959, and its single threaded score actually beat out the Ryzen 9 7900X. We were quite taken aback by the performance of the 13700K, and outperforming the last gen Core i9 12900K steers the blue team on a fantastic trajectory of performance gains.
The Ryzen 7 7700X unfortunately didn't share the same level of power that the 13700K was able to reach. In our CPU profile benchmark, the 7700X sat in between the 12600K and Ryzen 9 5900X, two CPUs that cost less than the Ryzen 7 7700X in todays market.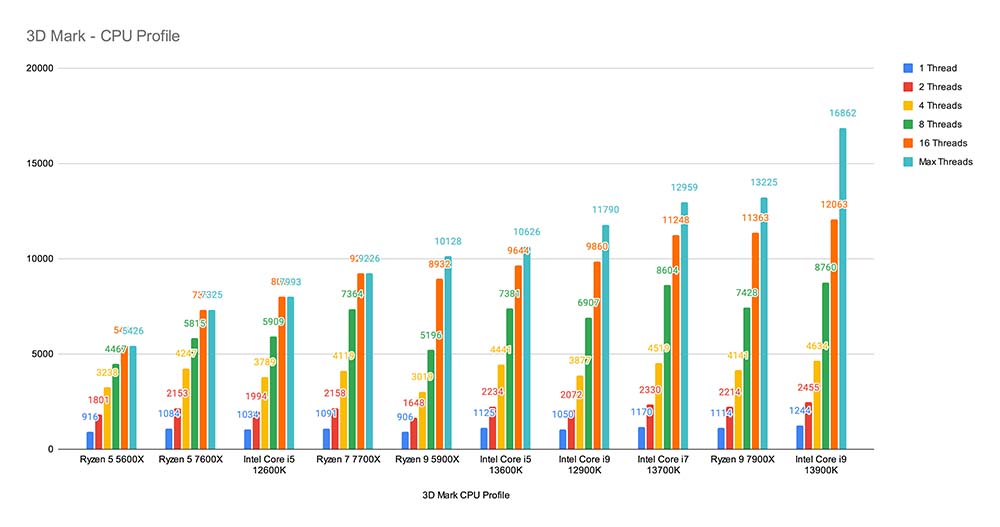 3D Mark Timespy Extreme & Firestrike
In 3D Mark's Timespy Extreme we began to see a glimmer into real-world gaming performance for both of these processors. The 13700K again demonstrated its capability at a higher resolution, offering a CPU score of 9240. The Ryzen 7 7700X, on the other hand, lagged behind with a CPU score of 6671 – a reduction of around 30%.
In Firestrike, which runs at 1080P instead of 4K, the 13700K again maintained its lead on AMD's Ryzen 7700X. At this point in our testing we weren't exactly surprised, but still disappointed in performance of the Ryzen 7 processor.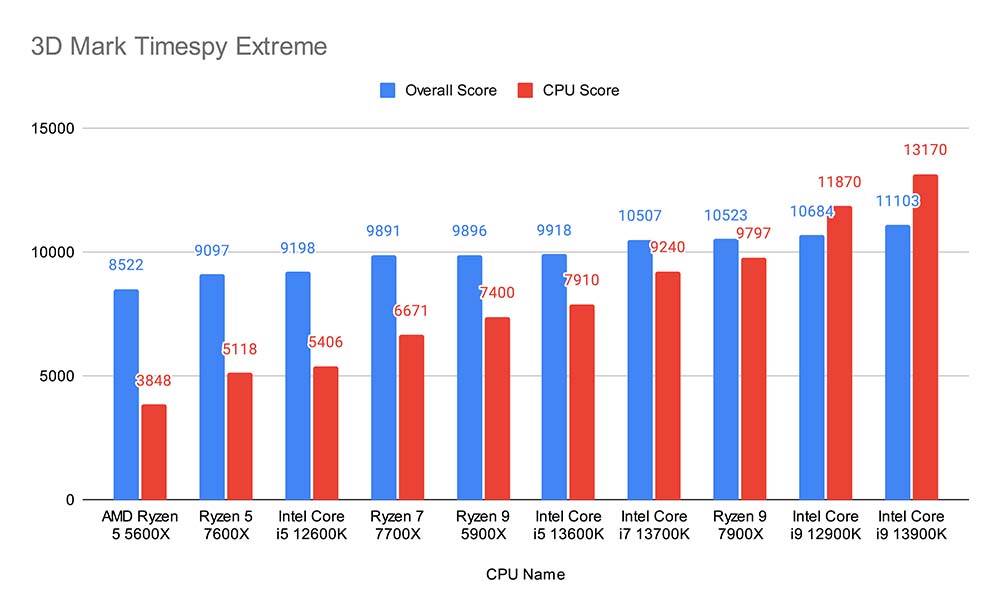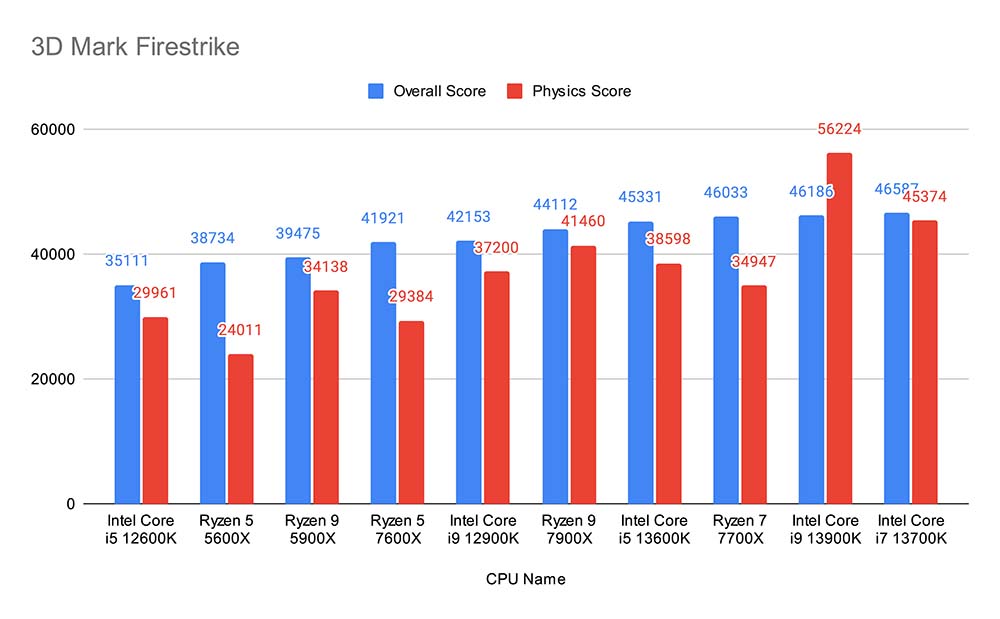 Apex Legends
In Apex Legends at 4K, the 7700X and 13700K offered very similar performance. The 13700K came out marginally atop, offering 186 frames on average compared to the 177FPS from the 7700X. Apex is relatively well optimised, hence the better framerate at a higher resolution, but either of these CPUs would be an acceptable choice in this game.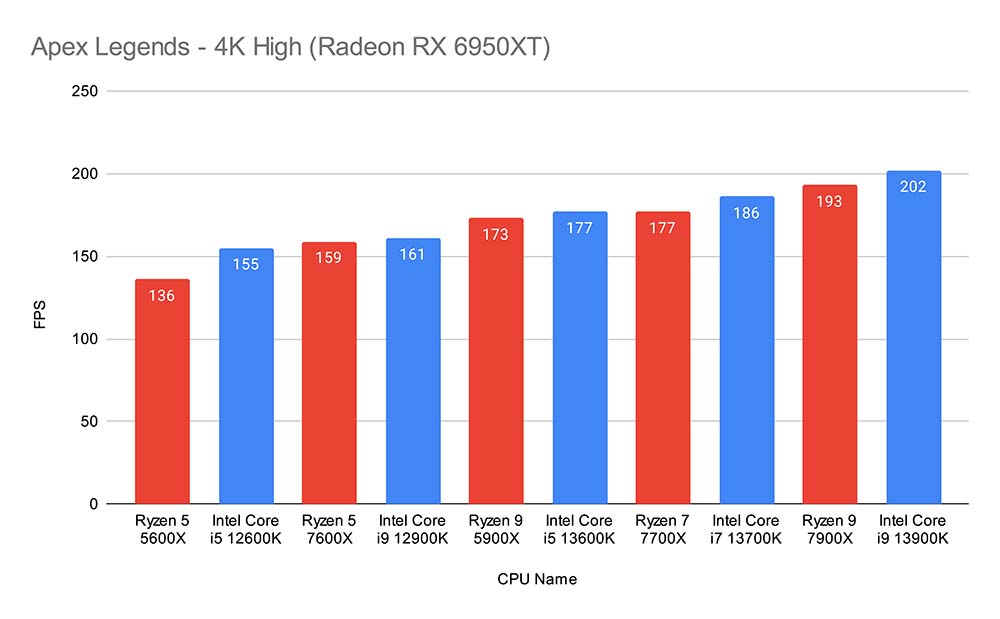 Marvel's Spiderman Remastered
In Spiderman Remastered, this is where performance starts to differ slightly. We witnessed a circa 10% performance difference in the processors, where the Ryzen 7700X still delivered very playable frame rates, but lagged behind its Intel rival. For gaming, both of these CPUs hold their own well, but the i7 continues its impressive lead here.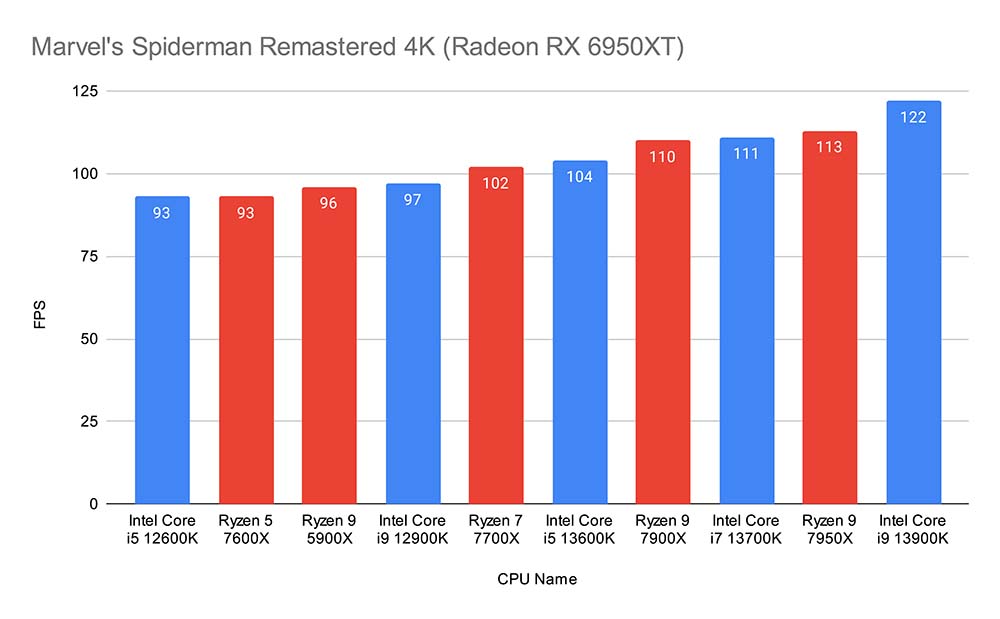 F1 2022
In F1 2022, we started to see the first GPU bottlenecking for any of out tests. The 13700K topped the charts with its i5 and i9 brothers, while the Ryzen 7 7700X still held the GPU back, delivering again a 10FPS reception in performance. We would definitely recommend using DLSS here with an Nvidia GPU to break the 65FPS average, and achieve better frame rates.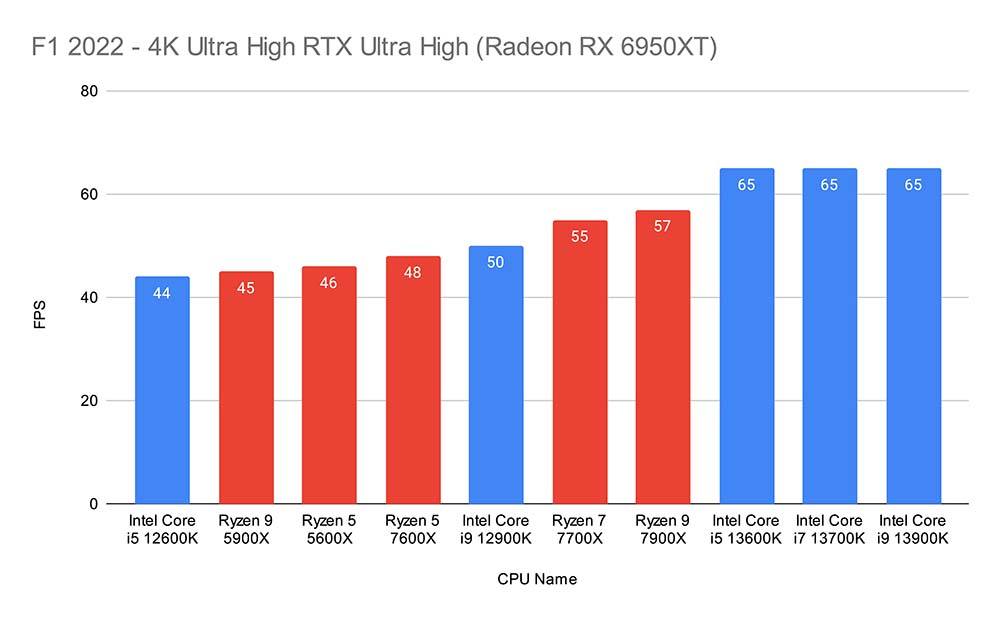 Battlefield 2042
In Battlefield 2042 at 4K, we did see some minor performance differences during our gameplay. The 13700K unsurprisingly sat towards the top offering around 103 frames on average, while the 7700X didn't perform as well, reaching 85FPS. We were happy to see both of these CPUs sit above the 60FPS mark, but again most impressed with the Intel i7 chip.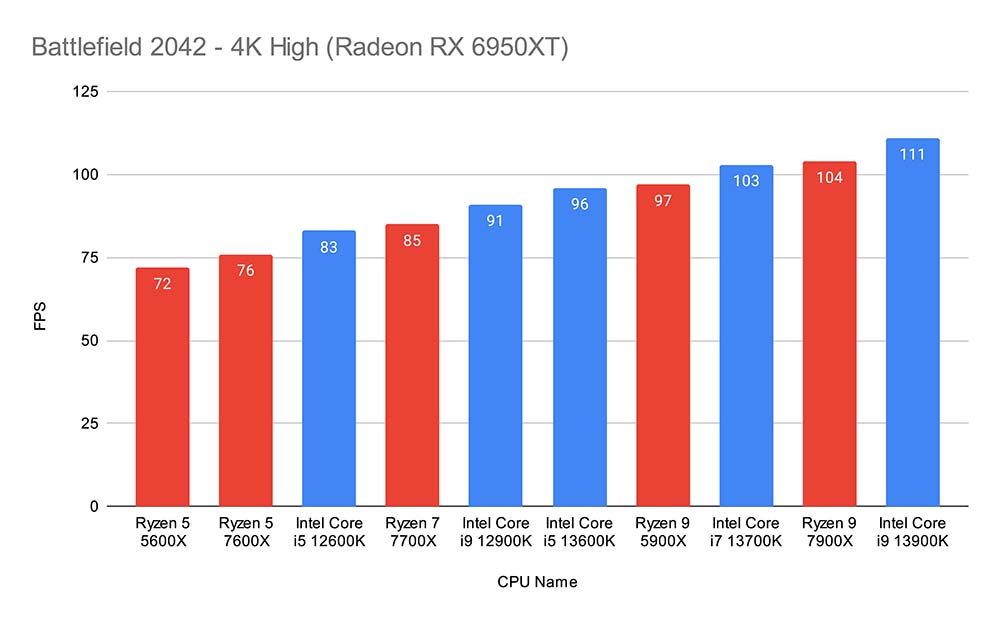 Conclusion
So which of these CPUs is better? Is Intel's new 13th-Gen worth upgrading to, or is AMD's latest innovation a better bet? Unfortunately for AMD, Intel has taken the cake here – and my some margin. The new Ryzen 7000 CPUs provide an impressive jump over the previous 5000-series, but lag far behind Intel and their 13th gen dominance.
The 13700K is a multi-faceted, versatile CPU offering users great performance in 4K games and in multiple synthetic benchmarks. It has class leading multi-core and single-core performance, with cheaper motherboard options, DDR4 and DDR5 memory support and a more mature architecture.