Introduction
One of the many benefits to gaming on a PC is the ability to choose from a wide range of products to make a build that fits your stylistic and performance needs. And whilst there are plenty of variations of components available, these products often follow unwritten rules when it comes to design and functionality. But what if someone decided to tear out pages from the rulebook and create something that truly ventures outside the box?
Well, DeepCool's Quadstellar Infinity case certainly stretches the imagination as to what a PC case should look like. With an x-shaped design that is bound to turn the heads of those who lay eyes on it, the Quadstellar Infinity is a perfect case for gamers looking to impress.
Today, we'll be using the Quadstellar Infinity to build a high-end gaming PC which is bound to be a great conversation starter. In typical Geekawhat fashion, we have provided a breakdown of all the components inside this beast, along with suggestions for peripherals to go alongside it.
Suggested Article: How to Build a Small Form Factor RTX 4090 Gaming PC Build!
Main Components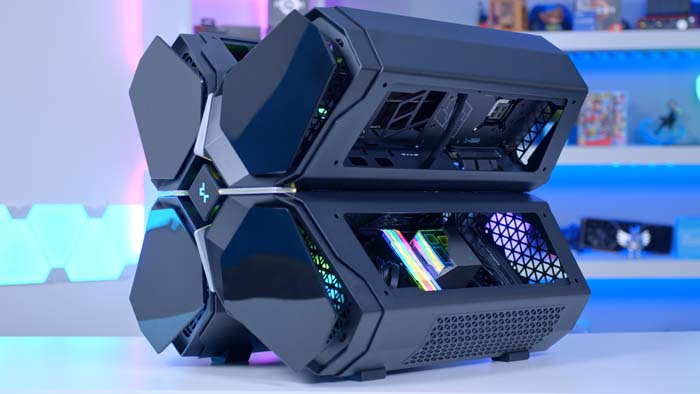 Case: DeepCool Quadstellar Infinity
Starting things off with the main attraction, the DeepCool Quadstellar Infinity. Just by looking at this case, you know that it is going to be an acquired taste. The futuristic design of the Quadstellar Infinity is a sight to behold, with the spaceship-inspired design being a great addition for sci-fi lovers. The RGB strips that surround the DeepCool logo are a nice touch that taps into the intergalactic themes. There's no doubt that DeepCool made the x-shaped design for the novelty factor more than anything else, but the Quadstellar Infinity does possess some practical features too.
Key Facts: Form Factor: Full Tower // Fan Support: 9 x 120mm // Motherboard Support: ATX, micro-ATX, E-ATX, mini-ITX
The larger size case offers plenty of storage options, with space for 9x 120mm fans, 3 x 2.5inch SSDs, and 3 x 3.5inch HDDs. With such versatile support, this case is ideal for those high-end builders looking to take their PC into the interstellar. And for connectivity, the I/O includes a USB-C port and 3.5mm audio jack for easy access to a charger or headphones.
We're not going to lie, the abstract design can be a hassle to deal with compared with more conventional designs. Because of this, we would not recommend the Quadstellar Infinity for first-time builders, as building in this case is extremely fiddly and the shape provides little to no leverage. On top of this, it is one of the biggest cases we've had in the Geekawhat office, so make sure that you have enough space in your setup to accommodate it.
Buy the DeepCool Quadstellar Infinity on: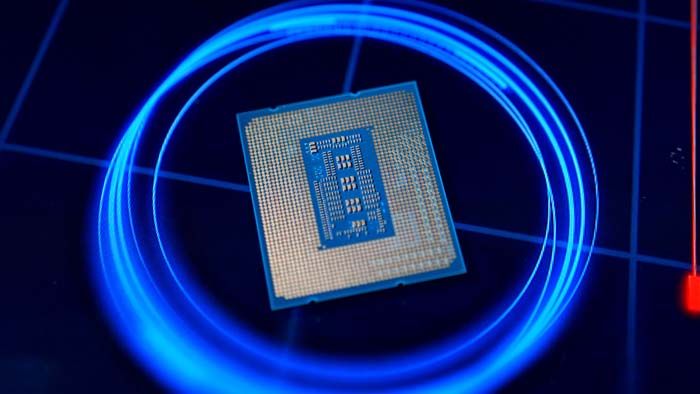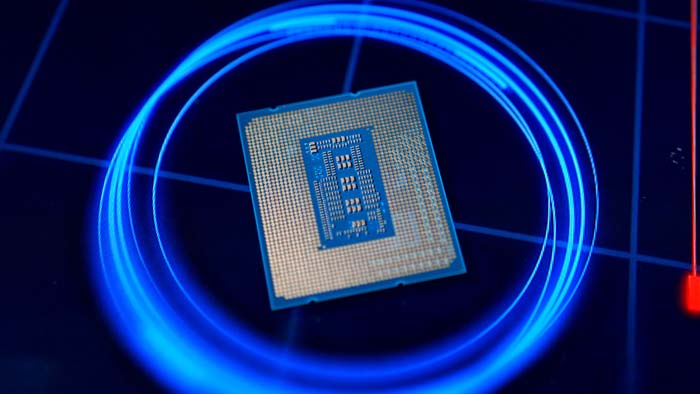 CPU: Intel Core i9 13900K
The Intel core i9 13900K makes another appearance in one of our high-end builds, as it is simply the best CPU you can buy right now. Intel's top-tier Raptor Lake processor has more than enough power for a gaming experience that is out of this world, making it the perfect match for our case of choice. The 24 cores and 32 threads included in the i9 13900K ensures that your system can cope with every gaming and productivity task you throw at it.
Key Facts: Base Clock Speed: 3GHz // Boost Clock Speed: 5.8GHz // Core Count: 24 // Thread Count: 32
Also, the boost clock speed of 5.8GHz makes the i9 13900K the best way to experience 4K gaming on max settings. For high-end gamers looking for the latest and greatest components, this processor is the clear pick in our opinion. But if you want to see how other CPUs compare to Intel's 13th gen processors, then check out our full reviews and buyers guides.
Buy the Intel Core i9 13900K on: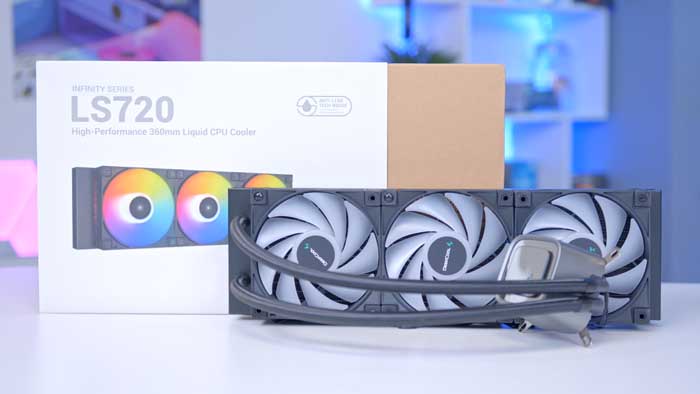 CPU Cooler: DeepCool LS720
For the CPU cooler in this build, we've picked another product form DeepCool in order to match the aesthetic of the case as much as we possibly can. We've used DeepCool LS720 in previous PC builds, and we were impressed with how it contributed to both the performance and looks of a system. The 360mm radiator is more than enough to cool the most demanding components, resulting in optimal performance.
Key Facts: Radiator Size: 360mm // Included Fans: 3 // RGB: Yes
The design of this cooler is fairly modest compared to the other DeepCool product in this build, but the LS720 still has plenty of ways to shine. The RGB on the 3 fans provides plenty of colour, which can be synchronised with other components through supported software. The integrated water pump also includes plenty of customisation options such as a border of addressable RGB and an infinity mirror in the face which can be programmed to display a custom logo.
Whilst DeepCool's LS720 cooler may not look like a spaceship, it will go a long way to helping the Quadstellar Infinity to not sound like one when it boots up!
Buy the DeepCool LS720 on: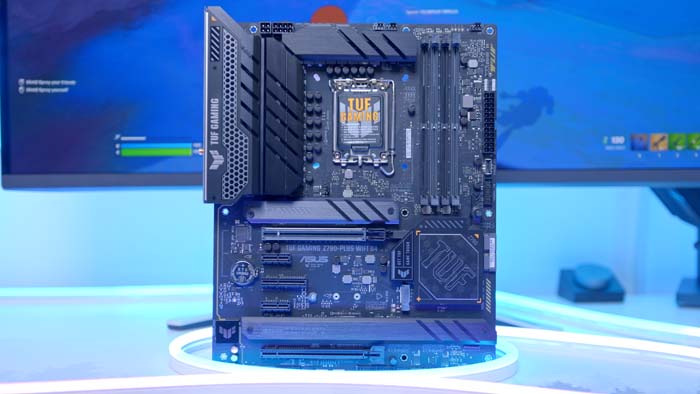 Motherboard: ASUS TUF Gaming Z790-Plus WiFi D4
Now onto the motherboard for this build, the ASUS TUF Z790-Plus WiFi D4 has the industrial look that somewhat resembles what you would expect the inside of a spaceship to look like. However, our main reason for this pick is due to the superior compatibility with our CPU of choice, as Z790 motherboards were specifically designed for Intel 13th-gen processors.
Key Facts: Form Factor: ATX // Built-in IO Shield: Yes // Max Memory: 128GB
Whilst those looking to save money could opt for an alternative, the Z790 chipsets are the best choice for those looking to get peak performance from Intel's latest generation of CPUs. Looking at the ASUS TUF version specifically, there is a great range of connectivity options available, such as 8 USB ports, 4 M.2 slots, as well as PCIe 5.0 support. A large range of connection options makes the ASUS TUF Z790-Plus WiFi D4 a great addition to a high-end PC that requires space for peripherals and future upgrades.
Buy the ASUS TUF Z790-Plus WiFi D4 on: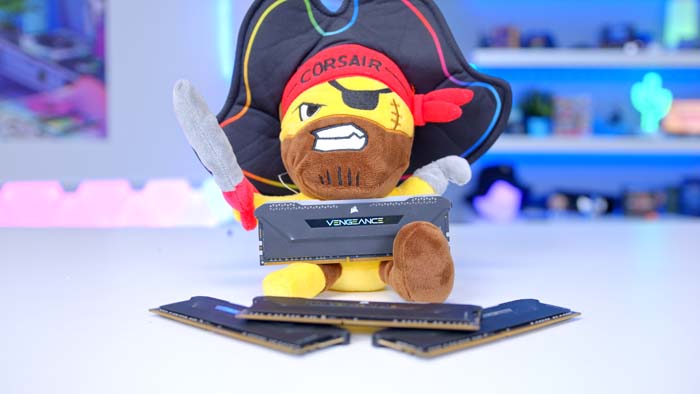 RAM: Corsair Vengeance RGB Pro SL 32GB
Next up for this build, we've got a variation of the trusty Corsair Vengeance. We've used Corsair's RAM in a number of PC builds, and they haven't let us down yet. For this build in particular, we've picked up the Vengeance RGB Pro SL, a DDR4 option with a 32GB capacity. Whilst DDR5 is considered a better option in the long run, the lack of difference makes DDR4 better value for money right now.
Key Facts: Capacity: 32GB // Clock Speed: 3600MHz // CAS Latency: 18-22-22-42
Corsair's Vengeance Pro memory offers lower latency and a higher clock speed than their regular offering, which results in an improved performance when running the latest titles. Along with the performance benefits, this RAM will add a bit of flair thanks to RGB lighting on top of the sticks. This lighting can also be customised with Corsair's iCUE software, which allows you create custom lighting profiles and synchronise to other iCUE compatible products.
Buy the Corsair Vengeance RGB Pro SL 32GB on: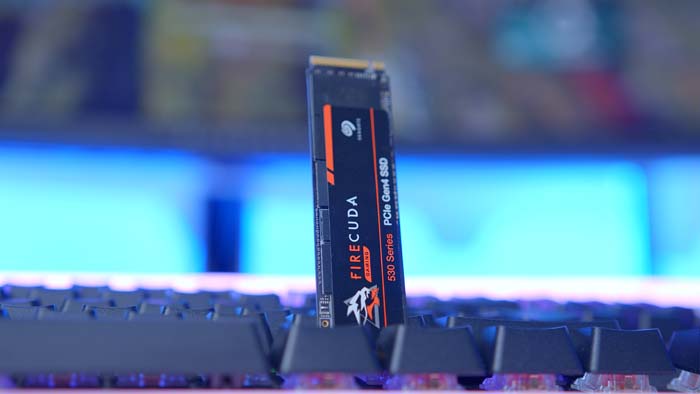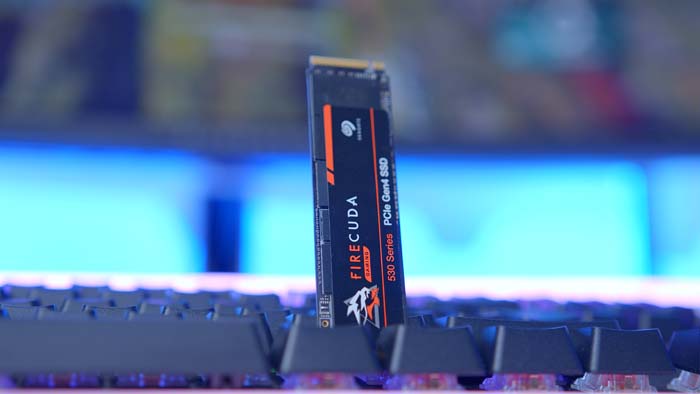 SSD: Seagate Firecuda 530 2TB
Time for another reliable choice for our SSD, as we've gone for the Seagate Firecuda 530. This SSD has featured in a number of our previous builds due to the high read and write speeds, along with its proven reliability. The 2TB capacity option has been picked for this build, as it will help store a range of games and software. Due to the underlying sci-fi theme of this build, we expect most gamers using the Quadstellar Infinity case will be playing exploration titles, which often take up a lot of disk space.
Key Facts: Capacity: 2TB // Read Speeds: 7300MB/s // Write Speeds: 6900MB/s // Interface: PCI-E Gen4 x4
Whilst DeepCool's case has multiple slots for external SSDs, an M.2 option offers better performance and discretely fits into the motherboard. This means you can reap the performance rewards when storing games on an M.2 SDD whilst leaving more space for external hard drives, which can be used to store important documents and applications.
Buy the Seagate Firecuda 530 on: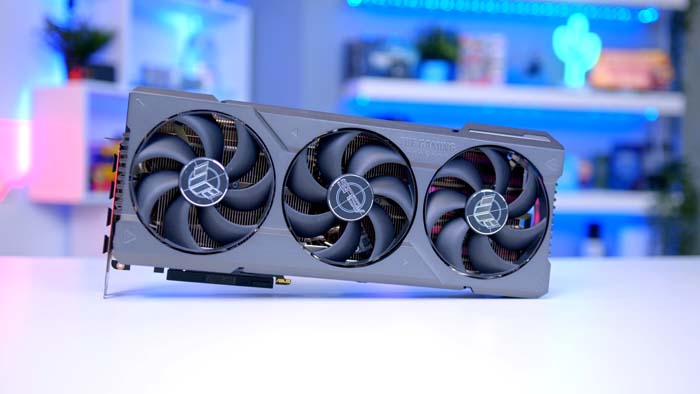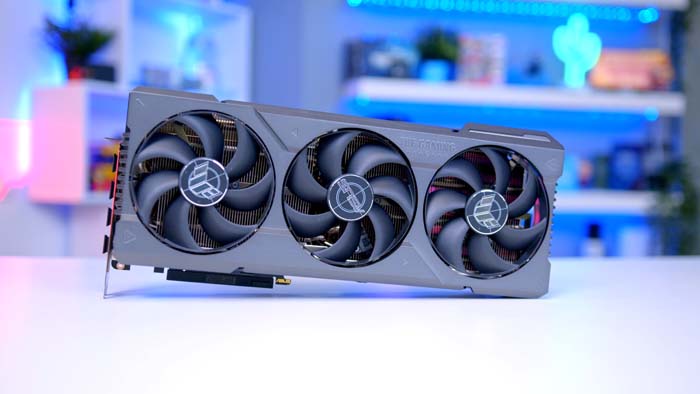 GPU: ASUS TUF Gaming RTX 4090
To make sure that this build has the best performance possible, we're pulling no punches when it comes to the GPU. Our graphics card of choice is the ASUS TUF Gaming RTX 4090, one of the best SKUs of Nvidia's flagship model. Nvidia's 4000 series GPUs are lightyears ahead of the competition thanks to the Ada Lovelace architecture and DLSS 3.0 technology. Unfortunately, the boost in performance is reflected within the price point, but this shouldn't be an issue for high-end builders.
Key Facts: CUDA Cores: 16384 // RT Cores: 191 // TDP: 450W
The TUF Gaming design means that this GPU will slot nicely into our motherboard, and will bolster the industrial theme for the inside of the build. With the bulky nature of the RTX 4090 graphics cards, the designs are pretty hit and miss. However, the TUF Gaming variant doesn't look too bulky and the RGB-illuminated TUF logo on the side gives it a distinct glow.
Buy the ASUS TUF Gaming RTX 4090 on: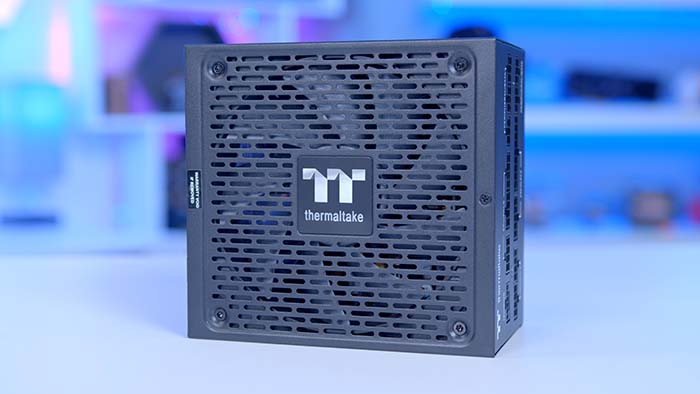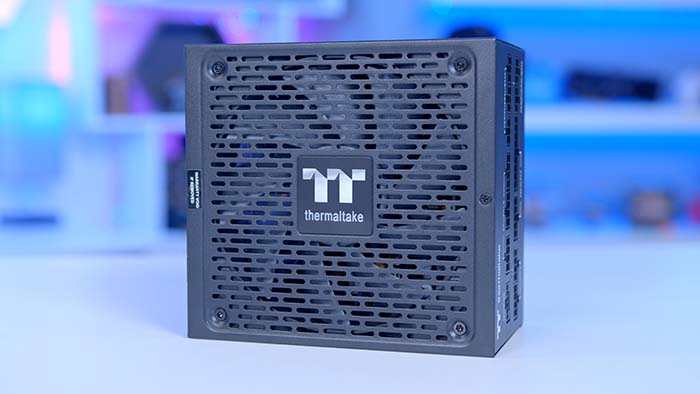 PSU: Thermaltake ToughPower GF3 1350W
To round things off, we've got a power supply that packs enough of a punch to keep the engines of our build running smoothly. Thermaltake's ToughPower GF3 includes 1350W, which is significantly more than what is suggested for the components in this build. Because of this, the ToughPower GF3 should have no problem supplying our components with the power they need, which will help keep the system cool and quiet.
Key Facts: Wattage: 1350W // Modular: Yes // Efficiency: 80+ Gold
Also, this unit has an 80+ Gold efficiency rating, which means less heat is lost whilst powered on. This is more important than ever, as it will help you save money on your bills. In addition, the ToughPower GF3 is fully modular, allowing you to pick and choose how to connect to other components. This is a necessary inclusion with intricate builds like this one, as having flexibility with wires makes cable management much easier.
Buy the Thermaltake ToughPower GF3 1350W on:
High-End Peripherals
To match the performance of the high-end components within this build, you are going to need some premium peripherals. In order to get the best gaming experience possible, a high quality mouse, keyboard, and headset is essential. Here are our recommendations for high-end peripherals that will give you the best control and performance in all the latest titles.
Logitech G502 X Plus Wireless Mouse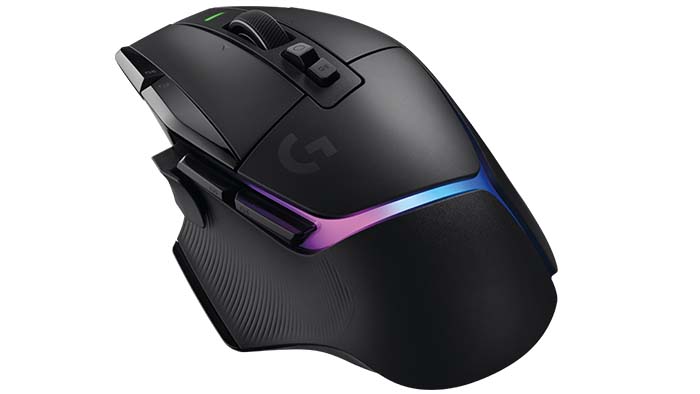 The Logitech G502 has been a highly-rated gaming mouse for a number of years. Earlier this year, Logitech gave the G502 an upgrade by introducing the G502 X Plus. This wireless mouse includes a 25K DPI HERO sensor, LIGHTSPEED wireless connectivity, and LIGHTSYNC RGB for the ultimate blend of performance and versatility.
The RGB lightbar and 13 programmable buttons on the G502 X Plus also provides a futuristic look which fits perfectly with this build. On top of this, the battery life lasts for up to 130 hours, which is more than enough for several gaming sessions.
Buy the Logitech G502 X Plus Wireless Mouse on:
Corsair K100 Gaming Keyboard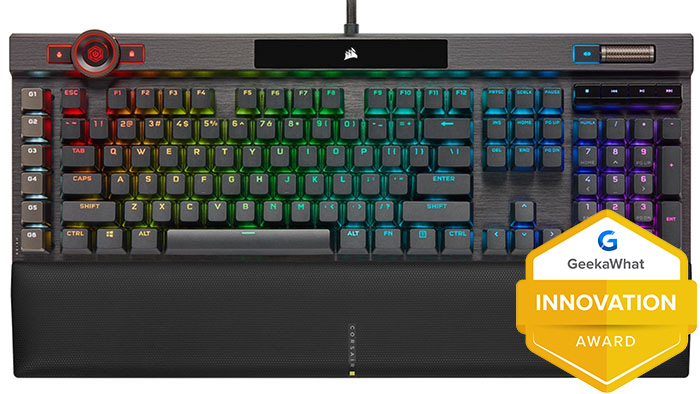 The Corsair K100 is one of the best gaming keyboards on the market. The full-size layout means you have access to all the traditional inputs, which is important for macro users and gamers who enjoy playing RPGs. However, what makes the K100 stand out is the dedicated media controls on the top of the frame. These buttons can be customised to control features such as the RGB lighting, volume, and zoom.
The K100's included wristrest and OPX switches will also make typing feel great, and will lead to a smooth experience in combination with the multimedia controls.
Buy the Corsair K100 Gaming Keyboard on:
SteelSeries Arctis Nova Pro Wireless Headset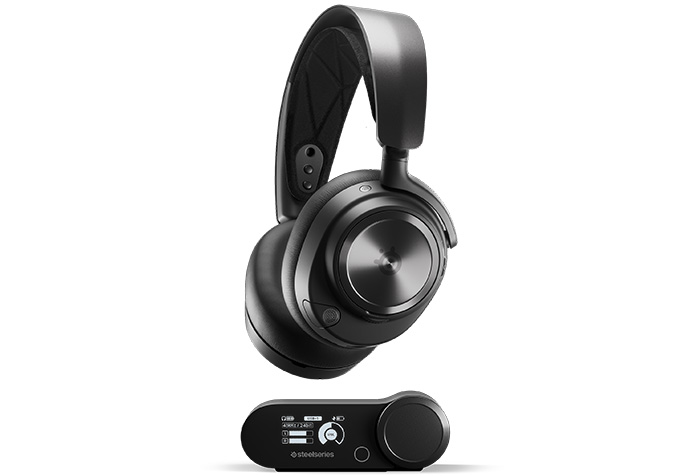 For premium sound quality, we've picked the SteelSeries Arctis Nova Pro Wireless. The adjustable headband provides plenty of comfort, and the metallic shimmer on the frame makes the Arctis Nova Pro look luxurious. The best feature by far is the wireless base station that is packaged in with this headset. This allows you to adjust connections, sound quality, and volume settings without the need to connect to an external software.
If you do want to look at some alternatives, check out our roundup of the best wireless headsets you can buy right now.
Buy the SteelSeries Arctis Nova Pro Wireless on:
Gallery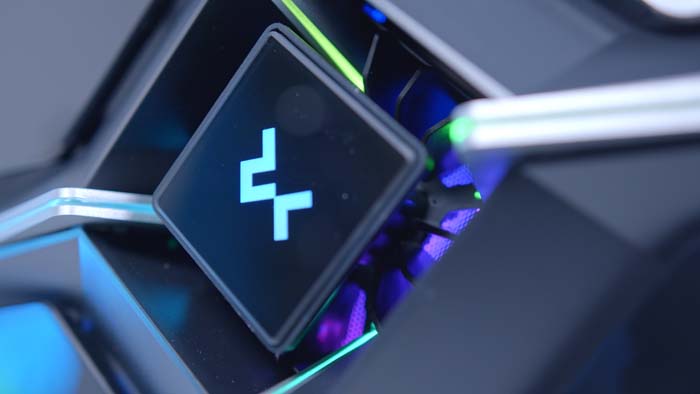 Video