Introduction
The last year has seen an insane amount of new product launches across the board. Manufacturers such as NZXT have stepped up their game when it comes to case design, and we've had insane entrants such as Cooler Master's HAF700 EVO, and the iCUE 5000T from Corsair, both offering up a ridiculous set of features for consumers to sink their teeth into.
With the significant increase in the amount of large graphics cards from both AMD and Nvidia, we're expecting 2023 to be crammed with new cases that maximise component clearance, alongside excellent airflow to ensure a system can stay nice and cool. To kick off the new year, we're taking a look at Thermaltake's brand new Ceres 500 TG ARGB. Although the name isn't incredibly catchy, this case has definitely caught my attention, so we'll be delving into the features and design in this full review!
Buy the Thermaltake Ceres 500 TG ARGB on:
Suggested Article: The Best PC Cases to Buy in 2022! (Budget, Mid-Range & High-End Choices!)
Is More Airflow Needed in 2023?
In the past few years alone we've seen a significant rise in the number of large components. CPU coolers and graphics cards are the main parts to have seen a resize most recently, and this raises some concerns when it comes to clearance and airflow. Ultimately if your case doesn't provide enough clearance for your components – airflow will be stifled. And this will be furthered hindered if the air has nowhere to escape from the case.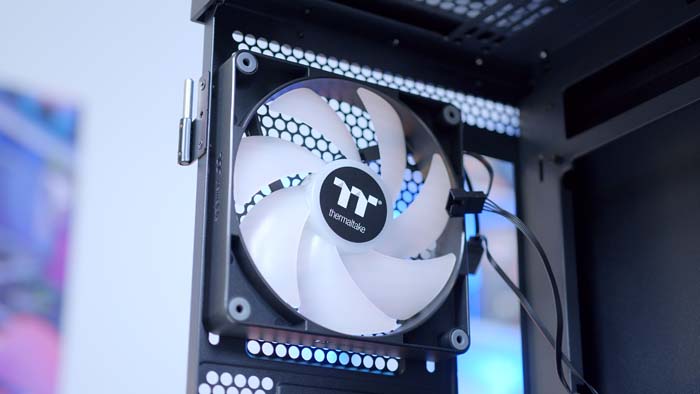 There definitely seems to be a market for larger PC parts as we've seen with the resounding success of the top-end RTX 3000 graphics cards. And with many consumers building top-end systems with these GPUs, these will also require a significantly large cooler to meet thermal demand. So this begs the question, do we need more airflow in 2023? I'd say, the answer is yes.
Although the RTX 4000 cards are somewhat anomalous in their size, we've seen components get bigger and bigger year after year, and for this reason, your chosen case needs ample clearance and airflow to cope with the thermals of powerful components. Many manufacturers tend to follow a traditional box design that often focuses on form over function, which can hinder airflow.
Ensuring your case won't hinder your thermals is a vital factor that will affect performance metrics in a number of applications. If you're building a PC with large components we would definitely recommend purchasing a case with plenty of ventilation, perforations and spots for fans and radiators so that you can customise a system that offers thermals suited to the build you've put together.
Thermaltake Ceres 500 TG ARGB Design & Aesthetics
At first glance, the Ceres 500 TG ARGB is a very interesting case. After taking it out of the box, the first thing you'll immediately notice is the unique front panel design. The front of the cases sports a hexagonal grid pattern which acts as ventilation for the case providing more airflow. Towards the bottom of the front panel is an angular piece of metal which shows off the Thermaltake logo. After seeing this I was immediately reminded of the angular accents that we've seen before on Corsair's iCUE 5000T case. I'm a big fan of these small touches as it adds some unique flair to the case instead of just being a flat metal box.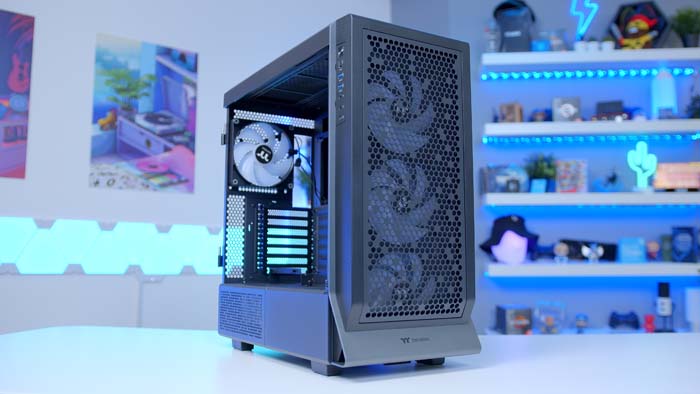 Moving around to the side of the case, you'll notice a hinge tempered glass side panel, which is something we love to see. Hinged panels are an extra usability feature that just add to the overall build quality of the case. Below the tempered glass is the PSU chamber which has a mesh ventilation on the side. Again, I think Thermaltake have done an excellent job in providing airflow in areas that are often forgotten about. Next to the PSU chamber is a removable metal panel that can be swapped out with an LCD upgrade kit.
Although this doesn't come with the case, the LCD kit can be used to display a variety of different system information, or a funny GIF, which is a nice touch in terms of aesthetic. Thermaltake kindly sent us an LCD upgrade kit to play around with, and I like the additional flair it provides to the case. Looking at the back and the top of the case you'll see plenty of perforations and ventilation further demonstrating Thermaltake's goal in providing plenty of airflow within this case.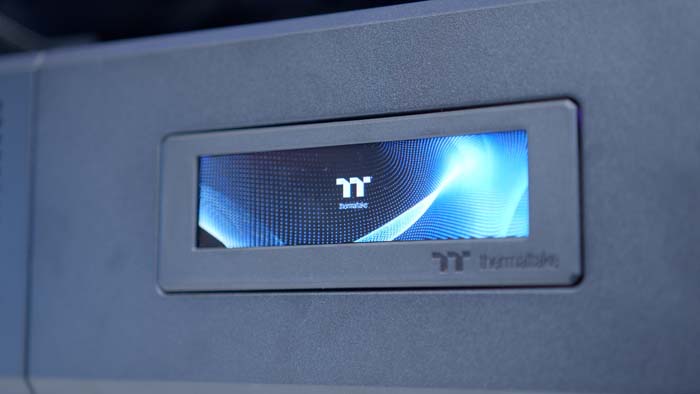 Overall I'm a huge fan of the design that Thermaltake have opted for here. Although the case does follow a more traditional 'metal box' look, there are unique accents and extras that add to the flair of this case. The ventilation provides extra airflow around the entire chassis, but it also acts as a way to uniquely change the design and I'm all for it. Thermaltake have done a great job here, and this sets a relatively high bar when it comes to the features.
Features
Now for the most important part of any case review, we'll be delving into the features of the Ceres 500 TG ARGB. This case comes crammed full of interesting and unique features that make it stand out against the competition, whilst offering a variety of options for different types of PC builds. We've broken down the most standout ones below.
Pre-Installed Fans
The Ceres 500 comes with four pre-installed 140mm ARGB fans. Three of them are located one the front, with one at the rear, setup as a push/pull configuration. With the heavily ventilated mesh front, this should be more than enough to get any builder started. All of the fans can be configured using a variety of RGB hubs, allowing consumers to enjoy a range of different lighting effects and colours providing peak customisation.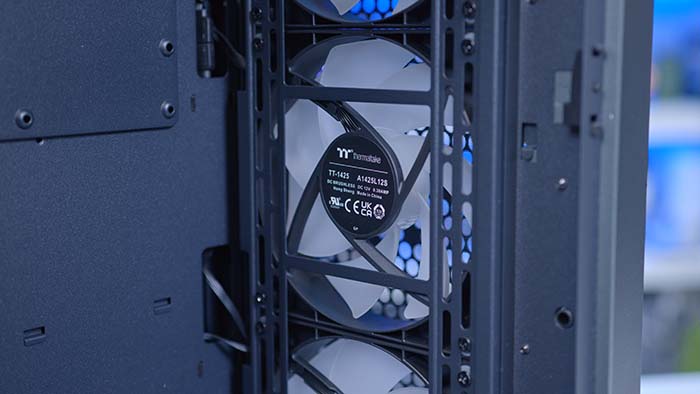 Perforated Cutouts
The Ceres 500 is one of the few cases that we've seen in the office that provides a huge amount of ventilation. Over 60% of the Ceres 500 has perforations located across the entire chassis providing more airflow across the board. With the rise of large components, this is vital for consumers to be able to build top-end systems without hindering thermals.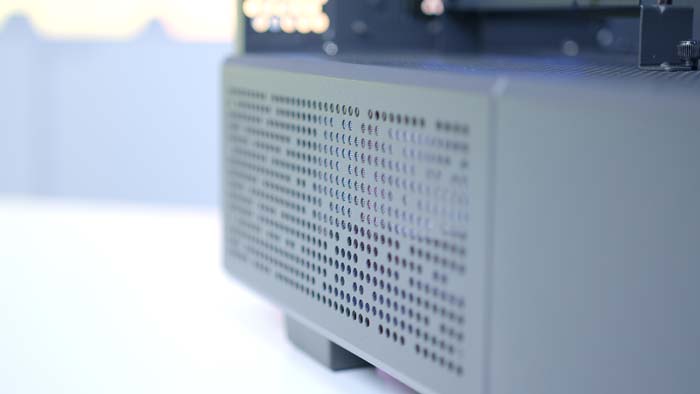 [adrotate banner="7″]
Rotational PCI-E Slots
One of my favourite features on this case, is the fact that the PCI-E slots can be rotated giving consumers the ability to install your GPU either vertically or horizontally. Normally installing a GPU vertically would require extra mounting with the inclusion of a PCI-E riser cable. However, the configurable slots allow users to install a GPU however they would like.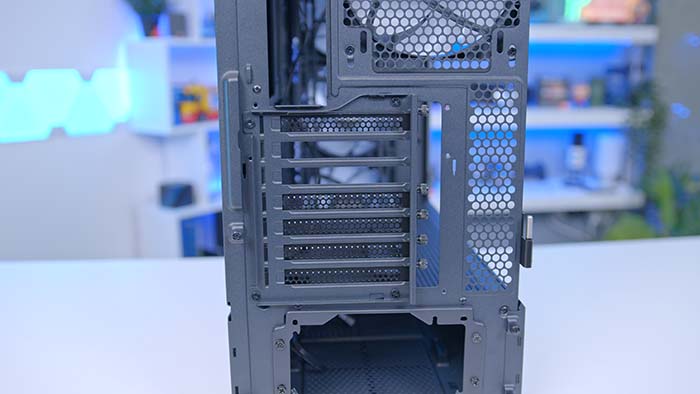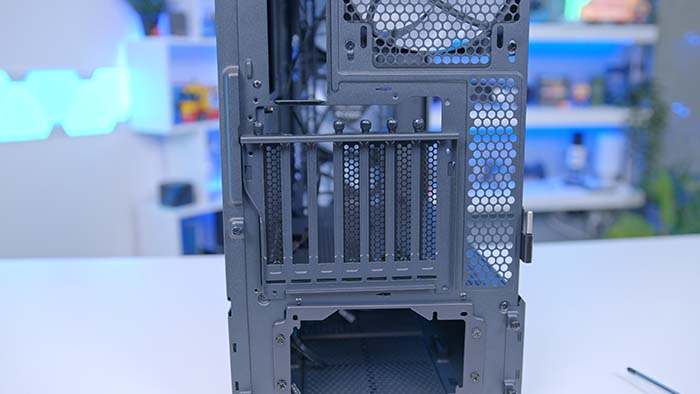 [adrotate banner="7″]
Front IO
The front IO of the Ceres 500 features plenty of USB ports giving consumers easy access to charge devices, or plug in peripherals. Ports wise the Ceres 500 has two USB 3.0 ports, alongside a USB 3.2 Gen2 Type-C port, and HD audio for headphones and microphones.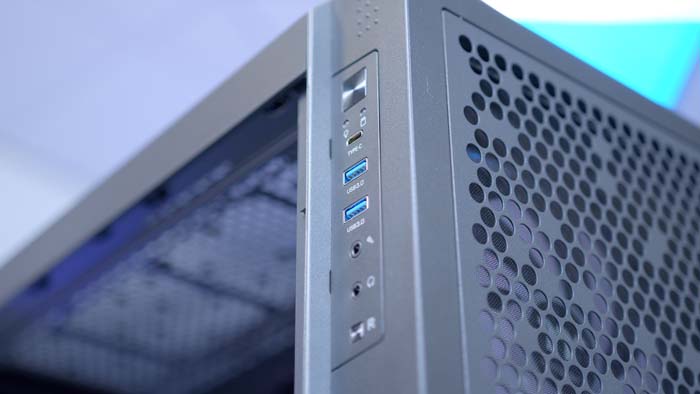 Radiator and Fan Compatibility
Thermaltake's Ceres 500 has ample clearance for a range of large components including fans and liquid coolers. We've noted down the various configurations for fans and radiator support below: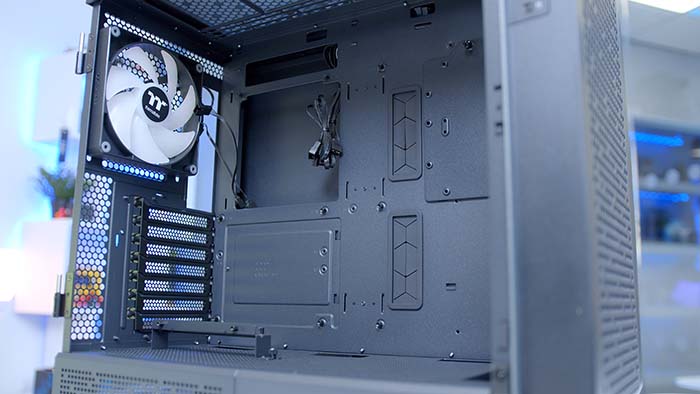 | | | |
| --- | --- | --- |
| Position | Fans | Radiators |
| Front | 3x 120mm, 3x 140mm | Up to 420mm |
| Top | 3x 120mm, 3x 140mm | Up to 280mm |
| Rear | 1x 120mm, 1x 140mm | Up to 120mm |
Fan and Radiator Configurations Ceres 500 TG ARGB
[adrotate banner="7″]
Our Hands-On Take
The Ceres 500 TG ARGB is one of the first cases to hit the market in 2023, and so far its my favourite release. Although the case may not look incredible to some, the vast amount of usability features make this chassis well worth the price tag. We found the Ceres 500 very easy to build in, and the perforations located across various panels around the case makes it much easier to achieve a lower thermal output.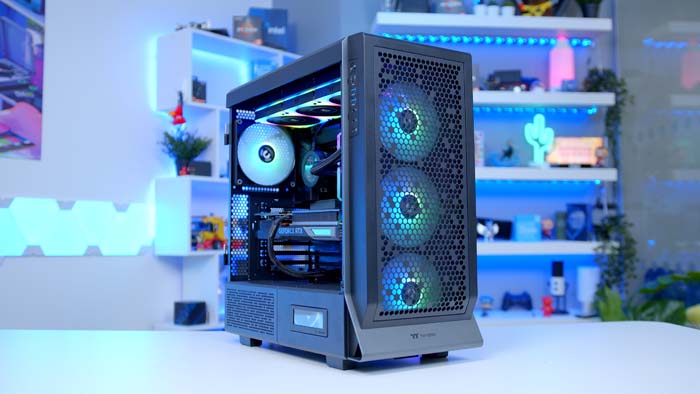 Alongside the usability features, Thermaltake clearly has the future of components at the forefront of their mind by including a GPU support bracket, and ample clearance for a variety of large components. There is a definitive consumer-friendly focus here, and we're all for it.
Conclusion
Thermaltake Ceres 500 TG ARGB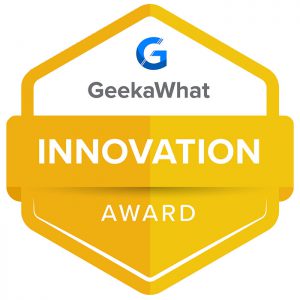 Product Name: Ceres 500 TG ARGB
Brand: Thermaltake
Features

Design

Versatility

Value For Money
Summary
Thermaltake's Ceres 500 TG ARGB is an innovative and refreshing design to hit the market in 2023, and overall I'm a big fan. The usage of versatile usability features such as rotational PCI-E slots, alongside an included GPU bracket, makes this case ideal for a range of different consumers that want to create an entirely bespoke system. Thermaltake have clearly focused on providing a case that is easy to build in, whilst offering plenty of airflow and space for large components, providing a way to future proof your system. Although the aesthetic might not be for everyone, the user-friendly approach that Thermaltake have put at the forefront of the design makes the decision to purchase – an easy one. To conclude, I hope manufacturers this year take a leaf out of Thermaltake's book, because they've kicked this year off with an excellent case that will suit a vast range of PC builds.
Pros
✅ Extremely versatile component configurations.
✅ Huge focus on airflow and cooling.
✅ Comes with four pre-installed RGB fans.
Cons
❌ Design won't be for everyone.
❌ Doesn't come with an included PCI-E riser cable.
❌ LCD display requires a separate purchase.